As I mentioned in my Ultimate Jordan Guide when I first heard about Jordan I thought it would be a budget destination. Oh boy, how wrong I was! Jordan is quite an expensive country, even comparing it to European or American standards.
To save you from any unpleasant surprises I decided to share this detailed budget breakdown of my Jordan travel costs with you. This way you will have a clear picture of how much does it cost to spend one week in Jordan!
Please note that these travel costs reflect my travel style and it could be entirely different based on your own requirements. I consider myself a mid-range traveler who likes to include a touch of luxury from time to time. I was traveling with my boyfriend so all the costs are calculated for two people (if I don't say otherwise).
*Disclosure: This post contains a few affiliate links, which means I may receive a small commission, at no cost to you, if you make a purchase through my link.*
No time to read now? Pin it for later!
Accommodation
Accommodations are usually the biggest chunk of the travel costs, so I will start with this topic. Jordan has a huge variety of accommodations, you can find everything from cheap guesthouses to luxurious five-star hotels.
Petra
We spent the first two nights of our one week itinerary in Wadi Musa, which is the nearest town to the archeological site of Petra. You can find many options in the city center but if you wanna stay close to the Visitor's Centre you can choose from like 10 hotels. Click here to see all the accommodations in Wadi Musa!
The Mövenpick Hotel is the most popular place to stay, as it is the closest resort to the entrance of Petra. The rooms normally start from 120 JD ($167 US) per night, including breakfast.
If you're looking for mid-range accommodation, check out the Infinity Lodge! It's also close to the entrance of Petra and the rooms start from 68 JD ($95 US) per night with breakfast.
As a more budget-friendly option, I can recommend the La Maison Hotel, where we stayed. It is right behind the Mövenpick Hotel but for fraction of the price. We paid 104 JD ($145 US) for two nights with breakfast.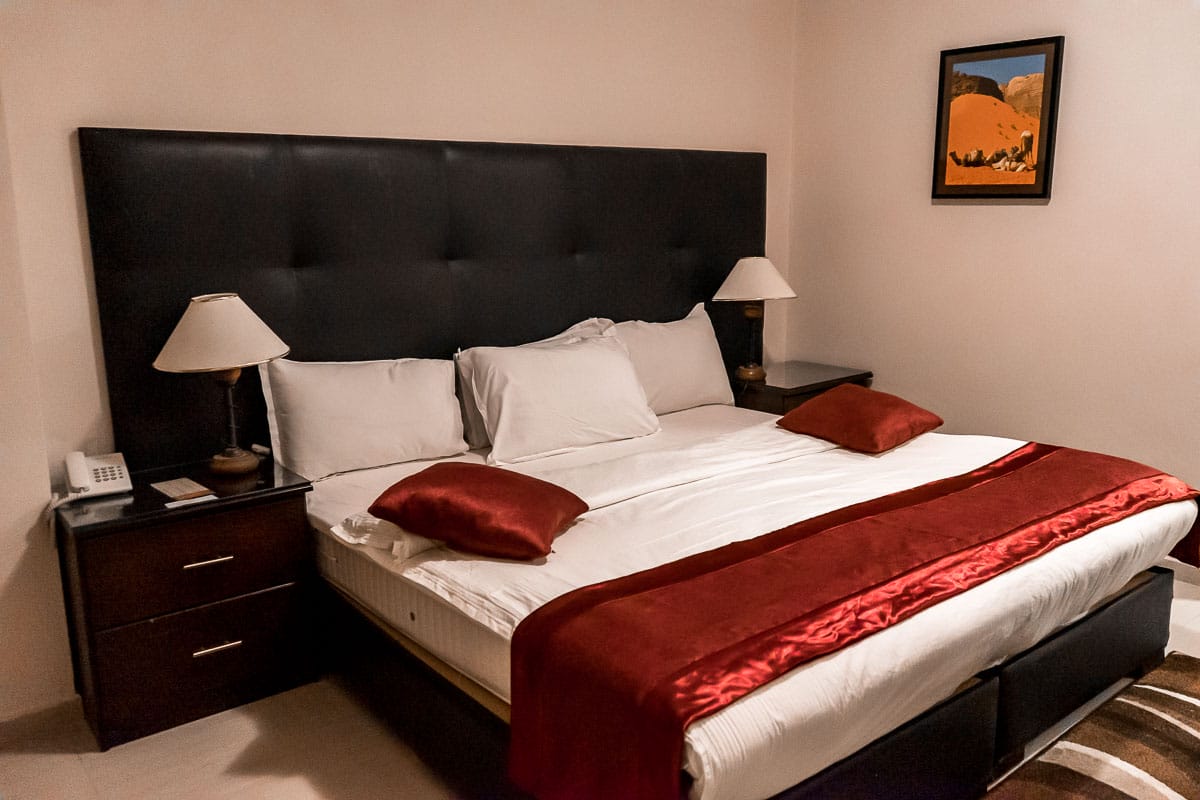 Aqaba
There are many options to choose from in Aqaba, you can check all the accommodations here. The prices are much lower than Petra, so if you want to splurge yourself in a 5-star hotel, this is the place for it.
In this case, I can recommend the Mövenpick Resort & Residences Aqaba which features a private beach and several outdoor pools and the rooms start from only 75 JD ($106 US) per night.
We stayed at the 4-star City Tower Hotel right near the Red Sea and we paid 68 JD ($95 US) for one night with breakfast. If you're looking to save some money, check out Hotel Prestige where you can book a room from 21 JD ($30 US) per night.
Wadi Rum
If you desperately wanted to try out glamping for ages, this is your place! In case you are not familiar with that: glamping means glamorous camping. Don't roll your eyes, I didn't make it up!
You can choose from many luxury camps in Wadi Rum where you can enjoy the panoramic desert landscape from your window. My favorite was the Sun City Camp for 120 JD per night ($170 US), including dinner and breakfast.
Another interesting place is the Wadi Rum Bubble Luxotel where a tent starts from 150 JD ($210 US) including dinner and breakfast.
Although I considered glamping as an option, in the end, I decided to go for a more authentic (means: less fancy) accommodation. We opted for a full-day tour with Wadi Rum Nomads and stayed in their base camp.
More of that in the Activities section! If you want to book your accommodation by yourself you can check all the accommodations in the Wadi Rum here.
Dead Sea
There are only 5-star hotels around the Dead Sea so you will not find any budget options in this area. You can visit the Dead Sea on a day trip but I would strongly recommend staying at a beach hotel for at least one night.
For instance, it's important to rinse off your body with regular water as soon as you get out of the water, otherwise, the salt will dry on your skin and you will not be able to stop scratching yourself.
That's why staying in a hotel with direct access to the beach is a good idea – you will have immediate access to fresh water and towels! There are a few other things like this that you need to know before you get into the water, check out my 10 tips for visiting the Dead Sea for more information!
We chose to stay at the Hilton Dead Sea Resort & Spa and enjoyed every minute! The standard room cost us 158 JD ($222 US), breakfast included.
During the check-in process were happy to hear that we were upgraded for a King Deluxe Room with a sea view, without any additional cost. I was totally in love with the view from our room! If you want to read more about our stay, check out my complete review about the Hilton Dead Sea Resort & Spa!
Amman
Since Amman is the capital city of Jordan, you will find the biggest variety of accommodations here. It is really up to you (and your budget) what kind of hotel you choose. You can check all the accommodations in Amman here!
We stayed at the Sandy Palace Hotel on our first night. It was really cheap as we paid 41 JD ($58 US) for one night with breakfast. Although it was okay for one night, I wouldn't recommend it for a longer stay.
The sealing at the windows was really bad so the room was crazy cold. Fortunately, they had an aircon in the room which provided heating as well, but the bathroom had no heating at all. Long story short, it was not a pleasant experience to have a shower in like 10 degrees.
Our second night was an entirely different experience as we stayed at The House Boutique Suites. We received a complimentary stay at one of their luxurious suites and absolutely loved our stay!
The suites are really amazing with a fully equipped kitchen, a huge bed, and an incredible city view. I would highly recommend checking out this place!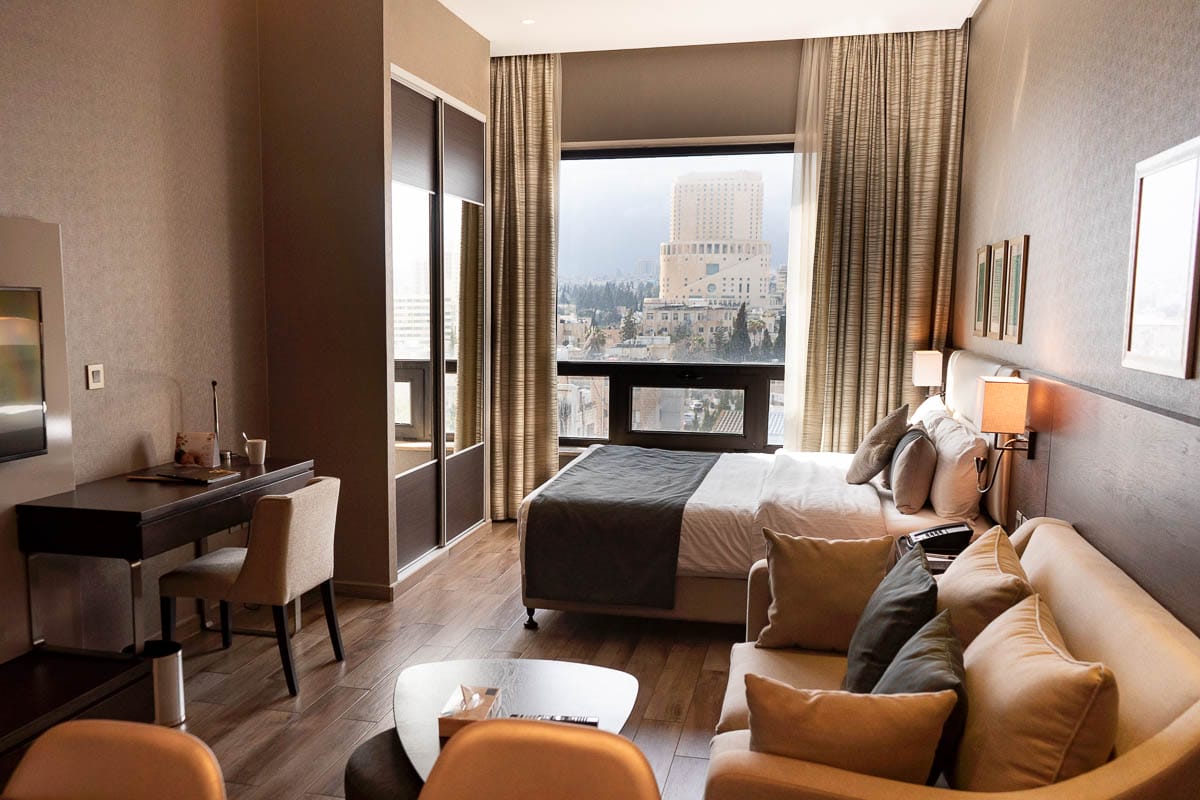 Jordan Pass
Every visitor should obtain a visa before entering Jordan. It can be purchased at international airports and most land borders for 40 JD ($56 US) per person.
However, if you decide to buy the Jordan Pass it already covers the visa and it gives you free access to many sites, including the famous Petra. The visa fee is waived on the condition that you stay at least 3 nights in Jordan.
If you are planning to visit Petra, I'd recommend choosing the Jordan Pass. If you would choose to buy the one-day Petra ticket separately, it would cost you 50 JD ($70 US) per person. You would pay another 40 JD ($56 US) for the visa, so your total cost would be 90 JD ($126 US).
The cheapest option (Jordan Wanderer) of the Jordan Pass is 70 JD ($100 US) per person and it already includes the visa and 1 day visit to Petra. If you plan to stay longer in Petra you can choose a multiple-day Pass as well. As we only had 1 day for Petra, we bought the Jordan Wanderer so it cost us 140 JD ($200 US) for two people.
Transportation
There are many possibilities when it comes to transportation in Jordan. You can arrive by plane, by bus or by car. You can use public transportation within the country, choose to opt for an organized tour, hire a private driver or rent a car for yourself.
The below costs are only valid for our way of transportation and of course can vary based on your personal choice and departure country.
Flight ticket
We arrived by plane from our home, Budapest. Ryanair and Wizz Air are the two airlines that fly directly between Budapest and Amman, both companies have 2 flights per week. Our return flight ticket cost us 161 JD ($227 US) with two carry-on suitcases and seats next to each other.
Rental car
After checking many options for transportation we decided to rent a car for ourselves. To be honest we were a bit afraid of driving in Jordan but as long as you can avoid the bigger cities you'll be fine.
Most of the time you will be driving through empty highways and mountain roads. There are lots of tricky road bumps and some of the roads could be in better condition, but that's all.
We reserved a car via Discover Cars and picked it up at the Queen Alia International Airport. We got a Hyundai Accent from Sixt and we paid 125 JD ($176 US) for one week.
As we had the standard package without any extra insurance they put a 350 JD ($495 US) deposit on our credit card and only released it a month later.
Fuel
The fuel prices are quite high in Jordan, it's like 1 JD ($1.4 US) for one liter of gasoline. We drove around 900 km during the week (you can check our detailed itinerary here) and paid 65 JD ($92 US) for fuel.
Activities
Full day tour with an overnight stay at the Wadi Rum
We booked a 1 day jeep tour at Wadi Rum Nomads with an overnight stay at their base camp. During the daytime, we visited many famous sites around the desert like the Lawrence spring, the Khazali canyon, and the Burdah rock bridge.
Gosh, those landscapes are just so incredible! The Wadi Rum is truly a photographer's paradise. If you would like to know more photography spots in the country, check out my guide about the most Instagrammable places in Jordan!
After sunset, they drove us to the campsite where we spent the night in a two-person tent. The tour was 130 JD ($180 US) for two people including a Beduin guide, transportation with a jeep, overnight stay at the camp, and all the meals and drinks during our stay (lunch, dinner, and breakfast).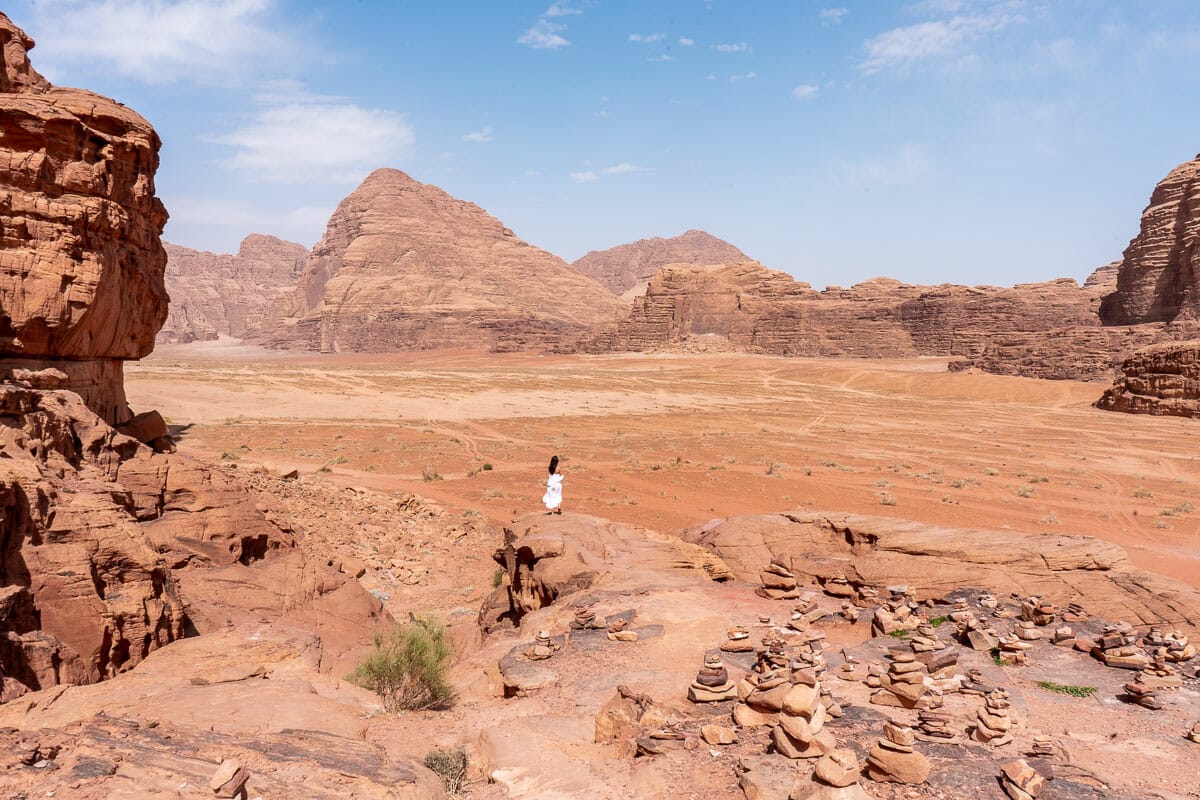 Snorkeling in Aqaba
Aqaba is really famous for its underwater life. The water is always warm and crystal clear which makes it the perfect place for snorkeling or scuba diving. We booked a tour with Deep Blue Dive Center and it was wonderful! I decided to try snorkeling first, but they are organizing diving tours as well.
The price for the snorkeling tour was 70 JD ($100 US) for two people, while it would have been 150 JD ($210 US) for the diving tour.
Actually, both groups were on the same boat and we had the same spots, only half of the group went diving and half of them stayed for snorkeling. The tour included a 4-hour long boat trip with 3 different snorkeling/diving spots, a delicious lunch, and soft drinks.
Petra by Night
If you visit Petra on a Monday, Wednesday, or Thursday, you can attend the Petra by Night event. The whole path through the Siq and the area in front of the Treasury is lit up by 1,500 candles, it's really magical!
Unfortunately, this event is not included in the standard ticket so we had to pay an additional of 34 JD ($48 US) for the two tickets.
Royal Automobile Museum in Amman
The Royal Automobile Museum is not a standard part of a Jordan itinerary. Unfortunately, it was raining all the time while we were in Amman so we needed a plan B. My boyfriend is crazy about cars and he was obsessed with this place.
The museum displays more than 70 cars and motorbikes from King Hussein's personal collection. The ticket is really cheap, it's 3 JD ($4.2 US) per person (without audio gudies) so if you are interested in vintage cars I could totally recommend visiting!
Food and Drink
Food prices are varied highly within Jordan but it was rather on the expensive than on the budget side. Breakfast was included in all of our accommodations, so we didn't have to bother with that.
Usually, we have a huge amount of food for breakfast on our travels and then we only have some snacks during the daytime before a proper dinner. We followed the same method in Jordan as well.
We had two nights in Petra so we tried out two restaurants: Petra Kitchen and My Mom's Recipe (they make the best hummus ever). Both are located near the entrance of Petra and we paid around 32 JD ($45 US) on average for two main courses and soft drinks.
At the Dead Sea, you have no other choice than to eat at your 5-star hotel, which of course comes with a high price tag. But at least the food was extremely delicious at the Hilton Dead Sea Resort & Spa!
We ate a chicken and beef shawarma as late lunch in the Lebanese restaurant for 44 JD ($62 US). The servings were so huge that I couldn't even finish it! Later in the night, we ordered two desserts and shisha while sitting on the terrace – the price was 37 JD ($52 US).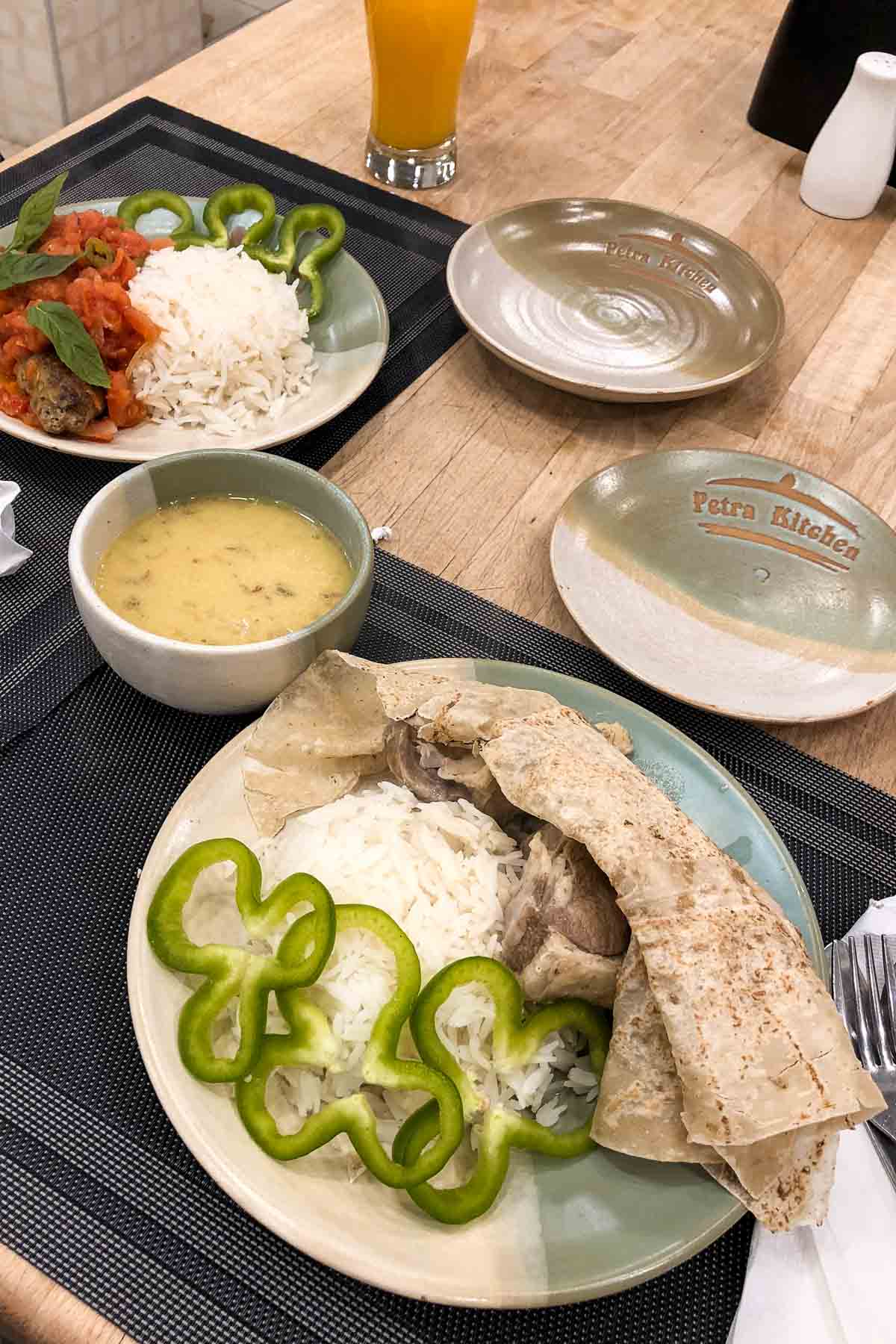 On the other hand, the prices in Amman and Aqaba were much lower than in Petra and the Dead Sea. In Amman, we visited the Gaith Restaurant and the Kahwet Um Khalil Restaurant.
The food was really delicious at both places and we paid like 15-20 JD ($21-28 US) for our dinner. Khubza & Seneya was the biggest surprise in Aqaba as we had an amazing meal and only paid 9 JD ($13 US) for two people!
Summary of Our Jordan Travel Costs
Our total cost of spending one week in Jordan was 1,380 JD ($1,945 US) for two people.
This included:
Accommodation: 371 JD ($523 US) for five nights with breakfast (we received one night as a complimentary stay and spent another night in the Wadi Rum which is listed under the Activities section)
Activities: 242 JD ($341 US) for a full day tour and an overnight stay at the Wadi Rum, snorkeling trip in Aqaba, Petra by Night and tickets to the Royal Automobile Museum
Food and drink: 240 JD ($338 US)
Rental car and fuel: 190 JD ($268 US)
Flight ticket: 161 JD ($227 US) including two carry-ons and seat selections
Jordan Pass: 140 JD ($200 US)
Other costs: 36 JD ($50 US) for smaller things like fridge magnets and souvenirs
Fun fact: Since it was our first visit to the Middle East, in the beginning, we considered having an organized tour. The original plan was to go for 4 days so I contacted one of the best tour companies in Jordan to give me a calculation.
We received an offer for a private tour for two people – for $1,884 US. It would have included 4-star hotels with breakfast, transportation, entrance fees, and a local guide, but nothing more.
No flight cost, no food cost, no snorkeling trip, no tips, or any other costs. And all that for 4 days. Instead of that, we spent 7 days in Jordan for almost the same price ($1,945 US) and this amount already included ALL of our travel costs.
My point is: Don't be afraid to organize your own trip! It takes a lot of time and effort to plan everything, but it's always so worth it in the end! And not just financially – the feeling after an amazing trip, knowing you planned it all yourself is just priceless!
---
Planning a trip to Jordan?
Then you might want to take a look at all our other travel guides about Jordan. I promise, they are just as awesome as this article was!
---
Related Posts
Want to read more about Jordan?
---
What Camera Gear Do We Use?
If you want to read more about what is in our camera bag, check out my detailed post about our travel photography gear!
---
Pin It for Later!