Known for its beautiful Mediterranean beaches, laid-back lifestyle, and delicious local cuisine, Spain is truly one of the most beautiful dream destinations in the world. Whether you're looking for a relaxing holiday or an adventurous trip, Spain offers countless amazing destinations to choose from.
If you're planning to visit Spain but not sure where to go, you are in the right place! From beautiful beach destinations and fairytale small towns to lively cities and breathtaking islands, here are the absolute best places you need to add to your Spain bucket list.
*Disclosure: This post contains a few affiliate links, which means I may receive a small commission, at no cost to you, if you make a purchase through my link.*
No time to read now? Pin it for later!
The Ultimate Spain Bucket List
Are you looking for the best places to visit in Spain but don't know where to start? Don't worry, I got you covered!
In this article you will find all the most beautiful places in Spain together with a bunch of useful recommendations about the best things to do in each location, how much time to spend there and lots of other insider tips. Let's get into it!
1. Barcelona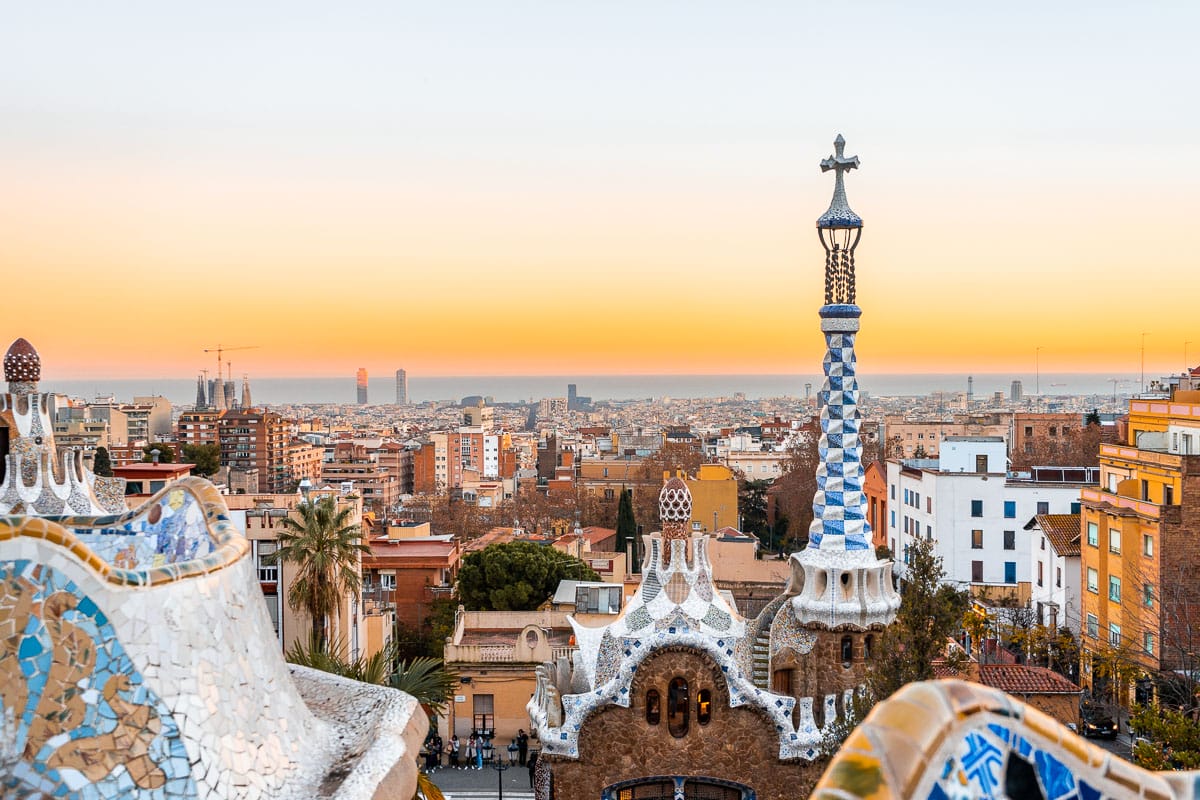 Recommended by Kriszti from She Wanders Abroad
Nestled between the beautiful mountains and the inviting coastline, Barcelona is one of the most beautiful cities in Europe that definitely has to feature on top of your Spain bucket list.
The capital of Catalonia is mostly known for the famous La Sagrada Familia and the many colorful and breathtaking works of Antonio Gaudi across the city. Starting from the gorgeous architecture to the most amazing local food, there are just so many things to love about Barcelona!
Although you can see almost all the must-see spots in just 24 hours in Barcelona, it's worth spending at least 3 days in the city to truly experience its unique vibe.
Walking through the Las Ramblas and the Gothic Quarter, admiring the unique architecture of the La Sagrada Familia, visiting Casa Batlló and Casa Mila, and seeing the sunset in the Park Güell is a real must when visiting Barcelona!
Since Barcelona is really popular among tourists, it usually gets very crowded during the summer. If you want to visit without the crowds, try to plan a trip to Barcelona in the off-season.
Since the city is blessed with mild temperatures during winter, it's also one of the best winter sun destinations in Europe if you want to escape the cold.
2. Mallorca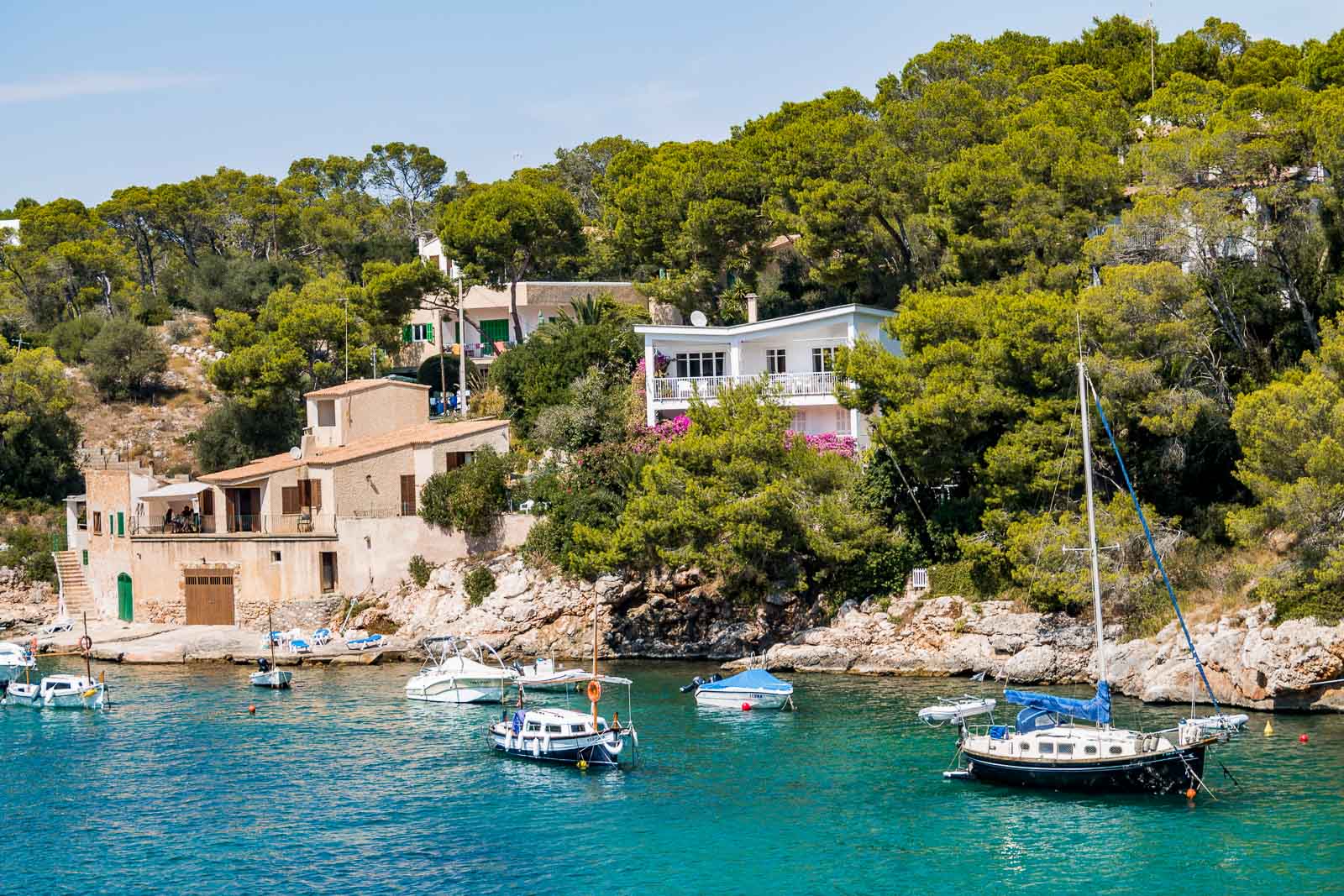 Recommended by Kriszti from She Wanders Abroad
If you love beautiful white sandy beaches, romantic hilltop towns, and scenic viewpoints, then you definitely need to add Mallorca to your Spain bucket list!
Situated in the Mediterranean Sea, Mallorca is the largest island of the Balearic Islands and it boosts many incredible natural wonders ranging from stunning beaches to scenic viewpoints.
The island is relatively small but because there are so many great places to visit, it's worth spending at least 4 days in Mallorca.
Although you can technically take the bus around Mallorca, they don't run as often as you'd think and the schedule is especially limited on the weekends. Therefore it's best to pick up a rental car at the airport and opt for an exciting Mallorca road trip instead!
Palma, the island's capital is one of the best places to stay in Mallorca if you're looking for a centrally located hotel or resort. You can spend a full day here by visiting the Gothic Palma Cathedral and the Bellver Castle and strolling around the city.
Visiting the beautiful calas such as Cala Pi and Cala d'Or is another must in Mallorca, as well as discovering the cute little mountain towns and monasteries. If you're looking for the best sunset spot on the island, head over to Cap de Formentor where you can get a beautiful panoramic view over Mallorca.
3. Menorca
Recommended by Nadine from Le Long Weekend
The Balearic island of Menorca is a nature-lovers dream destination. Situated in the sparkling Mediterranean sea, you can find many picture-perfect beaches in Menorca and the whole island exists like something out of a fairytale.
Less developed than neighboring Mallorca, the entire island is protected under a UNESCO Biosphere designation. This means that people live in harmony with nature, and this union is evident everywhere you look.
Walk the ancient Cami de Cavalls trail (or one of its 13 stages) around the circumference of Menorca to gain a deeper understanding of the island's heritage, or wander along any of the coastal trails for spectacular views.
The island is peppered with nature parks and reserves where the native wildlife congregate, and archaeological ruins are plentiful too – there are some 1500 megalithic sites to explore.
Menorca's towns and villages are a pleasure to discover as well, each with its own unique offering. Mahon is the main town, and it's a charming place to amble through the old streets, ducking in and out of covered markets and interesting boutiques, or relaxing with a meal on one of many cafe terraces.
The former capital of the island, Ciutadella, offers a different experience and is where you'll discover the incredible history of the island.
Last but not least, don't forget to partake of Menorca's chosen tipple, Gin, at a local distillery before you bid farewell. Allow at least a week to experience the island at leisure, this is not the kind of place you'll want to feel rushed.
4. Ibiza
Recommended by Ciara from Wellness Travel Diaries
No vacation to Spain would be complete without visiting the beautiful Balearic Islands. Located in the Mediterranean Sea, the Balearic Islands offer several sunny cities complete with azul lagoons, and luscious greenery for a complete wellness escape.
Ibiza, the capital of the island, is a beautiful destination worth a visit. While it's well-known for its amazing nightlife during the summer, the city of Ibiza turns into a wellness paradise during the offseason.
There are so many things to do in Ibiza to entertain a wide array of any traveler's interests, from partying the night away, touring the open seas by boat, or relaxing at the beach. For adventure enthusiasts, there are various hiking trails, snorkeling, stand-up paddleboarding, and biking.
Not to mention, the food scene in Ibiza is incredible! Stay hungry and happy as you wine and dine at beachfront restaurants with gorgeous views especially during sunset. The food ranges from traditional Spanish cuisine, vegan options, a surplus of fresh seafood, European dishes, and much more.
Moreover, Ibiza has great weather year-round, so anytime you're planning a visit is ideal. The main two season Ibiza has its high tourist season and low tourist season.
Peak tourist season is during late spring to early fall, and it's when the Ibiza night scene comes to life, but around October the island becomes a relaxation retreat for locals and tourist alike. Pick what vibe you're wanting to experience on this gorgeous island, then plan away!
5. Valencia
Recommended by Stéphanie from Bey Of Travel
Valencia is located at the Mediterranean Sea and the Turia River. A visit to the city is perfect if you are in need of a break but don't have many holiday days left, as you can discover most of its beauty in just 3 days!
Valencia is known as the city of art and science, so you will enjoy stunning architecture around every corner, both modern and historical buildings will cross your path.
Wander around the beautiful historical streets and enjoy some typical Spanish dishes at the Mercado. Did you know Paella was invented here? Definitely enjoy this rice dish while you're in the city! You can easily explore Valencia on foot or by bike, you can rent bikes almost at every corner of the city.
Valencia's famous 'Jardín del Túria' park is an easy connection between the city and the beach. That's right, in only 15 minutes by bike, you are at the beach! Enjoy a delicious dinner in one of the many restaurants while watching the sunset and you can also experience the vibrant nightlife in one of the many beach bars after dinner.
Valencia is definitely one of the most beautiful places to visit in Spain, and since the city is also really affordable, it's a great destination for budget travelers as well.
6. Denia
Recommended by Ella from Many More Maps
On Eastern Spain's Mediterranean coast you'll find the town of Denia, a popular holiday destination that still retains its authentic Spanish charm. If you're looking for a quiet weekend getaway, you definitely need to add Denia to your Spain bucket list!
Denia is the ideal place to enjoy Spain's beaches away from the tourist crowds, as it receives just a fraction of the tourists its neighbors of Valencia and Benidorm get. What's more, Denia is also much cheaper than these cities. The affordability of this town is what convinces many expats to pack up their lives at home and start living in Denia.
The best thing to do in Denia is the hike up Montgo mountain, the most beautiful viewpoint in Denia. From the top of the mountain, you'll get epic views over the historic town and the miles of the coast surrounding Denia.
Back in town, don't miss exploring Denia castle, the ruins of which date back hundreds of years.
You absolutely can't miss eating at the restaurants in Denia, as the style of cooking in this area is very different from the rest of Spain's food scene. The best way to enjoy authentic and local food is to book a local-led food experience.
Denia is ideal for a weekend trip in Spain as two days is the perfect amount of time to explore the town and its surroundings. If you have extra time, Denia is an ideal base for day trips around the area – Benidorm, Alicante, and Valencia are all popular places to visit from Denia.
If you're wanting to go further afield, consider catching the 2-hour ferry from Denia harbor to the island of Ibiza!
7. Calpe
Recommended by Jürgen & Martina from PlacesofJuma
If you're looking for the most beautiful places in Spain, you certainly can't miss Calpe. This town is located on the picturesque Costa Blanca and impresses with very exceptionally beautiful scenery.
Directly on the sea and between two beaches rises the mighty mountain Penon de Ifach, and thus characterizes the landscape of Calpe. In addition to this natural wonder, other great attractions await you in Calpe. The wide sandy beaches with palm trees and the picturesque promenade are also amazing here, where you can spend some dreamy days at the sea.
Another highlight is the colorful old town of Calpe, which offers a lovely contrast to the modern city. Here you can expect small, pretty alleys, colorful staircases, and fabulous restaurants where you can taste the Spanish cuisine.
Another thing that you should not miss is a visit to the Pink Flamingos. Yes, in the middle of the city, in a salt lake cavort hundreds of these beautiful animals, which you can observe and photograph during a walk.
For those who like to be active, Calpe is also a great place for hiking. For example, hike up to the mountain Penon Ifach, where you can enjoy a spectacular view over Calpe and the Spanish Costa Blanca! An experience that you will certainly not forget so quickly.
8. Villajoyosa
Recommended by Baia from Red Fedora Diary
Villajoyosa is a small town in Spain's coastal area of Costa Blanca. It prides itself on charming, colorful houses lined along the Mediterranean Sea coast, making it a popular destination for many travelers looking for a relaxing getaway.
Attractions in Villajoyosa are limited, while the prominent landmarks are the Gothic Church of the Assumption, a few street art pieces, and streets lined with those beautiful, multi-colored houses.
Therefore, the town is a great weekend getaway for couples, families, or girls trip. Moreover, the warm climate of Costa Blanca makes it ideal for escaping gloomy Europe in winter.
It is also a great location to travel around Costa Blanca and visit cute villages and towns such as Alicante, Benidorm, and Altea and Pink Lake near Torrevieja.
Alternatively, you can visit it as a day trip from any nearby towns mentioned above by renting a car, a bus, or a tram to enjoy a scenic ride. The tram takes around an hour, but you are treated to beautiful views of the sea and small villages along the shore.
9. Madrid
Recommended by Dymphe from Dymabroad
One of the most beautiful places in Spain is Madrid, which lies in the center of the country. Madrid is the capital of Spain and it is an amazing city to travel to.
For those looking for a place in Spain that has a variety of things to do, Madrid is a great choice.
One of the best things to do in the city is visiting a museum. There are lots of great museums in Madrid, Prado Museum being probably the best one. It is the national art museum of the country and it holds a great collection of Spanish artworks and many artworks from other countries in Europe.
Another great activity in Madrid is walking through Retiro Park, which is definitely the best park in the city. Also, the Royal Palace of Madrid is a beautiful building to visit. Besides that, Madrid is a great place to try Spanish food, a good place for this is San Miguel!
Visiting Madrid in winter is also a great idea as there are lots of unique things to do then, such as ice skating and seeing beautiful Christmas lights all over the city. It's worth spending at least a weekend in Madrid, but if you're staying for a longer duration, you're not going to regret it either!
10. Cuenca
Recommended by Alessia & Toti from Italian Trip Abroad
Nestled in the green hills of Central Spain, Cuenca it's the perfect off-the-beaten-path destination to visit in the Iberian Peninsula.
The city is located in the middle of the Castilla La Mancha region, only an hour away from Madrid, which makes it one of the best day trips from Madrid. But if you want to enjoy all the activities and the surrounding area, plan to spend at least 2 days in Cuenca.
The ancient city of Cuenca was founded by Muslims who conquered the area back in 714. The landscape is so gorgeous that it served as an inspiration for the stories about Don Quixote and Sancho Panza, written by the Spanish author Miguel de Cervantes Saavedra.
Cuenca is well known in Spain for its ancient religious past but also for its natural beauties and the characteristic basin. The houses are situated 946 meters above sea level, guarding the surrounding valley. The rocks offered a strategic position in the past, protecting the village from invaders.
The way the village was built is pretty impressive, and some of that is still present today. Visiting Las Casas Colgadas, otherwise known as the Hanging Houses of Cuenca is one of the best things to do in Cuenca.
The area is a UNESCO World Heritage Site and you can explore the cliffside houses inside, eat at a 2-star Michelin restaurant and enjoy the panorama from their balcony.
Another incredible place to visit is the San Paolo Bridge which connects the Religious Monastery of St. Pauls to the ancient city. The bridge was built by Gustave Eiffel and it offers an incredible view over the old town.
11. Segovia
Recommended by Chrysoula from Historic European Castles
Segovia lies northwest of Madrid and has a rich architectural legacy that includes an impressive double-height Roman aqueduct. The aqueduct with its 160 arches can be found right in the heart of the city, standing above Piazza Azoguejo. The aqueduct is made from granite but without mortar, so just stands because of the force of gravity.
The main street is called Calle Real (Royal Street) which amusingly changed its name several times! It leads to Medina del Campo which captures the town's wealth of architecture with the 12th-century church of St. Martins, the 15th-century palace of Tordesillas, and the 14th-century Lozoya.
Close by, in Plaza Mayor, you will find the 16th-century cathedral, its facade is known as Puerta del Pardón (Door of Forgiveness). Inside, you can find 18 chapels and the most amazing stained glass windows you'll ever see. Interestingly, a bell ringer lived in the bell tower until the 20th century.
If you are feeling hungry, there are some really good restaurants and tapas bars situated around the cathedral.
Another must visit spot is Alcazar de Segovia. Perched high on a crag above the city, the castle has a moat and drawbridge plus beautiful gardens. A tour is a must and it is worth paying to climb the tower for great panoramic views.
The Royal The Palace of La Granja de San Ildefonso, just outside the city, is also worth visiting.
12. Cordoba
Recommended by Marsha from Do You Salut
It's hard to not mention Cordoba when thinking about the most beautiful places in Spain. Located in the Andalusia region of southern Spain, you instantly get transported to another era when visiting.
Cordoba is a historical town best known for the blending of Jewish, Catholic, and Islamic cultures. This is best shown by visiting the UNESCO site Mezquita-Cathedral.
After visiting the Mezquita-Cathedral you can take a free walking tour to learn about the history of the city. During the walking tours, you will encounter many beautiful los patios – the people of Cordoba love decorating their courtyards with beautiful flower arrangements!
A visit to the Alcázar de Los Reyes Cristianos castle will have you feeling like you've been transported to a city in the Game of Thrones! After exploring Cordoba's top sights, you can enjoy the many restaurants whose food has an abundance of flavors.
With yearlong mild temperatures, it's always a good time to visit Cordoba. If you are not one for crowds, perhaps September/October would be the best time to visit.
While you can spend endless days wandering the streets of Cordoba, spending about 3 to 5 days is a great way to get to know the city without feeling time pressure.
13. Seville
Recommended by De Wet & Jin from Museum of Wander
Seville in southern Spain is the capital city of Andalucia. If you're looking to experience Spain at its most exotic and colorful, then you definitely need to add Seville to your Spain bucket list! A 3 days itinerary for Seville should be ideal to get to know Seville without rushing it.
Seville rewards visitors with a vibrant mix of Spanish and Moorish architecture, an incredible culinary scene, and of course passionate flamenco dancing. While visiting Seville you will get familiar with Spain's rich culture and history as you walk, eat and dance your way through this stunning city.
The Alcazar and adjacent Seville cathedral are both must-sees, and often the first stop for most visitors. Layers, lines, and colors of Europe, North Africa, Christianity, and Islam all come together in the most spectacular way in these two buildings, which perhaps capture Seville's psyche the best.
After seeing the Moorish tiles and formal gardens of the Alcazar, head over to the enormous Seville cathedral to see the vaulted ceilings, works of art, and the tomb of Columbus.
For the best view in Seville, climb the Giralda tower for a bird's eye view of the orange tree-filled courtyard below and the city stretching out behind it.
The grand Plaza de Espana and the Metropol Parasol (also known as the Mushrooms) should also not be missed while you're in Seville. No visit to Seville would be complete without attending a flamenco performance.
Seville is the birthplace of this passionate dance. For an outstanding, yet intimate and extremely enjoyable night, you must go to Bar Lo Nuestro Flamenco for the nightly flamenco show.
14. Jerez de la Frontera
Recommended by Joanna from Andalucia In My Pocket
Jerez de la Frontera is without a doubt one of the most beautiful places in Spain. Located in Southern Spain, not far from the border with Portugal, Jerez de la Frontera is known for its sherry production, flamenco performances, and, surprisingly, equestrian arts.
There are so many fantastic things to do in Jerez de la Frontera. Firstly, you can't visit the city without going for a sherry tasting at one of the bodegas in town.
The most famous one is Tio Pepe, which exports the famous drink all over the world. You will be surprised to find out that the sweet sherry you are used to drinking as a digestive, after a hearty meal, is mostly produced for export.
Sherry is produced exclusively in the Jerez Triangle, the area between Jerez de la Frontera, Sanlucar de Barrameda, and El Puerto de Santa Maria. Sherry is actually dry and refreshing, with nutty flavors. The alcohol content of sherry is around 17%.
In Jerez de la Frontera, you can attend some of the most authentic flamenco performances in the entire Andalucia. This is because Jerez is the place where the art of flamenco began.
The best places to go for a show are tablaos and penas. The tablaos are usually small and intimate cafes dedicated to flamenco performances, whilst the penas are more local and authentic places frequented mostly by locals. A pena will rarely have an entrance fee.
Jerez de la Frontera is home to one of the top third prestigious equestrian arts school in the world. The school is open for visitors, but they also organize performances in which horses seem to dance to music. It's fascinating!
15. Ronda
Recommended by Melissa from Parenthood and Passports
Ronda is one of the most beautiful places in Andalusia, if not in all of Spain. The iconic village known for its picturesque bridge, Puente Nuevo, is an easy day trip from Seville or Cordoba.
Puente Nuevo spans the Tajo Gorge and connects the two sides of the village perched atop the cliffs. The stunning bridge, which was constructed in the 1700s, has been depicted in various movies and films, making Ronda all the popular among tourists.
Aside from taking in the views of Puente Nuevo there are plenty of other things to do and see in Ronda, Spain in one day. The village is also the birthplace of bull-fighting. While many disagree with the controversial "sport", bullfighting is an important part of the town's history.
Plaza de Torros is a great place to start your visit to Ronda. There, you'll find the village's original bullfighting arena and a museum if you choose to learn more about the history of bullfighting.
Even if you choose to pass on the museum, the plaza is a lively place filled with musicians and vendors selling handmade crafts. Adjacent to the place, Mirador de Ronda, offers a jaw-dropping view of the white village built atop the cliffs and the deep gorge below.
Finally, Casa del Rey Moro is a must-visit when exploring Ronda. A series of 231 steps down a spiraling staircase takes you to the bottom of the gorge. This staircase was once used by locals to collect water for personal use each day.
Luckily, the village is small enough that you can easily walk between the popular sites and see almost everything in one day. However, to truly appreciate the beauty of Ronda, stay for a night, to see Puente Nuevo illuminated when the sun sets.
16. Malaga
Recommended by Emma from Emma's Roadmap
Malaga is a wonderful city located on the Southern coast of Spain, also called the Costa del Sol or 'Coast of the Sun'. This already says enough about the climate in Malaga, as you'll be guaranteed sunny days and hot temperatures, especially in summer!
Like most of Spain's other cities, Malaga contains a lot of history, dating back to when Romans governed the region. However, it's not just the history that makes Malaga unique but the combination of culture and the beach!
Indeed, whether you like to admire the remains of times long gone by or just want to chill at the beach with your feet in the warm sand, both are possible at the same time.
Some top things you really can't miss when visiting the city (beyond the beach) are Gibralfaro Castle and Malaga's Cathedral. Climbing Gibralfaro Castle will give you a breath-taking view over the city and the region but also isn't for the faint of heart, especially when climbing the hill in the burning sun.
As for Malaga's Cathedral, you'll be able to enjoy some amazing religious art and wonderful architecture since the cathedral is built in a mix of Renaissance and Baroque styles!
These activities, and much more, can be combined into an itinerary for one day in Malaga, but it's better to spend at least 2-3 days in the city to fully soak up the relaxed, southern atmosphere! So, when are you flying to Malaga?
17. Granada
Recommended by Milijana from World Travel Connector
Magnificent Granada with the world-celebrated Alhambra Palace is undeniably one of the most beautiful places in Spain. The picturesque city of Granada is set in the Darro Valley in the foothills of the legendary Sierra Nevada.
While historic Granada might be best known as home to the Moorish masterpiece of Alhambra Palace, Granada is much more than just the Alhambra.
What makes Granada magical are the charming, narrow cobbled streets, captivating caves of the gypsy Sacromonte quarter, ancient Arabic quarter of Albayzin, elegant Granada Cathedral, and Royal Chapel, famous Hammam Al Andalus, cozy Granada tapas bars, and lovely teterías (teahouses) to name a few.
So, visiting Alhambra and Generalife Gardens in Granada is a must.
But to experience all the grandeur of Granada don't forget to explore the old Arabic quarter of Albayzin, to watch authentic flamenco show in the gypsy quarter of Sacromonte, admire Granada Cathedral and Royal Chapel, taste famed delicious and free tapas in Granada, enjoy some delicious Moorish tea in a Granada's teahouse, and go for a spa treatment at Hammam Al Andalus.
The best time to visit Granada and the region of Andalucia in Spain is in spring and autumn for the pleasant temperatures. And spectacular Holy Week (Easter Week) in Granada is another level.
18. Sierra Nevada
Recommended by Linn from Andalucia Hiking
Sierra Nevada National Park is one of the only two national parks in southern Spain and also home to some of the most accessible 3,000 meters (9,800 feet) peaks in the country. It stretches over the provinces of Granada and Almeria in Andalucia.
Home to the southernmost ski resort in Europe, it is an astounding winter destination presenting glittering white peaks you can see all the way from the coast.
But the national park also features the highest peak in the Iberian Peninsula, Mulhacen (3,479 m/11,400 ft) which is only one of the many incredible hikes in Sierra Nevada, Spain.
The dramatic rocky high mountains where mountain goats call home are in extreme contrast to the lower Sierra Nevada. The land where glittering rivers press through narrow ravines, creating waterfalls and refreshing swimming holes for the summer months and the lush green vegetation is dense and alive.
Sierra Nevada has it all when it comes to beauty and is a dream destination for outdoor lovers. Hikes worth mentioning are Cahorros trail and Rio Molinos. But even the whitewashed villages surrounding the national park are worth a visit.
Especially Capileira, Trevelez, and Bayárcal are charming. But even the historical city of Granada is set in the outskirts of Sierra Nevada and should not be missed.
19. Cabo de Gata
Recommended by Paulina from Visit Southern Spain
Cabo De Gata, (also known as Cabi De Gata) is a volcanic sierra by the sea and is located in the southeastern end of the province of Almeria. It is one of the best places to visit in Spain because its coastline is surrounded by mountains, cliffs, and beaches.
It is a calm and quiet place in Spain situated in a remote area. Cabo De Gata is the ideal place for visitors who like to get away from the rush of city life as it offers a peaceful visit along with many things to do.
Even though it is a peaceful place, it doesn't mean that there is nothing to enjoy. Instead of the nightlife, restaurants, shopping, and bars, Cabo de Gata offers adventurous activities.
Some of the best things to do there include hiking, exploring the beaches and other hidden bays, watching the sunset at the Mediterranean Sea, walking along the clifftops. After exploring all of it, the visitors can see the flamingos at Las Salinas. It is one of the popular things that tourists enjoy the most at Cabo de Gata.
Also, don't miss grabbing a drink in the village of San Jose! Grabbing a drink while witnessing the sunset at Cabo De Gata is one of the best things to do in Almeria. It is recommended to visit Cabo de Gata for at least 4 days to experience all of its popular spots.
20. Tenerife
Recommended by Ophélie from Limitless Secrets
Tenerife is definitely one of the most beautiful places in Spain! This island is located in the Atlantic Ocean on the West side of Morocco. It's part of the archipelago of the Canary Islands and it's the most touristy one.
People appreciate visiting Tenerife because it features many photogenic places! You can admire here volcanic landscapes with mountains, but also beautiful beaches and coastlines. The cities and towns of Tenerife are also full of charm. And the climate in Tenerife is rather pleasant all year long so you can travel there at any time of the year.
It offers a great variety of things to do as well! For example, you can spend some time on the beach at Playa de Las Teresitas, the prettiest white sand beach in Tenerife. If you prefer black sand beaches, have a look at the spectacular Playa de Benijo.
Tenerife features the third tallest volcanic structure in the world: Mount Teide. The National Park around it is worth the visit. For all of you who love hiking, you can also wander in Masca Valley in the southwest. Besides mountains in the same area, Tenerife has some impressive cliffs rising from the sea named Acantilados de Los Gigantes.
If you want to see some dolphins and whales, you can take a boat tour close to the town of Los Cristianos. And you can also visit some pretty towns of Puerto de la Cruz, Garachico or San Cristobal de la Laguna.
To explore the island of Tenerife, it's good to stay around one week. This will allow you to do a road trip around the island and enjoy as many places as possible!
21. Fuerteventura
Recommended by Alice from Adventures of Alice
This gorgeous Canary Island is one of the top holiday travel destinations across Europe and it's definitely one of the most beautiful places to visit in Spain.
Being one of the largest of the Canaries, Fuerteventura is pretty diverse with volcanic landscapes, beautiful beaches, and national parks. It has a bit of everything, so it's perfect for all types of travelers to explore.
Fuerteventura is ideal for a long weekend break in Europe, so 4 days on the island should be enough to see most of the major sights. However, if you want to stay longer, there is also plenty more to explore.
Plus, it's a great starting point for branching out across the other Canary Islands and there are easy ferry connections between them all.
Some of the best things to do in Fuerteventura are to explore the beautiful volcanic crater of Calderon Hondo, admire the Fuerteventura windmills, relax on the gorgeous golden sands of Playa del Matorral beach and take a dirt buggy to Corralejo Natural Park to ride some of the best sand dunes in the Canaries.
However, the cherry on top is Barranco De Los Enamorados. A bit of a hidden gem, the stunning ravine is Europe's answer to Antelope Canyon and an absolutely beautiful place to get lost. Perfect for birdwatching, hiking, or just admiring the peculiar landscape, it's a beautiful place in Spain to visit.
22. Lanzarote
Recommended by Rebecca from Becksplore
Lanzarote is one of the Canary Islands, located only 125 km (77 miles) away from the African coast. The island is of volcanic origin which makes it such a unique place to visit as you will find craters, canyons, and beautiful beaches all on one island.
So if you're obsessed with unique places, don't hesitate to put Lanzarote on your Spain bucket list!
The main attraction is the Timanfaya National Park. You can visit by car or as part of an organized bus tour and discover the breathtaking volcanic landscapes.
Other attractions that you should not miss out on in Lanzarote are Jardín de Cactus, Los Hervideros or El Golfo. El Golfo is a small village with a green lagoon in a volcanic crater which is a beautiful place to visit.
Also, make sure to include a viewing point such as Mirador del Rio in your Lanzarote itinerary. From there you can get stunning views of the neighboring island, La Graciosa.
Also, the city of Arrecife and the town of Puerto del Carmen are definitely worth a visit. Here you can enjoy your days by the beach, find amazing restaurants and also a lot of hotels.
You should plan a minimum of four days in Lanzarote but you can easily spend a lot more time on this beautiful island. You can also combine your trip to Lanzarote with a day trip to Fuerteventura, one of the other Canary islands.
23. Costa Brava
Recommended by Alice from Adventures of Alice
This area of Catalonia's Girona Province in mainland Spain has been attracting all types of travelers for generations and it's a place that has to feature on every Spain bucket list. A beautiful Spanish travel destination, there are so many pretty places in Costa Brava to see. However, a few of the best places to visit in this region are Girona and Tossa de Mar.
Tossa de Mar is a contrasting historic seaside town with beautiful sandy beaches, natural beauty, ancient ruins, and another beautiful old town surrounded by medieval walls. Whilst you're there be sure to explore the Old Town, climb to the top of the Castillo de Tossa de Mar and perhaps even go on a boat tour!
Girona is the best place to visit in Costa Brava if you love medieval Spanish towns. The stunning Old Town is a multicolored masterpiece with twisting alleyways, a magnificent Cathedral, riverfront restaurants, and fresh seafood. There are also medieval walls surrounding the whole city that you can walk along.
When it comes to beautiful places to visit in Spain, Costa Brava is packed full of a delightful combination of holiday favorites and hidden gems and would make a great getaway for all of the family.
To see the best of Costa Brava, you really only need a week, however, to really get a feel for this region of Spain, I recommend staying for a little longer.
24. Girona
Recommended by Tom from The Travelling Tom
Girona is a fascinating city in the northeast of Spain. Although it's one of the main cities in Catalunya, it's still an underrated place to visit in Spain. Girona is a medieval city and this clearly reflects in the nature of the buildings. Just check out the gothic-style cathedral, which towers into the sky in an imposing manner.
The striking nature of the buildings and the city is what led to Game of Thrones being filmed in Girona. So if you're a fan of the show, you definitely need to add Girona to your Spain bucket list!
One of the best things to do in Girona is to walk along the Roman walls which encircle the city. This is an excellent way to see different parts of the city and get your bearings. The walls also provide a brilliant vantage point for the rest of the city. The views are fantastic highlighting the beauty of Girona.
A walk along the river, which flows through the center of the city, is also recommended. The colorful houses which line the side of the river are a sight to behold.
An underrated part of Girona is its food scene. Plenty of excellent restaurants and cafes can be found here, such as La Fabrica, which serves some of the best food in the city.
Two days is an ideal amount of time to spend in Girona. It's not the biggest city and after 2 days, there won't be much left to see. This makes Girona an ideal place to go for a weekend break!
25. Besalú
Recommended by Claudia from My Adventures Across The World
Besalu is easily one of the prettiest places in Spain. This small town in the heart of the Garrotxa Volcanic Region, part of Costa Brava (Catalonia) is easily reached from Barcelona and Girona, so a perfect destination for day trips – though you may want to spend a night there to take in the truly magical atmosphere.
The town is packed with charm and interesting sights. It's a maze of narrow alleys, small courtyards, airy plazas lined with historical buildings, and beautiful churches. The main landmark, however, is Pont Vell – the Old Bridge – which connects the two sites of the River Fluvia.
The bridge dates back to the 12th century and is in Romanesque style, and it usually is the first sight you see once you get to town. There are several viewpoints from where you can admire it.
Another must-see is the Monastery of St. Pere, with the nearby square. Finally, make sure to visit the Jewish Baths – which will remind you of the presence of an influential Jewish community that used to live in the area.
Kids will appreciate the well-curated and 100% quirky Miniature Museum, and a walk on the banks of the river. Make sure to also stop at one of the many lovely souvenir shops!
26. Figueres
Recommended by Jyoti from Story At Every Corner
The town of Figueres is famous as the hometown of Salvador Dali. It's located about 140 km (86 miles) northeast of Barcelona. It's an easy hour and a half drive by car but you can also travel between Figueres and Barcelona by train which makes Figueres one of the best day trips from Barcelona.
While Barcelona is famous for Catalonian architecture and stunning landmarks created by some nearly eccentric architects, none of them compare with Dali's eccentricity. It's no wonder that Figueres is famous for the Dali museum and the museum of Dali's jewels.
Dali museum has the finest collection of Salvador Dali's work in the world, much of it from his personal collection. Dali was a Spanish surrealist artist: he was a painter, sculptor, jewelry designer, draftsman, and more. As you walk about the museum, you'll see his work is bizarre but striking.
The centerpiece at the Dali museum is the Rainy Taxi, a black Cadillac, one of the 6 cars ever made. Dali came up with the idea of rain inside a taxi when it was not raining outside.
The inside of the rainy taxi is a great example of his bizarre thinking. It has a woman wax sculpture dressed in an evening gown with snails crawling all over and a taxi driver with a shark head. It's raining inside the taxi with a network of pipes.
The museum has many collections within it, several by Dali himself but also some by his favorite artists and friends. Some memorable collections include his rock sculptures, jewelry designs, 3D faces from furniture, miniature paintings, and mechanical devices.
Besides collections, the museum is home to some huge paintings and installations like the Lincoln picture that reveals itself on camera. Each of the collections and individual pieces is striking unforgettable. They definitely leave a lasting impression.
27. Pyrenees
Recommended by Kathryn from Wandering Bird
One of the most beautiful places in Spain has to be the breathtaking Pyrenees mountains. This mountain range runs for more than 400 km (250 miles) along the border between France and Spain and is home to countless lakes, rivers, meadows, and dramatic peaks.
Many people seem to rush past the Pyrenees if they're driving between France and Spain, or they don't have an opportunity to explore properly.
By far the best way to see the region is with your own vehicle- even better if you are motorhoming in Spain and can stay in some of the more remote campsites with your van for a few nights.
People visit the Pyrenees to get away from the hustle and bustle of city life and enjoy the beauty of nature at its very best. One of the most incredible things to do is to go outside on a clear night and look up.
You'll be blown away by the stars, how bright they are, and how many there are. Being so far away from built-up areas means you can get away from light pollution.
Having said that, there are towns and villages within the Pyrenees region and there's plenty to do, including hiking, Via Ferrata, wildlife tours, river rafting, skiing in winter, and even spas.
The best time to visit will depend on what you want to do – hiking and wildlife watching are better between May-October, while skiing is only possible during winter. You can visit the Pyrenees just for a day or two but stay for as long as you can to really get a taste of the region.
28. San Sebastian
Recommended by Christina from Travel2Next
Amazing beaches, lush green hills, and an atmospheric Old Town (Parte Vieja) make San Sebastian one of the most beautiful places in Spain. San Sebastian is a stunning city on Spain's north coast in the Basque region near the French border.
The seaside destination is 101 km (63 miles) from Bilbao's Basque capital and can be reached by train, bus, or flights from Malaga and Barcelona.
Not only is San Sebastian a beautiful place, but it is also culturally unique in the region as the Basque culture has its own customs, celebrations, and language. Euskera, the Basque language, is unrelated to Spanish or French.
There is no doubt San Sebastian is a city for foodies, with the second-most Michelin stars per capita and plenty of cool bars. Going on a pintxo bar-hop through the Old Town to sample bite-size local delicacies is one of the must-dos when visiting San Sebastian.
Other classic things to do in San Sebastian are to stroll along the Belle Époque promenades of the city's beaches and drink local txakoli wine in a beachside cafe. For a fantastic view, take the funicular up to Monte Igueldo and gaze at the city from the famous lookout.
San Sebastian is small enough that it's easy to get around on foot yet interesting enough to spend at least 3 days exploring. But if you're keen on good food and wine, you'll want to stay for a week.
29. Santillana del Mar
Recommended by Kirstie from Kirstie Will Travel
Nestled in the heart of the northern Cantabria region, you'll find the incredibly charming town of Santillana Del Mar, widely recognized as one of the most beautiful places in Spain.
The town is filled with medieval buildings and cobbled streets, and its beauty attracts many tourists to the region of Cantabria. It also lies on the route of the Northern Way (Camino del Norte) on the famous Camino de Santiago, so you can expect to see a few hikers during your visit.
In Santillana del Mar, there are few attractions, because the best thing to do is wander around the historic old town. It's very peaceful, and there are so many amazing buildings to marvel at. Make sure you see the Romanesque Collegiate Church of Santa Juliana, preserved since around the 12th century.
You can also discover the UNESCO World Heritage Altamira Caves just a short walk outside of the town. At the museum, you can learn all about the prehistoric art that was found and preserved in these amazing caves.
Santillana del Mar is a very small town, so it's great for a day trip from a bigger city in the north of Spain. It's only a 30-minute drive from Santander or 1.5 hours from Bilbao, so either of these would be perfect. However, you could choose to stay overnight, and there are many quaint and rustic hotels that will enhance your experience.
Top tip: The historic town center of Santillana del Mar is completely pedestrianized, so make sure you plan ahead and find the address of a parking lot for your car.
30. Potes
Recommended by Megan from Packing Up The Pieces
The medieval village of Potes is located inland in Northern Spain, around an hour and a half drive from the busy port town of Santander. From Santander, it's convenient to rent a car and take the twisting road to the picturesque village of Potes.
This adorable hamlet is located in the autonomous region of Cantabria, surrounded by mountains, and is the perfect gateway village to one of Spain's most underrated National Parks, the Picos de Europa National Park.
Potes is an ideal village to explore the nearby treasures of the Picos de Europa. From here, it's possible to access many of the park's popular highlights in under 30 minutes by car. Visit the nearby village of Fuente Dé, where you can zip up the mountains in a speedy cable car in under four minutes.
Or, visit the nearby viewpoints of San Glorio that is marked by a bronze deer statue. Continue up the winding road to Mirador del Oso, or the lookout of the bear, to take in one of the Picos de Europa's best 360° panoramic viewpoints.
At night, Potes boasts a lively tapas scene where locals and visitors alike take to the inviting cobblestone streets. Most choose to stop in a Sidra bar, where it's possible to sip on cider from the Asturias region.
Potes is worth a day or two to explore the nearby mountains, or start here and take an awesome road trip through all three regions that make up the Picos de Europa National Park: Cantabria, Castile and León, and Asturias. Each region has plenty of hikes, river gorges, alpine lakes, and a unique food scene that makes you feel as if you've been transported from the stereotypical image of Spain.
Final Thoughts
That's a wrap! Spain is a truly wonderful country with countless amazing cities, small towns, and natural wonders to visit. I hope you enjoyed this article about the most beautiful places in Spain and you managed to find at least a few new destinations to add to your Spain bucket list.
If you have any questions feel free to leave a comment below or send me an email, I always love helping you out! Do you know some other amazing Spanish destinations you would like to add to this list about the best places to visit in Spain? Let me know in the comments!
xoxo, Kriszti
---
Related Posts
Want to read more about Spain?
---
More Spain Resources
Planning a trip to Spain? Check out these awesome books and travel guides for more inspiration!
---
Pin It for Later!