With its soaring skyline, ancient temples, green valleys, and sizzling noodles, Hong Kong is a feast for the senses. Typically known for its financial prowess and rampant nightlife, this glossy modern city is full of cultural and adventurous activities that range from museum hopping to hiking in the lush valleys and indulging in a culinary journey.
While you can easily fill a week or longer in Hong Kong, a couple of days is plenty to see the major attractions. The question is how to plan those 2 days in Hong Kong to make the most of your time?
Whether you're planning a long layover, visa run, or a weekend getaway in Hong Kong, my itinerary aims to give you a taste of everything the city has to offer in a short trip.
*Disclosure: This post contains a few affiliate links, which means I may receive a small commission, at no cost to you, if you make a purchase through my link.*
No time to read now? Pin it for later!
Useful Info for Spending 2 Days Hong Kong
How to get to Hong Kong
Hong Kong is served by the Hong Kong International Airport (HKG) which is located on the western island, Chek Lap Kok. Major airlines connect Hong Kong to international destinations and non-stop flights are available from the US, Europe, mainland China, and other Asian cities.
Furthermore, there are six overland border crossings between Hong Kong and China. It is also possible to take a ferry from Macau to Hong Kong (this is a popular day trip from Hong Kong if you plan a longer stay).
Best time to visit Hong Kong
Hong Kong experiences a warm and temperature climate year-round that is divided into four distinct seasons.
Spring (March to May) is pleasant with day temperatures reaching 24°C (75°F) although rainfall is unpredictable. Temperatures rise to 30°C (86°F) during summer (June to August) with high levels of humidity and the risk of frequent storms and even tornados.
Attractions and tours are often closed and postponed during a tornado alert. Do take this into account if you plan your weekend in Hong Kong during these months.
Autumn (September to November) is lovely with daytime temperatures hovering around a balmy 26°C (79°F) and less rainfall. Winter (December to February) is very comfortable and sees daily temperatures of 17-20°C (62-68°F). This is the driest time of year and is the optimum time for hiking in Hong Kong.
How to get around Hong Kong
Many of the attractions on this Hong Kong 2 day itinerary are accessible on foot. When you need to travel further distances, Hong Kong has one of the most efficient public transport systems in the world.
You can buy an Octopus contactless card which is the cheapest and easiest way to get around. The Tourist Octopus Card (sold version) costs 39 HKD ($5 US) and is available at 7-Eleven and Circle K convenience stores as well as the airport and MTR stations.
Once you add credit you can use it to pay for travel as well as to pay for food and goods at certain restaurants and shops.
The easiest way to get around Hong Kong is via the Mass Transit Railway (MTR). This subway covers all the major territories and is very cost-effective, with journey pricing varying based on the distance covered.
Hong Kong is well served by public buses and you can use Google Maps to check departures near you. If you don't get the Octopus card you will need the exact fare to pay for your bus ride. The same goes if you want to take the trams that connect the northern districts of Hong Kong Island.
If you want to hop between Hong Kong Island and Kowloon you can take the Star Ferry across Victoria Harbor. Services operate frequently and you can tap in with your Octopus card.
Uber and subsequent rideshare apps never took off in Hong Kong. The public transport is so efficient you'll probably not need to use taxis but you can download the HKTaxi app in case you do need one. For ease of exploring Hong Kong, you might want to download the free app Citymapper.
Where to stay in Hong Kong
LUXURY – The Ritz-Carlton Hong Kong
Towering over Victoria Harbour, The Ritz-Carlton Hong Kong offers rooms on floors 102 to 118 with gorgeous panoramic views of the harbor. This 5-star hotel also boasts the highest bar in the world and 5 on-site restaurants, as well as a heated indoor pool and a well-equipped gym. If you want to read more about this hotel, check out my complete review of The Ritz-Carlton Hong Kong!
MID-RANGE – Harbour Grand Hong Kong
This 5-star hotel boasts a mesmerizing view of Victoria Harbor and a gorgeous outdoor swimming pool. There are a number of restaurants and bars on-site, a free shuttle service to local places of interest and the Fortress Hill MTR is a 2-minute walk away. If you like this hotel but would rather stay in Kowloon, you can book the Harbour Grand Kowloon.
BUDGET – Wanchai 88
This bright and airy hotel makes good use of the natural light and rooms provide panoramic city views over Wanchai and Hong Kong Central. The private bathroom has a rain shower and for guests' comfort, towels, free toiletries, slippers, and a hairdryer are provided.
Overview of Your Weekend in Hong Kong
Breakdown of your 2 days in Hong Kong itinerary
Day 1 (Hong Kong Island): Man Mo Temple, Dr Sun Yat-sen Museum, Hong Kong Park, Victoria Peak, Tim Ho Wan, Victoria Harbor, Fok Cheok Building, Red Incense Burner Summit, Lan Kwai Fong
Day 2 (Lantau Island & Kowloon): Lantau Island (Tian Tan Buddha & Tai-O Fishing Village), Museum of Art, Junk Boat Evening Cruise, Tsim Sha Tsui Waterfront/Avenue of Stars, Mon Kok/Ladies Market
Map for your weekend in Hong Kong
Below you can find a customized map that includes all the locations you're going to visit on this Hong Kong itinerary. I marked your 2 days in Hong Kong with different colors – I used blue for the first day and orange for the second day, so you can easily see which places you're going to visit each day.
If you open up this post on your phone and you click on the bracket in the upper right corner of the map, it will automatically save this map to your Google Maps app so you can always have it with you. Super convenient, right?
Day 1 of your 2 Days in Hong Kong
Man Mo Temple
It's going to be a busy couple of days so let's start your weekend in Hong Kong by grabbing some solitude at one of the oldest Tao temples in Hong Kong. Constructed in the mid-1800s, Man Mo Temple remains a working place of worship for Hong Kong locals.
The 'Man' are the gods of literature while 'Mo' are war deities. Inside the temple, you will see (and smell) hundreds of incense coils hanging from the ceiling.
The temple is open to guests 8 am – 6 pm, daily, and there is no admission charge to enter but you must dress conservatively. It is located a 5-minute walk from Sheung Wan MTR station.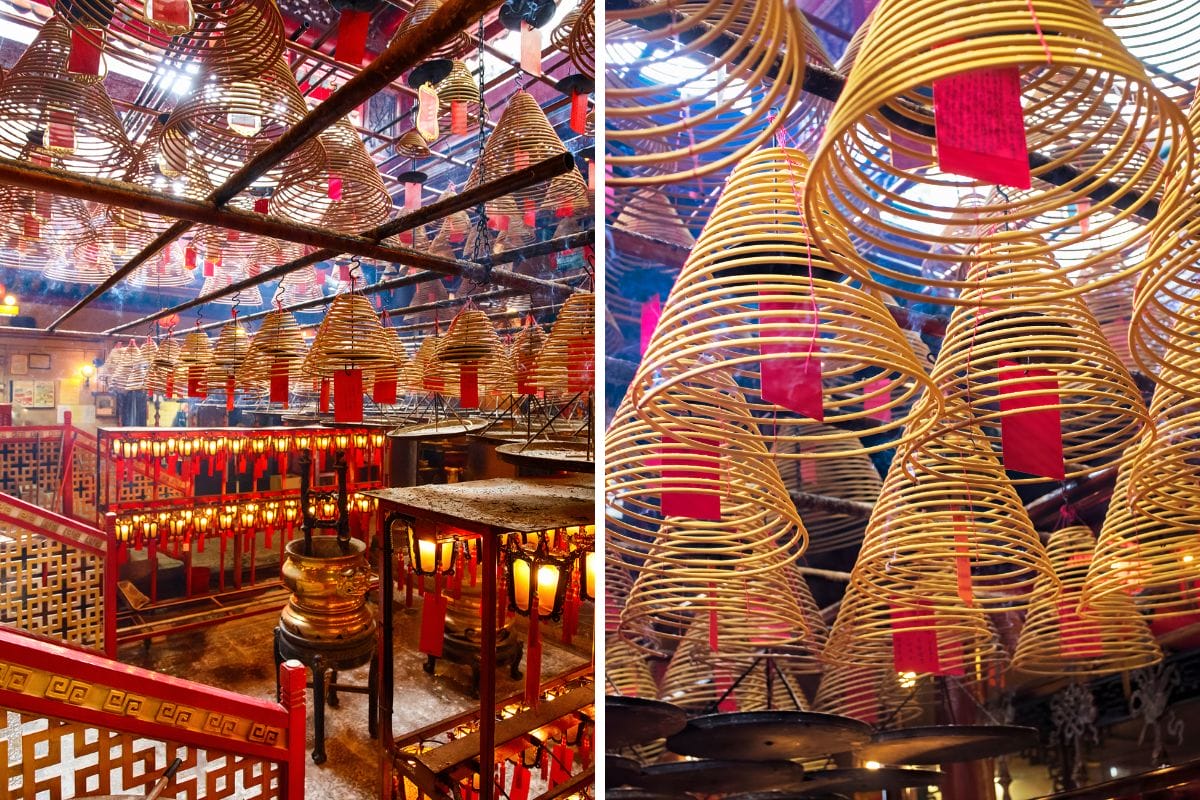 Dr Sun Yat-sen Museum
There are heaps of museums in Hong Kong and for your 2 days in Hong Kong itinerary, I'm going to suggest you visit the Dr Sun Yat-sen Museum.
Dr Sun Yat-sen was a revolutionary philosopher and politician who devoted his life to overthrowing the Qing Dynasty and establishing the Republic of China. The ancient artifacts glean insight into his life and career as well as the position Hong Kong played in the reformation of modern-day China.
The museum is open from 10 am to 6 pm on Monday, Tuesday, Wednesday, and Friday and between 10 am – 7 pm on Saturday, Sunday, and public holidays (it's closed on Thursdays).
Admission to the permanent galleries is free but you will need to pay for any special exhibitions. The museum is a 10-minute walk from the Man Mo Temple.
Hong Kong Zoological & Botanical Gardens/Hong Kong Park
Not far from your first two attractions sit two of Hong Kong's most beautiful parks. The Hong Kong Zoological & Botanical Gardens is a 10-minute walk from the museum and features a huge greenhouse teeming with tropical foliage including orchids, roses, camellias, and azaleas.
You can also view a menagerie of mammals, reptiles, and birds that include orangutans, flamingos, and tortoises. From the zoological and botanical gardens, you can continue to Hong Kong Park which features landscaped gardens, ponds, and a viewpoint.
Entrance to all areas of both parks is free. The greenhouse is open 9 am – 4.30 pm and the surrounding terrace garden is open 5 am – 10 pm. Hong Kong Park is open between 6 am and 11 pm ( the Edward Youde Aviary is temporarily closed until 31st December 2023 for improvement works).
You may prefer to spend longer in the museum and then walk through one or both gardens, or skip either the museum or gardens based on what the weather is doing during your Hong Kong trip. It's completely up to you!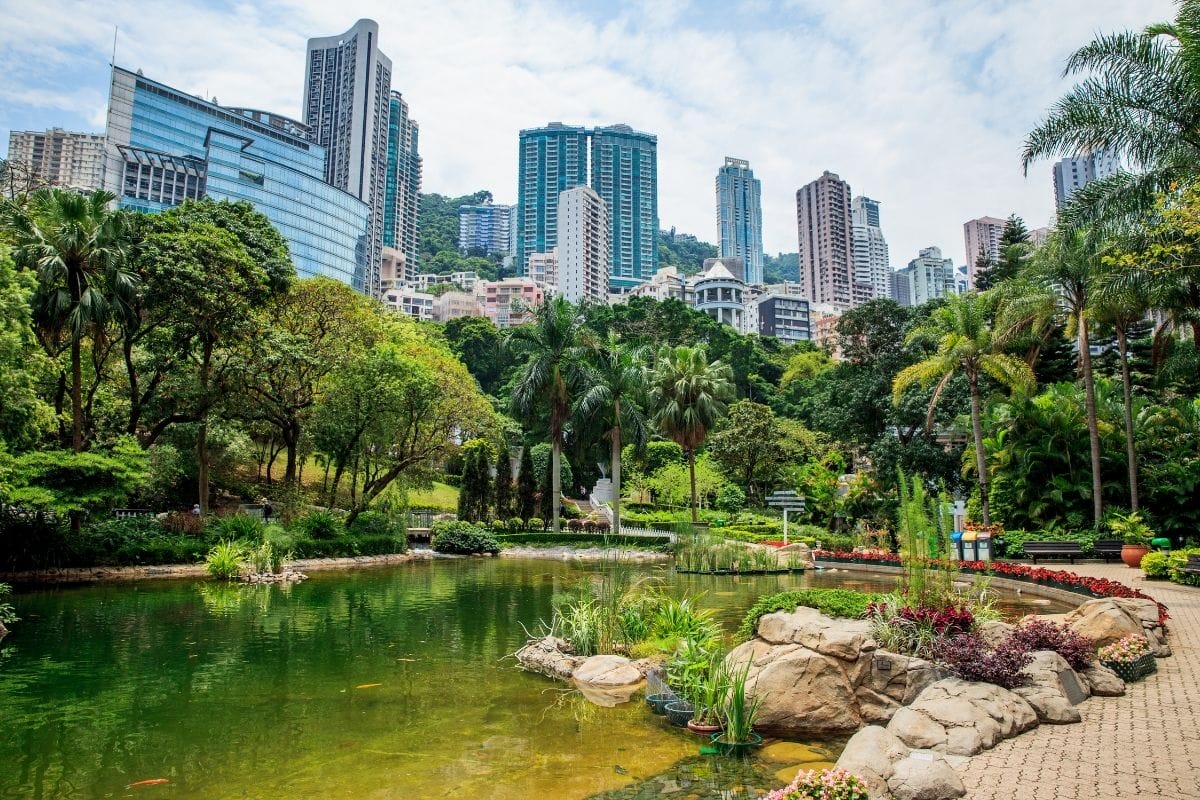 Victoria Peak
One thing you don't want to skip during your 2 days in Hong Kong is the view from the highest point in the city! The quickest and most exciting way to get to the top of Victoria Peak is by funicular, departing from the Lower Terminus and functioning 7 am – 10 pm, daily (it departs every 15 to 20 minutes).
You can purchase tickets at the tram station although as the attraction is very popular, prepare to queue for 15-30 minutes. Tickets vary based on how much of the Peak you want to access. A regular adult return is 88 HKD ($11 US) but if you also want to go to the Sky Terrace it's 148 HKD ($18.80 US).
The view is absolutely beautiful both during the day and night, so it's completely up to you when you want to visit. As the Peak Tram departs near Hong Kong Park, you can go up there straight after walking around the park.
Or, if you would rather see the city in the dark, you can decide to go up to Victoria Peak after you've seen the sunset on Braemar Hill (more about this later!).
Tim Ho Wan
After all the culture and walking this morning, you can satisfy your hunger with dim sum at the world's cheapest Michelin star restaurant!
There are several outposts of the franchise in Hong Kong but the one in the IFC Mall, Central Hong Kong, is ideally placed for a late lunch today and shouldn't be missed when you're exploring Hong Kong in 2 days. Tim Ho Wan is a 20-minute walk from Hong Kong Park.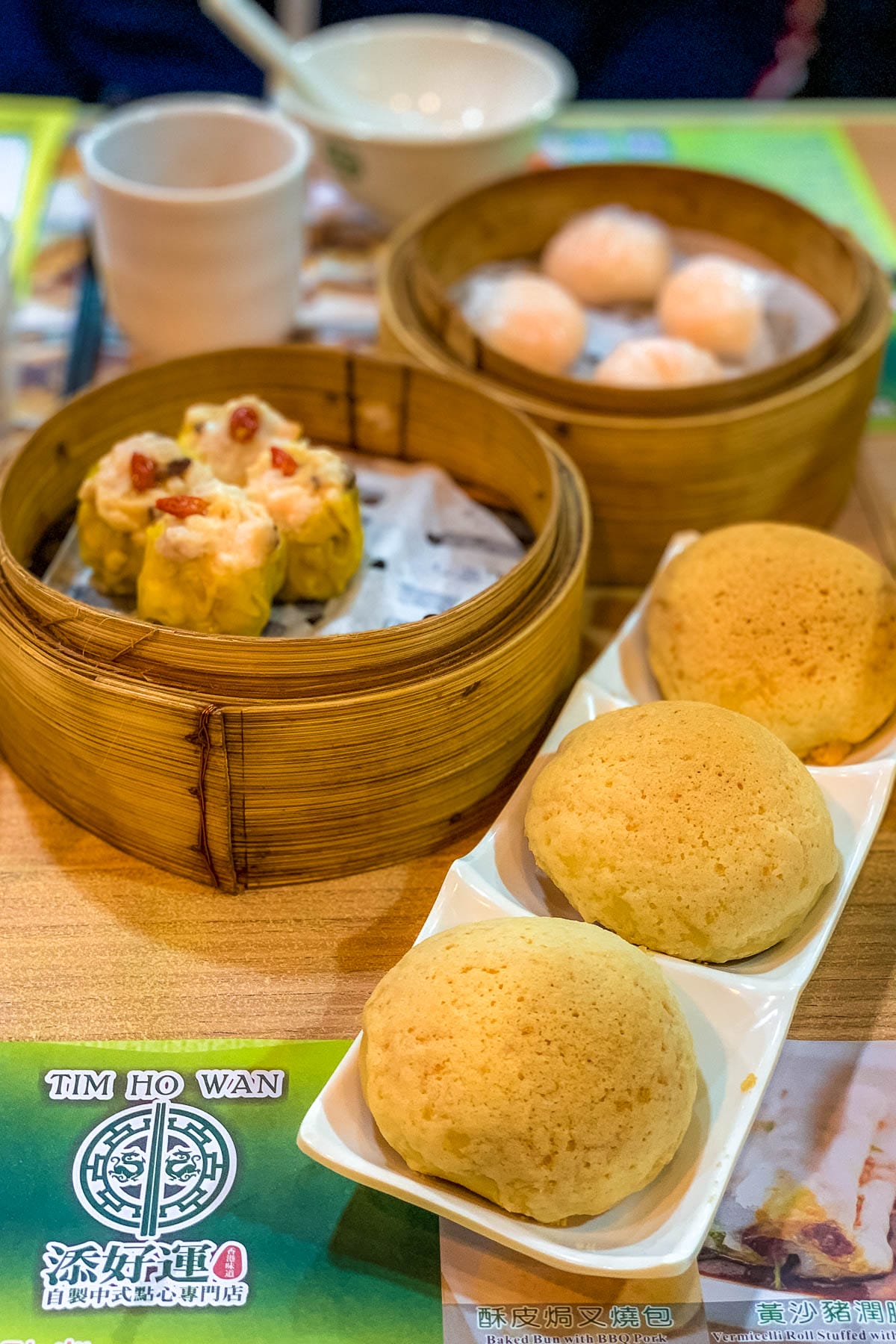 Victoria Harbour
Leaving the restaurant you have the option to walk along the Victoria Harbour promenade which provides a view of Kowloon as well as a chance to take in the heights of the Hong Kong Central skyline.
The walk from the IPC Mall to Golden Bauhinia Square will take 30-45 minutes depending on how many photo stops you want to take.
Fok Cheok 'Monster' Building
Together with the Montane Mansion, the Oceanic Building, the Yick Fat Building, and the Yick Cheong Building, the Fok Cheok Building is one of the most interesting sights in Hong Kong.
Also known as the Monster Building, these five apartment blocks were erected in the 1960s for low-income residents and feature units stacked on top of one another.
Take the MTR from Wan Chai Station to Quarry Bay Station (25 minutes). To honor the privacy of the residents, the inner courtyard is no longer open to the public but you can still appreciate the phenomenal architecture and take photos of the exteriors.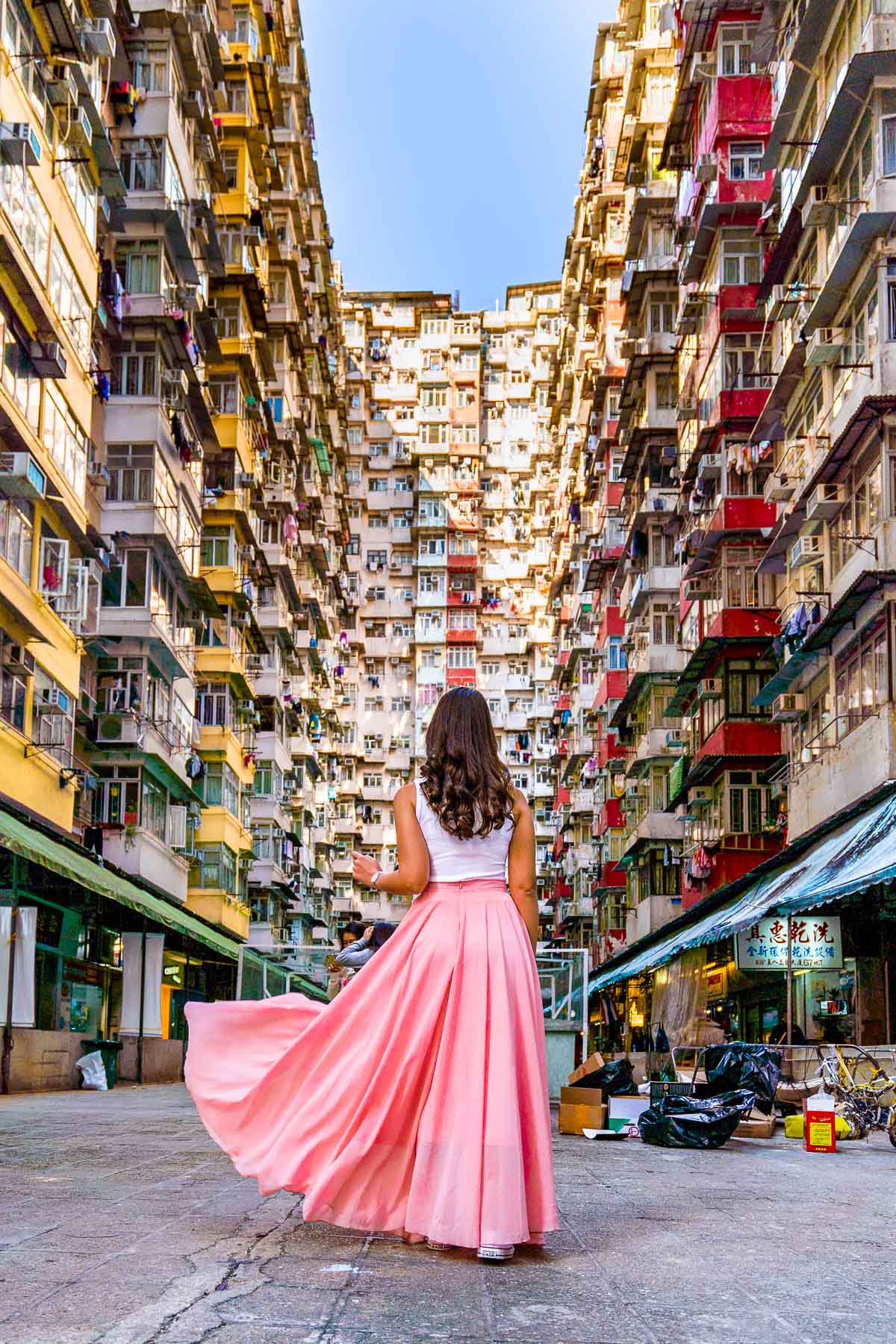 Sunset on Braemar Hill
Fingers crossed for clear skies during your 2 days in Hong Kong. If so, you can catch a spectacular sunset from the famous Red Incense Burner Summit on Braemar Hill, with an elevation of 200 meters (660 feet) over the urban streets.
Even if there are clouds, you will still be rewarded with one of the most exhilarating night views of Hong Kong Central and across the harbor to Kowloon.
Go back to the MTR at Quarry Bay and alight at Tin Hau Station, where you need to catch the 49M bus that will bring you all the way up to Braemer Hill Bus Terminus (the whole journey takes approximately 30 minutes).
Right after you arrive at Braemar Hill Station, you will see a small school by the road – you need to start walking in direction of the school.
At the end of the road, you will see a small fence but don't let it discourage you, you will need to climb over it to access the Braemar Stream hiking trails. From this point, you will need to follow the road until you get to a crossroad.
If you go right, you will soon find yourself at the Red Incense Burner Summit but heads up – it's usually super crowded so you definitely won't be alone.
If you're feeling a little adventurous and you don't want to spend the sunset among the crowds, you can go left and explore a little bit more!
You will find a few great viewpoints so you can stop basically anywhere but if you want to find the exact spot you can see in the below pictures, put these coordinates in your Google maps. You will need to climb up into the bushes on a small path to reach this rock but trust me, it's completely worth it!
Once the sunset is over and you're ready to head back to the city, just go back on the same route to the bus station where you can catch a bus. It's worth bringing a flashlight to help you find your way back down in the dark.
Lan Kwai Fong
If you still have some energy, round off the first evening of your Hong Kong 2 day itinerary and indulge in the energetic nightlife in Lan Kwai Fong.
Located in the heart of Hong Kong Center, Lan Kwai Fong is dubbed the Soho of Hong Kong. Narrow streets jostle with bars and restaurants offering all types of food as well as affordable beers and cocktails.
You can easily reach Lan Kwai Fong from Braemer Hill within 35 minutes by hopping on bus 25 at Braemer Hill Bus Terminus and getting off at Pedder Street.
Day 2 of Your 2 Days in Hong Kong
Lantau Island
Lantau Island is one of the most popular islands in the Hong Kong territories to visit as it allows a glimpse at what the city was like before the finance industry boomed.
I suggest arriving early and spending the whole morning on Lantau Island but you can easily spend an entire day of your weekend getaway in Hong Kong here if you love nature.
To reach Lantau Island, take the MTR to Tung Chung then walk to the Ngong Ping Cable Car Tung Chung Station.
A standard adult return trip on the Ngong Ping 360 costs 235 HKD ($30 US) or you can upgrade to a crystal or private cabin. You can buy the ticket at the station or book online to save some time.
Ngong Ping 360 is available 10 am – 6 pm, daily.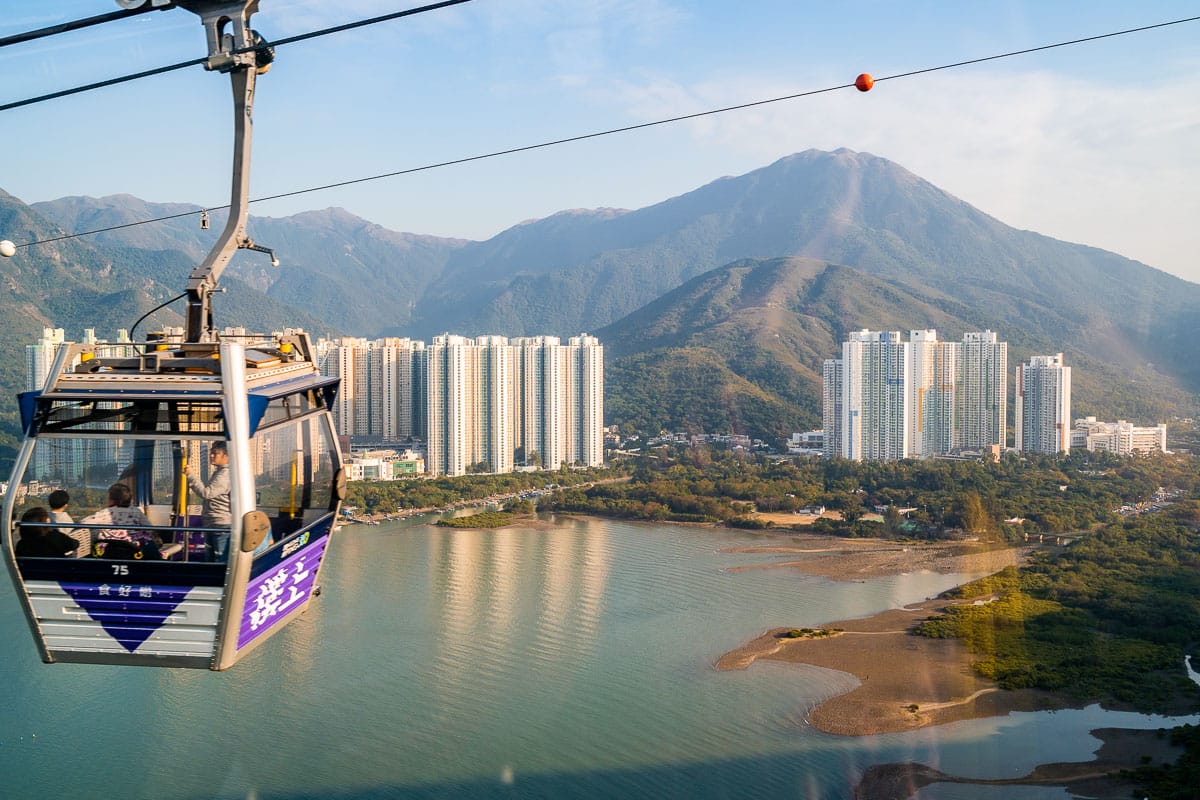 Tian Tan Buddha
A highlight of Lantau Island as well as your 2 days in Hong Kong is the Tian Tan Buddha who presides over the Po Lin Monastery and Ngong Ping Village.
This representation of Buddha Shakyamuni is the second largest outdoor sitting Buddha in the world and symbolizes harmony between man and nature. You can appreciate it from the ground before climbing up 268 steps to reach the base for a closer look as well as a panoramic view of the surrounding mountains.
You'll alight the cable car near here so you could make this your first spot and visit before it gets crowded. It's free to visit Tian Tan Buddha but if you want to go inside the exhibition hall it costs 78 HKD ($10 US).
After seeing the Buddha you can have a wander around Ngong Ping Village and follow the Wisdom Path, a short hike that is populated with wooden prayer monuments and beautiful views of the surrounding nature.
You can follow the path for 20 minutes and then head to the Tai-O Fishing Village or you can continue hiking all the way down to Tong Fuk village and beach.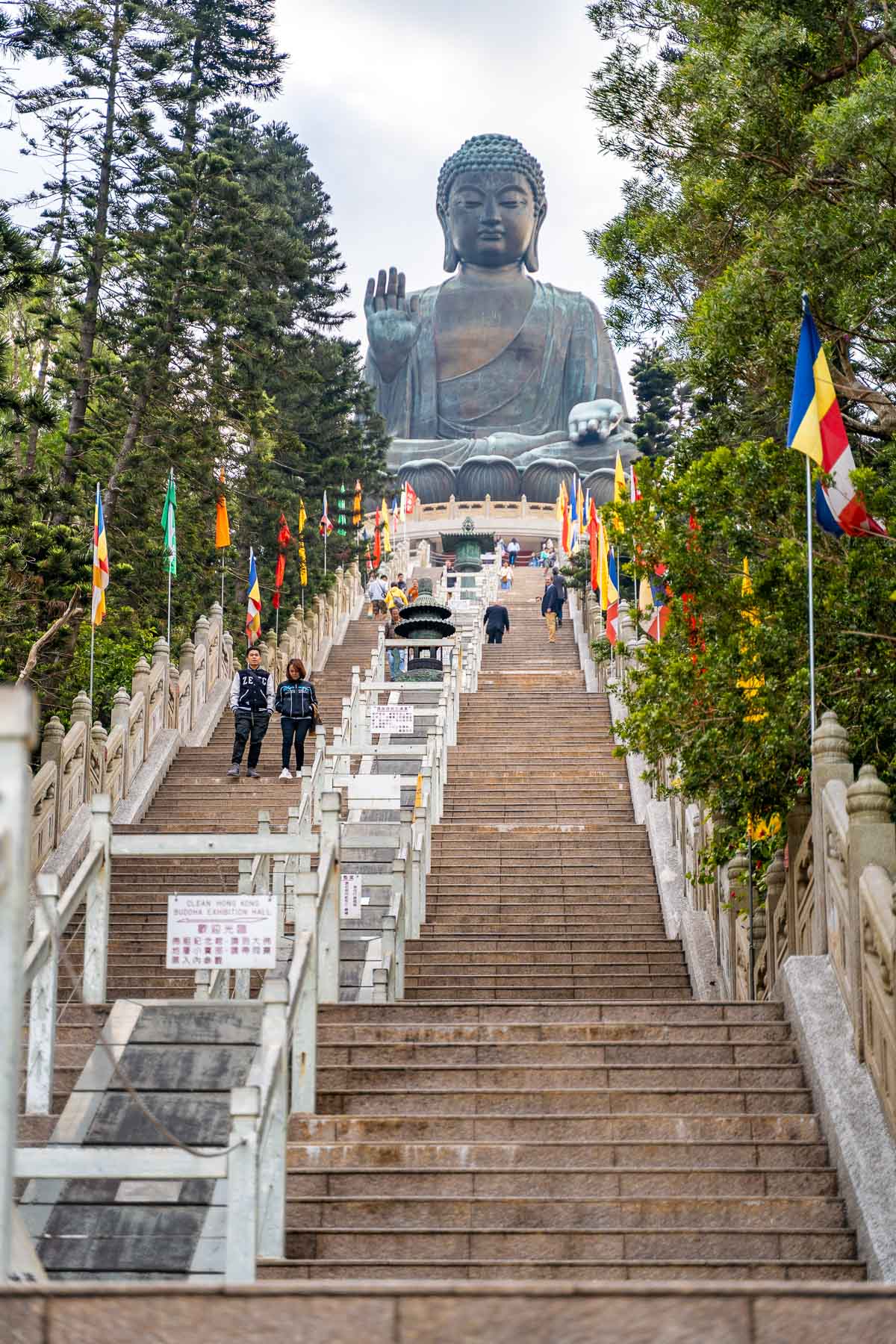 Tai-O Fishing Village
Located on the west of the island, Tai-O Fishing Village is the habitat of the Tanka community who follows a traditional way of life. Some of the residents still live in houses built on stilts over the water.
However, after a devastating fire in 2000, a lot of the homes were lost and now you will find some peculiar metal houses in their place. You can walk around the village (which straddles a second island) and see Buddhist temples, shrines, and markets.
For lunch today you can try the local specialty, Tai O Husband, which is a shrimp and pork pancake. If that doesn't tickle your tastebuds, there are loads of fresh fish eateries and Solo is the best place for coffee and cake.
You can walk to the fishing village in 90 minutes or save time by hopping on bus 21 from Ngong Ping Village. From the village, you will need to cross the rope-drawn ferry bridge to reach the second half of Tai-O Fishing Village.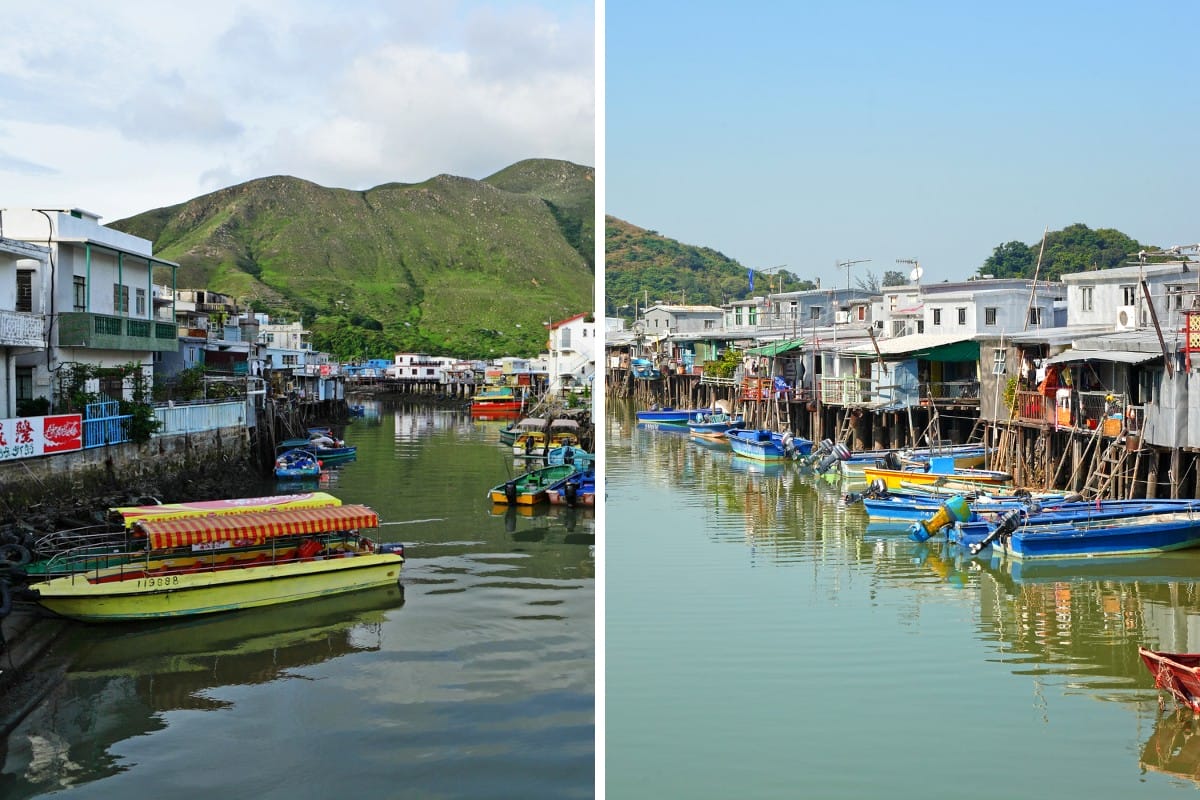 Hong Kong Museum of Art
Depending on how long you spend on Lantau Island, you have the option to squeeze some art into your 2 days in Hong Kong. With over 17,000 pieces in its collection, the Hong Kong Museum of Art is the best place to get your fix of art.
The museum is open Monday – Wednesday, Friday, 10 am – 6 pm and Saturday, Sunday, and public holidays, 10 am – 7 pm (closed on Thursdays). Admission is free for the permanent exhibitions.
You can take the MTR from Tung Chung to East Tsim Sha Tsui Station (change at Nam Cheong) which takes around 1 hour. Even if you skip the museum, this is where you need to be for the next item on today's agenda.
Junk Boat Cruise
The fluttering fully battened sails of these Chinese sailing vessels in their striking red hue are synonymous with the identity of Hong Kong. Originating in China, these ships were primarily used for trading but now they are used for tourism.
Junk boats are available for private hire if you have a large group (and a large budget!) but if that's not the case you can still hop aboard an evening cruise in Victoria Harbor.
Tsim Sha Tsui Waterfront/Avenue of Stars
A walk along Tsim Sha Tsui Waterfront affords a breathtaking view of the Hong Kong Island skyline. This is pleasant at any time of day so you can do it while you wait for your junk boat cruise or do it afterward when the skyscrapers are bathed in city night lights.
While you're here you can also pay a visit to the Avenue of Stars which is Hong Kong's version of the Walk of Fame in Hollywood.
Mon Kok/Ladies Market
Conclude the end of your 2 days in Hong Kong itinerary with a trip to Mon Kok which is brimming with markets, eclectic boutiques, sneaker stores, and street food. During the night, all the neon signs pop out and it's a wonder to explore and take photos even if you don't want to shop.
For street food, you want to head to Sai Yeung Choi Street, Dundas Street, Fa Yuen Street, and Soy Street where you can try all the Hong Kong delicacies.
Mon Kok leads to Ladies Market where you can buy designer knock-offs at great prices. As the name suggests, the market has a monopoly in Hong Kong on women's clothing and accessories.
---
Pin It for Later!