Looking to plan the perfect New England fall road trip and experience all those magical images you've seen online for yourself? Then you're in the right place!
Fall is the best time to visit this region in the northeastern corner of the United States. Hiring a car and undertaking a road trip gives you the freedom to visit a variety of cities, towns, and nature areas.
As and when you like, you can pull over to take photos of the foliage and take yourself off for a hike among the beautiful nature.
But planning a New England fall foliage road trip itinerary takes a lot of time and thought. This is actually a very large area to cover and you need to plan it carefully to coincide with seeing the foliage at its peak.
Two weeks is a great length of time for the road trip providing that you know how to maximize each day to its best.
That's where this guide comes into the picture. This article is here to direct you to all the best fall drives in New England and help you organize the perfect adventure.
*Disclosure: This post contains a few affiliate links, which means I may receive a small commission, at no cost to you, if you make a purchase through my link.*
No time to read now? Pin it for later!
Useful Info for Planning Your New England Fall Road Trip
What is considered New England?
New England is the name given to a region in the northeast US. The region includes the six states of Maine, New Hampshire, Vermont, Massachusetts, Rhode Island, and Connecticut. This New England fall trip itinerary covers the first four states listed.
Factors affecting peak fall foliage colors
First things first, let's take a look at when peak fall foliage colors actually occur. A few conditions must be met in order for the leaves to change color and reach peak fall colors.
First, the nights need to be cool but not freezing. The temperatures should be in the 40s °F (5-9 °C) range. If it gets too cold, the leaves will simply fall off the trees without changing color first.
Second, there needs to be plenty of sunlight during the day. If it's cloudy all the time, the leaves won't break down chlorophyll (green) as fast, thus the carotenoids (yellow and orange) will be only revealed later.
Third, there needs to be little or no wind. If the leaves are constantly rustling in the breeze, they will also fall off before changing color.
Finally, there needs to have been enough rain earlier in the season. The leaves need moisture in order to produce the vivid colors that we love so much.
Now that you know the science behind fall colors, let's get into planning the perfect New England fall foliage road trip!
Best time to visit New England for leaf peeping
The best time to see peak fall foliage in New England is typically from the last week of September through the first two weeks of October. However, this can vary slightly depending on the year and the region.
Generally speaking, the northernmost parts of New England will see the leaves change color first, and then it gradually rolls down into the southernmost parts. For example, you will see the leaves changing color in Upstate Vermont much sooner before you see them changing in Rhode Island.
Due to this, it's practically impossible to experience the peak fall colors everywhere over the course of 2 weeks. Chances are that during these 2 weeks in New England you will either come across areas that are still a bit green, or that are already past their peak colors or even lost their leaves.
To get more specific information, it's a good idea to check out the New England Fall Foliage Prediction Map.
This is updated regularly and shows where the foliage is currently at its best and where it is expected to peak in the coming week. I found that this map is pretty accurate but do keep in mind that conditions can always change and affect the timing.
My own 2-week New England fall road trip took place between 2-17 October in 2021. With this timing, Boston and Woodstock were both still a bit green but once we reached Stowe and continued onwards, we caught the peak colors everywhere else.
So if you can, you might want to consider aiming for a similar date range but do keep your eyes on the foliage predictions.
How to get to New England
Boston, Massachusetts, is the best place to start this particular New England fall foliage road trip itinerary.
Boston is served by Boston Logan International Airport (BOS) and is well-connected to other US airports as well as destinations further afield. You can fly directly to Boston from many European destinations. One in Boston, you can rent a car and hit the road.
Once you arrive in Boston to start this fall road trip in New England, my tip is to compare car rental prices in Downtown Boston with those available at the airport. Sometimes they work out cheaper than renting at the airport.
This itinerary starts and ends in Boston so you will rent a vehicle and return it to the same place.
However, if you have more time on your hands, you might also consider starting your trip in New York and heading northward from there. That way you can also explore the Big Apple! Remember to consult my travel guides to New York before you go.
Where to stay during your New England fall road trip
As you can see, predicting when the peak fall colors will occur in advance is pretty difficult, which makes planning a bit harder. You don't want to book your accommodation too far in advance because the leaves might not be at their best yet. But if you wait too long, all the good accommodation will be gone.
Generally, you have two options when it comes to planning your accommodation. Either you can book everything in advance and hope that you timed your trip right, or you can wing it and book things as you go.
The first option has the advantage of snagging up some good deals because the best places book out months in advance. It also gives you a bit more peace of mind knowing that everything is sorted.
The second option is a bit riskier but can also be more rewarding. It gives you the flexibility to change your plans on the fly and chase the fall colors wherever they might be.
If you do choose to wing it, my advice is to have a few accommodation options in mind for each night but don't book anything until you know for sure that you will be staying there. That way, if everything is booked up you still have a Plan B and C to fall back on.
One more tip for booking your accommodation: If you run into issues finding a hotel in your desired town/city, I suggest looking further out. Change to a map view on the booking platform you use, set the filters to a 30-mile radius of each location, and you should find that you have better luck.
Seeing as you will be traveling with your own rental car anyway, it shouldn't interfere too much with this New England fall trip itinerary.
Another thing to keep in mind is that accommodation in New England can be quite expensive, especially in popular leaf-peeping towns. If you're on a budget, I recommend staying in slightly less touristy towns and driving into the more popular ones for the day. This is what we did and it worked out great!
Another option is to stay at campgrounds. Camping is a great way to save money and it also gets you closer to nature. Just make sure to book your campsite in advance because they fill up quickly during peak season!
Recommended places to stay during your fall road trip
If you follow this New England fall road trip itinerary then I recommend staying in the following cities and towns:
Boston: either 1 night or 2 nights depending on how your inbound flight works
Woodstock VT: 2 nights
Stowe VT: 3 nights
Colebrook NH: 2 night
Lincoln NH: 1 night
Bar Harbor ME: 3 nights
Salem MA: 1 night
As you progress through the itinerary you will see all my specific recommended hotels as per budget, mid-range, and luxury categories.
Overview of Your New England Fall Foliage Road Trip Itinerary
Breakdown of your 2 weeks in New England
Before we dive into all the juicy information, here is a quick overview of all the places you will visit during your New England fall road trip.
Day 1: Boston (I recommend arriving on Day 0 so that you can settle and then look forward to spending an entire day in the city)
Day 2: Drive from Boston to Woodstock, VT
Day 3: Woodstock, VT
Day 4: Woodstock, VT and drive to Stowe, VT
Day 5-6: Stowe, VT
Day 7: Hike the Mount Pisgah Trail North and drive to Colebrook, NH
Day 8: Dixville Notch
Day 9: Franconia Notch
Day 10: Scenic drive to Acadia NP via Kancamagus Highway and Conway
Day 11-12: Acadia National Park
Day 13: Portland, Maine
Day 14: Salem, MA and drive back to Boston
Map for your New England fall road trip
Below you can find a customized map that includes all the locations you're going to visit on this New England fall road trip itinerary. I marked the different parts of the road trip with different colors so you can easily see which places you're going to visit each day.
If you open up this post on your phone and you click on the bracket in the upper right corner of the map, it will automatically save this map to your Google Maps app so you can always have it with you. Super convenient, right?
New England Fall Road Trip Itinerary for 2 Weeks
Now, let's get into the finer details of your great adventure! This New England fall foliage road trip itinerary is broken down into each of the days and is packed with advice on what to see in each spot as well as tips on where to eat and where to stay.
This suggested itinerary starts and ends in Boston and all the drive distances and time estimates are included.
Day 1: Boston
Welcome to Boston! Boston is one of the most popular cities for national and international tourists visiting the US. There's lots to see and do but fortunately, you can get a decent overview with only one full day in Boston.
However, if you start your fall road trip in New England a day or two early then you can spend a little longer exploring the city. Alternatively, since your road trip will also end here, you can decide to add a few more days to the end as well.
As Boston is served by public transport and many of the main tourist attractions are within walking distance, you will not need to hire a car just yet. You can pick it up when you leave on day 2 of this itinerary.
Best things to do in Boston
As a major city, there's no shortage of things to do in Boston. You will need to do your research and decide how to spend your limited time in the city.
Below you can find some of the best things to do in Boston you can't miss but if you prefer having a step-by-step itinerary, check out my guide on how to spend one day in Boston.
Walk the Freedom Trail
The Freedom Trail is the number one attraction in Boston.
This 2.5-mile (4 km) trail connects 16 of Boston's historic landmarks that each relate to happenings from the American Revolution. Sites include Faneuil Hall, the Boston Massacre Site, the Old State House, the Benjamin Franklin Statue, and the King's Chapel.
You can walk the Freedom Trail independently and enjoy checking out the buildings. The Freedom Trail website provides background information on each site.
Alternatively, you might rather join a guided tour if you want to hear all about the history from a local expert.
Subject to whether you complete the trail alone or join the tour, you should budget between 1-3 hours for this activity.
Explore the North End
Boston's North End is the oldest neighborhood in the city. It's called 'Little Italy' due to the expansive Italian restaurants and bakeries. You will also see historic sites that include the 1680 Paul Revere House, Copp's Hill Burying Ground, and the Old North Church.
The North End fits in nicely with your plans to walk the Freedom Trail as it contains some of the landmarks. Take the time to stroll around the area, through Langone Park, and along the waterfront.
Visit the Institute of Contemporary Art
The Institute of Contemporary Art is a must for artistically minded travelers!
Dedicated to all threads of visual arts, performance, film, video, and literature, the collection is vast and diverse. It will provide endless hours of chat for your New England fall foliage road trip once you leave the city behind.
General admission is $20 and you are recommended to book tickets online in advance. The museum is open from 10 am-5 pm on Tuesdays, Wednesdays, Saturdays, and Sundays and 10 am – 9 pm on Thursdays and Fridays. It's closed on Mondays.
In case you need another reason to visit, this contemporary art venue offers exceptional views of the harbor.
Tour the Boston Tea Party Ships & Museum
This fascinating museum tour invites you to experience the political protest of 1773 against the British Parliament's Tea Act. These events led to the American Revolution.
The Boston Tea Party Ships & Museum tour is fully immersive and lets you relive battles and events with live actors, 3D holograms, and replica ships. At the start of the tour, you will receive a handbill from one of the colonists which will explain what part you'll play.
As the tour is popular, you will need to book ahead to secure your place. And, of course, there is a tearoom on site!
Where to eat in Boston
Boston has an exemplary food scene that's blessed with a variety of international restaurants as well as local, regional, and national dishes.
Seafood is BIG in Boston and if you like shellfish you should try at least one lobster roll during your New England fall road trip. These are like hot dogs but with lobster meat! Clam chowder is another specialty.
These are my recommendations for where to eat in Boston.
Mike's Pastry: Definitely swing by this North End bakery that specializes in the tastiest cannoli outside of Italy. It's always busy so try to get there early.
Quincy Market: This covered market contains boutiques as well as a vast array of food options. You can choose from Boston favorites or international food. It's a top pick for lunch as well as sightseeing even if you eat elsewhere.
Saltie Girl: This chic restaurant in Back Bay focuses on raw dishes and seafood. Everything is artistically presented and sustainably minded. Plus, they have fabulous cocktails.
Where to stay in Boston
Because you are only spending a couple of nights in Boston, it's best to stay in central accommodation. Actually, despite being a prominent city, Boston isn't so large in comparison to other US cities.
In terms of where to stay in Boston, Downtown Boston is always convenient and has the best selection of budget-friendly accommodation. If it's your first time visiting or you are planning a shorter stay as per this itinerary then this is ideal.
Back Bay, the North End, and the South End are all fantastic options for sightseeing, culture, and overall experience too. However, accommodation prices tend to be costlier.
Here are my recommendations for where to stay in Boston.
Day 2: Drive from Boston to Woodstock VT
Driving time: 2 hours and 20 minutes (140 miles/225 km) direct from Downtown Boston or 5 hours and 15 minutes (237 miles/381 km) via the scenic route to Woodstock VT
You will need to check out your hotel today and make a decision about what to do with the second day of your New England fall road trip.
Option A, you can spend most of the day continuing to explore Boston and then drive directly to Woodstock in the afternoon or evening.
Option B, you can turn the drive into a scenic road trip and visit a couple of sights. If you choose to stop off at all the places listed below, this will equate to 5 hours 15 minutes of driving time plus you'll need to allow time at each place.
In this case, I would recommend leaving your hotel as early as possible.
Madame Sherri Forest
Driving time: 2 hours 18 minutes (110 miles/177 km) from Boston
If you choose to take the scenic route to Woodstock VT, your first stop will be Madame Sherri Forest. This 513-acre plot of woodland once belonged to a notorious French-American socialite in the early 1900s.
Madame Antoinette Sherri was known for her eccentric parties that were attended by the rich and famous.
Unfortunately, her castle burned to the ground in 1962 but today you can still see the remnants of what once was. The arched stone staircase is the most iconic feature and makes for a great photo opportunity.
The forest is a great place for a short hike and it's especially beautiful in the fall when the leaves start to change color. But even if not, it's a beautiful introduction to New England's natural scenery.
Once you've parked up you can follow the Wantastiquet Trail into the forest and see as much of the reserve as you have time for.
The full Wantastiquet Trail is 2.4 miles (3.7 km) and it's easy and well-marked. You'll pass through historic ruins and a lake, and enjoy vantage points over the forest.
Southern Vermont Natural History Museum
Driving time: 35 minutes (19 miles/31 km) from the Madame Sherri Forest
The Southern Vermont Natural History Museum displays taxidermy of 250 species but it also has a sanctuary for injured birds under rehabilitation.
There is a modest admission charge of $5 to visit which goes directly towards the maintenance and care of the live animals.
There is an amazing foliage viewpoint right next to the sanctuary too that you can visit for free. This stretches out atop the Hogback Mountain Conservation Area and is a photographic addition to your New England fall road trip.
Bennington
Driving time: 30 minutes (23.5 miles/38 km) from the Southern Vermont Natural History Museum
The small town of Bennington is one of the best places to visit in Vermont in the fall. It's located in the southwest of the state and counts as one of the two shire towns.
As you're headed to Woodstock for the night, you won't have too much time to explore. But you can wander along Main Street and grab a coffee and a snack or swing by the farmers market if your visit falls on a Saturday.
You can also walk or drive to the Bennington Battle Monument with the option to take the elevator to the top and peer back at Massachusetts).
Hildene, The Lincoln Family Home
Driving time: 30 minutes (22 miles/35.5 km) from Bennington
Hildene, The Lincoln Family Home is the former summer residence of Robert Todd Lincoln and his wife Mary Harlan Lincoln. It's located a short drive out of Manchester and a fascinating attraction to include on your New England foliage road trip itinerary.
Robert and Mary oversaw the construction of this Georgian Revival mansion in 1905 and it served as the exclusive home to Lincoln's descendants until 1975.
This handsome manor estate is open to the public for tours. You can tour the interiors of the building, the landscaped gardens, trails, goat dairy, and the greenhouse.
Tickets may be purchased on the premises only; there is no option to pre-book your ticket in advance. Once you have a ticket you can roam at leisure but there are also options to take guided tours at select times. Admission is $23.
Note that the grounds close at 4.30 pm so if you do want to visit Hildene, make sure you head there before exploring the town itself.
Manchester
Driving time: 5 minutes (1.7 miles/2.7 km) from Hildene
Manchester is the other shire town alongside Bennington. Take a mooch along Main Street and don't miss the picturesque white steeple church.
There are a number of art destinations if time permits, such as the Southern Vermont Arts Center. If you time your New England foliage road trip right then this open-air sculpture gallery will look even more incredible than usual with its autumnal backdrop.
As with Bennington, Manchester has a reputation for great food so you could always eat dinner in town before completing the final leg of today's drive. Main Street has an eclectic mix of taverns, upscale restaurants, and food trucks.
Arriving in Woodstock
Driving time: 1 hour 20 minutes (57.3 miles/92.2 km) from Manchester to Woodstock
After a long day, it's time to settle in for your first night in Woodstock VT. Since you're looking at an almost 1.5-hour drive from Manchester to Woodstock, chances are it will be already dark outside when you arrive.
So settle in, grab dinner if you haven't already in Manchester, and have a good night's sleep!
Where to stay in Woodstock
Woodstock is a small town and it's very popular during the fall season. Remember to book ahead to secure a hotel in the town center or plan to stay a little further out. As I mentioned before, I recommend booking 2 nights in this area.
In case Woodstock is fully booked out, you can take a look at accommodations in Quechee, Killington, or even Rutland.
Although Rutland is a 45-minute drive from Woodstock, this was the closest place where we found a room when booking our accommodation (we booked around 2-3 weeks before our trip).
We personally stayed at Days Inn by Wyndham Rutland/Killington Area, nothing fancy but it was perfect for a good night's sleep.
If you book well ahead of time and want to stay in Woodstock itself, take a look at these hotels depending on your budget.
Day 3: Woodstock
Spend the whole of your third day exploring Woodstock and the surrounding area. Woodstock is a photogenic town that is exquisite throughout the year but really shines during the fall season when the colors turn.
It's the quintessential small rural town for your New England foliage road trip itinerary. There are countless amazing things to do in Woodstock VT, below you can see my top recommendations.
Explore Woodstock The Green
Start your day with breakfast at Mon Vert Cafe on Central Street and witness how the town springs to life.
The breakfast menu is based on organic ingredients and you can choose from the likes of eggs, French toast, avocado on toast, and sandwiches.
Don't forget to wash it all down with a great cup of coffee! Mon Vert Cafe has a nice patio if it's warm enough but there's also space inside.
After breakfast, take a stroll along Central Street and The Green and note the historic buildings in this charming town.
Take a photo of Jenne Road Farm
Driving time: 15 minutes (8.5 miles/13.5 km) from Woodstock
Hop into your rental and drive 15 minutes south to Jenne Road Farm. This Instagrammable farm is privately owned but tourists are welcome to briefly stop to take a photo and perhaps make a purchase of their homemade maple syrup.
This is one of the best fall foliage drives in New England as you'll see the scarlet-colored barns against the various shades of orange, red, and yellow.
Drive through the Taftsville Covered Bridge
Driving time: 20 minutes (12 miles/19 km) from Jenne Road Farm
The Taftsville Covered Bridge is just one of many historic covered bridges in Vermont. They were built during the 19th and 20th centuries to lessen the impact of flooding, provide shelter, and assist with the herding of livestock.
The Taftsville Covered Bridge passes over the Ottauquechee River and was built in 1836. In fact, it's one of the oldest bridges in the region.
You can drive through the bridge but it's also a good idea to park and wander down to the riverside to see the waterfall.
The Taftsville Covered Bridge is a 20-minute drive from Jenne Road Farm.
Explore the sights of Quechee
Driving time: 5 minutes (3.5 miles/5.6 km) from Taftsville Covered Bridge to Quechee Covered Bridge, then 12 minutes (7.1 miles/11.5 km) from Quechee back to Woodstock
Quechee is a small village in Vermont where you can stop and have a stroll along Main Street. The Quechee Covered Bridge passes over the Ottauquechee River and marks the entrance to the town.
This bridge is actually very young: it was only built in 1970 and renovated in 2012. It's a wide, functional bridge with two lanes for traffic and a separate walkway for pedestrians.
Do park up and savor the experience of walking through and checking out views of the waterfall.
You can also pay a visit to the Quechee Gorge in the Quechee State Park. The gorge is known as the "Little" Grand Canyon of Vermont and I'm sure you'll see how it earned that name!
The gorge was formed by glaciers during the last Ice Age and has a depth of 165 feet (50 meters).
There is a fantastic viewing platform at the Quechee Gorge Bridge. Meanwhile, the Quechee Gorge Visitor's Center is worth a trip during your New England fall road trip in order to understand the local history.
Day 4: Woodstock and Drive to Stowe
This is your second day in the Woodstock area before relocating to Stowe for a couple of nights. You can check out of your hotel and visit the other places of interest near Woodstock before hitting the road for the short drive to Stowe.
Sleepy Hollow Farm
Driving time: 7 minutes (2.8 miles/4.5 km) from Woodstock
Sleepy Hollow Farm is another private farmstead in the Woodstock area that is considered one of the best fall drives in New England. The red outhouses are set against a rich backdrop of Vermont hills and forestry.
Although the farm is private and not open to the public, it is accepted that tourists can drive along Cloudland Road and stop to take a photo of the farm.
The drive from Woodstock takes 15 minutes, and be advised that it's a very famous photo spot. You should aim to arrive early to avoid having to wait in a long line of cars!
2023 UPDATE: Unfortunately, access to Cloudland Road will be limited to locals only starting from 23 September to 15 October, so if you're visiting during this period, you won't be able to see the farm in person.
Sugarbush Farm
Driving time: 15 minutes (4.8 miles/7.7 km) from Sleepy Hollow Farm
Your second farm of the day is one for the foodies: Sugarbush Farm is responsible for some of the tastiest cheeses and maple syrup varieties in Vermont!
This 500-acre farm is owned by the Luce family and is open to the public. You can wander around the farm grounds, follow a designated nature walk in the forest, and pop your head into workshops.
This is great if you're curious to see how the products are made. You will also learn about how maple syrup is sourced from the land.
There is no fee to visit Sugarbush Farm. However, it's a kind gesture to make a purchase from the farm shop to support this family-owned business.
Sugarbush Farm is located a 15-minute drive from Sleepy Hollow Farm.
Billings Farm & Museum
Driving time: 10 minutes (4.5 miles/7.2 km) from Sugarbush Farm
Billings Farm & Museum is located in central Woodstock. As well as being a working Jersey dairy farm, it has a great community ethos and hosts lots of events, and schedules educational programs with schools in the area.
There is an admission charge of $17 to enter and explore the barns, pastures, and kitchens. You can also take a look at the 1890s farm manager's lodge and check out the collection of tractors.
You could choose to have lunch at the farm cafe or back in town before driving to Stowe.
Arriving to Stowe
Driving time: 1 hour 15 minutes (72 miles/115 km) from Billings Farm to Stowe
After having lunch either at Billings Farm or in Woodstock, get back into your car and drive straight to Stowe. You're looking at a 1 hour 15-minute scenic drive.
Where to stay in Stowe
You will need to book accommodation for 3 nights in Stowe, making this the longest temporary base during your New England fall foliage road trip.
As you're staying for 3 nights, you might prefer to stay in self-catered accommodation while in Stowe. There are so many grocers, independent stores, and farmers' markets where you can stock up on groceries for a couple of nights.
If this sounds appealing, check out my pick of the best Airbnbs in Stowe.
One thing to note though is that accommodation in Stowe is quite limited and pretty pricy, especially during the fall season.
In case you want to book something further out, you should check out Waterbury (15-minute drive from Stowe), Montpelier (30-minute drive from Stowe), or Burlington (40-minute drive from Stowe). We personally stayed in Days Inn by Wyndham Colchester Burlington.
If your heart is set on staying in Stowe (which is a very good choice by the way!), here are my top picks for different budgets.
Day 5-6: Stowe
If you loved Woodstock then you will love the next stop on your New England fall road trip as well!
Stowe is another small Vermont town with a cozy vibe and tons of remarkable nature sights and historic attractions. As there is so much to see and do in this area, it's best to spend a whole two days exploring.
Best things to do in Stowe
As the area holds so many attractions, I wrote a complete guide about all the best things to do in Stowe which you can consult for the full experience.
Otherwise, here are some of the most popular things you can take your pick from and devise your own perfect 2-day itinerary.
Explore Main Street
Stowe Main Street is the epicenter of the town. It's lined with pretty historic townhouses and churches. There is also the Vermont Ski and Snowboard Museum and The Current art gallery if you want to squeeze in a culture dose.
Naturally, Main Street is humming with cafes and boutiques so if you want to pick up souvenirs or treat yourself to a long brunch: this is the place!
Drive through Smugglers' Notch
One of the best things to do in Stowe, Vermont is to take a drive through Smugglers' Notch. This narrow passageway was once used by smugglers to transport their goods into the United States from Canada.
Nowadays it's a popular scenic route and it's especially beautiful in the fall when the leaves are changing color. The road winds its way through the mountains and there are plenty of pull-offs where you can stop and take in the view.
There are also a few hiking trails in the area if you want to stretch your legs. The Notch Visitor Center is a great place to start your exploration of Smugglers' Notch and it has a range of maps and information about the area.
Visit the covered bridges
If you enjoyed seeing the covered bridges near Woodstock then you can continue your investigation while in Stowe.
There are several options that are nearby. In fact, the Giles W. Dewey Memorial Bridge is right in town so you needn't use the car for this one!
This bridge was only built in the early 21st century, in honor of a local farmer and philanthropist who passed away in 2000. Uniquely, the Giles W. Dewey Memorial Bridge only covers a pedestrian walkway rather than the road.
The Gold Brook Covered Bridge passes over the namesake brook. But, it's more commonly known as Emily's Bridge. Emily was a young woman from a poor family who fell in love with a wealthy local man during the 1850s.
After he failed to show up and elope as the lovers planned, the woman leaped from this bridge and ended her life. Local fables suggest that her spirit haunts the bridge.
Grist Mill Covered Bridge is also referred to as the Scott Covered Bridge, the Bryant Covered Bridge, and the Canyon Covered Bridge. It's beautifully photogenic, especially during this time of year when the structure is devoured by the foliage. Passing through the bridge is one of the best fall drives in New England.
Chase a waterfall
If you love to chase waterfalls while traveling, then you have a couple of options to add to your list while in Stowe.
One option is Sterling Gorge Falls which is a 15-minute drive north of Stowe. Access is via an easy out and back path through the Green Mountains that takes around 90 minutes to complete.
A second is the Moss Glen Falls. These falls are only a 10-minute drive northeast of Stowe Main Street and this is actually the tallest waterfall in the state of Vermont. You can hike there in 20 minutes via one trail or take a scenic route that requires 2-3 hours.
Walk the Stowe Recreation Path
The Stowe Recreation Path is a 5.3-mile (8.5 km) walkway that links Stowe center with the Top Notch Resort on Mountain Road.
This entire walk is paved and is suitable for walkers and cyclists of varying levels. You don't need to be an expert hiker and it's a family-friendly activity.
If you time your New England foliage road trip right then you will see the forest in its seasonal spectacle!
Take a hike
In addition to the Stowe Recreation Path, there are a number of excellent hiking options around the town if you want something more challenging.
Sunset Rock is an easy hike that takes less than an hour as a round trip. You will follow a steep but short trail through the woodland to a lookout point from where you will be able to view the town and Mount Mansfield.
Smugglers' Notch State Park offers a nice spread of short walks that take 1-2 hours to complete as well as challenging trails of 3 hours or 4-6 hours.
Last but not least, the Sunset Ridge Trail is one of the most popular hikes if you want a closer look at Mount Mansfield. With a length of 5.1 miles (8.2 km) and somewhat challenging conditions, it is considered a moderate hike and will take up the majority of one day. You will need decent hiking boots as well.
Savor the views from the Stowe Mountain Resort
Stowe Mountain Resort opens for winter sports in late November. But you can visit at any time of year to appreciate the views from the highest mountain peak in Stowe.
You can drive up to Mountain Road which is one of the best fall foliage drives in New England.
Once you reach the resort, subject to the dates you visit, you can ride up the rest of the way to the summit of Mount Mansfield via the Gondola Skyride. This attraction typically opens from mid-June until mid-October.
Once at the top, you will appreciate an unbeatable view of the golden foliage.
Where to eat in Stowe
Stowe's Main Street is great for dining but as you have your car you can also check out places on the outskirts too. These are my suggestions for where to eat in Stowe.
Day 7: Mount Pisgah Trail North and Drive to Colebrook
Today you will check out of your Stowe accommodation and drive towards Colebrook NH with the option to take a hike while on the way.
Hike the Mount Pisgah Trail North
Driving time: 1 hour 10 minutes (52 miles/84 km) from Stowe
The Mount Pisgah Trail North is a moderate hike of 4.8 miles (7.7 km). It has an elevation gain of 1,650 feet (503 meters) and takes approximately 3-4 hours to complete.
Parts of the trail are steep and it can be slippery after recent rainfall so dress sensibly and take care.
Tackling this hike takes you into the Willoughby State Forest. You'll follow a path that gradually reaches an observation clearing at the summit and provides a panoramic view of the lake.
Actually, you don't even need to go all the way up as there are a couple of viewpoints a bit lower as well that provide stunning views too.
The colors at this time of year are out of this world: the hike is a must for your fall foliage New England road trip if you love to hike!
You can leave your car on the side of the road on Route 5A next to Willoughby Lake and then follow the trail.
If you have a bit more time after your hike, it's worth exploring the lake too. The South Beach is especially stunning!
Drive to Colebrook NH
Driving time: 1 hour (44 miles/70 km) from Mount Pisgah
Once you've finished the hike you can just drive directly to Colebrook, New Hampshire, or feel free to stop off along the way.
Your drive will pass through the town of Brighton which sits on the banks of Island Pond and the Brighton State Park.
Check out Jesse's Little Kitchen if you fancy a post-hike pizza binge or Hobo's Cafe which offers a spread of brunches, grills, and comfort meals.
Where to stay in Colebrook
Colebrook is a small town with a limited supply of accommodation options during your New England fall road trip. These are my picks for where to stay in Colebrook.
We personally managed to snag up a room at Colebrook C.C. & Motel and it was the perfect base to explore the Dixville Notch area.
If they're all booked out or you're looking for something else, check out my other recommendations below.
Day 8: Dixville Notch
You will spend today exploring the area around Colebrook and then return to the same hotel. Here is the itinerary for the day!
Breakfast at Mostly Muffins
Mostly Muffins is a breakfast-only cafe in the heart of Colebrook on Parsons Street. They open at 6 am on weekdays and 7 am on Saturdays (closed on Sundays) in case you want to wake up super early!
Muffins are available in a variety of flavors and you can grab one to go or eat in at the rustic cafe. They also serve amazing lattes – if you love sweet drinks, you have to try their maple latte!
If you would rather dine with a scenic view, ask for a takeaway and drive 5-minutes to Beaver Brook Falls. The scenery is absolutely mindblowing and there are lovely picnic tables where you can sit down and eat your breakfast while admiring the views.
Table Rock Hike
Driving time: 15 minutes (10 miles/16 km) from Colebrook
The Table Rock Hike is a short but moderately challenging hike in the Dixville Notch State Park. This 1.5 miles (2.4 km) out and back route has an elevation gain of 750 feet (229 meters) and takes around 1 hour to complete.
The trail is easy to follow but it can be prone to mud and slippery leaves so you will need to wear hiking boots. Especially the last part is challenging but nothing you can't handle with some caution.
Once you reach the top, you will be rewarded with views stretching out over the dense foliage of the state park and Lake Gloriette.
One thing to note though is that you will be standing at the edge of a cliff with a huge drop so make sure to be extra careful.
It's a truly phenomenal addition to your New England fall road trip itinerary but you'll need a head for heights. If you have fear of heights, this hike might not be the best option for you.
The trailhead for the Table Rock Hike is located on NH-26.
Lake Gloriette
After completing the Table Rock hike, it's worth taking a stroll around the shores of Lake Gloriette as well. It's absolutely breathtaking with all the fall colors and if you are lucky and the conditions are great, you can even see some insane reflections on the surface of the water.
You might be wondering: what is the building across the lake that looks like a fairytale castle? That's The Balsams resort, a grandiose hotel and ski resort. Unfortunately, it has been closed ever since 2011 for development purposes and it will remain closed until further notice.
Huntington Falls
Driving time: 2 minutes (1 miles/1.6 km) from Table Rock Trailhead
Huntingdon Falls is a gorgeous waterfall located in the woodlands. Once you park up on NH-26 at the Dixville Notch Wayside parking area, you'll see a smaller waterfall first. This one is visible from the parking lot.
But a short walk through the forest brings you to a second fall that tumbles down from the ravine. The walk is a mere 0.4 miles (0.6 km) and it's easy and takes less than 20 minutes to reach the second waterfall.
The waterfall is only a few minutes drive from the Table Rock Hike trailhead.
Dinner at Black Bear Tavern
Driving time: 15 minutes (12 miles/19 km) back to Colebrook
Once you're back in Colebrook, my recommendation for dinner is the Black Bear Tavern.
If the weather is comfortable, you can sit out on the terrace and enjoy a sundowner before eating. In addition to wines, beers, and spirits, the tavern has a great spread of signature cocktails.
The food is high-quality American pub fare with the likes of burgers, grills, and shareable sides.
In a nutshell, it's exactly what you need in between a few days of hiking.
Day 9: Franconia Notch and drive to Lincoln
You will check out of your Colebrook accommodation this morning and head towards Lincoln NH with some scenic stops on the way in Franconia Notch State Park.
Hike to Artist's Bluff
Driving time: 1 hour 20 minutes (65 miles/105 km) from Colebrook
Artist's Bluff is a 0.5-mile (0.8 km) loop trail that rewards you with magical views of Franconia Notch State Park from the lookout. It's stunning year-round but particularly special when visited during a fall road trip in New England.
The trail is quite steep and can be a bit slippery but it's super short – it took us a solid 10-minute to get to the top. Definitely one of the most rewarding hikes I've ever done!
I recommend leaving the car in the Cannon Mountain Rv Park as this is the closest one to the trailhead. The start of the trail is on Profile Road, you will see a wooden sign pointing you in the right direction.
You will come across a fork during your climb – make sure to keep right and follow the sign to Artist Bluff! The other trail is going up to Bald Mountain which is an amazing hike as well but definitely longer.
Once you get to the top, you can enjoy the view of Echo Lake and the surrounding mountains. It was one of my favorite viewpoints during our New England fall road trip!
Flume Gorge
Driving time: 10 minutes (6.5 miles/10.5 km) from Artist's Bluff
Flume Gorge is located just outside of Lincoln, New Hampshire and it's one of the most popular attractions in the White Mountains region.
The Flume Gorge is a natural chasm that was created by glaciers centuries ago. The walls of the gorge rise to a height of 70 feet (21 m) in some places and it's home to a number of waterfalls.
You can explore this stunning natural attraction by following a 2-mile (3.2 km) nature trail through the gorge. The walk is super easy and it's suitable for all fitness levels.
The entire loop takes around 1.5 hours to complete and the park usually closes at 4 pm so you need to be mindful of your timing.
Online reservations cost $18 while buying on-site is $21. In the fall season, tickets sell out pretty quickly and typically they don't accept walk-ins so it's best to arrive with a reservation.
Lincoln NH
Driving time: 10 minutes (5 miles/8 km) from Flume Gorge
Another night, another cute New England town to call home! Once you're ready, you can head to your hotel in Lincoln, NH. I recommend booking one night here because tomorrow you're going on another adventure!
Where to stay in Lincoln
These are my picks for where to stay in Lincoln NH with different budgets in mind.
Day 10: Scenic drive from Lincoln to Acadia National Park via Conway
Today will be all about road tripping, as you will drive all the way to Acadia National Park from Lincoln! You will drive through one of the most beloved mountain roads, Kancamagus Highways, where you can stop to see different attractions.
The whole driving time is 4.5 hours (245 miles/395 km) without any stops or traffic jams so essentially, you'll spend the whole day in transit. I recommend leaving as early as you can as the Kancamagus Highway is known for its insane traffic, especially during fall!
Breakfast at Flapjacks
Today has many stops so head to Flapjacks on Main Street for a decent breakfast before you leave. They are legendary for pancakes (aka flapjacks, as they call them) with a good offering of sweet and savory variations that will power you up for the day ahead.
Flapjacks is really popular among locals and visitors as well so it's not uncommon to see lines in front of the restaurant. As I mentioned before, I suggest starting the day early! They usually open at 7 am.
Kancamagus Highway
Driving time: 45 minutes (35 miles/56 km) to Conway from Lincoln via the Kancamagus Highway (excluding stops and traffic)
The Kancamagus Highway is one of the best fall drives in New England. It's technically a 50-minute drive without stops from Lincoln to Conway but I would budget at least 3 hours so that you can stop at the amazing attractions as you pass through the White Mountains.
I've written a complete guide about the Kancamagus Highway fall foliage drive with every possible information you could ever need to plan your drive. However, if you're in a rush, you can check out the most famous attractions below.
Hancock Overlook
Hancock Overlook is a viewpoint that lets you take in the mountains towering above a blanket of autumnal foliage. It's a quick stop but extremely worth stopping for if you catch the season just right.
Sabbaday Falls
Pull over at the Sabbaday Falls Observation Site parking lot and from there it's a very small hike to see this magical waterfall among the woodlands.
It takes around 15 minutes each way if you want to see the falls.
Rocky Gorge Scenic Area
Stop at the Rocky Gorge parking lot then you can walk to this scenic lookout at the side of the Swift River.
You'll see a waterfall coming down the side of the huge boulders and rocks with trees surrounding the area. Again, the walk only takes around 15 minutes each way.
Lower Falls
The Lower Falls is another pretty waterfall on the course of the Swift River. These are viewable after a short stroll from the Lower Falls parking lot on the Kancamagus Highway.
Albany Covered Bridge
One final covered bridge to star on your New England foliage road trip itinerary! This one passes over the Swift River toward the end of the Kancamagus Highway.
It was built in 1858 and renovated in 1970. There should be enough space to pull over and pop out to get a closer look and snap a few photos.
Conway, New Hampshire
Conway is a small town located in eastern New Hampshire that marks the end of Kancamagus Highway.
This quaint town is the perfect place to stop for a bite to eat if you're feeling hungry. One of the best-rated restaurants in Conway is Sweet Maple Cafe, which serves up amazing breakfast dishes, sandwiches, and salads. They do close at 2 pm so make sure you get there early!
Alternatively, you can stop at Fire 21 Pizza for a quick and tasty slice of pizza. This place is located right on Main Street and it's the perfect spot to refuel after a day of exploring.
In terms of sightseeing, there are two covered bridges in Conway that are worth checking out: Swift River Covered Bridge and Saco River Covered Bridge.
Both bridges are located close to downtown and they're easy to find. They're also popular spots for photographers, so make sure you bring your camera!
Drive to Acadia National Park
Driving time: 4 hours (211 miles/340 km) to Bar Harbor from Conway
After exploring Kancamagus Highway and stopping for a quick food break in Conway, you need to get back to your car as there is a long drive ahead of you.
The drive from Conway to Bar Harbor is a solid 4-hours which is one of the longest routes you'll have to tackle on this New England fall road trip.
Where to stay in Acadia National Park
Acadia National Park is located on an island that is connected to the mainland via road. You can stay in the park at one of the designated campgrounds if you want an immersive nature experience. Alternatively, there are hotels and guesthouses dotted around the island.
However, the best place to stay for the course of your visit is Bar Harbor. This is the main town within Acadia NP and has the widest variety of accommodation options as well as restaurants, shops, and amenities.
As you will likely stay for two nights, you can either stay at the same hotel for both nights of your fall road trip in New England. Or, you could stay at two different places and experience different parts of the park.
Your third option is to only stay one night at Acadia NP and then drive to Portland after your second day on the island. You can then stay the night in Portland.
If you want to know more about the best areas to stay in Acadia, check out my in-depth article about where to stay in Acadia.
You can check out the full list of the best hotels in Acadia National Park for every budget, or if you're in a rush, take a look at my top picks below.
Days 11-12: Acadia National Park
Acadia National Park is located on Mount Desert Island and comprises 47,000 acres of coniferous forest, rocky beaches, and glacier-carved granite peaks.
You will note Cadillac Mountain – the highest point on the East Coast.
As you have a car already, you can explore the park with your own vehicle. But, if you fancy taking a break from driving, you could always consider using the bus.
The Island Explorer is a complimentary bus service that departs from Bar Harbor and links with the tourist spots and hiking trails within the park.
In addition to being free, the bus means that you will not encounter parking issues. Spaces are limited in Acadia, and since it's one of the most popular East Coast National Parks, sometimes it's impossible to score a spot.
Particularly at this time of year because the Park Loop Road easily constitutes one of the best fall foliage drives in New England.
Best things to do in Acadia National Park
Once you've decided how you're going to get around, here are the best things to do in Acadia. In case you prefer a step-by-step itinerary, you can refer to my in-depth guide on how to spend 2 days in Acadia National Park.
Walk (or drive) Ocean Path
Ocean Path is a scenic route that connects Sand Beach with Otter Point.
The trail is 2 miles (3.2 km) and an easy, flat walk. On the way, you will encounter Thunder Hole – a chasm where waves crash and create the sound of thunder. You should expect to complete the out-and-back trail in less than 2 hours.
If you would rather save time for other hikes, you can drive Ocean Path in your vehicle and enjoy the ocean views along the way.
Hike to the Beehive Lookout
Naturally, there are dozens of hiking trails in Acadia NP that you can enjoy during the two days of your New England fall foliage road trip.
The Beehive Lookout is one of the best places for views in the entire park. However, you should note that the Beehive Trail is an extremely challenging hike that is intended only for advanced hikers with climbing experience and no issues with heights. It requires you to shimmy along a vertical cliff.
However, you can decide to follow the Bowl Trail instead, which departs from the same trailhead as the Beehive Trail. If you take a shortcut through the forest, you will end up at the Beehive Lookout without having to do the hard climb!
Follow the Jordan Pond Path
If you have time for another hike, the Jordan Pond Path is a lovely choice. At 3.1 miles (5 km) and with flat terrain, the hike can be completed in 1-1.5 hours and is not challenging.
If you want to extend the hike then you can merge this route with another hike: the Bubbles Trail. The Bubbles is the name given to the two mountains, North Bubble and South Bubble. You'll spot them as you walk around the lake but summiting them yields an incredible 360-degree view of the area.
This results in a moderate 7.4 km (4.6 miles) loop hike beginning and culminating at the Jordan Pond Path trailhead. This option does have some pretty steep sections as you venture up through the forest but it's worth it for the views.
Catch the sunset at Cadillac Mountain
Cadillac Mountain is 1,530 feet (466 meters) tall and is the highest peak on the East Coast of the US. You can drive to the summit via Cadillac Summit Road and see incredible views over Jordan Pond and the surrounding ranges.
However, you must reserve your drive in advance. This is to prevent overcrowding and carries a small conservation fee of $6 per vehicle.
30% of the allocated spaces are bookable 90 days ahead of the date. Meanwhile, the remaining 70% are released at 10 am two days ahead of your intended date. You'll need to be super organized in advance or super crafty at the last minute!
Sunrise and sunset are the most popular times but it's usually easier to secure a reservation for Golden Hour.
Take a boat tour
A boat tour is a perfect way to see some wildlife during your New England fall road trip.
Tours depart until late October from Bar Harbor and you will stand a chance of spotting eagles, porpoises, seals, whales, and other marine creatures.
The 2-hour Sightseeing & Nature Cruise with Acadian Boat Tours is one of the most comprehensive options. On the other hand, the 3.5-hour variation takes you to see the puffins which is always going to be a win!
Where to eat in Acadia
Hiking requires a solid base of energy! Here are my recommendations for where to eat in Acadia NP.
Day 13: Portland
Driving time: 3 hours (175 miles/282 km) from Bar Harbor to Portland
Today you will be visiting one of the prettiest places along the East Coast: Portland, Maine!
Portland is the most populous city in Maine and it's a worthy addition to your New England fall road trip. This historic city is located on a peninsula and it's known for its working waterfront, as well as its beautiful lighthouses.
Spending one day in Portland Maine will give you the chance to visit the highlights, however, since it's quite far away from Bar Harbor and you still have to drive to Salem afterward, this might feel like too much driving/not enough time to explore the city.
Therefore, an alternative option is to drive to Portland from Acadia NP the previous evening and spend the night there. You can take a look and see which option you prefer and customize the fall foliage New England road trip as you see fit.
Best things to do in Portland
Portland, Maine is known for its historic downtown area and its influx of lighthouses, many of which remain in use. Here are the best things to do when spending one day in Portland.
Wander around the Old Port
Old Port is Portland's historic district and features cobblestone streets and beautifully preserved buildings. The waterfront bustles with restaurants, cafes, fish markets, and shops.
This is a great place to stretch your legs after the long drive from today's leg of the New England fall road trip while tucking into a lobster roll.
Visit the Portland Observatory
The Portland Observatory was built in 1807 and originally served as a communication station for the port. It is the only wooden signal towel that still exists in the area.
After various renovation work during the 20th century and the turn of the 21st century, the Observatory was added to the National Register of Historic Places.
You can go inside the observatory during the summer season until mid-October. Guided tours run on Thursdays, Fridays, Saturdays, Sundays, and Mondays while Tuesdays and Wednesdays switch to self-guided tours.
You can book your tickets online in advance; admission is $10.
Tick off the prettiest lighthouses in Portland
As a testament to the importance of Portland Harbor during the 18th and 19th centuries, you can find many beautiful lighthouses in Portland.
With one day in the city, you can check out a couple of them during your New England foliage road trip. If so, expect this to take up most of the afternoon.
Bug Light sits across the bay from the Old Port in Bug Light Park. Officially it's called the Portland Breakwater Lighthouse but it earned its nickname due to how petite it is.
Spring Point Ledge Lighthouse is a short drive from Bug Light and you can visit it in conjunction with Fort Preble. This lighthouse sits on a rocky promenade and you can walk out to the end to get a closer look at the building.
Portland Head Light is the most iconic of the famous Maine lighthouses. It's located in Fort Williams Park, Cape Elizabeth – 5 miles (8 km) south of Downtown Portland. You can drive there in 15 minutes from the town center and then continue with your drive south to Salem.
Look across the bay and you might be able to spot Ram Island Ledge Light Station!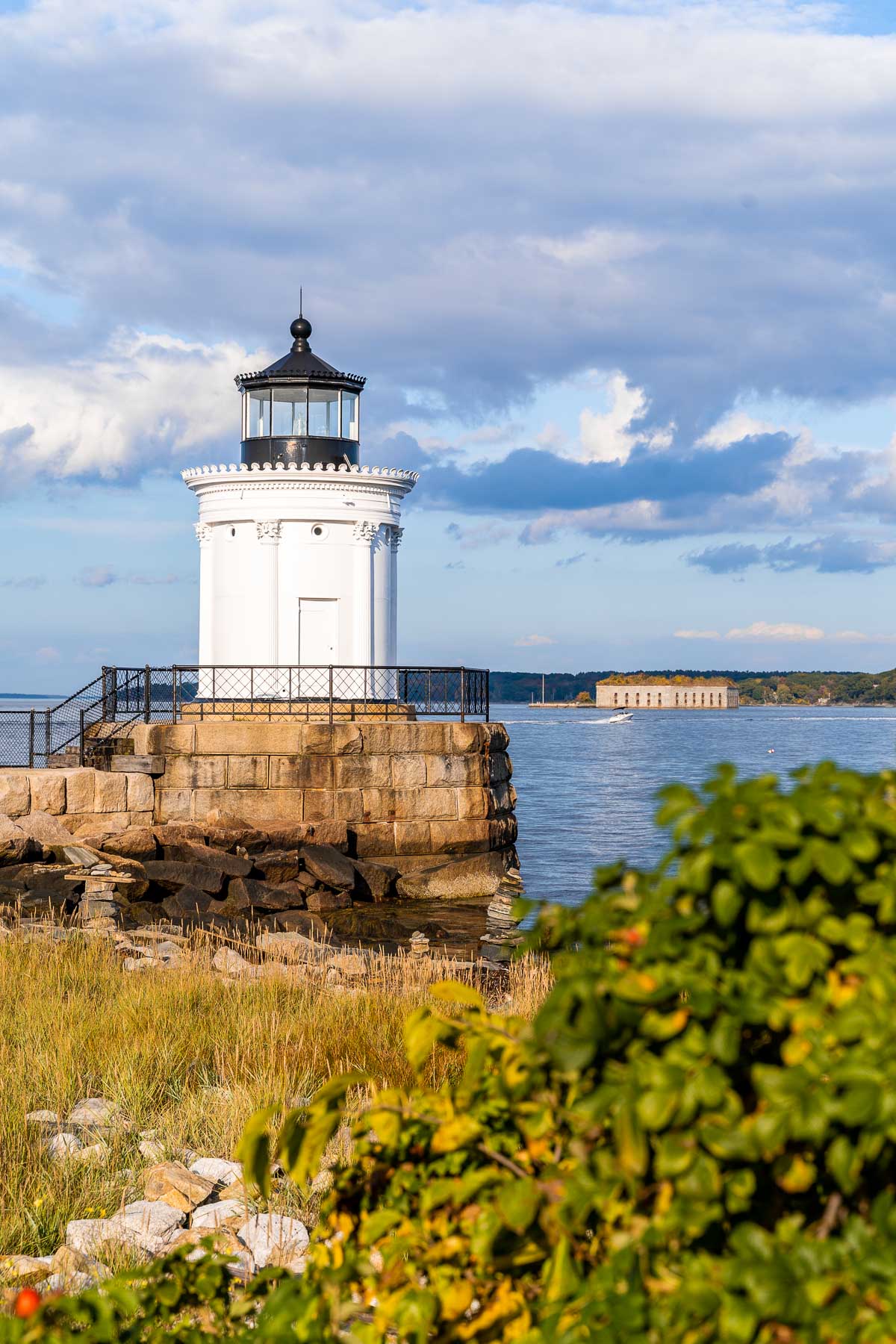 Where to eat in Portland
Portland is a great place to sample local seafood and shellfish specialties. But if you're not keen on fish, there are plenty of other options.
These are my recommendations for where to eat in Portland for lunch or before heading to your hotel in Salem.
Drive to Salem, Massachusetts
Driving time: 1 hour 30 minutes (97 miles/156 km) from Portland to Salem
After spending the day (or at least a couple of hours) in Portland, get back to your car and drive 1.5 hours to your final stop on this New England itinerary: Salem, MA.
Where to stay in Salem
A final reminder about how quickly accommodation in New England gets booked up in the fall season. Of all the places, Salem is one of the busiest especially as you inch closer to Halloween when the town has heaps going on.
Salem offers a wonderful mix of historic hotels and cozy inns that are right in the town center. These are my top picks for where to stay in Salem.
Day 14: Salem
It's the last day of your fall foliage New England road trip! You'll spend the day in Salem before heading back to Boston to complete the itinerary. Unless you want to spend a few extra nights in Salem!
Everyone's heard of Salem and knows roughly about the history of the Salem Witch Trials. However, until you visit the town for yourself, it's impossible to truly grasp the extent of the events that occurred in 1692.
These events are traced back to January 1692 when both the daughter and niece of Puritan Reverend Samuel Parris of Salem Village were taken ill. William Griggs, the village doctor, diagnosed the young women with bewitchment.
Thus, the trials began with accusations being cast at the women and men of Salem. 19 of the accused lost their lives to hanging while one man was pressed to death and countless other victims died in prison.
Modern-day Salem is a charming small town that recounts the events and honors those who lost their lives to the hysteria with the Salem Witch Trials Memorial.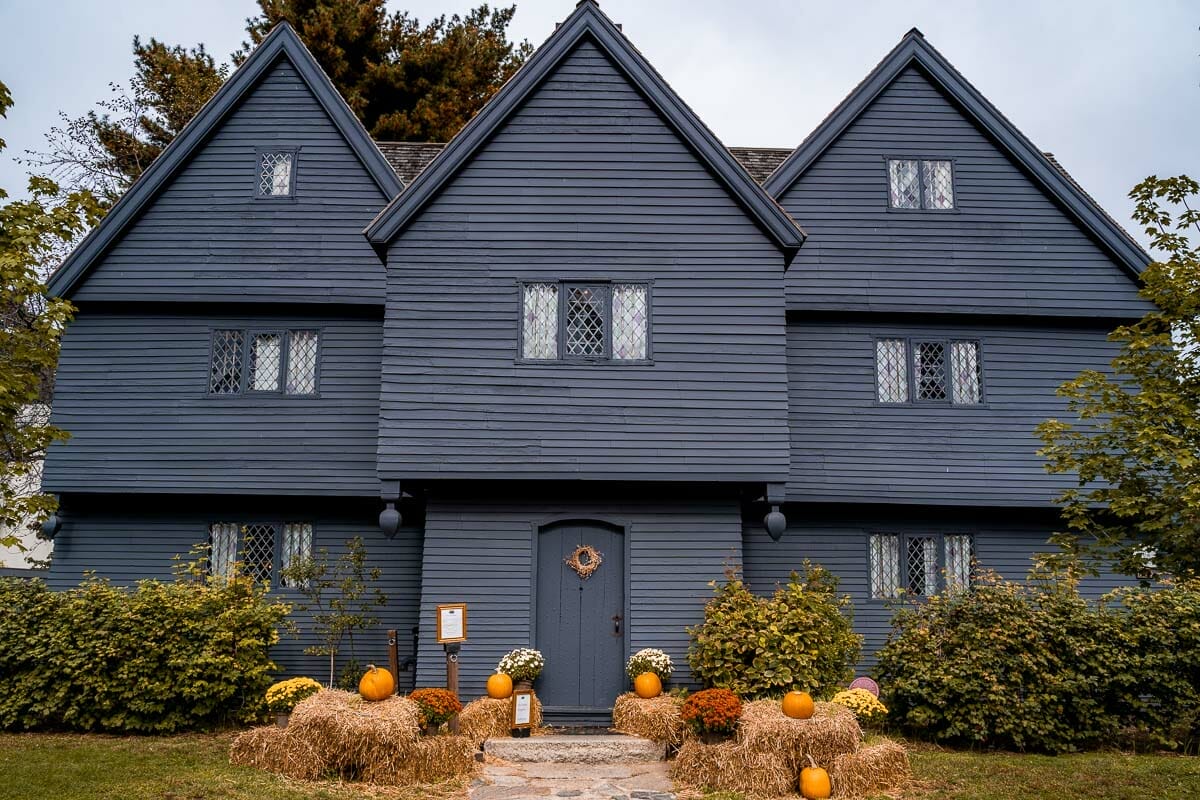 Best things to do in Salem
There are lots of spooky things to do in Salem in the fall season. But, there is also a large choice of historic and outdoor attractions as well. Here are the best things to do in Salem.
See what's on at Salem Haunted Happenings
Salem Haunted Happenings is an annual celebration of Halloween and fall that has taken place since 1982.
The program runs across the whole month of October and has events like parades, spooky movie screenings, costume balls, performances, and bespoke ghost tours.
You can find out what's on this year by consulting the Haunted Happenings website or by downloading the free app.
Visit the Hocus Pocus filming locations
The family Halloween movie of 1993 starring Bette Midler and Sarah Jessica Parker was set and filmed in Salem. You can visit a number of Hocus Pocus filming locations while in town either independently or as part of a guided tour.
The Salem "Hocus Pocus" Movie Locations Walking Tour only occurs during the fall season. So, seeing as you're planning a New England fall trip itinerary, you can seize the opportunity.
Check out the Peabody Essex Museum
For an entirely different change of pace, visit the Peabody Essex Museum (PEM). This gallery explores American and Asian art, architecture, and design and places an emphasis on cultural understanding and the importance of innovation.
You can visit the permanent collection and check what the latest special exhibition is.
Besides the vast art on display, PEM features a garden and a cafe space in a beautiful modern atrium that's filled with light. Admission to PEM is $20.
Tour witchy museums
It goes without saying that most of the attractions in Salem are witch-themed. Choose to visit the Witch Dungeon Museum where actors will walk you through the happenings of the 1692 Salem Witch Trials before inviting you to explore the dungeon artifacts.
Meanwhile, the Salem Witch Museum is a sculpture exhibit with a voiceover of the events as well as an exploration of modern-day witchcraft.
The Witch House at Salem served as the home of Judge Jonathan Corwin who presided over the Salem Witch Trial. Built in 1675, the house hosted some of the preliminary questionings.
Nowadays it contains objects and artifacts from the time of the Witch Trials and gives you a sense of how the wealthy lived during the 17th century.
If you're traveling with kids for this New England fall road trip, then do check out the Halloween Museum of Salem.
Where to eat in Salem
Downtown Salem offers a mix of quirky cafes, global eats, and friendly taverns with comforting American fare. Here are my suggestions for where to eat in Salem.
Bella Verona: This cozy trattoria whips up authentic Italian fare that will convince you that you're in the Tuscan hills. Save space for dessert – their homemade cannoli are top-notch.
Wolf Next Door Coffee: This cute cafe specializes in breakfast sandwiches and muffins, pies, baked goods, and excellent coffee. They cater well to vegans and vegetarians.
Mercy Tavern: A laid-back gastropub that focuses on New England comfort food and international favorites. Menus change frequently but you can expect the likes of burgers, mac 'n' cheese, and fish tacos.
Drive back to Boston
Driving time: 30 minutes (22 miles/35.4 km) to Boston
After touring all the spooky places in Salem, all that's left to do from your New England fall road trip itinerary is to drive back to Boston and return your rental.
In case you have some more time on your hands, it's worth sticking around for a couple more days in Boston but even if you don't, I think you had an action-filled road trip that you will remember for a long time!
---
Planning a trip to New England?
Then you might want to take a look at all our other travel guides about New England. I promise, they are just as awesome as this article was!
Vermont:
New Hampshire:
Massachusetts:
Maine:
---
Pin It for Later!