Acadia National Park's ancient woodland, rugged coastline overlooking the Atlantic Ocean, and native wildlife represent the best of Maine's wilderness. Despite its growing popularity, this beautiful patch of parkland still feels off the radar and never fails to captivate solo explorers, couples, and families alike.
2 days in Acadia National Park is the perfect amount of time to see the highlights, stretch your legs on the hiking trails, and get out on the water to look for wildlife. It might be tempting to spend longer but bear in mind that accommodation on the island is quite costly.
This itinerary is going to help you plan your excursion to the island including all the essential information to organize your trip and advice on exactly how to see the best of Acadia National Park in 2 days!
*Disclosure: This post contains a few affiliate links, which means I may receive a small commission, at no cost to you, if you make a purchase through my link.*
Overview of Your 2 Days in Acadia National Park
Breakdown of your 2 days in Acadia National Park
Day 1:
Breakfast in Cafe This Way
Hull's Cove Visitor Center
Beehive Trail or Bowl Trail
Hike or drive Ocean Path
Early Dinner at Jordan Pond House
Sunset at Cadillac Mountain
Day 2:
Breakfast at 2 Cats Bar Harbor
Jordan Pond Path or Bubbles Trail
Boat tour in Bar Harbor
afternoon & dinner in Bar Harbor
Map for your Acadia National Park itinerary
Below you can find a customized map that includes all the locations you're going to visit on this Acadia National Park itinerary.
I marked your 2 days in Acadia National Park with different colors – I used blue for the first and yellow for the second day, so you can easily see which places you're going to visit each day.
How to use this map: This map is fully interactive, so you can move around, zoom in/zoom out, and click on the icons. If you want to see a larger map, click on the bracket in the upper right corner. To see more details and the different layers, click on the tab in the upper left corner. If you want to save it for later, click on the star icon next to the name of the map. Then simply open Google Maps either on your desktop or phone, go to 'Saved'/'Maps', and open the map whenever you need it.
Day 1 of Your Acadia National Park Itinerary
Breakfast in Cafe This Way
Let's start your Acadia National Park itinerary by having a hearty breakfast! There is only one restaurant within the park that opens at 11 am so if you want to fuel up before your adventure, your best bet is Bar Harbor.
Located just off Main Street in Bar Harbor, Cafe This Way is an artisan cafe that specializes in breakfasts and brunches. In addition to excellent coffee, the menu comprises sandwiches, burritos, eggs, pancakes, and beyond – perfect for fuelling up ahead of your 2 days in Acadia National Park.
They have a beautiful outdoor seating area as well as a massive inside space, however, you can still expect to stand in line for a bit if you're visiting Acadia in a busy season.
They open at 7 am from Monday to Saturday and 8 am on Sunday. I recommend going early to avoid standing in line and to maximize your first day.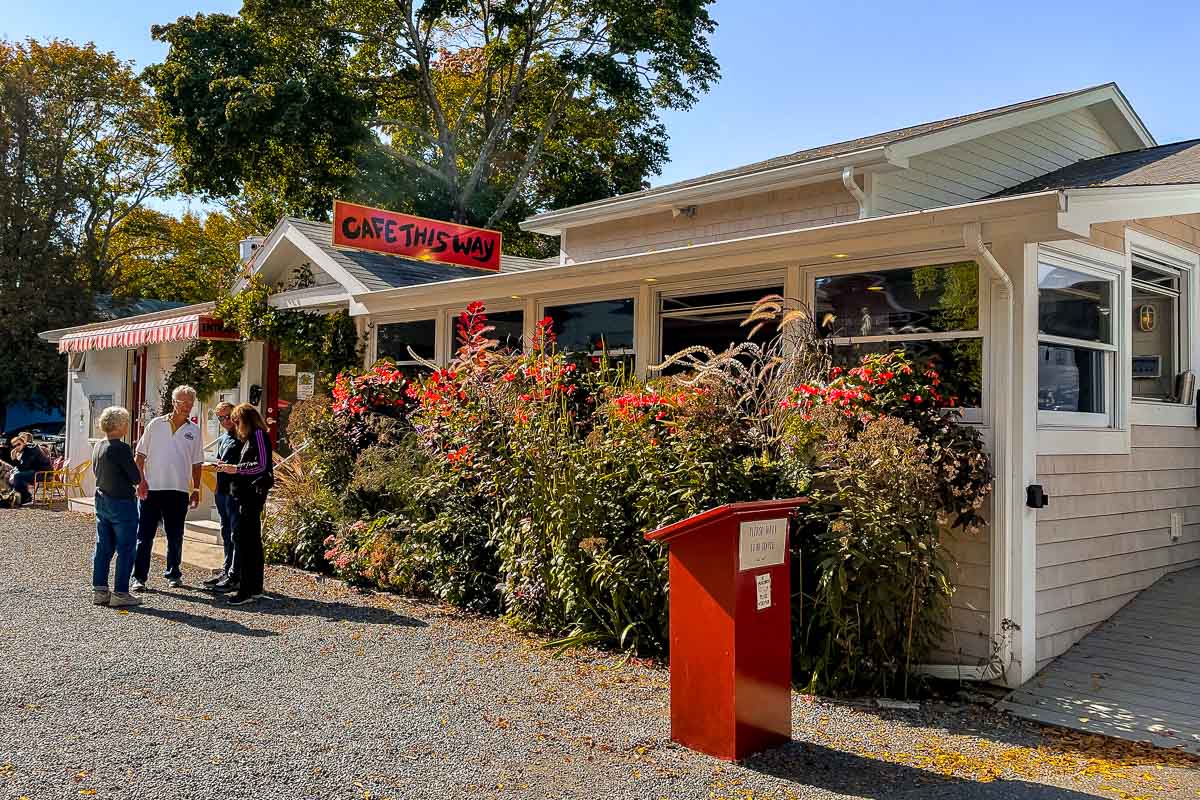 Hull's Cove Visitor Center
Once you've finished with breakfast, leave Bar Harbor and head to the Hull's Cove Visitor Center, which is only a 10-minute drive north of the cafe. It's also accessible via the Island Explorer bus if you decide to take that option to get around.
Once there, you can pick the brains of the park rangers, enquire about the latest hiking trail conditions, pick up maps, and generally prepare yourself for two epic days of adventuring! The center has information about the park on display as well as a gift shop in case you want to pick up any souvenirs.
If you haven't already bought your pass online, you can do so at Hull's Cove Visitor Center. It's important to note that the visitor center where you can buy the pass is in a different building than the gift shop.
When we arrived, we were greeted by a huge line. We thought it was for buying the pass, so we almost stood in line to wait for our turn, but luckily it turned out that it was for the gift shop, and no one was at the cashier, so we were able to buy our pass within seconds.
Beehive Trail or Bowl Trail Hike
For the first hike of this Acadia National Park 2 day itinerary, you will pay a visit to one of the most epic viewpoints in the whole park, the Beehive Lookout.
The Beehive Trail leading up to the viewpoint is actually one of the most famous hikes in Acadia. However, the Beehive Trail is only suitable for advanced hikers with a strong head for heights as it involves a strenuous climb that scales a near-vertical rock face with metal rods to help you.
If you decide to take that route, you'll need to prepare and talk to the staff at Hull's Cove Visitor Center first. Please don't take this lightly, the trail is very challenging and it's definitely not for beginners.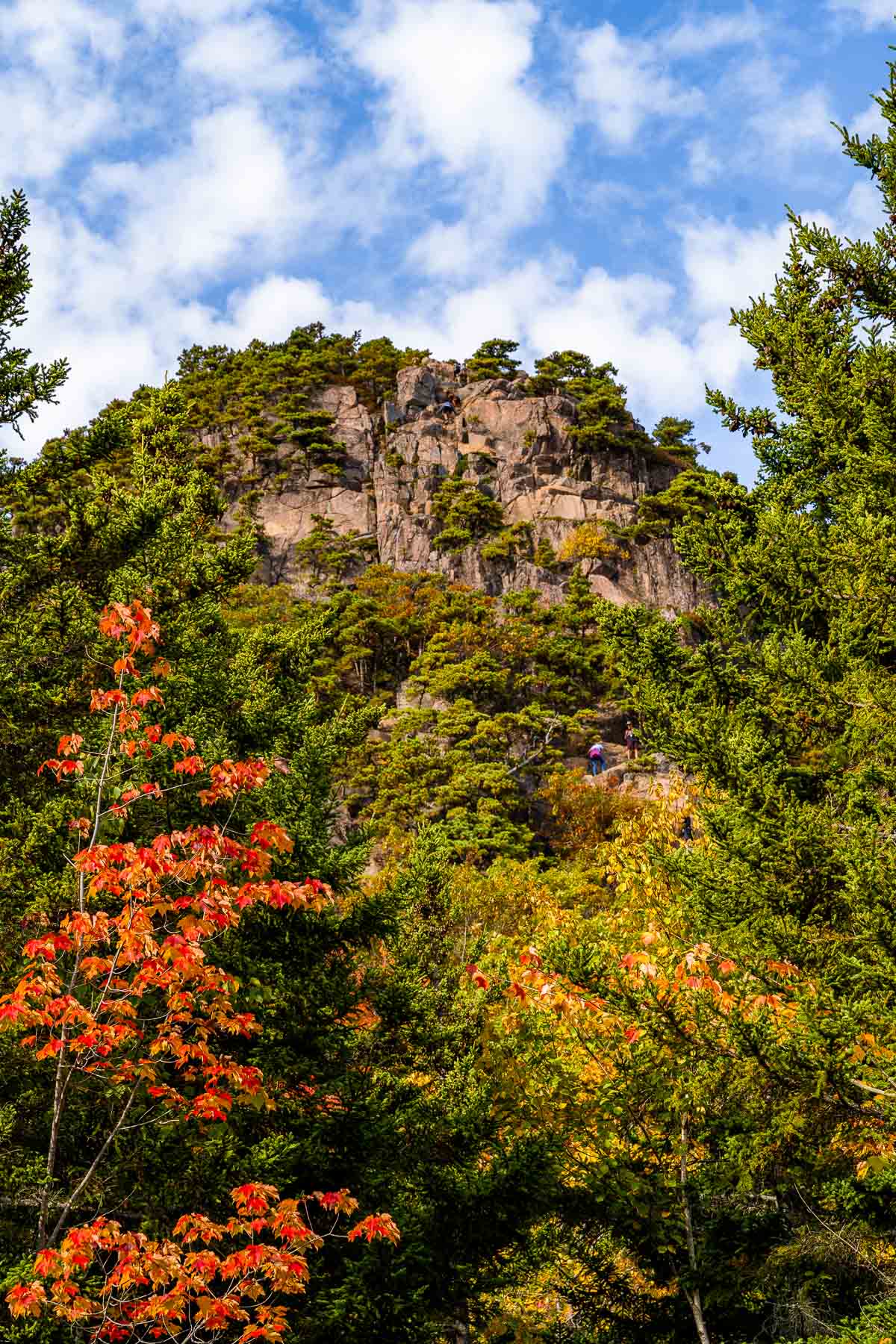 The good news is that there is another trail called the Bowl Trail starting from the same trailhead as the Beehive Trail, just off the eastern side of Park Loop Road.
This trail loops through the forest at a more relaxed and safer pace and leads you to The Bowl, a beautiful lake that is the ending point of the Beehive Trail as well.
You can actually combine the two trails by taking a shortcut through the forest on the Bowl Trail, and you will end up at the summit of the Beehive Trail without the perilous climb.
This is what we did, and it was more than amazing! Please refer to the map I shared above to find out where exactly you need to take the shortcut.
As it is, the Bowl Trail is a 1.2 miles (1.9 km) out-and-back trail with an elevation gain of 400 feet (122 meters), while the Beehive Trail is 1.5 miles (2.4 km) out and back, with 547 feet (175 meters) elevation gain.
Hike or drive Ocean Path
If you have the energy to tackle another hike, then you can follow the walking trail for Ocean Path, which is one of the few options that is accessible year-round. If you would rather, then you can turn this into a road trip and drive along Park Loop Road.
The Ocean Path trail hugs the coastline and offers incredible views across the bay with dozens of photo opportunities. It will take you around 1-2 hours to hike the 3.2 km (2 miles) from the trailhead to the culmination at Otter Point and a fraction of that if you drive, factoring in stops to pull over at the side of the road.
Keep in mind that this part of the Park Loop Road is one way only, so be mindful of where you want to stop because you won't have a chance to turn back without driving the whole loop again. Also, you can park anywhere along the road here (you can't do the same on the two-way part).
Either way, start at Sand Beach, which peeks out from the forest and is blessed with soft golden sand, and you can even go for a swim if the weather is warm enough.
If you are spending longer than 2 days in Acadia National Park, then this is a great spot for an afternoon of sunbathing to break up the hikes.
It will take you around 15-20 minutes to reach the popular landmark of Thunder Hole, subject to how many scenic stops you make.
This is a natural rock chasm that is lashed with waves as the tides roll in and produce a huge noise that sounds like thunder. If you stand too close, you can expect to get more than a splash!
Another 15 minutes or so south and you will reach Otter Cliff and Otter Point, which provide incredible panoramic views across the Atlantic Ocean.
These 110-foot (35-meter) high pink-granite cliffs just out into the water and are a popular destination for climbers visiting the park.
If you decide to hike rather than walk, you can turn around here and head back to your car at the Sand Beach parking lot.
Alternatively, you can wait for the Island Explorer to pick you up, but since Ocean Path is a one-way road, you'll have to ride a full circle with the bus to get back to your car.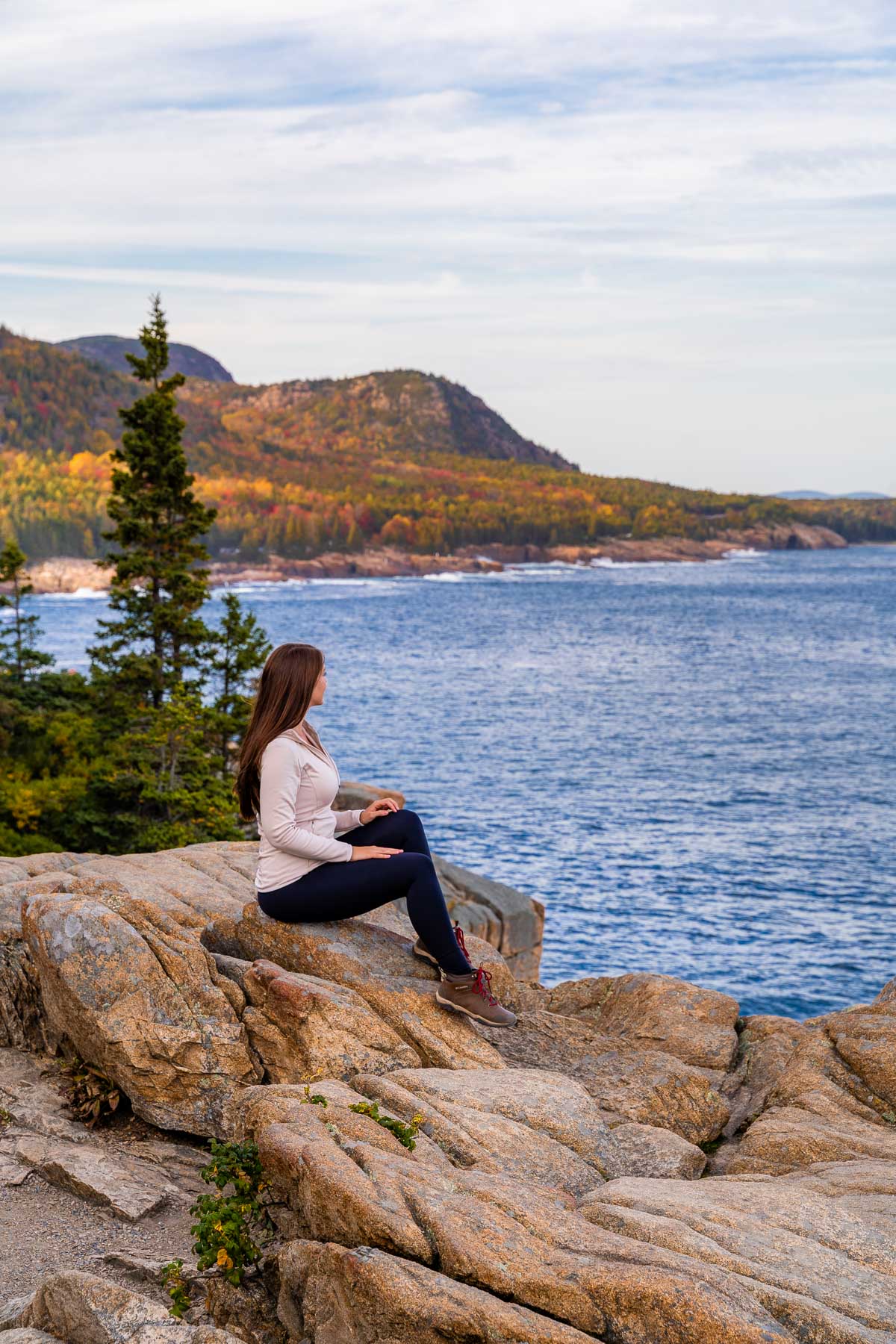 Early dinner at Jordan Pond House
Jordan Pond House Restaurant is set within an airy barn that overlooks Jordan Pond and the surrounding mountains. It's a gorgeous setting to eat before you visit the sunset location on this schedule.
The menu focuses on local seafood with the catch of the day, seafood chowder, and lobster stew ranking high, but they're also known for their popovers if you just want a snack.
Parking is limited in front of Jordan Pond House, so if you're visiting with a car, then you might not manage to get a parking spot. In that case, you can have dinner in Bar Harbor after seeing the sunset.
Sunset at Cadillac Mountain
Cadillac Mountain is one of the most incredible wonders on the island, and visiting it is a must on any 2 day itinerary for Acadia National Park. Located southwest of Bar Harbor, the peak is the highest point within the park and stands at a height of 1,530 feet (466 meters).
If you visit during the summer months (May through October), then you need to remember to reserve your visit to the mountain in advance.
Otherwise, you will not be granted access to Cadillac Summit Road, which paves the way up the mountain to the viewpoint. This measure was put in place to combat overcrowding and reduce the strain on the environment.
Vehicle reservations cost $6 and are available to purchase online. 30% of allocations are made available 90 days ahead of each date, while the remaining 70% are released at 10 am ET two days ahead.
Parking is available at two locations at the summit, from where you can walk to the overlooks. Along the way up the mountain, there are a couple of scenic laybys where you can also stop to enjoy the view.
The road is closed to public traffic during winter, and the Island Explorer does not serve the mountain.
Sunrise is actually the most popular time to visit, and it's really special if you can get there as it's one of the first places in the country to see the sun each morning. However, it's almost impossible to score a time for sunrise due to its popularity.
My recommendation is to visit at sunset instead, as you have far less competition for access, and the golden hour scenery will blow your mind. No hiking is involved at the summit, it's just a short walk from the parking lots.
But if you manage to run into a bigger crowd, you can always hike a little bit down to have the scenery all to yourself. That's what we did as well!
If you do manage to nab a sunrise slot, you can flip this Acadia National Park itinerary around and start your day at Cadillac Mountain, then head down to the restaurant in time for sunset by the lake.
Day 2 of Your Acadia National Park Itinerary
Breakfast at 2 Cats Bar Harbor
2 Cats Bar Harbor is a tiny bed and breakfast in the town that, even if you decided to stay elsewhere, you should visit for their delicious breakfast. They prepare bagels, French toast, pancakes, and nutritious homemade granola alongside bottomless coffee and freshly squeezed juices.
When you've got a busy second day ahead of your Acadia National Park itinerary, it's the perfect place to get started! I actually liked this cafe a lot better than the ultra-popular Cafe This Way, so if you only have time for one, I would recommend choosing this.
Jordan Pond Path or the Bubbles Trail
Again, you have a choice of two hikes for the morning of your second day in the national park.
The Jordan Pond Path trailhead starts at the restaurant you visited last night. Providing you get there early, you should be able to find a parking spot. The trail follows the shore of the lake and covers 3.1 miles (5 km) of flat track that is as suitable for running and cycling as for walking.
Alternatively, you can elect to take the Bubbles Trail, which starts at the Bubbles Divide parking lot on Park Loop Road. A little heads up that the parking lot is super small – it can only accommodate like a dozen cars – so if you really want to tackle this trail, get there as early as possible.
This track is named for the two mountains at the northern end of the lake – North Bubble and South Bubble – which offer an incredible view over the water and surrounding area.
This 1.5-mile (2.4 km) track is shorter but more challenging, with prolonged steep rocky sections that may be slippery after rainfall.
The trail takes you first to South Bubble and then to North Bubble, with a chance to see Bubble Rock. This giant boulder was a result of glacial activity and perches precariously on the surface of the South Bubble.
Yet again, you might want to combine the two hikes as this maximizes your 2 days in Acadia National Park and is accessible to hikers with a moderate fitness level.
Combining the two trails results in a 7.4 km (4.6 miles) loop hike that begins and ends at the Jordan Pond Path trailhead. At the northern end, you will see a sign that tells you where to branch off from the circular walk.
The track is very steep, and you will need to heave yourself up large boulders that are strewn through the forest.
Although the climb up from the pond is demanding, the view is worth it, and providing that you take your step and are wearing proper hiking clothes, hikers of reasonable fitness should find it achievable. It will take around 4 hours to complete this circuit.
Boat tour in Bar Harbor
After all the walking, all that's left for your 2 day itinerary for Acadia National Park is to take in views of Mount Desert Island from the Atlantic Ocean with a boat cruise.
Nature and sightseeing cruises depart from Bar Harbor during the summer season (early May until the end of October). These take you in search of marine birds and wildlife, including eagles, porpoises, seals, and even whales.
There are several tour operators providing scenic cruises off the coast of the island. The best place to start your search is with Acadian Boat Tours, which is based in Bar Harbor.
They offer a comprehensive list of options, with their Sightseeing & Nature Cruise proving to be one of the most popular. The route takes you around the islands of Frenchman Bay and lasts around 2 hours.
Other options include the 3.5-hour tour to see the resident puffins and other seabirds and private charters if you're traveling as a larger group or simply want added luxury.
Afternoon & dinner in Bar Harbor
You can spend the final hours of your Acadia National Park 2 day itinerary pottering around Bar Harbor. The town is brimming with historic buildings, viewpoints, and easy walking routes to round off your trip.
If you want to continue to explore the scenery of the island then you can follow the Shore Path that winds along the seafront and provides views of the Atlantic Ocean and Porcupine Island. The trail is flat, peaceful, and wonderfully scenic.
At low tide, you can walk across the Bar Island Land Bridge and explore the outlying Bar Island.
It takes around 1 hour to complete the walk out there and wander around the island, but make sure that you check the tides before you go and factor in enough time to get back to the town, as tourists are known to get stranded out there if the tide comes in.
When you're ready for dinner, there are heaps of places to eat in town. Side Street Cafe is my personal recommendation which excels at juicy burgers and lobster dishes – the island's specialty. The restaurant has a gorgeous outdoor terrace.
Useful Info for Spending 2 Days in Acadia National Park
Where to stay near Acadia National Park
LUXURY – Bar Harbor Grand Hotel
Arguably the most well-known hotel in Bar Harbor, the Grand Hotel is in the heart of town. Designed to resemble a historic hotel that once stood in the exact location, this lodging offers beautiful vintage-inspired rooms. Breakfast is included, and you can also take advantage of the heated pool, outdoor hot tub, and fitness center.
MID-RANGE – Best Western Acadia Park Inn
Just 2 miles (3.2 km) from Acadia National Park, this Best Western hotel features spacious, modern rooms that accommodate up to 4 guests. All rooms provide complimentary toiletries, a microwave, and even extra-long beds to help you get some restful sleep before and after your outdoor adventures! A breakfast buffet for guests each morning is included in the room rate.
BUDGET – Belle Isle Motel
Located less than 5 miles (8 km) from the visitor center of Acadia National Park, Belle Isle Motel is a classic motel offering double and family rooms in a quiet location where you can get some rest away from Bar Harbor's busy town center. Each room is equipped with all the essentials, including air-conditioning, a fridge, a TV, and fresh towels.
Where is Acadia National Park located?
Acadia National Park is located on Mount Desert Island off the coast of Maine in the New England region of the Northeast United States. Acadia National Park sits on the eastern side of Mount Desert Island while the western half is occupied with further mountains, lakes, and stretches of coastline.
The park comprises 47,000 acres of land that is made up of coniferous forest, rocky beaches, and glacier-scoured granite peaks including Cadillac Mountain – the highest point on the East Coast of the United States.
In total, the park boasts 78 miles (125 km) of hiking trails that vary from being easy and suitable for families with young children to extremely strenuous making it one of the best national parks on the East Coast for hikers.
Besides hiking, you can look forward to cycling, kayaking, and mountain climbing during your stay if you are spending longer than 2 days in Acadia National Park.
Wildlife species that call the park home include moose, bears, seals, whales, and seabirds. It's worth booking a cruise for the chance to see the marine life up close!
How to get to Acadia National Park
Portland International Jetport (PWM) and Boston Logan International Airport (BOS) are the closest major airports for getting to the national park. Drive time is approximately 3 hours from Portland via the I-295 N and I-95 N or 4.5 hours via I-95 N from Boston.
Domestic flights serve Hancock County–Bar Harbor Airport (BHB) which is only a 10-minute drive from the park entrance.
Although located on an island, Acadia National Park is connected to the mainland by a road so you can drive onto the island. You'll need your own wheels to access the island and the park but you can choose to explore using public transport once you've arrived at your accommodation.
Best time to visit Acadia National Park
Although technically you can visit the park at any time of the year, this Acadia National Park itinerary is best suited for either late spring, summer, or fall.
Winter's frosted landscapes are atmospheric and the park is at its quietest although the conditions are not as suitable for hiking, watersports, or boat tours.
Also, keep in mind that most of Park Loop Road is closed from December to early spring (except Ocean Drive and Jordan Pond Road), so winter is definitely not the most ideal time to visit.
Summer is perfect for getting out in the water and basking in the warmest temperatures but you'll have to brace yourself for crowds and lots of competition for hotel rooms and parking spaces as it is one of the busiest times in Acadia.
Mid-October also tends to be quite crowded as this is when you can experience the beautiful fall foliage for which New England is famed. As a reference, we visited the park between 12-14 October in 2021 as a part of our New England fall road trip.
The timing worked perfectly as we caught the fall colors at their peak. However, this can slightly change from year to year. It's best to check the peak fall foliage map before your trip to ensure you'll be able to catch the colors at their best.
Late spring is probably the best time to visit Acadia if you want to avoid the biggest crowds. You'll also have the bonus of springtime blooms, which can be equally beautiful as the fall colors!
How to get around Acadia National Park
You can get around Acadia National Park in your own car if you have a rental vehicle. Excellently maintained paved roads skirt around the woodlands, mountains, and beaches.
The most scenic route is the Park Loop Road, a 27-mile (43 km) long road looping through Acadia and connecting the lakes, mountains, forests, and shores within the park. It's important to note that most of Park Loop Road is one-way only; the road only becomes two-way after passing by Wildwood Stables on the southwest end.
Although it's lovely to have the freedom of self-driving, note that parking on the island is extremely limited and that spaces go quickly.
If you prefer, then you can take advantage of the fare-free Island Explorer during your 2 days in Acadia National Park. This is a complimentary bus service that connects Bar Harbor with the major tourist spots and hiking trails on the island.
All buses are equipped with bike racks in case you want to explore the island by bicycle, and leashed dogs are welcome on board.
Once you've decided whether or not to drive or use the bus, make sure that you factor in plenty of time to explore the hiking trails on foot, as that is the best way to experience the national park.
Entrance to Acadia National Park
Acadia National Park requires an entrance pass all year round. Acadia National Park Entrance Passes are valid for seven consecutive days and cost $35 for private vehicles, $30 for motorcycles, or $20 per person in case you're visiting without a car.
If you're planning to visit Acadia National Park multiple times during the year, you can purchase an Acadia Annual Pass for $70, which is valid for 12 months. You can purchase these passes online in advance or at information centers scattered throughout the park.
Alternatively, you can buy the Annual America the Beautiful pass, which is a total steal if you're visiting more national parks.
The pass costs $80, it's valid for 12 months, and it gives you access to more than 2,000 federal recreation sites, including national parks. You only need one pass per vehicle, and you can buy the pass online or at the visitor center.
There are several campgrounds dotted around the island which are suitable for those of you who want to immerse yourself in nature or cut your accommodation costs.
Otherwise, you will find the majority of the hotel options clustered in the main town, Bar Harbor, but there are also other options near the park. If you want to know more about the best areas to stay near Acadia, make sure to read my in-depth guide about where to stay in Acadia National Park!
If you are exploring Acadia National Park in 2 days, then Bar Harbor is best placed in terms of accommodation options, restaurants, amenities, and getting around the island via the Island Explorer bus.
You can take a look at the full list of the best hotels in Acadia National Park for every budget, or if you're in a rush, here are my top recommendations.
---
Planning a trip to New England?
Then you might want to take a look at all our other travel guides about New England. I promise, they are just as awesome as this article was!
Vermont:
New Hampshire:
Massachusetts:
Maine:
---
Pin It for Later!