Searching for the best things to do in Woodstock VT? You've ended up in the perfect place to find all the inspiration and travel advice you need!
Did you know that Woodstock VT is considered the prettiest town in the US? Multiple publications share that sentiment which is saying something!
Although this photogenic town is compact and small, that's not to say there aren't masses to keep you busy. Plus, the farmland, forests, and state parks surrounding Woodstock are essential to factor into your plans.
So where to go and what to do in Woodstock? Read on for the complete list of the best places to visit in Woodstock VT plus essential advice for planning your trip.
*Disclosure: This post contains a few affiliate links, which means I may receive a small commission, at no cost to you, if you make a purchase through my link.*
No time to read now? Pin it for later!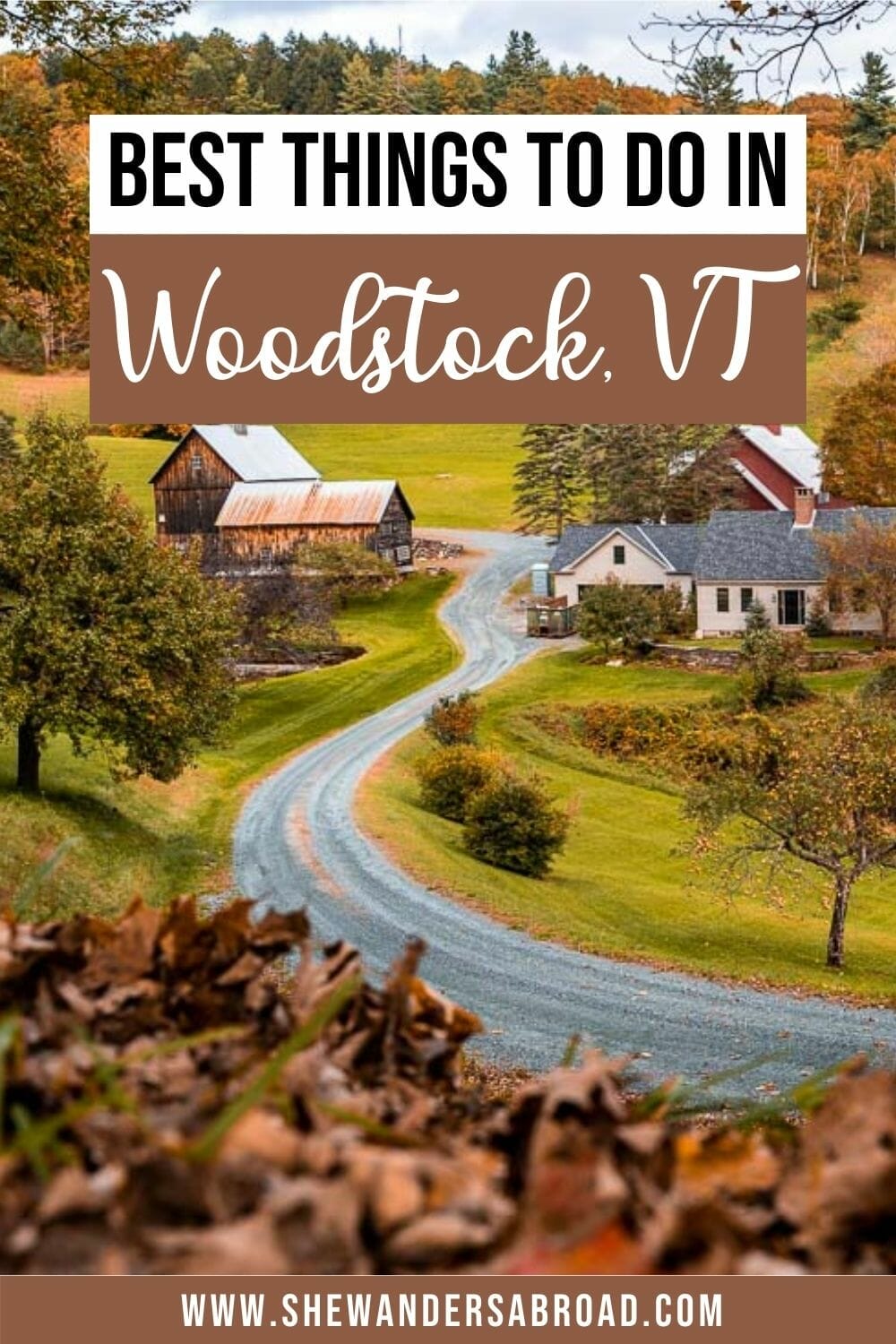 Useful Info for Visiting Woodstock VT
How to get to Woodstock, Vermont
Officially speaking, Lebanon Airport (LEB) is the closest airport to Woodstock. It's located 15 miles (24 km) to the east in the state of New Hampshire. However, you'll find that flights from international airports require transit via a larger port.
Burlington International Airport (BTV) is well-served by national US cities. If you are planning what to do in Woodstock within a wider New England road trip then you could always start here in northern Vermont.
In terms of the best option for travelers beyond the US, your best bet is Boston Logan International Airport (BOS). Located in the city of Boston, Massachusetts, this large airport is the best place to start your search for flights from Europe and other worldwide destinations.
Best time to visit Woodstock, Vermont
Woodstock is a year-round destination where each season brings a new selection of activities to choose from.
In terms of scenery, places to visit in Woodstock VT are particularly special during the fall season when the foliage turns to hues of gold, amber, and scarlet. Bear in mind that this is a popular time to visit Vermont and New England so you will need to book accommodation in advance.
Mid-spring and early summer is a great time to visit Woodstock if you want to explore the local hiking trails and beat the summer rush.
Meanwhile, the winter snowfall is perfect for skiers, snowboarders, and sledding enthusiasts. Remember that most state parks and some roads are closed to the public during winter. You may need to rent a 4X4 and take into account other seasonal precautions in order to drive safely.
How to get around Woodstock VT
Woodstock town itself is walkable and there are a handful of sights to see in the center. However, the best things to do in Woodstock VT aren't always constrained to the town center!
Realistically, you will need to hire a car in order to explore the area around Woodstock. Public transportation in the New England region is limited and taxis are costly if you want to explore the surrounding towns and parks.
Roads around Woodstock are in fantastic condition while parking is aplenty, so hiring a car and driving around this beautiful area is a blast.
Where to stay in Woodstock, Vermont
Hotels, guest houses, and inns are located in the town center of Woodstock as well as the surrounding area.
If you stay in town, you can enjoy having the restaurants and amenities on your doorstep with no need to drive. Staying further afield is perfect if you want more of a countryside vibe.
A word of warning: places in Woodstock VT get booked up months in advance so you'll definitely need to organize yourself in plenty of time. This is especially true if you visit during summer or the fall foliage season!
LUXURY – 506 On the River Inn Woodstock
Centrally located with an indoor swimming pool and sauna, this is the perfect luxury base for your Woodstock VT activities. All boutique rooms are fitted with a private balcony and en suite bathroom. Studios come with a personal kitchen.
MID-RANGE – The Shire Woodstock
This pet-friendly hotel is situated on the banks of the Ottauquechee River. Each guest room is appointed with traditional New England furnishings and many offer a river view. Scenic, comfortable, and convenient!
BUDGET – The Vesper Woodstock
Located just off the Village Green, this Greek Revival home is furnished with antiques, oriental rugs, and a collection of art. Rooms are bright and cheerful with a private bathroom. Breakfast is included in the rate.
Best Things to Do in Woodstock VT
Let's dive into the main part of the guide – all the fabulous and unforgettable things to do in Woodstock Vermont!
1. Explore Woodstock Central Street and The Green
The heart of Woodstock is defined by Central Street and The Green. This walkable center is bursting with cafes, restaurants, and small independent boutiques where you can pick up books, jewelry, and trinkets.
Whatever you do, make sure that unwinding with a coffee is one of the high-priority things to do in Woodstock VT!
Dishing up organic breakfasts and excellent coffee, Mont Vert Cafe features a gorgeous patio as well as a homely interior. Right next door, Soulfully Good Coffee is the place to go when you're craving waffles, croissants, and freshly baked treats.
Have a wander down to the Woodstock Town Hall Theatre. Originally an opera house, this neoclassical manor now hosts a variety of musical events as well as performance theater and movie screenings.
It's worth checking the schedule to coincide with your trip in case you fancy doing something fun in the evening.
2. Tour the Woodstock History Center
This is one of the first places to visit in Woodstock VT in order to get a handle on the local and regional history. Exhibits change frequently and tell the story of the people that have dwelled in and shaped Woodstock.
Artifacts on display include paintings, photographs, books, and objects. It's a small collection but utterly worth a visit so that you understand more about the area.
The Woodstock History Center is located on Central Street and is open from Monday to Friday.
3. Walk to Woodstock Middle Covered Bridge
Vermont and the wider New England region are famous for their covered bridges. These historic structures were, on the whole, constructed during the 19th and 20th centuries.
There were several reasons behind their construction. For starters, they averted the risk of flooding caused by heavy snowfall in the region.
Additionally, they would provide safe shelter for pedestrians caught in storms and make local farmers' lives easier when herding livestock.
Now – in the 21st century – these relics from the past have blossomed as major tourist attractions. The Woodstock Middle Covered Bridge staddles the Ottauquechee River and is one of the most beautiful bridges of its kind in the region.
This one was only built in 1969 although the engineers used historic techniques in order to replace the original bridge. The result is that it looks a lot older than you might think! This bridge is special as it features a separate walkway for passengers to walk safely alongside motor vehicles.
Best of all, this is one of the Woodstock VT attractions that you can visit in town without the need for a car.
Read More: 17 Incredible Covered Bridges in Vermont You Need to Visit
4. Stock up at the Woodstock Farmers Market
Woodstock Farmers Market is located one mile west of the town. It's open Tuesday through Saturday (closed on Mondays and Sundays) and is attached to a seasonal garden center.
The market sells fresh grocery produce, dairy and eggs, meat and seafood, baked goods, and specialty pantry items. Everything is sourced and produced in the Woodstock area and Vermont. You also pick up pre-made artisanal sandwiches to go.
The farmer's market opens at 8 am and it's a great place to pick up your essentials before embarking on a day trip while supporting local businesses.
5. Snap a sunrise photo of Sleepy Hollow Farm
Sleepy Hollow Farm is a private farmstead consisting of russet-red outhouses and barns just outside of the town. This photogenic farm is set to a backdrop of Vermont hills and forestry.
Its first recorded owners were a pair of brothers from the 18th century. After a couple of centuries of work, the last surviving relatives ended up selling the farm in the 1950s.
For a couple of years, Sleepy Hollow passed through a series of hands. It continues to be privately owned however it is possible to drive up to the premises and take photos.
As one of the most popular things to see in Woodstock VT, you should arrive there first thing in the morning if you want to avoid a long line of cars. This is especially true if you're visiting Vermont in the fall!
​​Sleepy Hollow Farm is located a 15-minute drive north of Woodstock on Cloudland Road – a long gravel dirt track that winds through the countryside.
6. Sample cheese and maple syrup at Sugarbush Farm
Another farm to add to your list of things to do near Woodstock VT! Sugarbush Farm is a 500-acre farm owned by a local family that produces some of the best cheeses and maple syrups in the area.
The Luce family eagerly welcomes visitors to tour the farm, walk the nature trail through the woodlands, and browse the farm shop. Workshops operate an open-door policy so you can pop in and see how the cheeses and syrups are made. Not to mention, tastings!
It's free to visit Sugarbush Farm although it's polite to make a purchase from the farm shop to support the business.
Sugarbush Farm is located a 15-minute drive out of Woodstock.
7. Swing by the Instagrammable Jenne Road Farm
The next farm to add to your radar is super famous on social media.
Jenne Road Farm consists of scarlet-hued outhouses and barns. This working farm is owned by a local family and has been in operation since the early 20th century.
Unfortunately, you can't visit the farm properly and look around but you are permitted to stop by for a quick photo. Plus, you can pick up some of their maple syrup while passing through.
Jenne Road Farm is one of the major Woodstock VT attractions to visit during fall when the colors dance behind the buildings.
The farm is located 15-minutes south of Woodstock, off State Route 106.
8. Explore Billings Park and Mount Tom
When you're seeking outdoor and hiking pursuits, Mount Tom is the closest option to the Woodstock center.
The peak is located in Billings Park – a large green space that also contains the Marsh-Billings-Rockefeller National Historical Park. There are multiple hiking trails and walking paths within this complex of varying difficulty.
Mount Tom is accessible via a moderate 4-mile hike. The route has a noticeable elevation that your legs will feel although it's not too challenging overall.
Once at the top, you'll have a panoramic view across Woodstock. This is particularly special during the fall season when you'll see all the different hues.
The summit of Mount Tom is one of the best places to visit in Woodstock VT at sunset. The trail is accessible between April and October before the snow arrives.
9. Visit the Billings Farm and Museum
Billings Farm and Museum is the final farm on your list of things to do in Woodstock Vermont that is a little different from the others.
For starters, it's situated in the center of Woodstock so you can walk there easily without the need for a car. This farm is active within the community – it frequently hosts events and runs educational programs with nearby schools.
Tourists are welcome to visit the farm for a token admission fee. Once you're in, you can wander around the barns, pastures, tractor collection, kitchens, and 1890s farm manager's lodge. And, of course, befriend the resident animals.
The farm is dressed with exhibitions and live demos that will enrich your understanding of agricultural practices in Woodstock, Vermont, and New England.
Billings Farm and Museum also offers a robust schedule of seasonal and special events throughout the year.
10. Take in views from Mount Peg
Located on the opposite side of the Ottauquechee River, Mount Peg is another of the hiking places to visit in Woodstock VT.
It's located in Billings Park (part two!) and easily accessible via a short and easy hike.
You'll pass through a copse of woods as well as wide-open meadows before reaching the summit of Mount Peg. There are benches and picnic tables at the top where you can enjoy an al fresco lunch.
As with Mount Tom, you'll get a wonderful 360-degree view of Woodstock and appreciate this hike in particular at sunrise or sunset.
Mount Peg is accessible year-round regardless of the season and it's perfect for non-hikers as well as families with younger children.
11. Hike in Quechee State Park
Quechee is a small town located a 10-minute drive east of Woodstock. Its town center warrants a wander (especially so that you can see the Quechee Covered Bridge) but the highlight of Quechee is the state park.
Park up at the Quechee Gorge Bridge and take a look at the gorge known as Vermont's "Little Grand Canyon".
Carved by glaciers during the last Ice Age, the gorge has a depth of 165 feet (50 meters). You can view it from the bridge and swing by the Quechee Gorge Visitor's Center to see the exhibits on its history.
While there, pick up some hiking maps for the state park. Quechee State Park is one of the best things to do near Woodstock VT for outdoors lovers. Trails take you through the forest surrounding the gorge and provide different viewpoints of the natural wonder.
Quechee State Park is open seasonally, May through October. Check the specific dates for each year if you want to visit Vermont to see the fall as well as hit the state park!
12. Explore Coolidge State Park
Vermont's largest state park is located 12 miles (19 km) to the southwest of Woodstock. As with Quechee State Park, the park is open exclusively from May until October.
Hiking trails in the Coolidge State Park navigate various peaks and lead you to dramatic views across the Black River Valley and the Green Mountains.
There are a number of pools, reservoirs, and brooks which are perfect for helping you to cool down during the summer season.
The forest provides a habitat for the likes of barred owls, moose, and even black bears.
Coolidge State Park is known for its fantastic campgrounds so if you fancy spending a night in the wilderness while in Woodstock, this is the perfect place. There is a mix of campsites and RV hook-ups.
13. Nibble on local cheese
All these sightseeing and outdoorsy activities will build up an appetite. If you like cheese, you'll be right at home in Woodstock. The town is known for its cheeses and one of the top things to do in Woodstock VT is finding your favorite.
I've already mentioned Billings Farm and the Woodstock Farmer's Market which are two of the best places to try cheese in Woodstock. You can also visit Mac's Woodstock Market, F. H. Gillingham & Sons, and the Vermont Farmstead Cheese Company.
The latter is further out of town but it's worth the drive if you're a huge fan of trying different cheese varieties.
14. Eat the best ice cream
Mountain Creamery is a small, independently owned ice cream parlor located a short drive out of Woodstock VT.
All ice cream is handmade and uses local flavors from the Vermont region, such as maple syrup and walnuts. You can create your own sundae to suit your tastes and add toppings such as Oreo cookies, Reeses Pieces, and fresh fruits.
If you're not a fan of ice cream, they also serve pies, smoothies, and frappes.
The Mountain Creamery is a 10-minute drive from the Village Green. However, if you have time in your schedule, you could walk there along the side of the river. This will take around 90 minutes each way though.
15. Drive through Taftsville Covered Bridge
The Middle Covered Bridge is one of the top things to see in Woodstock VT but you might want to visit another bridge while you're in the area.
Taftsville Covered Bridge is only a 5-minute drive east out of Woodstock. This is another structure that passed over the Ottauquechee River. It's a vibrant shade of red and really stands out against the backdrop of green (or orange) trees.
Constructed in 1836, the Taftsville Covered Bridge is actually one of the oldest of its kind in New England.
You can drive beneath it in your car but it's worth parking up and wandering down to the riverside where you can see the waterfall that drops below the bridge.
16. Wind down in a Vermont brewery
And what to do in Woodstock if you love beer? Vermont is famed for its craft beers and fortunately, there are a couple of breweries within easy access of Woodstock VT.
Founded in 1989, Long Tail Brewing Company is located on the banks of the Ottauquechee River and provides a lovely setting to sip the latest selection.
The brand was inspired by the 273-mile (440 km) hiking trail that traverses through the nearby Green Mountains. They specialize in IPAs and you can buy their flagship selection year-round but they also craft seasonal blends.
Long Trail Brewing Company is a 10-15 minute drive from Woodstock.
Harpoon Brewery Taproom and Beer Garden is located at the side of the Connecticut River and overlooks New Hampshire.
They have a huge beer garden which is perfect in the summertime while their heated cabins are preferential if you visit during winter. Beers are a mix of ales and lagers as well as ciders. Harpoon Brewery is known for its excellent woodfired pizzas and events.
Situated in Windsor, Harpoon Brewery Taproom and Beer Garden is a 20-25 minute drive from Woodstock VT.
---
Planning a trip to New England?
Then you might want to take a look at all our other travel guides about New England. I promise, they are just as awesome as this article was!
Vermont:
New Hampshire:
Massachusetts:
Maine:
---
Related Posts
Want to read more about Vermont?
---
More New England Resources
Want to read even more about New England? Check out these awesome books and travel guides for more inspiration!
---
What Camera Gear Do We Use?
If you want to read more about what is in our camera bag, check out my detailed post about our travel photography gear!
---
Pin It for Later!