Are you looking for some fun day trips from Boston? If so, you have come to the right place!
In this blog post, I compiled the best day trips from Boston that will keep you entertained and busy all day long. They're all within easy driving distance, and offer everything from gorgeous natural scenery to charming small towns to fun city attractions.
So, what are you waiting for? Grab your car keys and let's go exploring!
*Disclosure: This post contains a few affiliate links, which means I may receive a small commission, at no cost to you, if you make a purchase through my link.*
No time to read now? Pin it for later!
Best Day Trips from Boston
1. Salem, MA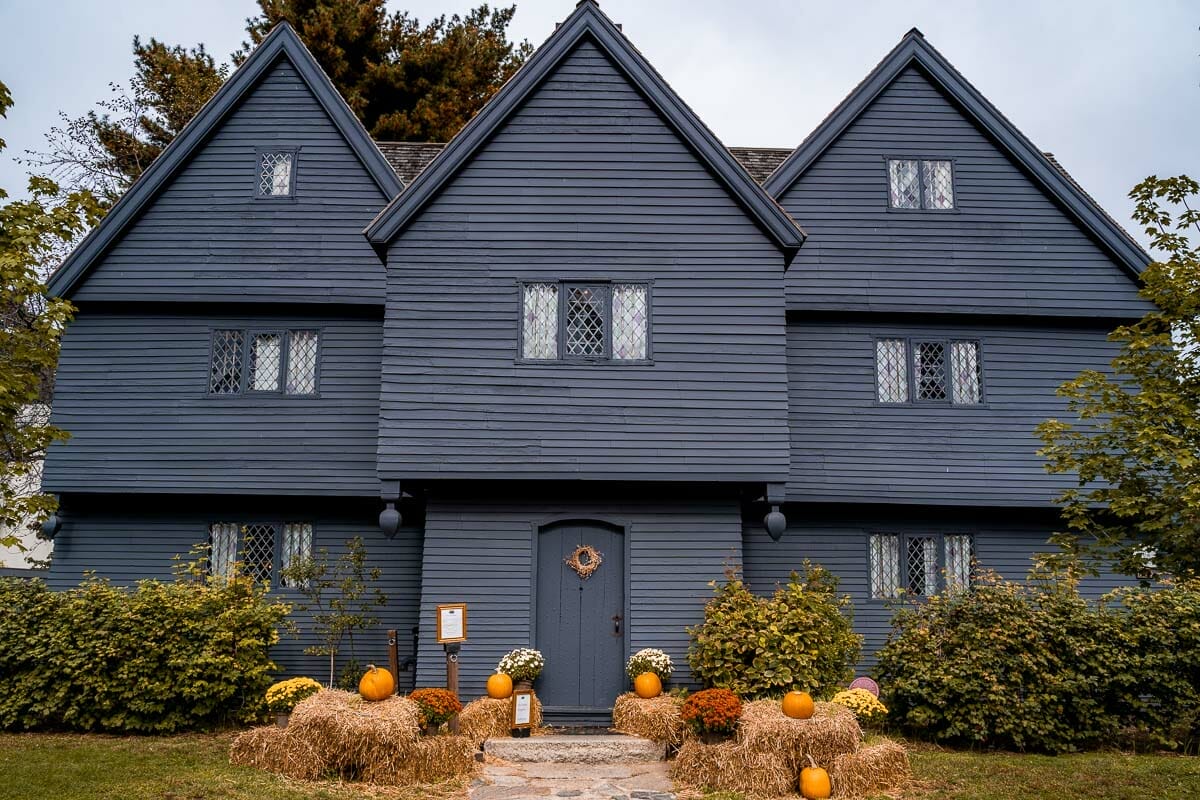 Recommended by Kriszti from She Wanders Abroad
Salem is one of the most popular day trips from Boston, and for good reason! Salem is located about 30 minutes north of Boston, making it an ideal destination for a day trip.
Salem is best known for its witch trials of 1692. Many of the original buildings from that time period are still standing and open to the public. The Salem Witch Museum is a must-see for anyone interested in learning more about the trials.
Other popular Salem attractions include the House of the Seven Gables, made famous by author Nathaniel Hawthorne, and the Peabody Essex Museum, which is one of the oldest and largest museums in the country.
Due to its heritage, Salem is a really popular Halloween destination so brace yourself for the crowds if you happen to be visiting during the month of October. In case you're planning to visit for Halloween, check out these spooky things to do in Salem MA in October!
If you're into Halloween movies, you can also go on a hunt for the numerous Hocus Pocus filming locations in Salem.
When it comes to day trips from Boston, Salem is definitely one of the best.
2. Providence, RI
Recommended by Amanda from Hey! East Coast USA
One of the best day trips from Boston has to be Providence, Rhode Island. This tiny state's capital city is all too often overlooked by visitors, but it has enjoyed quite an artistic and cultural revival in recent decades.
Located just about an hour's drive from Boston, it's an incredibly easy journey by car. It's also one of only a few day trips you can easily do by train in this region!
There are so many fun things to do in Providence that every type of traveler will enjoy. Whether you're into history, the arts, entertainment, or wholesome family fun, this city caters to everyone.
If you're visiting in the summer, WaterFire is one of Providence's most popular attractions. Plan to eat dinner downtown and then stroll along the river watching the fires blazing over the water.
As the state capital, you can also enjoy a visit to the lovely Rhode Island State House. It looks like a younger sibling to the US Capitol in Washington, DC! Not far from there, you can enjoy shopping in the Providence Place Mall, a popular destination for locals with its wide variety of options.
Providence is also home to the Ivy League's Brown University. The campus offers a pretty setting for a stroll and the nearby Thayer Street provides everything from hipster cafes to quirky shops and even an old-school cinema. This is a hub for college students and certainly worth experiencing!
Finally, you can't skip visiting RISD, the Rhode Island School of Design. Its artists are tomorrow's big names, so get there to someday be able to say, "I saw them first!".
3. Newport, RI
Recommended by Pamela from The Directionally Challenged Traveler
One of the best day trips from Boston is the quaint seaside town called Newport. Located just a 90-minute drive away from Boston, or two hours by train, Newport is certainly worth visiting.
Newport is located on Aquidneck Island in Rhode Island. There are breathtaking sea cliffs that encompass the island.
The Cliff Walk offers stunning views and is one of the best things to do in Newport. The 3.5-mile (5.6 km) walk is a great way for visitors to see the famous Newport mansions as well as the natural beauty of the area. One of the most famous mansions, The Breakers, has tours available all year. You can also begin your Cliff Walk here.
If you like being on the water, Newport is filled with a variety of water-based activities. Sailing is a common pastime, but you can also find kayaking and stand-up paddleboarding!
If you're interested in learning more about Newport's history, the Naval War College is a good places to start. Bowen Wharf and Bannister's Wharves are home to a number of locally-owned shops and restaurants.
If you decide to extend your stay, the Marriott Newport is located near Bowen's Wharf, and is perfect for exploring! An elegant mixture of nature, history, and food make Newport one of the best day trips from Boston.
4. Cape Cod, MA
Recommended by Emily from Emily Embarks
Only a little over an hour southeast of the big city of Boston by car, Cape Cod is a beachgoer's paradise. Lined with nearly 560 miles (901 km) of sandy coastline, you have endless options for where you stick your toes in the sand.
Tourists from around the world flock to the streets of Chatham, Provincetown, and every small town in between the summer months of May through September.
You can find unbeatable local food favorites like fresh lobster and clam chowder, go sailing on the warm waters surrounding Cape Cod Bay or even jump on the ferry over to one of the six other islands in the area, with Nantucket and Martha's Vineyard being the most popular.
While you're traveling around the Cape, be sure to stop by Race Point Lighthouse, explore the quaint shops in the ferry port of Hyannis, or even take a whale watching tour from Falmouth! Cape Cod is also home to Cape Cod National Seashore, one of the most beautiful East Coast national parks.
To get to Cape Cod, you simply get on I-93 South in Boston and follow that to Braintree where you'll get on MA-3 South. Once you reach Sandwich, MA, get on US-6 East to the Cape. Luckily, it's a very easy drive, but you'll want to plan far in advance if you're going to take a friends, family, or couples getaway vacation in Cape Cod.
This 75-minute drive can easily turn into 3+ hours if you leave during rush hour traffic, so either leave very early in the morning (before 5 am) or very late at night (after 9 am) if you plan on arriving on a Friday.
Cape Cod is easily one of the best day trips from Boston for anyone in search of small-town charm, endless stunning beaches, and incredible seafood, so if you're looking for a summer destination, then Cape Cod should be on your radar!
5. Plymouth, MA
Recommended by Jade from The Migrant Yogi
Plymouth, Massachusetts is a charming coastal town known for its historic role in the founding of the United States. It was here that the first pilgrims landed at Plymouth Rock and established Plimoth Plantation, one of the best historic sites in New England.
Plymouth is undoubtedly one of the best day trips from Boston for history buffs and anyone who loves the past. The entire town is like time traveling to the 17th century.
In addition to checking out Plymouth Rock, there is also a replica of the Mayflower, the ship on which the first pilgrims arrived.
The Mayflower replica is located at Plimoth Plantation, which is a fully-immersive open-air museum. There is a small village, a functional water-powered mill, and an authentic replica of a Native American settlement.
Throughout the museum, there are actors who are 'working the land' and giving detailed accounts of what life was like in the 17th century. Head to Plymouth between March and November if you want to visit Plimoth Plantation.
While you're in town, be sure to visit the National Monument to the Founding Fathers, Edaville Family Theme Park, Pilgrim Hall Museum, and Myles Standish State Forest.
To take a day trip from Boston to Plymouth, you'll need to catch a bus followed by a short cab ride. The entire journey takes around an hour. Alternatively, you could rent a car and drive.
6. Rockport, MA
Recommended by Samantha from New England Wanderlust
Rockport is an adorable little coastal town in the Cape Ann region of Massachusetts' North Shore and it makes for a perfect day trip from Boston because you can get there in under an hour, and feel like you've truly escaped city life.
For the perfect day in Rockport, be sure to stop by Motif 1, a red fishing shack that sits along the wharf, and is the town's most iconic landmark. It's also said to be the most painted building in the country, and you can often find artists and painters nearby capturing the beauty of this simple little building.
Next, a walk along Bearskin Neck is an absolute must, and where you can wander shops and boutiques that are loaded with character and unique finds. This part of town sits along the water, so be sure to walk to the very end where you can enjoy amazing views of the harbor from a beautiful breakwater jetty.
While wandering through Bearskin Neck, definitely grab some fresh seafood from the Roy Moore Lobster Co. It's the best in town and located in the most Instagram-worthy little seafood shack.
For a peaceful walk with incredible views, head over to Halibut Point State Park, which has 12 acres of nature trails, and an overlook with sweeping ocean views. And lastly, end your day with a sunset walk along Pebble Beach, and see if you can spot any seals swimming by.
The best and most convenient way to get to Rockport from Boston is to drive, as there is no direct bus or train route.
7. Portsmouth, NH
Recommended by Kate from New Hampshire Way
Some of the best day trips from Boston are in New Hampshire, and the Granite State has so much to offer. But perhaps the best day trip of all is Portsmouth, New Hampshire, a small and quirky seaside city brimming with personality.
Portsmouth NH is filled with interesting shops, fun cafes, gorgeous architecture, and a selection of fun breweries set beautifully on New Hampshire's rocky coastline, a stone's throw from Maine.
Portsmouth is one of the oldest cities in New England, and you can see this in its beautifully restored historic homes. If you're interested in history, the Strawbery Banke Museum is a must! This expansive area is filled with homes from the 18th and 19th centuries, and all the guides are fully in character.
Shopping is fabulous in Portsmouth, and you have the bonus of no sales tax in New Hampshire! You can browse estate jewelry at Market Square, find the perfect hilarious gift at Off Piste, get lost in the adorable store of Macro Polo, or enjoy a new book with a coffee or beer at the Portsmouth Book & Bar.
If you're a beer fan, you'll enjoy hopping around Portsmouth's breweries, from the wide variety of beers at the classic Portsmouth Brewery (temporarily closed) to the waterfront, music-filled setting of Great Rhythm.
But one of the best things about Portsmouth is having no agenda. Walk around the streets and discover your own favorite places. There's a reason why so many Bostonians return to Portsmouth over and over.
Portsmouth is about an hour's drive from Boston. You can also get there by public transportation: buses run from South Station Bus Terminal to Portsmouth and take about 75 minutes. Alternatively, if you're a train fan, take Amtrak from North Station to Dover, New Hampshire (90 minutes) and get a taxi to Portsmouth (20 minutes).
8. Portland, ME
Recommended by Kriszti from She Wanders Abroad
Maine's largest city, Portland, is located about an hour and a half from Boston, making it the perfect day trip destination.
There is plenty to do in Portland, but luckily you can easily visit the highlights even if you spend only one day in Portland. Some of the must-sees include the Old Port district, which is full of cobblestone streets and historic buildings, as well as art galleries, shops, and restaurants.
The Portland Museum of Art is also located in the Old Port district which is the largest and oldest public art institution in the whole of Maine.
If you're looking for a dose of nature, take a walk or hike in one of Portland's many parks, such as Deering Oaks Park or the Eastern Promenade. Or, spend some time on the water with a ferry ride to one of the nearby islands, such as Peaks Island or Great Diamond Island.
Another unmissable thing to do is to go on a hunt for the most beautiful lighthouses in Portland. While there are several lighthouses in the area, two of the most popular ones are Portland Head Light and Bug Light.
Both of these lighthouses offer stunning views of the ocean and are definitely worth a visit if you're visiting Portland as a day trip from Boston.
There are several ways to get to Portland from Boston, including by bus or train, but driving is arguably the easiest one.
9. Boothbay Harbor, ME
Recommended by Kelly from Girl with the Passport
One of the best day trips from Boston is Boothbay Harbor, Maine. It's a quintessential New England fishing village in mid-coast Maine that is filled with charming houses, delicious lobster, picturesque harborside boardwalks, and stunning views of the wild Atlantic Coast.
To get here, simply drive along 95 North until you hit the exit for Brunswick, Maine. Once here, follow US-1 North all the way to Boothbay Harbor.
In total, the drive should take just under three hours. But, if you have a bit more time to visit Maine, try driving up US-1 North instead since it offers visitors stellar views of the coast.
Once here, experience some of the best things to do in Boothbay Harbor, like riding on a historic train at the Boothbay Railway Village or shopping for incredible art at Abacus Gallery. Afterward, do an exquisite walk along the footbridge across the harbor before petting local sharks at the Maine State Aquarium (temporarily closed).
Next, depart on a scenic whale watching tour from the local pier, or ride aboard the mail ferry to outlying islands if you're looking for a more budget-friendly alternative.
Then, when you get hungry, indulge in some fresh steamed lobster and New England clam chowder at Boothbay Lobster Wharf. Not only is the food excellent but it's a great place to see how real lobstermen work as you admire the sweeping panoramas from the pier.
10. Lincoln, NH
Recommended by Kriszti from She Wanders Abroad
Lincoln, New Hampshire is a hidden gem in the White Mountains region.
Lincoln is one of the best places to see fall foliage in New England. The Kancamagus Highway is one of the most scenic drives in Lincoln, with its many pull-offs where you can enjoy views of the foliage and even go for a short hike if you want to.
The town is also home to Loon Mountain Resort, a popular ski resort that's just a short drive from Boston. Even if you're not into skiing or snowboarding, Loon Mountain is worth a visit in the wintertime as it's one of the most beautiful places to see snow-capped mountains.
You also can't miss visiting Flume Gorge, a natural gorge that's located in Franconia Notch State Park. After purchasing your tickets, you can enjoy the spectacular area on a 2-mile (3.2 km)-long self-guided walk.
There are several ways to get to Lincoln from Boston, but driving is by far the easiest. The drive takes about 2 hours and is a scenic one, especially in the fall.
11. Mount Washington, NH
Recommended by Anwar from Beyond My Door
A bit of a longer day trip from Boston but still worth the visit, Mount Washington is the highest peak in the Northeastern United States. While you could reach close to Mount Washington by bus, having a car gives you the greatest flexibility on your visit.
Summiting the mountain has several options. You could drive the Mount Washington toll road, take the cog railway, or even hike although it is not known to be an easy hike. For those who want to take the railway, it is a scenic view up the mountain but due to its popularity, you'll need to book well ahead of time for tickets.
For those who choose to drive, you'll be in good company – the auto road opened in 1861 as one of the oldest tourist sites in the US. Driving the 7.6-mile (12.2 km) road takes most visitors about 30 minutes each way and gives visitors the opportunity to stop and take in the views at various vistas.
The road at times can feel scary with no guard rails and steep drop-offs, but very few road travelers have had issues with only 3 fatalities in its history. You'll certainly have a great story to tell friends and family back home.
The views from the summit on a clear day make all the trouble worth it. But of important note, Mount Washington has wild weather patterns and the weather can shift suddenly so be prepared for anything.
Pack rain and warm gear even during the summer months. Once at the top you can take in the stunning views, get souvenirs and even dine at the restaurant at the summit.
12. Woodstock, VT
Recommended by Kriszti from She Wanders Abroad
If you're looking for a quintessential New England day trip, look no further than Woodstock, Vermont. This charming town is located in the heart of Vermont's Green Mountains and is known for its beautiful scenery and outdoor activities.
Some of the best things to do in Woodstock VT include taking a scenic hike or bike ride through the woods, driving through Vermont's beautiful back roads, and visiting the charming farms in the area, such as Sleepy Hollow Farm or Sugarbush Farm. The area around Woodstock is also home to many of the most beautiful covered bridges in Vermont.
Fall is definitely the best place to visit the town when you can enjoy the gorgeous fall foliage everywhere you look. Woodstock is actually one of the must-have stops on every New England fall road trip so definitely don't miss it if you're in the area!
No matter what time of year you visit, be sure to stroll down Woodstock's main street, lined with charming shops and restaurants. And if you're a fan of history, be sure to check out the Billings Farm & Museum, which is dedicated to Vermont's rural heritage.
Although definitely better for a weekend trip, Woodstock is actually located about 2.5 hours from Boston by car which makes it a great destination for a day trip as well.
13. The Berkshires, MA
Recommended by Karen from Outdoor Adventure Sampler
If you like natural beauty and culture, a road trip to the Berkshires from Boston will provide it. The trip to the heart of the Berkshires is just over 2 hours on the Mass Pike. Exit at Lee and then drive through the picturesque New England towns. Stop for a meal at one of the many farm-to-table restaurants.
For outdoor enthusiasts, numerous hikes wind through the Berkshire Hills. Bash Bish Falls is a stunning waterfall hike in the southwest corner of Massachusetts. Hike in to admire this highest waterfall in the state.
The Berkshires are a wonderful day trip in all seasons. The fall foliage will take your breath away. The Berkshires become a snow-covered wonderland in the winter and excellent cross country and snowshoeing can be found throughout the region.
In the summer, Tanglewood, an open-air music venue, beckons. World renown musicians perform for audiences relaxing on the immaculate lawns. The Boston Symphony Orchestra makes Tanglewood its summer home.
You won't want to miss the Massachusetts Museum of Contemporary Art or the Norman Rockwell Museum in the Berkshire. Each has elaborate exhibits of unique art pieces.
You will enter a world very different from Boston with a road trip to the Berkshires in Western Massachusetts.
Map of the Best Boston Day Trips
Below you can find a customized map that includes all the locations mentioned in this article. A yellow star marks Boston on the map while the Boston day trips are marked with their respective numbers.
If you open up this post on your phone and you click on the bracket in the upper right corner of the map, it will open up in your Google Maps app so you can always have it with you. Super convenient, right?
---
Planning a trip to New England?
Then you might want to take a look at all our other travel guides about New England. I promise, they are just as awesome as this article was!
Massachusetts:
Vermont:
New Hampshire:
Maine:
---
Related Posts
Want to read more about Boston?
---
More New England Resources
Want to read even more about New England? Check out these awesome books and travel guides for more inspiration!
---
Pin It for Later!