Spending one day in Acadia National Park is a must for visitors exploring New England.
With its dense forests, rugged coastline, and incredible hiking opportunities, Acadia is the only national park in the northeast of the United States. As a result, it's often on the top of many tourists' lists during their New England road trip adventure.
Thanks to its relatively small size, exploring the park in one day is much more feasible than you'd expect.
Although many visitors choose to spend longer here, if you're a little shorter on time, it's still possible to take in most of the park's highlights and hit up all the must-see sights with one day in Acadia. Think thrilling hikes, local eateries serving up hearty meals, peaceful ponds, and dreamy sunsets!
To help you navigate Acadia National Park in one day, I have put together my top recommendations for things to do and places to eat, including some spots you won't want to miss during your visit.
Take the stress out of planning and follow my action-packed, tried-and-tested Acadia National Park one day itinerary, which you can easily customize to suit your schedule and interests. Let's get into it!
*Disclosure: This post contains a few affiliate links, which means I may receive a small commission, at no cost to you, if you make a purchase through my link.*
No time to read now? Pin it for later!
Useful Info for Spending One Day in Acadia National Park
How to get to Acadia National Park
Flying into Bangor International Airport (BGR) is your best bet if you're coming from afar. Once you touch down, you'll find that Acadia is just about an hour's drive away. Trust me, the drive is gorgeous—winding roads flanked by dense forests that give way to a glimmering coastline.
Alternatively, flying to Boston is the best choice if you're coming from outside the US or planning a New England road trip. Acadia is roughly a 5-hour drive from Boston, and let me tell you, the journey is as delightful as the destination.
If you have more time, consider spending a day in Boston as well. And if you want to break up the drive, make sure to stop in Portland, Maine – either to spend the whole day or at least to visit some of the iconic lighthouses.
Best time to visit Acadia National Park
The sweet spot is late spring to early fall—think May through October. Summer is stunning, with daytime highs in the 70s, but it's also the busiest season.
For a quieter, more intimate experience, consider visiting Acadia National Park in the fall when the foliage starts its spectacular color change. Imagine trails quilted with crunchy orange leaves and crisp, clear air tinged with a hint of wood smoke. It seriously feels like heaven!
Entrance to Acadia National Park
First things first: don't forget to pay the entrance fee! There are several fee stations, like the Hulls Cove Visitor Center and Sand Beach Entrance Station, where you can purchase your pass. You can also buy the pass online if you want to skip the lines.
The entrance pass is valid for seven days, and it costs $35 per car, $30 per motorcycle, or $20 per person if you're planning to visit without a vehicle.
For those planning to visit multiple parks this year, consider investing in the America the Beautiful National Parks Pass for $80, which gives you access to all federal lands for a year.
Important Info: Driving up to Cadillac Mountain Road requires a separate reservation, which costs $6 per vehicle. Without a reservation, you won't be able to drive up, so make sure to book your time slot in advance!
How to get around Acadia National Park
If you have your own rental car, driving around Acadia National Park is the best choice. The Park Loop Road is one of the most scenic drives I've ever seen! Although driving in Acadia is amazing, parking can be a headache during the peak season.
Alternatively, you can hop on the Island Explorer shuttle bus. The line operates from late June until Columbus Day, and it covers key attractions like Jordan Pond or Sand Beach. As a bonus, it's free to use!
Biking or hiking is also a superb way to explore the park. The 45 miles of carriage roads are literally a gift from the Rockefeller family to all of us nature lovers. They offer a smooth, car-free ride amid stunning scenery.
Where to stay in Acadia National Park
When it comes to the best areas to stay in Acadia National Park, you have an abundance of options, from cozy bed-and-breakfasts in Bar Harbor to campgrounds right in the park.
If you're looking to wake up to the smell of pine and the sound of chirping birds, try Blackwoods or Seawall Campgrounds.
For something a bit more comfortable, consider staying in Bar Harbor. This cute town is home to some of the best hotels near Acadia National Park, and it's also full of amazing restaurants and bars.
Wherever you decide to stay, make sure to book your accommodation early, especially if your visit falls between June and September. This area is popular, and for good reason!
If you're in a rush, here are my top hotel recommendations for different budgets.
LUXURY – Bar Harbor Grand Hotel
Arguably the most well-known hotel in Bar Harbor, the Grand Hotel is in the heart of town. Designed to resemble a historic hotel that once stood in the exact location, this lodging offers beautiful vintage-inspired rooms. Breakfast is included, and you can also take advantage of the heated pool, outdoor hot tub, and fitness center.
MID-RANGE – Best Western Acadia Park Inn
Just 2 miles (3.2 km) from Acadia National Park, this Best Western hotel features spacious, modern rooms that accommodate up to 4 guests. All rooms provide complimentary toiletries, a microwave, and even extra-long beds to help you get some restful sleep before and after your outdoor adventures! A breakfast buffet for guests each morning is included in the room rate.
BUDGET – Belle Isle Motel
Located less than 5 miles (8 km) from the visitor center of Acadia National Park, Belle Isle Motel is a classic motel offering double and family rooms in a quiet location where you can get some rest away from Bar Harbor's busy town center. Each room is equipped with all the essentials, including air-conditioning, a fridge, a TV, and fresh towels.
Overview of Your One Day in Acadia National Park
Breakdown of your one day in Acadia
Breakfast (Cafe This Way or 2 Cats Bar Harbor)
Beehive Trail or Bowl Trail hike
Sand Beach
Thunder Hole
Otter Cliff Overlook
Lunch at Jordan Pond House Restaurant
Jordan Pond Path
Sunset at Cadillac Mountain
Dinner in Bar Harbor (Geddy's or Side Street Cafe)
Map for your one day Acadia National Park itinerary
Below, you can find a customized map that includes all the locations you're going to visit on this one day in Acadia National Park itinerary.
If you open up this post on your phone and click on the bracket in the upper right corner of the map, it will open up in your Google Maps app, so you can always have it with you. Super convenient, right?
The Perfect Acadia National Park One Day Itinerary
Breakfast in Bar Harbor
Start your day off with a nourishing breakfast from one of the best-loved cafes in Bar Harbor, the charming gateway town where you'll likely begin your Acadia explorations.
Right outside the center of town, you'll find Cafe This Way, a popular breakfast spot with a hard-to-beat menu. While their build-your-own scrambles and breakfast burritos are drool-worthy, their fluffy blueberry pancakes are the star of the show, as Maine is known for its sweet wild blueberries.
They have indoor and outdoor seating, and you can bring your furry friend along to the cafe's pet-friendly patio. Cafe This Way is open from 6:30 am to 1 pm daily.
2 Cats Bar Harbor has been a breakfast hotspot on Mount Desert Island for over 25 years. Due to its popularity, it's best to get here early as there tends to be a line later in the morning during the busy summer season.
Not only is Bar Harbor known for its blueberries, but it's also famous for its locally sourced lobster, and 2 Cats has arguably the best lobster Eggs Benedict in town!
However, they also have homemade granola, bagels, and omelets if lobster is not your thing. Fuel up with a smoothie or coffee before lacing up your hiking boots and venturing into the park grounds.
Stop by from 6:30 am until 1 pm Monday to Thursday and from 6 am at weekends.
Hike the Beehive or Bowl Trail
After you've fueled up with breakfast, it's time to tackle some of Acadia's top hiking trails.
Head to the Sand Beach parking lot, where you'll start your trek. Beginning on the Bowl Trail, you can make your way to a gorgeous pond tucked amongst the trees.
With a little elevation and a distance of around 1.3 miles (2 km) roundtrip, this is an easy to moderate hike suitable for most fitness levels.
For a longer and much more challenging adventure, look out for the signs for the Beehive Trail at the beginning of the Bowl Trail, where you'll split off around 0.2 miles (0.3 km) into the route.
While it's not the park's most exhilarating climb (I'm looking at you, Precipice Trail), it comes pretty close! You'll spend around 1.5 to 2 hours hiking up steep inclines and climbing with the aid of metal rungs.
At the end, you'll be greeted by some of the finest views on Mount Desert Island. This hike is definitely not for the faint-hearted, so those with a fear of heights, mobility issues, and young children should stick to the Bowl Trail.
Insider Tip: Many people don't know this, but you can easily combine the two trails. By taking a shortcut through the forest on the Bowl Trail, you'll end up at the summit of the Beehive Trail without the treacherous climb. Take a look at this one day in Acadia National Park interactive map to find out exactly where to find the shortcut.
Chill out at Sand Beach
When you've made your way back from your morning hike, give your legs a well-earned rest and chill out at Sand Beach. This is an especially important stop if you've braved the nerve-wracking Beehive Trail!
Sand Beach is nestled between towering trees on both sides and is a compact cove just 290 yards (229 meters) in length. Here, you can take a stroll along the shore or bring your towel and lounge on the sand, soaking up the view.
If you're prepared to embrace the chilly sea, take a dip to freshen up after your trek, though it's best to avoid swimming unless you're visiting during the summer or early fall.
Sand Beach is located near the start of the famous Park Loop Road, right by the entrance fee station. If you're driving, the earlier you arrive, the better, as the parking lot fills up pretty fast. Once you've parked up, you can keep your car here for both your hike and beach visit.
Catch the Thunder Hole in action
Having spent some time resting on the beach, continue along the Park Loop Road until you arrive at the majestic Thunder Hole, an essential for anyone spending one day in Acadia National Park.
Thunder Hole is a natural phenomenon that occurs when the rising tide sends waves crashing into the coastal caves, causing the trapped air inside to be released with loud claps that sound just like thunder.
Water shoots up into the air with each crash, so don't forget to bring a waterproof jacket if you plan on getting close!
You can choose to take in the scenes of the powerful swells from the upper viewing area or head down the steps to get a closer glimpse of this amazing act of nature.
It's worth noting that there's no guarantee you'll hear the Thunder Hole roar, as the timing can be hard to pinpoint.
You'll have the greatest chance of seeing the Thunder Hole in all its glory around two hours before high tide, so keep an eye on the tide times and adjust your Acadia National Park one day itinerary if you have some flexibility.
Admire the scenery at Otter Cliff Overlook
Next, you can make the short drive further south to the Otter Cliff Overlook, a headland with some of the most picture-perfect views you need to see during your one day in Acadia National Park.
This attraction is no hidden gem, so you'll likely spot hikers strolling along the Ocean Path Trail and arriving at the overlook. The parking lot across the road is often quite busy also.
As a result, you might find it crowded during your stop, but don't let this turn you off, as the scenery is totally worth it! This spot is a must for one day in Acadia.
While you need a bit of luck to see the best of the Thunder Hole, this viewpoint is incredible at any time of the day, with unbeatable vistas of the Atlantic Ocean and the rocky coast. You might even notice some rock climbers scaling the cliffs.
A little further along the road, you'll come across Otter Cove Bridge, which is also a really nice stop for a quick photo.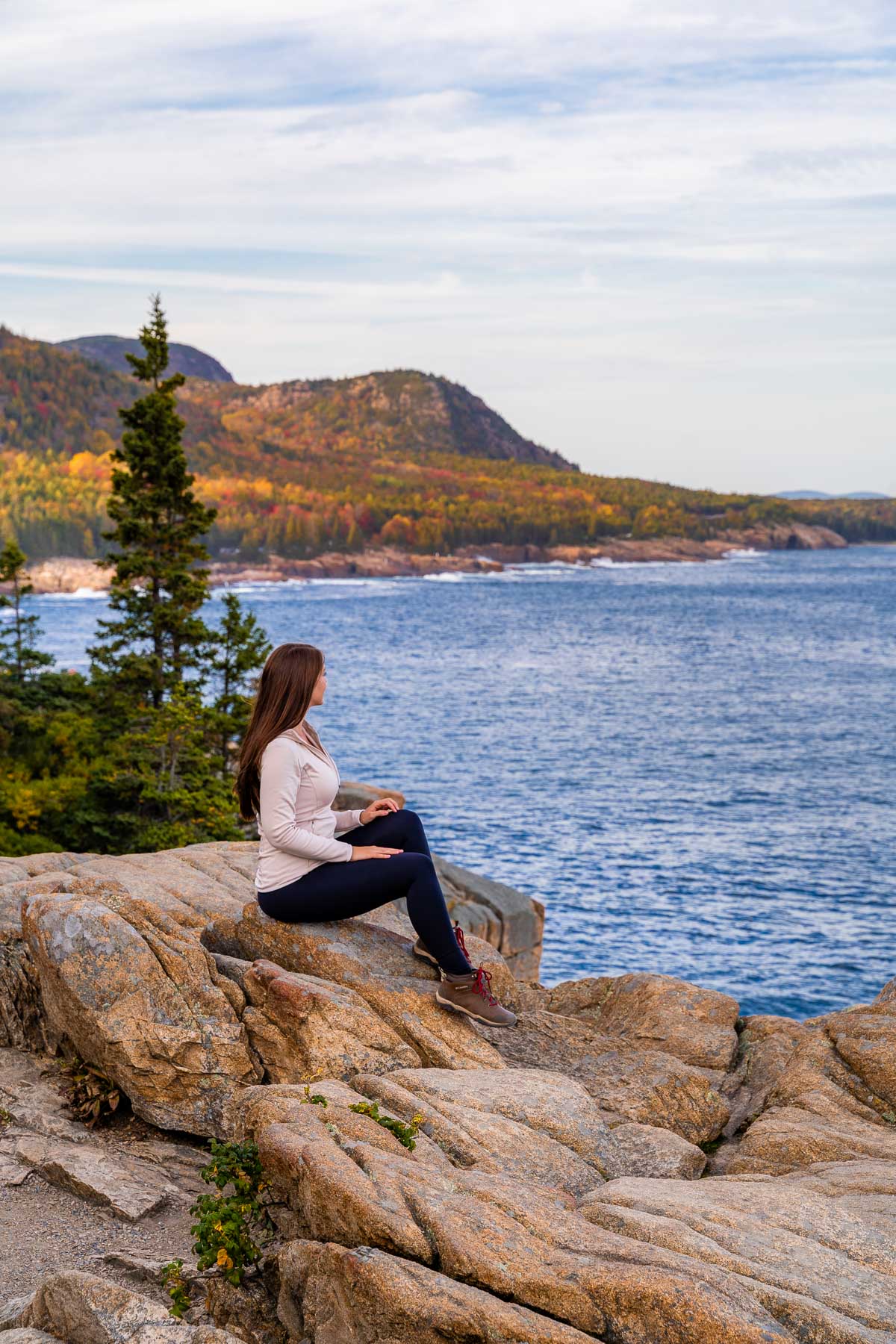 Fill up on a delicious lunch at Jordan Pond House Restaurant
After a busy morning appreciating the sights of Acadia, drive about 15 minutes from Otter Cliff and recharge with some lunch at Jordan Pond House.
As the only restaurant situated inside Acadia National Park, Jordan Pond House has earned its place on many visitors' itineraries.
However, this can mean you could find yourself waiting for a table if you're visiting during high season, and parking can sometimes be a bit of a headache! Get ahead of the game and make your reservation online in advance to avoid losing out on sightseeing time.
Once you've got your table, escape the midday heat and enjoy your meal inside, or take in the views of the Jordan Pond and dine al fresco. If you're not feeling anything too heavy, you have to try the restaurant's famous popovers, tasty rolls made from egg batter, served with butter and jam.
Feeling a little more peckish? Tuck into a lobster stew, chicken pot pie, or meatloaf to fill you up before you carry on your Acadia National Park expedition.
Jordan Pond House is open from 11 am until 9 pm every day.
Wander along the Jordan Pond Path
As soon as you've filled up on a satisfying lunch, it's time to explore the tranquil pond where the restaurant is set.
Keep your car at the Jordan Pond House parking lot and head to the boat launch near the restaurant's lawn overlooking the pond. Once you're here, make a left and follow the trail around the edge of the Jordan Pond.
For 3.5 miles (5.6 km), you can stroll along the path and enjoy breathtaking views of the pond. After 60 to 90 minutes, you'll find yourself returning to the boat launch where you began.
This route is suited towards all levels of fitness, whether you're with the whole family or your partner, as it's mostly flat and takes you through well-worn trails, boardwalks, and across bridges over the streams that flow into the pond.
As tempted as you might be, remember that swimming in the Jordan Pond is not permitted as it's a public water source.
Watch the sun go down from Cadillac Mountain
Visiting Acadia National Park in one day can only be complete with a mesmerizing sunset from the spectacular Cadillac Mountain, the tallest peak on the east coast of the United States.
Around a 15-minute drive north of Jordan Pond is the Cadillac Summit Road, where you can continue on for 3.5 miles (5.6 km) until you reach the mountain peak.
After you park, find a spot to take in the sprawling views of the ocean, distant islands, and lush landscapes as the sun sets and turns the sky to the most beautiful shades of orange and pink.
Not far from the summit is Blue Hill Overlook, the most renowned location to watch the sunset on the mountain. This is the place to be at dusk, so getting there a little before the sun sets will allow you to locate a space to settle in before the crowds arrive.
Keep in mind that you'll need a reservation to drive on the Cadillac Summit Road in addition to your Acadia National Park entrance fee.
To ensure you're prepared and won't be delayed, make sure you purchase your reservation pass online ahead of time and screenshot or print your QR confirmation code.
Be aware that the road is only open from the end of May until late October, so be sure to plan accordingly!
Grab dinner back at Bar Harbor
Now you've experienced a memorable Cadillac Mountain sunset, it's time to unwind after exploring the best of Acadia in one day.
Bar Harbor is home to lots of fabulous dinner spots where you can find delectable dishes to munch on while you take a breather and look back on your Instagram-worthy snapshots from the day.
Just a 15-minute spin from the Cadillac Summit Road, you won't have to wait too long until you reach the center of town.
Geddy's is a firm favorite amongst locals and visitors. It has an impressive menu that is particularly sought-after for its fresh seafood dishes, with popular picks including clam chowder, lobster bake, and local oysters.
No need to worry if you don't fancy fish, as Geddy's also offers tasty oven-fired pizzas and classic beef or chicken burgers. Finish up your meal with a margarita or mojito and toast to your epic adventure!
Geddy's welcomes customers from 11 am to 9:30 pm every day of the week.
Side Street Cafe is a family-run eatery that's become increasingly well-liked in Bar Harbor thanks to its signature mac and cheese and juicy smash burgers.
It wouldn't be a Maine restaurant without some top-notch seafood classics on the menu, with shrimp tacos and lobster rolls being some of the most popular dishes here.
Open from 11 am until 9 pm daily; you can join the waitlist for a table online before you start your journey back from Cadillac Mountain.
If you're feeling drained after your travels, take advantage of Side Street Cafe's takeout service and feast on your dinner from the comfort of your hotel room.
---
Planning a trip to New England?
Then you might want to take a look at all our other travel guides about New England. I promise, they are just as awesome as this article was!
Vermont:
New Hampshire:
Massachusetts:
Maine:
---
More New England Resources
Want to read even more about New England? Check out these awesome books and travel guides for more inspiration!
---
What Camera Gear Do We Use?
If you want to read more about what is in our camera bag, check out my detailed post about our travel photography gear!
---
Pin It for Later!