Looking for spooky things to do in Salem MA in October? Then you've come to the right place.
Salem is a tiny town with a huge history. Of course, it's most famous for the 1692 Witch Trials and many of the tourist attractions in the town correspond to recounting what happened.
The town is a popular attraction year-round and may be visited over the course of a few days or as a day trip from Boston.
So exactly what to do in Salem in October? Many of the activities can be enjoyed any time of year. But due to Salem's ties with witchcraft, hauntings, and dark history – October is the most atmospheric time to visit.
Read on for the most spellbinding and spooky things to do in Salem Massachusetts on Halloween.
*Disclosure: This post contains a few affiliate links, which means I may receive a small commission, at no cost to you, if you make a purchase through my link.*
No time to read now? Pin it for later!
History of Salem
Ahead of learning what to do in Salem in October, let's take a quick history lesson.
Salem was founded in 1626 by Roger Conant and other immigrants from Cape Ann, northeastern Massachusetts. Three years later, in 1629, Salem was issued a charter for the right of autonomy and self-rule by the monarch of England.
Various houses that you will see when you visit Salem Massachusetts in October were erected over the following years.
In January 1692, both the daughter and niece of Puritan Reverend Samuel Parris of Salem Village fell ill. William Griggs, the village doctor, made a diagnosis of bewitchment.
Over the following months, a series of trials, hearings, and prosecutions took place on the infamous Salem witch hunt. Men, as well as women, were accused – this wasn't limited to women alone as is often believed.
In total, 19 victims were hanged while one man was pressed to death. Dozens of other targets perished while under imprisonment.
The various things to do in Salem MA in October will delve into greater detail about what happened. Through museums, walking tours, and monuments you will be able to learn all about the situation that unfolded and about those who lost their lives.
Useful Info for Visiting Salem in October
Before we start on all the things to do in Salem Massachusetts on Halloween, here is some essential planning advice to prepare for your trip.
How to get to Salem MA
Boston Logan (BOS) is the closest international airport to Salem. The 14-mile (22.5 km) journey takes around 40 minutes.
The Newburyport/Rockport Commuter Line connects Boston North Station with Salem in 30 minutes. Trains depart frequently throughout the day.
An alternative option is to take the Salem Ferry. Boats depart from Long Wharf in Boston and dock in Salem at Blaney Street. This is seasonal and usually runs from late May until the end of October.
What's the weather like in Salem Massachusetts in October
With lows of 44°F (7°C) and highs of 63°F (17°C), the average daily temperature of Salem (MA) in October is 54°F (12°C).
It's chilly enough to warrant packing a warmer jacket, winter accessories, and layered clothes. However, the skies are sunny and apart from the occasional shower, the climate is dry.
As with the wider New England region, Salem Massachusetts in the fall is abundant with autumnal hues of red, amber, and yellow.
All in all, it's the perfect weather conditions for sightseeing, photography, and experiencing the witchy side of the town.
How to get around Salem
Downtown Salem is small and walkable. You will not need a car for most of these things to do in Salem MA in October. If you want to speed things up or explore the surrounding area, you could hire a bicycle.
The seasonal Salem Trolley service is available from early April until early November. This shuttles you around the attractions while at the same time providing a guide service that tells you all about the history of Salem.
You can also consider hailing rideshare vehicles using the Salem Skipper. Rides are priced at $2 until 7 pm and $3 after 7 pm. That's for the initial person; additional passengers are charged at $1 each with 3 passengers being the maximum per car.
Where to stay in Salem MA in October
Salem's downtown area offers beautiful boutique hotels in heritage buildings.
However, it goes without saying that Salem (MA) in October is incredibly busy – especially around Halloween. You will need to secure your accommodation months in advance.
If needs be, you could stay a little further out and "commute" in to tackle the various things to do in Salem in October.
Since Salem is considered one of the best day trips from Boston, you can also decide to stay in the city and plan a day out from there.
In case you want to stay in Salem, here are my recommendations for different budgets.
LUXURY – Northey Street House
This elegant guest house is curated with high-quality linens, tasteful decor, and sublime beds. A garden is available for guest use and a daily breakfast is provided in the rate. The hotel is located a short walk from the center in a peaceful setting.
MID-RANGE – The Daniels House Bed and Breakfast
This historic property predates the Witch Trials. It has been transformed into a comfortable and cozy lodging that retains its witchy spirit. Interiors are sumptuously appointed with vintage upholstery, furniture, and trinkets while the garden is perfect for winding down. Breakfast is included in the rate.
BUDGET – Hawthorne Hotel
Said to be one of the most haunted hotels in town, there's no spookier place to stay in Salem Massachusetts in the fall! Period features and a characterful dining room with an open fire make this the perfect home away from home.
Spooky Things to do in Salem MA in October
Now here are all the bewitching things to do in Salem MA on Halloween! This is a mix of activities based specifically on the spooky attractions as well as some beautiful outdoor spaces and art venues so that you can experience contemporary Salem as well.
1. Experience the Salem Haunted Happenings
Salem Haunted Happenings is an annual celebration of Halloween and fall in New England. It has taken place since 1982 and gets bigger and more creative every year. Getting involved with the festivities is one of the ultimate things to do in Salem Massachusetts on Halloween!
The program runs throughout the entirety of October with such events as a Grand Parade and the Haunted Biz Baz Street Fair spearheading the festivities.
Besides these, you can expect movie screenings, costume balls, special ghost tours, haunted house activities, live music acts, and spine-tingling theatrical performances.
News of the events and activities is released throughout the year. You can find out what's on via the Haunted Happenings website or by downloading their free app.
2. Join a Salem Walking Tour
Whatever time of year you visit Salem, a walking tour comes highly recommended. Dozens of tours take place from April through November (limited availability over winter) although the offering gets ramped up a notch during the spookiest month of the year.
Walking tours take place during the day and at night. Some focus on the wider historical aspect of Salem while others hone in on the Witch Trials and stories of the resident spooks that linger in the town.
To coincide with Haunted Happenings, Salem (MA) in October offers even more walking tours.
It's important to read through the itinerary so that you know that you are choosing the right tour for your interests. Here's a selection of the best tours.
Led by a local historian and paranormal investigator, the Salem Haunt and History Tour covers the most haunted downtown historic sites. You'll visit around 10 different locations. Tours depart at 8 pm and last 1.5 hours.
An alternative evening tour, the Bewitched Historical Tour departs at 7 pm and lasts 2 hours. It focuses equally on Salem's history as well as the Witch Trials.
The Salem 1692 Witchcraft Trials Walk explores the identities of the 20 victims who were executed for witchcraft as well as some of those who lost their lives while in prison. Your guide will explain how the people were targeted and what led to their accusations. Tours depart at 4 pm and last 1.5 hours.
The Salem Introductory General History Tour spills the darkest secrets and most curious moments over 400 years of Salem history. This one is perfect for those seeking a well-rounded journey into local history. Tours depart at 11.30 am and last 1 hour.
If for any reason you cannot take a guided tour, you can always download the Salem Witch Trials Self-Guided Audio Tour. This professionally narrated tour steers you through the history of Salem and the Witch Trials.
3. Tick off the Hocus Pocus filming locations
The classic Halloween movie of 1993 starring Bette Midler and Sarah Jessica Parker was set and filmed right here in Salem.
Fans can visit the Hocus Pocus filming locations in Salem independently at any time of year. These spots include the various houses used in the movie, the school, and the Old Town Hall where Winnie Sanderson cast a spell on the adult residents of Salem.
On the other hand, if you visit Salem Massachusetts in the fall then you have the option to join the Salem "Hocus Pocus" Movie Locations Walking Tour.
If you've not seen the movie yet, then steaming it from your hotel is one of the essential things to do in Salem MA on Halloween!
4. Take the kids to the Halloween Museum of Salem
If you're wondering what to do in Salem in October with kids, then most of the attractions here are suitable. However, the Halloween Museum of Salem is one place that specifically targets younger travelers.
This museum is adorned with Day Glow paint and lit with black lights. 3D glasses are provided as a complement to the experience. You will then walk through the exhibition at leisure and see lots of ghoulish memorabilia and Halloween-themed gimmicks!
It's a lot of fun for younger kids although teens and adults will probably take away a little less from the experience.
5. Wander through the Salem Witch Village
The Salem Witch Village is the epicenter of the spooky action in Salem and marks the heart of the annual Haunted Happenings events. This is where you'll find the Salem Wax Museum and Salem Witch Trials Memorial.
The Salem Witch Trials Memorial is sobering as the accused targets of the witch hunt hysteria were not permitted burial on consecrated ground.
It is believed that their bodies were discarded in one shared pit. The memorial – consisting of inscribed granite stones – was erected as recently as 1992 to honor those lives lost.
There are also a handful of shops where you can pick up themed souvenirs and cafes that serve as an atmospheric lunch spot.
Although the Witch Village is a year-round hub of activity, the face gets a drastic makeover during October. Seeing all the Halloween displays and costumed folk is one of the quintessential things to do in Salem MA in October.
6. Step into history at the Burying Point Cemetery
The Burying Point Cemetery (also known as the Charter Street Cemetery) was established in 1637.
Situated right to the Salem Witch Village, it contains the gravestones of the judges involved in the Salem Witch Trials of the 1690s as well as Revolutionary War victims. Judge Jonathan Corwin is just one of those whose graves you will see here.
You can visit the cemetery for free and have a stroll around to read the various tombs. Be advised that the cemetery is only open to the public for a couple of hours in the afternoon and is closed in the evening.
Several walking tours in Salem include a stop at the cemetery.
7. Tour the Witch House at Salem
Located a short walk west of the main downtown area, the Witch House at Salem was the house of Judge Jonathan Corwin. It was built in 1675 and hosted some of the preliminary questionings for the Sale Witch Trials.
Nowadays it has been converted into a museum and contains objects and artifacts from the time of the Witch Trials.
As you'll discover, Judge Corwin himself was notoriously harsh. There are rumors that he – or his family – continues to haunt the building. So if you're hoping to have a ghostly encounter, add this attraction to your list of things to do in Salem Massachusetts in October.
In addition to sharing insight into the trials, the house gives you a sense of how the wealthy lived during the 17th century.
The Witch House at Salem is open to the public all year-round and you can explore the insides on a self-guided tour. Photos aren't permitted inside the museum.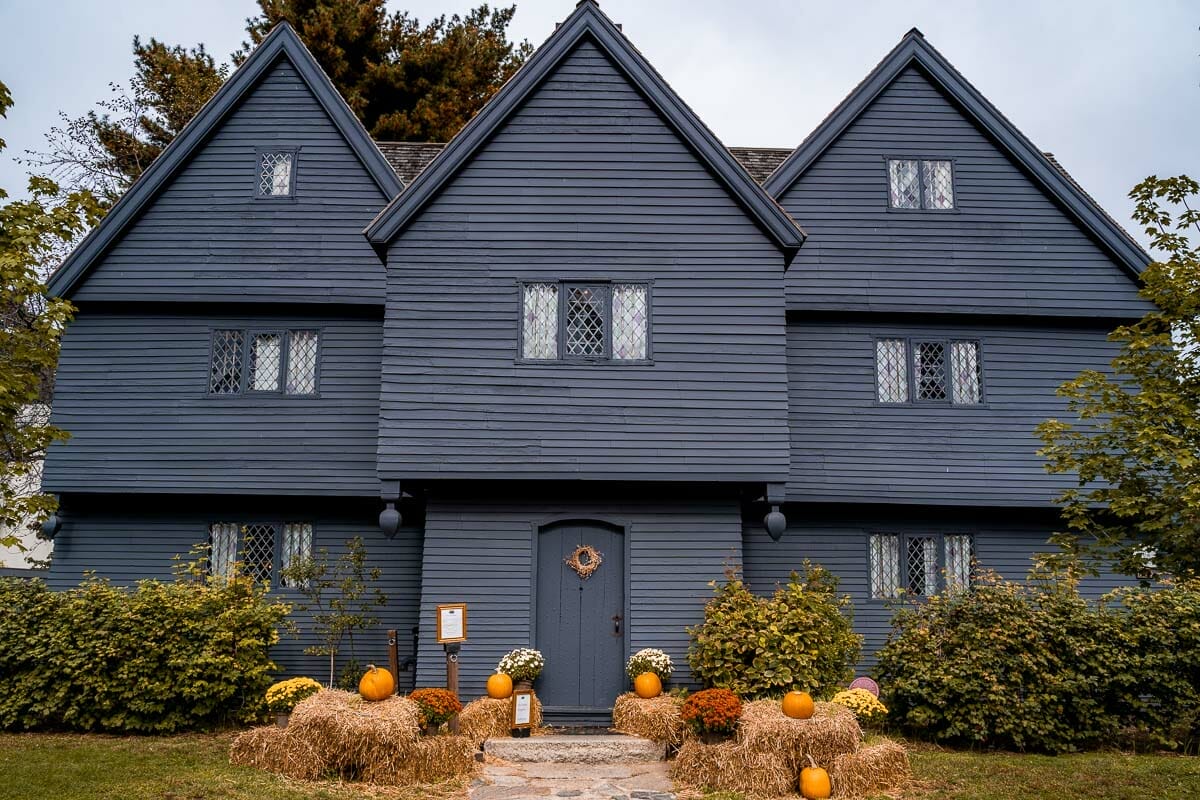 8. See the Satanic Temple at the Salem Art Gallery
The Salem Art Gallery and Satanic Temple are located a short walk out of downtown Salem. The exhibits aim to promote the works of both emerging and already established artists from the local region and around the world.
All exhibits are linked to witchcraft, the occult, and Satanism. The main attraction is the Satanic Temple.
If Salem isn't your typical town, then neither is the art gallery! The exhibition is well-presented and intriguing although it might be scary for younger children.
The art gallery is perfect if you hit a rainy day while visiting Salem Massachusetts in October. During this month, you can look forward to seeing creative Halloween displays on the lawn out front.
9. Connect with local history at Salem Witch Museum
Located on Salem Common, the Salem Witch Museum is an exhibition on the 1962 Salem Witch Trials. The display consists of lifesize sculptures that recreate the steps and unfolding of the trials.
A voiceover explains the story and recounts the key events. Equally interesting is the presentation of modern-day witchcraft.
It is mandatory to purchase tickets for the Salem Witch Museum online in advance of your visit. You can't buy them at the museum itself.
It goes without saying that this is one of the most popular things to do in Salem MA in October so do take care to plan ahead.
10. Visit the immersive Witch Dungeon Museum
The Witch Dungeon Museum is an alternative to the Salem Witch Museum (or both if you're super keen to know all the history!).
Rather than wax figures, the concept at the Witch Dungeon Museum is a short play based on historical transcripts from the Witch Trials performed by actors.
You will then explore the artifacts and documentation exhibited in the dungeon space. The dungeon is suitably creepy and will send a shiver down your spine. It's one of the best things to do in Salem MA on Halloween if you want a fully immersive experience.
11. Browse art at the Peabody Essex Museum
After all the spooky and witchy things to do in Salem in October, you might as well tackle some of the other important attractions in the town.
The Peabody Essex Museum (PEM) is a contemporary institution that explores American and Asian art, architecture, artifacts, and design. The emphasis is on creativity, cultural understanding, and the importance of innovation.
PEM is artistically curated and features an atrium and garden. In addition to the permanent galleries, the museum hosts fascinating special exhibitions that change frequently.
12. Stroll around Salem Common
Located right in front of the Salem Witch Museum, Salem Common is a lovely little park that's perfect for a fall stroll.
The park first opened back in the 1600s and was used as a pasture for cattle. These days, it's a popular spot for picnicking, people watching, and taking a break from all the witch-themed activities.
During October, the park is decorated with pumpkins and other Halloween-themed decorations.
13. Photograph the House of Seven Gables
Besides the Witch Trials and its spooky past, Salem was the home of the esteemed novelist Nathaniel Hawthorne. His 1851 novel The House of the Seven Gables was inspired by this Salem residence.
The seaside house and landscaped garden were built in 1669 by the merchant John Turner. Nowadays it is a designated National Historic Landmark District.
You can visit the House of Seven Gables as part of a guided tour only. Alternatively, you can just explore the gardens with a ground pass. It's one of the most photogenic things to do in Salem Massachusetts in October as the leaves will be turning golden.
14. Pay a visit to Ropes Mansion and Garden
Visiting the garden at this beautiful Georgian-era manor home is one of the best free things to do in Salem.
The mansion was built in 1727 and was once home to a wealthy shipping merchant. These days, the mansion is owned by the Peabody Essex Museum (PEM) and although the interiors are off-limits to the public, you can explore the lush gardens free of charge.
The gardens feature a number of different areas including a topiary garden, rose garden, and herb garden. It was added to the mansion in 1912 and was designed by the Salem botanist and horticulturist John Robinson.
15. Roam the Salem Maritime National Historic Site
Salem's strategic setting on the coast of Massachusetts means that the city also has a flourishing maritime history.
Established on 17 March 1938, the Salem Maritime National Historic Site is the first of its kind. Located on the Salem waterfront, this 9-acre park consists of naval buildings, ships, monuments, and a visitor's center.
You can walk as far as the Derby Wharf Light Station that sits at the far end of the promenade.
The Salem Maritime National Historic Site is the perfect spot for a walk to stretch your legs and mull over your learnings of Salem's history. It's one of the best things to do in Salem MA in October on a sunny fall morning.
16. Explore Pioneer Village
Pioneer Village is America's first living history museum that gives visitors a taste of what life was like in Salem back in the 1630s.
Set on 3 acres of land, the village has several historic buildings including a schoolhouse, print shop, blacksmith forge, and more. The structures were either relocated to the site or built using traditional methods and materials.
Pioneer Village is only open during the weekends (Saturdays and Sundays) for a limited opening time, from 12 pm to 4 pm. It's a 5-minute drive from Downtown Salem and admission costs $5 per person.
17. Hang out at Salem Willows Arcade and Park
Salem Willows Arcade is located at Rams Horn Rock just out of the town. You'll find heaps of amusements and games to keep everyone entertained as well as tasty food stalls where you can pick up tasty American comfort foods.
The waterfront park buzzes during summer when it's warm enough to swim but October brings a pleasant atmosphere for walking and it's excellent for scenic views. Amusements are open until the end of October but the recreation spaces are available all year round.
Salem Willows Arcade and Park is one of the best things to do in Salem MA in October with kids or as a fun date destination.
18. Check out the spooky Halloween decorations
One of the most popular things to do in Salem during October is simply strolling around the town and taking in all of the creative Halloween decorations.
The whole town goes all out for Halloween with spooky displays in many shop windows, on front porches, and even in some yards.
You can also find some great photo ops – especially on Derby Street which has a number of historic homes.
19. Hike at Winter Island Park
The final item on the agenda is an alternative to Willows Arcade and Park if you are seeking outdoorsy things to do in Salem in October.
Winter Island Park is a reservation on Winter Island, a peninsula northwest of Salem. It offers a wealth of recreation activities including swimming, fishing, camping, boating, and sunbathing.
During a fall trip to Salem it's a great place to head for a wander and to see the outskirts of town. The views across the water are fantastic and you'll leave with a clear head.
You can walk there from downtown or hop on the local bus service.
---
Planning a trip to New England?
Then you might want to take a look at all our other travel guides about New England. I promise, they are just as awesome as this article was!
Massachusetts:
Vermont:
New Hampshire:
Maine:
---
Related Posts
Want to read more about Massachusetts?
---
More New England Resources
Want to read even more about New England? Check out these awesome books and travel guides for more inspiration!
---
What Camera Gear Do We Use?
If you want to read more about what is in our camera bag, check out my detailed post about our travel photography gear!
---
Pin It for Later!