Considering visiting Vermont in the fall? Well, my friend, you're truly in for a treat! This is undoubtedly the best time to visit the northeastern state if you want to see the epic Vermont fall colors that the New England region is known for.
Besides seeing the autumnal trees, Vermont offers a slew of other natural sights, outdoor pursuits, and historical towns. It's one of the most beautiful parts of the US to experience as part of a road trip before winter creeps around.
But what are the best places to visit in Vermont in the fall? And what should you know before you hit the road? Read on for a complete guide to how to visit Vermont in fall.
*Disclosure: This post contains a few affiliate links, which means I may receive a small commission, at no cost to you, if you make a purchase through my link.*
No time to read now? Pin it for later!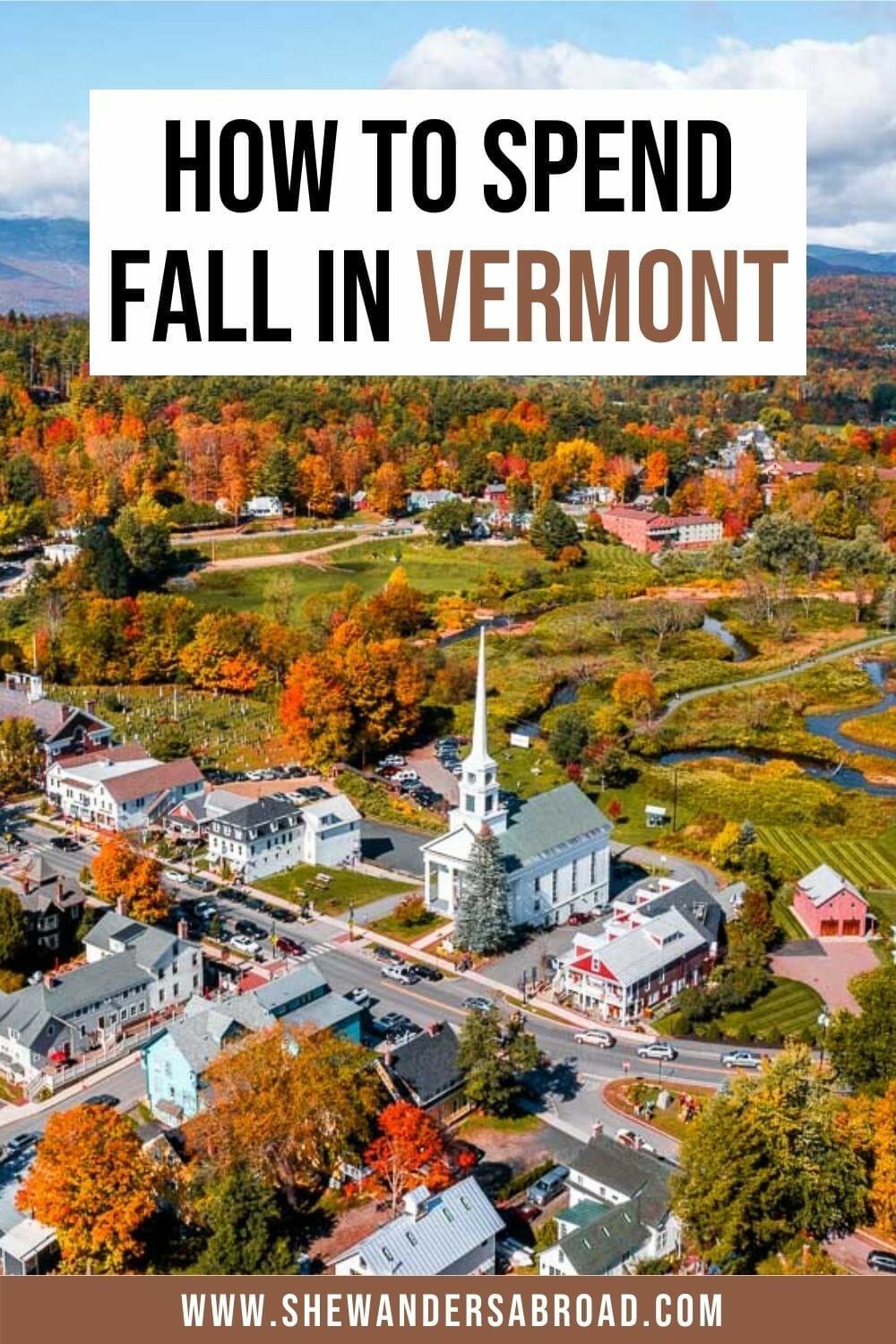 Tips for Visiting Vermont in the Fall
Best time to visit Vermont for fall colors
The full season for fall foliage in Vermont runs from early September until mid-October. Late September brings the best colors in the northern parts of the state while mid-October generally works out better in the south.
Visiting at the start or middle of September runs the risk that you'll arrive too early to witness the stunning Vermont fall colors.
Generally speaking, the first two weeks of October are your safest bet, however, this can change from year to year depending on lots of factors.
My best advice is to be as flexible as you can be, follow the weather forecast, and check out this interactive map to see how fall colors are developing in the different parts of the region.
How to get to Vermont
Vermont is located in the northeast of the US in the New England region. It shares borders with New York, Massachusetts, New Hampshire, and Canada.
Burlington International Airport (BTV) is located in the northern Vermont city of Burlington. The airport is well-connected to other cities in the US although international travelers should expect to transit on the way.
Besides Burlington International, there are numerous state airports dotted around the area.
Boston Logan International Airport (BOS) is located in the city of Boston, Massachusetts. As a larger airport, you are more likely to find direct and cost-effective connections from European and other worldwide destinations to Boston.
In this case, it's worth expanding your Vermont fall trip a little bit to explore Boston as well. The highlights of the city can be easily explored even if you have only one day in Boston so there is really no excuse!
How to get around Vermont in Fall
The easiest, and practically the only way to get around the whole of Vermont is to rent a car. Unfortunately, public transportation in this part of the country is very limited which means you won't be able to visit all the best places to visit in Vermont in the fall.
Driving through Vermont is an absolute joy and can add so much to your trip. Most of the time the best places to visit are actually the smaller roads and tucked-away towns you can stumble upon accidentally!
The roads are in good condition and there are plenty of parking spots so it's a piece of cake driving a car in Vermont. I can't recommend renting a car enough!
Best places to stay in Vermont in the Fall
If you are planning a road trip around Vermont then you will have the opportunity to stay in several towns and villages as you drive across the state. Even if you aren't on a major road trip, I would recommend having at least two bases during your trip.
When following this itinerary for Vermont in the fall, you can take your pick from larger towns such as Burlington or Montpelier as well as smaller places, like Stowe and Woodstock. These towns place you within close proximity to the tourist attractions featured in this guide.
Personally, I would recommend choosing Woodstock and Vermont as bases for your Vermont trip.
Where to stay in Stowe, Vermont
Stowe is one of the most popular places to visit in Vermont in the fall so naturally, it boasts many amazing hotels, guest houses, and motels.
Staying in the town itself is better if you want to stay close to all the best restaurants and shops. However, staying in one of the best cabins in Stowe dotted around the town is better if you're looking for a peaceful stay.
If you're in a hurry, below you can find my top picks for different budgets.
LUXURY – The Lodge at Spruce Peak, a Destination by Hyatt Residence
Located in the Stowe Mountain Resort, the Lodge at Spruce Peak is perfect for anyone who loves being up in the valleys. Spacious rooms feature private balconies and immaculate bathrooms while the wider complex has the added perk of a heated outdoor swimming pool.
MID-RANGE – Green Mountain Inn
This central hotel features a sauna, spa, swimming pool, gym, and restaurant. Each room is decorated with hand-crafted furnishings made locally. Complimentary parking is available.
BUDGET – Field Guide Lodge
You'll get an eyeful of the fall foliage in Vermont at this boutique lodge within walking distance of town. Interiors are a blend of contemporary with rustic and there is a seasonal swimming pool as well as a fire pit in the hotel garden.
Where to stay in Woodstock, Vermont
Woodstock is another great place to stay when discovering the best places to visit in Vermont in the fall. Similar to Stowe, you can decide to either stay in the town itself or choose accommodation in a quieter area, close to town.
Below you can find my top picks when it comes to staying in Woodstock, Vermont.
LUXURY – 506 On the River Inn Woodstock
Featuring an indoor pool, a spa, and an on-site restaurant and bar, 506 On the River Inn Woodstock boasts panoramic rooms with river and garden views. It's the perfect place if you're looking for a little tranquility while chasing the fall colors in Vermont.
MID-RANGE – The Shire Woodstock
This bright hotel is located on the banks of the Ottauquechee River in the center of Woodstock town. Rooms are spacious with luxurious upholstery and sturdy furniture and the best ones come with river views.
BUDGET – Sleep Woodstock Motel
This pet-friendly Woodstock motel is perfect for anyone road tripping with a pooch! Each unit is fitted with a microwave, refrigerator, and coffee machine and the staff is super friendly.
Best Places to Visit in Vermont in the Fall
And now we finally got to the juicy part of my guide – the absolute best places to visit in fall in Vermont. If you're after colorful fall foliage and a great experience, make sure not to miss any of them!
1. Woodstock
Located in Central Vermont, Woodstock is a charming little town that's often known as America's Prettiest Town.
Woodstock's town center is marked by The Green which is flanked by adorable cafes where you can easily linger for a couple of hours. When visiting Vermont in the fall, you can expect to find seasonal delights such as pumpkin spiced lattes and pumpkin pies all over the menus.
Sitting on the banks of the Ottauquechee River, the Woodstock Middle Covered Bridge is one of the best tourist attractions to see. Meanwhile, history buffs can check out the Woodstock History Center.
Woodstock is a great spot to pick up a slab of Vermont-made cheese. There are lots of other small independent boutiques if you want to get ahead of your souvenir shopping.
2. Sleepy Hollow Farm
Sleepy Hollow Farm is situated a 15-minute drive north of Woodstock down a long, winding gravel dirt road called Cloudland Road.
The history of the farm dates back to the late 18th century when it was in the hands of a pair of brothers. This was the case until the 1950s when the last surviving relatives sold the farm, and it trickled through a couple of different owners for the following decades.
It's the quintessential farmyard from storybooks with timber barns and ruby-red outhouses. Surrounded by rolling hills and woodlands, Sleepy Hollow Farm overlooks a pair of farmyard ponds.
Sleepy Hollow Farm is one of the best places to visit in Vermont in the fall when the leaves turn golden and amber and form an even more magical backdrop. You cannot actually walk around the farm complex itself, but you can drive down Cloudland Road and take some photos.
Be advised that Sleepy Hollow Farm is extremely popular with tourists and photographers. You might have to join a queue to get your photos if you don't arrive early in the morning.
2023 UPDATE: Unfortunately, access to Cloudland Road will be limited to locals only starting from 23 September to 15 October, so if you're visiting during this period, you won't be able to see the farm in person.
3. Sugarbush Farm
Sugarbush Farm is a 500-acre family-owned farm with a lofty reputation for its fine production of waxed cheeses and pure maple syrup made right on the grounds. It's owned by the Luce family.
After getting to the farm, you can follow the short nature trail in the woods where you can see how maple trees are tapped and learn more about how the family collects the sap. There is also a cute little farm chapel tucked away behind the trees where you can quickly stop by.
You'll also have the opportunity to see how maple syrup is made in the sugarhouse as well as visit the workroom in which the cheese is wrapped and waxed by hand.
There are 15 cheese varieties to taste and four types of maple syrup. The farm is open to the public and there is no charge to visit and wander around the land and woodland paths.
However, it's encouraged that you make a purchase from the farm shop to support the business. Tastings are available to help you find your perfect match.
The farm shop also stocks locally made food products from all around the area including jams, preserves, mustards, smoked meats, and pantry products.
In addition to encountering a sample of the best fall foliage in Vermont, you'll learn so much about farming techniques that will make you enjoy your purchases all the more!
Sugarbush Farm is located a 15-minute drive out of Woodstock.
4. Jenne Road Farm
Jenne Road Farm is a picturesque agricultural estate consisting of scarlet-hued outhouses and barns. It's all over Instagram and social media as well as in magazines and postcards.
The farm is undeniably photogenic, especially when shot with a backdrop of Vermont fall colors or to coincide with sunset.
This working farm remains a family-owned business and has been in operation since around the turn of the 20th century. Unfortunately, you can't visit the farm but you can always stop for a quick photo.
Although the family does not mind passersby stopping to take photos, exercise respect, and do not spend too long here. Also, it's not a bad idea to make a purchase of their delicious maple syrup as a token of your appreciation.
Jenne Road Farm is located 15-minutes south of Woodstock, off State Route 106. Despite the red colors, it's fairly easy to miss it so you will need to keep your eyes peeled.
5. Billings Farm and Museum
Billings Farm and Museum is a working farm with an outdoor history exhibition located right in the heart of Woodstock.
Visiting the farm is truly one of the best things to do in Woodstock VT. It holds a special place in the Woodstock area due to its community events, approaches to responsible agrarian practices, and outreach initiatives with the local schools.
You can visit the farm for a small admission fee and then explore the animal barns, pastures, tractor collection, kitchens, and 1890s farm manager's lodge.
The entire complex is laced with exhibitions and demonstrations to enrich your understanding of agricultural practices in Vermont.
Billings Farm and Museum runs a schedule of seasonal and special events throughout the year. This is one of the best places to visit in Vermont in the fall if you want to partake in the annual harvest celebrations.
Remember to swing by the museum shop if you want to pick up any souvenirs or snacks.
6. Quechee Gorge
Quechee Gorge – Vermont's "Little Grand Canyon" – is a beautiful forested gorge a short drive southeast of Quechee Village.
Formed during the last Ice Age, the glacier-carved gorge is 165 feet (50 meters) deep. It is best viewed from the bridge that flies over the gorge and the Ottauquechee River.
The dam overlook provides incredible views of the fall foliage in Vermont. A short walking trail leads you down to the bottom of the gorge for a different perspective.
The Quechee Gorge Visitor's Center is worthy of a visit as it will teach you all about the history and formation of the gorge as well as the Woodstock Railroad Bridge.
You can purely visit the viewing platform, the bottom of the gorge, and the visitor's center which is a fantastic experience. However, if you have more time then you may also want to check out the hiking trails in the Quechee State Park.
7. Quechee Covered Bridge
Vermont is famous for its historic covered bridges. Erected during the 19th and 20th centuries, they are located all over the state. Their original purpose was to avert flooding caused by heavy snowfall conditions, provide safe shelter, and make local farmers' lives easier.
Nowadays, these tourist attractions and icons of Vermont's history are one of the best places to visit in Vermont in the fall.
The Quechee Covered Bridge is just one example to add to your itinerary. This one is located just off Interstate Route 4 and marks the entrance to Quechee village.
What makes this one different is that it was actually only constructed in 1970. Despite lacking the historic significance of the other covered bridges in Vermont, the Quechee Covered Bridge makes up for that with its scenery.
A waterfall crashes below the bridge and there is a designated walkway for pedestrians which makes it easy to explore.
8. Montpelier
Montpelier is the capital city of Vermont. It's a handsome city composed of grand buildings, green parks, and cultural places of interest. If you want to brush up on your history of Vermont, Montpellier is the best place to do so.
One of the major landmarks is the 1859 Vermont State House, distinguished by its gold-domed Greek Revival architecture. Free guided tours are available if you want to find out more about the building and its significance.
You can also visit the Vermont Historical Society Museum which showcases artifacts and artworks from the last few centuries.
Taking a stroll around the grounds and woodlands of Hubbard Park is also a must. Make your way up to the Hubbard Park Tower for scenic views of the Vermont fall colors.
It requires a short drive out of town but the Bragg Farm Sugar House is another must for anyone with a fondness for maple syrup. You'll get a demo of how the world-famous Vermont syrup is made and find a gift shop bursting at the seams with maple syrup-themed sweets and treats.
9. Stowe
Located in northern Vermont, Stowe is another small town with a huge history. Whatever time of year you visit Stowe, you are in for a memorable time in this quaint town.
Stowe's Main Street is characterized by heritage buildings, cafes, and boutiques where you can sip a warming fall drink.
Even if you're not wild about hiking, the Stowe Recreation Path is the perfect walking trail for all abilities. This 5.3-mile (8.5 km) walkway is paved and takes you from the town center right up to the Top Notch Resort on Mountain Road. You'll encounter some of the best fall foliage in Vermont along the way.
Another option for how to spend your days in Stowe is to tackle the Stowe Scenic Auto Road. This is perfect for non-hikers as it only requires driving!
There are so many wonderful things to do in Stowe that you are recommended to spend a couple of days in town in order to make the most of the surrounding area.
10. Smugglers' Notch State Park
Smugglers' Notch State Park is located at the foot of the Stowe Mountain Resort. It's teeming with a variety of hiking trails that provide the perfect opportunity to dive deeper into the lush forestry that Vermont is known for.
Trails in Smugglers' Notch State Park are broken down into easy to moderate walks of 1-2 hours. On the other hand, "wikes" demand up to 3 hours of hiking and the more strenuous hikes consist of 4-6 hours on your feet with challenging conditions.
Access to Smugglers' Notch State Park from Stowe requires driving along a scenic alpine route that's thick with trees. This is perfect for experiencing Vermont fall colors from behind the wheel.
Note that the road to the state park closes at the end of the fall season so if you visit later, you will need to check the current status.
11. Mount Mansfield
At a height of 4,395 feet (1,340 meters), Mount Mansfield is the tallest peak in Vermont. Mount Mansfield is visible from Stowe and you can't really miss catching sight of the mountain while you're in the town.
It is possible to hike to the summit of Mount Mansfield. However, this is a strenuous endeavor that should only be attempted by experienced hikers. The loop trail is 7.3 miles (11.7 km) with an elevation gain of 2,880 feet (878 meters) that takes around 5-6 hours to complete.
Sections of the trail are extremely steep and at points, you will need to scramble through loose rocks and gravel and leap over chasms. The hike trailhead is situated at the parking lot on Underhill State Park off of Mountain Road.
If the hike doesn't sound suitable then you can ride the Gondola SkyRide all the way up to the top of the mountain. Mount Mansfield is one of the most beautiful outdoor places to visit in Vermont in the fall and you'll see phenomenal views from the summit.
12. Moss Glen Falls
With a drop of 85 feet (25 meters), Moss Glen Falls is the tallest waterfall in the whole of Vermont.
It's truly spectacular to see this huge waterfall surrounded by the woodlands. Access is via a short, easy, and well-signposted hiking trail from the parking lot.
Just note that, towards the end of the walk, you will meet a fork in the path. At this point, you can either go left up a steep section to the right to follow the outer edge of the river to the base of the falls. The latter is not advisable during periods of heavy rainfall.
You can walk to the waterfall in as little as 20 minutes from the car park. Alternatively, you could opt to take a longer route of 2-3 hours. This is one of the best hikes to experience when visiting Vermont in the fall.
Moss Glen Falls is located a 10-minute drive northwest of Stowe.
13. Gold Brook Covered Bridge (Emily's Bridge)
Another of Vermont's covered bridges is one of the best places to visit in Vermont in fall. Officially known as the Gold Brook Covered Bridge, this structure passes over the Gold Brook. However, it's more commonly referred to as Emily's Bridge.
A local folk tale talks of a young woman, Emily, from the 1850s who fell in love with a local man. As Emily came from a poor family, the man's wealthy parents disapproved of their union.
The lovers made a plan to elope but the man did not arrive as planned. Emily tragically jumped to her death from this covered bridge into the brook. Apparently, her ghost continues to haunt the bridge.
Ghost story aside, the Gold Brook Covered Bridge is one of the most beautiful examples of these structures.
The bridge is situated a 5-minute drive south of the town of Stowe.
14. Lake Willoughby
Lake Willoughby is one of the most beautiful lakes in Vermont. It's located in the northeastern part of the state, about a 1-hour drive from Stowe.
The lake is flanked by two mountains, Mt Hor and Mt Pisgah, which provides hikers with plenty of picturesque trails to explore. One of the most popular trails is the Mount Pisgah North Trail which leads up to the top of the mountain and offers a scenic panorama.
There are also a few secluded coves and beaches where you can go for a swim on a hot day.
However, the main draw for most visitors is undoubtedly the fall colors. The route that encircles Lake Willoughby is renowned for being one of the best places to see fall foliage in Vermont.
There are a few different spots around the lake where you can park up and take a short walk to get some great photos. Alternatively, you can drive all the way around the perimeter road (it's about 10 miles long) for even more photo ops.
15. Burlington
Burlington is a city in northwestern Vermont, located on the shore of Lake Champlain. As the setting of the only international airport in Vermont, you might end up flying in here. If so, it's worth taking some time to explore this exciting Vermont city.
Head to the Waterfront Park for beautiful views across the lake. You can also hop on a scenic cruise – these run until late fall so it's possible while touring Vermont in the fall.
Burlington is legendary for its craft beer so make sure you factor in time to sample a brew or two while you're in the city.
Church Street Marketplace is the heart of Downtown Burlington and is a great place to shop, eat, people-watch, and stay for a night.
And of course, seize the opportunity to stock up on seasonal organic produce at the Burlington Farmers Market! This institution has been running since 1980 during the summer months. It usually closes for winter at the end of October so you should make it!
One of the strangest tourist attractions in Burlington surely must be the World's Tallest Filing Cabinet. It was built by local artist Bren Alvarez in 2002. Each of the 38 drawers represents the number of years of paperwork that Alvarez accumulated while working on a specific assignment.
16. Foliage Viewpoint
For the absolute best fall foliage in Vermont, you need to visit this official viewpoint! The Foliage Viewpoint is located next to Hogback Mountain Country Store on VT-9 (Molly Stark Trail). Park your car at the store and then you'll find the viewpoint on the wooden terrace.
From this elevated position, you will have a sweeping view across a valley of forestland within the Hogback Mountain Conservation Area.
On a clear day, you will be able to see for miles and be exposed to endless shades of gold, honey, amber, russet, and beyond.
Meanwhile, the Hogback Mountain Country Store is a treasure trove of local artisanal products, liquors, cakes, and beyond. It's worth spending a couple of dollars!
Right next door to the store, the Southern Vermont Natural History Museum (temporarily closed until the end of October 2023) takes care of and rehabilitates injured animals and birds.
17. Bennington
Located in the southwest of the state, Bennington is one of the two shire towns (county seats) in Vermont. It's a beautiful town to spend a day or two in while exploring southwest Vermont.
The Downtown Bennington Historic District is rich with heritage buildings including churches, galleries, and museums.
A short walk out of the center takes you to Bennington Battle Monument. Within the obelisk, an elevator is poised to take you up to the top of the monument for 360-degree views of Vermont in the fall. You can also see the states of New York and Massachusetts.
Outdoor explorers can check out the hiking trails in the nearby Lake Shaftsbury and Woodford state parks.
Foodies are in for a treat on Bennington Main Street – it's pumping with breweries, restaurants, and the occurring Saturday Farmer's Market.
18. Manchester
The final destination on your list of places to visit in Vermont in fall is of course the other shire town!
Manchester is only a 30-minute drive north of Bennington and is easily visited in tandem with its neighboring county seat. With the Green Mountains, this former iron town is extremely scenic and the perfect example of a small American town.
Main Street features low-slung buildings and a white steeple church. You can explore the town center on foot, dipping into independent stores, designer boutiques, and coffee shops.
The Southern Vermont Arts Center is an open-air sculpture gallery that looks even more stunning during the fall season. There are several other art galleries in and around Manchester, such as the Museum of the Creative Process. It's a great spot for art fans.
Dozens of hiking trails start in Manchester. The Red Gate Trail is a popular option for getting a flavor of the local landscape and views of Mount Equinox, the highest peak in the Taconic Range. You can also drive to the summit of the mountain via the scenic Mount Equinox Skyline Drive. This seasonal road closes at the end of October.
Map of the Best Places to Visit in Vermont in the Fall
On the below map you can see the exact locations for all the best places you can't miss visiting in Vermont in the fall with their retrospective number. The numbers don't reflect any order, they are just simply here to help you find all the best places for seeing fall foliage in Vermont.
---
Planning a trip to New England?
Then you might want to take a look at all our other travel guides about New England. I promise, they are just as awesome as this article was!
Vermont:
New Hampshire:
Massachusetts:
Maine:
---
Pin It for Later!