Are you looking for the perfect way to spend one day in Singapore? Don't worry – I've got you covered!
Singapore is one of my favorite cities in the entire world and since it's also one of the biggest hubs in Southeast Asia, chances are you'll be going through Singapore Airport at least once during your travels in this region. If that happens and you have some extra time on your hands, I would highly recommend setting aside at least one day to explore all that Singapore has to offer.
Although Singapore is a small city-state, it actually has so many things to see and do that it can be overwhelming to decide what to do on a long layover. That's why I've put together this perfect one day Singapore itinerary that will help you make the most of your time. Let's get into it!
*Disclosure: This post contains a few affiliate links, which means I may receive a small commission, at no cost to you, if you make a purchase through my link.*
No time to read now? Pin it for later!
Useful Info for Spending One Day in Singapore
How to get to Singapore
As I mentioned before, Singapore is one of the biggest hubs in Southeast Asia so you will find countless flights from most major cities in Southeast Asia, as well as from bigger cities in Europe, the Middle East, and North America.
Singapore's Changi Airport is also very well connected to the city and it's easy to get around once you're there. The MRT (Mass Rapid Transit) train is the fastest and most convenient way to get from the airport to downtown Singapore but you can also opt for a taxi or use a ridesharing app such as Grab or Gojek.
Insider tip: Don't forget to check out the stunning indoor waterfall (HSBC Rain Vortex) while you're at the airport! It's located right across Terminal 1 in a shopping mall called Jewel Changi Airport. To get to the waterfall, you'll need to go through immigration first and exit the terminal. The waterfall is right in the middle of the shopping mall so it's very easy to find after you enter the mall.
Best time to visit Singapore
As Singapore is located near the equator, the weather is pretty much the same all year around so you don't really have to worry about the timing of your trip. You can expect hot and humid conditions any time you visit but the wettest months tend to be November, December, and January.
Note that public holidays in Singapore such as Chinese New Year and the Formula One Grand Prix can also cause the prices to rise, so it's best to avoid these periods if you're looking for a budget-friendly trip. Not that you can even say budget-friendly and Singapore in the same sentence but still, you get the idea!
How to get around Singapore
Most of the sights you're going to visit on this one day Singapore itinerary are quite close to each other so you can easily walk between them. I also tried to put together an itinerary for you that covers the main attractions in Singapore in a logical order so that you don't spend too much time traveling from one place to another.
If you want to get around faster, I recommend taking the MRT train or using a ridesharing app such as Grab or Gojek. Just make sure to take into account the traffic in Singapore – it can be pretty bad during rush hour.
If you're planning to use the MRT more frequently, it might be worth purchasing a Singapore Tourist Pass which gives you unlimited rides on all public transport in Singapore for the selected days. For reference, a one day tourist pass costs S$22 ($16 US). It's a great way to save money and it also makes getting around much easier!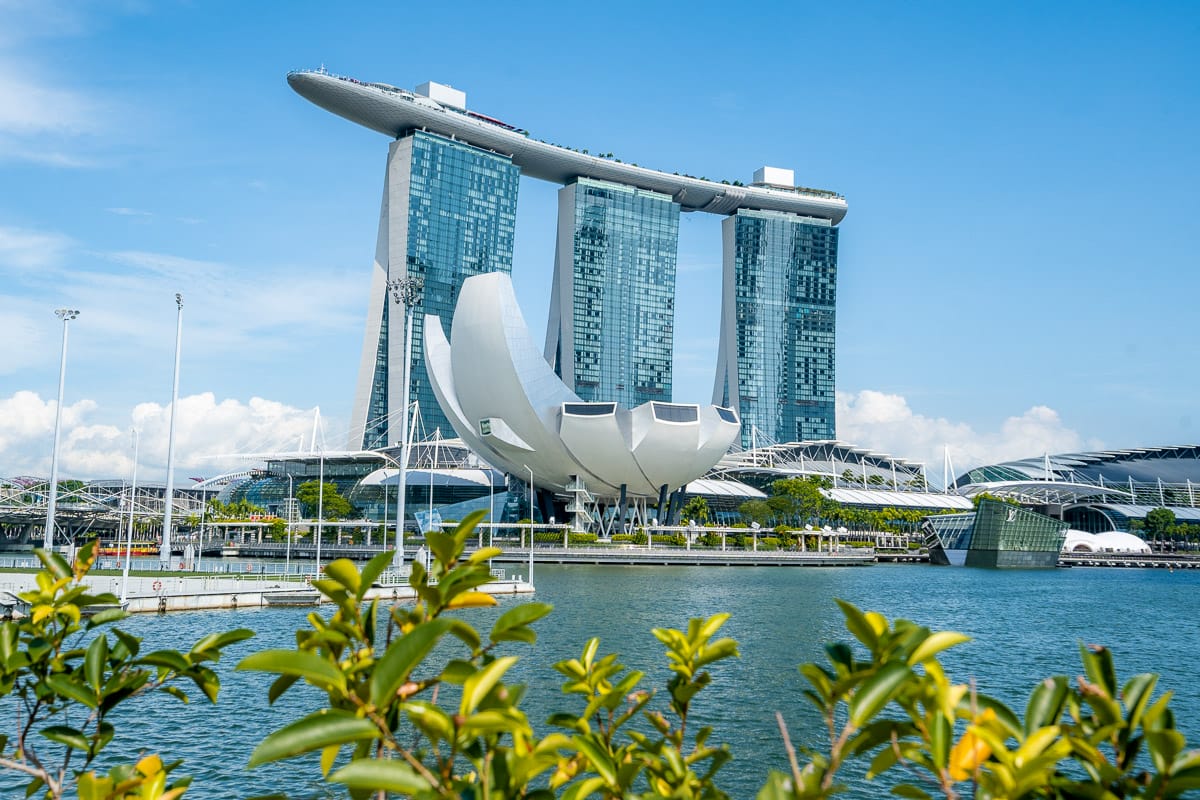 Where to stay in Singapore
Since you will have only one day in Singapore, I suggest booking a hotel close to the city center to save time on transportation. Unfortunately, Singapore is a really expensive city so unless you want to stay in a hostel or a capsule hotel, it's going to cost you a lot of money. Especially in, or close to the city center.
If you want to read more about the different neighborhoods in the city and what each one has to offer, make sure to read my in-depth guide about where to stay in Singapore. If you have a bigger budget, you can also check out the best hotels in Singapore with rooftop pools or the most amazing hotels with best views in Singapore.
If you're in a hurry, below you can check out my top recommendations for staying in Singapore for every budget.
LUXURY – Marina Bay Sands
Towering over the bay, this iconic hotel offers the world's largest rooftop infinity pool, 20 dining options, and a world-class casino. It has direct access to Singapore's premier shopping mall and the ArtScience Museum, which features the permanent exhibition, Future World.
MID-RANGE – Hotel Traveltine
Located along Beach Road just minutes away from the culturally vibrant district of Kampong Glam, Hotel Traveltine is a great mid-range option. It has a beautiful outdoor swimming pool and also offers an in-house restaurant.
BUDGET – The Quay Hotel
The Quay Hotel is set in a heritage building and offers modern rooms for a great price! Not only is it close to plenty of tourist attractions, but this hotel also has an on-site restaurant and a rooftop garden that offers panoramic views of the city.
Overview of Your One Day Singapore Itinerary
Breakdown of your one day Singapore itinerary
Morning: Gardens by the Bay, Cloud Forest, Flower Dome, OCBC Skywalk or Supertree Observatory
Afternoon: Chinatown, Clarke Quay, Merlion Park, Marina Bay Circuit, Helix Bridge
Evening: SkyPark Observatory or Ce La Via at Marina Bay Sands, Garden Rhapsody, Spectra
Map for your one day in Singapore
Below you can find a customized map that includes all the locations you're going to visit on this Singapore itinerary.
I marked the different times of your one day in Singapore with different colors – I used blue for the morning, green for the afternoon, and red for the evening, so you can easily see which places you're going to visit at which time.
If you open up this post on your phone and you click on the bracket in the upper right corner of the map, it will open up in your Google Maps app so you can always have it with you. Super convenient, right?
Morning of Your One Day in Singapore
Having at least 3 or 4 days in Singapore would be the optimal amount of time for visiting. However, many people only have a short layover in Singapore and often have just 24 hours to discover the city.
Do you also have just one day to spend in Singapore? Don't worry, if you maximize your time you will be able to cover all the must-see spots! However, it means you will have a really long day with lots of walking so put on your most comfortable shoes, have a coffee in your hand, and let's go exploring!
Gardens by the Bay
Start off your day by heading to Garden by the Bay. This stunning 101-hectare (250-acre) park is home to some of the best attractions in Singapore, including the futuristic-looking supertrees.
These supertrees are actually not trees – they are made of concrete and steel. They work like vertical gardens, and they are home to more than 158,000 plants. Walking among them feels like you are in another world!
There are 18 supertrees around the Gardens by the Bay in total – 12 of them are located at the Supertree Grove, 3 in the Golden Gardens, and another 3 in the Silver Gardens.
Some of them are also embedded with environmentally sustainable functions like photovoltaic cells to harvest solar energy. So they are not just fascinating to look at, they are actually an important part of the self-sustainable system that runs through the whole Gardens by the Bay.
Although most attractions at Gardens by the Bay only open at 9 am, I highly recommend arriving to the park earlier and taking a stroll among the supertrees. This is also the best way to avoid the crowds and the midday heat, plus it's also the best time for taking photos without tons of other tourists around.
To get there, take the MRT to Bayfront Station and then it's just a short walk from there. Alternatively, Grab has a drop-off location right at the Golden Gardens entrance.
Sadly Gardens by the Bay doesn't have many options when it comes to breakfast. However, there is one Starbucks right by the Golden Gardens so you can grab a quick cup of coffee or a snack there before you start exploring.
Cloud Forest
Even if you have only one day in Singapore, visiting the Cloud Forest and the Flower Dome is a real must. The tickets are a bit pricy as the admission for the two conservatories costs S$53 ($40 US) per person, but it's really worth every penny!
As you enter the Cloud Forest, you'll have a first glance at the 35-meter tall mountain covered in lush vegetation that is home to a stunning waterfall. No pictures do justice to how beautiful it is in real life!
This used to be the world's largest indoor waterfall until it was surpassed by the HSBC Rain Vortex at Changi Airport – way to go, Singapore!
If you want to have a picture in front of the waterfall without the crowds, try to arrive around opening time (9 am) otherwise it will be impossible to have a decent photo.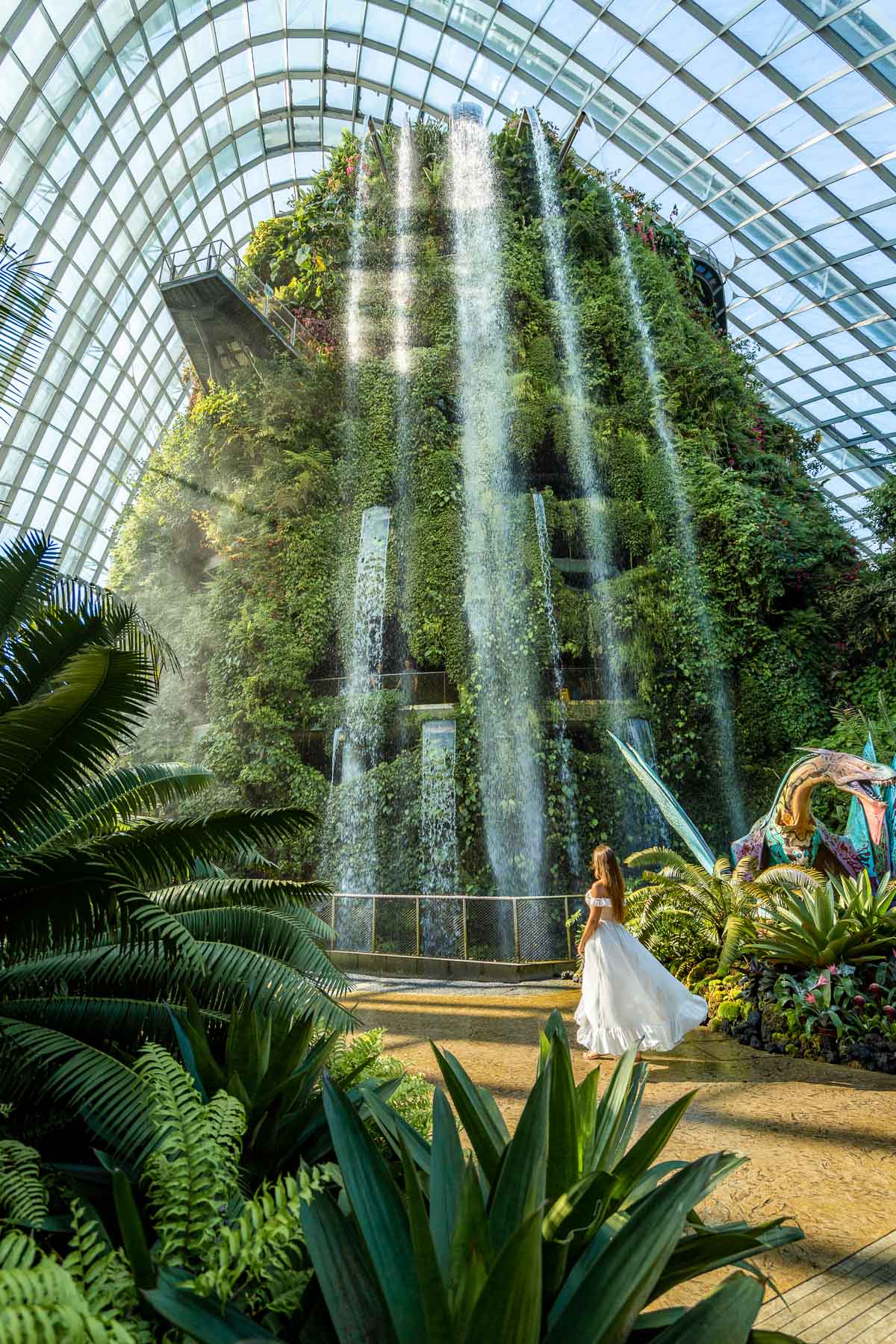 After you pass the waterfall, make sure to take the elevator up to the mountaintop to access the Cloud Walk. From up there, you'll have a stunning view of the entire conservatory!
As you start the descent from the top, you'll also come across several different exhibits such as The Cavern and Crystal Mountain where you can learn more about the rainforest and its inhabitants.
The Cloud Forest has an impressive biodiversity and more than 60,000 plants from all over the world so if you are a plant lover like me, you'll be in absolute heaven!
One thing to note though is that the temperature inside the Cloud Forest is between 23-25°C (73-77°F) with 80-90% humidity which is the perfect setting for tropical plants. Compared to the heat outside, you will probably feel quite cold, so make sure to have a light jacket or sweater with you.
You will need at least 1-1.5 hours to explore the Cloud Forest but you can easily spend more than that if you want to take your time and appreciate the beauty of plant heaven. We ended up spending around 2.5 hours inside but they also had a special Avatar Experience when we visited so this could have added to the time.
Flower Dome
After you finish exploring the Cloud Forest, head over to the Flower Dome next. This is Singapore's largest cooled conservatory and it's the perfect escape from the heat outside.
The Flower Dome is home to hundreds of different plants from all over the world that are arranged in several themed gardens including the Sunflower Garden, Mediterranean Garden, and even an Australian Garden.
They also have always-changing floral displays in the middle of the dome which is definitely a must-see!
If you want to learn more about the plants, the Flower Dome also offers complimentary mini-guided tours of various locations inside. These only take place on certain days so make sure to check the schedule before you plan your visit.
As a reference, we spent around 1 hour inside but if you really want to take your time and learn more about the plants, then you should allocate at least 1.5 hours for the Flower Dome.
Supertree Observatory or OCBC Skywalk
If you've managed your time right, you can still have time to tick off one more attraction from your Singapore bucket list before heading out to lunch. And what better way to end your morning than by seeing Gardens by the Bay from above?
There are two ways to do this: either you take the elevator up to the Supertree Observatory (S$14/$10 US) which is located on top of the tallest Supertree, or you can take a walk along the OCBC Skyway (S$12/$9 US) which is a 128-meter-long aerial walkway among the Supertrees.
Both options are great – we personally opted for the Supertree Observatory as it's higher up and offers a more panoramic view of the Gardens by the Bay. Plus, since we visited around noon, it was better to quickly visit the open part of the observatory on the top and then take in the views from one level below from the air-conditioned area than to walk around the hot skyway!
Afternoon of Your One Day in Singapore
Chinatown
I know that you can't spend enough time in the Gardens, but it's time to continue your journey toward Chinatown! I suggest hopping on the blue MRT line for two stops (from Bayfront to Telok Ayer) to save some time.
Chinatown is really different from the rest of the city with its red and gold tones and low-rise buildings. The whole neighborhood is very vivid, with lots of street markets, museums, and temples.
There are actually not just ornate Chinese temples, you can find many Buddhist and Hindu temples as well. Some of the most interesting temples are Sri Mariamman Temple, Buddha Tooth Relic Temple, and Thian Hock Keng.
Chinatown is also a great place to grab some lunch and since the food is quite affordable, it's the perfect place to eat if you're visiting Singapore on a budget.
If you would rather sit at a pretty cafe as we did, I can't recommend Merci Marcel on Club Street enough. It's the top-rated breakfast place on Tripadvisor so I knew I had to check it out and it definitely didn't disappoint! The food was absolutely amazing and the atmosphere was perfect for a relaxed lunch.
How much time you will spend in Chinatown really depends on what you want to do there, but I would suggest at least 2 hours. That should be enough to explore the temples and markets and grab a bite to eat.
Clarke Quay
Clarke Quay is another great neighborhood in Singapore. It is famous for its little colorful houses, stunning riverside restaurants, and endless collection of bars and clubs.
Take some time just to wander around and explore the area – there are some really interesting stores, cafes, and street art. It's also a good place to have some lunch, or if you already had that in Chinatown, then you can relax a bit with a cup of coffee.
If you want to hit the night later, then Clarke Quay is totally your spot!
As you wander around Clarke Quay, make sure to stop by the Old Hill Street Police Station. I bet it's going to be the most colorful police station you'll ever see! Actually, this is not a police station anymore, but the name has not changed.
Now it's the home to the Ministry of Communication and Information and the Ministry of Culture, Community, and Youth. Make sure to take some Instagram-worthy pictures in front of the building!
Merlion Park
The Merlion is the national icon of Singapore, and you simply cannot miss the chance to take a picture with it. The 8-meter tall Merlion statue is comprised of two parts: the fish body symbolizes the beginning of Singapore as a fishing village, while the lion head represents the city's original name, Singapura (lion city).
The park itself is quite small, and you can explore it in about 10 minutes. However, the views of Marina Bay are absolutely stunning, and you can take some great pictures here.
Marina Bay Circuit
Now it's time to head back to Marina Bay Sands and Gardens by the Bay for the rest of your one day in Singapore itinerary but there are still a few places to explore along the way.
You will pass by the Marina Bay Street Circuit on your way. Seems familiar? If you are a Formula 1 fan, it should be – it's the venue for the Singapore Grand Prix! Even if you're not a fan, it's still worth stopping for a few minutes and taking some amazing pictures.
Helix Bridge
In order to reach the Gardens by the Bay from the Marina Bay Circuit, you have to cross the Helix Bridge. This is a pedestrian bridge that links together Marina Centre with Marina South, and it was inspired by the form of a curved DNA structure. It looks really cool!
The bridge has four viewing platforms from where you can have an amazing view over the Marina Bay skyline.
Evening of Your One Day in Singapore
SkyPark Observation Deck or Ce La Vi at Marina Bay Sands
The Helix bridge takes you right to the foot of the Marina Bay Sands Hotel (the one that looks like a giant ship).
This hotel is the most popular one in Singapore as it features the world's biggest rooftop infinity pool with breathtaking views over the Singapore skyline. If you're looking for stunning hotels with rooftop pools in Singapore, make sure to check it out!
Unfortunately, the pool has been closed to the public, so you can only try it if you are a guest of the hotel. However, there are two other options if you want to see the view from the top of the hotel and I would recommend choosing one of them for the evening of your one day in Singapore.
The first option is to visit the SkyPark Observation Deck on the 57th level of the hotel. The observatory offers some amazing views over Singapore and the ticket costs S$32 ($24 US) per person.
Another option is to book a table at Ce La Vi, or just simply visit the bar for some drinks. The bar used to have a free entrance but now every visitor has to pay S$30 ($22 US) as an entrance fee but it's fully redeemable for food and drinks.
If you opt for the drink option as we did, you can choose between two different venues. The SkyBar on the right overlooks the observatory and basically has the same views, whereas the Club Lounge has a direct view of the iconic infinity pool!
Once you are seated, you can come and go between the two so you will be able to check out the view from both places.
No matter which option you choose (the observatory, the SkyBar, or Club Lounge), I suggest staying until sunset as the views are simply breathtaking. It's the perfect place to enjoy the golden hour and take some incredible photos.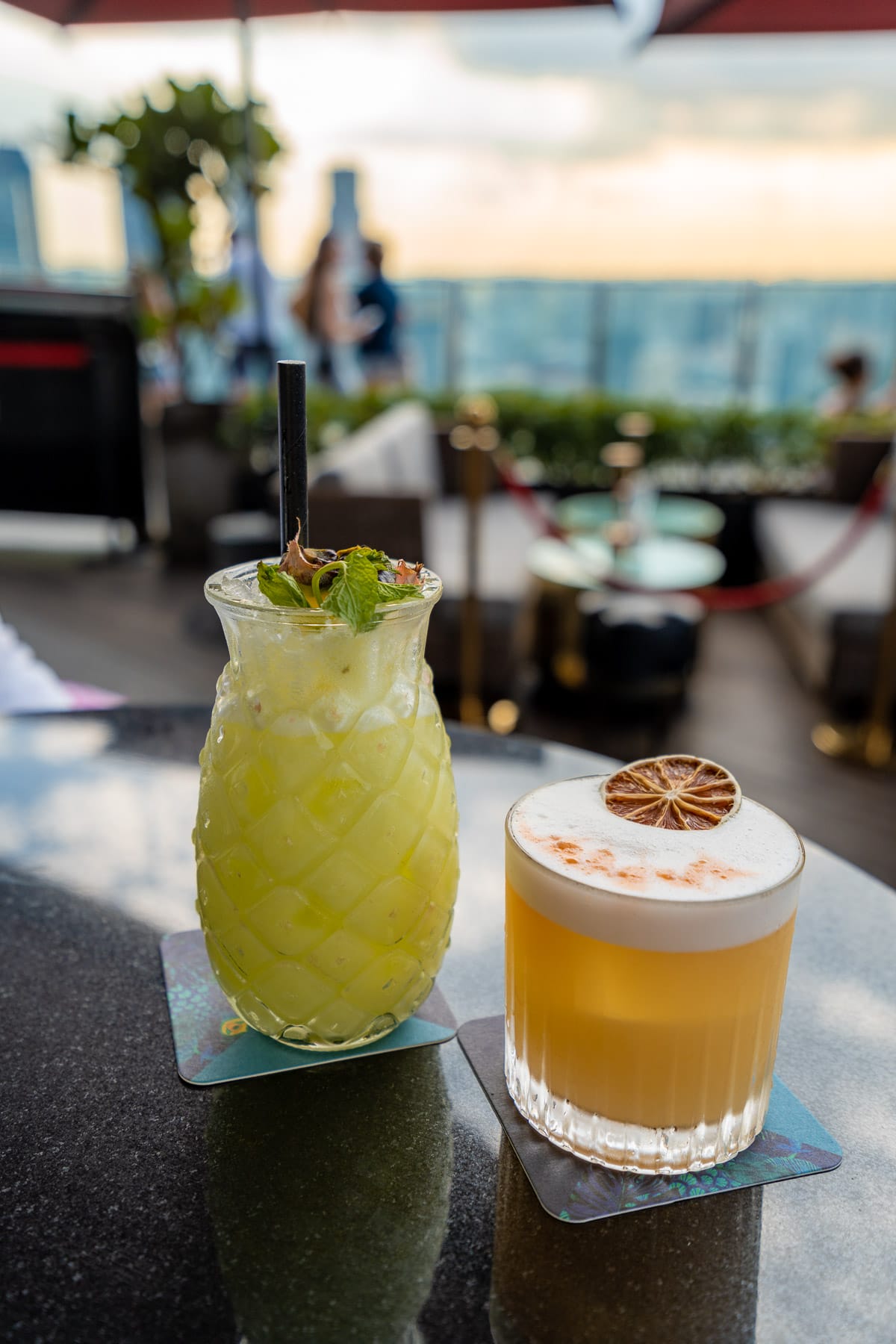 Garden Rhapsody
After sunset, it's time to head back to the Gardens by the Bay to see the evening light shows. I know you've already been there during the day, but believe me, seeing it during the night will be a completely different experience!
The Supertrees look really awesome in the daylight as well, but the real magic comes when the night falls. The trees perform a magnificent sound and light show every night and it's a must-see, even if you have only a day in Singapore.
Seeing this light show was hands down one of the most magical experiences in my life and the absolute highlight of visiting Singapore. I can't even describe my feelings properly, but I was so touched that I almost ended up crying. It's really that amazing!
The trees are performing twice every day, at 7.45 pm and 8.45 pm. The show runs for 15 minutes, and it is completely free.
You can choose to watch it from the ground, purchase a ticket for the OCBC Skywalk, or head to the upper gardens which are usually a bit quieter.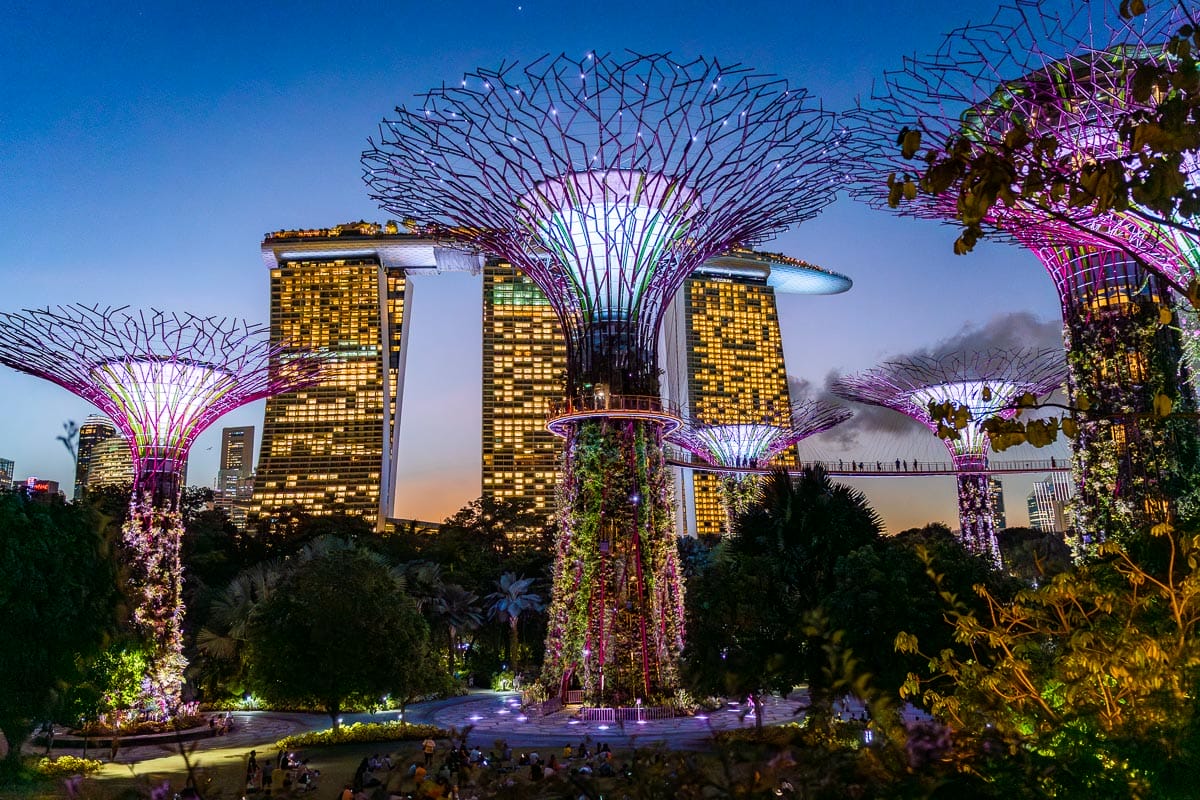 Spectra
If you still have some energy left and don't mind waiting a little bit, head over to the other side of Marina Bay Sands where you will find another great show: Spectra. It's a light and water show performed by many dancing fountains and colorful visual projections.
The show is also free, and it starts at 8 pm and 9 pm on a daily basis. I thought after the Supertree light show I would not be amazed by this show – how wrong I was! It is also absolutely spectacular, so don't miss it!
---
Related Posts
Want to read more about Singapore?
---
More Singapore Resources
Planning a trip to Singapore? Check out these awesome books and travel guides for more inspiration!
---
What Camera Gear Do We Use?
If you want to read more about what is in our camera bag, check out my detailed post about our travel photography gear!
---
Pin It for Later!