Are you looking for a great all-inclusive vacation in the Dominican Republic? Look no further than the Barcelo Bavaro Palace, located in beautiful Punta Cana.
Situated right on the white sandy Bavaro Beach, aptly designated one of the best beaches in the world by National Geographic, this five-star resort is sure to impress.
With multiple swimming pools, a fitness center, an onsite spa, and a number of delicious restaurants and bars conveniently located throughout the resort, plus an array of activities both day and night – there's something for everyone.
With a myriad of room types available from basic options to Premium Level suites, a stay at the Barcelo Bavaro Palace allows you to enjoy all the amenities of a luxury resort on your own terms.
Read on for my complete hotel review of Barcelo Bavaro Palace.
*Disclosure: This post contains a few affiliate links, which means I may receive a small commission, at no cost to you, if you make a purchase through my link. Please note that we were invited to stay at Barcelo Bavaro Palace, however, all thoughts and opinions are my own, as always.*
No time to read now? Pin it for later!
Basic Information
Overview of Barcelo Bavaro Grand Resort
Barcelo Bavaro Grand Resort is one of the largest all-inclusive resorts in the Dominican Republic. It consists of two different properties: Barcelo Bavaro Palace which has 1,400 rooms, and Barcelo Bavaro Beach, which is an adult-only resort with 500 rooms.
The two resorts are located right next to each other and both have their own amenities such as pools, bars, restaurants, and other activities.
Since Barcelo Bavaro Palace is the bigger of the two resorts, it offers more options in terms of restaurants and it's the only one that features a fitness center and a spa. However, guests at Barcelo Bavaro Beach are welcome to use the amenities of the neighboring hotel, so even if you're after a more secluded and intimate experience, you can still enjoy the best of both worlds.
As I mentioned before, Barcelo Bavaro Grand Resort is a huge complex and the rooms are spread among several buildings. The lobby and the restaurants at Barcelo Bavaro Palace are located in the main building and right next to it, you can find the fitness center and the spa.
Barcelo Bavaro Palace is located around the main building but since it features more than 1,400 rooms, depending on which room type you choose, your room can be a 5-10 minute walk from the lobby. Whereas if you're staying at Barcelo Bavaro Beach, you're looking at a 15-20 minute walk to get to your room from the main building.
If your room is at the back of the resort, you can take advantage of the Bavaro Express Train which is a complimentary shuttle service running roughly every 20 minutes. You can also opt for a golf cart which is more convenient but it does come with an additional charge.
We stayed at Barcelo Bavaro Palace so for the purpose of this review, I'll be focusing mainly on that property.
Arriving at Barcelo Bavaro Palace
Barcelo Bavaro Palace is located just a 20-minute drive away from the Punta Cana International Airport, which makes it easy to travel to and from. The resort is situated right on Bavaro Beach, so it is literally steps away from some of the most beautiful white-sand beaches in the world!
You can easily get to the resort by taxi or rental car from the airport, but for added convenience, the resort can also arrange a round-trip transfer to and from the airport.
Check-in begins at 3 pm, but they do have luggage storage and lounges to have a drink or relax in case you arrive early and your room is not yet ready. If you've booked a Premium Level room, you have access to the Premium lounge with exclusive concierge service as well.
When you arrive, simply make your way to the front desk and present your identification. The friendly staff is happy to welcome you and get you all checked in. You'll receive a bracelet which is the key to your room and then you can settle into your new home away from home. If you've opted for a Premium Level room, you'll also receive a complimentary bottle of rum upon arrival!
If arriving after hours, don't worry – there's a secure late-night check-in service to ensure that guests have access to their rooms around the clock.
Room Types
Whether you're looking for basic accommodation or a luxurious suite, Barcelo Bavaro Palace has something to suit your needs.
The first thing you need to decide is whether you want a premium level room or not. If you opt for a premium level room, you get access to exclusive amenities such as a 24-hour VIP room service, free Wi-Fi, exclusive toiletries, and a minibar, and you'll also get a bottle of Barcelo rum upon arrival.
However, what makes the premium level really stand out is the free and unlimited consumption at the a la carte restaurants. Just for this reason alone, I would strongly recommend getting a premium level room!
If you don't opt for the premium, you can choose from a superior room, a junior suite, or a family duplex, whereas the premium level rooms consist of an ocean front junior suite, and an ocean front suite.
Junior Suite Ocean Front Premium Level
During our stay, we stayed in a Junior Suite Ocean Front Premium Level which came with a large terrace and direct access to the beach. The room was spacious and it featured a large king-sized bed, a sofa bed, and a small working corner.
The bathroom was quite spacious too, featuring a tub and a separate shower. One thing to note about the bathroom tough is that it's not fully separated from the bedroom and the living area. Moreover, the toilet and the shower only have semi-transparent doors so if you're traveling with someone you don't feel entirely comfortable with, this might be a bit awkward.
My favorite part of the room was definitely the terrace and the hot tub, as it offered beautiful views of the Caribbean Sea. The terrace also comes with two chairs, so perfect for lounging and admiring the views.
Overall, the room was comfortable and it had all the necessary amenities one would need while on vacation.
Experiences
The resort offers a wide range of experiences for guests to enjoy, including relaxation, entertainment, and adventure.
Swimming Pools
The swimming pool area offers an array of facilities designed for both fun and relaxation. There are plenty of chaise lounges, hydrotherapy water jets, and other amenities such as poolside snacks and drinks available.
There are four swimming pools in total, including an adults-only pool and a semi-Olympic pool. The pools of the resort provide the perfect backdrop for a tropical Eden, surrounded by verdant palms and world-class beaches just next door.
When you need a break from the beach but still want to cool off by the water, one of the pools at Barcelo Bavaro Palace is sure to be what you're looking for.
Private Beaches
Bavaro Beach is widely considered to be one of the best beaches in the world due to its crystal-clear turquoise waters, white sand, and palm tree-lined shores. And as its name indicates, Barcelo Bavaro Palace is located right on its shores!
The long stretch of beach offers a variety of activities such as snorkeling, diving, and water sports. Visitors can also take a catamaran tour, go on a banana boat ride, or simply relax and soak up the sun on a beach chair.
The area in front of the hotel is reserved for hotel guests, though there are plenty of water sports and tour operators available on the shores of the beach.
Additionally, the beach is well-maintained and clean, with ample facilities such as showers and restrooms available. The hotel gets major perks simply for its location on Bavaro Beach. You can't beat it!
U-Spa
The onsite spa at Barcelo Bavaro Palace in Punta Cana offers a range of services that are designed to provide guests with relaxation and rejuvenation with incredible sea views. U-Spa offers a variety of treatments, including massages, facials, body wraps, and hydrotherapy.
There are also specialized treatments such as hot stone massages, aromatherapy massages, and reflexology. In addition to the treatments, the spa also offers a hydrotherapy circuit that includes a sauna, steam room, and hot and cold water pools.
Overall, the U-Spa at Barcelo Bavaro Palace provides a luxurious and tranquil escape for guests looking to relax and unwind. With its range of treatments, soothing ambiance, and attentive staff, it's the perfect place to escape the stresses of daily life and indulge in some much-needed pampering.
It's important to note though that services at U-Spa are not included in the all-inclusive room rates at the resort. The only thing that is included for premium guests is the hydrotherapy area for 45 minutes per day but it requires a prior reservation.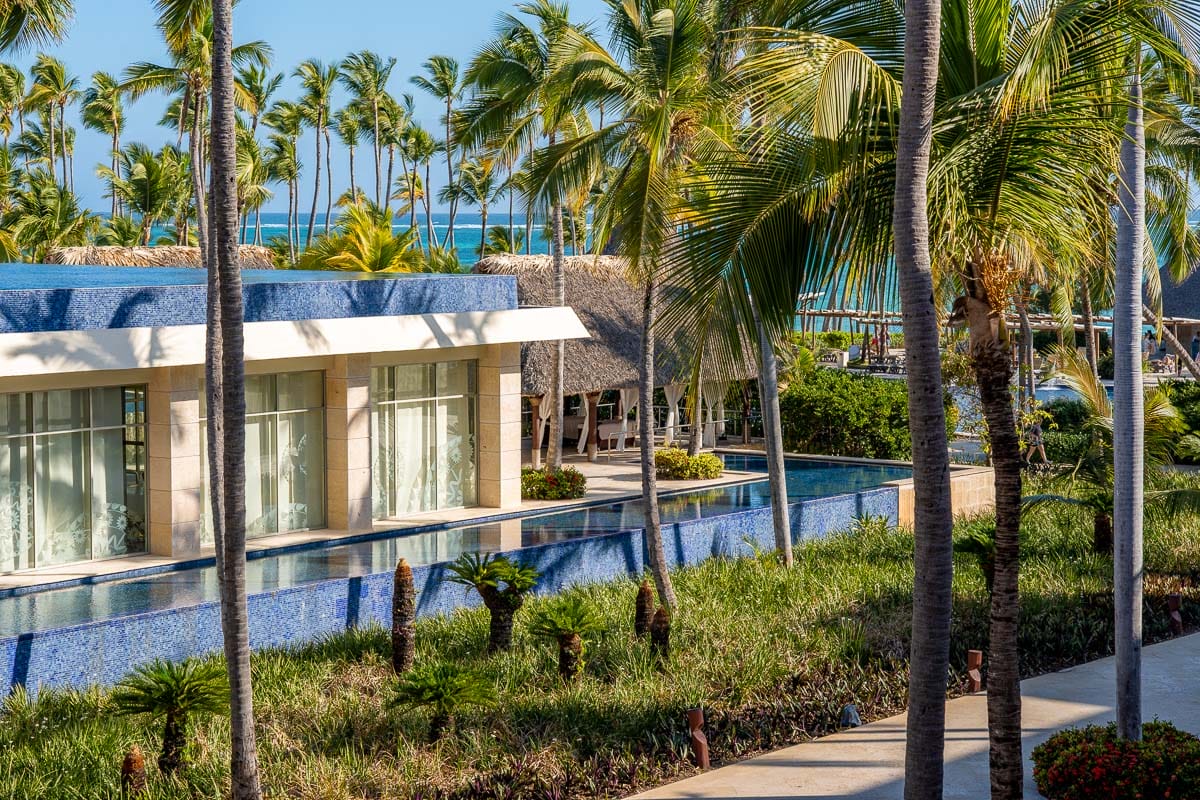 Fitness Studio
The fitness studio at Barcelo Bavaro Palace is a state-of-the-art facility that offers a wide range of equipment and amenities for guests who wish to stay active during their vacation.
The studio boasts advanced training equipment and resistance machines that are perfect for warming up, cardio exercises, cooling down, and stretching. Guests can find a variety of fitness equipment, such as treadmills, exercise bikes, and free weights, which will cater to their individual fitness goals and preferences.
The fitness studio also offers two innovative rooms for spin and yoga, which are great for guests who are looking to engage in more specialized fitness activities.
These rooms are equipped with top-of-the-line equipment and certified instructors that will provide an immersive workout experience. Guests can access a timetable of scheduled classes at the U-Spa reception.
Theater
Barcelo Bavaro Palace also has a variety of entertainment options for its guests. One of the most popular activities is the in-house theater which can house up to 1,400 people at once!
Here guests can enjoy a live performance with dancers, singers, and actors. There is a different show every night so you can experience something new every evening. The children's show starts at 8 pm while the general show starts at 10 pm.
The theater also has a bar on both levels, so guests can enjoy drinks while they watch the show. The waiters even provide service to the seats during the show!
Dining
With 11 specialty restaurants on site, Barcelo Bavaro Palace has something to satisfy any palate. You can choose from several buffet-style or a la carte restaurants offering a wide range of international cuisines such as Italian, French, Mexican, and Spanish.
Seven of the restaurants require a prior reservation for dinner and I recommend arranging this as soon as possible, otherwise, you might not be able to get a table at your desired time. Premium level guests have the possibility to make reservations before arrival by emailing the hotel. If you are not a premium guest, I suggest making the reservations at check-in.
The restaurants that require reservations also have a formal dress code, however, it's not that strict. The only rule is that men can't wear shorts and sandals and you can't enter restaurants in swimwear, but that's it.
Barcelo Bavaro Palace also features numerous bars and lounges where guests can enjoy tropical cocktails or a light snack.
For coffee lovers, I recommend visiting the Coffee, rum, and cigar lounge which is located near the main lobby. Unfortunately, it only opens at 4 pm which we found very strange as this is the only place that has an espresso machine.
A little trick we learned during our stay is that the staff at Carey Lobby Bar also has access to the espresso machine at the lounge as it's right next door. So if you need your caffeine fix during the day, you can also hit up the lobby bar and ask the bartenders nicely for an espresso-based drink.
As we stayed 6 nights at the resort, we got to try many different restaurants at Barcelo Bavaro Palace. Overall, the quality of the food was very good and there was plenty of variety.
I must say, I was a bit afraid before I arrived as all-inclusive hotels usually have subpar food, but that was not the case here. The dishes at the a la carte restaurants were presented nicely and tasted delicious!
Santa Fe Steakhouse
The Santa Fe Steakhouse at Barcelo Bavaro Palace is a Tex-Mex-inspired restaurant that offers a wide variety of grilled meats and Tex-Mex dishes. The restaurant's atmosphere is casual and vibrant, with colorful décor and occasional live music performances.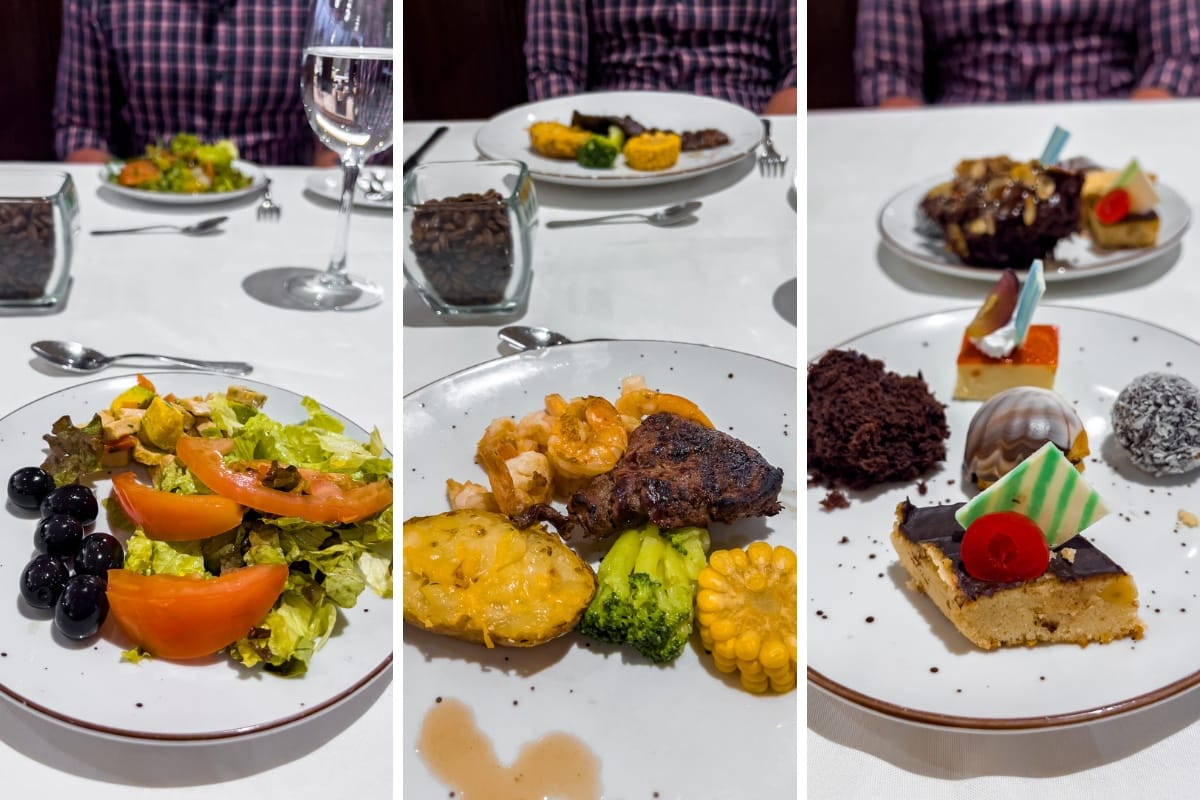 El Coral
El Coral offers a menu that features a variety of fresh seafood options, including shrimp, lobster, and fish. The restaurant also has a terrace that provides guests with amazing views of the Caribbean Sea.
If you are a premium level guest, you can also access El Coral for breakfast and lunch.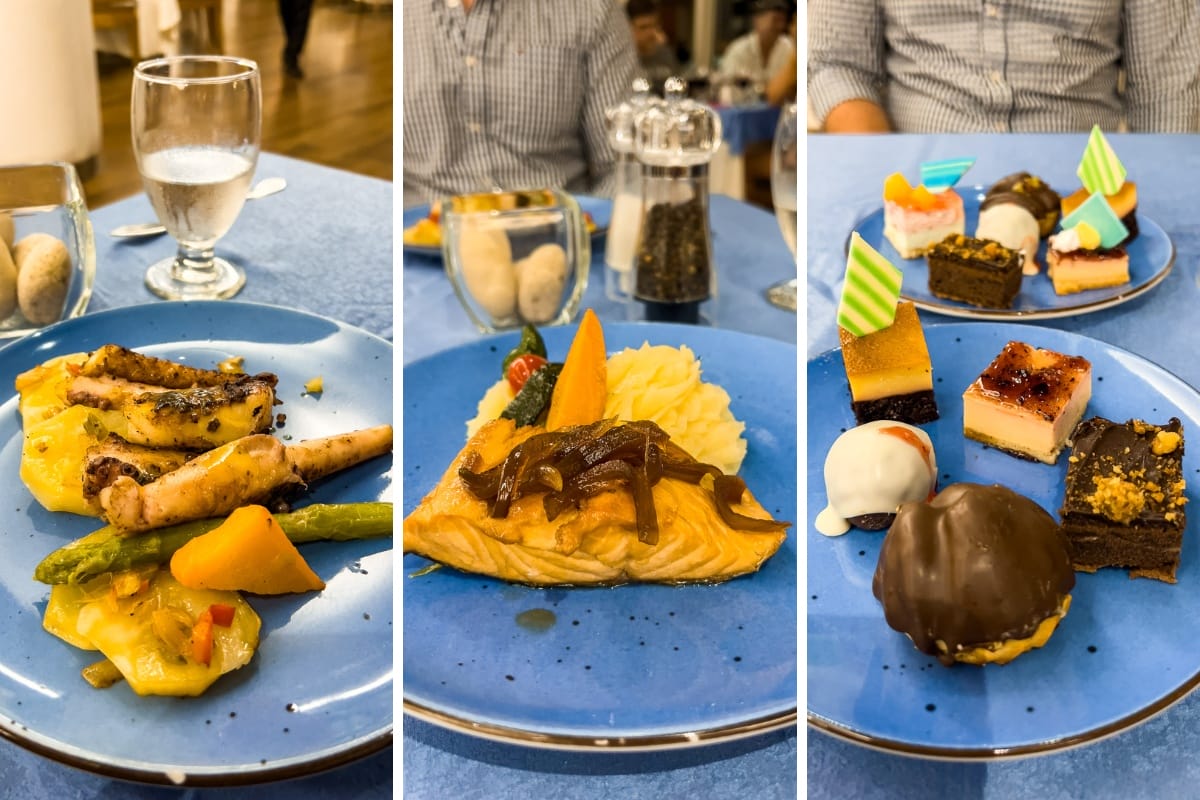 La Dolce Vita
If you're craving Italian, La Dolce Vita is a perfect choice. The menu boasts classic Italian dishes, including pasta, pizza, and seafood, prepared with high-quality ingredients. The restaurant features a modern and elegant atmosphere, with indoor and outdoor seating options available.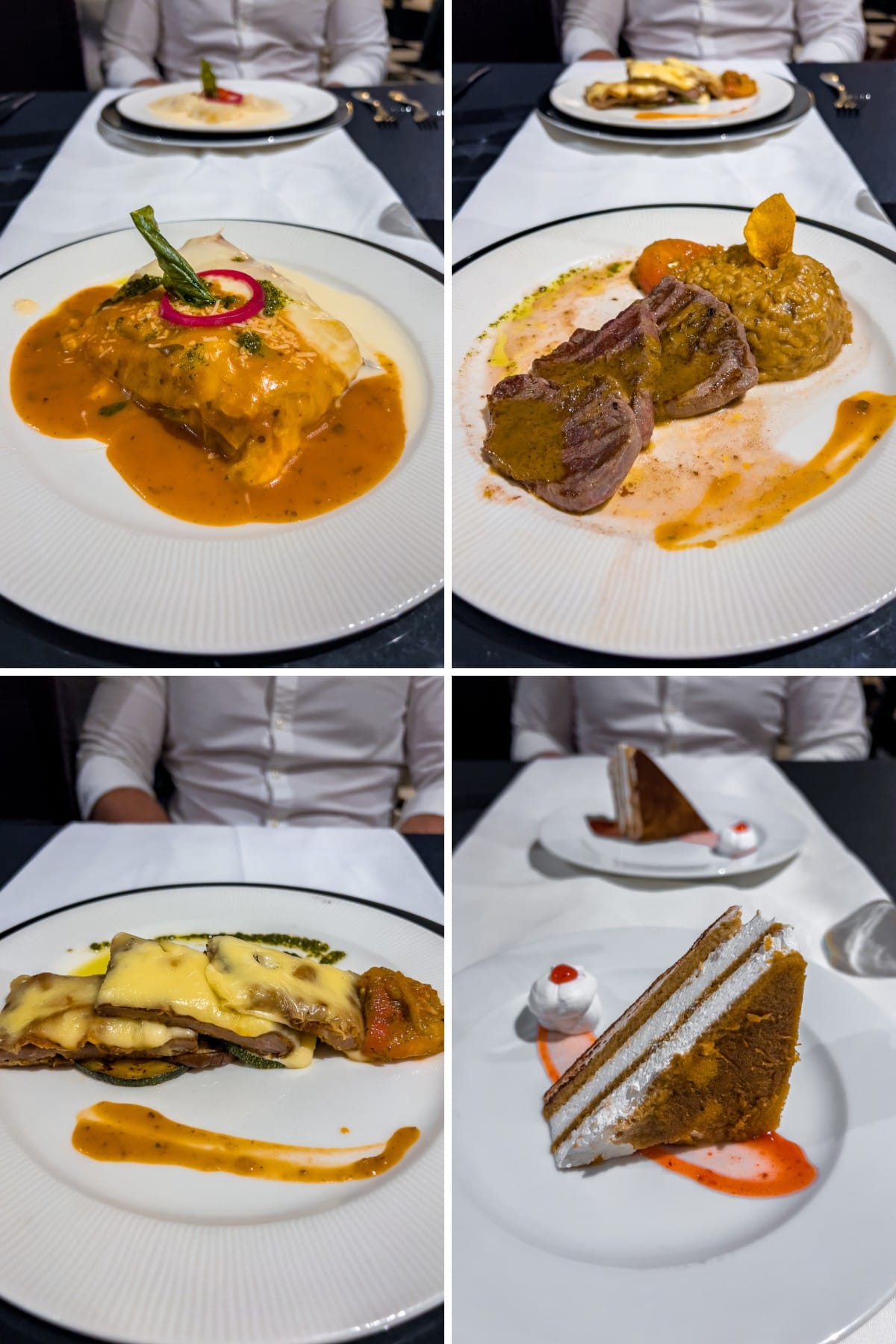 Kyoto
Kyoto was one of our favorite specialty restaurants at the resort. This Japanese restaurant offers a unique dining experience with dishes such as sushi, sashimi, tempura, and teppanyaki prepared by skilled chefs. The restaurant's ambiance is inspired by Japanese culture, providing guests with a fully immersive experience.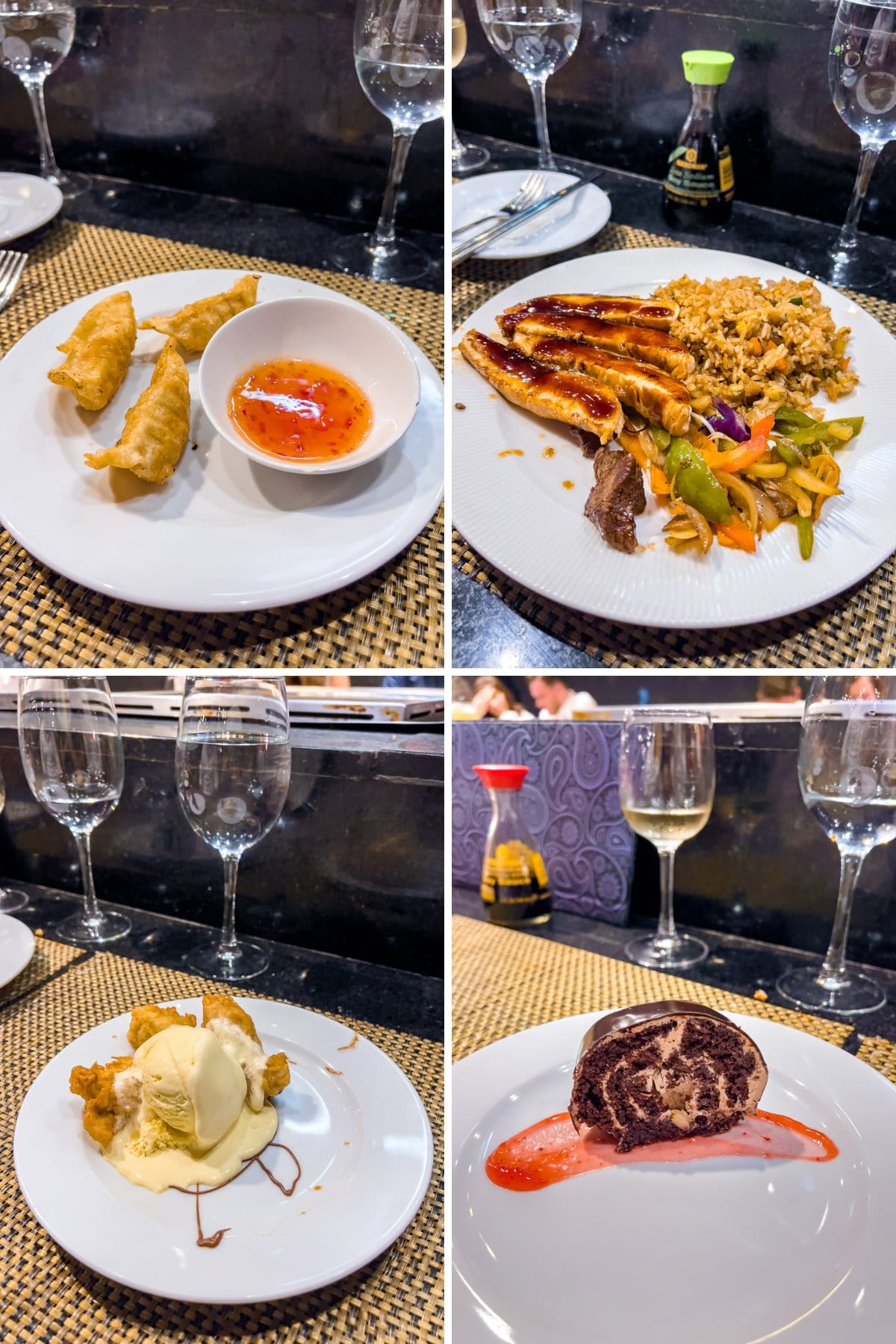 La Fuente
If you're craving tapas or paella, try La Fuente. This Basque-inspired restaurant offers an à la carte menu of traditional Spanish cuisine, with dishes such as paella, seafood, and tapas. The restaurant is decorated in a rustic style and has an outdoor terrace for al fresco dining.
La Comedie
La Comedie offers an elegant and sophisticated atmosphere, with a menu featuring classic French dishes such as foie gras, bouillabaisse, and duck confit. Guests can also enjoy an extensive wine list and live piano music. There is a supplement at La Comedie for non-premium level guests.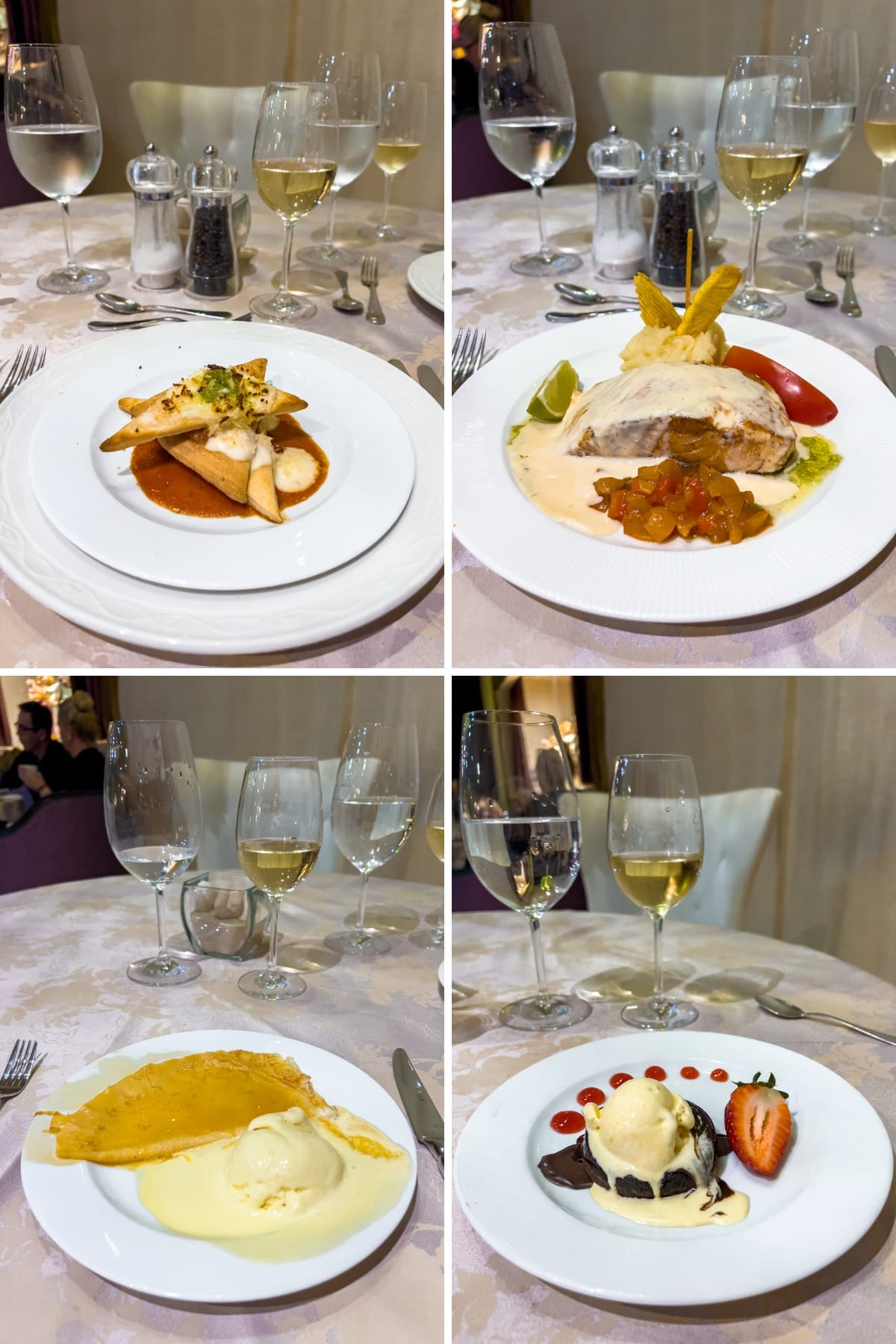 Final Thoughts
Overall, we had a great stay at Barcelo Bavaro Palace. The resort offers a wide variety of dining options, from casual buffets to gourmet specialty restaurants, giving guests plenty of options to choose from.
The staff at the resort were all very friendly and accommodating, making us feel like part of the family. We would definitely recommend staying here for a wonderful and relaxing vacation in the Dominican Republic!
---
What Camera Gear Do We Use?
If you want to read more about what is in our camera bag, check out my detailed post about our travel photography gear!
---
Pin It for Later!