Being one of the most famous lakes in Northern Italy, Lake Garda is definitely one of the best places to visit in Italy and it's a perfect travel destination for those who are looking for charming little towns, crystal clear waters, beautiful gardens, and tranquil scenery.
Looking for the best place to stay at Lake Garda? No need to look further! Grand Hotel Fasano will be a perfect base for your Lake Garda trip. Read along to know more about the hotel!
Disclosure: *This post contains a few affiliate links, which means I may receive a small commission, at no cost to you, if you make a purchase through my link. Please note that we were invited to stay at Grand Hotel Fasano, however, all thoughts and opinions are my own, as always.*
Basic Information
Arriving at Grand Hotel Fasano
Location
Located directly on the western shores of Lake Garda, Grand Hotel Fasano offers a relaxed atmosphere with incredible views over the lake. The building of the hotel was originally built as a hunting lodge for the Austrian imperial family and it got transformed into a luxury hotel in 1888.
Nowadays the hotel consists of two different buildings: the main building of the hotel and Villa Principe right next to it.
The hotel is located half a kilometer north of Gardone Riviera and Toscola-Maderno is only a 5-minute drive from the hotel as well, from where you can take boat trips across the lake.
You can find a few restaurants within walking distance from the hotel but since Grand Hotel Fasano features 3 restaurants on-site, you don't really need other dining options.
Check-in process
After arriving at Grand Hotel Fasano and parking our car in the huge parking lot, we entered the building and found ourselves in a beautifully decorated lobby. The staff took care of our bags and delivered them to our room while we completed the check-in process.
Since we were visiting in September 2020, the safety of the guests and the staff was a number one priority and in order to ensure that, the hotel introduced many special rules and measurements such as providing masks, hand sanitizers, and hand towels for every guest upon check-in.
Instead of the usual information book that you can find in hotels, we received a small card with a QR code that we could scan with our phone's camera, and then we could find all the important information online.
We also received a leaflet with different QR codes for the breakfast, restaurants, spa, etc. so there was no need to touch any physical menus, we could just see everything on our phones by scanning the QR codes. So smart!
After completing the check-in process, we were offered some delicious complimentary drinks and snacks on the terrace so we could immediately enjoy the beautiful views over the lake.
Once we finished it, one of the hotel employees escorted us to our room and explained everything we needed to know about the hotel.
Rooms & Suites
During our visit, we stayed in one of the deluxe double rooms on the third floor of the main hotel building.
Our room was elegant and spacious with beautiful earth tones featuring lots of ivory and creamy colors which gave the room a super cozy feeling.
Apart from the comfy king-sized bed, our room came with a flat-screen TV, a mini-bar with complimentary water, a wardrobe to store all our clothes, and a small table in the corner with two chairs.
The room was air-conditioned and it also featured a balcony with a beautiful panorama over the lake.
The marble bathroom was also beautifully designed and it consisted of a bathtub, a toilet, a bidet, and a washbasin with a huge mirror. Free toiletries and a hairdryer were provided, such as bathrobes and slippers.
Service & Facilities
Bar
The hotel features 3 different bars: the Gin Lounge, the La Terazza, and the Lobby. Each of them has a unique design but they have one thing in common: no matter which one you choose, they are all perfect for having an afternoon drink or relaxing a little bit before or after dinner.
La Terazza
As the name suggests, La Terazza is located on the terrace, right next to the lake. It features comfy sofas and lush green plants and it's open from 9 am until midnight.
Lobby
In case the weather is not so supportive, you can choose to have your afternoon drink in the Lobby which is open from 9 am until 1 am and it's the perfect place to sit down and enjoy a book or a newspaper.
Gin Lounge
The Gin Lounge with its incredible urban design and stylish furniture is one of the most iconic places in the hotel. It's open between 7 pm – 1 am and on top of its signature cocktails, you can also choose from 70 different types of gins and 30 different tonic waters.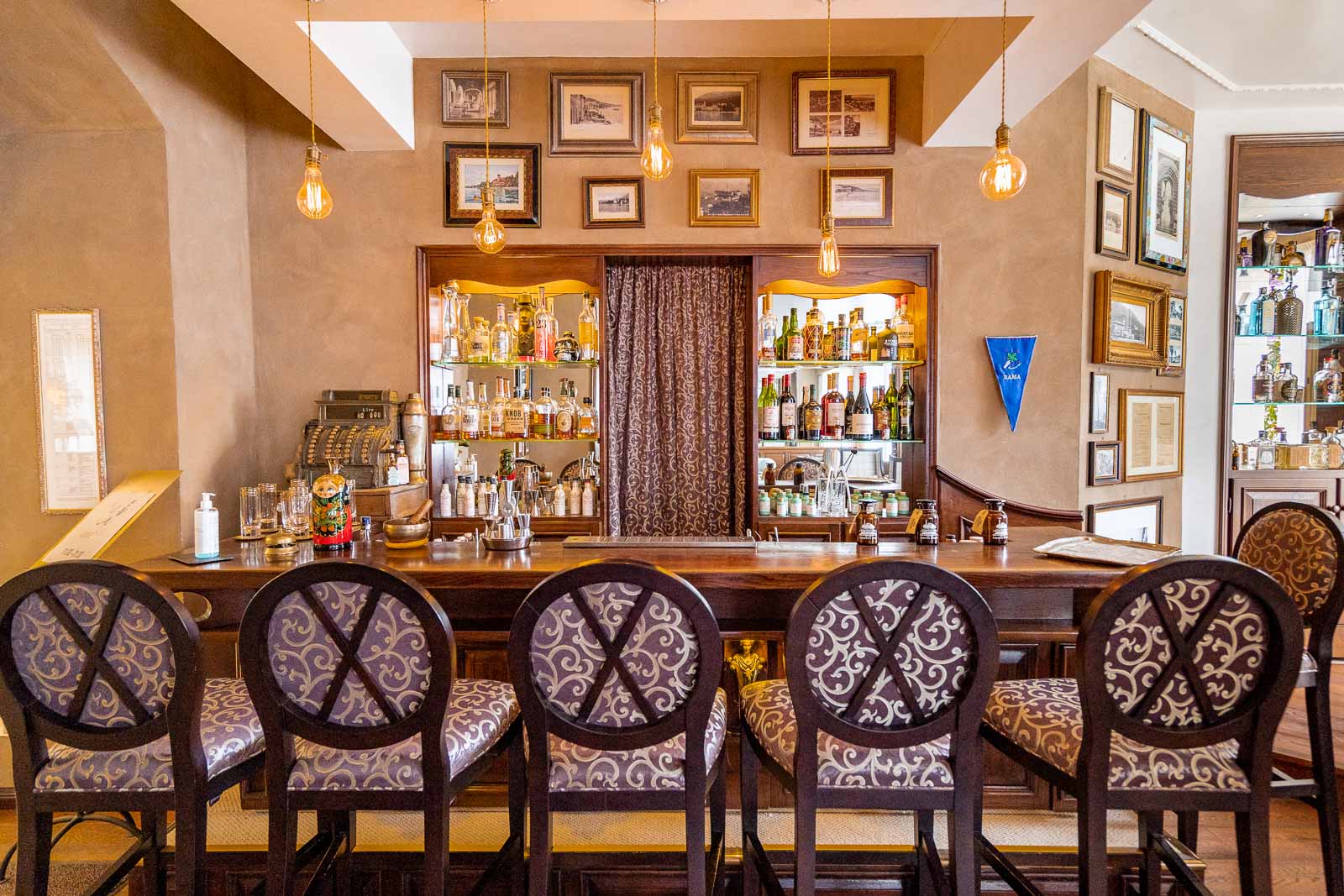 Wellness Center
One of the main features of the hotel is the new wellness center which was inspired by ancient Roman baths and includes an indoor swimming pool, a Turkish bath, a hot tub, three saunas, two steam rooms, and a well-equipped gym.
At the Aqva Spa, you can choose from several types of treatments and massages such as aroma massage, chakra balancing massage, or reflexology massage. I've had a 60-minute long aroma massage which was extremely relaxing and my masseur was amazing. It was the perfect start to my day!
Pool & Garden
Grand Hotel Fasano features a huge garden with rare botanical species and a heated outdoor pool. You can also have private access to the lake and the sun loungers, umbrellas, and beach towels are free to use for hotel guests.
It's possible to rent bikes, e-bikes, stand-up paddleboards, motorboats, and kayaks at the hotel and if you want something special, you can also have a luxury car experience by renting a sports car.
Dining
Breakfast
Complimentary breakfast was included in our package which took place on the ground floor in a dedicated room.
It was a buffet-style breakfast offering a wide selection of pastries, local hams, cheeses, fruits, vegetables, and cereals. Eggs are made to order and you can choose from various types of eggs such as fried eggs, scrambled eggs, or omelets.
Although the breakfast was buffet style since safety was the number one priority there was no self-service at the time we visited the hotel. Instead, you needed to stay in line and tell the staff what you would like to eat and they served you accordingly.
All the guests were seated on the open-air terrace where we could eat our delicious breakfast with an amazing view. Needless to say, we felt much safer this way and appreciated all the effort the hotel took just to make us feel safe!
Lunch/Dinner
The hotel has 4 different restaurants in total where you can have lunch or dinner. You can find 3 of them within the hotel premises and one (La Darsena) is located on the shores a little bit further down the road, within a 5-minute drive from the hotel.
Restaurant Il Fagiano: the main restaurant of the hotel serving excellent Mediterranean cuisine in a beautiful old-fashioned dining room
Ristorante Magnolia: the restaurant offers traditional Italian cuisine for lunch
Trattoria Il Pescatore: it specializes in fresh fish cooked using local recipes
La Darsena: the beach club of the hotel where you can taste some Italian classics such as pasta, pizza, or grilled meat and fish.
La Darsena
On our first night, we had a superb dinner at La Darsena, which is the shore club restaurant of the hotel. The restaurant has a huge outdoor dining area directly by the shores of the lake, shaded by chestnut trees where dinner gets served by candlelight.
I had a mosaic of raw and cooked autumn vegetables with vanilla oil and almonds as a starter, a lasagne with Monte Denervo cheese and porcini mushrooms as the main course, and a classic tiramisu for dessert, while my boyfriend trusted the chef completely and ordered the specials for each meal.
Every meal was incredibly delicious (especially the specials that my boyfriend ordered) and we had a really great night at the restaurant.
Il Fagiano
On the second night, we opted for dinner at Il Fagiano, which is the fine dining restaurant at Grand Hotel Fasano. Since the weather was really nice we were able to dine on the open-air terrace with amazing views over Lake Garda.
Right after we were seated, we received some pencil-shaped breadsticks (grissini) with olive oil and a glass of bubbly from the champagne trolley.
We had an a la carte menu to choose from and my boyfriend decided to have a cuttlefish seared with burrata, tuna bottarga, and tomatoes as a starter, while I went with glazed leek, garlic, and parsley cream.
For the main course, we ordered braised veal with tomato extract, potatoes, and Italian whiskey essence and pasta on eggplant cream and slightly fried buffalo mozzarella and we ended the dinner by having chocolate soufflé with vanilla ice cream.
The food was excellent (the past on eggplant cream is to die for) and the presentation of each meal was exceptional. The service was also amazing and all the staff members were extremely polite and knowledgeable.
We had a very nice evening and I can only recommend the restaurant to anyone who loves a fine dining experience!
Final Thoughts
We had the most amazing stay at Grand Hotel Fasano and enjoyed every moment of our stay. If you're planning to visit Lake Garda and you're looking for an amazing luxury hotel in a peaceful and tranquil setting with a beautiful view over the lake, Grand Hotel Fasano will be the perfect choice for you.
---
Related Posts
Want to read more about Italy?
---
Pin It for Later!