Are you looking for a luxurious, relaxing getaway in one of the most beautiful corners of the Caribbean? Look no further than Hilton La Romana! With its stunning ocean views, incredible experiences, and top-notch amenities, this hotel offers an unforgettable stay.
This resort is all-inclusive but went far beyond our expectations as there was very little fine print and nearly everything was included. The all-inclusive perks included things such as reservation-free dining at a myriad of a la carte restaurants, top-shelf spirits, room and concierge services, taxes and gratuities, Wi-Fi, theme parties, and nightly entertainment.
From onsite spa services to an abundance of water sports options – all your vacation dreams come true at this incredible destination. Keep reading our review to learn more about Hilton La Romana's unbeatable service and accommodations!
*Disclosure: This post contains a few affiliate links, which means I may receive a small commission, at no cost to you, if you make a purchase through my link. Please note that we were invited to stay at Hilton La Romana, however, all thoughts and opinions are my own, as always.*
Basic Information
Arriving at Hilton La Romana
Hilton La Romana is located on the southeastern coast of the Dominican Republic, right in front of the famous Bayahibe beach.
Punta Cana International Airport (PUJ) is the closest airport to the resort, situated 66 km (40 miles) away. The journey from the airport typically takes 1 hour and you can either rent a car, take a taxi, or arrange a private transfer to the hotel.
Alternatively, you can also fly to Santo Domingo Airport (SDQ) which is a little further away. In this case, you're looking at a 1.5-hour drive from the airport to the resort.
We would recommend arranging a private transfer to the hotel as it is more convenient, not to mention it's the safest option. Transekur is the official transportation partner of the hotel and offers transfers to/from both airports. You can either ask the hotel to arrange it for you or book online in advance.
If you're planning to rent a car, you'll be happy to hear that Hilton La Romana offers free parking without any prior reservation.
Regardless of how you arrive, the hotel's friendly staff will be there to greet and guide you to the check-in counter. If you book one of the Premium Club Suites as we did, you can take advantage of a personalized check-in service in the VIP lounge where you can also enjoy a welcome drink or grab a bite from the snack bar.
The entire process was hassle-free and our check-in experience was very pleasant. We also received a quick tour of the property before heading to our room which was a very nice touch.
Room types
Hilton La Romana is actually comprised of two separate hotels – the adults-only resort and the family-friendly one. We stayed at the adult resort but both properties have similar rooms so you can expect the same quality and amenities across the board.
Hilton La Romana's exquisite guest accommodations offer the perfect fusion of contemporary style, utmost privacy, and an extraordinary level of comfort. Every room is designed with spacious bathrooms, complimentary Wi-Fi access, a daily-stocked minibar, and 24/7 room service making it ideal for every kind of traveler.
What you need to decide first is whether you want to stay in a Deluxe or a Premium Club Room. The difference between the two is that the Premium Club offers extended amenities like private check-in, exclusive pool & beach access, exclusive breakfast and lunch restaurants, and more.
The Deluxe Rooms come with either a garden or a partial ocean view, while the Premium Club Rooms offer a garden, a pool, or a partial ocean view. Moreover, if you would like to add more luxury to your stay, you can also book one of the Premium Club Swim Out Rooms as we did!
Premium Club Swim Out King
We stayed in a Premium Club Swim Out Garden View King Room and it was the perfect spot for a romantic getaway.
The room was beautifully decorated with a modern touch and featured a king-sized bed, a spacious wardrobe, an LCD TV, and a sofa. The opulent bathroom had beautiful marble floors and a huge rain shower, as well as a variety of deluxe body products.
The minibar was stocked with all sorts of drinks and snacks and best of all – since it's an all-inclusive resort – it was completely free!
The highlight of our room was definitely the private terrace that opened up to a plunge pool and offered picturesque views of the exotic garden. It was really easy to unwind and relax in the privacy of our balcony, enjoying a glass of wine or a good book.
In addition to the obvious appeal of having your very own swim-out pool, there are plenty of perks that come along with booking one of the Premium Club Rooms.
Among the many premium amenities that are included are upgraded services, access to the VIP lounge with afternoon hors d'oeuvres and premium spirits, private beach access, personalized concierge service, a private pool with swim-up bar, plush terry cloth bathrobes and slippers, complimentary computer access, and a pillow menu.
Experiences
Nestled between a lush Dominican jungle and an eco-friendly beach, this pristine resort provides you with the perfect backdrop for any land or water adventure. With inclusive options ranging from windsurfing and kayaking to snorkeling and taking part in diving clinics – plus everything in between – there's something for everyone!
If you're looking to kick it up a notch (for an additional cost), the concierge is available 24/7 to assist in arranging fishing charters, boating excursions on open sea waters, and motorized water sports that are sure to make your vacation one of a kind!
Pools
As I mentioned previously, Hilton La Romana is separated into two different resorts – one is family-oriented whereas the one we stayed at is reserved for adults only.
The resorts have four pools in total, two located in the adult section, and the other two in the family one. Both sections have one pool for guests who have booked a Deluxe Room whereas the other is reserved for guests with Premium Club Rooms.
There isn't much of a difference between the pools beside the fact that the premium pools are far less crowded and have their own separate bar.
The two resorts are not physically separated so as an adult guest, you can use any of the four pools in both sections if you have a Premium Club Room or any of the two normal pools with a Deluxe Room. If you are traveling with your family but want some alone time, you can also use the adult pools as long as the kids are supervised elsewhere.
All pools have plenty of lounge chairs, umbrellas, and towels to use. The chairs are first come first serve so it's best to get there early if you want a prime spot. There are also cabanas to rent for an additional price if you want a more luxurious experience.
Adults-only pool
Premium adults-only pool
Family-friendly pool
Premium family-friendly pool
Private Romantic Corner
If you want to take your romantic getaway to the next level, you can also book the private romantic corner for a day. It's an exclusive area meant for couples to escape from the hustle and bustle of the hotel and enjoy some quality time together.
The corner includes a private pool, an inviting cabana located right by the sea, two lounge chairs, and a small table where you can enjoy some ice-cold drinks. You can also add a private lunch or dinner for two if you want to make it extra special.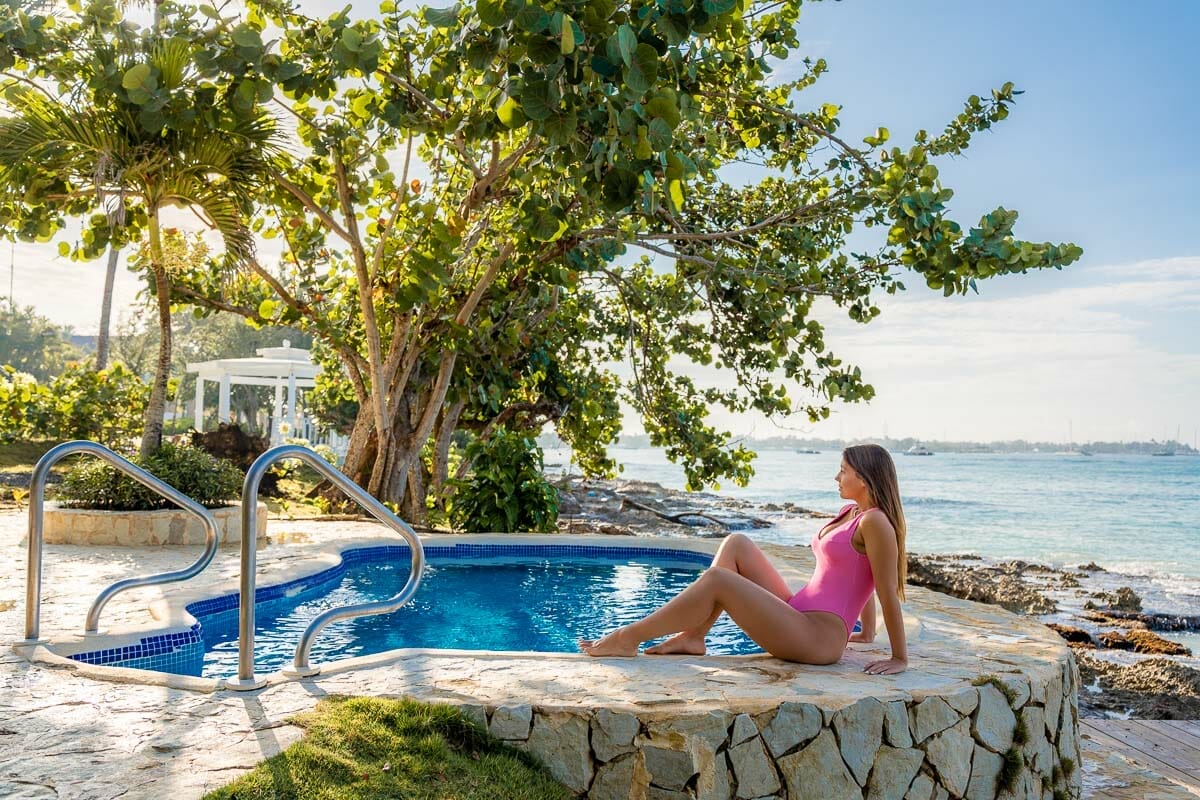 Beach
Similar to the pools at Hilton La Romana, their reserved beach is also separated into areas designated for guests who have booked deluxe versus premium rooms.
The private beach is far quieter and less crowded, offering a sublime sense of relaxation as you can bask on the soft, white sands in peace and utter tranquility.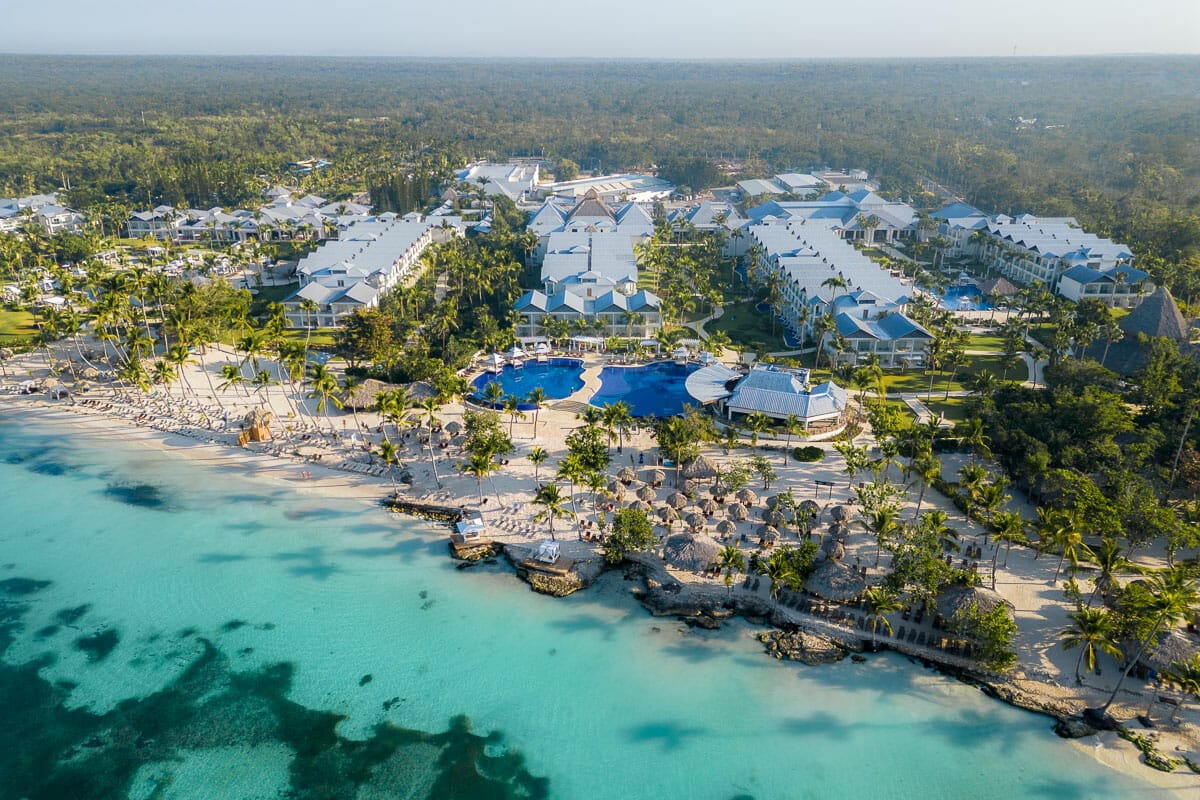 Drift Away Spa
If you're looking to pamper yourself, the Drift Away Spa is a great option. The spa offers a variety of massage and body treatments, as well as a full-service beauty salon.
Inside, you can also find several hydrotherapeutic areas, such as a sauna, steam room, and cold plunge. Plus, they have a spa shop where you can purchase the same specialty products used by experts.
During our stay, we opted for a one-hour couples massage and it was truly a blissful experience! The therapists and staff were all incredibly friendly and accommodating and we left feeling totally relaxed.
Best of all, we even received a glass of champagne after our treatment and we could take advantage of the beautiful outdoor garden complete with a plunge pool, a hot tub, and a waterfall. We could not have asked for a better spa experience!
Fitness Center
If you're looking to stay active during your vacation, there is a fitness center right next to the spa which is open every day.
We've been to our fair share of hotels all around the world and I must say, this was one of the best-equipped gyms we've ever seen! The gym has all the latest equipment and machines, as well as free weights and yoga mats.
The variety of equipment ensures that you can get a full body workout and is perfect for both beginners and experts.
Waterpark
The resort also has a waterpark that the whole family can enjoy. It's located right at the entrance of the hotel and access is included in the price of your stay.
The waterpark features pools, white-knuckle tube slides, a lazy river, and a splash zone with mini waterslides. It's perfect for a fun-filled day and is sure to be a highlight of your trip!
Dining
When it comes to dining at Hilton La Romana, you will be spoiled for choices. The resort features a myriad of restaurants, ranging from gourmet a la carte to casual poolside grills.
Here's an overview of the different restaurants on the adults property.
Caoba: Buffet-style restaurant serving up a variety of international cuisines. Open for breakfast, lunch, and dinner.
Noor: A modern, Mediterranean-style a la carte restaurant featuring flavors from around the world. Open for breakfast, lunch, and dinner, but breakfast and lunch hours are reserved for premium guests only.
Mare Grill & Restaurant: A la carte seafood restaurant with an outdoor terrace in a quiet, seaside setting. Open for dinner only.
Sakura: A Pan-Asian a la carte restaurant with an incredible teppanyaki show. Open for dinner only.
Chinola: Serving authentic Dominican cuisine in a casual ourdoor setting by the beach. Open for dinner only.
Guests of the adults-only resort also have access to the different restaurants on the family-friendly side.
Spices Market: An open kitchen buffet-style restaurant serving up international dishes. Open for breakfast, lunch, and dinner.
The Grill: A beautiful oceanfront restaurant serving up grilled specialties. Open for breakfast, lunch, and dinner, but breakfast and lunch hours are reserved for premium guests only.
Moustache: An elegant gourmet French restaurant serving up classic dishes. Open for dinner only.
Azzurri: An Italian a la carte restaurant, open for dinner only.
Ausangate: A casual Peruvian bistro serving up flavorful South American dishes. Open for dinner only.
Pizzeria: A laid-back Italian pizzeria located right by the pool. Open for lunch only.
As an adult, you can also enjoy a selection of bars across the resort including the Las Palmas Swim-Up Bar, On the Rocks, and 18° 68° Lobby Bar.
When it comes to coffee, there are two coffee shops on the property: Aroma Cafe on the adults-only side and Tres Hermanas on the family-friendly side. Both offer a selection of freshly brewed hot drinks as well as tasty pastries.
If you are a coffee lover, I recommend having your daily cup of joe in one of these cafes instead of ordering a coffee at breakfast. Apart from these two places, none of the restaurants have an espresso machine so you won't get that perfect cup of coffee.
Our dining experience
As we stayed 3 nights at the resort, we got to sample three different restaurants for dinner.
On our first night, we picked Azzurri for Italian. We had high hopes for this place as Italian is one of my favorite types of cuisine, however, we were a bit disappointed. We tried two different pasta dishes and two desserts, but none of them really lived up to our expectations. The service was also not the best so it wasn't a very enjoyable experience.
For the second night, we had a private dinner experience reserved just for the two of us. Our table was set up right by the ocean on a wooden pier and it was absolutely stunning! We had a 5-course menu that was cooked to perfection and the service was excellent. It was definitely the most romantic experience during our stay!
On our last night, we chose to dine at Sakura. We had heard great things about the teppanyaki show but unfortunately we didn't get to see it as it required a separate reservation. However, the food was absolutely amazing so it was worth the visit even without the show.
Do yourself a favor and order the Bento Box as a starter – you will thank me later! The mains and the desserts were also fantastic, so definitely go here if you are looking for a good Asian dinner.
Final Thoughts
Staying at Hilton La Romana was a pleasure and quite an experience. From its incredible view of the beach to its luxurious amenities, this hotel was truly paradise. With world-class spa treatments and private beach access to their poolside activities and waterpark, we were never left wanting for more.
Whether you're looking for a peaceful and romantic getaway or an all-out family vacation, this resort has something for everyone. If you're looking for a luxurious and memorable experience, Hilton La Romana is definitely worth considering.
---
Pin It for Later!