With its photogenic windmills, golden beaches and romantic sunset spots, Mykonos is undoubtedly one of the most beautiful Greek islands. Known for its ocean fresh seafood and vibrant party scene, your mind will also be blown by the phenomenal accommodation that the island offers.
There are countless hotels in Mykonos with private pool which add that little something extra that will make your Mediterranean trip all the more unforgettable. Let's dive in and find the best Mykonos private pool villa or suite for you!
*Disclosure: This post contains a few affiliate links, which means I may receive a small commission, at no cost to you, if you make a purchase through my link.*
No time to read now? Pin it for later!
Overview of the Best Mykonos Hotels with Private Pool
If you're traveling to Greece during the summer, you can expect the weather to hover around 30°C (86°F). So after a day of exploring the sights of the island, you'll relish the opportunity to plunge into a refreshing pool – even more so if it's one you don't have to share!
Whether you want to splurge on a Mykonos hotel with cave pool or a magical infinity pool exclusively for yourself and your loved one, my list will have the perfect property for you.
MY TOP 5 PICKS FOR THE BEST HOTELS IN MYKONOS WITH PRIVATE POOL
Keep reading to know more about each hotel and to find some more amazing hotels in Mykonos with private pool to choose from!
Best Hotels in Mykonos with Private Pool
1. Cavo Tagoo Mykonos
Location: Mykonos Town
Price range: $$$
Conveniently located in Mykonos Town which is one of the best areas to stay in Mykonos, the 5-star Cavo Tagoo features an epic infinity pool with a 40-meter aquarium bar. There is also a fully-equipped spa featuring an indoor pool as well as a restaurant where you can savor local gastronomy.
Suites and villas are tastefully prepared in a minimalist style; many feature a spa bath and a select number come with a private pool. The exquisite Cave Pool Suite features its own personal pool carved into the cave from which you can gaze far out to that mythological sea in total privacy.
This desirable and extremely Instagrammable Mykonos hotel with cave pool will ensure that your stay on the island is utterly unique.
Guest review: "Cavo Tagoo is the best hotel I have ever met. The pool is amazing and also the staff. Everything was perfect. Thanks Cavo Tagoo. We will be back soon."– Lívia, October 2018
2. Bill & Coo Coast Suites & Lounge – The Leading Hotels of the World
Location: Agios Ioannis
Price range: $$$
Situated directly on the beach of Agios Ioannis, the 5-star Bill & Coo Coast Suites & Lounge entices with its sea-view suites and villas and a shared infinity pool that provides stellar views of the sea.
There are three award-winning restaurants and bars on site as well as a spa. Basically, once you check-in, you'll never want to leave the place!
This Mykonos hotel with an infinity pool features a selection of honeymoon suites that offer total seclusion. Some come with a hot tub while others have a splash pool.
Alternatively, you can book one of the one-bedroom villas that are located a short drive from the main complex. These are fitted with private outdoor swimming pools that capture the full radiance of the Mediterranean sun.
Bill & Coo is the dreamiest getaway for honeymooners or those celebrating a special occasion.
Guest review: "I spent 3 nights at Bill and Coo and was so well taken care of. The staff were kind and professional from management, bar, restaurant, spa and I really enjoyed my time here. Thank you to all the staff."– Liz, October 2019
3. The Ammonite Resort
Location: Super Paradise Beach
Price range: $
The Amomminite Resort is an adults-only, 4-star hotel located in the south of the island. It's cushioned between some of the island's softest and sandiest beaches so it's ideal for beach lovers and water babies!
Each room at the hotel comes with a terrace that provides a sea view. The interiors are immaculately designed in a minimalist style and include all the amenities you'll need to feel at home during your Mykonos vacation. The most luxurious rooms have a private pool that is a particularly generous size especially considering the hotel rate.
The Ammonite is one of the best budget Mykonos hotels with private pool for couples, friends, and solo travelers alike.
Guest review: "Perfect location for those who seek relaxation in a quiet/private place with sea view close to Chora. The establishment is new with quality commodities and attention to detail. Delicious breakfast served in the room. Hospitality and positive energy from the people owing the place will make you come again."– Pavlos, September 2019
4. Mykonos Bay Resort & Villas
Location: Mykonos Town
Price range: $$
This beachfront villa is constructed right on the sandy and quiet Megali Ammos beach, a stone's throw from the island capital. Everything at the property is gleaming white, from the cutlery at breakfast to the furnishings and the pool ornaments.
There is a wide variety of rooms and suites available to suit all budgets. If you're seeking a Mykonos private pool villa then the most luxurious option available is the Private Luxury Art Suite which comes with both an outdoor hot tub and a private splash pool that looks out to sea.
Mykonos Bay Resort & Villas feature a communal swimming pool and an on site restaurant for guests to enjoy. The hotel provides a complimentary shuttle bus to and from the port/airport upon arrival and departure so be sure to request that at the time of booking.
Guest review: "Love this property, the best in Greece for us!!! The staff were so accommodating that it made our stay even more wonderful. The location of the property is perfect a close walk to the Mykonos town and has a perfect beach right at the property. It's a beautifully designed property…A must stay when at Mykonos!"– Harshal, September 2018
5. Mykonos Bliss
Location: Kalo Livadi
Price range: $$
This adult-only Mykonos hotel with infinity pool offers a full portfolio of economical rooms as well as honeymoon and superior suites with private splash pools or hot tubs.
Rooms are deftly designed to emphasize your comfort and feature handcrafted fixtures. You can also do some laps in the communal pool which overlooks the endless Aegean Sea and cradle a refreshing drink from the all-day bar.
While the hotel itself prides itself on its tranquility, the beach town of Kalo Livadi is one of the liveliest on the island. This is a great spot if you want to indulge in the restaurant or party culture of the island. If not, you can enjoy handheld walks along one of the longest beaches Mykonos has to offer.
Guest review: "Beautifully located apartments with a breath taking scenery!!! We have to add something about food there, it is absolutely amazing. Best regards to the chef!"– Lukasz, September 2020
6. The Wild by Interni
Location: Kalafatis
Price range: $$$
Simple yet beautiful, posh but wild, this stunning beachfront hotel is built on a cliff over a private bay near Kalafatis Beach. Rustic chic rooms integrate luxury with authenticity, utilizing handmade techniques and natural fibers.
Panoramic windows open out to your private plunge pool from which you are treated to a sweeping view of the glittering Aegean Sea.
In addition to your private pool, the property boasts an expansive swimming pool that overlooks the hotel's private beach. You can round off a day in the sunshine sampling the cuisine of the Cycladic islands at the property's taverna.
The hotel offers a free shuttle service from and to the island's airport and port.
The Wild by Interni is one of the top-rated hotels in Mykonos with private pool to whisk your other half away to and will not fail to impress you.
Guest review: "The staff are fantastic. Personable, attentive (but not intrusive) and they add to a wonderful atmosphere. The beach is absolutely stunning – crystal clear water. The view from the pool is unrivalled. It was the first stop on our honeymoon and we loved it."– Rory, October 2020
7. Amazon Mykonos Resort & Spa
Location: Agios Ioannis
Price range: $$
Named for the fearsome female warriors of Ancient Greece, this stylish resort with an infinity pool is brand new to the Mykonos hotel scene. Rooms and suites are decorated in neutral hues and designed to make full use of natural light.
The most glamorous units come with either a private whirlpool or pool that looks out to the azure ocean. Perfect for couples, the rose-colored Executive Sea View Suite comes with a stunning infinity pool and free standing bathtub.
On site you will find a pool bar and restaurant that serves Greek-Mediterranean and Japanese dishes beneath the night sky. There is also a spa where you can experience a traditional hammam or book a relaxing treatment.
This Mykonos hotel with infinity pool is located near the sun-dappled Agios Ioannis beach, one of the most charming on the island.
Guest review: "The Hotel and the rooms are brand new, and we were literally the very first guests to stay in the suite. It all went smooth from the very beginning. Sotiris, a very friendly driver was waiting for us at the airport and as soon as we arrived at the Hotel, we were greeted by a very welcoming porter. The pool is huge and it is the best place to view the sunset from, while enjoying some cocktails from the cocktail list." – Nikos, January 2021
8. Mykonos Soul Luxury Suites
Location: Agios Stefanos
Price range: $$
Exclusively for adults, these Mykonos suites with private pool are superb for couples who want to escape into solitude. Units are bright, airy and modern, and equipped with amenities such as a coffee machine and a television.
Interiors draw on the essence of nature to create a rejuvenating space, you can even request a bamboo pillow for a soundless night of sleep.
French windows open out to your personal patio where your daily breakfast will be served. Plunge into your private pool and you can drink in views of the Aegean Sea. Grab a sun lounger by the communal pool and you can sit back and sip a signature cocktail from the hotel's bar.
Located only a 10-minute drive from Mykonos Town, Agios Stefanos is a popular beach town beloved by island visitors.
Guest review: "Amazing experience! A good hotel is not made just of a beautiful space, super comfortable room or a beautiful private infinity pool facing the sea…every single person working at Mykonos Soul Suites made our experience a special one! Thanks to everyone."– Gonçalo, September 2019
9. Kensho Ornos
Location: Ornos
Price range: $$$
Fusing contemporary luxury with traditional Cycladic touches, the 5-star Kensho Ornos offers a selection of sophisticated rooms with state-of-the-art amenities. Each one is designed uniquely to evoke all five senses. Most rooms and suites feature a private hot tub while others have a dipping pool.
The on site Cave Spa invites you to relax in the cave jacuzzi or rejuvenate with a massage or beauty treatment. There is also a large communal pool and an upscale bar where you can cycle your way through signature cocktails with ambient music in the background.
A free transfer to and from the town is provided for all guests. With no stone left unturned, this is my top-rated luxury Mykonos hotel with private pool.
The village of Ornos is situated on a narrow isthmus between two attractive beaches which offer excellent swimming and kitesurfing conditions.
Guest review: "How to rate your stay in Kensho? Only 10/10. In the hotel they have every detail refined. From the first moment you feel like a family, not like a hotel guest. Staff at the highest level, the food is delicious, the views are fantastic, the rooms have a divine design, a heated swimming pool, access from the apartment directly to the pool. The hotel has so many advantages that I have forgot something. Now I can't wait for the next arrival in Kensho!"– Dorota, October 2019
10. Archipelagos Hotel – Small Luxury Hotels of the World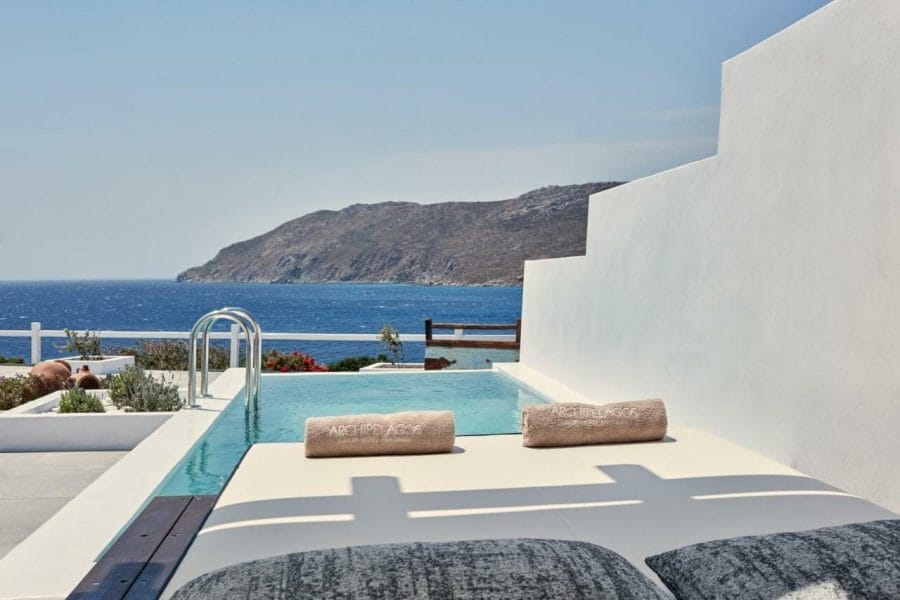 Location: Kalo Livadi
Price range: $$
The 5-star Archipelagos Hotel is one of the most affordable luxury hotels in Mykonos. Architecturally speaking, the hotel draws inspiration from traditional Cycladic styles yet it's fully equipped with world-class modern amenities and furnishings.
The majority of the rooms and suites provide a direct view of the ocean and a couple come with a private jacuzzi. For the most luxurious experience book the Signature Suite Sea View with Private Pool.
This Mykonos hotel with private pool is located in the southeast of the island, 300 meters (1,000 feet) away from the pristine Kalo Livadi beach.
Guest review: "The best breakfast & food we ever had, anywhere. The staff were so welcoming and friendly and extremely helpful. The hotel next to Kalo Livadi beach just 20-25 minutes drive from the port and just 10 from the village, so it was quiet and peaceful to enjoy everything one needs. There were amazing views of the sunset over the hotel pool which you could enjoy with a drink sat outside the pool area. I would highly recommend Archipelagos Hotel, a true Small Luxury Hotels experience."– Gervaas, September 2018
11. Grand Beach Hotel
Location: Mykonos Town
Price range: $
With its seawater swim space, kids' paddling pool, poolside bar, and on-site gym, the Grand Beach Hotel is a fantastic all-rounder hotel for families, couples, and solo travelers.
Past guests have been particularly impressed by the quality of the breakfast here and the efforts the hotel makes towards reducing its carbon footprint.
Some of the rooms feature a view of the iconic windmills of Mykonos while others come with an expansive private pool. Want the view and the pool? Then book the modish Executive Suite with Private Pool and you'll be in your element! This can accommodate up to three guests and also includes an inviting spa bath.
Located in the heart of Mykonos Town, this affordable Mykonos private pool hotel is in a strategic position for first time visitors to explore the island attractions.
Guest review: "The location was great, being very close to the beach and the town of Naxos. The hotel staff were very helpful and the room was great value for money."– Deborah, August 2019
12. Mykonos Dream Villas
Location: Ftelia
Price range: $
Suites at Mykonos Dream Villas are curated with a harmonious blend of stone, marble, and wood that give the place a real homely touch. They are consciously kitted out with antique pieces, paintings, silk curtains, and plush armchairs. The exposed white-washed walls add a rustic charm.
There is one five-bedroom villa available at the property which accommodates 11 guests. So this is one of the best Mykonos villas with private pool for large family groups or traveling friends.
The property is located by the unspoiled Ftelia Beach, a firm favorite for local and visiting windsurfers. This is a particularly quiet part of the island which makes it ideal for families or anyone seeking some solitude.
At the same time, it's only a short drive to Mykonos Town for when you do fancy mingling with other tourists. Ask at reception if you require a babysitting/childminding service.
Guest review: "Anastasia the hostess was simply amazing. Made us feel comfortable from arrival – leave. It's a nice secluded place, very spacious and very stylish. Loved everything about it, we will definitely come back." – Ilias, August 2019
13. Myconian Ambassador Relais & Chateaux
Location: Platis Gialos
Price range: $$$
Tucked away in the southwest of the island away from the party pulse of Mykonos Town, this 5-star hotel provides luxury that's in keeping with the spirit of the island.
These Mykonos suites with private pool give you the option of either a hot tub or plunge pool that provides a view of the azure ocean. There are a variety of units available that will accommodate vacationing couples and honeymooners, and for larger families, there is a villa that sleeps five guests.
The Myconian Ambassador offers a selection of restaurants on site to choose from. You can start your day with a fresh breakfast at Latitudes and enjoy a light poolside meal or drinks from George's Bar. As the afternoon drifts into evening, grab a sundowner cocktail or experience a candlelit dinner at Efisia Restaurant.
Guest review: "An amazing place, with amazing stuff, and mostly great views. The room was spacious, hot tub was great. The breakfast (included in the price) was the best I have ever had, served next to the pool. The stuff serving us during breakfast and pool hours are the most helpful people I have ever met in a resort. Very highly recommend it!"– Georgios, July 2019
14. Myconian Kyma – Design Hotels
Location: Mykonos Town
Price range: $$$
The Myconian Kyma is a member of the same family as the Myconian Ambassador, which provides a fleet of luxury hotels in Mykonos with private pool.
Set on top of the famous Mykonian hill in Mykonos Town, the hotel is at the perfect vantage point for taking in a panoramic view of the crystalline Aegean Sea and those famous windmills.
Neither too trendy nor too traditional, the hotel hits the right note between laid-back luxury and meticulous attention to detail. The complex comprises a tumble of gardens which add to the beauty of the hotel. You can choose between a room with a private outdoor hot tub or your own private pool.
Guest review: "The hotel looks way better in reality than in the pictures online. The three hotels in one complex mean you gain access to three pool resort areas which is a great bonus. The staff couldn't be more genuinely helpful and friendly. The service was the best part of our hotel experience."– Simon, August 2019
15. Arcs Boutique Villa Hotel
Location: Mykonos Town
Price range: $/$$$
Located in the island capital, these Mykonos villas with private pool satisfy the budgets and space requirements of all travelers. There are a couple of cozy units that provide a private jacuzzi on your private balcony.
At the upper end, you can take your pick from villas that accommodate up to four guests and come with generous private pools that provide an ocean view. Some units also provide self-catering facilities in the form of a private kitchenette.
The rate includes daily breakfast and there is a bar on site where you can quench your thirst under the beaming Greek sun. The Arcs Boutique Villa Hotel provides a sensuous sanctuary that provides the feeling of being remote yet they are handily located a short drive from the attractions and amenities of Mykonos Town.
Guest review: "The room was clean, modern and well furnished. Staff were pleasant and helpful. Excellent breakfast. Perfect for couples. Best relaxation time."– Eremia, September 2020
Final Thoughts
And that concludes my list of the 15 best hotels in Mykonos with private pools. As my round-up shows, the island offers a wide variety of accommodation styles and there is something for all types of travelers.
If you have any questions about traveling to Mykonos or where to stay on the island, feel free to drop a comment below or send me an email. I'll do my best to help you plan your own trip to this heavenly island!
xoxo, Kriszti
---
Related Posts
Want to read more about Mykonos?
---
More Greek Islands Resources
Do you want to read even more about the Greek islands? Check out these awesome books and travel guides for more inspiration!
---
Pin It for Later!