Mykonos is undoubtedly one of the most beautiful islands in Greece, most well-known for its beaches and parties. However, it's also filled with many great towns worth exploring and history worth learning about.
You can also find many significant landmarks around the island like the famous windmills, which are a beautiful spot to watch the sunset in Mykonos.
While you may think you need longer, 3 days in Mykonos is actually the ideal amount of time for visiting this beautiful island. During this time you'll be able to visit the top attractions and also immerse yourself in the culture of Mykonos.
Hopefully, this 3 day Mykonos itinerary will help save you time when you're planning your first (or next) trip to this scenic island!
*Disclosure: This post contains a few affiliate links, which means I may receive a small commission, at no cost to you, if you make a purchase through my link.*
No time to read now? Pin it for later!
Useful Info for Visiting Mykonos
How to get to Mykonos
Flying to Mykonos
Although Mykonos is a small island, it does have its own airport so the easiest option to get to Mykonos is to book a flight. Mykonos International Airport is located 4 km (2.5 miles) from Mykonos Town and you can find direct flights from almost any major European city. In case you're traveling from overseas, you must get a connecting flight to Athens or another European city that operates a direct flight to Mykonos.
Taking a ferry to Mykonos
Another option is taking a ferry to Mykonos which is the best choice if you want to spend a few days in Athens or visit other Greek islands as well, such as Santorini, Naxos, or Paros.
It takes around 2.5 hours to reach Mykonos from Athens on a high-speed ferry while it will take around 4.5-5.5 hours if you choose a regular ferry. The slower the ferry the cheaper the price, so it can be a great solution for budget travelers.
Usually, there are more ferry operator companies on the same route with various prices and duration. You can use the below search box to compare ferries and check the schedules. If you're traveling during the summer months, make sure to book your tickets well in advance!
Best time to visit Mykonos
While Mykonos is gorgeous no matter the time of year, arguably the best time to spend 3 days in Mykonos is during the fall months of September and October. The island still has great weather during this period but it's nowhere near as busy as it is in the summer.
Hotel and other accommodation rates are a lot lower during this time too so it's great news for budget travelers. Similar to fall, spring (April and May) offers affordable prices, great weather, and not many tourists.
The most popular time to visit Mykonos is during the summer. However, this is the most expensive time of year to visit, and you may even have trouble booking accommodation if you don't book far enough in advance.
During this time, the weather can also get quite hot on the island, which is something to consider, especially if you want to do a lot of hikes and sightseeing.
Winter is considered the off-season in Mykonos, so you can expect low prices and few tourists. The weather is still enjoyable, however, this time of the year sees the most rainfall so it's important to pack some rain jackets and umbrellas.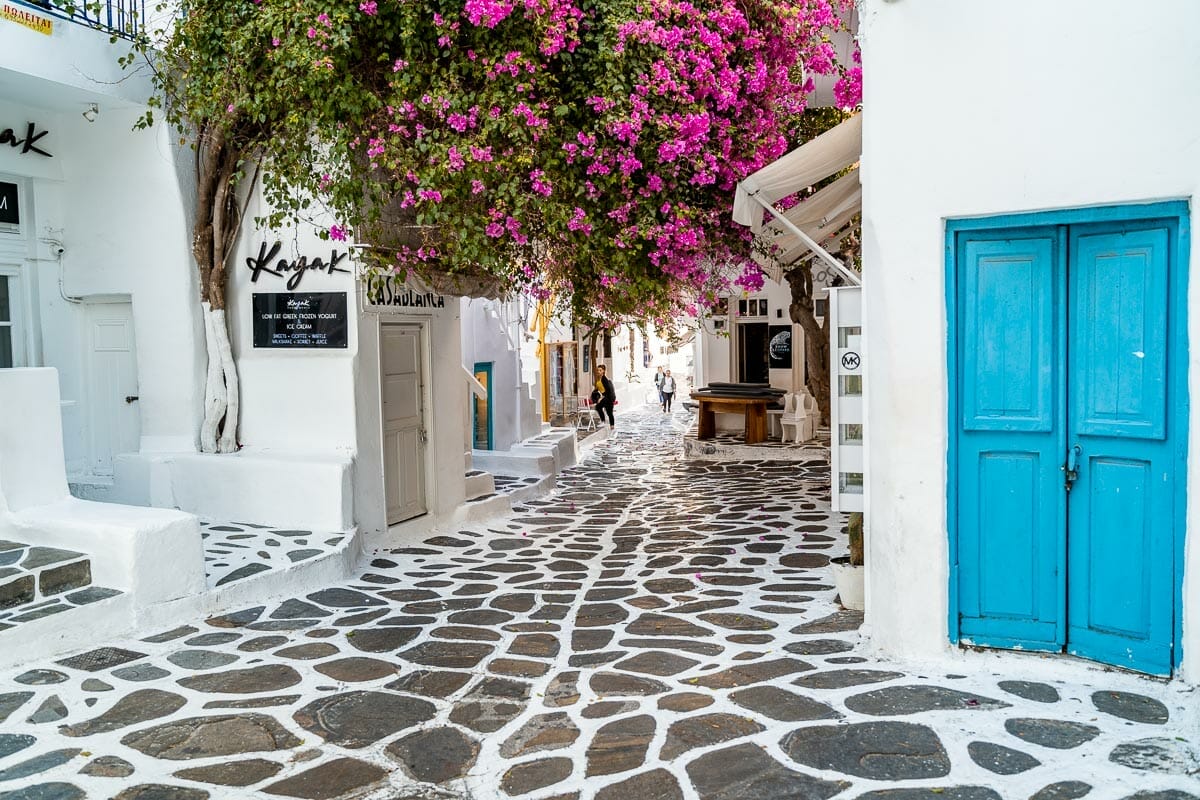 How to get around Mykonos
Since Mykonos is a famous island to visit, there are luckily quite a few ways to get around the island. It also depends on your preferences and the places you want to see during your 3 days in Mykonos.
If you want to stay mainly in Mykonos Town, the easiest way to get around is by walking. The town itself is pretty small and you can comfortably get around on foot so there's no need to worry about transportation.
Many public buses are running between Mykonos Town and the most popular beaches such as Paradise Beach and Psarou Beach, so it's a great way to get around if you don't want to drive yourself.
To visit the less touristy parts of the island, it's best to opt for renting a vehicle rather than waiting for the bus. You can choose between a car, ATV or even some scooters.
ATV is arguably the most popular way to get around the island but to be honest I found renting a car much more comfortable. The good news is that if you follow this 3 day Mykonos itinerary, you don't need to have a car for the full length of your stay, only for 1 day.
Where to stay in Mykonos
If you're planning to spend 3 days in Mykonos as a first timer, I would recommend staying in Mykonos Town. It's full of great hotels, amazing restaurants, and cute little shops and it has the best nightlife as well.
Although there is no beach in Mykonos Town, the best beaches are located nearby and buses run regularly from Mykonos Town so it's best to stay in one place and go on some day trips to the nearby attractions.
Below you can find my top picks for staying in Mykonos for every budget. If you want to make your stay even more memorable, check out my article about the best hotels in Mykonos with private pools!
LUXURY – Cavo Tagoo Mykonos
If you're looking for the ultimate luxurious vacation in Mykonos, look no further than Cavo Tagoo Mykonos. This stunning property is located in close proximity to Mykonos Town and features an infinity pool and sea-view rooms.
MID-RANGE – Hotel Alkyon
Featuring an outdoor swimming pool overlooking the sea, Hotel Alkyon is located only a 10-minute walk from Mykonos Town. There is also a pool bar on-site and guests can enjoy the views from the spacious rooms with balconies.
BUDGET – Island Mykonos Suites
Island Mykonos Suites offers accommodation with a garden and air-conditioned rooms. It's located close to Mykonos Town but the area is quiet enough to relax.
Overview of Your 3 Days in Mykonos
You'll find a breakdown of your 3 days in Mykonos below, which gives you an overview of the attractions you'll be visiting each day during your trip. This Mykonos itinerary has been carefully curated to include the best of the best, so rest assured that it's not leaving out anything!
Essentially, you'll start your first day with lots of sightseeing in Old Town. On the second day, you'll go on a tour and learn some history. By the third day, it's time to explore some of the lesser-known parts of the island while also spending some time on the beach. Sounds amazing, right?
Breakdown of your 3 days in Mykonos
Day 1: Explore the Old Town of Mykonos, breakfast at Lalala Mykonos, Matoyianni Street, Agios Nikolaos Church, Panagia Paraportiani Church, Little Venice, windmills, Psarou beach, sunset at the windmills near Little Venice
Day 2: Delos Island tour, Archaeological Museum of Mykonos, sunset at Boni's Windmill or 180 Sunset Bar
Day 3: Breakfast at Cosmo Café, Beach time (Paraga Beach, Paradise Beach or Super Paradise Beach), Ano Mera, Agios Sostis Beach, Armenistis Lighthouse, optional: bar hopping in Mykonos Town
Map for your Mykonos itinerary
Below you can find a customized map that includes all the locations you're going to visit on this Mykonos itinerary. I marked your 3 days in Mykonos with different colors – I used blue for the first, green for the second, and red for the third day, so you can easily see which places you're going to visit each day.
If you open up this post on your phone and you click on the bracket in the upper right corner of the map, it will open up in your Google Maps app so you can always have it with you. Super convenient, right?
Day 1 of Your Mykonos Itinerary
Start your 3 days in Mykonos off strong by heading to some of the best tourist attractions on the very first day. Make sure you wear comfortable walking shoes because you'll be doing a lot of exploring today!
Explore the Old Town of Mykonos
To begin this Mykonos Itinerary, make your way to the Old Town of Mykonos. This is the most historic part of the island and is filled with tons of great attractions that you won't want to miss out on. Below you learn more about some of the top places to visit in the Old Town of Mykonos.
In between visiting each of the following stops, make sure also to take some time to explore a bit on your own if you can. It will only make your experience more memorable!
Stop 1: Breakfast at Lalala Mykonos
If breakfast is not included in your hotel, it's time to find some delicious food to fuel up for the day. Lalala is considered one of the best breakfast places on the whole island so I recommend starting the first morning of your 3 days in Mykonos there.
Prices are mid-range for breakfast, so it's a more affordable place to eat. However, you won't be lacking in value because the food is still absolutely delicious.
Their menu includes everything from traditional coffee to hearty meals with eggs, prosciutto, and toast. So, you're sure to find something you're in the mood for on the menu, and it can please even the pickiest of eaters and travelers.
Stop 2: Matoyianni Street
After breakfast, make your way to Matoyianni Street. This is probably the most picturesque place in all of Mykonos, and you've most likely seen it in Instagram photos before.
The street features beautiful white buildings with blue trim and a gorgeous light grey stone on the ground. If you visit earlier in the morning, you may even be lucky enough to beat the crowds.
This street is known for its nightlife, but also for its shopping. Even if you don't plan on buying anything, take the time to peruse the shops, meet the local store owners, and enjoy being in one of the most beautiful spots in Mykonos!
It's also a great time to get lost on the narrow little streets and find some cute corners.
Stop 3: Agios Nikolaos Church & Old Port of Mykonos
When talking about white churches with blue domes, people automatically think about the picturesque churches of Santorini. Well, the good news is that you can also find some similar churches on Mykonos as well!
The small Orthodox church of Agios Nikolaos is one of the many examples. The church is located in the Old Port of Mykonos where you can also spot some amazing boats and yachts on the water.
Stop 4: Panagia Paraportiani Church
Greek churches are unlike any other, and your 3 days in Mykonos aren't complete without visiting at least one. The Panagia Paraportiani Church is a beautiful white church located right by the sea, so you can look out and see the breathtaking water.
The church opened back in the 15th century, so it's incredibly historic. Be on the lookout for the bell tower, it's one of the top things to see at the church!
Stop 5: Little Venice
I know what you're thinking: There's a Venice in Mykonos?! Believe it or not, yes, there is. It's one of the most romantic spots in Mykonos and is known for its great charm. It's a neighborhood right on the waterfront that provides epic views no matter where you look.
No wonder it's one of the most Instagrammable places in Mykonos, the views are truly breathtaking!
Take some time to walk throughout Little Venice. You're sure to come across some great shops, art galleries, restaurants, and more. You might even find a few great nightclubs that you could come back to later tonight if you wanted!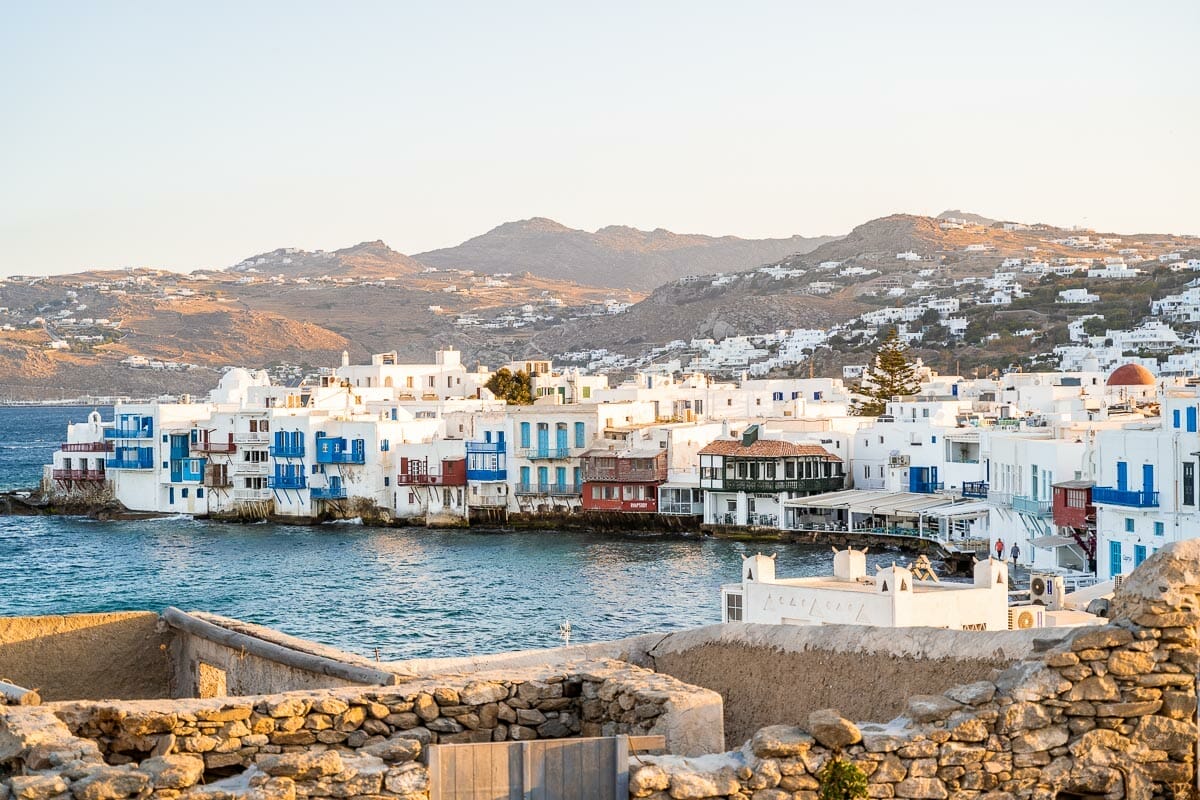 Stop 6: Windmills
Windmills are one of the most iconic landmarks in Mykonos, currently, there are 16 windmills scattered across the island. You can find 5 of them standing in a row near Little Venice, this location is often referred to as 'Kato Mili'.
This is one of the most popular sunset spots in Mykonos and while sunsets are really magical from there, it gets crazy crowded in the evening (and all day long as well, to be completely honest). So be prepared for the crowds, especially if you're visiting during the peak season.
Soak up the sun in Psarou Beach
The Old Town of Mykonos is quite small so even if you enjoy getting lost in the pretty streets and walking around the whole town, it shouldn't take longer than a couple of hours. Once you feel like you've seen everything you wanted, it's time to relax a little bit on the pristine beaches of Mykonos!
Psarou Beach is one of the trendiest beaches in Mykonos and undoubtedly one of the most scenic ones. It's not easy to find a parking spot during the day due to its popularity so it's best to take a local bus from Mykonos Town to get to the beach.
Buses depart from the Fabrika bus station which is really close to the Kato Mili windmills. The bus will drop you off at the Platis Gialos bus station from where you can reach Psarou Beach within 10 minutes on foot.
There is only one bus per hour so it's worth checking the bus timetables in advance and planning accordingly.
You can rent beach beds on Psarou Beach but be prepared for the prices. Usually, bed rentals start from €25 per day and the closer you want to be to the water, the higher the price tag.
You'll also find a couple of great restaurants nearby but they're also pretty expensive so you might be better off having a quick lunch in Mykonos Town before heading to the beach.
Sunset at the windmills near Little Venice
Buses run typically until midnight or 1 am so it's entirely up to you when you want to head back to Mykonos Town. But if you want my advice, it's worth getting back just in time to catch the sunset at the windmills.
It's one of the top spots for watching the sunset in Mykonos because of its higher elevation and unique beauty so you can expect a big crowd. Try to get there as early as possible to secure a good spot!
Day 2 of Your Mykonos Itinerary
Your second day in Mykonos is going to be even better than the first! You'll be going on an island tour with a local guide and learning more about the history of Mykonos. Get ready, because it's going to be a really fun day!
Delos Island tour
Delos Island is one place you absolutely must visit during your 3 days in Mykonos. It's one of Greece's most pertinent archaeological sites and is filled with tons of history. It's said to be the same island where the Greek god Apollo was born!
There is no accommodation on the island so the only way to visit is to take a day trip from either Mykonos, Paros, or Naxos.
Although it's entirely possible to visit the island on your own, it's highly recommended to book a guided tour to learn more about the island and its history.
There are many tour options for visiting Delos, but the Original Morning Delos Guided Tour is affordable and top-rated. The tour starts at 10 am and it typically lasts for about 4 hours in total.
You can either choose a hotel pickup or meet at the Old Port of Mykonos Delos Tour Office. A ticket costs €55 per person but if you want to take advantage of the hotel pickup, you'll need to pay €10.
If you'd rather take an afternoon tour and flip around the first day of your Mykonos itinerary, that's an option too, but note that in this case you're gonna miss out on the sunset in Mykonos Town.
The Original Evening Delos Guided Tour is about 3 hours long and includes a guide who will bring you through the archaeological site. Tickets are €64.56 per person, just like the morning tour.
Archaeological Museum of Mykonos
Now it's time to learn even more history at the Archaeological Museum of Mykonos. This museum was opened in the early 20th century and is filled with artifacts and relics dating back to Greece's Prehistoric period.
If you want to learn more about the island's history during your 3 days in Mykonos, this is the best place to do it. You most likely won't need more than an hour or so here, but make sure you take your time to explore everything on display inside.
After the Delos tour, you'll be dropped off at the Old Port of Mykonos, from there it takes around 10 minutes to reach the museum on foot.
Find the hidden Mykonos Viewpoint
Although most people don't know about this location, you can actually find one of the most scenic viewpoints in Mykonos just minutes away from the Archaeological Museum.
The viewpoint is basically located on an abandoned road so don't expect anything fancy, but the view is really top-notch. It's right above Mykonos Town Villas and you can reach it within a 5-minute walk from the museum.
Here are the exact coordinates (I also marked it on the map of this 3 day Mykonos itinerary above): 37.450250, 25.330944.
Sunset at either Boni's Windmill or 180 Sunset Bar
Just like day one, you need to finish the second of your 3 days in Mykonos with another breathtaking sunset! Seriously, the sunsets in Greece are some of the best in the entire world.
For tonight's sunset, you'll have two options: Boni's Windmill or the 180 Sunset Bar. If you're visiting Mykonos on a budget or you don't want to spend a fortune on fancy cocktails, head to Boni's Windmill which is entirely free to visit.
Not only is it a lot less crowded than the Kato Mili ones, but you can get an amazing panoramic view over Mykonos Town as well.
One spot to see the windmills if you want to see it on a budget is to head to Boni's Windmill. This is a free spot to set up and watch the sunset, which is why it's so popular among visitors who are traveling in Mykonos. Plus, the windmill itself is very beautiful, so it's picturesque no matter where you look.
If you'd rather go to a more secluded place and you have some money to splurge, head to 180 Sunset Bar. The views from here are unmatched, and it's consistently ranked as one of the best cocktail bars in Mykonos!
You have to spend a minimum amount between €70 and €200 as an entrance fee depending on the type of your reservation. The bar is incredibly popular, especially around sunset, so it's worth booking a table in advance to avoid queuing for a long time.
Day 3 of Your Mykonos Itinerary
Even though your 3 days in Mykonos are almost over, your sightseeing is not! Today, you'll be visiting some of the most beautiful beaches on the island, and you'll also see some of the less touristic places of Mykonos.
Breakfast at Cosmo Café
First things first, it's time to have some breakfast! Cosmo Café has a very central location close to Fabrika (you know, where the bus station is) that will come in handy after you finish eating.
They also have a huge menu with plenty of choices, starting from yogurt, fresh fruits, and croissants to eggs and sandwiches. If you love sweet breakfasts, try their fruit with honey and cereals, you won't regret it!
Rent a car at Fabrika
Since you're going to visit a couple of places that are further from Mykonos Town, it's best to rent a car for the last day of your Mykonos itinerary.
There is a car rental place right at Fabrika so you can easily walk there from Cosmo Café within minutes. Renting a smaller car for a day typically costs around €50-60 excluding gas.
While it's possible to visit almost all the places on this day by public bus as well, I really don't recommend it. First of all, buses don't run that frequently so you won't have time to visit every place.
Second, buses typically run from Mykonos Town so, in order to get to a new place, you'll need to get back to Mykonos Town first which is not so convenient. Of course, if you really don't want to drive, you can use the public buses instead – in this case, I recommend choosing 1 or 2 places from the suggestions below.
Spend some time on the beach
Up until now you only had time to visit one beach in Mykonos so it's time to change that! For the first part of your last day in Mykonos, you can choose between 3 equally amazing beaches to soak up the sun: Paraga Beach, Paradise Beach, or Super Paradise Beach.
Paraga Beach and Paradise Beach are actually really close to each other so you can easily walk between the two, while Super Paradise Beach is a little further away.
All three beaches are easily accessible with a 15-20 minute drive from Mykonos Town and if you go early enough, you won't have a problem with finding a parking spot.
Alternatively, you can catch a bus at Fabrika to any of the beaches if you don't want to drive a car. We personally visited Super Paradise Beach so I can't really account for the other two, but all of them are said to be awesome.
Super Paradise Beach is known as one of the hottest party spots on the island so you'll find many beach clubs around. However, if you go early in the morning, the atmosphere is quite relaxing and quiet which is perfect for chilling on the comfy sunbeds.
The vibes start to change after lunch in the early afternoon hours so if you would rather spend your time in a lively scenery with loud music and lots of people, feel free to flip around this itinerary and visit Super Paradise Beach in the afternoon.
Visit Ano Mera
After soaking up the sun and swimming in the ocean, it's time to make your way to Ano Mera, one of the oldest villages in Mykonos.
From Super Paradise Beach, it takes around 15 minutes to reach the village by a car while it's a 20-minute drive from Mykonos Town. Alternatively, you can catch a bus at the Old Port of Mykonos to get to Ano Mera.
Although it's the second largest town on the island, unfortunately, most visitors often overlook it so you can expect an entirely different vibe than in Mykonos Town. Ano Mera is rather quiet, so it's perfect if you want to escape the crowds a little bit.
You can spend a few hours in town enjoying the charming little streets, marveling at the traditional stone houses, or popping into a local cafe or gift shop.
You'll find two beautiful churches in Ano Mera that are worth visiting. One of them is the Monastery Of Panagia Tourliani, located near the central square. The other one, Paleokastro Monastery, is a little further away but still comfortably reachable on foot.
If you would rather go on a tour, this Discover Authentic Mykonos Tour is the perfect way to visit some of the lesser-visited villages while having a tour guide with you at all times.
This can come in handy if you're the type of person that likes being more knowledgeable about the places you're visiting. Each ticket costs €51.65 per person, which is pretty affordable for a half-day tour.
Agios Sostis Beach
The beaches close to Mykonos Town are usually overrun by tourists during the day so if you want to experience a more relaxed beach, head to Agios Sostis.
It's located in the northern part of the island, a 15-minute drive from Ano Mera or a 20-minute drive from Mykonos Town. Unfortunately, this beach is not accessible by public bus so if you don't want to rent a car, you'll have to skip this.
Agios Sostis has a long, sandy beach, located in a totally unspoiled area. That means you won't find any beach bars, fancy restaurants, or any kind of amenities nearby so it's important to plan accordingly.
If you're feeling hungry, you can drop by Kiki's Tavern, which is said to be the most authentic restaurant on the whole island. They don't have any electricity in the restaurant so every dish is made on the grill. The restaurant has an incredible view but unfortunately, there are not many tables inside and they don't make reservations.
We really wanted to drop by for dinner but the queue was insanely long and we didn't want to wait for hours so we decided to skip it. But if you have a chance, definitely try it!
Armenistis Lighthouse
The last stop on your 3 days in Mykonos itinerary is Armenistis Lighthouse, another landmark in Mykonos that is known for its incredible views. You can reach the lighthouse with a 20-minute drive both from Agios Sostis Beach or Mykonos Town.
Unfortunately, it's not possible to get to the lighthouse without a car so if you don't want to rent a car, you'll have to skip this.
It's situated on top of a pretty steep hill so it requires a bit of a workout, but it's very much worth it once you are up there. You'll be able to look out and see not only the ocean but even the islands nearby! It's worth timing your visit for sunset and factor in some time to soak in the incredible view.
Optional: Bar hopping in Mykonos Town
If you still have a bit of energy left after a busy day, you can consider bar hopping in Mykonos Town. It's the last day of your Mykonos itinerary after all! Mykonos is known for its parties, and one of the best ways to experience some of that culture is by bar hopping.
Some of the most popular bars in Mykonos include the Skandinavian Bar, Scarpa Bar, and Lola Mykonos, but you'll also find a ton of other great bars in the area. Cheers!
---
Planning a trip to Mykonos?
Then you might want to take a look at all our other travel guides about Mykonos. I promise, they are just as awesome as this article was!
Other Greek Destinations: Athens | Santorini | Milos | Paros | Naxos
---
Related Posts
Want to read more about Mykonos?
---
More Greek Islands Resources
Do you want to read even more about the Greek islands? Check out these awesome books and travel guides for more inspiration!
---
What Camera Gear Do We Use?
If you want to read more about what is in our camera bag, check out my detailed post about our travel photography gear!
---
Pin It for Later!