When thinking about the most beautiful island in Greece, Santorini is often the first one that comes to mind.
Lucky for us, Greece has many more insanely gorgeous islands so if you're looking for the perfect island vacation, you are in the right place!
In this post, you will find all the best Greek islands including tips about which one to choose, what to do, where to stay and how much time to spend there!
*Disclosure: This post contains a few affiliate links, which means I may receive a small commission, at no cost to you, if you make a purchase through my link.*
No time to read now? Pin it for later!
Most Beautiful Islands in Greece
1. Santorini
Recommended by Kriszti from She Wanders Abroad
Whitewashed cliff-side towns, deep blue roofs, pink bougainvillea flowers, and the endless view of the shimmering Aegean Sea – Santorini is really a dream destination that everyone needs to visit at least once in their lifetime!
Santorini is usually listed as one of the most beautiful islands in the world and while it's true, thanks to its popularity it's often overrun by tourists. The island is relatively small and compared to that, it receives around 2 million tourists each year.
If you would like to avoid the crowds then you should visit in shoulder season. Late September is one of the best times to visit Santorini as the weather is still great, the pink bougainvillea flowers are still in bloom but the prices are already lower and there are fewer tourists as well.
If you're visiting Santorini for the first time, spending 3 days in Santorini will give you enough time to explore the whole island. Oia is known as one of the most beautiful cities in Europe and it's also one of the most popular places to stay in Santorini.
If you're looking for that postcard-perfect view with the blue domes, you will definitely find it there, together with some of the best Instagram spots in Santorini.
Although hotels in Oia are usually quite pricy, it's certainly worth staying there for at least one night, especially because it's one of the best sunset spots in Santorini. Fira is another great place to stay, there are more options to choose from and it's generally cheaper as well.
Santorini has its own airport so the easiest option to get there is to take a flight. There are also many established ferry routes connecting Santorini with the nearby islands and Athens so if you're planning to do a little island hopping, taking the ferry is your best option.
You will find many public buses on Santorini but it's best to rent a car or an ATV to be able to get around the island. Apart from Oia and Fira, make sure to visit the cute town of Imerovigli and the black sandy beach in Perissa, and it's also worth going on a boat tour to see the sunset.
2. Mykonos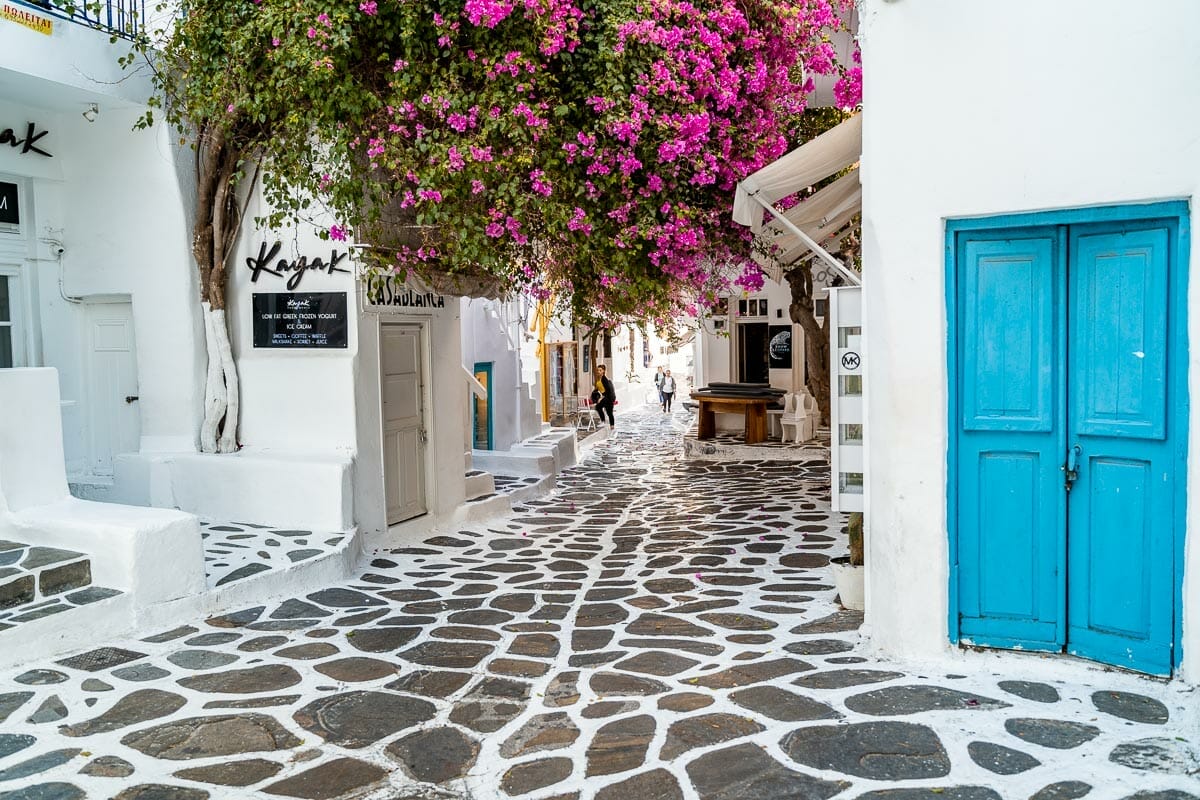 Recommended by Kriszti from She Wanders Abroad
Mykonos is mostly known for its vibrant nightlife and great bars so it's undoubtedly a perfect destination for traveling with friends or as a couple, but it can be a great place for a family vacation as well thanks to its laidback vibes.
Like most of the islands in Greece, Mykonos is also well connected to the other islands and Athens by ferry, but since it has its own airport it's easily accessible by plane as well.
If you're visiting the island for the first time, one of the best areas to stay in Mykonos is Mykonos Town, which is the liveliest part of the island. You will find the most instagrammable places in Mykonos there, along with many amazing cafes and restaurants.
Windmills are one of the icons of the island, you can find 5 of them lining up next to each other near Little Venice in Mykonos Town. It's also one of the most popular sunset spots in Mykonos so it's worth going there in the evening to see the breathtaking sunset colors.
Many public buses are running between Mykonos Town and the most popular beaches so it's quite easy to get around the island. You can also rent a car or an ATV so you will be free to go around at your own pace.
Spending 3 days in Mykonos is the perfect amount of time to see the highlights of the island but if you're looking for a more relaxing holiday and planning to spend more time at the beaches, you can easily spend one week in Mykonos as well.
3. Tinos
Recommended by Lina from World of Lina
Everyone knows the popular Greek islands like Santorini, Mykonos, or Crete but hardly anyone has ever heard of Tinos. Tinos is an underrated yet beautiful island between the two Cycladic islands, Andros and Mykonos.
Despite its stunning landscapes, enchanting villages, and serene beaches, Tinos is a non-touristy and quiet island.
There are many options on how to reach Tinos. Either you take a flight to Mykonos and then hop on a ferry or you start from Athens by taking a 3-hour ferry ride.
The numerous rocky or sandy beaches are perfect if you want to have a relaxing day. If you prefer to experience the local life, head to some of the many villages on the island.
One of the largest and definitely one of the most beautiful ones is Pyrgos, also called Panormos, in the northern part of the island. The village is a real arts center, being the home place of many famous Greek artists.
Another very typical thing about Tinos is the great number of dovecotes located all over the island. These white buildings with geometrical patterns can be found on a few other Cyclades islands but neither of them has as many as Tinos.
In Tinos Town (the capital city), you can find tons of amazing restaurants offering typical Greek cuisine. The city is also home to the Church of Timios Stavros, one of the most important Orthodox pilgrimage sites in Greece.
4. Naxos
Recommended by Gemma & Campbell from Highlands2Hammocks
Naxos is a paradise Greek island, the largest of the Cyclades archipelago, located in the heart of the Aegean sea.
Naxos is underrated in comparison to its neighboring islands, however, it is very easily accessed by the Blue star ferry that leaves from Piraeus on the mainland. As a bonus, since it's not very well-known, it's entirely possible to visit Naxos on a budget.
On arrival into Naxos, Portara will be very evident sitting out on the small peninsula, this is an unfinished temple dedicated to Apollo and is well worth a visit once you are settled in. The best way to get around is by hiring a quad bike or a scooter and there are many options for rental around the island.
In terms of where to stay in Naxos, the best area will highly depend on your personal preferences.
If you want to stay in the hub of Naxos where there is a lot going on, the Agia Anna is perfect for this. There are plenty of grills, restaurants, and things to do in the area. If you are looking for a quieter area that is still close to amenities, then Maragas Beach is a great area to stay at.
There are plenty of water-based activities on the island, which can be booked at Plaka watersports. Or how about trying scuba diving with Bluefin divers?
Stroll down the narrow alleyways in the old town and explore the history of the island. Over at Aliko, there is an abandoned hotel with some incredible artwork to see.
One week is a good amount of time to make the most of your time on this beautiful Greek island. This will give you plenty of time to both see all of the sights around the island and also enjoy the beautiful beaches in Naxos and the warm Aegean Sea.
5. Paros
Recommended by Carina & Derek from We Did It Our Way
When people travel to the Greek islands, it seems like everyone heads out to Mykonos, Ios, or Santorini. But there's something magical about going off the beaten path, which is why Paros is one of the best islands to visit in Greece!
Paros is a small island in the Aegean Sea. It's known for its beaches, traditional villages, and one of the oldest churches in the country. It's also a great place to party the night away.
Spending 3 days in Paros will allow you to explore the island's beauty at a leisurely pace with enough time to chill on the beaches as well.
If you're looking for the best times to visit, it's worth scheduling your trip to Paros in September. The weather is still hot and the tourist crowds have already left Paros (and Greece). The prices will also be lower than in the high season.
Getting around the island is easy if you're using public transportation – you have the bus and water taxis that hop around the beaches, attractions, and ports.
While on the island, there are a ton of different beaches on Paros where you can either chill or party.
Some of the best things to do in Paros include taking a stroll through Naoussa, a port village, with tons of amazing restaurants to choose from, cute shops, and alleys to get lost in.
Also, be sure to check out Lefkes, a traditional village on top of the hill, at the center of Paros. And make sure you end each day with a sunset. The show the sky puts on in Paros is one of the best we've seen in the world! A great spot to view one is right by Piperi beach.
The best way to get to the island is by taking a ferry from Athens, Naxos, or Santorini, which are the closest ports. The ferry will drop you off in Parikia.
The best areas to stay in Paros will highly depend on your personal preferences. If you're looking to party, pick accommodations in Parikia, where you just landed with the ferry.
If you want a more relaxing stay, we recommend the Naoussa area. Either way, you will find something for every budget.
6. Antiparos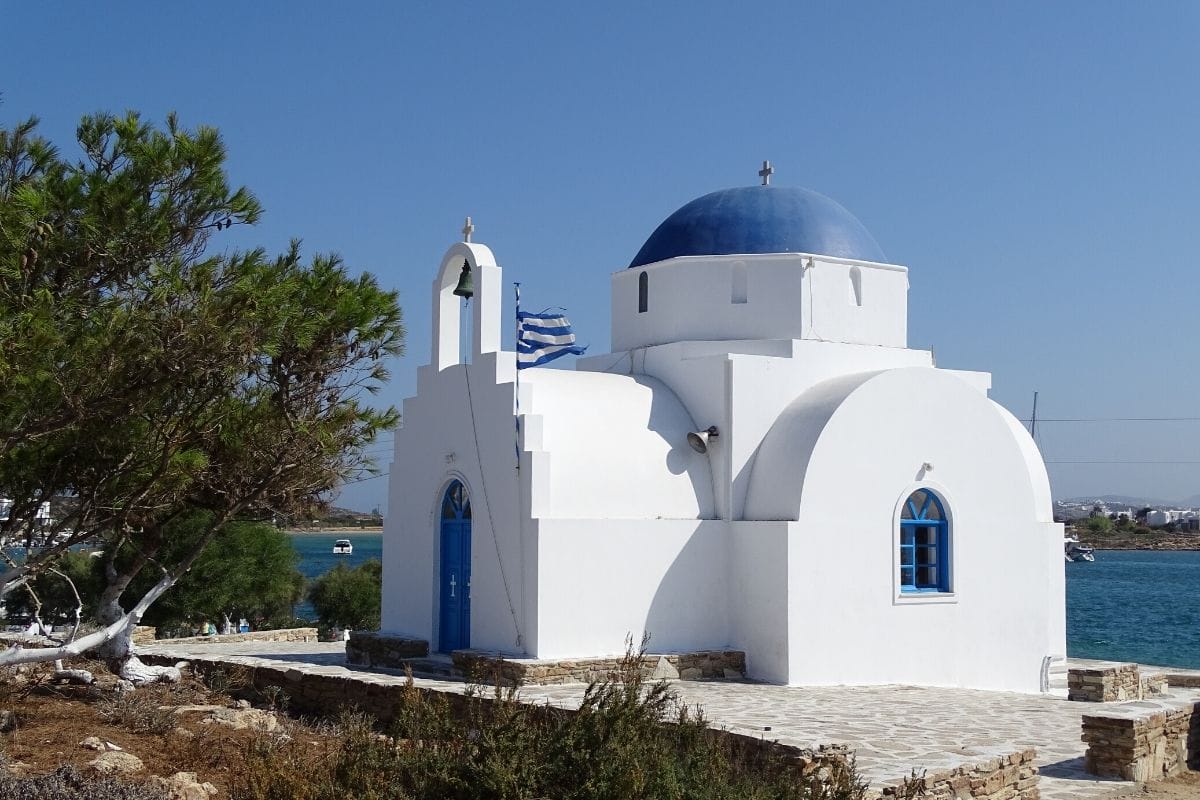 Recommended by Paulina from Paulina On The Road
Tourists love visiting Antiparos only because it has everything you could ever ask for. The climate is calm, the ambiance is serene, and the accommodation is impeccable. This is a tiny island that is present in the heart of Cyclades, Greece, and tops the list of most beautiful Greek islands.
Antiparos is an island that is said to have one of the oldest caves in Europe. The cave has been a place of interest for archaeologists since the cave is made of stalagmite formations and the inscriptions present say a lot about medieval times.
The island also contains one of the oldest forts in the world which was built in the 15th century by Venetian Giovanni Lorentano. The fort still has defensive walls that are used to combat deadly attacks from their enemies.
The northern side of the island contains a beautiful beach known as the Siefneikos Gialos. This beach is an excellent place to spend some quality time with your family and enjoy the sunset views. There are two amazing restaurants on Antiparos that you definitely need to try: Sunset restaurant bar and Lollo's pizzeria.
Although many people decide to stay in Paros and do only a day trip to Antiparos, you can easily spend a few days on this little island as well. Some of the best places to stay in Antiparos are Pavlos Place Hotel, Kouros Village, and Dolphin Antiparos.
7. Sifnos
Recommended by Derek & Mike from Robe Trotting
Any Greek itinerary should include island hopping to Sifnos. It's a quaint and relaxing island with gorgeous white-sand beaches and turquoise waters. The island is known for gorgeous pottery and it's a perfect island for couples that want just the right amount of nightlife and action.
Ferries drop visitors to Sifnos in Kamares, which is the site of a brilliant beach, beautiful hillsides, restaurants, and beach bars. There are several hotels in Kamares, but many are found in the largest city on the island, Apollonia.
The city is in the hills and has winding streets of whitewashed buildings, trendy boutiques, restaurants, and tavernas. It's a great place to meet locals and travelers for a drink or tasty Greek food.
The island is full of beauty with other beaches to check out like Vathy Beach, a more remote soft-sand gem that is worth the effort to reach.
On the way to Vathy Beach, you will pass Chrisopigi Monastery, a gorgeous whitewashed monastery that sits right on the waterfront and is full of art and scenic beauty. Another site to behold is the 14th-century citadel, Sifnos Castle. It's mostly in ruins, but a fascinating stop on the island of Sifnos.
One of the best ways to enjoy the beauty of Sifnos is with a sailing trip around the island. The winds off the coast of Sifnos make it one of the best sailing destinations in the Cyclades Islands and the views from the coastal waters are unbelievable. It's also a great way to hop around to Vathy, Kamares, and all the incredible beaches around Sifnos.
8. Milos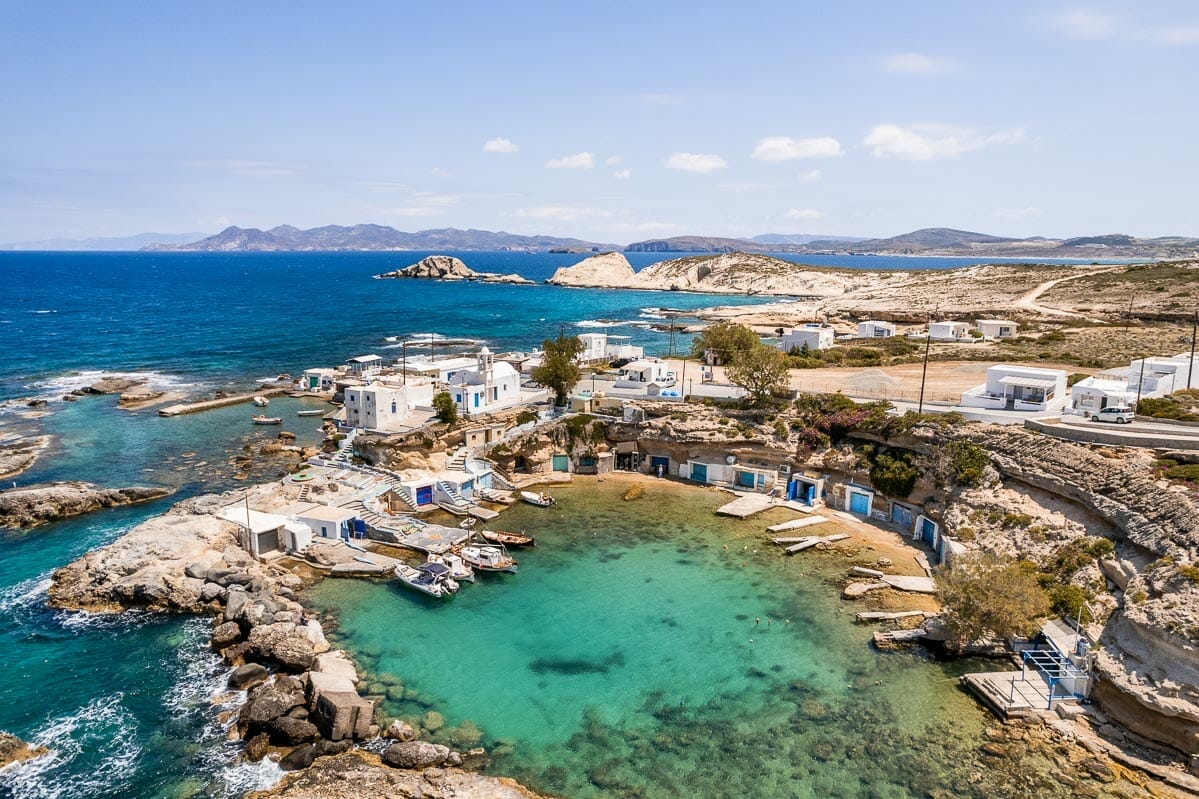 Recommended by Dean & Laynni from Routinely Nomadic
Beautiful beaches, pretty villages, and even some fascinating historic sites – Milos, in the Cyclades chain, certainly meets the standard Greek island trifecta. Of course, with over 70 different beaches, it is definitely on another level when it comes to sunbathing opportunities.
You can find many types of beaches in Milos: from the long, sandy expanse of Fyriplaka and the tiny, hidden Tsigrado to the blinding, white rock shelves of Sarakiniko, Milos has a little something for everyone.
While a week would be ideal, it is possible to check out all the main highlights while spending 3 days in Milos.
In terms of where to stay in Milos, the main port of Adamantas is a perfect base for close proximity to ferries and outstanding ocean-front seafood restaurants, while the hilltop village of Trypiti offers a quieter vibe and impressive views.
One of the big highlights of Milos is the colorful fishing village of Klima. Brightly painted and sporting tremendous sea views, Klima consists of a neat row of "syrmata", water-front homes of local fishermen with living quarters above and boats and equipment below.
Those who like a bit of history with their ocean scenery will enjoy the relatively intact ruins of a 4,000-year-old Roman theatre, not to mention learning that the world-famous Venus de Milo statue of the Greek goddess Aphrodite was created there, although it is now safely housed in Louvre.
The island is also lined with terrific hiking trails, although if you want to cover more ground and expend less energy, you can rent one of the ATVs that are a popular choice for getting around the island.
Milos may not be the largest of the Cyclades but its impressive assortment of beaches, surprising history, and the unique village of Klima make it a worthy addition to your next island-hopping adventure.
9. Folegandros
Recommended by Francesca from Little Lost Travel
Folegandros is a small Greek island that makes up part of the Cyclades alongside Santorini and Mykonos. Unlike the latter two, Folegandros is a little more off the beaten path but it's no less beautiful. In fact, Conde Nast Traveller once called it 'Greece's best-kept secret'.
Folegandros has a wildness about it. The capital settlement, Chora rests atop a towering jagged cliff, the terrain is rocky and the sea smashes against the shoreline. Depending on your travel style, two or three days should be enough time to see it all.
There's also a good variety of accommodation. Favorites include Camares, a budget-friendly villa complex with its own kitchenette, and Anemomilos Boutique Hotel, a family-run hotel with a pool.
Folegandros is a top island for beach-hopping. Kartego and Livadaki are the most beautiful beaches but they require a bit of work to get to them. Rather than a hindrance, it makes them quieter and the effort all the more rewarding.
The island has a flourishing social life. Chora is completely pedestrian and you can wander through its narrow streets, stopping at tavernas for a bite and refreshments along the way. Pounta serves a delightful breakfast and lunch in the shade of their own garden.
As you explore Chora, make sure you head through to its old quarter, Kastro, that dates back to medieval times. The squat white Cycladic-style buildings once made up a fortress that protected its inhabitants from marauding pirates.
For the best view of Folegandros, walk up the winding track towards the Church of Panagia that overlooks the island. Head there for sunset for a chance to see stunning panoramic views of the island bathed in a golden glow.
10. Crete
Recommended by Ingrid from Ingrid Zen Moments
Crete is the biggest Greek island offering lots of opportunities for those looking to spend a vacation by the beach and those looking for adventures alike.
If you're looking for a beach vacation, it's best to visit in the summer or early autumn but since the island is quite warm in winter as well, it's also a great choice if you're looking for a warm winter getaway in Europe.
Located only a few hours away by boat from the more popular Santorini, you'll see that there are plenty of day trips on display. The only hard thing in Crete is managing to fit all the sights on a one-week vacation.
From the colorful authentic streets of Rethymno to the deep blue waters of the Balos Lagoon, I'm sure Crete is not a stranger to those who have looked into Greek islands before.
Spend half of the day discovering Spinalonga, the Venetian citadel, wander through Chania with its colorful houses overlooking the seafront, take a day trip by boat to Chrissy island where waters are as blue as in the Caribbean, learn about history at Knossos – Europe's oldest city dating from the Bronze Age.
Or simply drive around the mountain winding roads and stop by at local tavernas where you'll taste the real Cretan food.
No matter what you choose to do in Crete, spend time on the sandy beaches, or explore this culture and history-rich island, you surely won't be disappointed or bored.
11. Rhodes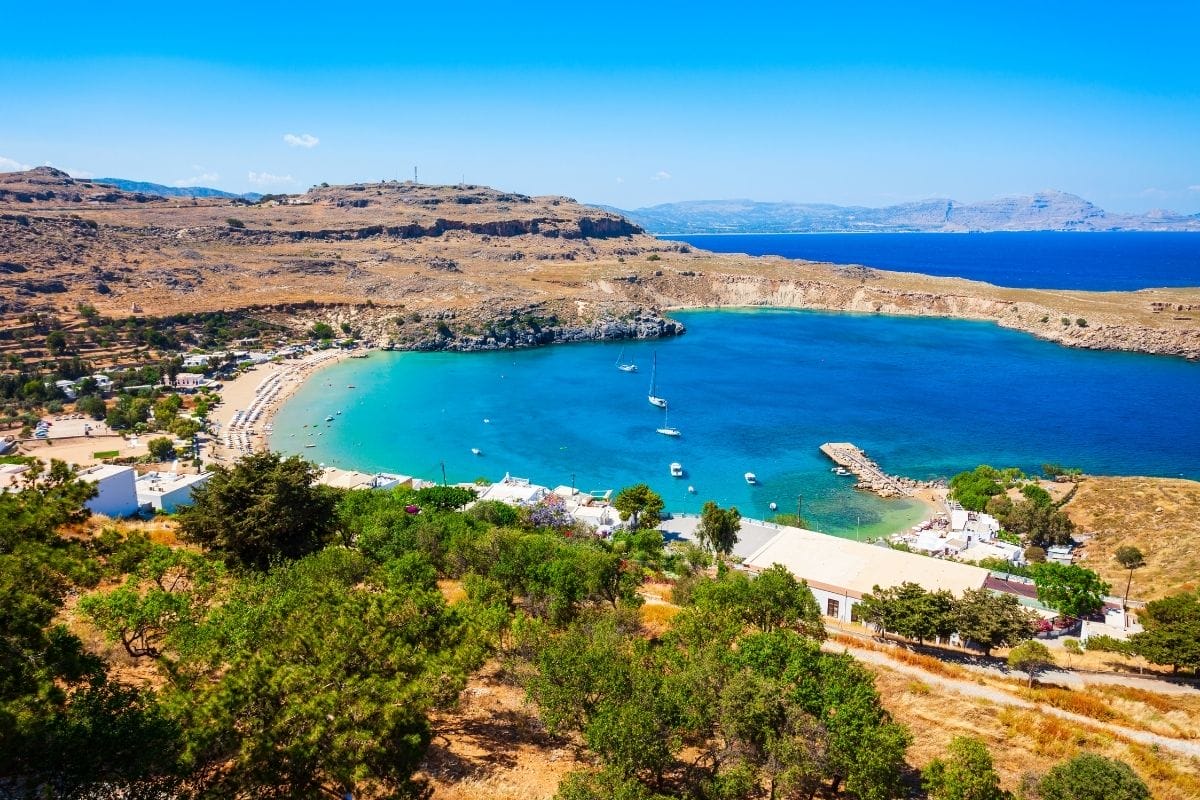 Recommended by Nichola from Family Hotel Expert
Rhodes is one of the most beautiful islands in Greece to visit at any time of the year but particularly in spring or autumn when the crowds are fewer but the weather is still warm.
Rhodes has all the landscapes from abundant forests to a spectacular coastline and everything in between. Come here to relax or take in the beach life or relish in the cultural and historic highlights.
One of the great places to see is Lindos Acropolis, set high up on the hilltop. It's a great, winding walk to the top for wonderful views and a real insight into the past. First settled about 3000 years ago. this archaeological gem allows visitors to walk around and see fallen pillars and long ago inscribed stonework.
The main settlement at Rhodes Old Town is also somewhere to spend time. Walk through the cobbled streets here and you can almost believe you are back in Medieval times, it is such an atmospheric place for a wander.
Stay in the main town to really immerse yourself in the historic surroundings or if you're planning a Rhodes family holiday then there are plenty of beautiful beachside resorts to enjoy.
Come for at least a week to really have the time to enjoy all that Rhodes has to offer, from gorgeous beaches to hilltop towns. This is one of those beautiful Greek islands that really gets under your skin.
12. Kos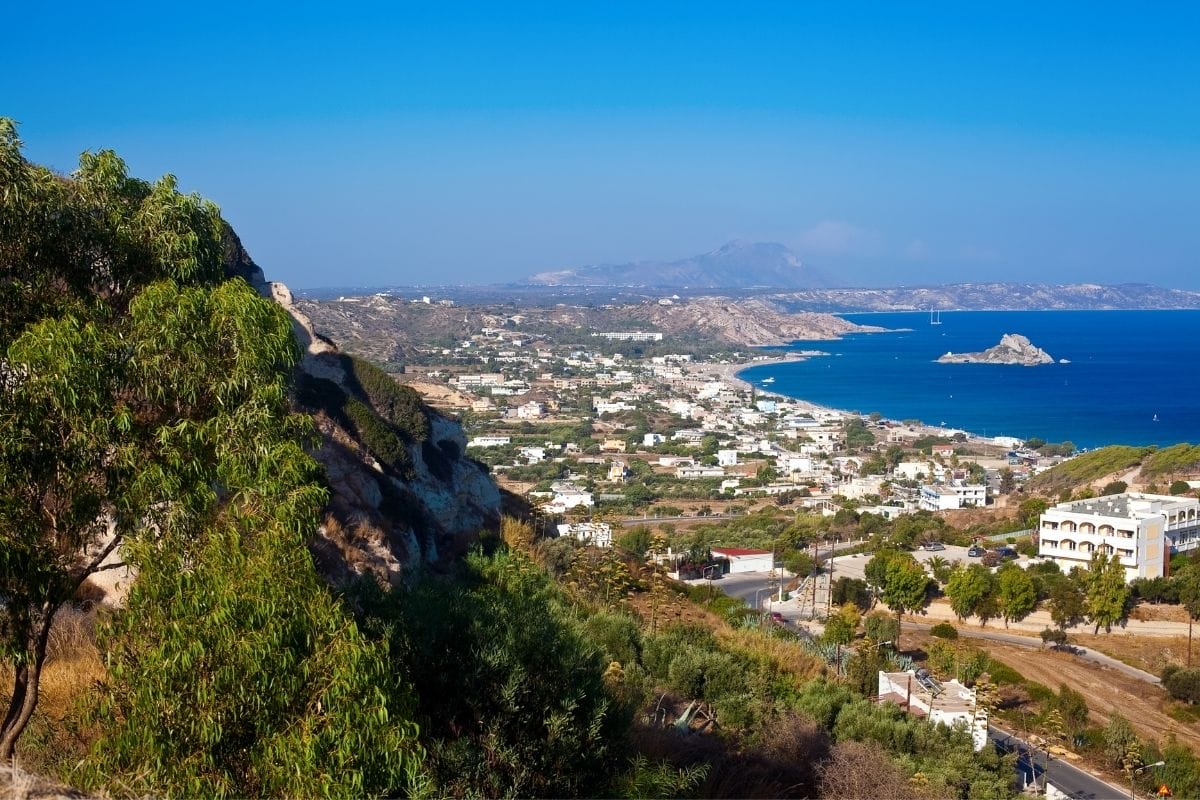 Recommended by Alice from Adventures of Alice
Sitting on the eastern coast of Greece, Kos is a small island that feels like it has been out of time for centuries. With its picturesque town and long history as an important port city, there are plenty of reasons to visit this destination. But the best reason? The beaches.
The beaches in Kos were voted "Europe's Best Beach" by TripAdvisor in 2017 and 2018! This award was based on thousands of reviews from travelers who have visited this stunning beach destination. With white sand, crystal clear water, and laid-back vibes – what more could you ask for?
There are many other wonderful things to do in Kos, though. You can also visit the ruins of ancient temples, see one of the oldest trees in Europe, and enjoy exploring the many villages scattered across this beautiful island.
The locals are very friendly and always ready to offer help, so don't be afraid to wander off and get lost in the beautiful, cobbled streets. There are also many family-owned restaurants in Kos – make sure you try the Octopus, as it's delicious!
Accessible by direct flight from many major cities across Europe, Kos is a wonderful place to visit and definitely one of the best Greek Islands. It's also within close proximity to Bodrum in Turkey which is perfect for a day trip.
13. Corfu
Recommended by Chrysoula from Travel Passionate
Corfu is one of Greece's northernmost islands, with a mix of Greek and European influences which can be seen across the quaint fishing villages, Venetian mansions, Greek bakeries, and rolling vineyards of the island. This history is also represented in the range of museums, palaces, and fortresses of Corfu, which tell the stories of centuries gone by.
Located in the Ionian Sea, Corfu has long been a popular tourist destination, with thousands of visitors flocking every year to the beaches, towns, and nightclubs of the island.
Whether you're a family seeking a laid-back resort, a culture buff looking to learn, or a group of friends seeking out the best parties this side of the Mediterranean, there's something here for you.
One of the great things about Corfu is that you can easily travel around the island, whether by rental car or motorbike or by using the public bus system which connects pretty much all of the tourist destinations with the main town. This means that wherever you stay you'll be able to venture out and explore the island as and when you wish.
Ideally, you'll give yourself at least a week to discover Corfu, so you're able to strike a balance between visiting new places and relaxing on the beach. Whether you stay in Corfu Town, Agios Gordios, Kassiopi, or the family-friendly Acharavi, you're sure to have an epic trip to remember.
Corfu can easily be reached by plane, with direct flights from across Europe, or also by ferry from Igoumenitsa and Patra leaving daily.
14. Lefkada
Recommended by Oksana & Max from Drink Tea & Travel
Located off the beaten path in the heart of the Ionian Sea, Lefkada Island is one of Greece's most incredible natural beauties. This island has all the charm of other Greek islands with double the natural beauty and half the crowds. If you are planning a visit to Greece don't miss this hidden gem.
The island is flanked with great beaches but one of the most well-known is Mylos Beach. To get to the beach you'll have to follow a 15-minute trail that descends along the cliffside. It's a bit of a trek, but the trip is worth it. The white cliffs, turquoise waters, and soft sand make Mylos Beach a great place to spend the day swimming and sunbathing.
More adventurous folks will be interested in visiting Vassiliki Beach. It is known as one of the top windsurfing destinations in Europe and the beach has lots going on. It backs onto some great Mediterranean restaurants, bars, and cafes and there are lots of opportunities to go kitesurfing, sailing, or partake in other activities like scuba diving just offshore.
You could spend a lifetime exploring all the nooks and crannies of Lefkada island. However, if you are interested in a Ledkafa beach vacation we would suggest you spend at least 3 days to a week on the island to see the main attractions and top Lefkada beaches.
15. Kefalonia
Recommended by Sylvie from Travels With Eden
The island of Kefalonia is the largest of the Ionian islands group, which lies just off the East coast of Mainland Greece along with Zakynthos, Corfu, and Ithaca. There's a huge range of things to do in Kefalonia.
Lassi Beach is popular for its long beaches and clear seas. The resort has all the facilities you'll need, including beach bars and sunbeds to hire. Skala beach is also a must-visit.
Take your pick between relaxing on a sunlounger or trying your hand at some watersports. The resorts of Lassi and Skala are the best places to stay for a beach break.
To truly immerse yourself in the history and culture of Kefalonia, head to the capital, Argostoli where you can visit De Bosset Bridge, the longest stone bridge over the sea in the world. Built in 1813, the bridge survived the great earthquake of 1953.
Argostoli is the best place to base yourself to explore the rest of the island. If you want to do some sightseeing, Kefalonia has some world-famous sights to see. The fishing village of Fiskardo will give you an insight into how Kefalonia used to be.
Stroll along the promenade viewing the superyachts or dine on some of Kefalonia's best cuisine. The view of Myrtos beach is the best place for that perfect Instagram shot. Its also been voted one of the top 10 beaches in Greece!
For a truly unique experience in Kefalonia, why not climb Mount Ainos, the tallest mountain on the Ionian islands with a peak of 1628 meters. You can either drive to the Mount Ainos transmitter station and take a quick walk up or try a full day hiking train up the mountain.
To fully experience Kefalonia, it's best to stay about five days. If you decide to stay longer, Kefalonia can be used as a base to explore the nearby islands of Ithaca and Zakynthos.
16. Zakynthos
Recommended by Stéphanie from Bey of Travel
Greece is a popular destination for couples and families since it is home to some of the most beautiful islands in Europe. That's why, when you think of Greece, you immediately think of the popular islands like Crete, Santorini, Kos, or Rhodes.
But, the relatively small island of Zakynthos (410 km²) is a magical destination for a sunny family vacation and should be high on your Greece bucket list. So, be sure to book a room at the Hotel St John Villas & Spa and enjoy your stay on one of the most beautiful islands in Greece to the fullest.
You can also rent a boat and marvel at the crystal blue waters that surround you. Along the way, you can visit amazing blue caves and take some time to go snorkeling among sea turtles.
Afterward, take a trip to Navagio beach where you can see the island's famous shipwreck landmark and snap some beautiful photos at Navagio viewpoint.
Finally, enjoy a delicious dinner amidst the romantic setting at Nobelos Sea Side restaurant. They serve a variety of fresh, seafood dishes that everyone will love. And if you're on the hunt for some more local Greek cuisine, then stop by Porto Limnionas Tavern and admire the impressive, panoramic ocean views from their amazing terrace.
17. Hydra
Recommended by Stephen from MonkBoughtLunch
The little island of Hydra in the Saronic Gulf is a perfect quick getaway for travelers on a short trip to Greece. Less than two hours by ferry from Athens' port at Pireaus, this chill little island is a peaceful retreat from the city with just one large town, no cars at all, and a vibe that is friendly to tourists without being overwhelming.
The port town of Hydra is perfect for aimless wandering – hilly lanes and classic whitewashed buildings mean that at the most unexpected turn wide vistas open up with views of the town above and harbor below.
Through it all, quaint tavernas and cozy cafes offer plenty of opportunities to relax and enjoy the views. Outside of the main town, small chapels and postcard-perfect beaches dot the island.
Walkers will love the opportunity to ramble across the largely empty inland sections, though travelers looking for a lazier way can also hire water taxis to ferry them from point to point around the Hydra coast.
Short-term visitors to Greece have the option of visiting Hydra as part of a one-day cruise around the Saronic Islands, though travelers with more time will want to spend at least two or three nights and enjoy the island vibe to the fullest.
The most convenient and widest range of accommodations and restaurants are near the port – though luxury hotels like the Four Seasons tend to be on beaches removed from this built-up area.
18. Aegina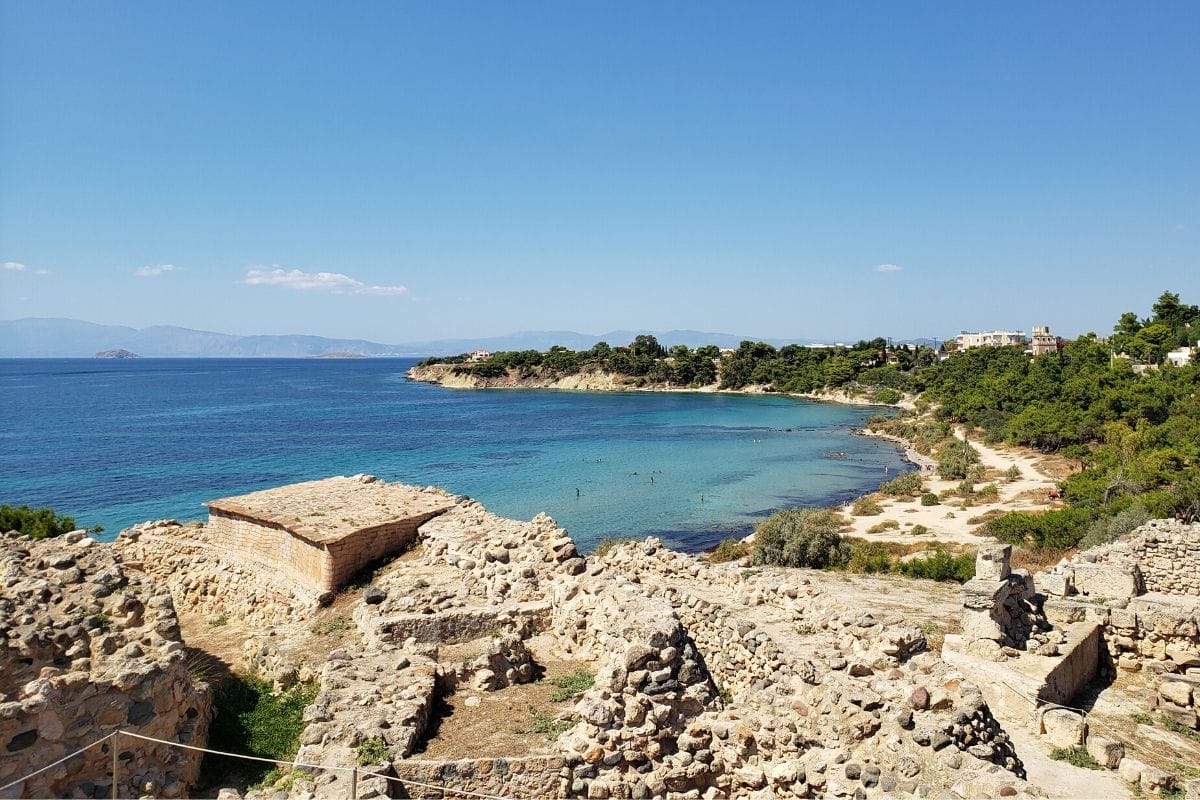 Recommended by Chantae from Chantae Was Here
Less than an hour from Athens, the island of Aegina is one of the most underrated islands in the Saronic Gulf. Centuries ago, Aegina was in fact a major rival to Athens, and the rulers of the time often engaged in trade wars. Today, however, life is peaceful on Aegina.
Venture to Aegina on a one-day cruise from Athens to explore the island's many cultural sites. The Temple of Aphaia is a must-visit for those interested in Greek architecture and history.
The beach of Koloni neighbors an archeological ruin, the Temple of Apollo, which doubles as a lookout point for the island. The beach itself has clear, calm water and a large stretch of sand–perfect for a midday break in between sightseeing.
Within walking distance, the Aegina Archaeological Museum welcomes those who want to examine pottery and artwork discovered at the ancient ruins.
Above all, the island of Aegina is famous for its pistachios, and it's worth spending an hour sampling all the offerings sold in Aegina's main center. You'll no doubt find pistachios salted and sugared, as well as a range of pistachios in ice cream, brittle, butter, and oil forms. Who knew pistachios could be served so many different ways?
19. Thassos
Recommended by Alina from World of Lina
There are the typical Greek islands Mykonos, Santorini, Zakynthos, and Crete. Then there's Thassos, the northernmost and probably lushest island of Greece.
Even though it's one of the less touristy destinations in Greece, Thassos has a lot to offer. For example, there's the island's capital city Limenas where you can find an old amphitheater overlooking the new harbor.
Another historical site not to miss is the archaeological museum with many old artifacts to admire. The old harbor is a wonderful place to take a stroll and enjoy the relaxing atmosphere of the small city.
Limenas is also the perfect place to stay as it's the perfect starting point for any excursions around Thassos. Further south on the island there's the ancient marble quarry of Alyki.
It's really fascinating to learn more about the techniques people used to get marble more than 1200 years ago! Moreover, there are some old ruins from a church on the peninsula.
Only a few kilometers from Alyki is the Archangel Michael Monastery located on a cliff above the sea. It's a very peaceful, quiet place and more than 700 years old.
To get the best 360-degree view of the island, climb up the highest peak of Thassos – Mount Ipsarion. You can either take an organized tour or walk up there starting from Potamia. No matter what option you choose, the view from up there is simply breathtaking!
20. Samothraki
Recommended by Anda from Travel for a While
Samothraki is a hidden gem among so many beautiful Greek islands. The small island in the North Aegean Sea is often overlooked by tourists because the only way to get there is by ferry from Alexandroupoli town on the mainland. However, having fewer tourists than other more popular Greek islands only adds to Samothraki's charm.
Samothraki has a lot to discover and I would recommend spending at least 4 or 5 days on the island. Besides spending time at the beach and discovering secluded places to bathe in, there is a lot more to do out here. If you go inland, you can explore some beautiful traditional villages and the island's capital city, Chora.
Moreover, Samothraki was a holy place in ancient times. The Sanctuary of the Great Gods on Samothraki (or Samothrace) was an important place of worship, where kings came to be initiated in the mysterious cult.
You can visit the ruins of the ancient Sanctuary on the north side of Samothraki island, go hiking up the mountain and see the beautiful waterfalls or benefit from the natural hot springs at Therma.
The best area to stay in is Kamariotissa, where the main harbor is, but you can also choose to stay in Therma or one of the traditional houses in Chora for a unique experience. Regarding food, you can't go wrong here: taste the fresh fish or Greek specialties, and the island's signature dish-slowly roasted goat.
Final Thoughts
Greece is undoubtedly one of the most beautiful countries in Europe and it has so many things to offer from gorgeous beaches, lovely locals, delicious local food, and world-class cultural sites. I hope you liked this post about the most beautiful islands in Greece and it inspired you to visit one of the islands on your next trip!
If you have any questions feel free to leave a comment below or send me an email, I always love helping you out! Do you know any other amazing Greek islands that you would like to add to this list? Let me know in the comments!
xoxo, Kriszti
---
Related Posts
Want to read more about Greece?
---
More Greece Resources
Planning a trip to Greece? Check out these awesome books and travel guides for more inspiration!
---
Pin It for Later!