Santorini is not only one of the most beautiful islands in Greece but it's also one of the most popular dream destinations in the world. People flock to this beautiful island from all over the world and it's easy to see why!
Stunning views, unbelievably blue sea, whitewashed houses with blue domes and gorgeous pink flowers, what more can you ask for?
Since it is quite a small island, spending 3 days in Santorini will give you enough time to visit all the best parts of the island while sampling the most delicious local food and enjoying the true Greek vibes.
In this Santorini 3 days itinerary, I will show you how you can maximize your time on this incredible island!
Disclosure: *This post contains a few affiliate links, which means I may receive a small commission, at no cost to you, if you make a purchase through my link.*
No time to read now? Pin it for later!
Useful Info for Spending 3 Days in Santorini
How to get to Santorini
Flying to Santorini
The easiest way to get to Santorini is by taking a flight. Thira Airport (JTR) is located on the east side of the island and you can always find numerous direct flights from bigger European cities, especially in the summer period.
If you're planning to visit Santorini from the USA, Canada, Australia, or other non-European countries, you must get a connecting flight to Athens or another European city that operates a direct flight to Santorini.
Taking the ferry to Santorini
Another option for getting to Santorini is by taking a ferry. From mid-March until the end of September you can find numerous direct ferries connecting Santorini with many other Greek islands and Athens on the mainland.
If you're traveling off-season, you can still find daily ferries from Athens, Naxos, and Paros to Santorini all year round. It takes around 5-7 hours to reach Santorini from Athens, and 2-3 hours from Paros and Naxos.
Usually, there are more ferry operator companies on the same route with various prices and duration. You can use the below search box to compare ferries and check the schedules.
Best time to visit Santorini
The high season in Santorini runs from late June to early September. As you can imagine, the island is full of tourists during this season and the prices are at their peak.
The weather is usually hot and sunny, which makes it perfect for relaxing at the beach. If you are more into sightseeing or hiking or if you don't tolerate the crowds too well, I would recommend avoiding the high season.
Visiting Santorini in the shoulder season, typically in May-June or September-October is a great choice. You can still easily reach the island as the direct flights and ferries are still in operation. All of the hotels and restaurants are open, the prices are better, and there are fewer tourists on the island.
The island is significantly calmer during the winter months and with lower prices and mild Mediterranean weather, Santorini can be a great choice if you want to enjoy some winter sun in Europe.
The temperatures are generally mild, around 15°C (59°F) during the day but if you're unlucky, the weather can be rainy and windy as well.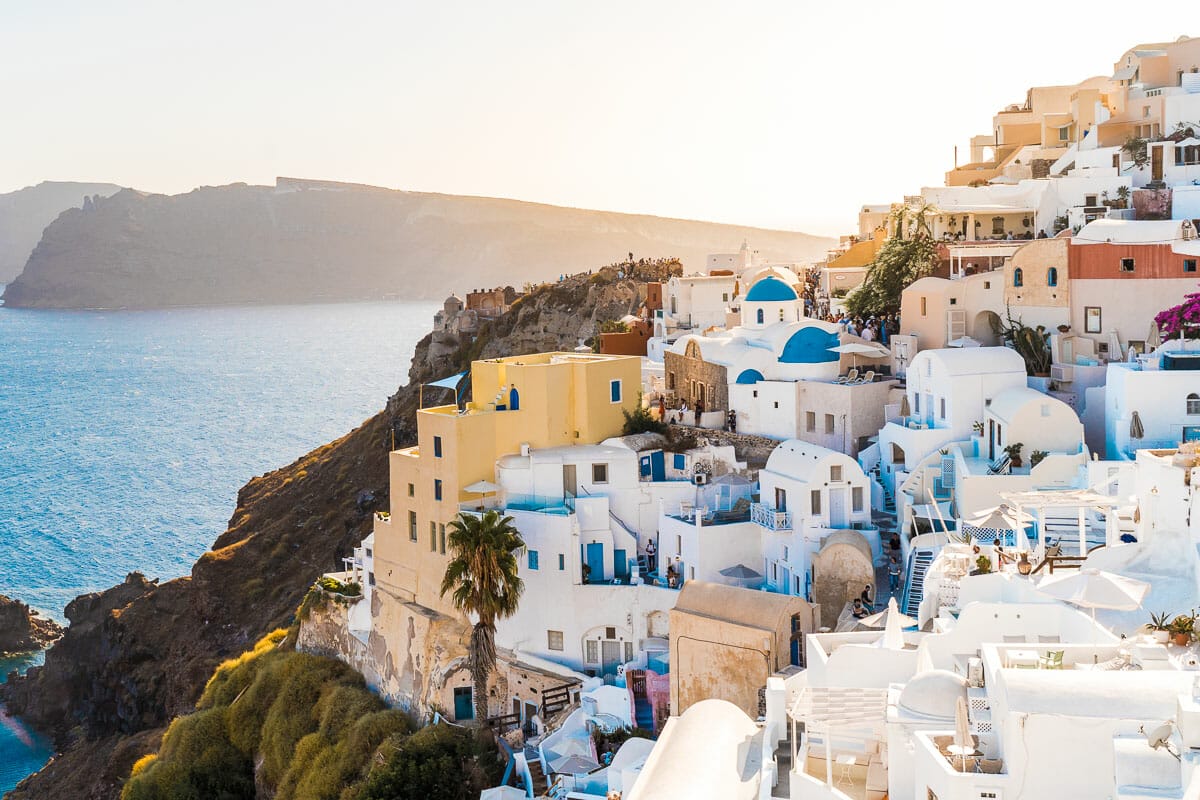 How to get around in Santorini
If you want to follow my 3 day Santorini itinerary and explore the whole island, not just the main tourist hubs, then you're going to need to rent either a car or an ATV.
This is the most convenient and easiest way to get around Santorini and since the island is not so big and the roads are in great condition, it's fairly easy to drive in Santorini.
Having a car or an ATV will give you the freedom to explore the island at your own pace and stop wherever you like, which is really important.
Although you can find local buses in Santorini, I wouldn't recommend using them. They are not so reliable and if you're staying outside of Fira (the main hub of the bus system), you're going to have a hard time getting around.
As for the rentals, I recommend checking Discover Cars where you can compare various car rental options in Santorini. There are many pick-up and drop-off locations across Santorini such as Santorini Airport, Santorini Port, Fira, and Perissa.
I would suggest renting a car at Santorini Airport as it is very easy to reach from any part of the island. Moreover, you can find 10 different companies operating at the airport so you can get the best deals there.
Where to stay in Santorini
If you're visiting Santorini for the first time, you might feel a bit overwhelmed when it comes to deciding actually where to stay in Santorini. The island has basically two different sides with many towns to stay in, so you need to pay attention to which one you choose.
The caldera towns are located on the western side of Santorini and this is undoubtedly the favorite part of tourists visiting Santorini. The most popular towns in this part include Oia, Fira, Imerovigli and Firostefani.
The beach towns are situated in the eastern part of the island and if you're looking for saving some money, it can be a great choice to stay at one of them. The most popular beach towns are Kamari and Perissa, where you can find beautiful black sand beaches.
If you're interested to know more about each town with detailed descriptions, pros and cons, and hotel recommendations, make sure to check out my in-depth guide about the best places to stay in Santorini!
In case you're looking for a quick solution, you can check my top recommendations below.
LUXURY – La Perla Villas and Suites
If you're looking for an ultimate luxurious stay, you won't find a better place than La Perla Villas and Suites. This adults-only hotel offers incredibly unique rooms while guests can enjoy amenities like an outdoor swimming pool, terraces with caldera and sea views, and a pool bar with drinks and food.
MID-RANGE – Kaleidoscope Cave Houses
The Kaleidoscope Cave Houses have a unique mix of bungalow vibes and classic architecture. Rooms at the property have a luxurious feel with amazing caldera views while selected units provide a private hot tub or a plunge pool.
BUDGET – Laokasti Villas
Located in the eastern part of Oia, only a 15-minute walk from the beach, Laokasti Villas is one of the best budget properties in Oia. The property boasts 17 different studios and villas and also has an outdoor pool and a restaurant on site.
Overview of Your Santorini 3 Day Itinerary
Below you can see a breakdown of your 3 days in Santorini, which includes every part of this Greek paradise that you absolutely can't miss during a vacation here. No matter where you choose to stay on the island, you'll have an excellent time.
Each day, you'll have some traditional Greek food for either lunch or dinner and travel to some fantastic attractions filled with rich culture and interesting history.
When traveling, remember to bring your camera because there are tons of Instagram-worthy spots in Santorini!
Breakdown of your 3 days in Santorini
Day 1 – Sunrise at Oia Castle, explore Oia and find the best photography spots, grab coffee and breakfast at one of the cafes, Ammoudi Bay, have a traditional Greek lunch, go on a sunset cruise
Day 2 – Hike (or drive) from Oia to Fira, Imerovigli, Skaros Rock, Three Bells of Fira, Museum of Prehistoric Thira, Orthodox Metropolitan Cathedral, grab lunch in Fira, go on a wine tour
Day 3 – Pyrgos, Profiti Ilias Monastery, Perissa Black Sand Beach, Red Beach, Akrotiri Archaeological Site, Akrotiri Lighthouse, sunset at Fira, have dinner with a view
Map for your Santorini itinerary
Below you can find a customized map that includes all the locations you're going to visit on this Santorini itinerary.
I marked your 3 days in Santorini with different colors – I used blue for the first day, green for the second day, and red for the third day, so you can easily see which places you're going to visit each day.
If you open up this post on your phone and you click on the bracket in the upper right corner of the map, it will open up in your Google Maps app so you can always have it with you. Super convenient, right?
Day 1 of Your 3 Days in Santorini Itinerary
You'll spend the first of your 3 days in Santorini exploring Oia and hitting some of the top sights in this postcard-perfect town. I recommend starting your day as early as you can!
In the afternoon, you will go on a sunset cruise with delicious meals on board. There is literally no better way to end your first day in Santorini than by watching the sunset from the water!
Watch the sunrise at Oia Castle
One of the best things you can do in Santorini in 3 days is catching the sunrise at Oia Castle. The castle dates back to Greece's Renaissance times and was commonly used as a place of safety from incoming pirates.
Unfortunately, most of the castle got destroyed during an earthquake and only a part of the old watchtower survived. So don't expect a normal castle, you will only see the ruins of it.
However, the castle is still worth visiting, especially for the panorama! It's definitely one of the most impressive views you'll see on the island.
Although Oia Castle is one of the best sunset spots in Santorini, unfortunately, it's not really possible to enjoy the sunset here due to the massive crowds.
So if you want to truly enjoy the views, go for sunrise! This way you can have the castle all to yourself and you can explore Oia afterward without the crowds.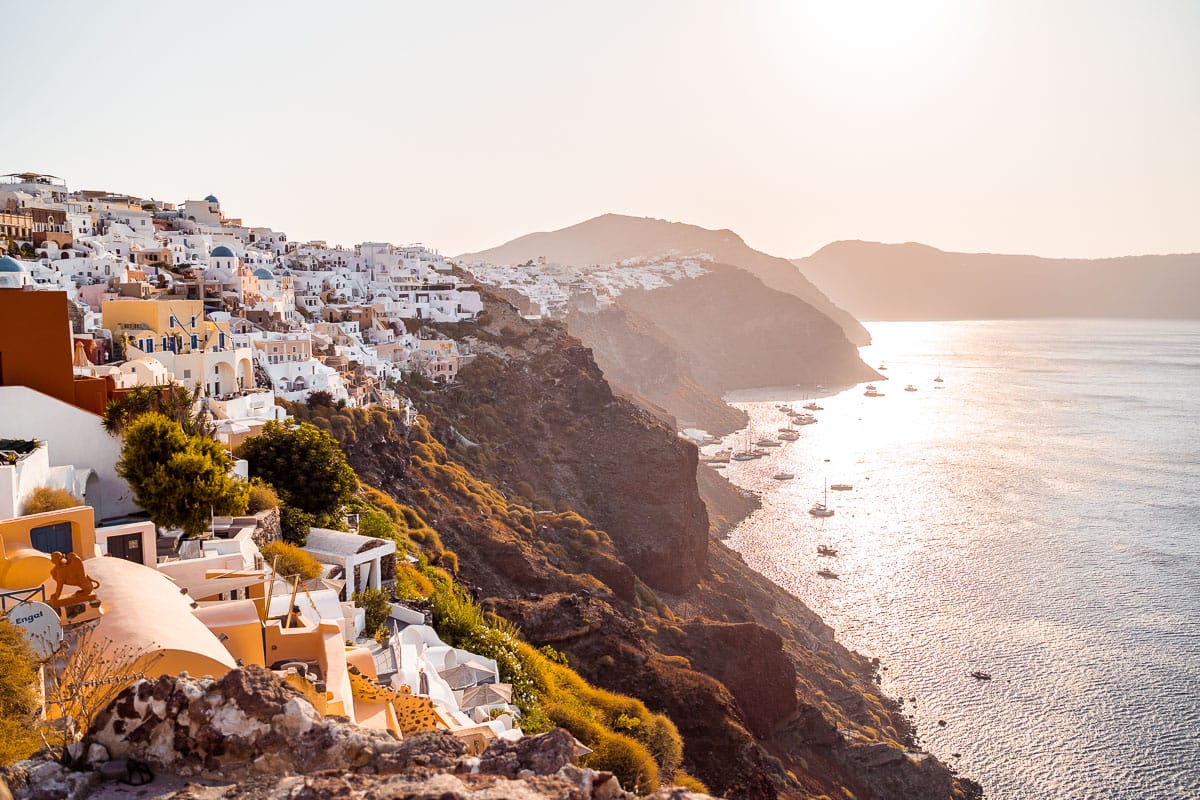 Explore Oia and find the best photography spots
As Oia is one of the most popular places in Santorini, it usually gets insanely crowded during the day. That's why it's a great idea to start your day early so you can explore the town while most of the tourists are still sleeping!
If you want to take some amazing pictures for your Instagram or family album, this is the best time to do it so make sure you have your camera with you.
Oia is kind of like a maze and it's easy to get lost on the narrow streets. This is not a bad thing at all as this way you can stumble upon some really great hidden gems in the town.
But if you want to make sure you find every famous spot and make your life easier, you should turn on the satellite view on your Google Maps. Trust me, it's a lot easier to navigate with the satellite view!
These are some of the places you can't miss in Oia:
Blue domes viewpoint
Three domes of Santorini
Oia Castle
Church of Panagia Akathistos Hymn
Kastro Oia Houses
Main Street of Oia
Windmills of Oia
If you want to know more about these places and find out the exact location of each spot, make sure to check my guide about the best Santorini Instagram spots and the best blue domes of Santorini!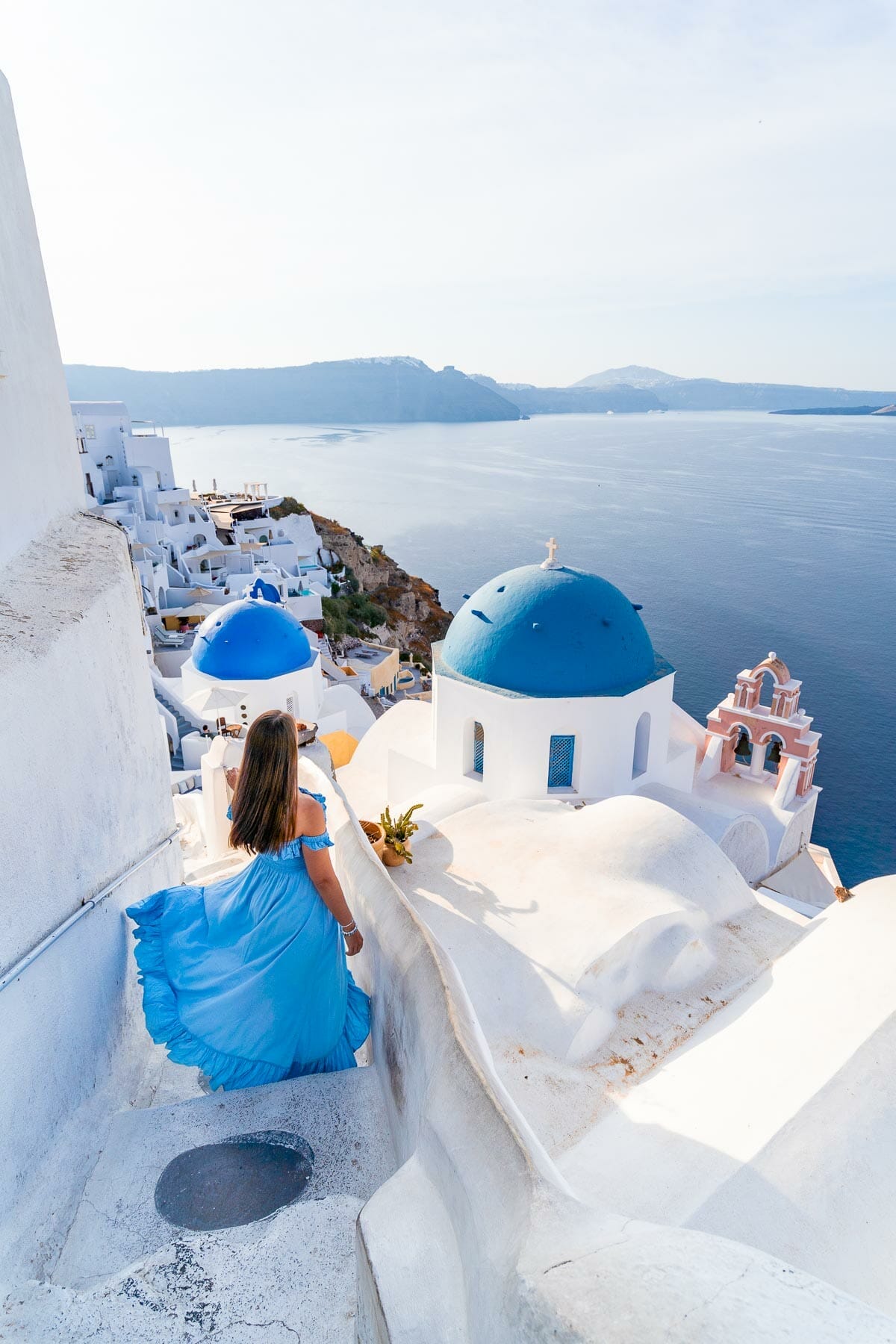 Grab coffee and breakfast at one of the cafes
After taking some fantastic photos to help you remember your trip, you've probably worked up an appetite. It's time for a tasty breakfast and delicious Greek coffee!
Whether you're in the mood for an acai bowl or something a little heartier, there's a cafe that's perfect for you. You will find many different cafes in Oia, so you can't really go wrong.
One of my personal favorites is Melenio Cafe. They have a beautiful terrace overlooking the famous blue domes and the sea and their baklava is seriously to die for!
Another favorite of mine is Thalami. Located on the caldera in the heart of Oia, this restaurant also has an amazing terrace overlooking the caldera and the sea and they also serve delicious breakfast dishes.
Visit Amoudi Bay
The next stop during your 3 days in Santorini is one of the most breathtaking locations in the area: Amoudi Bay. The water here is incredibly blue, and there are bright red cliff faces everywhere you look.
Hiking down to Amoudi Bay is definitely one of the best things to do in Oia but make sure to wear comfy shoes as you have to tackle around 270 steps to get down (and then to get back up).
But trust me, it's incredibly worth it! You can watch the boats come in and out of the bay and just relax in a truly picturesque location.
If you're feeling a bit more adventurous, you can even go cliff jumping! Just be sure to stay safe if you choose to.
Have a traditional Greek lunch
After relaxing a bit, it's time for an authentic Greek lunch.
This Santorini 3 day itinerary would not be complete without trying some delicious local cuisine! Luckily there are quite a few places to choose from to grab a meal during your first day.
The first option is to wander around Amoudi Bay and try one of the fish restaurants. The most popular in this area is the Amoudi Fish Tavern. They serve incredibly fresh and tasty seafood and they also have an extensive list of wines.
Not to mention the picture-perfect views! Please note that this is a high-end restaurant so prices here can be a bit expensive.
If you would rather stay on the budget side, you can try authentic Greek gyros at Pitogyros. It's a small restaurant with only a handful of tables so you might need to wait in line a little bit but trust me, it's absolutely worth it!
Go on a sunset cruise
End the first day of your Santorini itinerary by going on a sunset cruise. The sunsets in Santorini are genuinely unlike any other!
There are many different cruise options but it can be hard to find one that's actually worth spending your money on.
One great tour to consider is the Santorini Catamaran Red Cruise. It comes with a delicious barbecue dinner and wine. During the cruise, you'll head past both the Red Beach and White Beach and have the opportunity to jump in and swim a bit!
If the above-mentioned tour is already full or you're looking for another option for any reason, you could also consider a 5-hour small group Catamaran Cruise that includes a traditional Greek buffet lunch or dinner.
Day 2 of Your 3 Days in Santorini Itinerary
Hopefully, you got a good night of sleep because the second day of your 3 days in Santorini is filled with lots of attractions!
Today you'll be heading to Fira, the capital of Santorini, and will be able to explore some other parts of the island that you didn't get to visit the first day.
Hike (or drive) from Oia to Fira
Start your day by hiking from Oia to Fira. This hike is truly an unforgettable experience for anyone visiting Santorini, whether you've been there before or not!
The trail from Oia to Fira is 10 km (6.2 miles) long in total and it can be completed in 2-3 hours, excluding stops.
The hiking trail is well established but make sure to wear at least a comfortable sneaker! Also, you won't get many shades during the hike so it's best to start your day bright and early to avoid the scorching heat.
If you don't feel like hiking that much, you can just rent a car or an ATV instead and follow the same path. This way you will be able to visit the highlights all the same without having to walk that much, plus you're going to have more time at each attraction.
Whichever option you choose, make sure to stop by the following sights on your way from Oia to Fira!
Stop 1: Imerovigli
One of the best places you should stop by during your hike or drive from Oia is Imerovigli.
Sitting on a clifftop overlooking Santorini's caldera, Imerovigli is a charming little town that is often overlooked by tourists. It's a pity because it's just as beautiful as Oia or Fira!
Imerovigli is a luxurious village filled with really lovely bars, shops, and high-end restaurants, which makes it one of the best areas to stay in Santorini for honeymooners.
When in Imerovigli, make sure to stop by the Church of the Resurrection of the Lord where you can capture two symbols of the island at the same time: the blue-domed church and the flowering bougainvillea tree in front of it.
And if you want to include some coffee time or a hearty breakfast, sit down a bit at Confetti Dessert Boutique where you can sample the tastiest cakes and breakfast dishes along with a delicious coffee.
Stop 2: Skaros Rock
If you're feeling adventurous, make sure to check out Skaros Rock which is one of the most scenic spots in all of Santorini. Skaros used to be one of the most important fortresses that were built in Santorini in the 15th century.
Unfortunately, most of the fortress was destroyed during the earthquakes and nowadays you can only see the ruins of it.
There is a well-established hiking trail connecting Skaros Rock with Imerovigli, starting at Agios Georgios Chapel. The hike is not that long, only 600 meters (1,970 feet) in one way, but you have to tackle hundreds of stairs during the trail which makes it pretty challenging.
Also, after one point, the trail basically turns into a small rock-climbing so definitely wear proper gear if you decide to attempt it (meaning at least sneakers and pants).
Even if you decide not to climb up on top of the rock (aka skipping the rock-climbing section), you'll still get amazing views during your hike.
It's also worth hiking down all the way to Mother of Lord Theoskepasti Holy Orthodox Church while you're at Skaros Rock, which is the cutest little chapel with the best views.
All in all, you will need to budget around 1.5 hours for Skaros Rock.
Stop 3: Three Bells of Fira
After taking the trip up to Skaros Rock, make your way to the Three Bells of Fira. This is the one church that you've probably seen tons of times before, whether in wedding photos or on Instagram. It's that iconic!
The church was built in the 18th century and is most well known for its bright blue dome and white facade. From the church, you'll get a breathtaking view of the cliffs and the water below.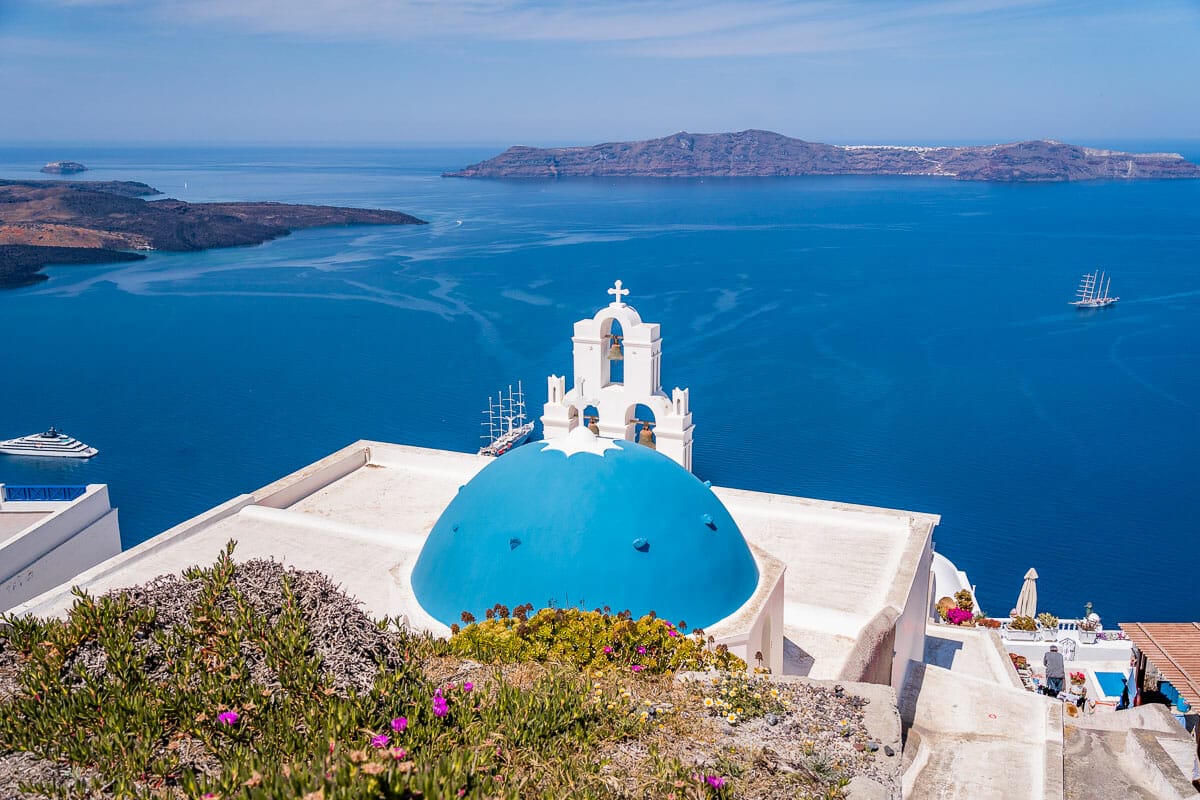 Stop 4: Arrive in Fira
If you follow the coastal road from the Three Bells of Fira, you will reach the center of Fira within 10-15 minutes by foot.
Even if you opted for a drive instead of hiking, it's still worth completing this last section on foot as the views are incredibly scenic! You can practically see all of Fira in the distance which is a really beautiful sight to behold.
Explore Fira
Museum of Prehistoric Thira
Now that you made it to Fira, the capital of Santorini, it's time to explore the city!
If you are visiting Santorini in 3 days, you should try to take the time to learn a bit about the island's history. A great place to do this is the Museum of Prehistoric Thira. It's situated on the same site as an ancient church, though the museum didn't open until 2000.
Prices to enter are rather affordable as a ticket only costs €6 per person.
In the museum, there are ruins from Santorini's historic villages. You can even find pieces that survived the volcano that erupted so long ago. It's a great place to learn more about early Greek life.
Orthodox Metropolitan Cathedral
Next, head to the Orthodox Metropolitan Cathedral. It's a huge Greek Orthodox church that's absolutely breathtaking both on the inside and the outside. It has gorgeous arches, towers, and beautiful artwork on the inside that you won't want to miss.
Even if you only have the chance to see it from the outside, make sure you have the chance to stop by this beautiful Cathedral!
Grab lunch in Fira
After a really long morning of hiking and exploring, it's finally time to grab lunch. Similar to yesterday, it's best to try to find a more local restaurant. This way, you can try some other traditional Greek food and also support the locals.
Some of the best restaurants in Fira are Greek Bites and Argo Restaurant. You can't go wrong with any of them, and they are each mid-range when it comes to pricing, therefore they won't leave too much of a hole in your wallet.
Go on a wine tour
There is no better way to end the second day of your Santorini 3 day itinerary than going on a wine tour! The vineyards in Greece are unlike any other, especially in Santorini.
There are many tour options for visiting a vineyard, but this Santorini half-day wine adventure tour is definitely one of the best!
The sunset tour starts at 4 pm and it includes visiting 2 of the area's best wineries with trying 9 different types of wine. You can also get great wine tasting tips from your local guide and enjoy some Greek tapas as well.
If you have a bit more time, you can opt for this 4-hour small group wine tasting tour which starts at 3.30 pm. During the tour, you'll be able to try 12 different wines and learn about the island's ancient wine history while visiting 3 different vineyards.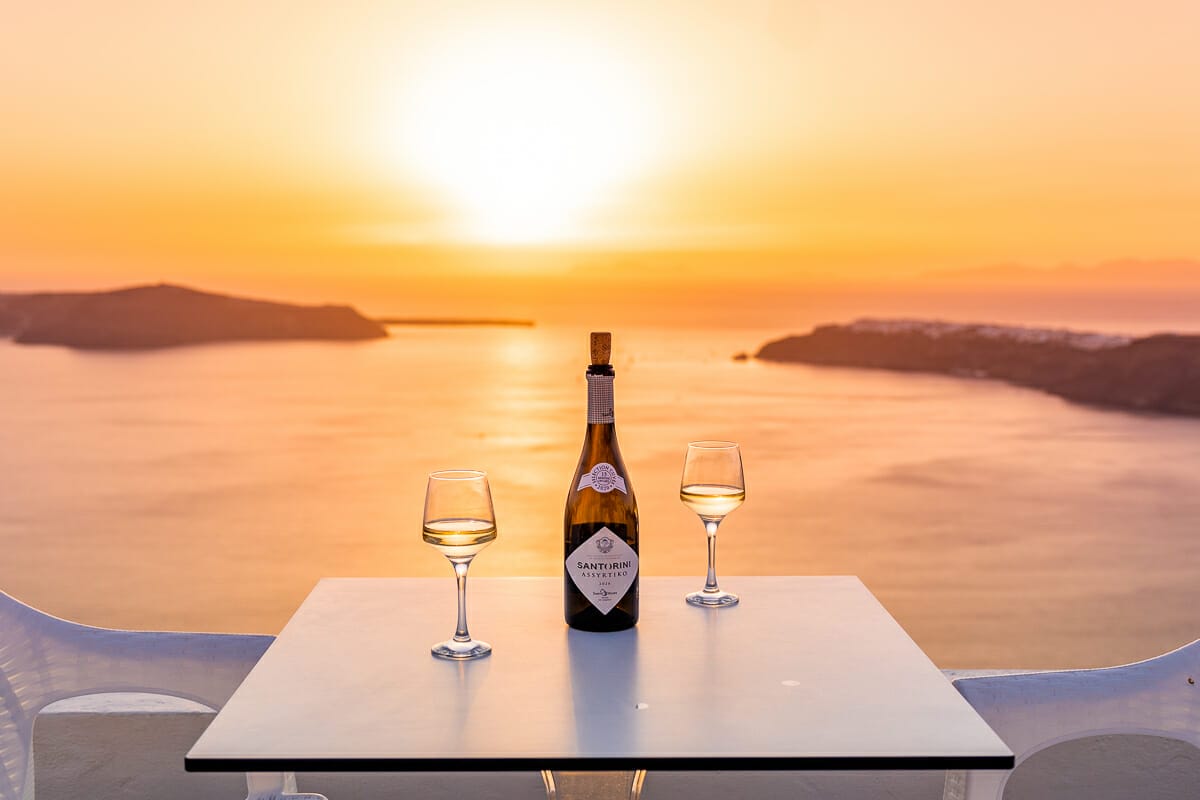 Day 3 of Your 3 Days in Santorini Itinerary
For your third day on this Santorini itinerary, it's time to go out and explore the rest of the island.
Similar to day two, day three is filled with lots of attractions, so make sure you eat a good breakfast and wake up early in order to fit everything in.
Keep in mind that in order to visit all the places on the itinerary for this day, you'll have to rent a car or an ATV to explore the island.
Pyrgos
First, head to Pyrgos. The charming little village of Pyrgos is located in the foothills of Mount Profitis Ilias, 7.5 km (4.6 miles) south of Fira.
It's the largest preserved village on Santorini and was once the island's capital.
Pyrgos is often overlooked by tourists and not many people actually make it there so it has a much more relaxed vibe than the northern part of the island. Take the time to wander around the streets and drop by some of the cutest souvenir shops!
One of the must-visit sights in Pyrgos is Pyrgos Castle. Although the castle got seriously damaged in an earthquake in 1956, it's still worth visiting, mainly due to its amazing location.
Sitting on a hilltop, the castle offers an insanely beautiful panoramic view of the island and the shimmering sea.
You can also find many typical white churches with blue domes in Pyrgos. Two of the most beautiful ones are Saint George Church which is located close to Pyrgos Castle, and Agios Nikolaos Theotokaki which is situated in the heart of the town.
Profiti Ilias Monastery
Next, make your way to the Profiti Ilias Monastery. Situated on the summit of Mount Profitis Ilias, the Monastery of Profitis Ilias is one of the oldest churches on the island.
It's roughly 3 km (1.8 miles) away from the village of Pyrgos and since it's located on the highest point of the island, it offers a breathtaking view of Santorini.
You can drive all the way up to the top where you will find many parking spots. The monastery is completely free to visit.
Perissa Black Sand Beach
Your 3 days in Santorini wouldn't be complete without seeing at least one of the black sand beaches on the island.
Perissa Black Sand Beach is one of the most popular beaches on the island, and, just like its name suggests, is covered in gorgeous black sand that really makes the color of the ocean pop.
Be careful if you walk on the sand barefoot because it can get very hot in the sun and might burn your feet if you're not paying attention!
The busiest time to visit the beach is around 3 pm, so as long as you visit before then, it shouldn't be too overwhelming.
If you could use a little coffee and cake break, stop by Chocolat. This colorful little cafe serves the best pancakes and waffles and their coffee is amazing as well!
Red Beach
Now it's time to head to another iconic beach. The Red Beach has red sand and huge red cliffs, which makes it extremely unique in comparison to other beaches on the island. It's red because of the nearby volcanic rock. When you visit, be on the watch for landslides from the cliff faces!
Akrotiri Archaeological Site
Next up on this Santorini itinerary is another historical site that can't be missed. The Akrotiri Archaeological Site allows visitors to walk through an old Greek settlement that was destroyed and covered in ash from a volcano in the 16th century.
Walking through the site is truly eye-opening and will give you an exclusive and unique look into Greece's ancient history that you probably didn't expect to see on an island like Santorini.
Akrotiri Lighthouse
This 19th-century lighthouse is one of the country's first lighthouses, which makes it pretty unique! It's located pretty high up and offers breathtaking views from every inch, including down to the beautiful blue water.
Although the sunset is pretty magical at the lighthouse, since this is your last evening in Santorini, I would recommend going back to Fira to see the sunset there. But it's completely up to you!
Sunset at Fira
In case you don't want to stay at the lighthouse for sunset, head back to Fira and be prepared for one of the most beautiful sunsets you'll ever see!
You can either choose to sit down at one of the restaurants or bars overlooking the caldera or just simply find a spot along the walls to watch the sun go down. Both offer an incredible experience!
One of my favorite spots to watch the sunset in Fira is Franco's Bar. In recent years, they've been rebranded and now they function more like a restaurant than a bar but the view is still epic. As a bonus, now you can even have a delicious dinner with these views!
It's truly the best way to end your 3 days in Santorini.
---
Planning a trip to Santorini?
Then you might want to take a look at all our other travel guides about Santorini. I promise, they are just as awesome as this article was!
Hotel Guides:
Travel Guides:
Other Amazing Destinations in Greece: Athens | Mykonos | Milos | Naxos | Paros
---
Pin It for Later!