Oia is undoubtedly one of the most popular places to visit in Santorini, if not the whole of Greece. With its iconic blue domes, Cycladic architecture, and beautiful surrounding bays, it's no wonder this place has become a tourist hot spot.
You'll find plenty of awesome things to do in Oia, whether that be hopping on a catamaran for the day or watching the sunset from the castle.
There's something for everyone in this charming village, so let's take a look at the best places to visit in Oia!
*Disclosure: This post contains a few affiliate links, which means I may receive a small commission, at no cost to you, if you make a purchase through my link.*
No time to read now? Pin it for later!
Useful Info for Visiting Oia
Before we're jumping into all the best things to do in Oia, here is some useful information and a few practical tips you should know before visiting this charming town.
How to get to Oia
Once you made it to Santorini either by plane or ferry, you have a couple of options to get to Oia.
Bus – This is by far the cheapest way to get to Oia. The downside is that the central bus station is located in Fira so if you're not based in Fira, you have to get to Fira first in order to board a bus to Oia. Buses run frequently throughout the day, a one-way ticket costs €1.6 and it takes 25 minutes to reach Oia.
Rental car or ATV – The most convenient option, especially if you're planning to discover the whole of the island, not just the most touristic parts. Finding a parking spot in Oia can be a bit of a struggle, especially if you're visiting in high season. However, if you come early enough, you won't have a problem. I recommend aiming for this parking lot but if you don't find a free spot, there is another parking lot next to the bus station as well. Parking is free everywhere on the island.
Airport/port transfer – If you don't want to rent a car and you're planning to stay in Oia, this is your best option. You can travel from the port or the airport directly to your hotel or vice versa, all you need to do is book the transport in advance and your driver will already be waiting for you once you get to the island.
Taxi/Uber – As a last resort, you can always hop in a taxi or call an Uber. However, this is by far the most expensive option: you can expect to pay around €40 for getting to Oia from the airport or around €35 for a ride between Fira and Oia.
How to get around Oia
This is the easiest part as once you get to Oia, you can walk pretty much everywhere. Make sure to wear comfortable shoes and leave your heels at home as the walkways can be a bit slippery from time to time.
Also, Oia is kind of like a maze and most streets are only visible on the Satellite mode on Google Maps so make sure to turn this on for a better navigation experience.
That being said, getting lost on the streets is actually one of the best things to do in Oia so if it happens (or rather, when it happens), just go with the flow!
The only place where taking a taxi might be a good option is Ammoudi Bay. There is a very long staircase with around 270 steps leading down to Ammoudi Bay so if you have mobility issues, it might be a better option to get in a taxi instead.
Word of warning: you'll come across many donkeys on the stairs and locals offering donkey rides down to Ammoudi Bay but please do not use them! In this case, it's better and more ethical to opt for the taxi.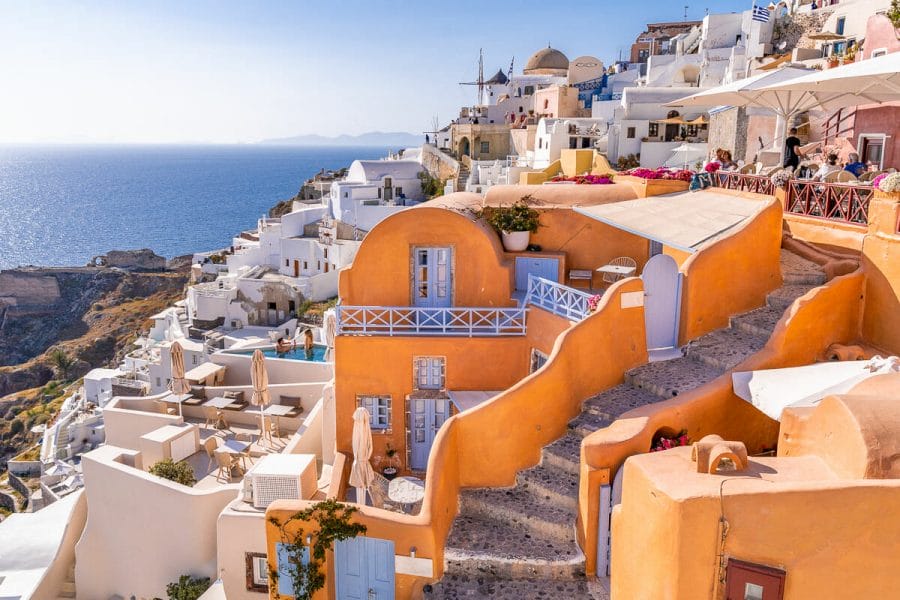 Best time to visit Oia
As with the whole of Santorini, Oia is the busiest during the summer season so if you can schedule your trip for the shoulder months, you'll be in for a much more relaxing experience. Late April, May, late September, and early October are arguably the best time to visit Oia.
If you want to see the flowering bougainvilleas in the town, June to September is your best bet whereas if you're after swimming, the sea is the warmest in August and September.
Where to stay in Oia
Although Oia is undoubtedly one of the best places to stay in Santorini, it might not be the best option for everyone.
If you are planning to spend the majority of your time in Oia then of course your best option is to book a hotel there and avoid going back and forth. This is undoubtedly the most picturesque part of the island so if you wish to experience the views you see on postcards, Oia is your place.
If you want the ultimate Santorini experience and you have a bigger budget, booking one of the most amazing Oia hotels with private pools will surely be an unforgettable experience.
However, Oia is also the busiest part of the island which might not be convenient for everyone. If you're after a quieter vibe, Imerovigli is a good choice for upscale luxury hotels whereas Pyrgos and Megalochori are all about the local vibes.
If you want to explore the whole of the island but don't want to rent a car, Fira is the best place to base yourself as this is where the main bus station is located. Fira is also quite busy and it's less picturesque than Oia but on the other hand, it's cheaper.
If you're still not sure where is the best place to stay for you, check out my in-depth guide about where to stay in Santorini!
In case you decide to stay in Oia, here are my top recommendations for different budgets.
LUXURY – La Perla Villas and Suites
If you're looking for an ultimate luxurious stay, you won't find a better place than La Perla Villas and Suites. This adults-only hotel offers incredibly unique rooms while guests can enjoy amenities like an outdoor swimming pool, terraces with caldera and sea views, and a pool bar with drinks and food.
MID-RANGE – Kaleidoscope Cave Houses
The Kaleidoscope Cave Houses have a unique mix of bungalow vibes and classic architecture. Rooms at the property have a luxurious feel with amazing caldera views while selected units provide a private hot tub or a plunge pool.
BUDGET – Laokasti Villas
Located in the eastern part of Oia, only a 15-minute walk from the beach, Laokasti Villas is one of the best budget properties in Oia. The property boasts 17 different studios and villas and also has an outdoor pool and a restaurant on site.
The Best Things to Do in Oia, Santorini
1. Head to Oia Castle for sunset
Oia Castle or the Castle of Agios Nikolaos as it's sometimes known is one of Santorini's most popular attractions.
The castle dates back to the 15th century and was once used as an observation point to identify any attackers or pirates.
Unfortunately, the earthquake of 1956 destroyed most of the castle but it's still one of the most spectacular sunset spots on the island.
From the castle, you'll get stunning views of the Aegean Sea, the Caldera, and some of the other Greek islands in the background.
Although the views are beautiful at any time of day, I highly recommend you head there for sunset. The colors are incredible, but just be prepared to share this experience with lots of other people.
This is one of the top things to do in Oia, so don't leave it off your itinerary! But if the crowds scare you off, don't worry, as I got just the place for you!
Instead of heading to the top of the castle, you can visit the lower ruins right next to the path leading down to Ammoudi Bay. The view will be the same but minus the crowds!
If you want a step-by-step tutorial on how to find this spot, make sure to check my article about the best sunset spots in Santorini.
2. Go on a Volcanic Islands Cruise
If you're wondering what to do in Oia, then why not head out on a Volcanic Islands Cruise?
You'll be picked up around 8:25 am, and then you'll spend a couple of hours admiring the views and exploring some of the more secluded spots.
During this cruise, you'll head to Nea Kameni first where you can hike to the crater of an active volcano. Afterward, you'll head to Palea Kameni where you can jump in a volcanic hot spring!
If that's not enough to convince you, then you'll also visit Thirassia and Manolas so there's plenty to see.
This Volcanic Islands Cruise is one of the cheapest water activities in Oia, but just keep in mind that it doesn't include lunch or drinks. However, for the price, it's an absolute steal!
3. Take some photographs of the town's iconic blue domes
Santorini as a whole is famous for its iconic blue domed buildings and Cycladic architecture, and there's no better place for this than Oia.
This beautiful village is home to two picturesque churches; the Church of Anastasi and the Church of Spyridon. The churches are situated next to one another down an unnamed road, and they both feature the iconic blue domes.
They are undoubtedly one of the best Instagram spots in Santorini but whatever you do, please do not climb onto the roofs as it's strictly forbidden.
Although you may have seen endless photographs on Instagram of this, the churches are actually located on private property and the only way to legally access them is to book a hotel in this area. Luxus VIP Suites, Cave Suite Oia, and Oia Spirit Boutique Residences are all great options!
That being said, after you enter the gate with the private property sign you only need to take 3 steps to get your photo, and honestly, nobody seems to mind. In fact, people are usually lining up to take their photos during the day!
We talked with a few locals and they all said that as long as you stick to the pathway, keep your voice to a minimum, and not climb on the churches, it's fine.
But if you want to be on the safe side, book one of the above hotels – it will be an unforgettable experience to wake up to these views for sure!
Either way, visiting these churches is one of the best things to do in Oia, so don't miss out on them, even if you are just viewing them outside of the private area.
4. Visit the windmills of Oia
During your trip to Santorini, you'll also want to visit the windmills that are found within the village. If you're looking for iconic Oia attractions, then these windmills need to be at the top of your Santorini itinerary!
The main windmill is one of Santorini's most famous photography spots, and it's not hard to see why. Although not functional today, its architecture is incredibly unique and it's situated in a beautiful area.
From here, you'll get stunning views of the Aegean Sea and the caldera – especially at sunset. Not only that, but you can actually stay in the windmill if you book way in advance as it belongs to Charisma Suites now.
There's also a second smaller windmill nearby, but it's not as popular. However, visiting this one is a great way to avoid the crowds!
5. Grab a souvenir at Atlantis Books
Although you don't typically visit Greece to wander around a bookstore for hours, you're going to want to make an exception for this one!
Atlantis Books is situated just off the main street and is the go-to place if you're a keen reader. It's set in the basement of a property, and if you head up the ladder outside you'll find a rooftop terrace where you can enjoy the views.
As you step inside, you'll be greeted with endless shelves of unique books including rare antiques and first editions.
Atlantis Books also offers books in a variety of languages ranging from Chinese to Greek, so there's something for everyone.
Even if you're not a fan of reading, getting a book from here is one of the most unique souvenirs you can bring back from your trip.
6. Spend your day relaxing on a catamaran
There's no better way to spend an afternoon in Santorini than by relaxing on a catamaran. This fantastic catamaran cruise will take you on a 5-hour tour around the coast of the island with epic views along the way.
You'll get to relax in a hot spring, visit both Red Beach and White Beach (the latter is only accessible by boat), and snorkel to your heart's content in the Aegean Sea.
However, that's not all! This catamaran cruise also includes a delicious BBQ dinner where you'll have the option of grilled meats or veggies and a variety of salads.
Even better, the cruise includes unlimited soft drinks and wine so make sure you take full advantage! Trust me, this is one of the top things to do in Oia and isn't an experience to be missed.
7. Relax at Ammoudi Bay
Heading to Ammoudi Bay is undoubtedly one of the best things to do in Oia! It's one of the most beautiful places in Santorini and is found just below Oia village.
With beautiful white buildings, blood-red cliffs, and crystal clear waters, Ammoudi Bay has so much to offer.
The stairs down to the bay start from Oia Castle, and there are around 270 steps in total. It's pretty easy on the way down, but unfortunately what goes down must come back up!
Donkeys do take people down to the bay, but please don't take this option. There's evidence of the animals being mistreated so this isn't something you want to endorse.
If you really want to skip the stairs, you can take a taxi from Oia down to Ammoudi Bay and then back up to Oia again.
Once you get down to Ammoudi Bay you can dine in one of the many seafront restaurants, sunbathe on the rockface, or head out on a cruise. If you time your visit right, you can even catch the sunset here!
8. Head to Mnemossyne Gallery
If you need more souvenirs or gifts, or you're simply looking to treat yourself then make sure you visit Mnemossyne Gallery.
It's one of the best places to visit in Oia for keen shoppers, so allow yourself some time to wander around. Mnemossyne Gallery is famous for its minimalist jewelry, with each piece being handmade and beautiful.
Whether you're looking for bracelets, necklaces, or rings – there's something for everyone. This place even has stunning earrings made of solid gold, sterling silver, and gemstones.
Not only that, but this gallery also has a variety of artwork and photography prints available to buy too.
Just make sure you leave some of your budget free, as you'll want to buy something as soon as you walk through the door!
9. Visit the Church of Panagia Platsani
The Church of Panagia Platsani is one of the most famous attractions in Oia, if not the island. With its characteristic blue dome, Cycladic architecture, and impressive bell tower, this is a spot that you need to see during your visit.
The Church of Panagia Platsani (sometimes called the Church of Panagia Akathistos Hymn) is situated within the main square, although originally it was found within Oia Castle.
However, after the earthquake of 1956, the church was rebuilt in the village center instead.
Although the church is charming from the outside, just wait until you see its interior! Inside, you'll get to see frescoed ceilings, a wall of carved statues and icons, and holy utensils.
However, the main attraction is the 'Icon of the Mother of God' which according to legend was found at sea. So, if you're wondering what to do in Oia, don't miss out on visiting this beautiful building.
10. Explore the many beaches in the area
No trip to Oia is complete without exploring some of the beautiful beaches nearby. Although I've already mentioned Ammoundi Bay, there are tons of other fantastic spots to visit too.
This includes Katharos Beach which is just a 20-minute walk from Oia and is one of the most popular beaches on the island. With dramatic cliffs, epic scenery, and beautiful blue waters, it's no surprise!
However, if you don't mind heading a few kilometers out of town you can also visit Baxedes beach, Koloumpos beach, and Mavropetra beach.
Each one is within a 1.5-hour walk, or you can hire a car or an ATV to make the exploring easier.
So if you're wondering what to do in Oia, there are plenty of beautiful beaches waiting for you!
11. Go on a wine tasting experience
Heading out on a wine tasting experience is one of the top things to do in Oia! There are plenty of fantastic vineyards on the island, and the best way to see them is often via a tour.
This half-day tour will take you to 2-3 awesome wineries and you'll get to taste a selection of up to 12 wines throughout the day.
The tour will also give you the chance to learn about Santorini's winemaking traditions which date back over 3,000 years.
Not only that, but you'll get to explore hidden parts of the island, wander through vineyards, and taste some delicious local cheeses and snacks.
Just keep in mind that the wineries you visit will depend on the season, so if you're wanting to visit a specific winery you may want to query this before you book.
12. Marvel at Agios Georgios Church
Agios Georgios Church is one of the most beautiful Oia attractions and is a must-visit. With its yellow coloring and blue domes, it stands out against the traditional white buildings in the village.
The original church was built at the start of the 19th century, but unfortunately, it was very nearly destroyed during the earthquake of 1956. However, it's now been completely restored and is one of the village's top attractions.
Agios Georgios Church is also known as 'Perivolas' and 'Apanomeritis', due to the neighborhood it was built in and Oia's previous name – Apano Meria.
It once housed the holy icon of Saint George, which was brought to Oia from Constantinople so it's got quite the history too! If you're a fan of unique architecture then you need to visit this place.
13. Head out on a sightseeing bus tour of Santorini
If you're looking to see more of Santorini, then why not head out on a sightseeing bus tour of the island?
This awesome tour will pick you up at around 9:45 am from Oia and take you to see some of Santorini's most popular attractions.
First of all, you'll go on a guided tour of the Akrotiri excavation site before heading to the charming village of Emporio. Afterward, you'll get to relax on Perissa Beach which is one of the island's most iconic black beaches.
If that's not enough to convince you then you'll also get to visit a winery, head up to the island's highest peak, and then you'll be back in Oia to appreciate its iconic sunsets.
With so many sites included, this is one of the best ways to explore the island.
14. Relax at Caldera Massages Studio
Although there are plenty of fantastic things to do in Oia, sometimes it's important to just relax. Caldera Massages Studio is the perfect place to do just that, as they have a variety of massages and treatments available.
Situated on the cliffside, this studio naturally boasts stunning views of the caldera and the Aegean Sea. Whether you're looking for a facial, a body treatment, or a massage – there's something for everyone.
This is also a great place to visit if you're on a romantic getaway or a honeymoon, as Caldera Massages Studio offers fantastic couple packages.
Many of them include a massage, a sunset viewing, and drinks out on the terrace. There's no better way to end your day, and you'll get to spend quality time with your other half too!
15. Walk down to Armeni Bay
During your time in Oia, you have to allow some time to visit Armeni Bay. Armeni is a small cove that's situated just below Oia and originally used to be one of the bigger ports on the island.
Today, it's a picturesque spot where you can relax on the beach, head out for a swim, and dine in a local taverna.
Not only that, but Armeni Bay offers spectacular views of the caldera and the island of Therasia which can be seen in the distance.
To get down to the bay, you'll need to walk down a set of steps that start from the local primary school. Donkey rides are available here too, but as I mentioned before please don't participate in them.
Visiting Armeni Bay is one of the best things to do in Oia and I can't recommend it enough!
16. Get lost in Oia's winding alleyways
There's no better way to appreciate Oia than by getting lost in the village's winding alleyways! Although this scenic place is famous for its blue domes and epic sunsets, there's so much more to see.
The main streets can get pretty busy, but if you head off the tourist path and explore some of the hidden alleyways you'll come across some beautiful spots.
As you head through the lesser-known streets of Oia you'll come across charming Cycladic buildings, quirky coffee shops, and awesome viewpoints.
Many people head straight to the popular sites including the castle or the windmills so better yet? You'll often have these secluded spots all to yourself!
Although this isn't a specific 'activity' it's honestly one of the things that you should prioritize.
17. Hike the Volcanic trail from Oia to Fira
Hiking the Volcanic Trail is one of the best things to do in Oia and is a great way to appreciate the area's beauty.
The trail runs from Oia to Fira and is one of the most popular hiking routes on the island. It's a 10 km (6-mile) trek that takes you right along the crater edge and is suitable for all fitness levels.
Along the way, you'll get to traverse through traditional villages, marvel at the epic views of the Aegean Sea, and admire some of the island's landmarks in the distance.
For this hike, I recommend taking as many photographs as possible as it's such a beautiful area!
The walk takes around two hours in total, but try to avoid doing it during the midday heat if you can. The temperatures can feel unbearable at times and there's not much shade.
18. Wander around the Maritime Museum
The Maritime Museum is set in a 19th-century mansion and is home to a variety of unique items.
It was founded in 1956 and showcases the local Naval history of Santorini as it used to be an incredibly prosperous island due to shipping.
Within the museum, you'll get to see old maritime equipment, seamen chests (I know you're thinking of Pirates of the Caribbean), and authentic models of ships.
The Maritime Museum also houses an old library, rare photographs, and nautical charts so there are lots to see.
Although visiting the museum isn't one of the most popular things to do in Oia, it's a great way to learn about the area's history. You'll also feel like you've stepped back in time as soon as you walk through the door!
19. Try some delicious authentic Greek food
Greece is known for its delicious cuisine, and you won't be short of restaurants in Oia.
Some of the most popular choices include Armeni Restaurant, Laokasti Restaurant, and Roka Kafeneio Ouzeri. They're all known for their fantastic seafood dishes and stunning sea views.
You should also head to PitoGyros Grill House which if you hadn't guessed already, is home to some of the best gyros in all of Santorini!
As delicious as Greek food is, sometimes you just crave international cuisine. So, in that case, I'd recommend Paradox Thai Food & Bar or Trinacria Santorini.
If you're a fan of ice cream, then make sure you head to Lolita's Gelato for dessert! They have a variety of delicious flavors available including banana, hazelnut, and stracciatella.
20. Spend some time at Lioyerma Pool Bar
If you're looking to relax, then I'd recommend heading to Lioyerma Pool Bar. It's perched above Ammoudi Bay and boasts stunning views of the caldera and the Aegean Sea!
Lioyerma is home to one of the biggest swimming pools in Oia, where you can head for a swim or relax on one of the many sun loungers.
Not only that, but you'll be able to enjoy fresh cocktails, local wines, or delicious coffee while you sit back and enjoy the views.
Every holiday requires some downtime, and this is one of the best places to visit in Oia if you're looking to kick back. It's also a great spot to watch the sunset, so don't miss out on this pool bar!
---
Planning a trip to Santorini?
Then you might want to take a look at all our other travel guides about Santorini. I promise, they are just as awesome as this article was!
Other Greek Destinations: Athens | Mykonos | Milos | Naxos | Paros
---
Related Posts
Want to read more about Santorini?
---
More Greek Islands Resources
Do you want to read even more about the Greek islands? Check out these awesome books and travel guides for more inspiration!
---
What Camera Gear Do We Use?
If you want to read more about what is in our camera bag, check out my detailed post about our travel photography gear!
---
Pin It for Later!