Watching a sunset in Santorini is a truly magical experience. The view is always incredible from the west side of the island and the colors are just out of this world. Read along to know where to see the best sunset in Santorini, including their exact locations and tips about how to escape the crowds!
If you want to know more about Santorini including how to get there, when is the best time to go, where to stay, and what to do, check out my Santorini Travel Guide!
It is jam-packed with useful information about the island and it's especially helpful if you are a first-timer. And while you're at it, don't forget to check my 3 days in Santorini itinerary as well!
*Disclosure: This post contains a few affiliate links, which means I may receive a small commission, at no cost to you, if you make a purchase through my link.*
No time to read now? Pin it for later!
Best Places to Watch the Sunset in Oia
Oia is the first place that comes to mind when talking about the best sunset in Santorini. It's one of the most prettiest cities in Europe and if you are looking for that postcard-perfect view, that's the place you need to visit.
Unfortunately, since it is the most popular place it's always crowded like crazy. I will share the most famous spot but I will also tell you about my favorite secret viewpoint where you can have an amazing sunset view without all the people, so keep reading!
Oia Sunset Spot nr. 1 – Oia Castle
I've already told you that Oia is the most popular place for sunset watching and Oia Castle is the most famous sunset spot in town. Based on that I think you can imagine how crowded this place gets around sunset. Now multiply it by three! It is really that crazy!
I would say that you should go early but based on what I saw early won't help you either. Unless you plan to come like 3-4 hours earlier, go to the castle, secure your spot and not move until the sunset is over. Oh, and expect to share the experience with at least 300 other people. Seriously.
I tried to make my way up there around sunset but it was just impossible to find a spot. Don't expect a normal castle at this place, unfortunately, it was destroyed in an earthquake.
Only a part of the old watchtower survived so there is no castle, in reality, just the ruins of the castle. I don't have any sunset pictures from here but you can see the view in the below photos during the daytime.
Yes I know, the view is really beautiful but I think it just doesn't worth it. Especially since I know another spot where the view is exactly the same and you can have it all to yourself! Let's continue with that.
Oia Sunset Spot nr. 2 – The Byzantine Castle Ruins
Now that you know how crowded Oia Castle gets around sunset, let me show you another way to experience the sunset in a much calmer place. Most people go to the top of the castle where the old watchtower stood once. Instead of going up, start going down!
If you start to walk from the city center in the direction of the castle you will end up at this spot that you can see on the below photo. If you wanna go up to the castle you should continue to the left side but instead of doing that, continue right!
You have to take a few turns on the road and you will pass by this cute orange building called Kastro Oia Houses. (It's also one of the most instagrammable places in Santoroni, just FYI!)
Soon you will see the old castle walls on the hillside. This is your spot! You can easily climb up there and you will only have to share this place with a handful of people.
We were sitting on that road you can see on the left side of the photo. Since there were almost no other tourists we could take so many amazing photos! If you walk all the way to the door at the end of that road you will find a small cave so you can create a perfect frame for your photos.
There is no doubt that Santorini is really one of the most beautiful islands in Greece, just look at this view!
Sunset spot nr. 3 – Go on a sunset cruise
Boat tours are one of the most popular things to do in Oia as they offer an incredible view of the caldera and the surrounding towns. There are tons of different options to choose from, you can't go wrong with any of them.
The sunset tours are one of the most expensive tours, they usually start from €100-150. Since we had only one night in Oia we didn't go for a cruise but I've heard many positive reviews. If you are staying there for more than one night and you have the budget, definitely go for it!
One great tour to consider is the Santorini Catamaran Red Cruise. It comes with a delicious barbecue dinner and wine. During the cruise, you'll head past both the Red Beach and White Beach and have the opportunity to jump in and swim a bit!
If the above-mentioned tour is already full or you're looking for another option for any reason, you could also consider a 5-hour small group Catamaran Cruise that includes a traditional Greek buffet lunch or dinner.
Where to stay in Oia
If you want to watch a magical sunset in Oia, it's best to stay at a hotel nearby. Luckily Oia has many options to choose from, you can see all the hotels by clicking here. If you're not in the mood for searching, check out my recommendations below!
LUXURY – La Perla Villas and Suites
If you're looking for an ultimate luxurious stay, you won't find a better place than La Perla Villas and Suites. This adults-only hotel offers incredibly unique rooms while guests can enjoy amenities like an outdoor swimming pool, terraces with caldera and sea views, and a pool bar with drinks and food.
MID-RANGE – Kaleidoscope Cave Houses
The Kaleidoscope Cave Houses have a unique mix of bungalow vibes and classic architecture. Rooms at the property have a luxurious feel with amazing caldera views while selected units provide a private hot tub or a plunge pool.
BUDGET – Laokasti Villas
Located in the eastern part of Oia, only a 15-minute walk from the beach, Laokasti Villas is one of the best budget properties in Oia. The property boasts 17 different studios and villas and also has an outdoor pool and a restaurant on site.
Best Places to Watch the Sunset in Fira
Fira is the capital city of Santorini and it offers a wide selection of hotels. Chances are pretty high that you will stay there at least for a few nights. Fira isn't known for its sunsets but trust me you can witness some pretty amazing sunsets there too! And it's less crowded than Oia so that's definitely a plus point.
Sunset spot nr. 1 – Franco's Bar
We arrived to Fira in the afternoon and I was searching for a place to have a coffee with a nice view. That's how we ended up in Franco's Bar. The bar was practically empty and there were no other people around us on the terrace. As the view was just perfect we decided to stay here for sunset. What a great decision we made!
The only downside of the bar is that it's quite pricy. Coffees, beers, ciders, and wines cost around €6-10 while cocktails are between €15-20.
I know it's a lot but I think it's totally worth watching the sunset from there even with prices that high. This is definitely not the place to get drunk but buying one beer wouldn't break the bank. And it's so worth it for the view!
When the sun slowly started to set it gave the whole city a warm golden glow. The view was absolutely fantastic! The staff at the bar changed the music to a beautiful classic song which made the experience even more memorable. Half an hour later the whole city was lit up and the sky turned into a soft purple color. What a magical night it was!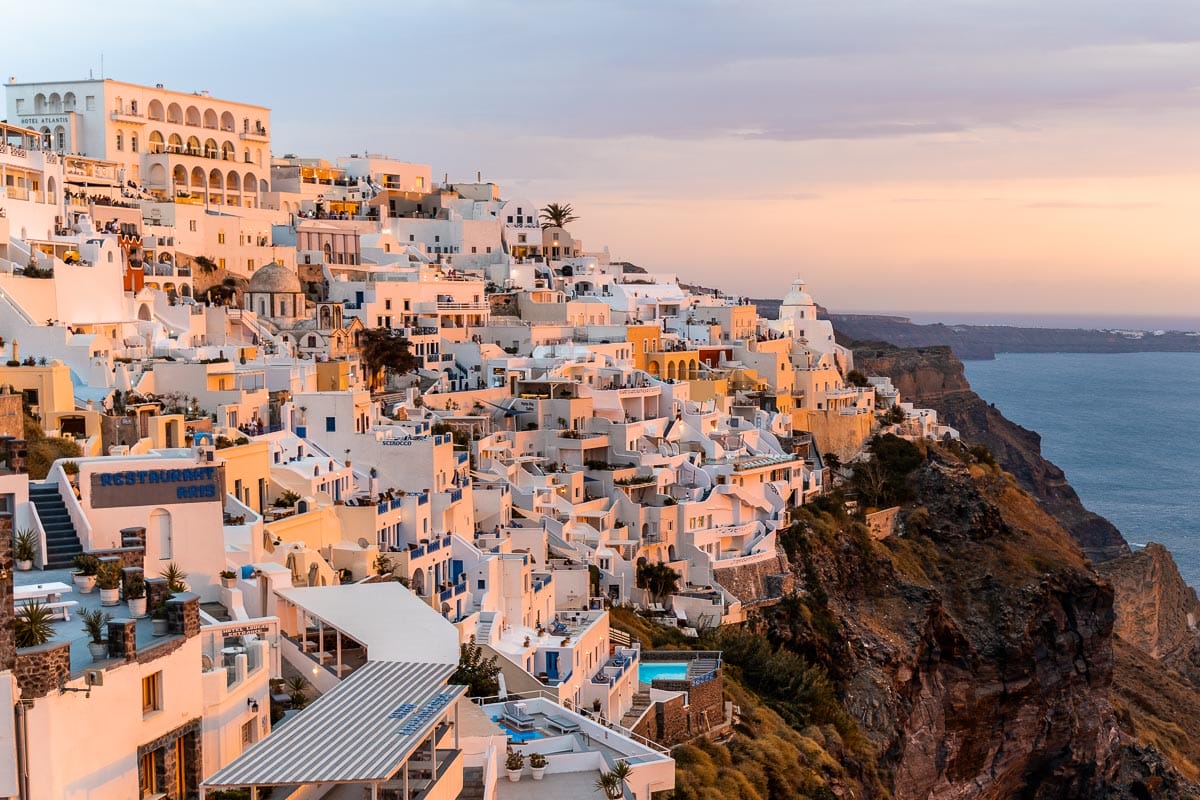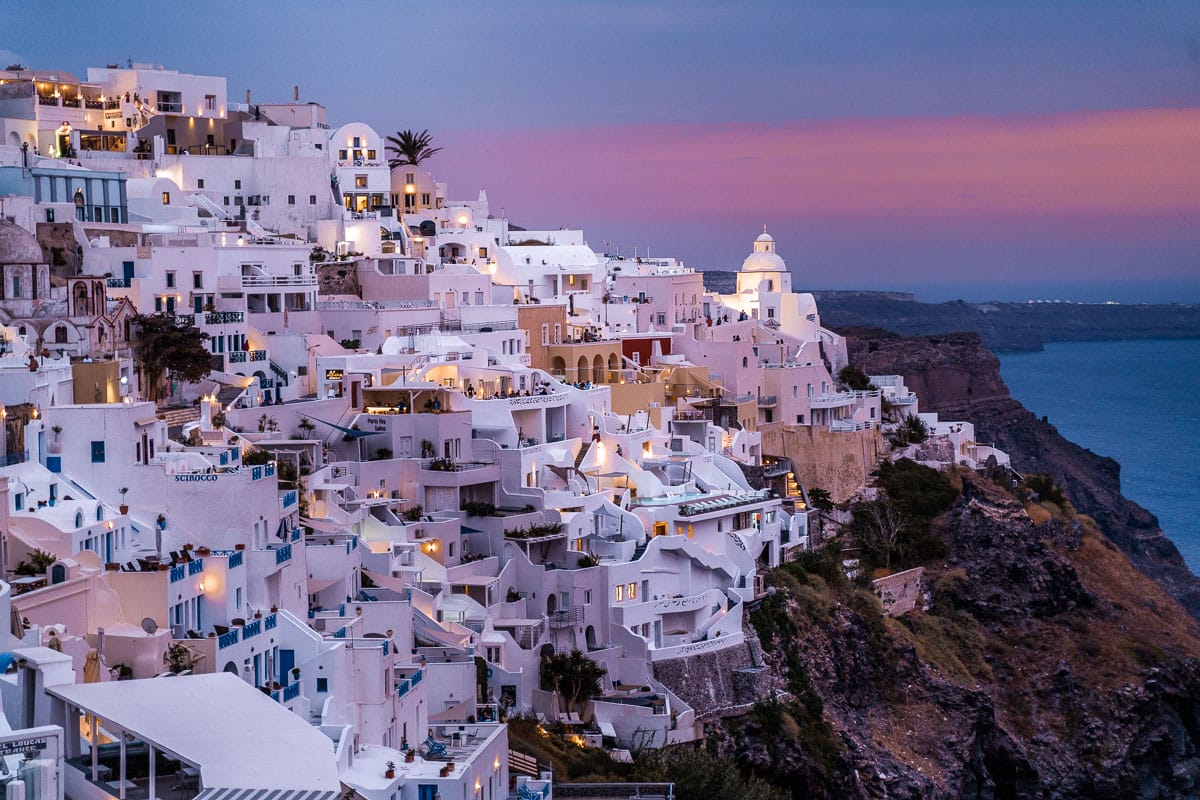 Sunset spot nr. 2 – Along the wall
If you wanna experience the same view for totally free – you can do it as well! You can simply stop anywhere along the low walls in Fira (even around Franco's Bar) and you will get the exact same view.
The downside is that the walls will be crowded so try to be there as early as you can to secure a good spot for yourself! You won't be able to get good photos of yourself due to the crowds and the lack of space but if your goal is just only sunset-watching you will still get a memorable experience from there as well.
Where to stay in Fira
As I've mentioned before, Fira offers a wide selection of hotels so I can absolutely recommend staying there for a few nights. You can check all the accommodations by clicking here or if you're not in the mood for searching, look at my recommendations below!
LUXURY – Anteliz Suites
Located right on the edge of Fira, this property is perfect for guests looking for a hotel with a blue and white color scheme and classic Santorini architecture. Providing breathtaking sea views and a swimming pool, Anteliz Suites is easily the best choice when it comes to luxury accommodation in Fira.
MID-RANGE – Athina Luxury Suites
Suites at this amazing property provide an incredible view of the caldera, the volcano, and the Aegean Sea. Athina Luxury Suites is located in the center of Fira and also offers a huge swimming pool and a sun terrace.
BUDGET – City Break
You won't find a pool or any terraces with a caldera view at this property but if you're looking for a budget-friendly hotel, City Break is one of the best options. Located in the heart of Fira, this hotel will set you steps away from the best places in the city. Rooms come with a private bathroom and a flat-screen TV.
Best Places to Watch the Sunset in Akrotiri
Akrotiri lies in the southwest corner of Santorini. Since it is quite far from the main touristy area it's not so popular amongst visitors and only a handful of people go there. The Akrotiri peninsula is famous for the ruins from the Minoan period so if you're a fan of archeological sites I can totally recommend checking it out!
What got me really excited is that I accidentally found out that there is a lighthouse on the southwest edge of the island. I don't know why but I'm obsessed with lighthouses! So I instantly knew I had to go there.
While the view is pretty epic I only recommend going there if you have your own car and you saw the sunsets in Oia and Fira. It takes like a 50-minute drive from Oia or a 25-minute drive from Fira to get there. You can park your car along the road close to the lighthouse and since it's not so popular it's easy to find a parking spot.
Most people who go there walk all the way to the lighthouse but there is a hill behind the lighthouse where you can easily climb up (there are even stairs on the hillside).
I think the view from the hill is far better because this way you can have a view of the lighthouse and the sunset as well! You can find some little caves in the hillside that make a perfect framing for the photos but the smell is really awful inside so I only recommend going there if you are truly passionate about photography!
Oh and one more thing: Santorini was really windy almost all the time while we were there in mid-September but this place was the windiest of all! Since you are practically on top of a hill on the edge of the island it's only natural. I'm only saying this to be prepared for some serious gust of wind!
---
Planning a trip to Santorini?
Then you might want to take a look at all our other travel guides about Santorini. I promise, they are just as awesome as this article was!
Hotel Guides:
Travel Guides:
Other Amazing Greek Destinations: Athens | Mykonos | Milos | Naxos | Paros
---
Related Posts
Want to read more about Santorini?
---
More Greek Islands Resources
Do you want to read even more about the Greek islands? Check out these awesome books and travel guides for more inspiration!
---
What Camera Gear Do We Use?
If you want to read more about what is in our camera bag, check out my detailed post about our travel photography gear!
---
Pin It for Later!