Are you thinking of visiting Santorini for the first time? If so, you're in for a treat!
If there's one place in the world that everyone seems to agree is utterly breathtaking, it's Santorini. And let me tell you in advance: they are not wrong! With its dramatic cliffside towns, crystal clear waters, and beautiful blue domes, this Greek island is straight out of a postcard.
But before you book your flight, make sure to carefully read this Santorini travel guide! In this post, you'll find all the information you need to know before your trip.
You'll learn all about the best places to visit, where to stay, what to eat, and how to get around the island. So whether you're planning a romantic honeymoon or a fun family vacation, this Santorini travel guide has got you covered.
*Disclosure: This post contains a few affiliate links, which means I may receive a small commission, at no cost to you, if you make a purchase through my link.*
No time to read now? Pin it for later!
Santorini Travel Guide: Useful Info for Your First Visit
Where is Santorini located?
Santorini is located in the Aegean Sea, about 200 km (120 miles) southeast of mainland Greece. The island is part of a group of islands called the Cyclades, which also includes Milos, Mykonos, Naxos, and Paros.
How big is Santorini?
Santorini is quite a small island, the area is only 76 km² (29 mi²). The length of the island is 16 km (10 miles) and the width varies between 1 km (0.6 miles) and 5 km (3 miles). It takes roughly 45 minutes to drive from one end of Santorini to the other.
Santorini is home to roughly 15,500 people but this number swells to over 200,000 in the summer months as tourists flock to the island.
What is the Santorini caldera?
The island was the site of one of the largest volcanic eruptions in recorded history: the Minoan eruption, which occurred about 3,600 years ago at the height of the Bronze Age. The eruption was so powerful that the center of the island sank into the sea and the rest of the island got heavily damaged.
The Santorini caldera is a large, crescent-shaped crater that was formed during the eruption. The caldera is surrounded by the steep cliffs of Santorini and the island of Thirassia. Santorini is the only place in the world where you can find a caldera like this.
How many days to spend in Santorini?
Most people recommend spending at least 3 days in Santorini, but really the ideal Santorini itinerary depends on what you want to do and see.
If you're mainly interested in relaxing on the beach or at your resort, then 3 days is probably enough. But if you want to explore Santorini's towns and villages, go on day trips to nearby islands, or do some wine tasting, then you'll need 4-5 days.
What currency is used in Santorini?
Greece is a member of the European Union and they are using Euro (€) as its official currency. Credit cards are widely accepted across the country and there are many ATMs where you can withdraw cash. It's always good to have some cash with you as the smaller bazaars usually don't accept credit cards.
Which visa is required to visit Santorini?
As Santorini is part of Greece and therefore the European Union, the Schengen rules apply. This means that if you have a valid Schengen visa, you can enter Santorini without any problem.
For citizens of the US, UK, Canada, and Australia, a 90-day tourist visa is automatically issued upon arrival, so you don't need to apply for a visa in advance. For a detailed list of visa requirements for each country, visit the website of the Hellenic Republic – Ministry of Foreign Affairs.
How to Get to Santorini
Flying to Santorini
The easiest way of visiting Santorini is by plane. Santorini has only one airport, Thira Airport (JTR), located on the east side of the island. The airport is close to Kamari village and it is roughly 6 km (3.7 miles) from Fira.
In the summer period, you'll find numerous direct flights to Santorini from European cities such as London, Vienna, Paris, or Amsterdam.
If you're visiting Santorini from the USA, Canada, Australia, or other non-European countries, you must get a connecting flight to Athens or another European city that operates a direct flight to Santorini.
If you're wondering how to get from Athens to Santorini, you'll be pleased to hear that the island can be reached all year round with a direct flight from Athens.
In case you're planning to arrive via Athens and you have a few extra days, you might be interested in reading an article about how to spend 4 days in Athens as well!
Taking the ferry to Santorini
The other option for getting to Santorini is taking a ferry.
There are daily ferries from Athens, Naxos, and Paros to Santorini all year round. It takes like 5-7 hours to reach Santorini from Athens, a one-way standard ticket costs between €33-70.
Since Paros and Naxos are closer, you only need like 2-3 hours to reach Santorini, a one-way standard ticket costs between €23-45.
From mid-March until the end of September there are direct ferries connecting Santorini with many other Greek islands, so it's the best and easiest way to get to Santorini from Mykonos, Ios, Milos, Folegandros, or Crete.
Usually, there are more ferry operator companies on the same route with various prices and duration. As a rule of thumb, a longer duration means a lower price. You can also purchase different ticket categories on a ferry like a deck lounge, standard seats, business, cabin, or VIP.
If you're planning to arrive in Santorini via ferry, you can easily check the ferry schedules with the help of the below search box.
Best Time to Visit Santorini
High season
The high season in Santorini runs from late June to early September. As you can imagine, the island is full of tourists during this season and the prices are at their peak. The weather is usually hot and sunny, which makes it perfect for relaxing at the beach.
If you are more into sightseeing or hiking, looking to save some money, or if you don't tolerate the crowds too well, I would recommend avoiding the high season.
Shoulder season
Visiting Santorini in the shoulder season, typically in May-June or September-October is a great choice. You can still easily reach the island as the direct flights and ferries are still in operation.
All of the hotels and restaurants are open, the prices are better, and there are fewer tourists on the island.
Please note that in May and October the sea can be too cold for swimming, so if you want beach weather, try to aim for June or September.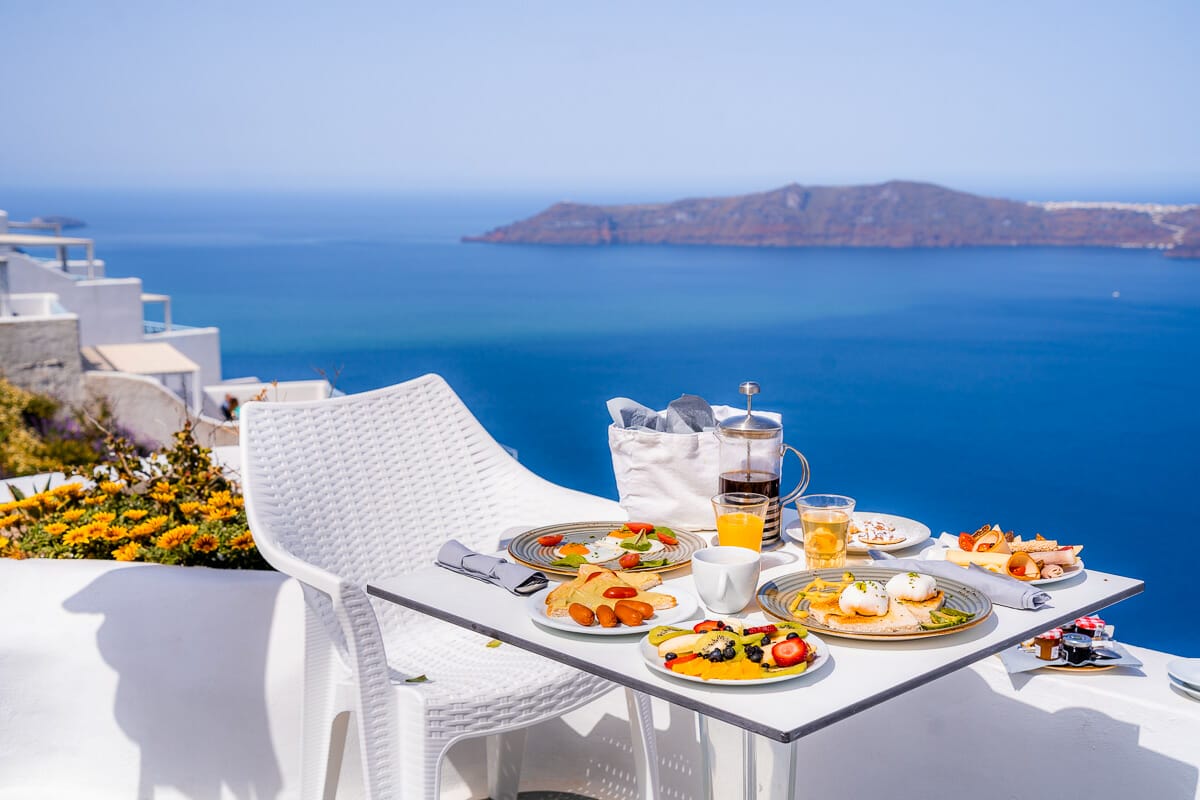 Low season
Originally all the hotels and restaurants were closed between November and April on Santorini. However, as the island got more and more popular over the years, more hotels and restaurants are staying open during winter.
The island is significantly calmer during the winter months and with lower prices and mild Mediterranean weather, Santorini can be a great choice if you want to enjoy some winter sun in Europe.
The temperatures are generally mild, around 15°C (59°F) during the day but if you're unlucky, the weather can be rainy and windy as well.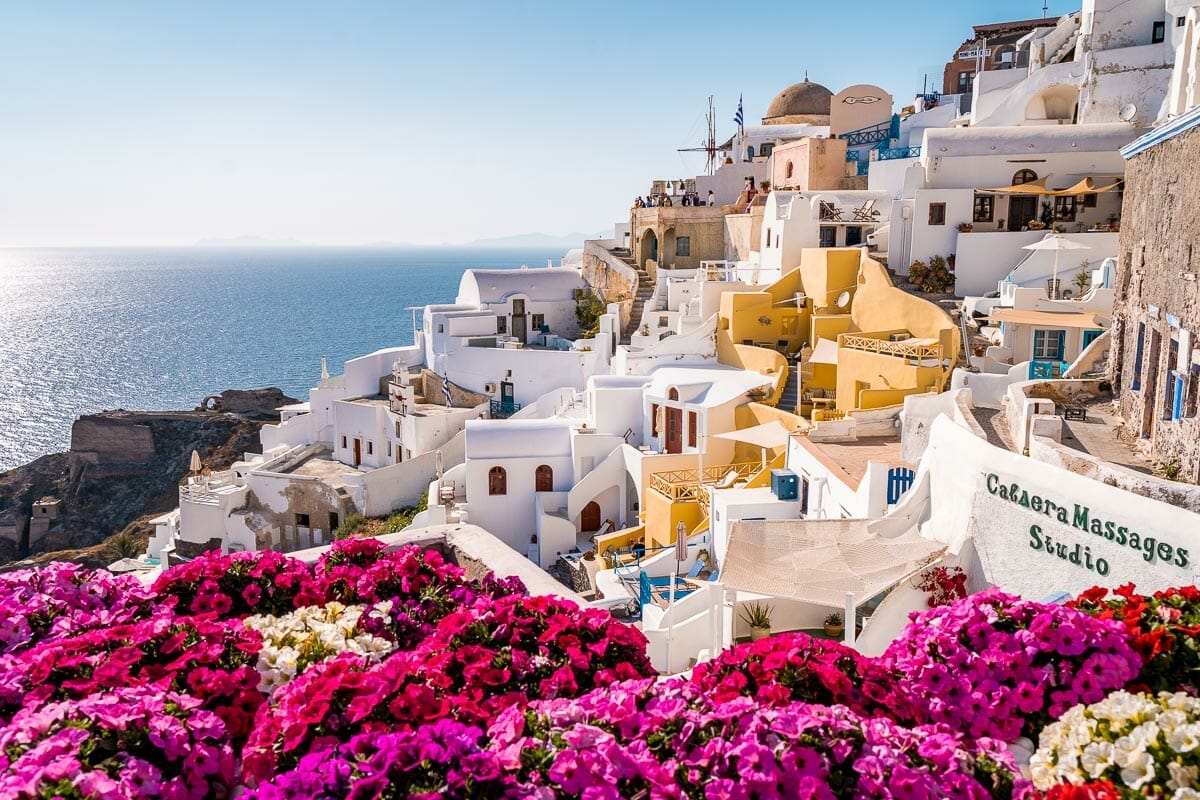 How to Get Around in Santorini
Public transport
The cheapest way of getting around Santorini is to use the local buses. Fira is the main hub of the bus system and you can get a direct bus to almost every part of the island.
However, if you are staying outside of Fira, that means first you have to take a bus to Fira, and only then to your final destination.
Buses are operated by KTEL and they run regularly every day. Prices vary based on the routes, but usually a one-way ticket costs between €1.6-2.3. You can check the timetable and the prices on the official website.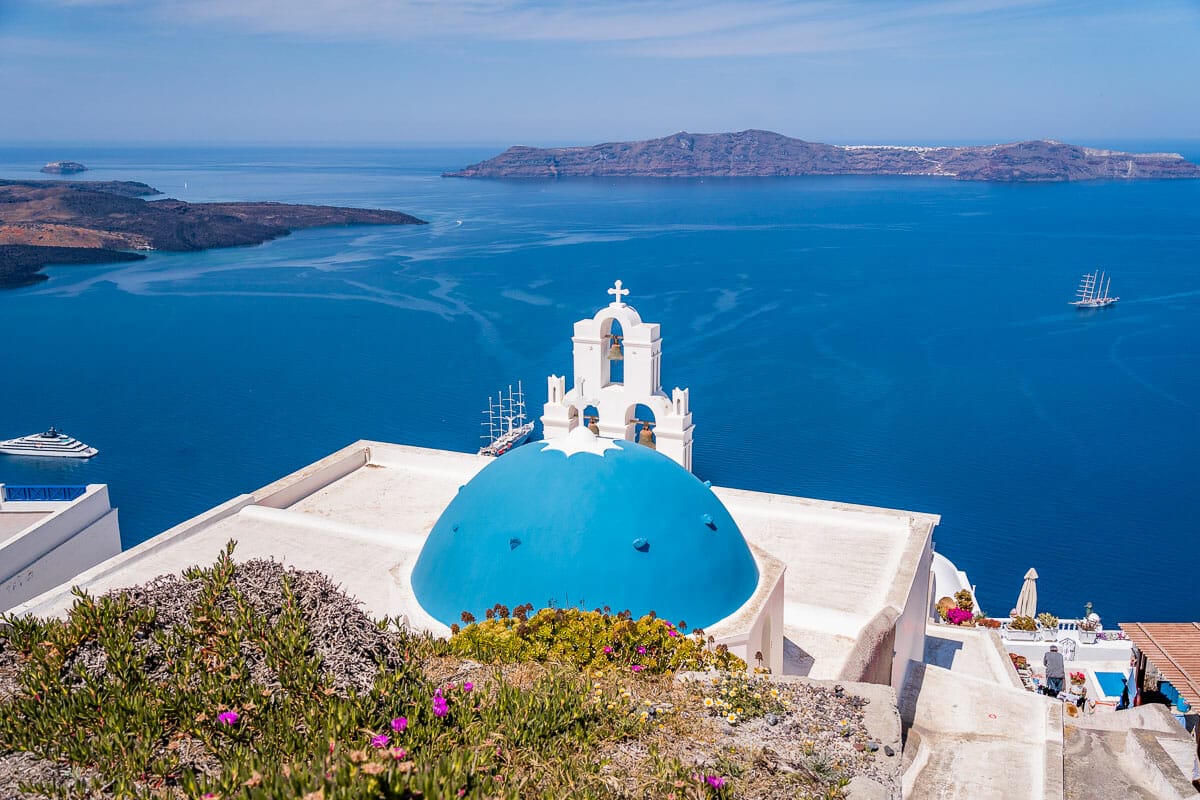 Car/ATV Rental
Having a rental can make your life so much easier on Santorini. If you're planning to explore the whole island, this is definitely the best way to do it. Taxis are outrageously expensive in Santorini so I would recommend avoiding them as much as you can.
You will find a few pick-up and drop-off locations in Santorini but the ones in the ferry port and in the airport are the most convenient ones. The Santorini airport is located in the village of Kamari and the ferry port is located in the capital city of Fira.
Both ATV and car rentals typically start from €40 per day excluding fuel. I recommend booking a vehicle well in advance, especially if you're visiting during the summer months.
One practical tip: If you are planning to rent a car or ATV at the ferry port, leave yourself enough time for the drop-off procedure! There is only one narrow, zigzag road that leads you down to the port.
Given that the port is little and there are not too many places for cars, the road usually gets very busy. That means most probably you will be stuck in traffic.
It's only a 3.5 km long road, but it can take up to 30-45 minutes just to get down to the port. So definitely plan some extra time for that!
Where to Stay in Santorini
If you're visiting Santorini for the first time, you might feel a bit overwhelmed when it comes to deciding actually where to stay in Santorini. Don't worry though, as this Santorini travel guide is here to help you out!
For starters, the island has basically two different sides with many towns to stay in, so you need to pay attention to which one you choose.
The caldera towns are located on the western side of Santorini and this is undoubtedly the favorite part of tourists visiting Santorini. The most popular towns in this part include Oia, Fira, Imerovigli and Firostefani.
The beach towns are situated in the eastern part of the island and if you're looking for saving some money, it can be a great choice to stay at one of them. The most popular beach towns are Kamari and Perissa, where you can find beautiful black sand beaches.
If you're interested to know more about each town with detailed descriptions, pros, and cons, and hotel recommendations, make sure to check out my in-depth guide about the best places to stay in Santorini!
And if you want to make your Santorini trip even more memorable, check out my article about the most incredible hotels in Santorini with private pools.
In case you're looking for a quick solution, you can check my top recommendations below.
LUXURY – La Perla Villas and Suites
If you're looking for an ultimate luxurious stay, you won't find a better place than La Perla Villas and Suites. This adults-only hotel offers incredibly unique rooms while guests can enjoy amenities like an outdoor swimming pool, terraces with caldera and sea views, and a pool bar with drinks and food.
MID-RANGE – Kaleidoscope Cave Houses
The Kaleidoscope Cave Houses have a unique mix of bungalow vibes and classic architecture. Rooms at the property have a luxurious feel with amazing caldera views while selected units provide a private hot tub or a plunge pool.
BUDGET – Laokasti Villas
Located in the eastern part of Oia, only a 15-minute walk from the beach, Laokasti Villas is one of the best budget properties in Oia. The property boasts 17 different studios and villas and also has an outdoor pool and a restaurant on site.
Best Places to Visit in Santorini
Oia – Oia is without a doubt the most popular village in Santorini. This picturesque town is situated on the northwestern tip of the island and is known for its dramatic cliffside sunsets. There are countless amazing things to do in Oia and it's also home to the iconic blue domes, one of the most popular Santorini Instagram spots.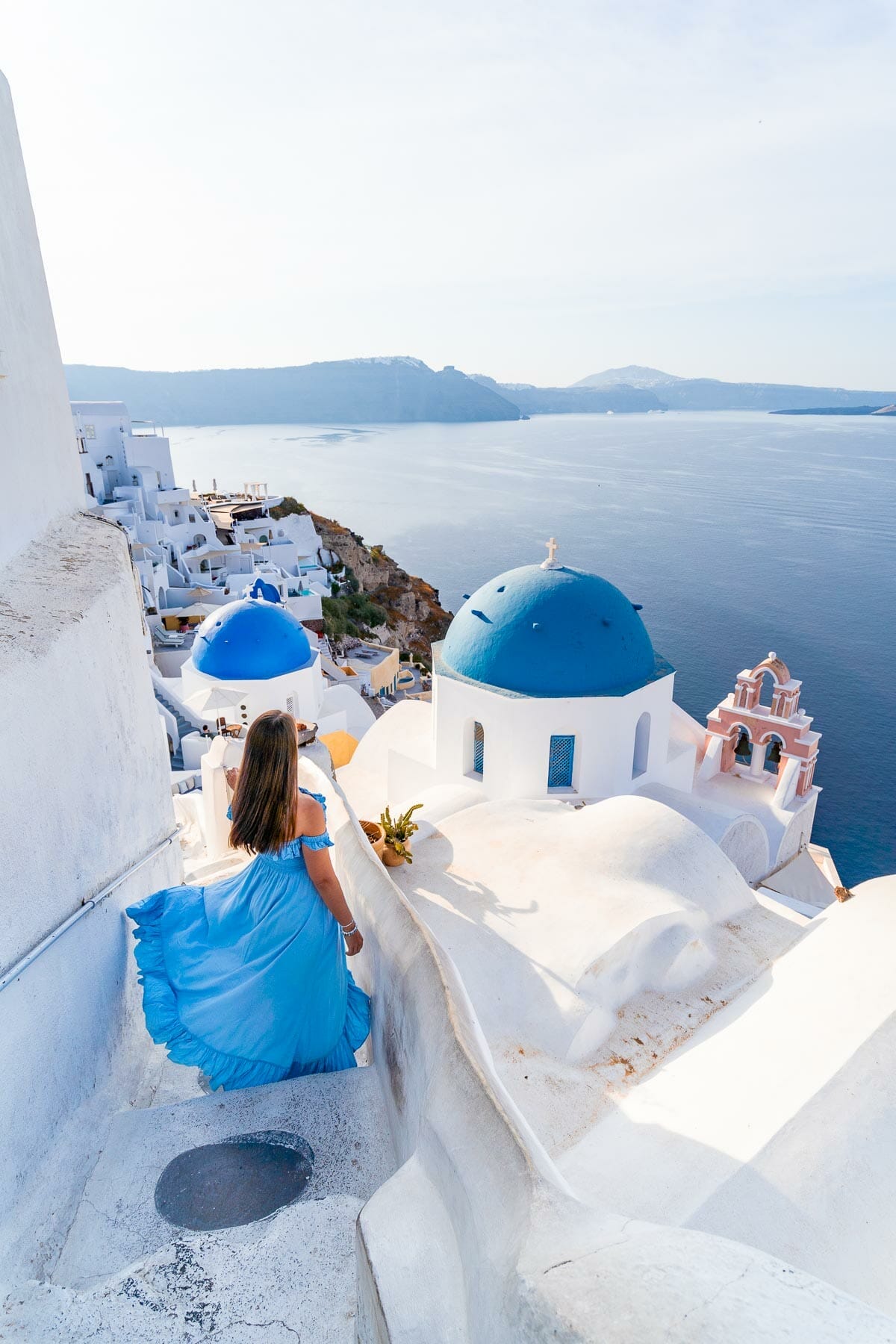 Fira – Fira is Santorini's capital and the island's largest town. Situated on the caldera, Fira offers stunning views of the volcano, the Santorini caldera, and the Aegean Sea. You can actually hike here from Oia on a 10 km long trail which is considered one of the best hikes in Greece.
Imerovigli – Imerovigli is a small village located on the caldera, just 3 km (2 miles) north of Fira. Imerovigli is known for its panoramic views, tranquil atmosphere, and luxury hotels.
Read More: 25 Prettiest Imerovigli Hotels with Private Pools
Skaros Rock – Skaros Rock is a small rock formation located on the caldera near Imerovigli. It's one of Santorini's most popular hiking trails and the views from the top are simply incredible.
Perissa – Perissa is Santorini's most popular beach town. Located on the southeastern side of the island, Perissa has a long black sand beach that is perfect for swimming, sunbathing, and surfing.
Kamari – Kamari is another Santorini beach town that is located on the southeastern side of the island, about 5 km (3 miles) from Perissa. Kamari has a black sand beach that is very similar to Perissa.
Red Beach – The Red Beach is one of Santorini's most popular tourist attractions. This beach is located on the southern coast of the island and gets its name from the red lava rocks that surround it.
Akrotiri – Akrotiri is a Bronze Age archaeological site located on the southern tip of Santorini. The site is best known for its well-preserved Minoan homes and buildings, which were buried by the volcanic eruption of Santorini in the 17th century BC.
Mount Profitis Ilias – Mount Profitis Ilias is the highest point on Santorini and offers stunning panoramic views of the island. The mountain is located in the island's center and is a popular hiking spot.
Pyrgos – Pyrgos is a traditional Santorini village that's located in the island's center. The village is home to the island's Venetian castle and offers great views of the caldera.
Ancient Thera – Ancient Thera is an archaeological site located on Santorini's southwestern coast. The site contains the ruins of a Bronze Age city that was destroyed by the Santorini eruption in the 17th century BC.
Megalochori – Megalochori is another traditional village located in the wine region of Santorini. This is a great place to come if you're interested in Santorini's wine history and want to learn more about the island's viticulture.
Best Places to Eat in Santorini
There are many great places to eat in Santorini, but here are a few of my favorites.
Pitogyros (Oia) – Located in the heart of Oia, Pitogyros is a great place to get your daily fix of gyros. The restaurant has a large outdoor seating area and is one of the most budget-friendly restaurants on the island.
Ammoudi Fish Tavern (Oia) – Located in the Ammoudi Bay just below Oia, this fish tavern is the perfect place to enjoy fresh seafood with a view. It's a bit overpriced but the food is delicious and the view is priceless.
Lolita's Gelato (Oia) – If you're into ice cream, you need to try Lolita's Gelato. This gelateria has a large selection of flavors and is located in the center of Oia.
The Athenian House (Imerovigli) -For gastronomy lovers, this fine-dining restaurant is a must. The Athenian House serves modern Greek cuisine and has an extensive wine list. Book a table for sunset and enjoy the views of Santorini's caldera!
Confetti Dessert Boutique Santorini (Imerovigli) – Hands down one of the best places for breakfast in Santorini! This cute cafe serves up hearty breakfast dishes, delicious desserts, coffee, and fresh juices.
Let's Eat (Imerovigli) – Let's Eat is a great option for budget-friendly Santorini eats. The restaurant is located in the heart of Imerovigli and serves reasonably-priced traditional Greek food.
Franco's Bar & Restaurant (Fira) – Franco's is one of the best places in Santorini for a sunset cocktail. The bar has an extensive list of cocktails and is located just steps away from the main square in Fira.
FalafeLAND (Fira) – FalafeLAND is one of the best vegan restaurants in Santorini, located in the heart of Fira. The restaurant serves up delicious vegan versions of traditional Greek dishes.
Raki (Megalochori) – Raki is a great option if you're looking for traditional Santorini cuisine. The restaurant is located in Megalochori and they offer cooking classes as well.
---
Planning a trip to Santorini?
Then you might want to take a look at all our other travel guides about Santorini. I promise, they are just as awesome as this article was!
Hotel Guides:
Travel Guides:
Other Amazing Destinations in Greece: Athens | Mykonos | Milos | Naxos | Paros
---
Pin It for Later!