Winter months can be super depressing in Europe with cold temperatures and very short days. The good news is that you don't need to travel far to escape the cold! So if you're dreaming about warm winter holidays in Europe, here are the absolute best winter sun destinations in Europe you can't go wrong with!
*Disclosure: This post contains a few affiliate links, which means I may receive a small commission, at no cost to you, if you make a purchase through my link.*
No time to read now? Pin it for later!
Best Winter Sun Destinations in Europe
Are you looking for the best winter sun destinations in Europe to escape the cold? Don't worry, I got you covered! In this article you will find all the best warm winter holiday destinations in Europe together with a bunch of useful recommendations about the best things to do in each location, how much time to spend there, and lots of other insider tips. Let's get into it!
1. Algarve, Portugal
Recommended by Cameron & Alya from Stingy Nomads
The Algarve province in the south of Portugal is one of the best winter sun holiday destinations in Europe. Due to its geographical location, it has over 300 sunny days per year which makes it one of the sunniest and warmest places in Europe.
Average day temperatures in winter vary between 15°C and 20°C (59°F and 68°F), nights are usually a bit colder between 10°C and 12°C (50°F and 54°F). You can expect some light rains from time to time but nothing that would prevent you from doing outdoor activities such as hiking, cycling, surfing, kayaking.
A great thing about visiting Algarve in winter compared to summer is the number of tourists. In summer months the coast gets very busy and crowded, you have to book accommodation in advance, rental prices go up. In winter there are fewer people and rental prices are lower.
There are many great things to do in the Algarve. You can come here for a couple of days or weeks and you won't be bored or disappointed. Hiking along the coast is one of the most popular activities here. There are many day trails and a couple of multi-day routes including the famous Rota Vicentina.
Water sports are quite big in the Algarve, you can go surfing, kayaking, kitesurfing, or diving here any season. Winter months are the best time for surfing when the swell is bigger, the waves are more consistent and there is not much wind.
The beautiful almond blossom that happens between February and March is another popular reason to visit this amazing area in winter.
2. Lisbon, Portugal
Recommended by Alina from World of Lina
Another warm and sunny destination to escape the freezing winter in Europe is the Portuguese capital city, Lisbon. The temperatures during the cold months are usually between 10-15°C (50-60°F) – sometimes it can even go up to 20°C (68°F).
These mild temperatures and the many sunny days attract many visitors from all around the continent who want to have some warm winter holidays in Europe.
Not only the weather is perfect for a city trip to Lisbon, but the fact that it's off-season makes exploring the city even better. Either you wander through the old Alfama district or enjoy a cup of coffee at the Praca do Comércio – a trip to Lisbon is so much more enjoyable without all the crowds.
If you want to see most of the charming Portuguese city without completely rushing through it, try to spend at least 3 or 4 days there.
Some historical interesting places you shouldn't miss seeing include the city's landmark Belém Tower, the Jerónimos Monastery housing the tomb of Vasco de Gama, and Castelo de S. Jorge from where you can enjoy a fantastic view of Lisbon.
If you're a fan of hip bars and bustling nightclubs, check out the Bairro Alto district and the area around the famous Pink Street, which is also one of the best photo spots in Lisbon. No matter how you decide to spend your time in Lisbon – don't leave without trying the delicious Pastel de Nata!
3. Porto, Portugal
Recommended by Preethi from Local Passport Family
Porto, Portugal is magical at any time of year, but it's especially lovely when you're itching to leave behind some cold weather. While winter there may bring a bit of rain, it only rarely brings freezing temperatures. The mild winter months are perfect for still getting out and exploring with the right gear!
While Porto brings in quite a few tourists in the warmer months, the crowds drop off significantly during the offseason. Since it's still reasonably warm, it's easy to still walk around without freezing, giving visitors more flexibility for exploring the city.
When visiting, plan to spend at least 2-3 days – too many jets through and miss so much of the allure of this maritime town. Don't miss the Cais da Ribeira, the charming riverside area.
Take it slowly and wander through, picking up food and doing some people watching along the way. Make sure to take the Luis I bridge to the other side of the river to catch a glimpse of the piazza from high up on the hill as well.
Other wonderful options are going to the top of the Clerigos church tower, the stunning Livraria Lello bookshop (that inspired JK Rowling!), and the Igreja do Carmo church with its beautiful and classically Portuguese blue and white azulejos (tiles) on the side.
Try to squeeze in a Douro River cruise which is one of the best things to do if you're visiting Portugal with kids and don't forget to try Porto's famous and incredibly heavy specialty, the francesinha sandwich.
4. Azores, Portugal
Recommended by Greta from Greta's Travels
If you're looking for a lovely European destination to escape the winter weather, the Azores Islands are the perfect place to do so. The Azores are part of Portugal but are located in the middle of the Atlantic Ocean.
They are blessed with mild weather all year round, with temperatures ranging from 12°C (54°F) to 16°C (61°F) in January, and an average of 10 days of rainfall per month.
The Azores are the perfect destination for outdoors lovers. There are lots of great activities to do, including hiking, snorkeling, whale watching, swimming in natural rock pools, and exploring volcanoes. However the most popular activity is always hiking, and it's easy to see why.
Hiking in the Azores is a must for anyone who loves hiking. Here you will find trails for every level, usually with epic views all throughout.
Some of the most famous hikes are Mount Pico on Pico Island, the Caldeira de Santo Cristo in Sao Jorge Island and Cabeco do Canto in Faial Island. These hikes and islands are especially good to see in winter since there will be fewer people around, and the weather will be just right for hiking without getting too hot.
If you don't love hiking there are still plenty of things to do in the Azores, from tanning by natural rock pools to tasting the local cuisine, or even admiring the colorful local architecture, all while enjoying some pleasant winter sun. If you're searching for the best winter sun destinations in Europe, the Azores Islands have to feature on your bucket list.
5. Madeira, Portugal
Recommended by Bettina from The Next Trip
The Portuguese island of Madeira is located in the Atlantic Ocean, just over 500 km (310 miles) off the coast of Africa and just under 400 km (250 miles) north of the Canary Islands. This island is easy to fly to any time of the year but is an especially great place to visit during the winter months.
It's the perfect place to get away from the cold European winter temperatures, as Madeira has an average high temperature during the winter months of around 20°C (68°F) and is packed full of adventure activities and delicious food and wine.
No wonder it's popular among travelers who are looking for the best winter sun destinations in Europe!
The island is best explored by car, allowing you to set your own schedule and explore the different regions. Madeira is well-known for its incredible hiking opportunities, which can be explored year-round. The island has many levadas, or aqueducts, running through the hills which are one of the most popular hiking and biking destinations.
Other popular activities on Madeira include exploring lighthouses and churches, visiting tropical and botanical gardens, and going on whale-watching excursions. If you are looking for a city break, Funchal has a compact historical center that is easily accessible by foot and has many great restaurants, cafes, shops, and farmers markets.
After an adventure-packed day of exploring, Madeira also delivers exceptional cuisine. The island has incredibly fresh seafood and many other popular dishes using fresh ingredients from the island. This can all be washed down with a glass of Madeiran wine; a fortified wine that can be found in sweet or dry varieties.
With so many things to do in Madeira, you could easily fill a week or more without getting bored, however, it is recommended to have at least 4-5 days on the island to get a proper feel for the island and capture some of that Madeira sunshine.
6. Lanzarote, Spain
Recommended by Elizabeth from The Fearless Foreigner
Head to one of the Canary Islands for the perfect winter sun destination in Europe. These seven main Spanish islands off the western coast of Africa are usually between 21-27°C (70-80°F) during the day all year round. Even in winter temperatures in the evening do not go much lower than 15°C (60°F).
Lanzarote, one of the Canary Islands is a great place to visit if you are looking for a mix of beach relaxation, adventure, culture, and good food. Lanzarote has several resort towns along the coastline that provide easy access to the beautiful sandy beaches for sun-bathing and water sports.
What makes Lanzarote unique is its diverse landscapes. On the southwestern coast, you will find Timanfaya National Park and the Fire Mountains. The area is completely covered with volcanic soil. You can even hike in, on, and around three of the volcanoes!
Throughout the island, you can also enjoy a fusion of art and nature thanks to the Spanish artist César Manrique. You can tour his creations around the island, such as his house which he built around volcanic bubbles.
As you can see there is a lot to see and do on the island. Spending one week in Lanzarote is perfect if you want to experience all the island has to offer. Plus it is only a little more than a four-hour flight away from London. Ditch the cold European winters and head to Lanzarote!
7. Tenerife, Spain
Recommended by Ingrid from Ingrid Zen Moments
Tenerife is one of the most popular destinations in Europe when it comes to winter sun, and that's for a good reason. With a more or less constant temperature throughout the year, the Canary island, located on the same level as Morocco or Algeria, makes for a great place for both a vacation by the sea or one for exploration.
While in Tenerife, you can always come prepared for sea sports like surfing, or you can explore the wild – go hiking on the tallest mountain in Spain, explore the woods, or simply drive around the volcano.
Rent a car and drive around the island in order to discover the differences in climate and relief between the Northern and the Southern part of the island. Drink sangria in Puerto de la Cruz and take lots of pictures with the traditional buildings you'll find here, swim in the natural pools in Garachico, or spend a fun day at Siam Park.
One week in Tenerife should be enough to offer you the chance to know the island better and see the most popular tourist attractions, but you can spend more time here if you want to go local and explore all the beaches – they have lots of them.
Playa de las Teresitas is one of the most popular on the island, and one of the few with white sands. However, you can always allow yourself to get lost and discover new perfect beaches without the crowds.
8. Seville, Spain
Recommended by Becki from Meet Me In Departures
If you're looking for the best winter sun destinations in Europe, Seville is one of the best destinations for that. The city is compact enough for a short break, so you could see the best of Seville in 3 days.
Winter temperatures linger anywhere between 10-18°C (50-65°F), making it one of the warmest places to spend winter in Europe. Although the air can feel cool there is ample sun so it does feel warmer. The bright blue skies mean you can even walk around the city during the day without a jacket.
Do take something warm with you as on the chilliest evenings it can drop to about 6°C (43°F). December and January are also the months for Seville oranges, there are over 31,000 orange trees planted in the city, making the trees colorful and the scent in the air sugary sweet.
No trip to Seville would be complete without visiting the Real Alcazar, Seville Cathedral, and the towering Giralda, as well as wandering around the myriad of maze-like cobbled streets in the Old Jewish Quarter. If you enjoy impressive buildings, then stroll over to Plaza de España (insider tip – it looks stunning lit up at night!).
If you do feel chilly, Seville also has some world-class museums including Museo de Bellas Artes and Hospital de Los Venerables.
One of the best places for picking up local cuisine is Triana Market over the Guadalquivir river. The cute district of Triana is famous for azulejos, which are the colorful tiles you will see adorning the buildings of Seville.
Triana has several shops selling ceramics, as well as the Central Ceramic museum where you can find out more about their history. They also make for a perfect authentic souvenir of your trip.
9. Córdoba, Spain
Recommended by Paul from Anywhere We Roam
Home to Roman influences and local Spanish charisma; Córdoba is an ideal winter sun destination in Europe. Cozy squares are full of buzzing but relaxed banter. In the laneways leading to them, bright whitewashed walls burst with winter color, while intimate courtyards overflow with a blend of the Middle East and Spanish design.
With the scent of jasmine and orange blossom wafting in the air, stroll around the colorful streets and pop into Córdoba's patios, still in colorful bloom even in winter.
The opulent Palacio de Viana and its thirteen courtyards is a beautiful spot and the ideal location for a late afternoon glass of local sherry. The oldest street in the centre of Córdoba – Calleja de las Flores (The Alley of the Flowers) – is a photogenic drawcard.
But, the unquestionable highlight of Córdoba is the Mezquita-Catedral. It was originally commissioned in 785 CE as a large mosque but a cathedral was added after the Christian invasion in 1236. The result is one of the city's defining landmarks: a towering Christian cathedral bursting through the roof of the expansive Islamic prayer hall.
Córdoba is an ideal getaway where, even in winter, you can still enjoy a stroll around the town during the day and an alfresco dinner in the evening. Around 2 days in Córdoba is enough time to see the main sites, but in a town this beautiful, you could easily stay longer.
10. Malaga, Spain
Recommended by Joanna from Andalucia In My Pocket
If you are searching for a winter sun destination in Europe to get away from the cold, the city of Malaga is a perfect choice. Southern Spain is an area with over 300 sunny days over the year, which makes it one of the most attractive places to go for a winter holiday.
The temperature in Malaga in winter remains quite mild, making it warm enough to wear short sleeves during the day until early December and from early February.
Visiting Malaga in winter will give you an insight into what the city looks like without the masses of tourists who make the streets unbearable in summer.
It's a pleasure to walk along the alleys of the old town and enjoy the architecture of Malaga without too many other people around. Visiting Malaga in winter is also much cheaper, with five-star hotels offering rooms for as low as €60 a night.
There are also plenty of things to do in winter in Malaga, as the city never sleeps. The restaurants and the touristic activities remain open year-round. However, in winter you can get a more authentic experience as well, and better service.
If you love spending time in the outdoors, Malaga is surrounded by amazing hiking trails which are best suitable for exploring in winter, as in summer the temperatures are too high. You can get some amazing views over Malaga and the entire Costa del Sol, up to Gibraltar and even Morocco on a clear day, from the peaks surrounding the city.
11. Toledo, Spain
Recommended by Linn from Brainy Backpackers
Toledo is one of the best winter sun holiday destinations in Europe. The popular medieval town is beautiful all year round, but in winter it is less crowded, yet still busy.
While the nights can get chilly and close to zero degrees (32°F), days are usually nice, especially in the sun, so dress up in layers. It is the perfect time of the year to wander the medieval streets, check out museums, and dive into history.
Worth mentioning is the El Greco Museum, featuring paintings from the famous Greek artist that spent a significant time of his artistic life in Toledo. While there are historical buildings on every corner in Toledo, there is enough to see for a whole week. But if you don't have more than a day or two, make sure you at least cover the most important landmarks.
The Catedral Primada is astounding in the middle of the historic center. Not only is it a true Gothic beauty from the outside, but it is truly worth visiting the inside of the cathedral where you can see masterpieces of significant local artists like El Greco, Velazquez, Goya, and many more.
Monasterio de San Juan de Los Reyes is also a must-see. This Gothic monastery is an important symbol of Toledo's history through Muslim and Christian rule. The interior of this structure is astounding and should not be missed with the late Gothic style on the bottom floor and the second floor in a Mudejar style.
There are many nice bars and restaurants to go to for a warm meal or a hot drink to warm up and most importantly, you need to try the local marzipan which Toledo is famous for.
12. Barcelona, Spain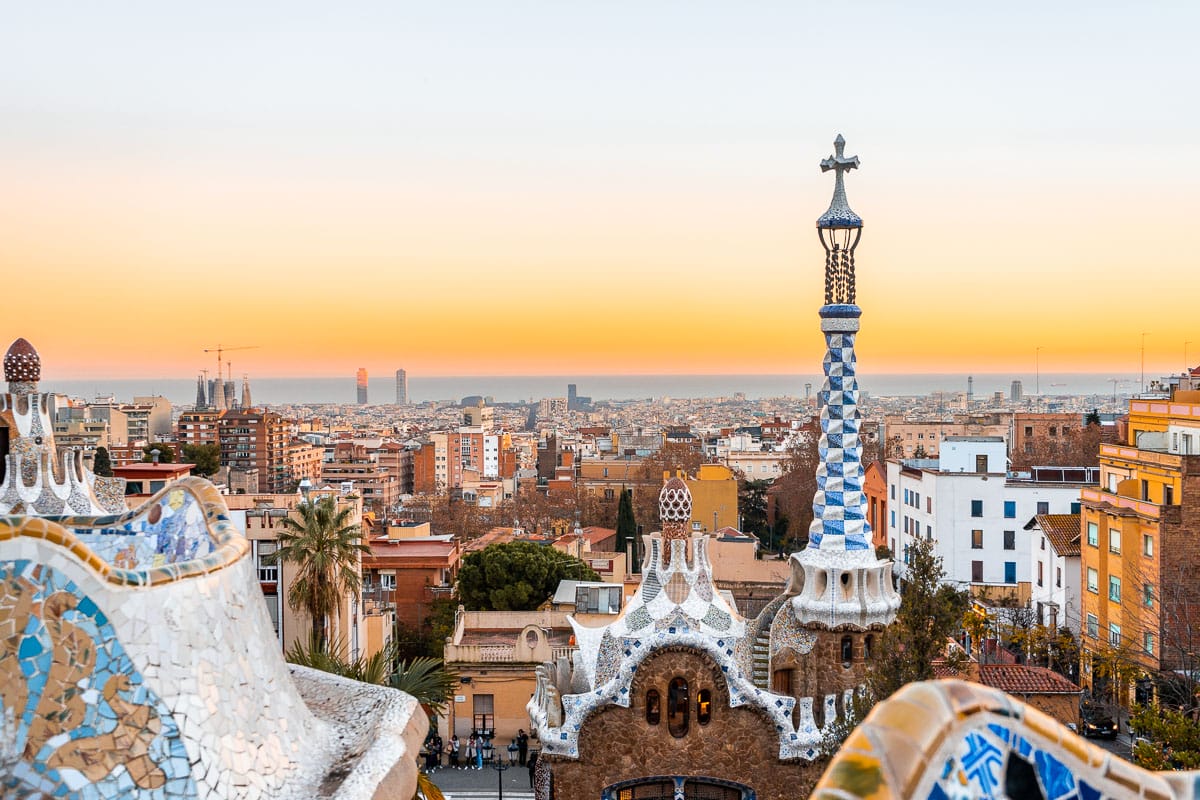 Recommended by Kriszti from She Wanders Abroad
Barcelona is not only one of the most beautiful cities in Europe but thanks to its mild winter temperatures, it's also one of the best winter sun destinations in Europe. The city usually gets crazy busy during summer so if you want to escape the crowds, planning a winter vacation to Barcelona is a really great idea!
The average temperature ranges between 8-15°C (46-59°F) and since rain is not so typical during the winter months, you can expect many sunny days in Barcelona. That being said, since the city is located by the sea, the humidity can add an extra bite to the generally mild temperatures so make sure to have a light winter jacket and some layers with you.
Starting from the gorgeous architecture to the most amazing local food, there are just so many things to love about Barcelona! The city is mostly known for the world-famous La Sagrada Familia and the many other colorful and breathtaking works of Antonio Gaudi, such as Casa Batlló and Casa Milá.
Walking through the Las Ramblas and the Gothic Quarter and seeing the sunset at Parc Güell are just a few of the many amazing things to do in Barcelona.
Although it's possible to see most of the highlights in just one day, if you want to truly experience the city it's worth spending at least 3 days in Barcelona. If you have more time, you can go up to Mount Tibidabo where you can spend a fun day in the amusement park or you can visit Montserrat, which is one of the most popular day trips from Barcelona.
13. Mallorca, Spain
Recommended by Kriszti from She Wanders Abroad
Located on the Mediterranean Sea, Mallorca is one of Spain's most popular islands, mostly known for its beach resorts, beautiful bays, and limestone mountains. Due to its location, the winter is usually mild with many sunny days which makes Mallorca one of the best winter sun destinations in Europe.
Although the average temperature during the day is around 14-16°C (57-60°F) from December to February, sometimes the days can be cold and windy as well so be prepared with some warmer clothes. Considering the cheaper prices of flights and accommodations, the lesser crowds, and the mild weather, visiting Mallorca during the offseason is definitely a good idea.
If you want to properly explore the island, it's worth considering hiring a car and doing a road trip in Mallorca. The good news is that the roads will be relatively empty due to the lack of crowds so it's a very pleasant experience to drive around the island during winter.
Palma, the island's capital is one of the best places to stay in Mallorca if you're looking for a centrally located hotel or resort. You can spend a full day here by visiting the Gothic Palma Cathedral and the Bellver Castle and strolling around the city.
Visiting the beautiful calas such as Cala Pi and Cala des Moro is another must in Mallorca, as well as discovering the cute little mountain towns and monasteries. If you're looking for the best sunset spot on the island, head over to Cap de Formentor where you can get a beautiful panoramic view over Mallorca.
14. Nice, France
Recommended by Kriszti from She Wanders Abroad
Nice is one of the most popular cities on the French Riviera and since it enjoys a mild Mediterranean climate all year round, it's one of the best warm winter destinations in Europe. The city has over 300 sunny days a year and winters on the Cote d'Azur are usually sunny and crisp, with little to no crowds.
On most winter days the temperature is around 13-15°C (55-59°F) and the coldest it gets during the night is around 5-7°C (41-43°F). The beaches are definitely one of the highlights in Nice and although the water is too cold for swimming during winter, you can still enjoy an amazing panorama from the shores.
One of the best things to do in Nice is to get lost in the narrow, cobblestone streets. The Old Town of Nice feels like a maze and you will come across many colorful houses, cute little shops, talented local artists, and amazing cafes and restaurants on your way. Make sure to climb up to Castle Hill for an amazing panoramic view over the Old Town and the coastline!
Although the city is quite big, one day in Nice is enough to see all the highlights but if you're looking for a more relaxed holiday, you can easily spend 2-3 days in the city as well. If you want to discover more places on the French Riviera, you can also choose to stay longer in Nice and visit a few places like Menton, Monaco, or Cannes as day trips from Nice, or as a part of a wider French Riviera road trip.
15. Monaco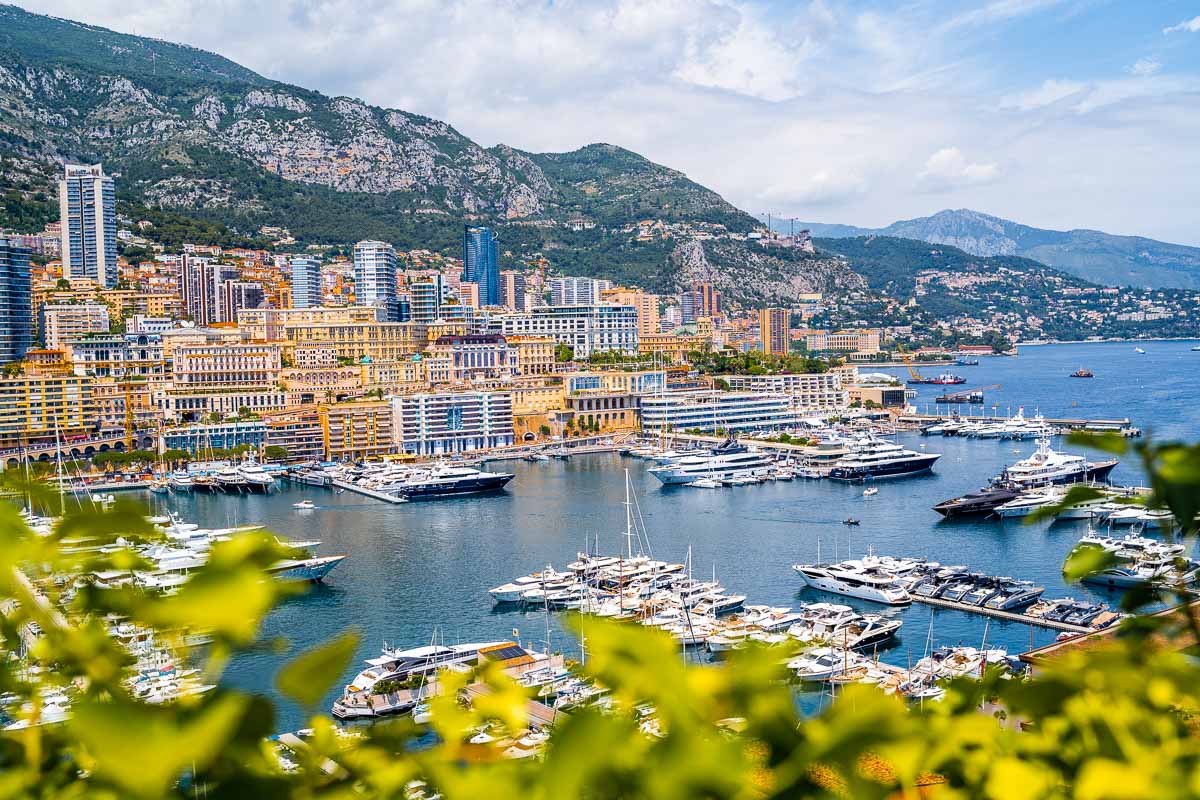 Recommended by Kriszti from She Wanders Abroad
The micro-state of Monaco, located on the French Riviera is one of the smallest countries in the world. Due to its location, Monaco has a mild Mediterranean climate all year round, making it a perfect destination for those who are looking for a warm winter destination in Europe. In winter, temperatures tend to average around 14°C (57°F) during the day and it rarely gets below 5°C (41°F) during the night.
The casino of Monte Carlo is one of the most well-known landmarks in Monaco and if you happen to visit in December, you can admire the gorgeous Christmas decoration in the square in front of the casino.
Taking a walk around Port Hercules and admiring the gorgeous yachts is another unmissable thing to do in Monaco. In December, you can also find a beautiful Christmas market and an ice-skating rink here!
After that, head over to 'The Rock' – the oldest part of Monaco where you will find plenty of cute pastel-colored houses. You will get the best views of the marina from there and you can also check out the Prince's Palace and the Saint Nicholas Cathedral.
One day in Monaco gives you plenty of time to explore the country but if you plan to stay longer, there is no shortage of amazing hotels and apartments in (or very close to) Monaco.
16. Rome, Italy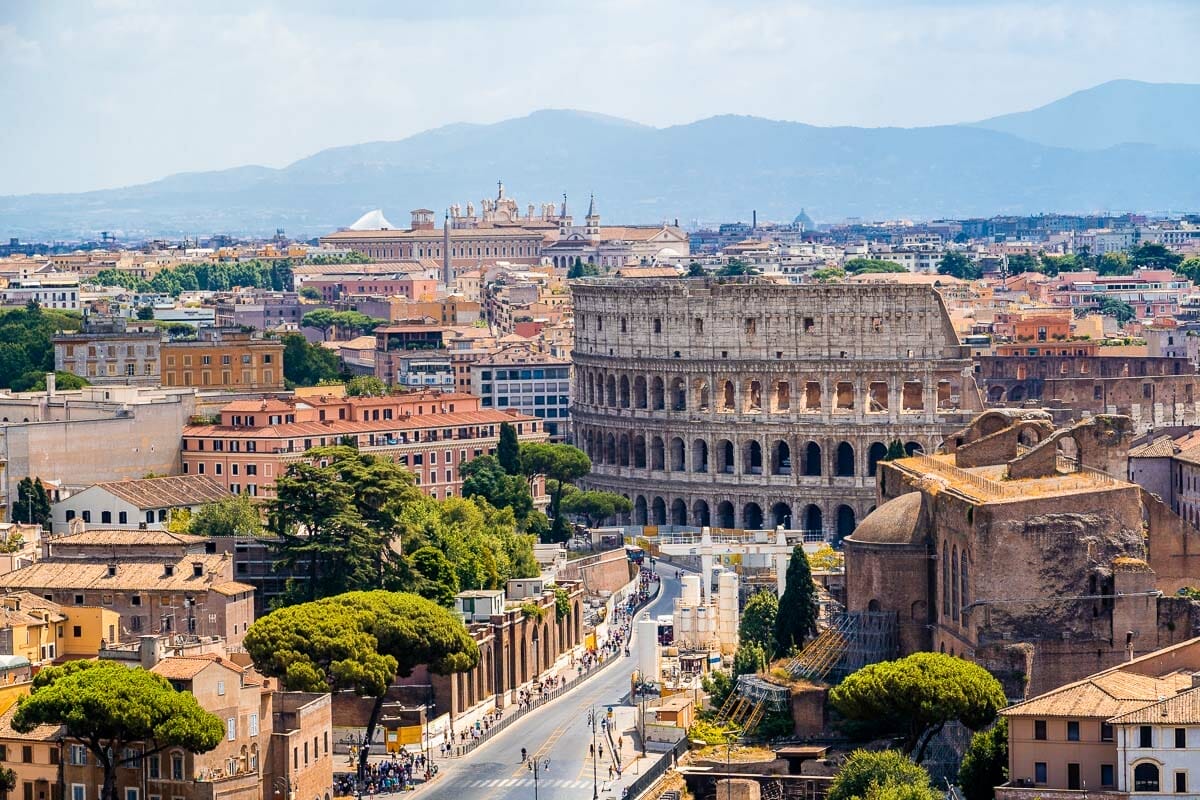 Recommended by Kriszti from She Wanders Abroad
Rome is an amazing destination all year round and although it does get a little bit wet over the winter months, the temperatures usually stay around 13°C (55°F) during the day which is considerably warmer than most parts of Europe. Combine this with lesser crowds and cheaper prices and you will surely understand why it's worth visiting Rome during winter!
Often referred to as the Eternal City, Rome is undoubtedly one of the most beautiful places in Italy and it boasts many historical sites, ancient ruins, amazing museums, and world-class dining options. The Colosseum, one of the new seven wonders of the world is one of the most famous landmarks in Italy and it's a must-visit on every Rome itinerary.
Some of the best things to do in Rome includes strolling up the Spanish Steps, admiring the Trevi Fountain, visiting Forum Romanum, exploring Castel Sant'Angelo (which is one of the most beautiful castles in Europe), wandering around the Trastevere neighborhood, and climbing up to the top of St. Peter's Basilica from where you can get an incredible panoramic view over the city.
Rome is undoubtedly one of the most beautiful cities in Europe and you can easily spend weeks exploring all the beauty the city has to offer. Although it's possible to see the major landmarks of Rome in a day, it's best to spend at least 3 days in Rome to be able to fully explore the city. And of course, to try as many amazing Italian foods as you can!
Centro Storico, the city center of Rome is definitely one of the best areas to stay in Rome for sightseeing and finding the best photography spots in Rome. Other great areas to stay in include Esquilino, Testaccio, or Trastevere. Another great option is Monti which is home to the Colosseum, so you can find many amazing hotels with views of the Colosseum in this area.
17. Naples, Italy
Recommended by Pauline from Beeloved City
Located in Southern Italy, Naples is a great destination for winter sun in Europe! Naples is blessed with good weather all year round. Even in January, it's usually sunny and the average temperature is around 15°C (59°F).
You will need to wear a coat but you can still enjoy the city as you would in summer. In winter, most of the tourists have already left so it's nowhere as crowded as during the high season which is very pleasant.
Naples city center is full of history. If you want to learn more about it, going on a walking tour is well worth your time. The local guide will show you all the most famous landmarks and tell you awesome stories about the local culture and language.
As Naples was both a Greek and Roman colony, you will find loads of vestiges of these 2 civilizations.
If you are a foodie, you will fall in love with the city. Naples is known for its food all around Italy. It was the birthplace of pizza and Italian espresso. No matter what you choose to order at the restaurant, it will be delicious. For an authentic experience, make sure to try the local delicacy, the pizza fritta.
Finally, reserve some time to explore the surroundings. Going on a day trip from Naples to Pompeii, Herculaneum, Mount Vesuvius or Capri island is a must-do!
18. Sicily, Italy
Recommended by Lara from The Best Travel Gifts
Sicily is one of the most beautiful places to visit in Italy and one of the best winter sun destinations in Europe. Why? Well, first of all, because winter in Sicily means that you won't be freezing your butt off as you would in most other places in Europe.
Though don't be fooled by the southern location of the island, it is possible to get snow when you visit Sicily in winter, which would be a pretty unique opportunity for you to go skiing on Mount Etna. More likely, you get temperatures around 14°C (57 °F) during the day, which is perfect for sightseeing. And for that, there is a lot in Sicily.
Sicily is quite a large island with many beautiful places to visit, so you need at least a week (though that's the bare minimum) to explore the island.
The big advantage of visiting Sicily during winter is that it won't be packed with tourists. Meaning that you have the chance to explore the beautiful cities of Palermo, Catania, Monreale, Syracuse, Messina, or Cefalù without the tourists' herds.
If you are lucky you might be the only person admiring Mount Etna or the ruins at Agrigento, which are normally overrun by tourists.
The best part of visiting Sicily in winter time though is the warm personal touch. As there are only a few other visitors, hotel and restaurant owners will have more time to chat with you and offer a far better local experience!
Oh, and one final bonus tip for the foodies, winter in Sicily is the best time for mushrooms and chestnuts. So say hello to yummy mushroom risottos, pasta, and pizzas!
19. Malta
Recommended by Alexane from The Travelling Frenchy
While a lot of places across Europe are cold and dark during winter, why not escape south? Malta offers everything and more you can expect from a sunny island.
In fact, Valletta, Malta's capital, has the warmest winters compared to all other European capitals, with average temperatures ranging from around 15-17°C (59-62°F) during the day, and from 9 to 11°C (from 48 to 52°F) at night.
It's also cheaper to reach from elsewhere in Europe this time of year. Since fewer tourists visit Malta in winter, the prices are very reasonable, making it the perfect budget-friendly destination. And isn't it more pleasant to visit with fewer tourists around?
Another great reason to go to Malta in the winter is definitely for the Christmas decorations. Being a catholic country, Malta decorates all corners of the island and its churches with elegant and spectacular Christmas lights. They usually stay up until February!
Because the country is fairly small, it is great for a three-day weekend getaway, leaving enough time to visit Valletta, Sliema, Gozo, Comino, and even the colorful and picturesque Popeye Village!
20. Athens, Greece
Recommended by Renata from bye:myself
Although Athens is a city that can deem pretty rough at first with abandoned buildings and wild graffiti, it quickly unfolds its Mediterranean charm and embraces the visitor with powerful arms.
Obviously, there are all those amazing historic sites like the world-famous Acropolis and the Panathenaic Stadium where in 1896 the first modern Olympic Games had taken place. Amidst olive groves stand the Roman Agora and historic temples right in the center of a modern metropolis.
Hidden gems like quirky little shops in the funky neighborhood of Plaka are waiting to be discovered as vendors are selling tea, sweets, and balloons from small carts on cobblestone alleys.
There are streets lined with orange trees bearing fruits even during wintertime and there are churches as old as the hills. Oh, talking about hills: Since Athens, the cradle of European civilization, was built on seven hills, you can climb all those tops granting overwhelming panoramic views of the city and the Aegean Sea.
As you visit in winter, you can not only avoid the killer heat of Greek summers but most importantly, there are relatively few tourists so that you can have all those historic treasures more or less to yourself. And with the bluest skies and a temperature of around 20°C (68°F) at the end of December, you really cannot complain.
21. Crete, Greece
Recommended by Nichola from Family Hotel Expert
Greece is the perfect winter getaway and nowhere more so than the lovely island of Crete. Located in the south of Greece, Crete is the largest of the Greek islands and has a varied landscape from gorgeous beaches to a more rugged middle.
While the weather is changeable in winter, the sun invariably comes out and some of the days can feel spectacularly sunny. The main crowds of tourists will have departed in winter, leaving this island in the perfect state to be explored.
While some of the accommodations will be closed up out of season, some of the best resorts in Crete for families are still open and you can pick up some fabulous bargains.
This is a great time to hike the legendary Samariá Gorge, now a National Park and one of Europe's largest canyons and home to the endangered Cretan goat, the kri-kri.
Find a boat owner in Plaka to take you over to Spinalonga, the former leper colony that will be both eery and beautiful for a wander without the crowds of tourists the summer attracts.
Enjoy the picturesque towns of Chania and Rethymno which have photo opportunities at every corner and take a stroll through any of the countless beautiful beaches on this island. Crete in winter feels completely different from its summer countenance and is a delight to behold.
22. Santorini, Greece
Recommended by Kriszti from She Wanders Abroad
Santorini is undoubtedly one of the most beautiful islands in Greece and it's by far the most popular as well. So much so that the tourist crowds in summer make it almost impossible to enjoy all the beauty Santorini has to offer. What's the solution? Visit Santorini in the low season!
The island is significantly calmer during the winter months and with lower prices and mild Mediterranean weather, Santorini is an amazing choice if you want to enjoy some winter sun in Europe. The temperatures are generally mild, around 15°C (59°F) during the day but if you're unlucky, the weather can be rainy and windy as well.
If you're visiting Santorini for the first time, try to spend at least 3 days in Santorini to be able to properly explore the island. Oia is one of the most popular places to stay in Santorini and if you're looking for that postcard-perfect view with the blue domes, you definitely need to put it on your Santorini itinerary.
You will find the best sunset spots in Santorini in Oia along with some of the most instagrammable places in Santorini, so it's certainly worth staying there at least one night.
You will find many public buses on Santorini but it's best to rent a car or an ATV to be able to get around the island. Apart from Oia, make sure to visit the lively Fira, the cute town of Imerovigli, and the black sandy beach in Perissa and it's also worth going on a boat tour to see the sunset from the sea.
23. Mykonos, Greece
Recommended by Kriszti from She Wanders Abroad
Mykonos is mostly known for its vibrant nightlife and great bars so it's undoubtedly a perfect destination for traveling with friends or as a couple. Although the island gets super busy over the summer, winter brings fewer crowds and the accommodation is more affordable too, which makes Mykonos a great winter getaway destination.
The temperatures during the day usually stay around 15°C (59°F) which is much more enjoyable than in the rest of Europe, however, due to the strong wind it can feel a bit colder than it actually is. You can expect some rainy days in winter but you will still get 4-5 sunshine hours per day on average.
It's best to stay in Mykonos Town which is the liveliest part of the island. You will find the most instagrammable places in Mykonos there, along with many amazing cafes and restaurants.
Windmills are one of the icons of the island, you can find 5 of them lining up next to each other near Little Venice in Mykonos Town. It's also one of the most popular sunset spots in Mykonos so it's worth going there in the evening to see the breathtaking sunset colors.
Spending 3 days in Mykonos is the perfect amount of time to see the highlights of the island. It's best to rent a car for getting around Mykonos but public buses are available as well.
24. Corfu, Greece
Recommended by Steph from A Nomad's Passport
Corfu Town (Kerkyra) and the entire island of Corfu are amazing winter sun destinations in Europe. With its Venetian, British and French influences, Corfu is one of the most beautiful islands in the Mediterranean. Located off the Greek northwest coast in the Ionian Sea, Corfu has a mild winter with water temperatures around 16°C (61°F).
As one's travel budget for Corfu does not have to be high, it is also perfect for budget travelers. Corfu Town itself is the perfect destination for a winter break as there are fewer crowds.
Due to its history, the Old Town is full of interesting places including both the Old and New Fortress, countless museums, and St. Spyridon Church. The Achilleion, the palace of Empress Sisi, is located 10 km (6.2 miles) south of the city center.
In addition to Corfu Town, this winter sun destination also offers a multitude of coastal paths and mountain villages with a local charm in the center of the island like Lakones. One of the island's best viewpoints, the Golden Fox restaurant, is nearby. Cape Drastis and Canal d'Amour in the North of Corfu are parts of the cliff area that should not be missed.
In order to get to see a lot of what Corfu has to offer in winter, one should spend three days in Corfu Town and at least four more days to see the highlights of the rest of the island.
25. Saranda, Albania
Recommended by Maria from Maptrekking
Boasting over 300 sunny days a year, Saranda is an ideal place to get some winter sun in Europe during the colder months. This small, Mediterranean town is located in the relatively undiscovered country of Albania and east of the popular Greek island, Corfu.
Saranda is one of the larger cities of Southern Albania and is well known for being on the 'Albanian Riviera'.
With a nice combination of beauty and history, Saranda is known for having both picturesque beaches and ancient archaeological sites. Though many layers of history can be discovered, one of the most popular is the ancient city of Butrint, a UNESCO World Heritage site.
There are also plenty of small towns, hidden beaches, and historical forts and castles to explore outside of the city along the Albanian Riviera on day trips as well. Interesting historical tip: an estimated 173,000 concrete, military bunkers can be found all over Albania, keep an eye out for them when visiting Saranda.
Winters in Saranda are mild with temperatures ranging from 13°C to 20°C (55-68°F). Visiting in the winter also has the advantage of catching the city and the Albanian Riviera with far fewer tourists since summer is the high season.
With having so many sunny days, Saranda would be perfect to visit for a few days up to a week for a peaceful and affordable warm winter getaway in Europe.
26. Cyprus
Recommended by Anda from Travel For A While
One of the best warm winter destinations in Europe is the island of Cyprus. Since the island is close to Africa, it can get a little too hot during the summer. However, the weather is perfect during the winter, it rarely drops under 10°C (50°F) at night and the days are pleasant with almost 20°C (68°F).
Whatever you like to do on a holiday, you can do it in Cyprus. There are plenty of things to do in Cyprus: you can walk on the beach and admire the sunset, hike around the Salt Lake in Larnaca to see the pink flamingoes, visit the ancient ruins in Paphos and Kourion, party in Ayia Napa and discover the traditional villages of the Troodos Mountains.
You can even ski on the local Mount Olympus in winter. Imagine skiing in the morning, then walking barefoot on the beach in the afternoon!
It's best to spend at least one week on the island to be able to explore some of the best places Cyprus has to offer. Oh, and if you need another incentive, it must be the food. It is the best of two worlds as middle-eastern and Greek influences meet in the Cypriot cuisine.
Whether you are planning for a warm family holiday or a romantic getaway as a couple, you'll definitely love Cyprus.
27. Istanbul, Turkey
Recommended by Inna from The Executive Thrillseeker
Istanbul is no less fascinating and attractive than many famous cities popular with tourists in winter. What's even more, there are countless amazing hotels with a view in Instanbul which can make your trip even more memorable.
It's best to spend at least 3-4 days in Istanbul to fully dive into the atmosphere of this unique city! During this season, the temperature remains around 10°C (50°F), but at the same time, it is windy and occasionally snowy and rainy.
The weather changes all the time, and the forecast remains accurate only for a few days, so it's smart to pack both warmer and lighter clothes. Since the weather in Istanbul in winter is quite capricious, you should carefully plan your route. It is best if you have different options, such as a program for a sunny day and bad weather.
In the first case, it is worth planning walking routes, getting to know the streets, local flavor, and street food. Go to Beyoglu – walk from Taksim Square down the Istiklal to the Galata Tower, go down even lower – to Karakoy or Cihangir. Take a ferry to Uskudar or Kadikoy. If the weather is enjoyable, you can even go to the Princes' Islands.
In case of bad weather, plan for activities which include staying inside. Some of the best things to do in Istanbul in winter include visiting Topkapi Palace, the Archaeological Museum, the Dolmabahce Palace, and the Grand Bazaar. All of these excursions take at least 2 hours each.
Also, the Archaeological Museum is located almost on the Topkapi Palace territory, so you don't need to make long transitions. However, if it snows, we recommend that you definitely go for a walk in Sultanahmet that looks just fabulous in snowy weather.
28. Kotor, Montenegro
Recommended by Kriszti from She Wanders Abroad
Kotor gets way less attention than it would truly deserve so if you're looking for some off-the-beaten places in Europe, it's worth planning a trip to Kotor. The city is located in a gorgeous scenery, right next to the Adriatic Bay and the limestone cliffs of Mount Lovcen.
During winter, rainy days are quite frequent but on the other hand, the coastline rarely gets snow and the average daytime temperature is around 10°C (50°F) which is perfect for sightseeing and exploring.
The Natural and Culturo-Historical Region of Kotor is a UNESCO World Heritage Site that includes the Old Town, the fortifications, and the bay. Inside the city walls, you will find a maze of cobbled streets with many stone houses and piazzas.
If you're not afraid of a little workout, you can climb up the 1,350 steps to the Castle of San Giovanni where you can have an amazing panoramic view over the city, the bay, and the mountains.
It's recommended to stay at least a weekend in Kotor to be able to enjoy all the beauty it has to offer. Kotor is also a great base if you want to explore some other parts of Montenegro or take a day trip to Dubrovnik.
29. Dubrovnik, Croatia
Recommended by Elisa from Flitter Fever
With its mild Mediterranean climate, visiting Croatia's capital Dubrovnik in winter is a smart idea. Especially if you like the idea of being able to sleep in and still not having to worry about an overcrowded old town, unlike in spring and summer when an endless stream of cruise ships dock.
Lying on the beach should not be your ultimate goal when visiting Dubrovnik in winter, but the weather should be good enough for sightseeing. Exploring Dubrovnik's city center and its surroundings are both fun, especially when you do not immediately break out in a sweat with temperatures around 13°C (55°F).
For sure it will be cheaper to spend 2-4 nights in Dubrovnik in winter than it would be in high season. Treat yourself to a pleasant luxury hotel with an indoor pool and spa, so you can get pampered should the weather not be that great for (half) a day or so. Grab a cup of hot chocolate on a terrace for some good old people watching.
The Christmas market on Dubrovnik's beautiful Stradun street is an excellent spot for original Christmas shopping with traditional treats, local handicrafts, and decorations.
Dubrovnik has a gorgeous UNESCO-listed old town, where part of the Game of Thrones was recorded. Walking around on top of the old city wall is one of the best things to do in Dubrovnik, such as checking out the old port and admiring the pretty churches, Rector's Palace, and squares.
Ride the cable cart to the top of Mount Srđ for the best view on a clear day – without having to wait in line! Join the locals on their secret hideaway Lokrum Island, take the boat to Elafiti Islands, a cooking class, or a day trip to a nearby city like Mostar or Montenegro.
30. Hvar, Croatia
Recommended by Martina from PlacesofJuma
The island of Hvar is located in Croatia and it's actually a really lovely place for spending some sunny days in wintertime! Because of its immense beauty, the great beaches, and its charming old town, it is often named the St. Tropez of Croatia.
There are just a little number of visitors at that time of the year, so Hvar in winter will be an awesome experience! Also, the weather is mostly nice and sunny and with up to 15°C (59°F), it's very mild, so it's perfect for a warm winter holiday in Europe.
The historic old town of Hvar is undoubtedly the best place to stay in the city. You will find the most amazing hotels there and countless unforgettable activities waiting for you as well. What is really amazing is that some of the most beautiful beaches in Hvar are just nearby, so you can go there to have a picnic and spend a wonderful day by the sea.
You can also visit the many lovely villages all over the island, do some wine-tasting and try the amazing Dalmatian cuisine. In the evening you should visit the old town where you will enjoy fabulous nightlife with top restaurants and plenty of cool bars and clubs for dancing.
Hvar is, without a doubt, one of the most beautiful places in Croatia and the perfect place to spend an unforgettable vacation, not just in summer, but also in winter.
Final Thoughts
In case you are planning to escape the cold weather that occurs in most of Europe during the winter months, there is no need to travel to another continent! I hope you liked this list about the best winter sun destinations in Europe and you managed to get some great ideas for your next winter break.
If you have any questions feel free to leave a comment below or send me an email, I always love helping you out! Do you know some other great warm winter holiday destinations in Europe? Let me know in the comments!
xoxo, Kriszti
---
Related Posts
---
Pin It for Later!