Summoning the French Riviera mind brings images of sun-kissed beaches and glitzy harbor towns where fresh fish is always the dish of the day and the sun is always beaming. That really is exactly what you're going to get when you travel to the dreamiest part of Southern France!
Taking a French Riviera road trip is a wonderful way to immerse yourself in the natural beauty and culture that each of these towns and villages offers. Read on to learn how to see the best of the French Riviera in 10 days as part of a road trip.
*Disclosure: This post contains a few affiliate links, which means I may receive a small commission, at no cost to you, if you make a purchase through my link.*
No time to read now? Pin it for later!
Useful Info for Your French Riviera Road Trip
How to get to the French Riviera
You can start your 10 days in the French Riviera by flying to either Nice or Marseille. As the two largest cities each with an international airport, these are the easiest to access from within France, other European cities, and global destinations.
Nice is served by Nice Côte d'Azur Airport (NCE) while Marseille is served by Marseille Provence Airport (MRS). Low-cost carriers connect to either so you can weigh up which is most convenient for you.
Best time to visit the French Riviera
The French Riviera benefits from a balmy Mediterranean climate which means that it's a pleasant destination whatever time you plan your French Riviera trip.
July and August is the high season in the French Riviera which does mean crowded cities and attractions and baking hot temperatures, with highs of 30℃ (86℉).
This isn't ideal for everyone so do consider booking your trip during the shoulder season of either mid-April to mid-May or September-October for fewer crowds but pleasant temperatures still upwards of 20°C (68F).
If you want to see the French Riviera in 10 days during winter then you will benefit from agreeable temperatures that seldom drop to single figures. The only thing to bear in mind is that the water temperature isn't as comfortable for swimming during the cooler months of November-March.
That being said, the French Riviera is still one of the best winter sun destinations in Europe!
Where to stay in the French Riviera
In terms of where to stay during your French Riviera road trip, you will only need to book accommodation in two cities. While you could technically stay in another town or city each night, I wouldn't recommend this.
Most places on this French Riviera road trip are easily accessible from either Nice or Marseille as day trips so I suggest choosing these 2 cities as your base. If you follow this French Riviera itinerary, you'll need to book 6 nights in Nice and 4 nights in Marseille.
Save time and book one of these top-rated hotels in the French Riviera!
Where to stay in Marseille
LUXURY – Hotel C2
This 5-star luxury hotel is housed within a converted 19th-century private mansion and contains a spa with a small indoor pool. The most decadent rooms include a private terrace and a view of the basilica.
MID-RANGE – Hôtel Maison Saint Louis – Vieux Port
Set in a peaceful street in the district of Noailles, the hotel is tastefully decorated in a contemporary style. Superior rooms are equipped with charming balconies that provide a city view.
BUDGET – Hôtel Hermès
Located a hop, a skip, and a jump from Vieux Port, this hotel boasts a rooftop terrace with panoramic views of the harbor and the city. Modern rooms are equipped with a private bathroom and all the essential amenities.
Where to stay in Nice
LUXURY – Hotel Le Negresco
The famous Hotel Negresco, dating from the beginning of the 20th century, overlooks the beach and the Promenade des Anglais in Nice. From Louis XIII style to modern art, 5 centuries of history are exhibited throughout the hotel. Free Wifi access is provided and there is an on-site fitness center.
MID-RANGE – NH Nice
Featuring a seasonal rooftop swimming pool, sauna, and terrace, NH Nice is a hotel located a 10-minute walk from Nice's Old Town and the Port. It offers free WiFi and is next to Nice Acropolis. Rooms at NH Nice are contemporary in style and offer a flat-screen TV and a mini-bar.
BUDGET – easyHotel Nice Palais des Congrès – Old Town
EasyHotel Nice Palais des Congrès – Old Town is a budget hotel located beside the Acropolis Palais des Congrès. Featuring parquet flooring, the air-conditioned rooms all have free WiFi, an LCD TV, and a desk. The private bathrooms include free toiletries.
Tips for driving in the French Riviera
When planning your French Riviera road trip, don't forget to check the local driving rules. Here are some quick tips to help you prepare:
If you're coming from overseas, you will need to carry your driving license from your home country as well as an International Driver's Permit (IDP) while driving in the French Riviera. If your driving license was issued by one of the member states of the European Economic Area, you will not need the IDP as your license is valid in France.
If you do visit during the peak season (or a festival), the roads will be busier and parking less available. Plan to leave as early as possible on these days to beat the traffic and nab a parking spot.
When driving in the French Riviera you need to prepare for narrow roads that wind their way along cliff sides. If you are a less confident driver you should always drive in daylight, take it slowly and avoid overtaking other vehicles.
When booking accommodation make sure that the hotel provides parking and check whether you need to reserve it in advance or pay extra to secure a spot. Parking in the French Riviera is hard to come by, especially in the peak season.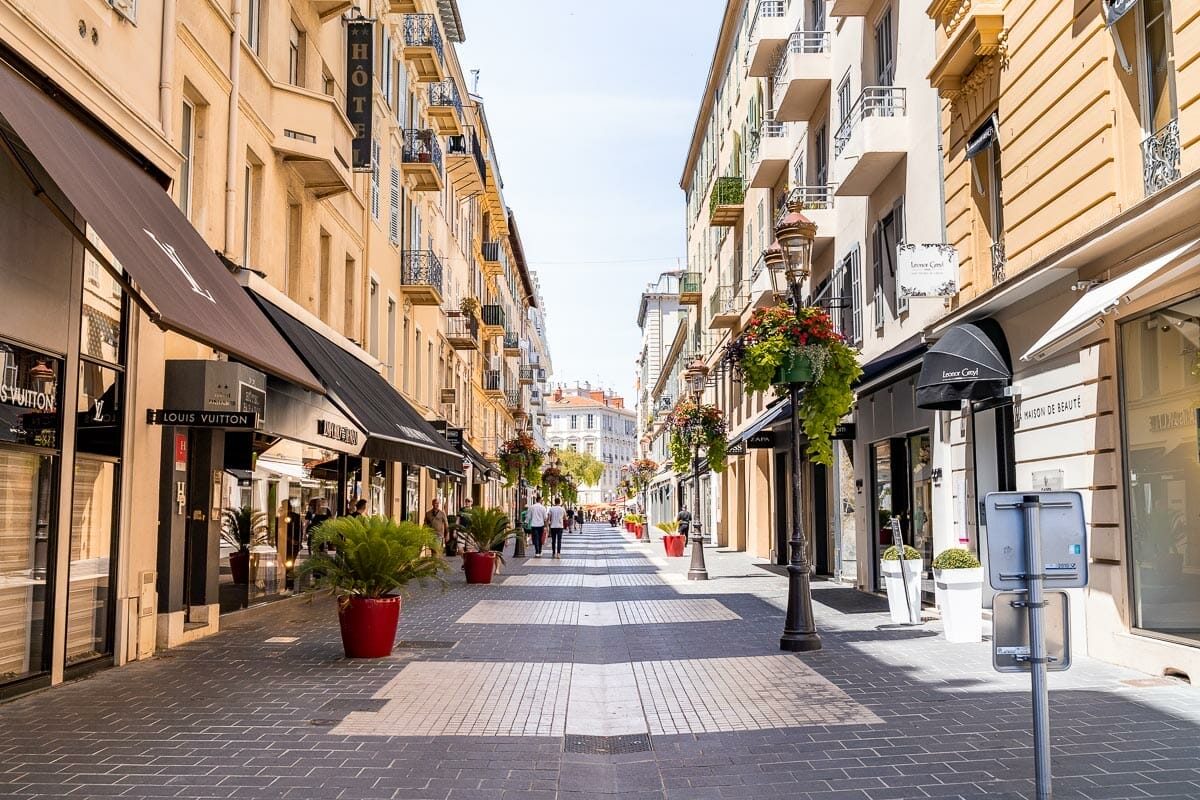 Overview of Your French Riviera Road Trip Itinerary
You can book 6 nights of accommodation in Nice from where you will take day trips to Monaco, Menton, Èze and Villefranche-sur-Mer (split over a morning and afternoon), and Cannes.
On the 7th day, you will check out of your Nice hotel and pop into Saint-Tropez on your way to Marseille. Once in Marseille, you can check into your second hotel for the final 4 nights.
Breakdown for how to see the French Riviera in 10 days
Nice: 2 days
Monaco: 1 day
Menton: 1 day
Éze: Half day
Villefranche-sur-Mer: Half day
Cannes: 1 day
St. Tropez: 1 day
Cassis: 1 day
Marseille: 2 days
You can choose whether you start in Nice and end in Marseille or go in reverse. This French Riviera itinerary works either way!
Map for your French Riviera road trip
Below you can find a customized map that includes all the locations you're going to visit on this French Riviera road trip itinerary. I marked the different parts of the road trip with different colors so you can easily see which places you're going to visit each day.
If you open up this post on your phone and you click on the bracket in the upper right corner of the map, it will automatically save this map to your Google Maps app so you can always have it with you. Super convenient, right?
The Ultimate French Riviera Road Trip Itinerary for 10 Days
Nice (2 Days)
Nice is both the capital of the French Riviera and one of the most popular cities in the region. The seaside resort is located in the southwest of France and is known for its pastel-hued 19th-century architecture, leafy boulevards, and ocean views.
The year-round sunshine means that whenever you visit, the streets will swarm with energy and the beaches will always appeal. You can easily spend your 2 days wandering around and admiring the city, but here are some essentials for your Nice itinerary.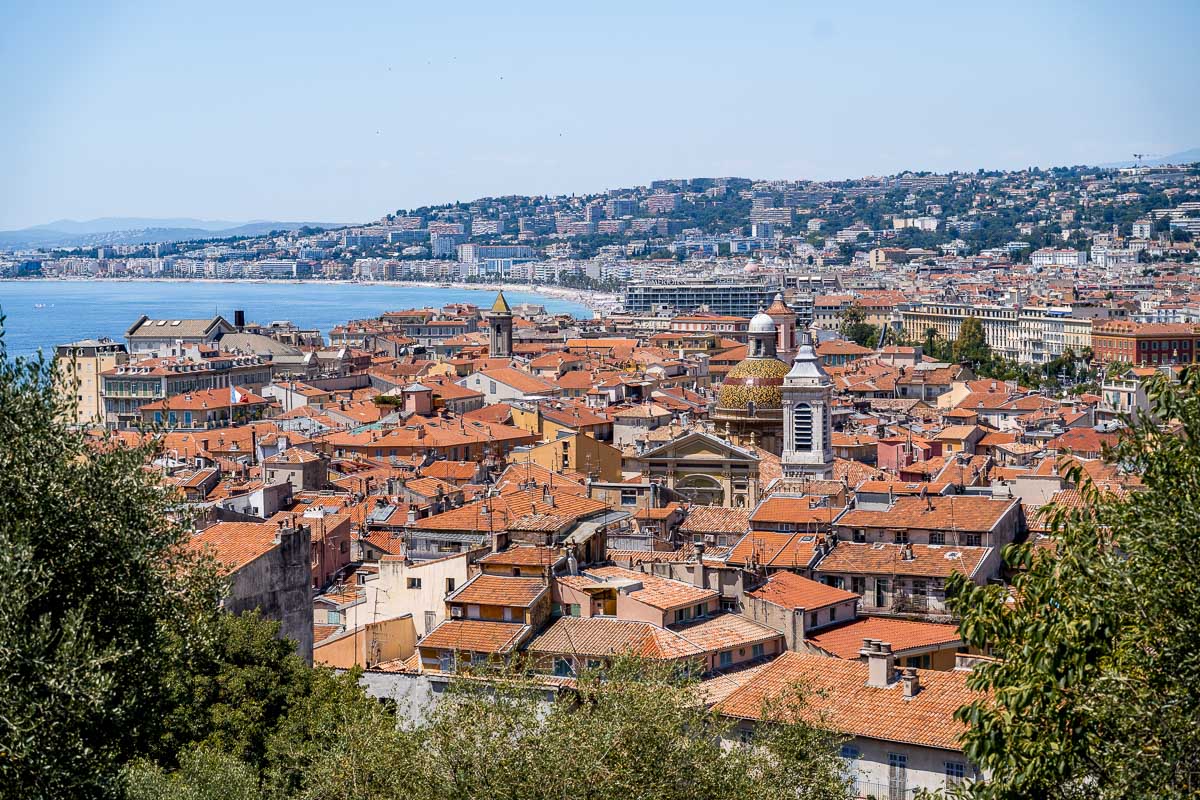 Best things to do in Nice
Old Nice
The Old Town of Nice is a rabbit warren of narrow cobblestone streets where you can wander at will. Notable sights include Nice Cathedral, Place Garibaldi, and Cours Saleya where you will see fresh flowers and local produce on sale.
Discover the neighborhood as you like or join a walking tour if you want to learn more about the history.
Nice Castle
The castle that once stood here is long gone but you can still climb up to the top of the hill for one of the best viewpoints in Nice. There is a refreshing waterfall which you'll appreciate on a hot day and the views are out of this world.
Musée Matisse
A palatial villa devoted to showcasing the worlds of Henri Mattise. From 1917 onwards, Matisse spent most of his winters living in Nice and many of the paintings exhibited were painted in the city.
Beaches of Nice
Nice is flanked by a number of beaches that work their way from Old Nice westwards along the Promenade des Anglais. Take some time during your French Riviera trip to go for a dip, catch some rays and enjoy a beachside cocktail.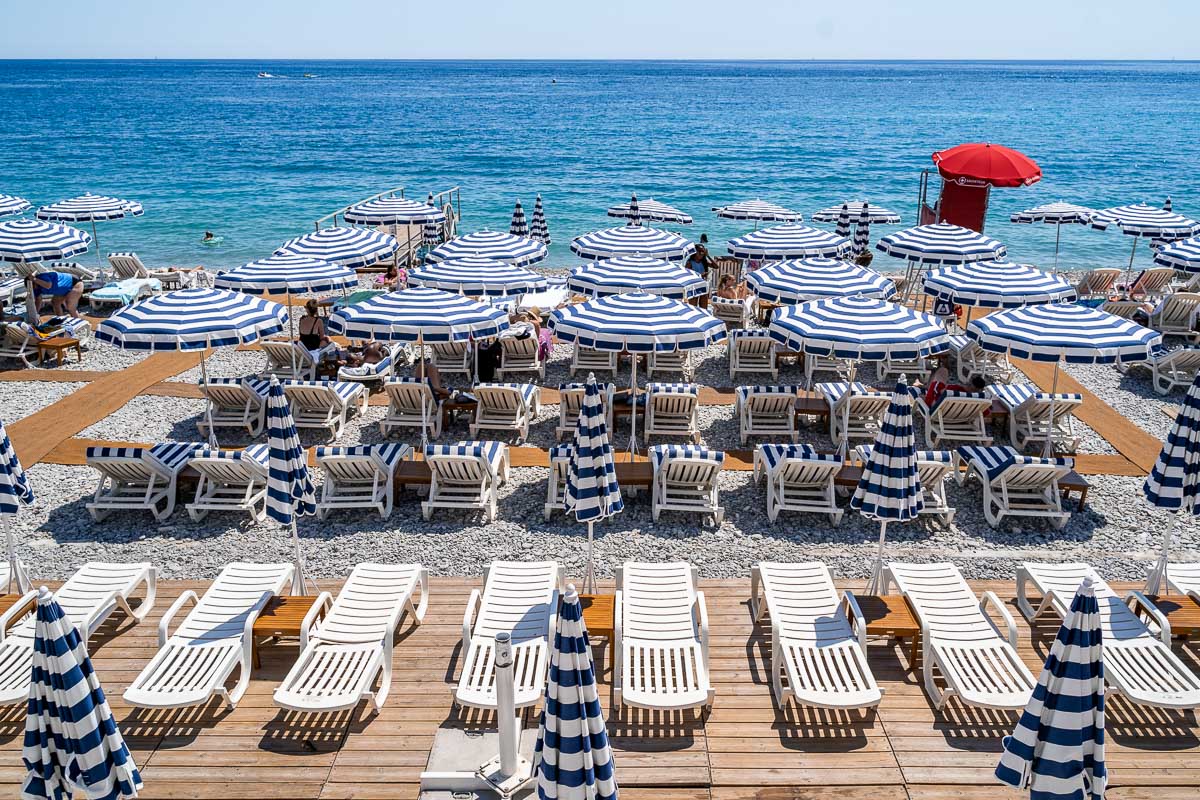 St. Nicholas Russian Orthodox Cathedral
The largest Eastern Orthodox cathedral in Western Europe, this majestic cathedral is the property of the Russian Federation. It was constructed out of Tsar Alexander II's love of the French Riviera and meant as a place of worship for the Russian community of Nice.
Place Masséna
The largest public square in Nice impresses with its mid-19th-century buildings and the stylish tiled pavement. This might be the most beautiful part of the city.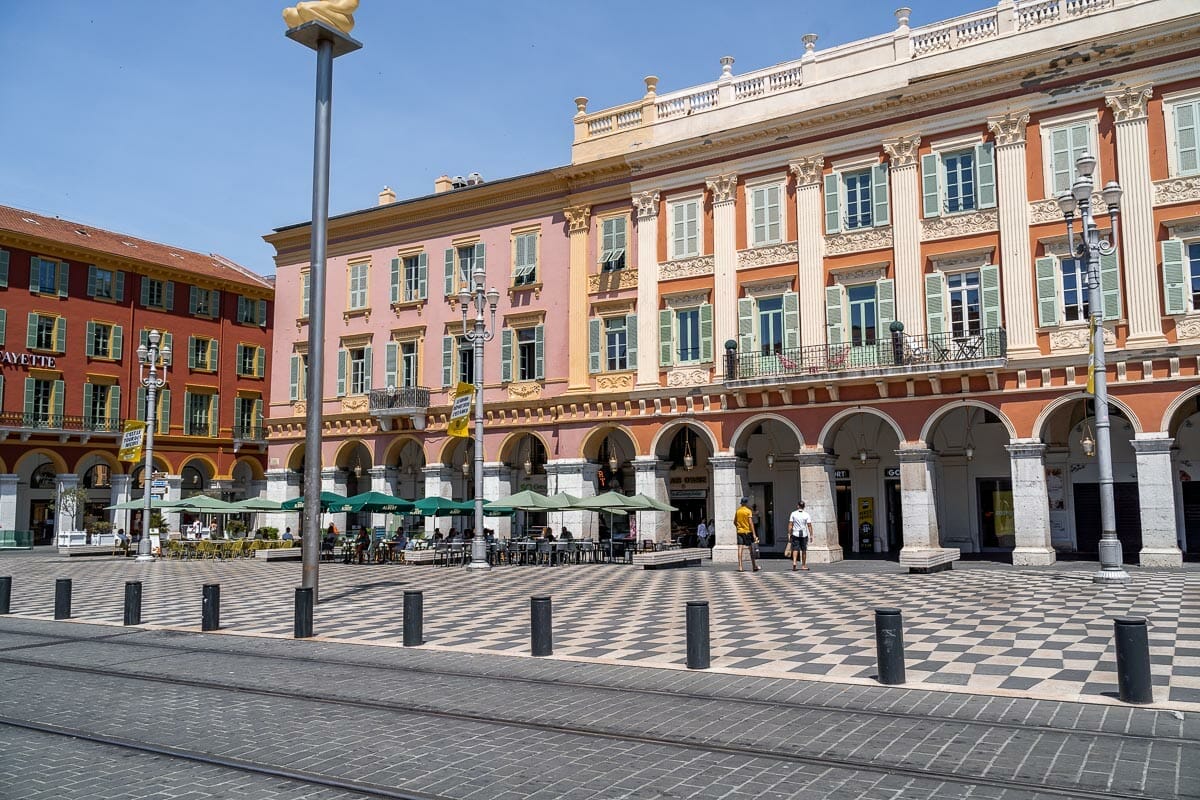 Promenade des Anglais
Providing 7 km (4.3 miles) of sea views, this promenade connects the airport with Nice Castle. It's a lovely walk, especially first thing or around dusk when it's a little cooler.
Where to eat in Nice
Ruhl Plage: Food, drinks, and service are exemplary as are the ocean views at this swanky beachside restaurant and bar.
Bistrot d'Antoine: A refined menu of French cuisine with an expansive wine list in the beating heart of Old Nice.
Néron Glacier Patissier: All that walking around Old Nice calls for a sugar fix in the form of artisanal ice cream and freshly baked pastries.
HOBO Coffee: As cute as a button, this is an appealing spot to grab an iced coffee. They also offer nut milks which are tricky to come by in France.
Monaco (1 Day)
Driving time: 45-60 minutes (21 km/13 miles) from Nice to Monaco
Synonymous with glamour, Monaco is one of the most affluent places you will encounter on your French Riviera trip. Headed by the Prince of Monaco, the principality isn't technically part of France but rather it's the second smallest country in the world, second only to Vatican City.
Although its flamboyant facade attracts the rich and the famous, beneath it all Monaco is still a unique place to explore. Due to its tiny size, one day in Monaco is truly all you need to discover this luxurious country!
Best things to do in Monaco
Port Hercule
Grab an ice cream and cruise Port Hercule on foot for the chance to gawp at mega yachts. If you're on a relaxed budget, you might even want to book a private boat cruise to get a slice of the high life.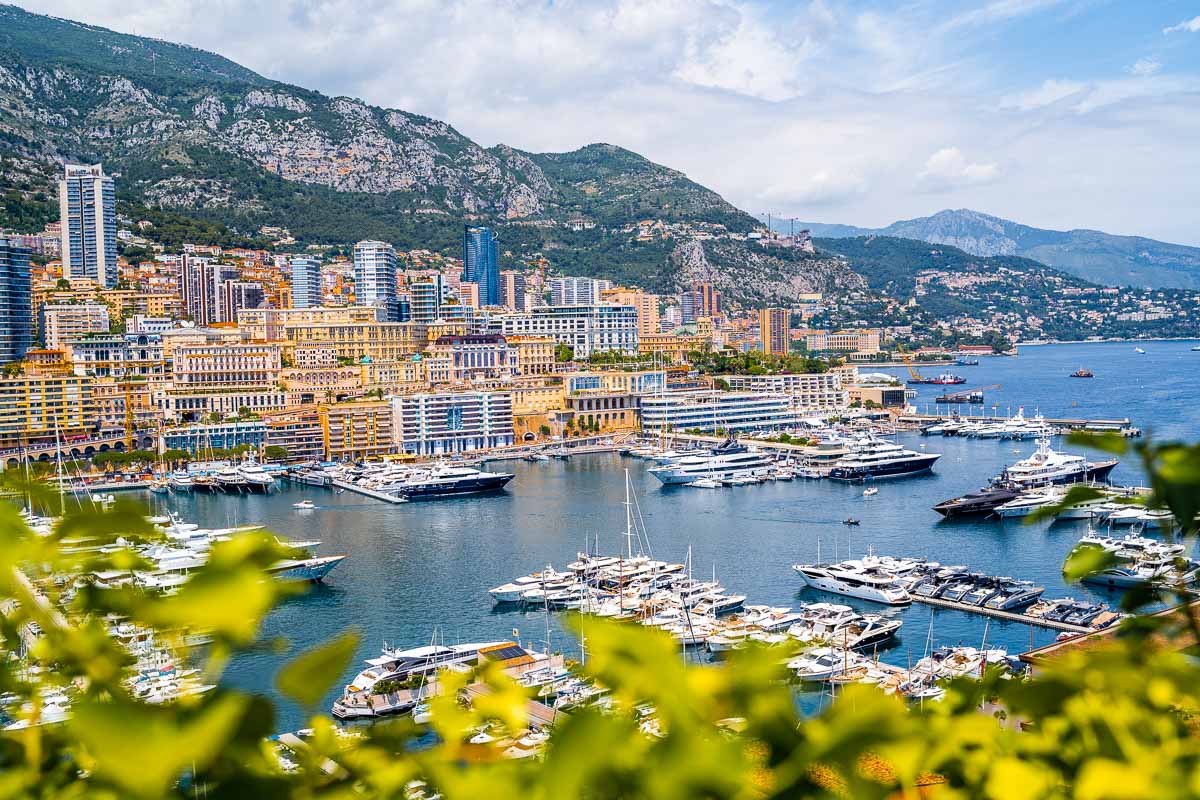 Palais du Prince
When the prince is out of town, the Palais du Prince lowers the flag and opens its doors to tourists. A former 13th-century fortress, the palace contains art galleries, a chapel, and an elaborate Throne Room.
Monte Carlo Casino
The Beaux-Arts-style casino was constructed in the late 19th century and has since risen to fame as a movie location for James Bond and Ocean's Twelve. Even if you don't fancy risking your French Riviera road trip budget, it's worth taking a visit to experience its architectural beauty.
Jardin Exotique de Monaco
This cliffside garden provides splendid coastal views and is a lush oasis of botanics and cacti. There is also a cave to explore that contains stalactites and stalagmites.
Saint Nicholas Cathedral
This alabaster white cathedral was erected in the 19th century and serves as a place of worship as well as a mausoleum to the previous princes of Monaco.
Musée Océanographique de Monaco
For a small place, Monaco is packed with museums. If you can make space for one museum in your French Riviera itinerary, make it this one. It's an aquarium with a natural history museum and planetarium, housing over 6,000 marine species.
Where to eat in Monaco
Huit & Demi: Dine on fresh seafood or a fusion of French and Italian plates at this al fresco eatery near the harbor.
Chez Edgar: An affordable menu that provides light breakfasts and pastries through to hearty mains.
Eola: Eola stands for 'Eat Organic Live Active', and as the name suggests, you can find all kinds of healthy dishes here like smoothie bowls, green juices and avocado toasts.
Menton (1 Day)
Driving time: 1 hour (31 km/20 miles) from Nice to Menton
Menton is the final major city in the Côte d'Azur before you reach the Italian border. As one of the most beautiful towns in France, it's a delight to simply wander the streets admiring the architecture and soaking up the laid-back atmosphere and coastal views.
It has a more languid vibe than Nice and Monaco, which is exactly what you need on the 4th day of your French Riviera road trip.
The other thing that Menton is known for is its world-class production of lemons. Shops sell everything from lemon-scented soaps to lemon preserves and lemon liqueurs.
Menton is quite small so you can easily discover it in only one day, which makes it one of the best day trips from Nice.
Best things to do in Menton
Old Town
The Old Town of Menton is located right next to the port. Sights to check out include the Basilica of Saint Michael Archangel and the Musée du Bastion from which you get a phenomenal view.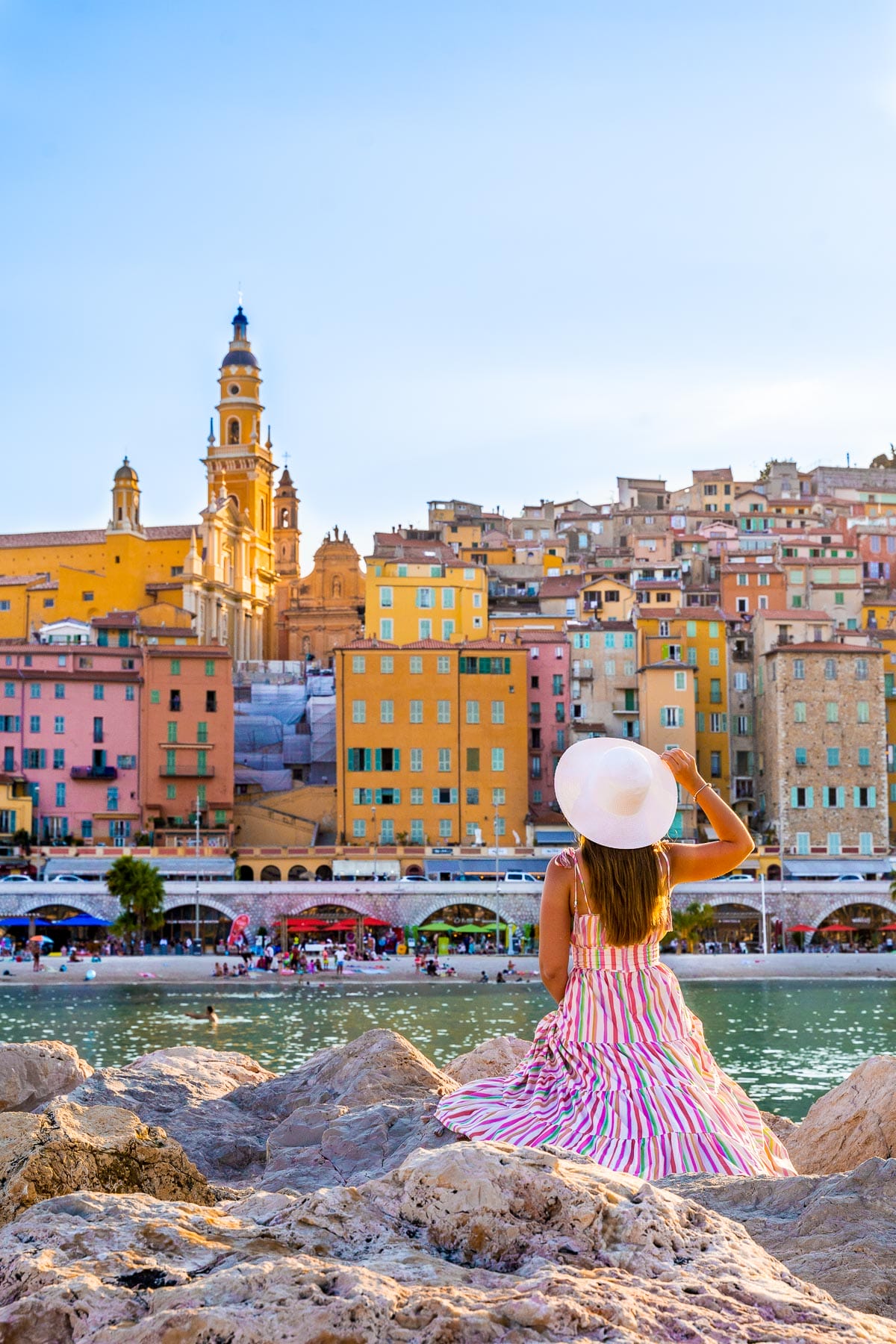 Jean Cocteau Museum (Only The Bastion Jean Cocteau museum is open)
A startling juxtaposition against the Old Town, this contemporary museum houses the works of Jean Cocteau, a French poet, artist, writer, and filmmaker. Most of what you see exhibited are from the collection of the businessman, Séverin Wunderman.
Promenade du Soleil
Soak up the natural vitamin D by wandering the 2 km (1.2 miles) of the Promenade du Soleil. Along the way, you can stop to admire the other sights on this list or take a dip in the bathtub warm water.
Maison Herbin
In a town noted for its lemon produce, Maison Herbin is fully stocked with lemon jams and preserves which will be perfect souvenirs from your 10 days in the French Riviera.
Val Rahmeh-Menton Botanical Garden
Showcasing plants from Asia and South America as well as tropical fruit trees, this 19th-century botanical garden brings an offbeat touch of paradise to the beautiful French Riviera.
Jardins Biovès
If you plan your French Riviera trip during February then you might experience the annual Fête du Citron which transforms Menton into a party town!
The manicured Jardins Biovès is the setting for some creative sculptures using lemons during this time. If you visit at another time of year, the gardens are still a joy to explore.
Russian Orthodox Church
Located on the outskirts of Menton, you can stop at the Russian Orthodox as you approach the city. It features an iconic cobalt blue dome while the interiors house an iconostasis made of Carrara marble.
Where to eat in Menton
Le Petit Port: Famed for its seafood, this portside restaurant also excels in meat dishes and dessert.
Fleur de Sel: This cozy creperie provides a wide selection of savory and sweet crepes ranging from seafood to Nutella and ice cream.
Cote Sud: Located right by the sea, this top-rated restaurant offers a traditional cuisine with a strong Mediterranean inspiration and French references. I'm still dreaming about their spaghetti with burrata!
Èze (Half Day)
Driving time: 30 minutes (12.5 km/8 miles) from Nice to Èze
Èze is a hilltop village that provides views of the Mediterranean Sea that will make your heart sing. Dating back to the Middle Ages, you can lose yourself among the cobblestone streets and stone houses.
I recommend spending only half a day of your French Riviera road trip in Èze because that's all you need to see this pocket-size gem of a village.
Best things to do in Èze
Nietzsche Path
To make the most of the enchanting views that Èze offers, you can park in the hilltop village then tackle the Nietzsche Path (Le Chemin de Nietzsche). This 2 km (1.2 miles) hike connects the highest point in the village with the beach.
It's fairly rugged and steep in places so remember to pack sturdy footwear for your French Riviera trip and bring plenty of water. Of course, you could always have a taxi return you to your car if you prefer.
Le Jardin Exotique
The botanical gardens of Èze are located at the top of the hill and are your reward once you've tackled the hike. Lush green foliage, shrubs, plants, and cacti tumble down the cliffs and provide astounding views, it's definitely a moment for photographers to shine.
Èze Beach
Cool off by dipping a toe in the water of Èze Beach before weaving your way back up to the hilltop village where your car will be waiting for you.
Where to eat in Éze
Deli: Tucked away beneath the rampant vines, Deli offers shade and super fresh salads and sandwiches. They specialize in olive oils which are a cool memento from your 10 days in the French Riviera.
Le Chevre d'Or: This Michelin starred restaurant is connected to the luxury hilltop hotel. On the same complex, you can find a more casual garden cafe as well as a bar. All offer sensational views.
Villefranche-sur-Mer (Half Day)
Driving time: 25-30 minutes (11.5 km/7 miles) from Èze to Villefranche-sur-Mer
Villefranche is a quaint harbor town that's known for its tangerine-colored buildings with their teal window shutters. This town is larger and more spread out than Èze so you'll be in and out of your car to see the sights listed below, the first of which are located on the Cap-Ferrat peninsula.
Best things to do in Villefranche-sur-Mer
Villa Ephrussi de Rothschild
This salmon-pink seaside villa set within a series of themed gardens is located just outside of Villefranche. Both the gardens and interiors are open to the public so you can peek into how the upper classes lived in the 20th century. If you skipped lunch, there is also a splendid tea room on site.
Paloma Beach
This peninsular beach is a short drive from the villa and provides a sweeping view across the bay towards Èze and Monaca. It's fairly pricey to rent a sun lounger and as time is short, consider this a quick stop for the view.
Plage Villefranche-sur-Mer
Another viewpoint, this is the main beach of Villefranche which is situated across the bay from the town and provides a fantastic view of the town. The water is perfect for swimming so you might want to enjoy a quick dip before you drive into the town itself.
Villefranche Old Town
Following a theme here, a roam around the Old Town of Villefranche is the main thing you'll want to do once in town. Among the rainbow of pastel buildings, you'll find a couple of churches that you can pop into. Head towards Chapelle Sainte-Elisabeth for a panorama of the town.
Rue Obscure
Add something a tad darker to your French Riviera road trip with this hidden underground passageway that dates back to medieval times. Originally it was constructed for military purposes but it was also used as a wine cellar.
Citadelle Saint Elme
Formerly a 16th-century fortress, this citadel has since been repurposed as the Town Hall and cultural space. You can explore the premises and gardens for free and get wonderful views.
Where to eat in Villefranche-sur-Mer
Abacaxi Glacier: Pick up an afternoon treat in the form of ice cream, waffles or pancakes and enjoy the view.
Mayssa Beach: This luxurious restaurant is positioned to take full advantage of the scenery while you tuck into seafood and Mediterranean bites.
Le Mékong: Take a break from European cuisine and treat your tastebuds to some authentic Vietnamese. Affordable prices and there's a variety of vegetarian options available.
Cannes (1 Day)
Driving time: 40 minutes (34 km/21 miles) from Nice to Cannes
Movie stars, movie festivals, and movie set-worthy sites, Cannes is preceded by its glitzy reputation. Once a year, usually during the spring, the city lays out the red carpet and hosts the Cannes Film Festival which celebrates independent filmmaking from around the globe.
September sees the crowds descend again, this time for the Cannes Yachting Festival. This city is a magnet for major events and the elite! Cannes also features gorgeous historic architecture, golden sandy beaches, and luminous water which makes it an unmissable part of any French Riviera itinerary.
Best things to do in Cannes
Boulevard de la Croisette
This 2 km (1.2 miles) promenade spans the coastline of Cannes and is sprinkled with eateries, bars, and boutiques. Walk the entire life of it to get the lay of the land and find your bearings in this upscale resort town.
Palais des Festival
The convention center that hosts the film festival is positioned on the western end of the Boulevard de la Croisette. Outside of the film festival, you're not so likely to see many famous faces but it's still cool to wander around the iconic complex.
You can visit the Cannes Walk of Fame and find out which celebrities have the same size hand as you.
La Croix-des-Gardes
Mix up the magic of the harbor with the charm of the affluent villas constructed on the hilltop village of La Croix-des-Gardes. The nature park offers short and easy walking trails where you can breathe in the scents of mimosa blossoms while peering down on the city.
Le Vieux Port
The Old Port of Cannes was constructed in the heyday of the 1950s and fuses glamour with tradition seamlessly. Take a stroll along the marina, admire the yachts and flex your photography skills.
Bay of Cannes
Live out your fantasy of sailing, swimming, and snorkeling in the crystalline waters of the Bay of Cannes and book a half-day catamaran cruise. This will take up the majority of your one day in Cannes, but for boat enthusiasts, it's a match made in heaven.
Le Suquet
The medieval streets of Le Suquet were built over a Roman settlement and it's the oldest part of Cannes. The Musée de la Castre houses ancient artifacts and a collection of Riviera landscapes and provides a vantage point over the tumble of winding alleyways that form the historic neighborhood.
You can also pay a visit to Notre Dame d'Esperance, distinguishable by its bell tower.
Île Sainte-Marguerite
Located a half a mile offshore, regular ferries connect Cannes to this island of eucalyptus forest, beaches and rock pools. The connection takes 15 minutes each way and as the island is only 3 km (1.9 miles) in length is it possible to squeeze in a brief visit.
Where to eat in Cannes
Welcome to Key West: A great spot for breakfast or light lunch in a cute setting. Or, grab a specialty coffee or bubble tea to go.
L'Assiette Provençale: One of the waterfront restaurants with reasonable prices, especially when you order from the menu fixe. Quality food is presented artistically and the lemon meringue isn't to be missed.
Nova Social Food (temporarily closed, expected to reopen: April 2023): A vegetarian/vegan restaurant that presents plant based equivalents of classic meat dishes in a stylish setting.
Saint-Tropez (1 Day)
Driving time: 2 hours (112 km/70 miles) from Nice to Saint-Tropez, then 2 hours (135 km/84 miles) from Saint-Tropez to Marseille
Drive time to Saint-Tropez from Nice typically takes 2 hours, unless you take the slightly longer coastal option. You will stop here en route to Marseille where you will have booked accommodation for the final 4 nights of your French Riviera itinerary.
The drive from Saint-Tropez to Marseille takes a further 2 hours.
Alongside Cannes and Monaco, Saint-Tropez is another contender for the most luxurious city in the French Riviera. The town itself is a fairly compact town with a handful of fascinating landmarks, museums, and heritage spots.
If you want to update your wardrobe then there is an ample selection of designer boutiques in the center that rival those in Cannes. The town is surrounded by sun-dappled beaches turquoise swimming coves and the surprisingly rugged hinterland that protrudes to the east.
Best things to do in Saint-Tropez
Citadel of Saint-Tropez
This 17th-century fortress sits atop the town and provides fantastic views once you've hiked your way to the summit. It houses the Museum of Maritime History and gleans insight into the lifestyle of fishermen.
Port de Saint-Tropez
The iconic port is teeming with bobbing yachts and sailboats and has a lovely ambiance. Take some time to roam the harbor on foot and swing by the little boutiques and cafes.
Annonciade Museum
This converted chapel houses paintings from esteemed artists who lived in Saint-Tropez and captured its personality through their work. Although modest, the artwork on display is priceless. According to their official website the museum is closed from 15th January to 10th February, and from 15th November to 30th November.
Marché De St Tropez
Every Tuesday and Saturday morning, Avenue Augustin Grangeon erupts into an open-air market where you can stockpile French pantry staples. Pastries, charcuterie, fish, and artisanal preserves are sold alongside clothing, jewelry, and trinkets.
Stock up for the last few days of your French Riviera road trip if your visit coincides.
Sentier du Littoral Saint-Tropez
This short cliffside hiking trail is usually fairly quiet and affords a spectacular view of the untouched coast moments from the city.
Where to eat in Saint-Tropez
Chez Jean Robert (temporarily closed) : Gourmet cuisine from a locally renowned chef in a refined setting that nods back to bygone decades. The taste of the food lives up to its presentation.
Le Petit Pointu: A cozy seafood restaurant with a lovely outdoor seating area down a side street. Heavily geared towards fish and meat, there is a small menu for vegans too and the prices are fairer than elsewhere.
Cassis (1 Day)
Driving time: 40 minutes (27 km/17 miles) from Marseille to Cassis
Cassis is a typical Provençal coastal village that comprises the trademark pastel-painted buildings that you'll know all too well at this stage of your French Riviera road trip. There is a lot of historic architecture to feast your eyes upon over catch of the day and the town feels very chill after spending a few days in its flashy sister towns.
Beyond the port of Cassis, you'll discover a tapestry of hillside vineyards that produce Cassis white wine. But the star of the show are the dramatic Calanques that frame the town.
These are slender inlets edged by plunging limestone coastal cliffs that some consider the French Riviera's equivalent to Ha Long Bay.
Best things to do in Cassis
Calanques National Park
The park is nestled between Marseille and Cassis so you will savor the scenery from behind the wheel. Calanque de Port Pin and Calanque de Port-Miou are two of the most accessible viewpoints that you can view from the parking lot.
If you have longer than 10 days in the French Riviera then you might want to add one of the hiking trails to your itinerary although for a day trip this might feel too tight.
Cruise the calanques
Now for the chance to get a close-up at the mighty Calanques, you want to hop aboard a sailing vessel from Cassis Harbor. There are plenty of providers waiting to whisk you away to sea, but Visit of Creeks comes highly recommended!
Calanques sea kayaking
For an even more 'oarsome' time, sea kayaks are available from Calanque de Port-Miou and Cassis Harbor. Both Destination Calanques and Lo'Kayak offer kayak rentals and guided tours that navigate you through these natural wonders.
Cap Canaille
Hop back in your car and follow Route des Crêtes to the headland south of Cassis. Cap Canaille is the tallest coastal cliff in the whole of Europe. If you want to see the best of the French Riviera in 10 days this is a sight not to skip.
Cassis wine
Grab a bottle of Cassis wine to enjoy back at your hotel. Clos Sainte-Magdeleine and Domaine du Bagnol are the most convenient vineyards where you can take a cellar tour, sample the goods and choose your favorite tipple.
Cassis Town
Once you've exhausted yourself with the wines and waters of Cassis, remember to tour the town itself. Note the 13th-century fortress that looms above town, which is now reimagined as a guesthouse.
If time permits, you may want to swing by the Musée d'Art et Traditions Populaires de Cassis and buff up your local history.
Where to eat in Cassis
Le Patio: A harbor side eatery that specializes in seafood and lip smacking desserts.
Grain de Folie: An adorable independent cafe where you can grab coffee, sorbet or cold drinks in a warm environment.
L'Artisan Glacier: After a morning of kayaking (or exhausting your arm by taking photos) you've earned at least two scoops.
Marseille (2 Days)
Although Nice claims the title capital of the French Riviera, Marseille is in fact the largest city in the region and the second-largest in the whole of France.
Dating back to circa 600 BC when Greek sailors founded the city, Marseille is also the oldest city in France. It swiftly rose to become a major trading port which has remained part of the modern-day identity of the city.
Considering its size and heritage, no doubt you've already figured out that Marseille is rammed with things to see and do.
Best things to do in Marseille
Old Port of Marseille
As the most happening and one of the most picturesque parts of the city, you'll want to spend some time pottering around the Old Port of Marseille.
Take in some of the oldest buildings in France, nosey at the jiggling boats and crane your neck at the mighty churches that border the neighborhood, such as Cathédrale La Major.
Château d'If
Located 1.5 km (0.9 miles) off the coast, Château d'If is a former prison atop a small island. It was the most feared jail in France during the 16-19th centuries and reserved for the very worst criminals. You can ride the ferry across to the island (20 minutes each way) and see the ruins for yourself.
Basilique Notre-Dame de la Garde
The very symbol of Marseille, this catholic church was constructed in the mid-late 19th century atop the foundations of an ancient fort. It's a steep walk up to the church so you might want to hop on a local bus and then walk back down to town while savoring the views.
MuCEM
Constructed in commemoration of Marseille's nomination as the European City of Culture in 2013, MuCEM stands for Museum of Civilizations of Europe and the Mediterranean. It's a fantastic spot to gain an understanding of continental culture, traditions, and history.
Palais Longchamp
This prestigious monument is set within a spacious garden that's populated by sculpted animals and a huge fountain. Alongside the monument and botanical gardens, you will find the Museum of Fine Arts and Natural History Museum.
Friche Belle de Mai
A former tobacco factory, the Friche Belle de Mai is now a cultural center that brings together exhibitions, performance art, concerts, and rooftop cinema screenings. It's worth checking out what's on or rocking up to immerse yourself in contemporary French Riviera culture.
Sunset sailing
As Marseille concludes your French Riviera itinerary, you might want to indulge yourself and spend your last night enjoying a sunset boat cruise with dinner and drinks on board.
Where to eat in Marseille
---
Related Posts
Want to read more about France?
---
Pin It for Later!