Paris is known for its bohemian spirit, luxurious boulevards, and romantic 19th-century skyline peppered with iconic landmarks. The French capital is home to some of the best museums in the world alongside cutting-edge fashion and world-class gastronomy. So how are you going to squeeze all this into one day in Paris?
The great thing about Paris is that it's a fairly walkable city and that a lot of the attractions you'll want to see are close to one another. As I know you'll want to see as many icons as possible, my Paris in one-day itinerary shows you exactly how to do this.
Disclosure: *This post contains a few affiliate links, which means I may receive a small commission, at no cost to you, if you make a purchase through my link.*
No time to read now? Pin it for later!
Useful Info for Visiting Paris
How to get to Paris
Paris is one of the most visited cities in Europe so there is no shortage of options when it comes to getting there. If you're based in Europe, you can choose from numerous low-cost airlines, trains, and buses. From the US, you can find direct flights to Paris from most of the bigger cities like New York City, Los Angeles, Chicago, or San Francisco.
Paris is served by two main airports: Charles de Gaulle Airport (CDG) and Orly Airport (ORY). CDG is the major international airport in Paris, located 23 km (14 miles) northeast of Paris.
The easiest and most budget-friendly way to get to the city center from the airport is using the RER B train line. It takes around 30 minutes to reach the city center by train and a one-way ticket costs €11.40.
ORY is the second most important airport, located 13 km (8 miles) south of Paris. Unfortunately, there are no direct train lines to get to the city center. First, you need to hop on the Orlyval train which will take you to the Antony train station, where you can change to RER B. The journey takes around 30 minutes and it costs €12.50.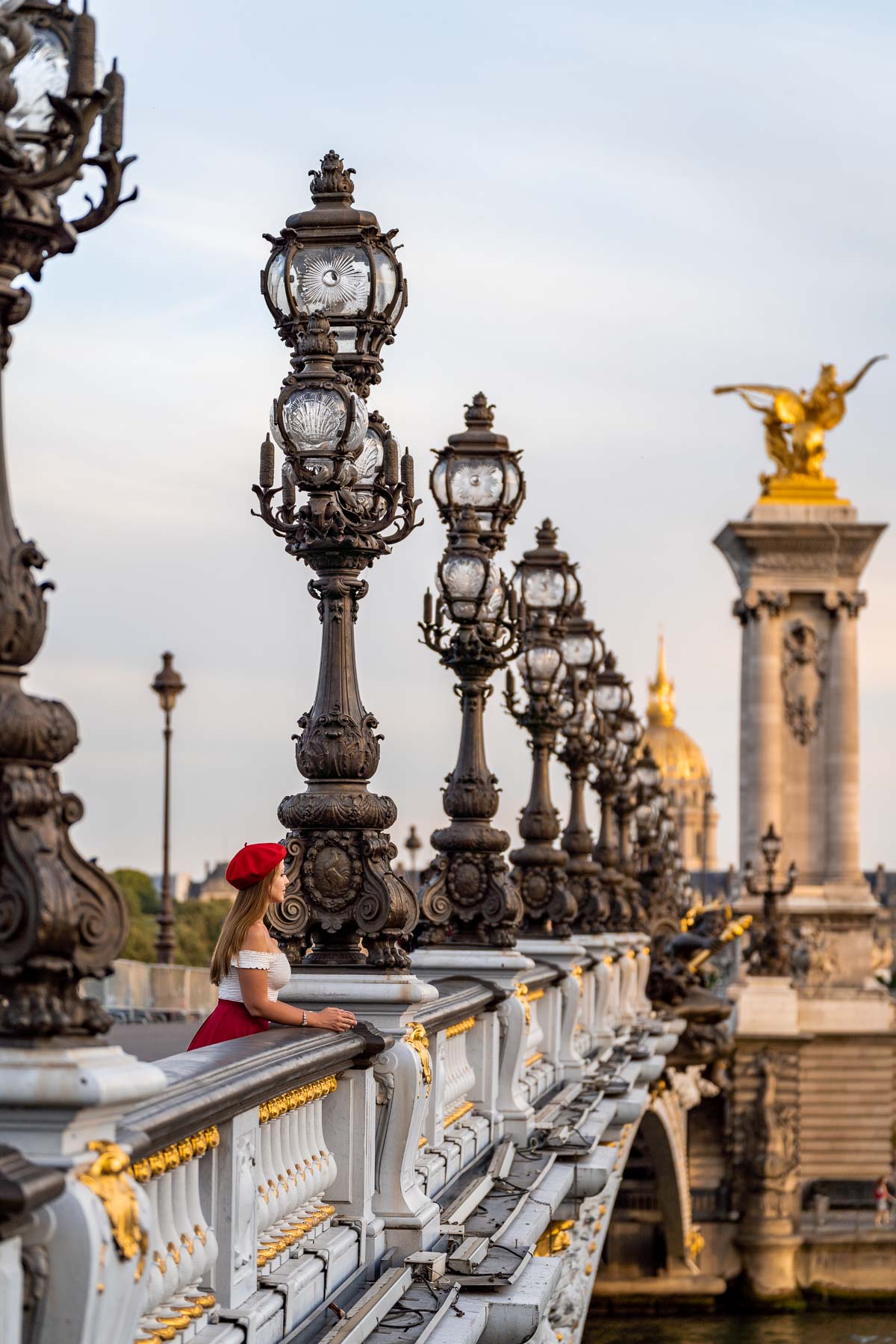 Best time to visit Paris
Paris is a true year-round destination and there is no bad time to visit Paris. However, each season is quite different and the best time to visit Paris highly depends on what are you planning to do and of course, your budget.
If you will only have one day in Paris, it's best to go in the summer when the days are really long. The sun usually rises around 6 am and sets around 10 pm which gives you plenty of time for sightseeing. However, since this is the peak season for tourism, you will need to be prepared for massive tourist crowds and higher price tags.
Generally speaking, late spring and early autumn is the best time to visit Paris if you want to avoid the mass crowds but you still want to enjoy warm weather. As a bonus, in spring you can see the flowers in full bloom and in autumn you can admire the beautiful fall foliage in Paris.
The holiday season is also magical in Paris with festive lights and Christmas decorations set up all around the city. Paris is actually a lot warmer than other European cities during winter with an average temperature of around 5-8°C (41-46°F) during the day, which is still quite pleasant for sightseeing.
How to get around in Paris
Paris is a fairly walkable city and most of the must-see spots are close to each other and easy to reach. So the best way for getting around in Paris is actually by foot! As you will see in this Paris itinerary, you can cover almost all the must-see spots by walking.
That said, Paris is a big city and since you will only have one day in Paris, you need to use your time wisely. Luckily Paris has a fantastic public transportation system that will help you cover more ground in the city.
Paris has 16 different metro lines with more than 300 metro stations. That means you can reach practically everything with a metro! If this wouldn't be enough, there are 4 tram lines and countless bus lines as well.
Of course, you can find many taxis and ride-hailing companies such as Uber around the city but with a public transportation system like this, you won't really need them.
Where to stay in Paris
Paris is not only one of the most beautiful cities in France but it's also one of the most visited ones in the whole of Europe. Therefore you will find a wide selection of accommodations in the city, starting from cheaper hostels and guesthouses to 5-star hotels and luxury apartments.
Paris is divided into 20 administrative units that are called arrondissements. The best arrondissement to stay in Paris completely depends on what you want to do as a tourist and how much time you have in hand.
If you're visiting Paris for the first time, you will probably like to stay near the Seine River (1st to 7th arrondissement), where the major tourist attractions are located.
Are you dreaming of waking up to the view of the Eiffel Tower? Then you need to check out my posts about the best apartments in Paris with Eiffel Tower view and the best Paris hotels with Eiffel Tower view. In case you're looking for other views, check out these amazing hotels in Paris with a view including Arc de Triomphe views, Sacré-Cœur views, and more!
If you're looking for a quick solution, below you can find some of the best hotels to stay in during your one day in Paris, depending on your budget.
LUXURY – Hôtel San Régis
This incredible 5-star boutique hotel is housed in a 19th-century private mansion and is richly decorated with tasteful wallpaper, springy carpets, and antique furnishings. Rooms are also equipped with a modish marble bathroom.
MID-RANGE – citizenM Paris Champs-Élysées
CitizenM Paris Champs-Élysées, located in the 8th arrondissement of Paris, is less than a kilometer from Arc de Triomphe, Musée de l'Orangerie, and Eiffel Tower. A restaurant, a 24-hour front desk, and a shared lounge are among the amenities available at this property.
BUDGET – Hotel Opera Maintenon
For a budget-friendly option in the heart of Paris, consider the Hotel Opera Maintenon. This property is a short walk from the Opéra Garnier and has tastefully furnished and quiet rooms with modern amenities.
Overview of Your One Day in Paris Itinerary
And now it's time to start the juicy part of my guide – how to see the best of Paris in one day. Since you're only going to have one day in Paris, be prepared for a jam-packed itinerary and get a good night's sleep the day before! Here is a quick overview of the places you will get to see today.
Breakdown of your one day in Paris itinerary
MORNING: Trocadéro, Sacré-Cœur, Montmartre (Moulin Rouge, Musée de la Vie Romantique​, Montmartre Cemetery, café hopping)
AFTERNOON: Scenic walk from Champs-Elysées, Jardin des Tuileries, Louvre, Arc de Triomphe du Carrousel, Notre-Dame du Paris, Latin Quarter (Shakespeare and Company, Odette Notre-Dame Café, Parthenon, Jardin des Plantes, le Jardin de Luxembourg)
EVENING: Tour Eiffel, Dinner in Paris
Map for the best things to do in one day in Paris
Below you can find a customized map that includes all the locations you're going to visit on this Paris itinerary. I marked each time of the day with different colors – I used blue for the morning, red for the afternoon, and green for the evening so you can easily see which places you're going to visit during your one-day Paris itinerary.
If you open up this post on your phone and you click on the bracket in the upper right corner of the map, it will open up in your Google Maps app so you can always have it with you. Super convenient, right?
Morning of Your One Day in Paris Itinerary
Trocadéro
If you only have one day in Paris then it's worth getting started as early as possible and that means a sunrise wake-up. I know, I know, who wants to wake up early on a holiday? But trust me, you're going to love this!
For the first stop on your Paris itinerary, head over to Trocadéro (the closest metro station is called Trocadéro as well). It's an open, public terrace which is located directly across from the Eiffel Tower. From here you get uninterrupted views of that icon of Paris, the Iron Lady.
Trocadéro is one of the most famous Instagram spots in Paris so it's always full of people. However, if you arrive here in time for sunrise you will have the area practically all to yourself and you will also have the loveliest light to take enchanting photos of all 324 meters (1,063 feet) of the tower.
After that, you can also wander around the Jardins du Trocadéro which features sculptures and fountains. There are no costs associated with visiting Trocadéro so you can splash out on a croissant instead!
Sacré-Cœur
After the Eiffel Tower, the chalky-white Sacré-Cœur is another of the most famous landmarks in Paris. So head there early with your 24 hours in Paris before the crowds arrive!
Sacré-Cœur is a Roman Catholic church dedicated to the Heart of Jesus. Its architectural style is inspired by the likes of Saint Sofia in Constantinople and San Marco in Venice. Inside you'll find a beautiful, colossal mosaic depicting the Risen Christ and from the upper dome, you get a windswept view across Paris.
To get to Sacré-Cœur from Trocadéro you can take the metro from Trocadéro to Anvers (change at Charles de Gaulle – Étoile). It takes around 30 minutes.
Sacré-Cœur is free to visit unless you want to visit the dome and crypt. The dome costs €7, however according to their official website the crypt is closed to visitors at the present time. The Basilica is open daily from 6.30 am to 10.30 pm.
Explore Montmartre
Sacré-Cœur is located in the Montmartre neighborhood (18th arrondissement). It's actually a large hill which means you get some incredible views of the city from Sacré-Cœur and beyond.
Montmartre is known for its artistic heritage, its nightlife, and its romantic winding cobblestone streets and courtyards. Spend some time getting lost and watching the local painters at work. You can even commission a portrait of your own for a cool souvenir from your one day in Paris.
Because there is a lot to see in Montmartre I'm suggesting a couple of places you might want to check out. However, you would struggle to squeeze all of these in so just pick the ones that most appeal to you.
Moulin Rouge
The original Moulin Rouge, the birthplace of can-can dancing, is located in Montmartre on Boulevard de Clichy. It's worth visiting to take some photos of the facade with its fabled red windmill!
If you have longer in Paris you can actually watch a cabaret show and relive those Belle Époque days. Moulin Rouge is a 15 minute walk from Sacré-Cœur.
Musée de la Vie Romantique
The Musée de la Vie Romantique (Museum of Romance) is an 1830-built house that used to be the home of the painter Ary Scheffer. The permanent collections showcase some of his masterpieces along with furnishings and jewelry from the romantic era.
It's a small collection so it will not take you long to explore and it's worth swinging by to appreciate the idyllic exteriors of the home. The permanent collections are free to visit but the exhibitions carry an admission fee. The museum is open Tuesday – Sunday, 10 am – 6 pm (closed on Mondays).
Musée de la Vie Romantique is a 15 minute walk from Sacré-Cœur or a five minute walk from Moulin Rouge.
Montmartre Cemetery (Cimetière du Nord)
It might sound a little morbid to include a cemetery in your one-day Paris itinerary but bear with me! The Montmartre Cemetery is a beautiful and peaceful spot that's laden with trees and well-tended graves of famous figures including Stendhal, Émile Zola, Gustave Moreau, and Dalida.
This is another item on your one day in Paris itinerary that is free and it's also one of the more off the beaten path things to do in Paris.
The cemetery is a 20-minute walk from Sacré-Cœur or a five-minute walk from Moulin Rouge.
Lunch in Montmartre
Montmartre is a fabulous place to sit and sip a coffee and nibble on a pastry. Go alfresco on a street terrace or cozy up by a window on a chilly day and watch the Parisians and tourists go about their day. Even if you're exploring Paris in a day you should factor in some time to absorb the Parisian café culture.
If you need some recommendations, check out my favorite cafes below.
Café des Deux Moulins: If you've seen Amélie you will recognize this café as the one that our joy-spreading heroine waitressed! It's a functioning café and they serve a creme brulee in her honor. It does get busy here so aim to get here before the lunch crowd.
Hardware Societe: This is a hip café that blends Parisian, European and Aussie fare. It's close to Sacré-Cœur and is a great option for brunch if you skipped breakfast. Their French toasts are seriously to die for!
Afternoon of Your One Day in Paris Itinerary
Champs-Élysées & Jardin des Tuileries
From Montmartre, ride the metro from Abbesses to Franklin D. Roosevelt (change at Concorde) or Anvers to Champs-Élysées – Clemenceau (change at Place de Clichy). Either way, you will begin the afternoon of your Paris in a one-day itinerary at one of the most splendid streets in the city!
From here you will enjoy a walk through the Jardins des Champs-Élysées and past the Egyptian obelisk at Place de la Concorde.
Continue through the Jardin des Tuileries. These gardens were commissioned by Catherine de Medici in 1564 as a place for her to host lavish banquets and events. Once the gardens were opened to the public they became a place for Parisians to relax.
Louvre
If you are a diehard art lover then you should jump at the chance to visit this prestigious art gallery during your 24 hours in Paris. The Louvre is the largest art museum in the world that contains important masterpieces such as the Venus de Milo, the Mona Lisa, and Liberty Leading the People.
Because time is short, you might prefer to only visit the exterior, see those iconic pyramids and use the rest of your time to see other landmarks.
If you want to head straight to the Louvre and maximize your time in the gallery – you could skip the section above and disembark at the Palais-Royal-Musée du Louvre metro.
Entrance to the Louvre is €15 when purchased at the museum or €17 if you buy online – this includes quick entry to the museum. The gallery is open on Monday, Wednesday, Thursday, Saturday and Sunday between 9 am – 6 pm, and on Friday from 9 am to 9.45 pm (closed on Tuesdays).
Arc de Triomphe du Carrousel
Located across from the Louvre this isn't the famous Arc de Triomphe but it's just as glorious!
Construction began in 1806 and the arch served to commemorate Napoleon's military victories of the previous year. You will see depictions of Victory, Fame, History, and Abundance. Atop the arch, you can spot Peace riding in her triumphal chariot. On a sunny day, the rose-pink marble really glimmers.
Notre-Dame de Paris
Continuing on your exploration of Paris in a day, it's time to cross over the Pont Neuf. But before you plant your feet on the left bank of the River Seine, first you will arrive on the island habitat of Notre-Dame de Paris.
Although Notre Dame was subject to heartbreaking damage during the 2019 fire, work is underway to restore it to glory. Whilst the first stone of the great Gothic cathedral was laid in 1163, it took almost 200 years before the building was completed.
In the late 18th century, French revolutionaries caused major damage to the structure. It wasn't until the publication of Victor Hugo's The Hunchback of Notre-Dame that a campaign to restore the cathedral was set in motion.
You cannot currently enter Notre Dame but you can enjoy a view of the cathedral now that most of the scaffolding has been taken away.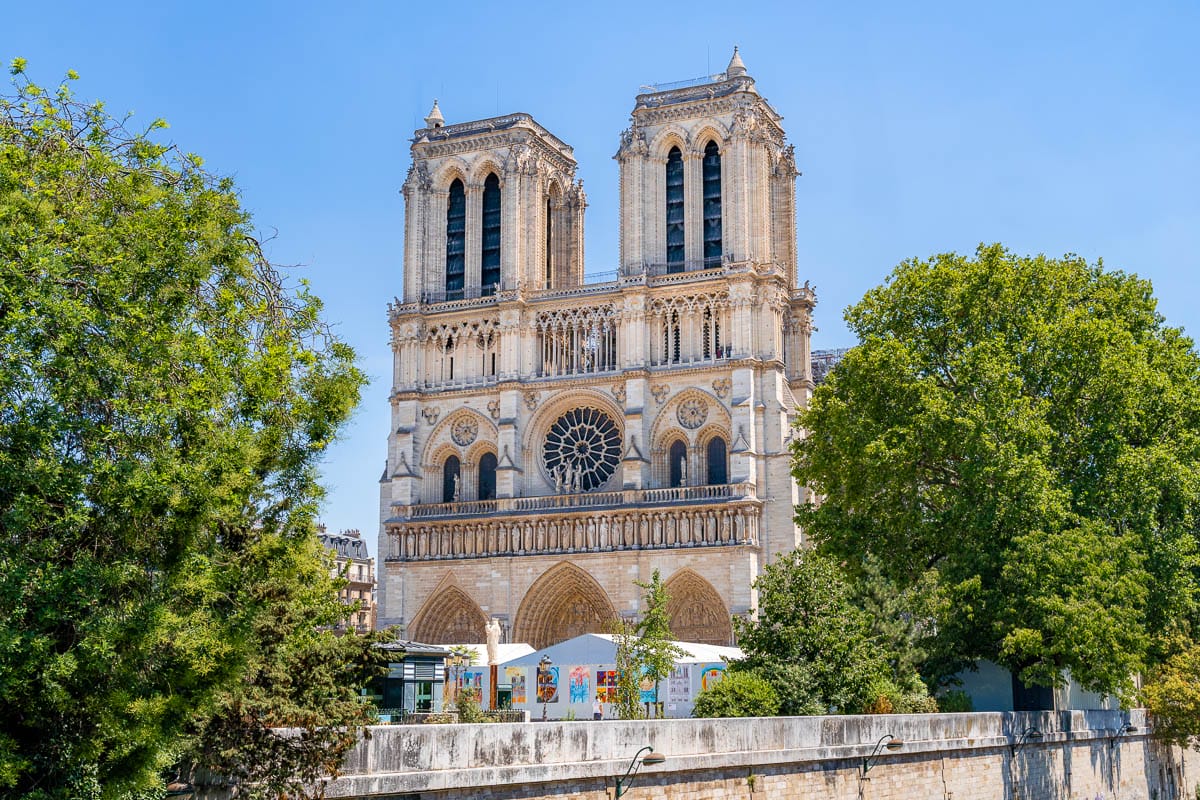 Latin Quarter
Like Montmartre, the Latin Quarter (5th arrondissement) is another vibrantly bohemian Parisian neighborhood that I recommend you wander around. It's a large district packed with some of the most popular things to do in one day in Paris. Here are some of the places you can elect to check out.
Shakespeare and Company
This legendary bookshop was opened in 1951 by George Whitman. But, the story behind the foundation goes a little deeper.
Sylvia Beech launched the original Shakespeare and Company in 1919. Originally in a different location, the bookshop became a haunt for the likes of Ernest Hemingway and James Joyce during the roaring twenties. As the shop closed during the Second World War, Whitman opened his incarnation in testament to its historical foundations.
Nowadays you can browse English-language books, both new and second-hand, along eclectic crooked shelves.
Shakespeare and Company is a five-minute walk from Notre Dame via Petit Pont (from which you'll get a lovely view of the cathedral).
Odette Notre Dame
If you need a pitstop for coffee and sweet treats (an essential of your one day in Paris) you'll stumble upon plenty of options in the Latin Quarter. But my favorite is Odette which sells fluffy choux à la crème alongside strong coffee in the cutest setting.
Odette Notre Dame is a one-minute walk from Shakespeare and Company.
Panthéon
This 18th-century mausoleum contains the remains of notable French figures including Voltaire, Victor Hugo, and Marie Curie. The neo-classical building is topped with a grand, three-tiered dome to rival St Peter's Basilica in Rome. Even if you don't want to go inside, I recommend visiting the monument to peer up at the columns and reliefs.
The entrance to the Panthéon is €11.50. There is free admission on the first Sunday of the month (1 November to 31 March) in case that ties in with your one day in Paris.
The Panthéon is a 10-minute walk from Odette.
Jardin des Plantes
This beautiful botanic garden will stretch your one-day in Paris itinerary but if you visit during spring or summer and love floral displays, it's totally worth it. It was originally founded as a royal garden for medical plants which later became associated with early French studies of botany and zoology.
Open daily/year-round between 7.30 am – 8 pm, you can check the official website for further information regarding the opening hours. Entrance to the Jardin des Plantes is free.
Jardin des Plantes is a 15 minute walk from the Panthéon.
Le Jardin de Luxembourg
An alternative to the Jardin des Plantes is the more centrally located le Jardin de Luxembourg. In addition to a bounty of flowers, you will see the former royal residence of the Palais du Luxembourg. Nowadays, this is the seat of the French senate.
Le Jardin de Luxembourg is a 10 minute walk from the Panthéon.
Evening of Your One Day in Paris Itinerary
Tour Eiffel
To conclude your one day Paris itinerary, let's finish off where you started, with sunset at the Eiffel Tower. Only this time you'll go to the summit and watch Paris transform into its evening. The perfect way to conclude a day discovering the charms of the city!
Admission varies based on how much climbing you are prepared to do! If you want to ride the lift all the way to the top of the tower, it will cost you €28.30. But if you're happy to walk to the second floor and then take the lift, it is €21.50. Whichever one you choose, make sure to buy your tickets in advance!
Dinner in Paris
After a full 24 hours in Paris sightseeing and walking, you deserve a scrumptious meal in one of the best restaurants in Paris! You might want to eat closer to your hotel but if you are looking for some tips on where to eat in Paris, here are some recommendations.
Final Thoughts
Now that you know what to do with one day in Paris you can look forward to booking your trip!
I hope that my guide on how to spend one day in Paris has helped you understand the geography of the city and how you can make the most of your time. As I've pointed out, there is a lot to see in the French capital but my customizable itinerary allows a lot of flexibility.
If you have any questions feel free to leave a comment below or send me an email, I always love helping you out! Have you ever been to Paris or is it still on your travel bucket list? Let me know in the comments!
xoxo, Kriszti
---
Related Posts
Want to read more about Paris?
---
What Camera Gear Do We Use?
If you want to read more about what is in our camera bag, check out my detailed post about our travel photography gear!
---
Pin It for Later!