Paris is without a doubt one of the most fascinating cities to explore in Europe. Boosting many beautifully manicured green parks, world-class museums, stunning landmarks, and gourmet cuisine – it's got a bit of something for everyone.
But if this will be your first visit to the French capital, you're probably wondering exactly what to do in Paris for 4 days?
I can tell you one thing, even with 4 days in Paris you will never run out of things to do! With a bounty of attractions, it can be hard to decide which ones most appeal to you and plan how you'll squeeze everything.
If you follow this perfect Paris in 4 days itinerary, I can guarantee you that you won't miss out on anything while visiting Paris!
Disclosure: *This post contains a few affiliate links, which means I may receive a small commission, at no cost to you, if you make a purchase through my link.*
No time to read now? Pin it for later!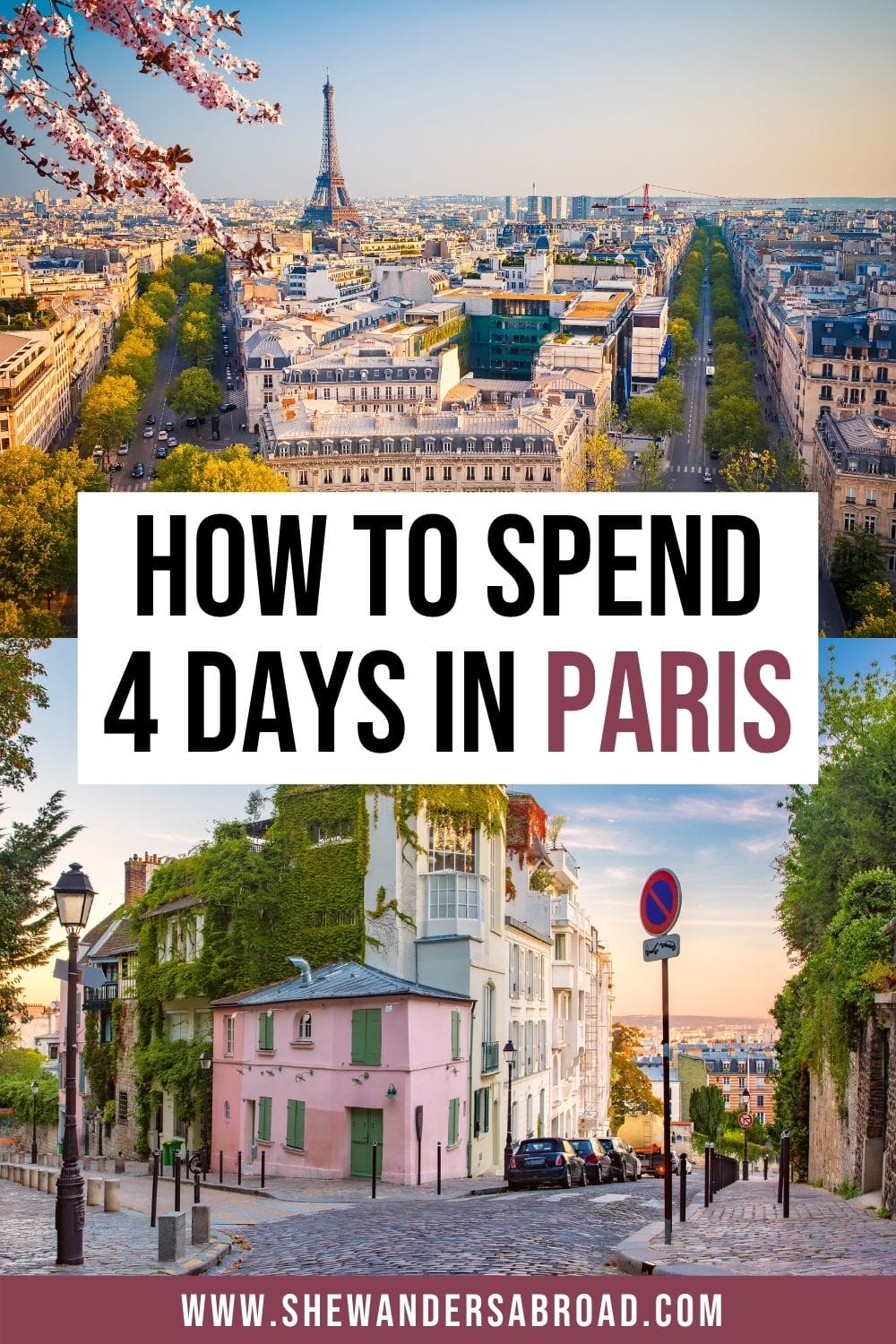 Useful Info for Visiting Paris
How to get to Paris
Paris is one of the most visited cities in Europe so there is no shortage of options when it comes to getting there. If you're based in Europe, you can choose from numerous low-cost airlines, trains, and buses. From the US, you can find direct flights to Paris from most of the bigger cities like New York City, Los Angeles, Chicago, or San Francisco.
Paris is served by two main airports: Charles de Gaulle Airport (CDG) and Orly Airport (ORY). CDG is the major international airport in Paris, located 23 km (14 miles) northeast of Paris. The easiest and most budget-friendly way to get to the city center from the airport is using the RER B train line. It takes around 30 minutes to reach the city center by train and a one-way ticket costs €11.40.
ORY is the second most important airport, located 13 km (8 miles) south of Paris. Unfortunately, there are no direct train lines to get to the city center. First, you need to hop on the Orlyval train which will take you to the Antony train station, where you can change to RER B. The journey takes around 30 minutes and it costs €12.50.
Best time to visit Paris
Paris is a true year-round destination and there is no bad time to visit Paris. However, each season is quite different and the best time to visit Paris highly depends on what are you planning to do and of course, your budget.
If you want to maximize your 4 days in Paris, it's best to visit in the summer when days are really long. The sun usually rises around 6 am and sets around 10 pm which gives you plenty of time for sightseeing. However, since this is the peak season for tourism, you will need to be prepared for massive tourist crowds and higher price tags.
Generally speaking, late spring and early autumn is the best time to visit Paris if you want to avoid the mass crowds but you still want to enjoy warm weather. As a bonus, in spring you can see the flowers in full bloom and in autumn you can admire the beautiful fall foliage in Paris.
The holiday season is also magical in Paris with festive lights and Christmas decorations set up all around the city. Paris is actually a lot warmer than other European cities during winter with an average temperature of around 5-8°C (41-46°F) during the day, which is still quite pleasant for sightseeing.
How to get around in Paris
Paris is a fairly walkable city and most of the must-see spots are close to each other and easy to reach. So the best way to get around in Paris is actually by foot! As you will see in this 4 days in Paris itinerary, you can cover many of the must-see spots by just walking.
That said, Paris is a big city and since you will want to explore as much as you can on your 4 days in Paris, you will need to use your time wisely. Luckily Paris has a fantastic public transportation system that will help you cover more ground in the city.
Paris has 16 different metro lines with more than 300 metro stations. That means you can reach practically everything with a metro! If this wouldn't be enough, there are 4 tram lines and countless bus lines as well.
Of course, you can find many taxis and ride-hailing companies such as Uber around the city but with a public transportation system like this, you won't really need them.
Where to stay in Paris
Paris is not only one of the most beautiful cities in France but it's also one of the most visited ones in whole Europe. Therefore you will find a wide selection of accommodations in the city, starting from cheaper hostels and guesthouses to 5-star hotels and luxury apartments.
Paris is divided into 20 administrative units that are called arrondissements. The best arrondissement to stay in Paris completely depends on what you want to do as a tourist and how much time you have in hand.
If you're visiting Paris for the first time, you will probably like to stay near the Seine River (1st to 7th arrondissement), where the major tourist attractions are located.
Are you dreaming of waking up to the view of the Eiffel Tower? Then you need to check out my posts about the best Paris hotels with Eiffel Tower view! In case you're looking for other views, check out these amazing hotels in Paris with a view including Arc de Triomphe views, Sacré-Cœur views, and more!
If you're looking for a quick solution, below you can find some of the best hotels to stay in during your 4 days in Paris, depending on your budget.
LUXURY – Hôtel San Régis
This incredible 5-star boutique hotel is housed in a 19th-century private mansion and is richly decorated with tasteful wallpaper, springy carpets, and antique furnishings. Rooms are also equipped with a modish marble bathroom.
MID-RANGE – citizenM Paris Champs-Élysées
CitizenM Paris Champs-Élysées, located in the 8th arrondissement of Paris, is less than a kilometer from Arc de Triomphe, Musée de l'Orangerie, and Eiffel Tower. A restaurant, a 24-hour front desk, and a shared lounge are among the amenities available at this property.
BUDGET – Hotel Opera Maintenon
For a budget-friendly option in the heart of Paris, consider the Hotel Opera Maintenon. This property is a short walk from the Opéra Garnier and has tastefully furnished and quiet rooms with modern amenities.
Overview of Your 4 Day Paris Itinerary
The section below includes an overview of your Paris in 4 days itinerary with all the best highlights that I recommend visiting during each day of your trip. While I've included some of the more touristy attractions that you have to see at least once, in Paris, I've also included a few of the more off-the-beaten-path locations as well.
Breakdown of your 4 days in Paris itinerary
DAY 1: Louvre, Arc de Triomphe du Carrousel, Jardin du Palais-Royal, Jardin des Tuileries, Champs-Elysées, Pont Alexandre III, Rue de l'Université, La Tour Eiffel, Dinner in Paris
DAY 2: Trocadéro, Pont d'Iéna, Champs de Mars, Les Invalides, Musée Rodin, Catacombs, La Tour Montparnasse, Seine River Cruise
DAY 3: Pompidou Centre, Montmartre (Sacré-Cœur, Rue Maurice Utrillo, Musée de la Vie Romantique​, Montmartre Cemetery, Moulin Rouge), Canal St Martin, Arc de Triomphe, Montmartre nightlife
DAY 4: Ile de la Cité, Notre-Dame du Paris, Sainte Chapelle, Latin Quarter (Shakespeare and Company, Odette Notre-Dame Café, Parthenon, Grande Mosquée de Paris, Jardin des Plantes, le Jardin de Luxembourg), Latin Quarter nightlife
Map for the best things to do in Paris in 4 days
Below you can find a customized map that includes all the locations you're going to visit on this Paris itinerary. I marked your 4 days in Paris with different colors – I used blue for the first, green for the second, red for the third, and yellow for the fourth day, so you can easily see which places you're going to visit each day.
If you open up this post on your phone and you click on the bracket in the upper right corner of the map, it will open up in your Google Maps app so you can always have it with you. Super convenient, right?
Day 1 of Your Paris in 4 Days Itinerary
Louvre
The Louvre is one of the most recognizable landmarks in Paris and is a fabulous starting place to immerse yourself in this artistic city. Its collections span the likes of Venus de Milo, the Mona Lisa, and Liberty Leading the People. Before you even step foot inside you can gawp up at the glass pyramid that marks the entrance. Designed by architect Ming Pei, this giant structure is just a taste of what you'll find indoors!
Admission to the Louvre is €15 when purchased at the museum or €17 when purchased online. This option includes quick entry to the museum which I do recommend because the gallery gets so busy.
Since you're going to explore the largest art museum in the world, it's worth considering going on a guided tour in the Louvre. With this option, you can enjoy fast track entry and you can also learn a lot from your knowledgeable guide who will show you all the best treasures in the Louvre.
The gallery is open on Monday, Wednesday, Thursday, Saturday and Sunday between 9 am – 6 pm, and on Friday from 9 am to 9.45 pm (closed on Tuesdays) so plan carefully. Expect to spend at least 2 hours exploring the Louvre during your 4 days in Paris. However, if you're an art lover you might want to devote your whole morning to exploring the most beautiful artworks in the Louvre.
If you love photography, it's worth arriving before the museum opens so you can have the whole courtyard all to yourself. The courtyard opens at 7 am (it's closed on Tuesday such as the museum itself) and it's worth getting there early as it usually gets more and more crowded as the time passes.
Arc de Triomphe du Carrousel
Either before you enter the Louvre or when you come out, check out the Arc de Triomphe du Carrousel. This isn't the famous arch of Paris (we'll come to that one later!) but it's equally splendid, despite being half its size.
In honor of Napoleon's victories, the construction of Arc de Triomphe du Carrousel began promptly in 1806. Commemorative military reliefs are carved into the rose-pink hue of the marble. At the top of the monument, you will see a sculpture of Peace charging her triumphal chariot.
Brunch at Marcel 3
If you want to grab some lunch nearby, you can visit one of my favorite cafés in Paris. Marcel 3 serves tasty, healthy and light meals which will fill your tummy. It's a 10-minute walk from the Louvre.
Jardin du Palais-Royal
You can walk off your lunch by taking a 10-minute stroll to the Jardin du Palais-Royal. These manicured gardens take you to the Palais-Royal itself. This resplendent complex is a former royal residential but nowadays it's used by the Ministry of Culture, the Conseil d'État, and the Constitutional Council.
The patio outside the palace features the iconic black and white striped columns that were designed by the French artist Daniel Buren. When these were installed during the mid-80s, there was outrage that they were not appropriate for the historic palace, although the controversy soon blew over.
Palais-Royal is undoubtedly one of the most instagrammable places in Paris so don't forget your camera at home!
Jardin des Tuileries
From the Palais-Royal you can take a 10-minute walk to the Jardin des Tuileries. These gorgeous gardens were commissioned by the queen consort Catherine de Medici in 1564.
Originally a private garden, they were the setting for many royal events and exclusive banquets. Since 1667, following the French Revolution, the gardens have been the domain of the public.
If you want to see Monet's celebrated water lilies then pop into the Musée de l'Orangerie. Admission is €12.50 and the gallery is open from Wednesday to Monday between 9 am – 6 pm.
As with the Louvre, it's closed on Tuesdays but if you happen to be there on the first Sunday of the month, admission is free!
Champs-Elysées
Place de la Concorde marks the end of Jardin des Tuileries on the western side, from where you can start your walk along the iconic Champs-Elysées. With a total length of 1.9 kilometers (1.2 miles), the avenue is one of the most luxurious commercial streets in the world!
If you're a shopaholic you'll want to take your time as the avenue is home to a mix of different designer and high street shops ranging from Tiffany's to Nike. Even if you don't want to shop, you shouldn't miss the chance to soak up the majesty of this beautiful street.
If you've got a sweet tooth I recommend a pitstop at Laduree for their world-famous macaroons. Want to catch a play or see a movie during your 4 days in Paris? Come back here at night.
Pont Alexandre III
Once you've had enough of the shops and glamour on Champs-Elysées, make your way on foot to the River Seine.
Paris is a city of bridges that connect the Left and Right Bank. While exploring Paris in 4 days, you will spot many of these. One of the most impressive bridges which you will use to cross the river now is the ornate Pont Alexandre III. Giant art nouveau lamps decorate the bridge as well as a menagerie of nymphs, cherubs, and winged horses.
No pictures do justice to how beautiful the bridge is in real life! And if its beauty in itself weren't enough, it also offers an impressive view over the city and you can even spot the Eiffel Tower from the bridge!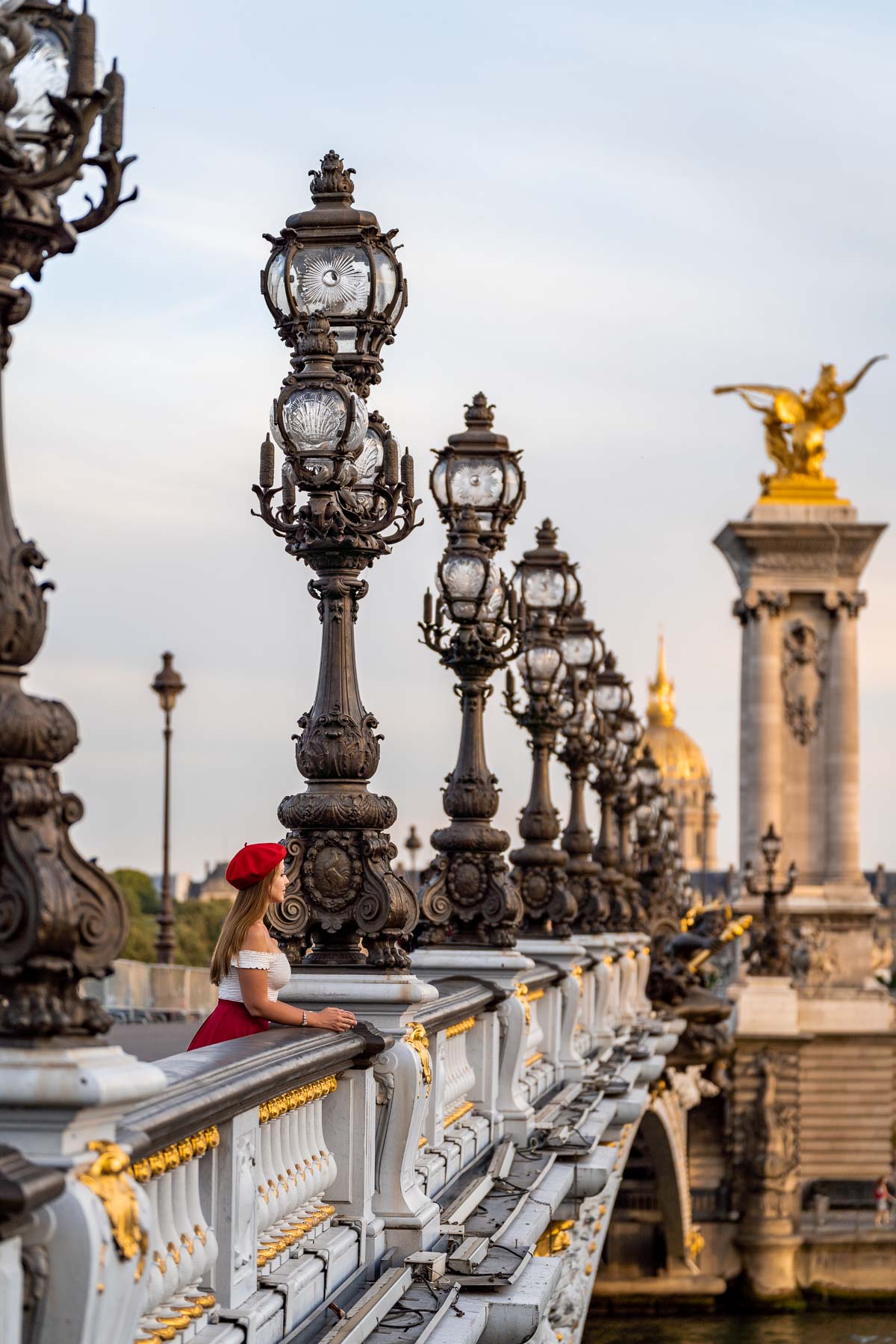 Rue de l'Université
As you transition to the Left Bank, you will come to a long street called the Rue l'Université. I'm flagging this street because it epitomizes those sophisticated boulevards that we all love Paris for, but also for the incredible view of the ultimate Parisian landmark, the Iron Lady. The Rue l'Université provides an unsurpassed view of the Eiffel Tower which is located right at the eastern end of the street!
La Tour Eiffel
It will take you around 30 minutes to walk the length of Rue l'Université before you reach the grand finale, la Tour Eiffel. At 324 meters (1,063 feet), the Eiffel Tower quivers above the rest of the capital.
There's no better way to absorb the City of Lights than from its second-floor viewing deck with a chilled glass of bubbles in your hands.
To wrap up the first of your Paris 4 day itinerary, you can ride the lift to the top of the observation deck and watch the sunset over the rooftops of Paris.
In terms of costs, there are different costs for visiting the Eiffel Tower. Riding the lift straight to the top of the tower costs €28.30. But if you're happy to walk to the second floor and then take the lift, you can make a small saving – this costs €21.50.
As wait times for the attraction can be long especially during summer, I recommend booking your Eiffel Tower tickets well in advance! If you want to learn more about the history of the Eiffel Tower and other interesting facts while visiting, consider booking a guided Eiffel Tower tour!
Dinner in Paris
After surveying the views I think it's about time you surveyed a menu! For your first night, tuck into some French cuisine around the tower.
Girafe serves elegant seafood within an equally elegant setting – what more could you want? Book a table here on a warm evening and you can dine alfresco on their terrace with a view of the tower. The closest metro is Trocadéro.
Another nearby option is Linette, which dishes up all your favorite French plates. Order a spread of Burgundy snails and a glass of wine while you pick your main and you'll know you're in Paris! Linette's closest metro is Champ de Mars.
Day 2 of Your Paris in 4 Days Itinerary
Trocadéro (sunrise)
At some point during your 4 days in Paris, you should experience the city at first light. My ultimate recommendation for watching the sunrise in Paris is at the terrace of Trocadéro. Located across the Seine in a direct line of sight from the Eiffel Tower, you get some of the best views of the icon.
You can expect to have the entire area practically to yourself if you come here for sunrise, which is great for flexing your photography skills. You can also look forward to a peaceful wander through the Jardins du Trocadéro.
Getting to Trocadéro is quite easy, you just have to take either metro line 6 or 9 and get off at the Trocadéro metro station. Alternatively, you can treat yourself to a taxi or an Uber – you did wake up super early after all!
Champs de Mars
Another day in Paris, another day to explore this postcard-pretty city on foot. Cross the Seine via the Pont d'Iena – stopping as often as you like to take photos of the tower.
As you step your feet onto the Right Bank you will be greeted by a magnificent carousel. This fairground attraction doesn't open until mid-morning so you can capture some more photos of the Eiffel Tower with the ride in the foreground.
You can then spend some time exploring the large park that cushions the base of the Eiffel Tower. The neat gardens of Champs de Mars provide yet more fabulous shots of the tower and it's worth making the most of the lack of crowds this early in the day.
Kozy Bosquet
After this early start, I'm sure you'll be starving so take a pause and grab some brunch nearby. Kozy Bosquet will welcome you with fluffy pancakes, avocado toast, and strong coffee to put a spring in your step.
Les Invalides
A 10-minute walk from Kozy Bosquet is Les Invalides, a collective of museums, a church, and the tomb of Napoleon Bonaparte. If you're interested in military history then you'll want to check out Musée de l'Armée des Invalides, otherwise referred to as The Army Museum.
This is one of the largest military history and art collections in the world! You'll see the armor, weapons, and personal effects of previous French monarchs and pivotal figures such as Françis I, Louis, and Charles de Gaulle.
The museum is open daily from 10 am to 6 pm and admission is €16.50 You can book your tickets in advance online or buy your ticket in person. Plan to spend at least 1 hour exploring.
Musée Rodin
Musée Rodin opened in 1919 to showcase the work of Auguste Rodin – considered by many as the founder of modern sculpture. Among the collections, you will recognize The Thinker, The Kiss, and the Gates of Hell. The setting itself within the 18th-century mansion, Hôtel Biron, is spectacular in itself.
Admission tickets are €13 and the museum and gardens are open daily from 10 am to 6.30 pm, excluding Sundays when it remains closed.
The Musée Rodin is directly next door to Les Invalides and again you should expect to spend at least 1 hour here. In case you don't want to spend your whole afternoon in museums, feel free to choose the one that sounds more interesting to you and skip the other.
Les Catacombes de Paris
Not for the fainthearted, Les Catacombes de Paris (Catacombs of Paris) is a labyrinth of tunnels beneath the streets of the 14th arrondissement. Containing the bones of over six million Parisians, the catacombs are one of the things to see in Paris in 4 days if you fancy something edgier. To access these tunnels you will clamber down 131 steps and then follow the 1.5 kilometers (1 mile) circuit.
The catacombs are open from Tuesday to Sunday between 9.45 am – 8.30 pm (closed on Mondays). Tickets cost €29 and include an audio guide. You need to book your ticket online in advance – this also saves time queuing. Expect to spend 1 hour exploring the ossuaries.
The catacombs are a 40-minute walk from Les Invalides. Alternatively you can take the metro from Varenne to Denfert-Rochereau (change at Paris Montparnasse Vaugirard).
La Tour Montparnasse
Once you emerge into the light of day, you can walk 20 minutes to the Montparnasse Tower. It's not the prettiest monument in Paris, but, once you reach the 56th floor your memory of the exterior will be history. From there you will spot everything from Eiffel Tower to the Louvre and the Notre Dame.
Admission is €18 and whilst it's not mandatory it's worth booking your tickets online in advance to avoid having to queue. The tower is open daily from 11 am to 10.30 pm.
It's a 20-minute walk from the catacombs. Alternatively, you can take the metro from Denfert-Rochereau to Paris Montparnasse Vaugirard.
Seine River Cruise
You've spent the first two days of your Paris 4 day itinerary crisscrossing over the Seine, now it's time to take a scenic tour along the waterway. I recommend taking a cruise at nighttime as experiencing the landmarks of Paris when they're all lit up is really magical!
You can find many different cruises online, ranging from budget to luxury. If you're happy to splash out, you need to check out this Evening Cruise with Dinner on River Seine! You can choose between a short, 75-minute cruise starting from 6 pm or a longer, 2.5 hours long cruise starting from 8.30 pm. There are also lots of different options for menus, wines, and seating so take the time to read through all the options!
A more wallet-friendly alternative is this 1-hour long Seine Cruise & Crepe Tasting Near Eiffel Tower. During the Summer season the cruise is available daily with departures every 30 minutes. The first departure is at 10:00 AM, and the last departure is at 11:00 PM. During the winter season, departures are every 45 minutes between 10:30 AM and 9:00 PM. Moreover, your ticket also includes a delicious French crepe that you can enjoy before or after the cruise. Best deal ever, right?
Day 3 of Your Paris in 4 Days Itinerary
5 Pailles
Pompidou Centre
20 minutes down the road, the Pompidou Centre has one of the most innovative exteriors you will ever see in a museum! The museum was commissioned by Georges Pompidou, the former President of France, as a home for contemporary artworks.
It gives you the chance to see pieces by the likes of Henri Matisse, Andy Warhol, and Marcel Duchamp.
The entrance is €15 and the museum is open daily from 11 am to 9 pm, except Tuesdays. You can buy tickets online or on-site.
Montmartre
Spend the rest of the day exploring the myriad of streets that form Montmartre. To easily get to Montmartre, you can take the metro from Étienne Marcel to Barbès Rochechouart.
In addition to ticking off some of the attractions I've listed below, make sure you factor in time to wander the alleyways where painters and street musicians are at work. And grab a café au lait from one of the Parisian eateries that spill over these picturesque streets, such as La Maison Rose or Café des Deux Moulin (the café from Amelie).
Sacré-Cœur
This Roman Catholic church stands loftily over Montmartre atop the highest hill in Paris. Sacré-Cœur is dedicated to the Heart of Jesus and once indoors you will spot a huge mosaic that shows the Risen Christ. If you fancy mounting the 300 steps to the dome, you'll find another breathtaking view across the Parisian skyline.
There is no admission fee to visit Sacré-Cœur unless you want to visit the dome and crypt. The dome costs €7, however according to their official website the crypt is closed to visitors at the present time. Sacré-Cœur is open daily from 6.30 am to 10.30 pm.
Rue Maurice Utrillo
This modish side street is located on the eastern side of Sacré-Cœur, in the northeast corner of the Square Louise Michel. It's not a tourist attraction per se, but it treats you to a unique perspective of Paris and some gorgeous architecture. Add 10 minutes to your Paris 4 day itinerary to visit one of the most Instragrammable places in Paris!
Le Musée de la Vie Romantique
Le Musée de la Vie Romantique (Museum of Romance) is housed within a quaint house that used to be the residence of the painter Ary Scheffer. The permanent collections are free to explore and exhibit some of Scheffer's artworks. If you want to view one of the temporary exhibitions or order some tea, you'll need to pay a small fee.
Musée de la Vie Romantique is open from Tuesday to Sunday between 10 am – 6 pm (closed on Mondays). The museum is a 15-minute walk from Sacré-Cœur.
Montmartre Cemetery
It might sound a little strange that I'm sending you to see a cemetery! But in actual fact, the Montmartre Cemetery is a marvelous and serene place to add to your Paris in 4 days itinerary.
It's home to the graves of acclaimed figures including Émile Zola, Gustave Moreau, and Dalida. The cemetery is a 20-minute walk from Sacré-Cœur and it's free to visit.
Canal St Martin
This 4.5-kilometer canal that connects the Canal de L'Ourcq with the Seine was first commissioned by Napoleon I in 1802. Today it is one of the hippest places to hang out in central Paris and is popular with locals. If you're a fan of Amelie you will recognize the canal as the one where the heroine likes to skim pebbles.
You can board a boat for a scenic cruise or stretch your legs along the canalside. Hôtel du Nord and Le Verre Volé are two of the many places to stop off for a drink or some Parisian fare.
You can walk to the northern point of Canal St Martin from Montmartre in around 30-40 minutes. Or take the metro from Anvers and alight at Jaurés.
Arc de Triomphe
Once you've had your fill of the canal, board the metro at the closest station and disembark at Charles de Gaulle – Étoile. You will be at the foot of the famous Arc de Triomphe!
This monument honors those who sacrificed their lives for France during the French Revolutionary and Napoleonic Wars. Beneath the archway lies the Tomb of the Unknown Soldier from World War I.
You can appreciate the reliefs and the architecture from the ground – it looks resplendent at night so plan to arrive before sunset. If you'd like, you can also climb the 280 stairs for a panoramic view across Paris. Admission is €13 and the observation deck is open until 10 pm (winter) and 11 pm (summer).
Montmartre nightlife
The great thing about visiting Paris in 4 days is that you can visit some places twice! For your penultimate night in Paris, I suggest that you head back to Montmartre. This is one of the best neighborhoods for nightlife and it's a different experience from what you get during the day.
Grab dinner at La Boîte aux Lettres, Chez Plumeau or La Taverne de Montmartre, each offer the quintessential Parisian dining experience.
Moulin Rouge
While you're back in Montmartre, swing by Moulin Rouge to see its legendary red windmill all lit up. Féerie shows are pricey but if you're wondering what to see in Paris in 4 days then experiencing the Belle Époque for yourself is something you'll never forget.
Shows run nightly at 9 pm and 11 pm and prices start at €88. You can book online in advance. If you want to spend this evening elsewhere, remember to pay a visit to Moulin Rouge earlier in the day.
Day 4 of Your Paris in 4 Days Itinerary
Île de la Cité
Start your final day in Paris on the Île de la Cité. This natural island in the middle of the River Seine is home to a number of historic sites.
Notre-Dame de Paris
Construction of this medieval cathedral began in 1163 and took 200 years to complete, only for it to be damaged during the 16th and 18th centuries. Tragedy struck again with the 2019 fire, but the Notre-Dame de Paris is bouncing back and you can now see more of it once again since the scaffolding has been removed.
Unfortunately, it isn't possible to enter the most visited monument in Paris while it undergoes repair. But in terms of what to see in Paris in 4 days, catching a glimpse of Notre Dame is absolutely a must!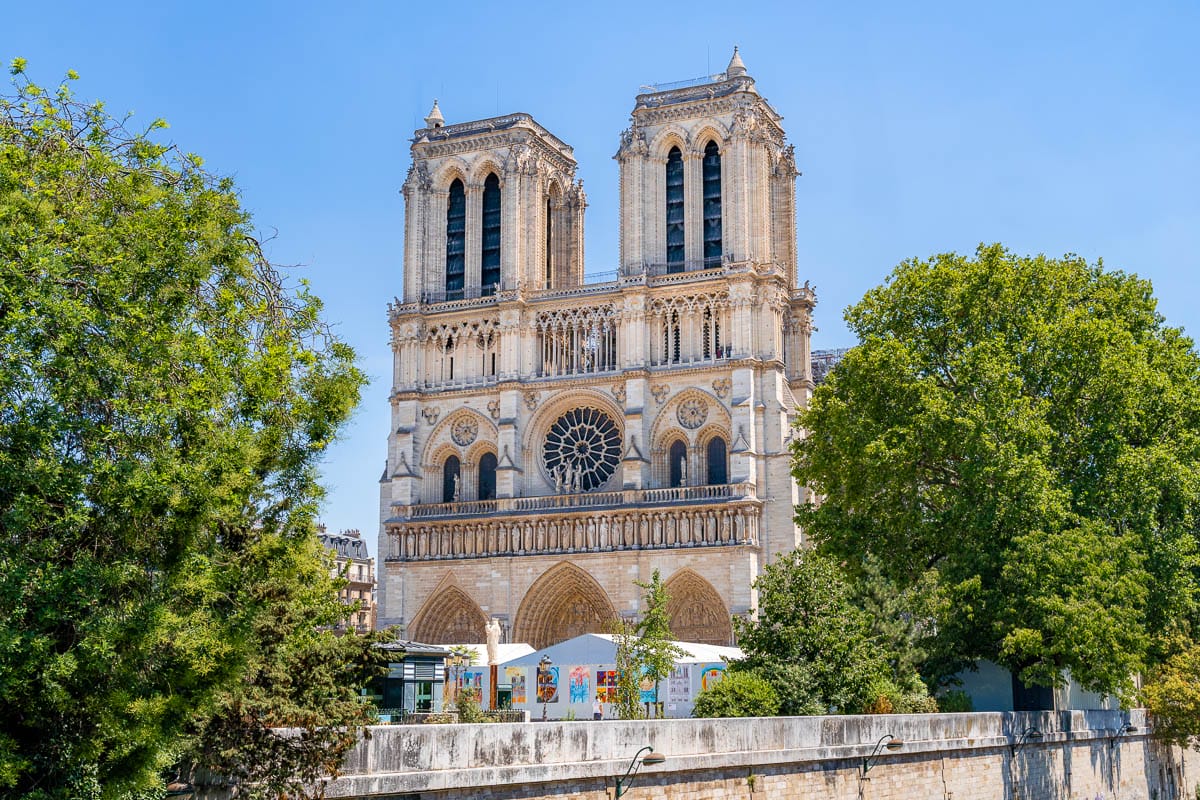 Sainte Chapelle
Next door to Notre Dame, the Sainte Chapelle is often overlooked yet this is a worthy companion to the cathedral that I urge you not to miss.
Within this French Gothic chapel, you will find a wonderland of stained glass windows that tell biblical stories. If you want to see them with your own eyes, admission is €11.50. But you can also just enjoy the architecture from the outside.
Conciergerie
This gothic fortress is a former French Revolution prison and was where Marie Antoinette herself spent her final weeks prior to her execution. If you go inside the attraction you can see a recreation of her former cell.
The entrance to Conciergerie is €11.50 but if you want to visit Sainte Chapelle as well you can buy a combi-ticket for €18.50.
Latin Quarter
Cross over the Petit Pont and you will be within the Latin Quarter. The 5th arrondissement is packed with some of the best things to see in Paris in 4 days!
Shakespeare and Company
A charming English-language bookshop with a big backstory! Syliva Beach opened the original Shakespeare and Company bookshop in 1919 and it swiftly became a hangout for the likes of Ernest Hemingway, James Joyce, and other popular writers.
This bookshop was closed during the Second World War, but the legacy was continued in 1951 when George Whitman opened the existing Shakespeare and Co in its new location. Shakespeare and Company is a 5-minute walk from Notre Dame via Petit Pont.
Odette Notre-Dame Café
Pick up a coffee and some choux à la crème at Odette, a super adorable café just a short walk from the bookshop. Alternatively, there are tonnes of eateries in the Latin Quarter where you can grab lunch but if you trust me, you won't skip this one!
Panthéon
This imposing neo-classical mausoleum from the 19th-century contains the remains of notable French figures including Voltaire, Victor Hugo, and Marie Curie.
Entrance to the Panthéon is €11.50 normally but admission is free on the first Sunday of the month (1 November – 31 March). The Panthéon is a 10-minute walk from Odette.
Grande Mosquée de Paris
When you're planning what to do in Paris in 4 days you know your trip is going to involve a lot of churches. But don't forget to also pay a visit to the largest mosque in France, the Grande Mosquée de Paris.
The mosque is open daily from 9 am to 6 pm. It costs €3 to explore the interiors and evocative Eastern-style gardens.
Jardin des Plantes
This lush botanic garden is a true heaven for flower lovers and photographers! Jardin des Plantes was originally a garden for medical plants which later became a research hub for French botanists and zoologists. Entrance to the gardens is free and they are open daily between 7.30 am – 5.30 pm, you can check the official website for further information regarding the opening hours. Jardin des Plantes is a 15 minute walk from the Panthéon.
Le Jardin de Luxembourg
Sitting pretty behind the riot of flowers that form le Jardin de Luxembourg, you will see the former royal residence – Palais du Luxembourg. It's a serene spot to rest your feet after all the walking. These gardens are a 10-minute walk from the Panthéon.
Nightlife in the Latin Quarter
It's the final few hours of your 4 days in Paris so let's use them wisely. In addition to all the attractions and monuments, the Latin Quarter is also a great district to let your hair down and experience some of the best nightlife in Paris. Sip wine and nibble on charcuterie to a soundtrack of live music at Le Bar de Fer or split some French tapas at Les Baux de Paris.
Alternatively, you could spend your final evening revisiting your favorite arrondissement to see it all lit up by the Parisian lights.
Final Thoughts
That draws my 4 day Paris itinerary to a conclusion! Now you should have a clear idea of what to do in Paris for 4 days and how to plan your first visit to this enchanting European capital.
As you can see, this city has heaps to see and do but you really can experience the best of Paris in 4 days if you plan with care. If you have any questions about traveling to Paris then feel free to send me an email or leave a comment below, I always love helping you out!
xoxo, Kriszti
---
Related Posts
Want to read more about Paris?
---
What Camera Gear Do We Use?
If you want to read more about what is in our camera bag, check out my detailed post about our travel photography gear!
---
Pin It for Later!