Imagine a place where cobblestone streets glisten under the soft glow of fairy lights, where the air is fragrantly filled with the scents of cinnamon, roasted chestnuts, and mulled wine. Welcome to Strasbourg in December, the city that transforms into a mesmerizing wonderland, hosting one of Europe's most cherished traditions – the Strasbourg Christmas Markets.
Strasbourg, the capital of the Alsace region in northeastern France, is a charming city rich in history, culture, and picturesque beauty. Perhaps best known for its heavy Germanic influence and medieval half-timbered houses, Strasbourg boasts lovely canals, lively squares, and a vibrant culinary scene.
Strasbourg in December transforms into a magical winter wonderland, with festive decorations and light displays adorning its streets and buildings. This enchanting atmosphere, combined with the city's rich history and charming ambiance, makes it one of the best places to visit in Europe in December.
The Christmas Markets in Strasbourg are among Europe's oldest and most famous, attracting visitors worldwide to experience their unique blend of tradition, warmth, and friendliness. From the bustling Christkindelsmärik at Place Broglie to the intimate Market of the Three Wise Men in Petite France, each market offers a distinct and unforgettable experience.
In this article, we'll share tips and advice on making the most of your visit to Strasbourg in December. We'll tell you which markets to visit, what to eat and drink, where to stay, and more. Let's dive right in!
*Disclosure: This post contains a few affiliate links, which means I may receive a small commission, at no cost to you, if you make a purchase through my link.*
No time to read now? Pin it for later!
Useful Info for Visiting Strasbourg in December
Before diving into the details about visiting the markets, here are some practical tips to help you plan your visit to Strasbourg in December.
Why visit Strasbourg at Christmas?
During Christmas, Strasbourg (also known as the Capital of Christmas) transforms into a magical winter wonderland, illuminated by thousands of twinkling lights and adorned with festive decorations.
The city's world-renowned Christmas market, Christkindelsmärik, dates back to 1570 and is a major attraction for visitors. Spread across various squares, the market showcases hundreds of wooden chalets offering handcrafted gifts, regional products, and mouthwatering local delicacies.
In addition to the Christmas market, Strasbourg in December offers a variety of seasonal events, such as concerts, nativity plays, and ice skating rinks, providing endless entertainment for the whole family.
The city's beautiful historical center, the Grande Île, is a UNESCO World Heritage site and offers a picturesque backdrop for leisurely strolls. At the same time, the iconic Strasbourg Cathedral, adorned with an immense Christmas tree, creates a breathtaking scene of holiday cheer.
When do the Strasbourg Christmas Markets open and close?
The Strasbourg Christmas Markets typically open in late November and run until just before Christmas. Some markets even run into January. The exact dates may vary slightly each year, so make sure you check the official website for the current year's schedule.
The markets usually open daily, from around 11 am to 8 pm, with extended hours on weekends and the days leading up to Christmas. Remember that the markets may close early on 24 December, and they might be completely closed on Christmas Day.
How much time to spend in Strasbourg in December?
The ideal duration for a visit to Strasbourg in December depends on your interests and how much of the city you'd like to see.
Generally, a 2-3 day stay is usually enough time to experience the city's magical holiday atmosphere, visit the main Christmas markets in Strasbourg, and explore some popular attractions like the Strasbourg Cathedral and the adorable Petite France neighborhood.
If you have more time, consider extending your visit to 4-5 days. This allows you to venture beyond the city and explore more picturesque villages in the Alsace region, such as Colmar or Riquewihr.
What's the weather like in Strasbourg in December?
In December, Strasbourg experiences chilly winter weather, with temperatures typically ranging from 0°C (32°F) to 5°C (41°F). Although snow is not a guarantee, there is a possibility of light snowfall or flurries, adding to the city's festive atmosphere.
When visiting the Strasbourg Christmas Markets, it's essential to pack warm clothing, including a heavy coat, gloves, a scarf, and a hat, to stay comfortable while exploring the city. Dressing in layers will enable you to stay warm when outside while remaining comfortable indoors.
Waterproof shoes or boots are also recommended, as the weather can be damp, with occasional rain or snow.
How to get to Strasbourg
Strasbourg is well-connected and easily accessible via various modes of transportation, such as planes, trains, or a rental car.
Strasbourg has its own international airport, the Strasbourg Airport (SXB), located about 16 km (10 miles) southwest of the city center. The airport serves several European destinations, with flights operated by major airlines.
From the airport, you can reach the city center by shuttle train or taxi. Paris is a short train ride from Strasbourg, so this may be a better option if you're coming from outside of Europe. And in this case, you can also experience Christmas in Paris!
Strasbourg's central train station, Gare de Strasbourg, is well-connected to many prominent European cities. High-speed TGV trains offer direct connections from Paris (about 1 hour 45 minutes), Lyon (around 3 hours 40 minutes), and Frankfurt (approximately 1 hour 50 minutes).
Regional trains also connect Strasbourg with other cities and towns in the Alsace region, making it easy to take some day trips if you've got the time to spare.
Renting a car is a great option if you want the flexibility and convenience of exploring Strasbourg and its surroundings at your own pace. Keep in mind that parking within the city center can be challenging, so it's best to reserve a hotel with parking facilities or find a public parking lot nearby.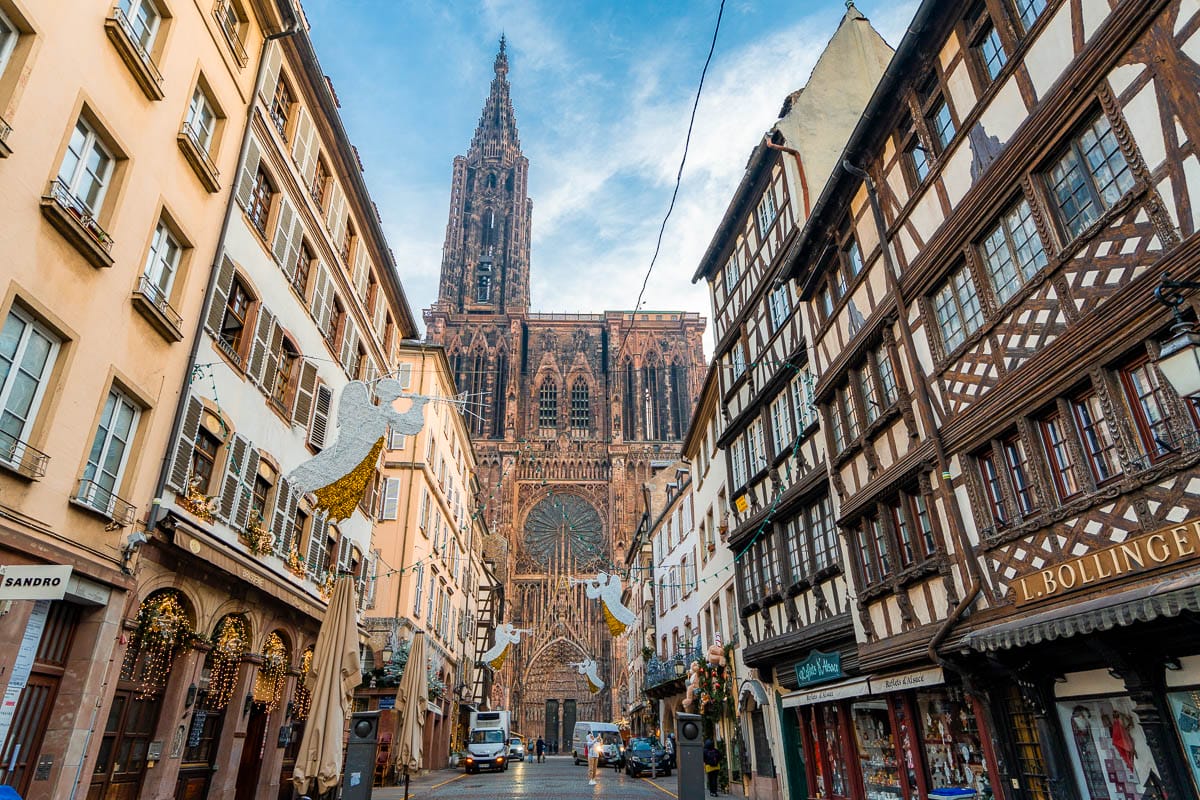 How to get around in Strasbourg
Strasbourg boasts an efficient and extensive public transportation system consisting of trams and buses managed by the CTS (Compagnie des Transports Strasbourgeois). The tram network covers several lines and easily connects the city's major attractions.
The city buses are available for areas that aren't covered by the tram lines. 24-hour or 48-hour transit passes are good options, granting unlimited access to trams and buses.
Strasbourg's city center, especially the historic Grande Île and the Petite France neighborhood, is highly walkable, with many pedestrian zones and picturesque streets. Walking is an enjoyable way to explore the city's charming architecture, Strasbourg Christmas markets, and scenic canals at your own pace.
Keep in mind that some streets may have cobblestones, so wear comfortable shoes to avoid sore feet and blisters!
Where to stay in Strasbourg
Strasbourg offers a number of different neighborhoods, each with its own distinct character and things to do. From the charming half-timbered houses of La Petite France to the bustling Quartier de la Gare, you will find a wide variety of experiences and atmospheres to explore.
If you want to know more about what each district has to offer, check out my ultimate guide about where to stay in Strasbourg. If you're in a rush, you can find my top recommendations for different budgets below.
LUXURY – Hotel Cour du Corbeau – MGallery
The Hotel Cour du Corbeau – MGallery is a luxurious 4-star hotel located in the heart of Strasbourg, just a short walk from the city's main attractions. Situated in a beautifully restored 16th-century building, this hotel has all the vibes of historic charm while providing all the comfort that comes with modern amenities.
MID-RANGE – Okko Hotels Strasbourg Centre
OKKO Hotels Strasbourg Centre is a stylish hotel located in Strasbourg's city center, offering easy access to popular attractions and the Old Town. The hotel features contemporary rooms with modern amenities and a well-equipped fitness center.
BUDGET – K Hotel
This chic and cozy hotel is situated in Strasbourg's city center, providing convenient access to popular attractions such as the Cathedral and Petite France. The hotel boasts tastefully decorated rooms, modern amenities, and a friendly atmosphere, ensuring a comfortable and pleasant stay while exploring Strasbourg in December.
Best Strasbourg Christmas Markets You Can't Miss
Now that you've learned the basics about visiting Strasbourg in December, let's dive into the details of this city's iconic Christmas markets!
Strasbourg is not known as the Capital of Christmas for nothing – this city is home to thirteen different Christmas markets. For a small city like Strasbourg, this is absolutely remarkable!
With a rich history dating back to 1570, these Christmas markets are an essential European holiday experience you won't want to miss.
Below we will take a look at seven of the best Christmas markets in Strasbourg that you must visit during your stay. If you want to find all the Strasbourg Christmas Markets, you can take a look at this interactive map.
Place Broglie
Place Broglie is home to the oldest and most historic Christmas market in Strasbourg, the Christkindelsmärik. Here, you can stroll through the festive stalls, admiring artisan crafts and indulging in delicious Alsatian treats.
Be sure to try a glass of warm mulled wine while you're there. It's a cozy and welcoming spot, making you feel like you're stepping back in time to a classic European Christmas.
Place Kléber
At Place Kléber, you'll find the iconic Christmas Tree, which acts as the central focus for the Christmas market activities.
The tree is 30 meters (100 feet) tall and is decorated with thousands of lights, making it a spectacular sight to behold. Every hour starting from 5 pm, the tree is lit up in a magical light and music show that is sure to take your breath away.
The market here offers a range of seasonal items, such as handmade decorations, ornaments, and local produce. Don't forget to indulge in some of the market's traditional food and drinks, like the famous flammekueche!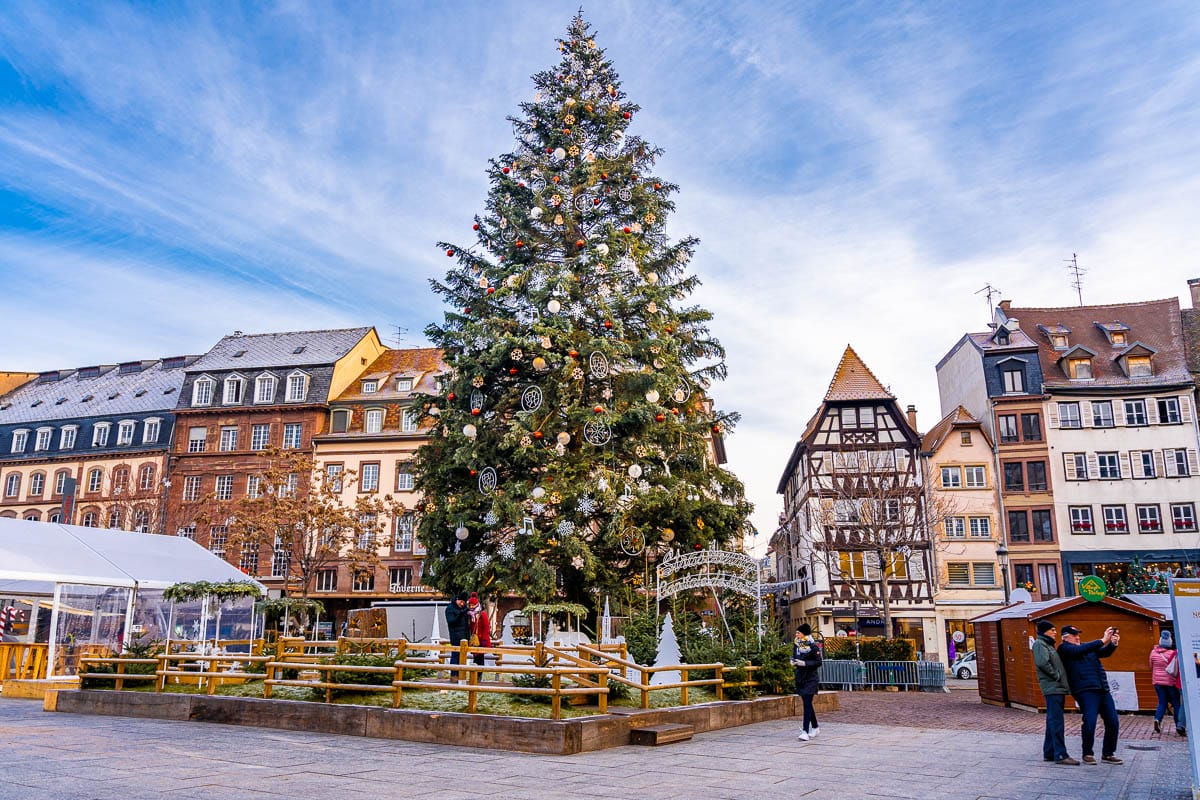 Place de la Cathédrale
Nestled around the stunning Cathédrale Notre-Dame de Strasbourg, the Christmas market at Place de la Cathédrale offers a magical and enchanting atmosphere. The majestic Cathedral serves as a perfect backdrop for festive stalls and entertainment.
You'll find various unique items here, from handmade ornaments to delicious gingerbread cookies. Take a break from shopping and immerse yourself in the fascinating history of the Strasbourg Cathedral with a quick visit inside.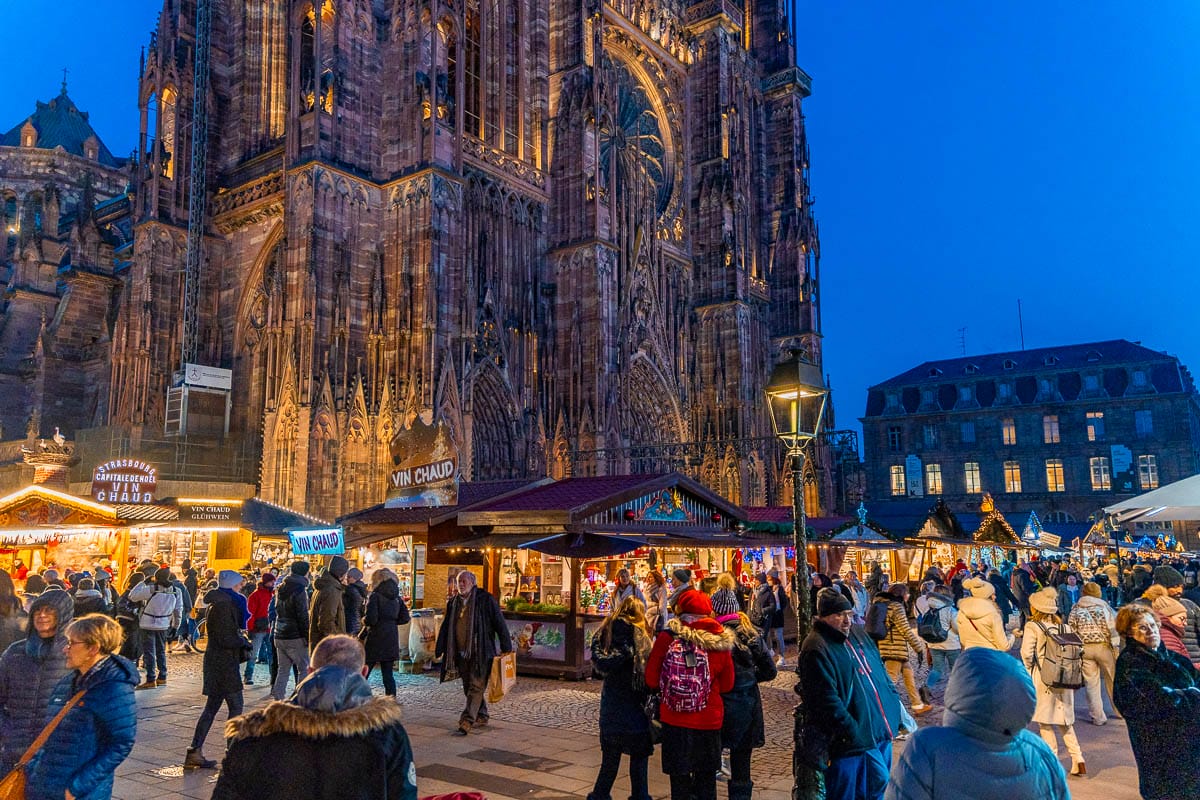 Place du Chateau
Located at the foot of the magnificent Palais Rohan and right next to the Cathedral, the Christmas market at Place du Château is a must-visit spot. Encircled by Strasbourg's stunning architecture, this market adds a royal touch to the festive season.
The stalls here are full of traditional arts and crafts, offering everything from Alsatian ceramics to hand-blown glass ornaments. While you're exploring, don't forget to enjoy the delectable festive treats.
Insider tip: Climb up to the top of the Strasbourg Cathedral to get an incredible panoramic view of the Christmas market below!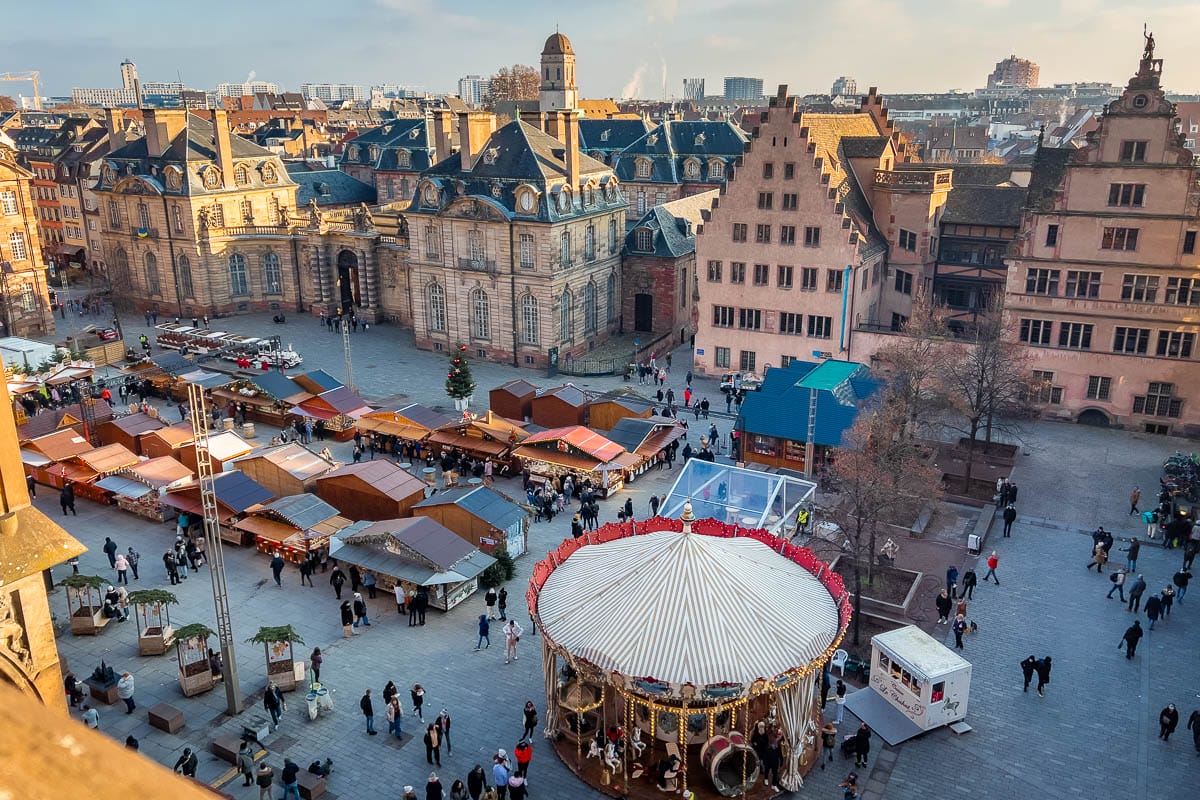 Place Gutenberg
A trip to the Strasbourg Christmas Markets wouldn't be complete without a stop at Place Gutenberg. This square features a special guest country each year, offering market-goers a taste of a different culture and traditions.
The square is also home to some really cool LED art installations, such as a Christmas tree and a teddy bear, that light up the night with beautiful displays of color. Plus, there's always something happening here, from live music to traditional dances and shows.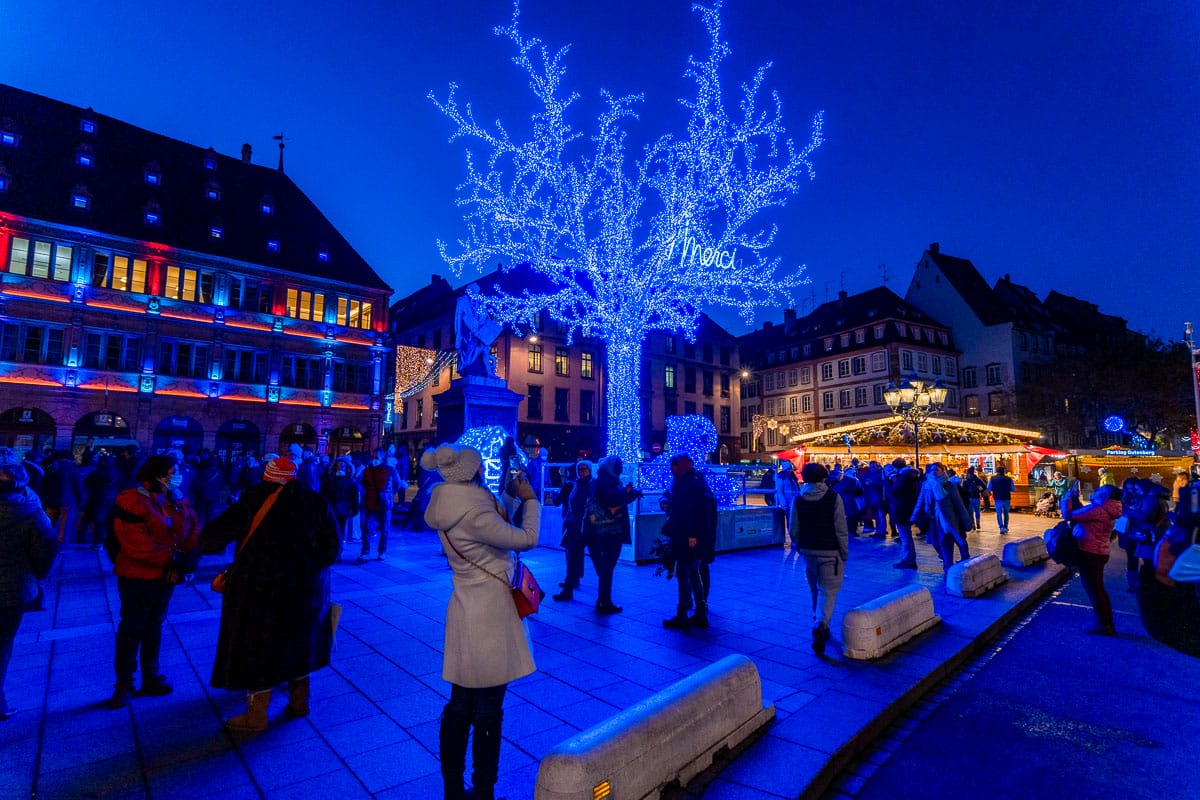 Place du Temple Neuf
Stepping into Place du Temple Neuf, you'll find yourself in one of Strasbourg's cozier Christmas markets. The market is a small haven, brimming with carefully curated stalls.
Here you can find unique handmade gifts, ornaments, and traditional Alsatian food and drink. Be sure to try a hot bretzel or a slice of delicious kouglof – they're local favorites!
The calm and picturesque backdrop of Temple Neuf offers a different flavor to your Strasbourg Christmas market experience. It's a serene spot to unwind, enjoy the festive vibes, and appreciate Strasbourg's unique blend of culture and holiday spirit.
Place Benjamin Zinx
Located on the edge of the Petite France district right in front of a beautiful Methodist church, this is one of the smallest and more intimate Christmas markets in Strasbourg.
It's a great place to escape the crowds, browse through the unique Christmas decorations, and enjoy some hot cider or mulled wine as you wander through the stalls.
Foods and Drinks to Try at the Christmas Markets in Strasbourg
At the Strasbourg Christmas markets, your taste buds are in for a treat. As you wander through the festive stalls, you'll find a delightful variety of local delicacies and beverages to indulge in.
Here are some Alsatian culinary delights you must try at the Christmas Markets in Strasbourg:
Vin Chaud: Nothing quite beats a warm glass of vin chaud (mulled wine) on a cold winter day. At the Christmas markets, you can find all kinds of variations on this classic, like gingerbread vin chaud, pear vin chaud, and even cherry vin chaud!
Bretzel: It's not a Strasbourg Christmas market without a hot, freshly-baked bretzel. This is definitely my favorite snack to munch on while exploring the markets!
Bredele: These small, festive biscuits come in a variety of flavors, such as almond, cinnamon, and hazelnut. A traditional Christmas treat, you can't leave Strasbourg without trying them.
Flammekueche: Also known as Tarte Flambée, this Alsatian pizza-like dish, topped with onions, bacon, and crème fraîche, is a hearty treat to enjoy at the markets.
Baeckeoffe: This slow-cooked casserole is a mix of marinated meats and potatoes – a perfect comfort dish for a winter's day.
Choucroute Garnie: A renowned Alsatian dish, it's a savory mix of fermented cabbage (sauerkraut), sausages, and meats. It's a must-try for meat lovers.
Crepes: You'll find plenty of stalls selling fresh and delicious crepes – perfect for a quick snack while exploring the markets.
Kougelhopf: This distinctive Alsatian cake, baked in a special circular bundt pan, is often filled with raisins and topped with powdered sugar.
Pain d'Épices: This French version of gingerbread is often made with rye flour, honey, and a mix of spices. It's a Christmas market staple and makes for a great snack or souvenir.
Munster Cheese: Originating from the Alsace region, this soft cheese has a strong aroma and flavor. Try it on local bread for a true Alsatian taste.
Alsace Wines: Don't miss the chance to taste the local wines. Alsace is known for its white wines, especially Riesling and Gewürztraminer. They make a wonderful accompaniment to your market food tour.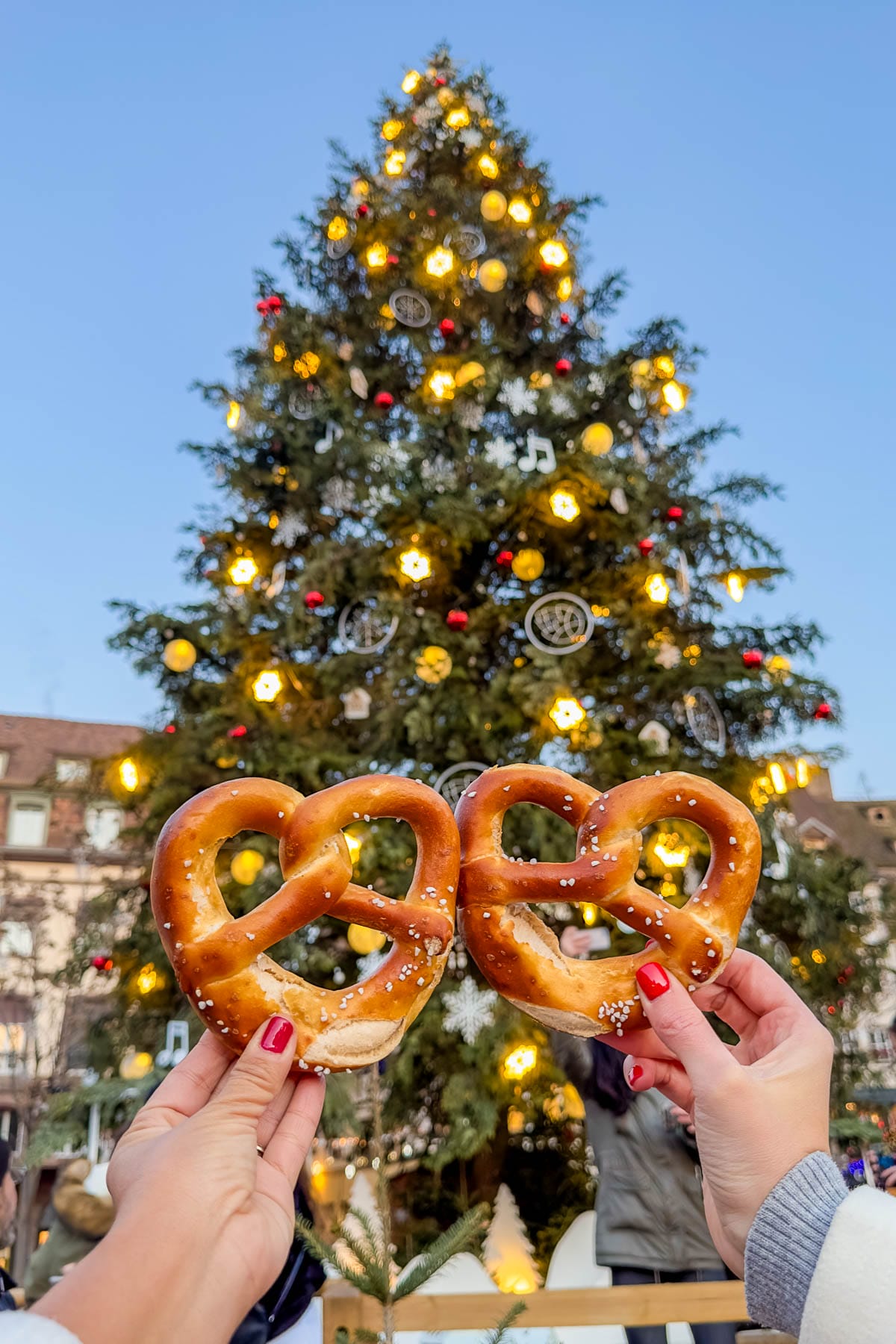 What to Buy at the Strasbourg Christmas Markets
From handmade ornaments to festive decorations, Strasbourg Christmas Markets offer a variety of unique items that make perfect gifts and souvenirs. Here are a few of the most popular things you'll find:
Christmas Ornaments: From hand-blown glass baubles to intricately carved wooden figures, the variety of Christmas ornaments is staggering. They make for beautiful additions to your tree and great souvenirs.
Christmas Nativity Figures: Strasbourg Christmas markets often sell a wide range of Nativity figures, from simple wooden ones to highly detailed, hand-painted figures.
Christmas-themed ceramics: You'll find plenty of Alsatian ceramics at the markets, all with a festive twist. From Christmas bowls and mugs to festive plates and dishes, there is something for everyone.
Gingerbread figures: If you're a fan of gingerbread, you'll be spoilt for choice here. Unfortunately, we didn't find great-looking edible gingerbreads, but there are plenty of cute ceramic ones.
Bredele Biscuits: These festive Alsatian biscuits make for excellent gifts. They come in a variety of flavors and are often packaged in decorative boxes.
Alsatian Wine: The region is renowned for its white wines. A bottle (or two!) of Riesling or Gewürztraminer would make a great gift for the wine connoisseurs in your life.
Handmade Toys: For something truly special for the little ones, look out for stalls selling handmade toys. These one-of-a-kind gifts are sure to be cherished.
Local Delicacies: Consider buying local Alsatian produce like honey, jams, or mustard. These culinary treats will let you take the taste of Strasbourg back home with you.
Other Festive Things to Do in Strasbourg in December
Beyond exploring the Strasbourg Christmas markets, the city offers a myriad of other festive activities and attractions to make your holiday visit even more memorable. Let's take a look at some of the highlights!
Visit Petite France
A trip to Strasbourg wouldn't be complete without exploring the historic district of Petite France. With its half-timbered houses, picturesque canals, and cobbled streets, this district embodies Strasbourg's charm.
Decorated beautifully for the season, the area looks straight from a Christmas postcard. Make sure to wander around its winding streets, browse the small shops and enjoy a meal in one of the cozy restaurants.
The area is also home to several smaller Christmas markets in Strasbourg, providing a more intimate experience than some larger markets.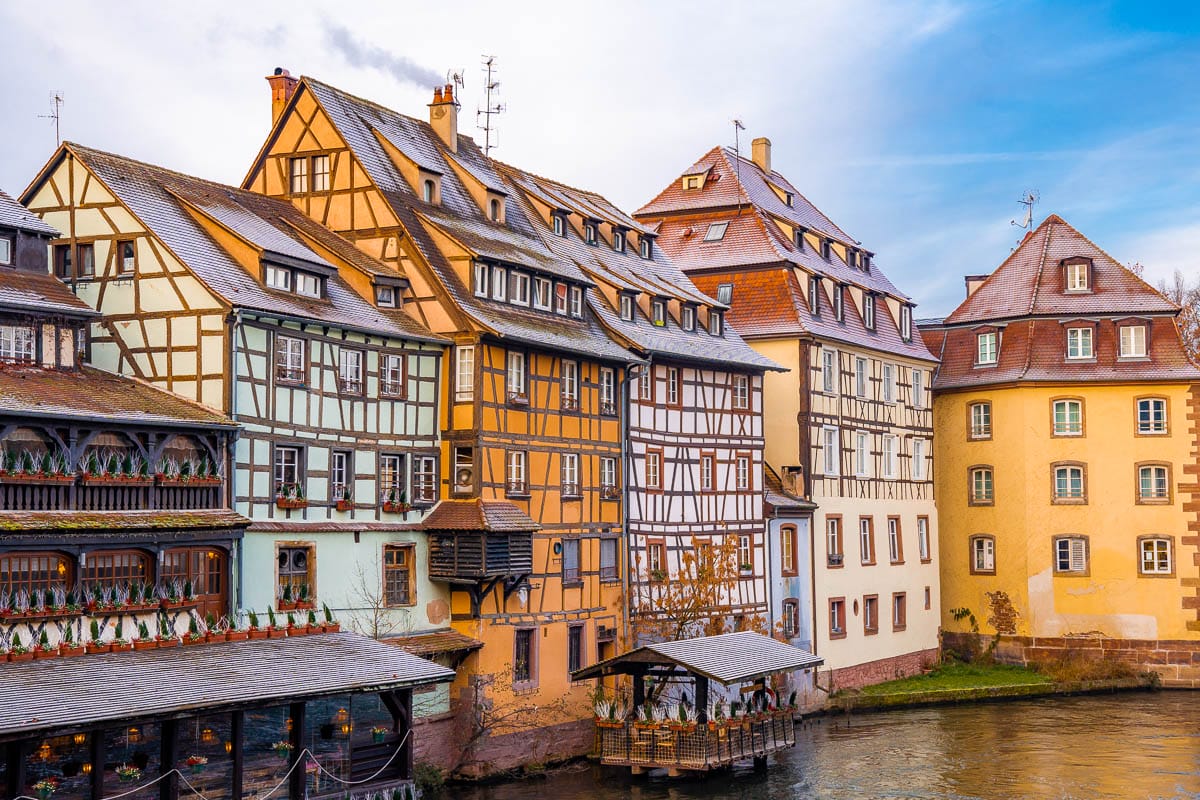 Admire Strasbourg's Christmas Decorations
The entire city of Strasbourg is transformed into a winter wonderland in December. The city truly earns its title as "the Capital of Christmas," with its streets, squares, and buildings transformed by sparkling lights, ornate garlands, and whimsical ornaments.
From the charming Petite France district to the grandeur of Place Kléber, each corner of the city offers a visual feast of festive embellishments. Whether it's a stroll during the day to admire the intricate details, or an evening walk to bask in the warm glow, exploring Strasbourg's decked-out streets is a joyous experience that encapsulates the spirit of the season.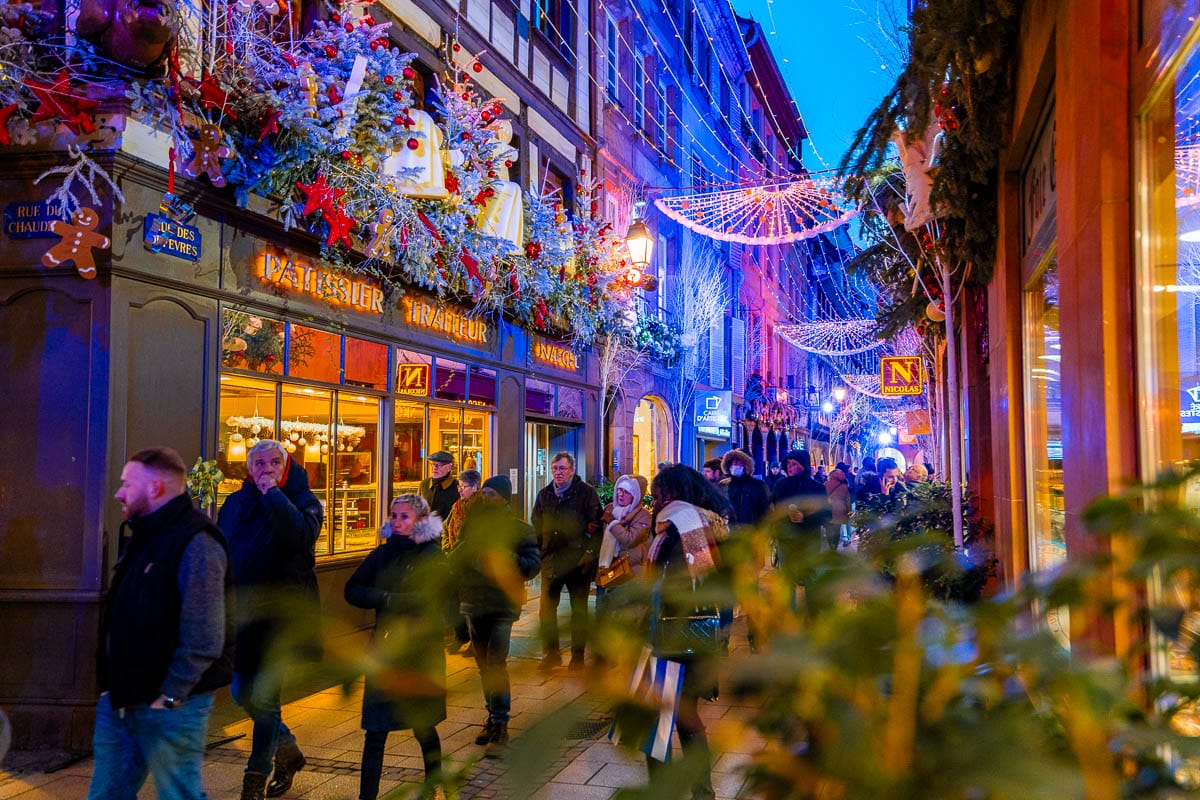 Climb the Strasbourg Cathedral
One of the best ways to truly appreciate Strasbourg's beauty is from the top of its iconic Cathédrale Notre-Dame.
With 332 steps leading up to an astounding view, it's a climb well worth the effort. From this vantage point, you can soak in a panoramic view of the city and the sparkling Christmas markets below. If the weather is clear, you can even see all the way to the Black Forest in Germany!
An adult ticket costs €8, and a reduced-price ticket for children is €5.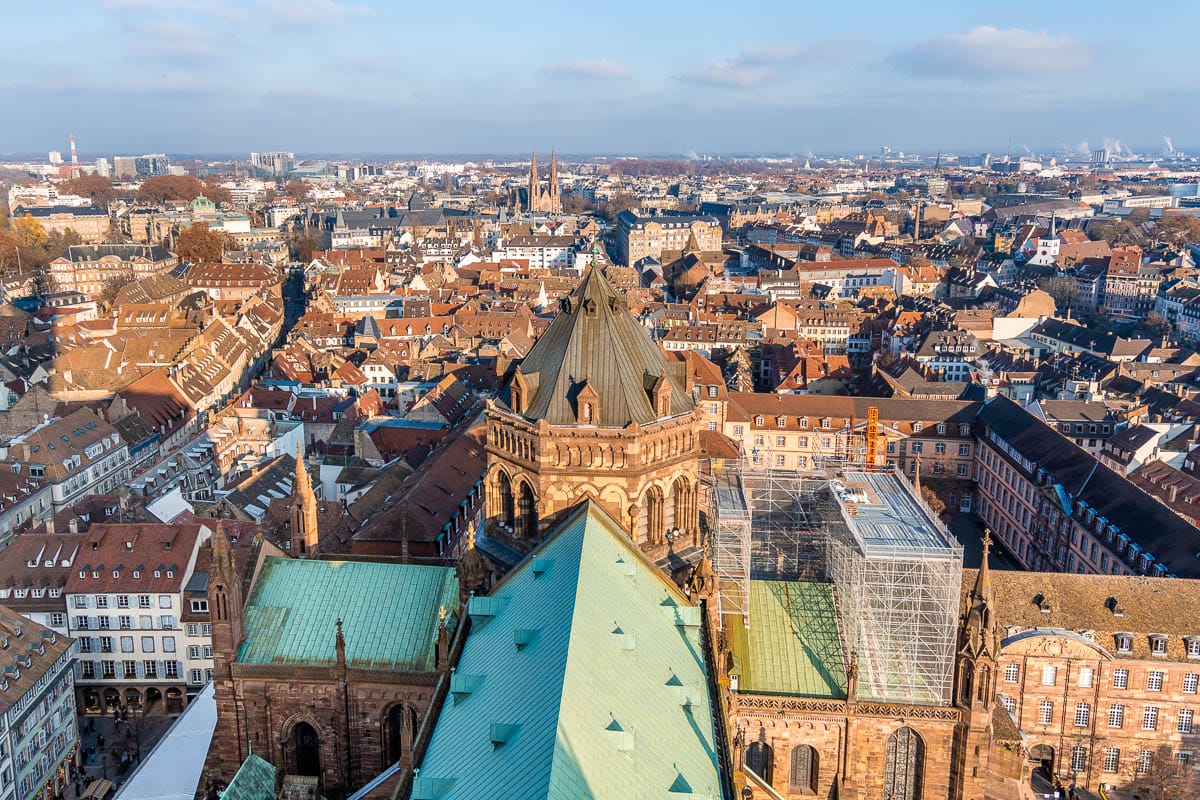 Marvel at the Strasbourg Cathedral's interior
After you've admired Strasbourg from above, take time to explore the interior of the Cathedral as well. This majestic gothic structure houses an array of artistic and historical treasures, from the astronomical clock to the intricately sculpted Pillar of Angels.
It's free to visit the Cathedral's interior, so take advantage of this opportunity while exploring Strasbourg in December.
During the holiday season, the Cathedral also holds special services and concerts, filling the space with ethereal music that enhances the grandeur of your visit.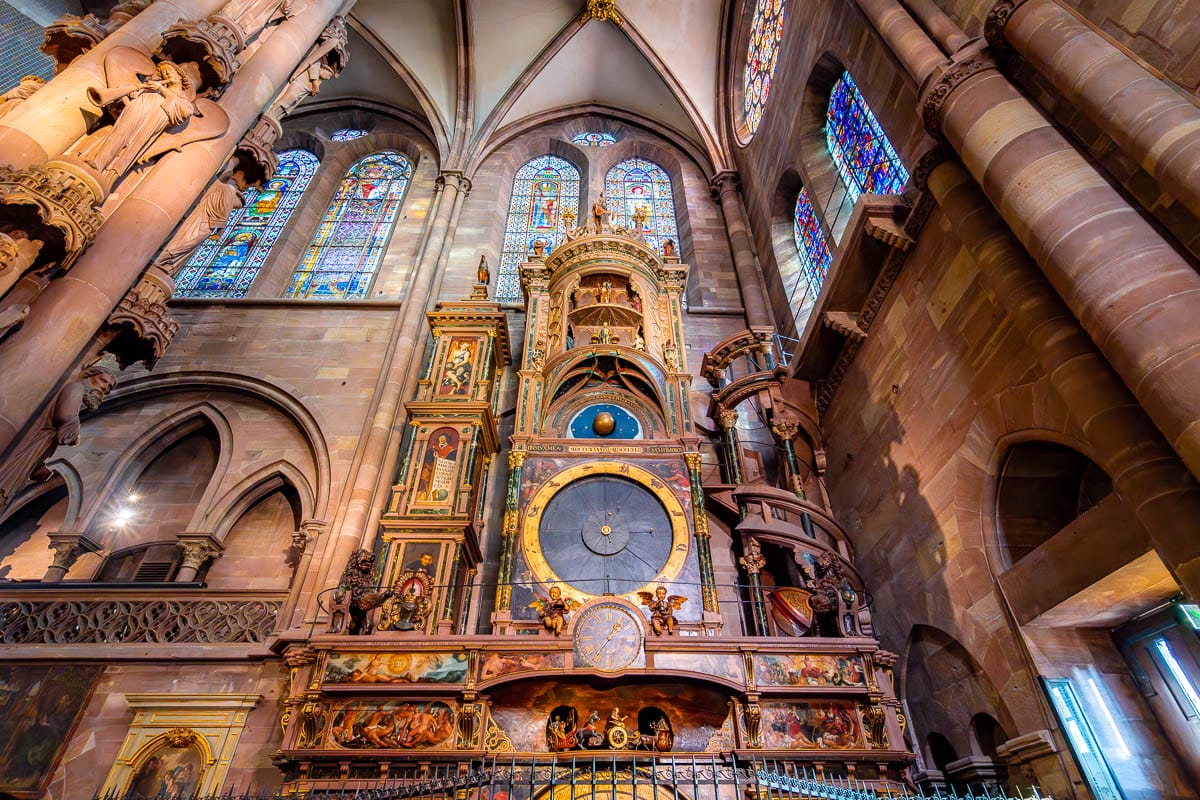 Explore the Alsatian Museum
For a break from the chilly weather, step inside the Alsatian Museum. This museum offers a fascinating glimpse into the region's history, traditions, and folk art.
During December, the museum often hosts special exhibits and workshops aligned with the Christmas theme, providing a delightful cultural experience.
Find the Teddy Bear House
This adorable little house in Strasbourg is an absolute must-see if you visit Strasbourg at Christmas. Found near Place du Chateau, the building is actually home to a French restaurant called Le Tire-Bouchon.
The owners decorated the whole building with stuffed teddy bears, creating a really cute Christmassy atmosphere. A visit here is guaranteed to put a smile on your face and a warm feeling in your heart.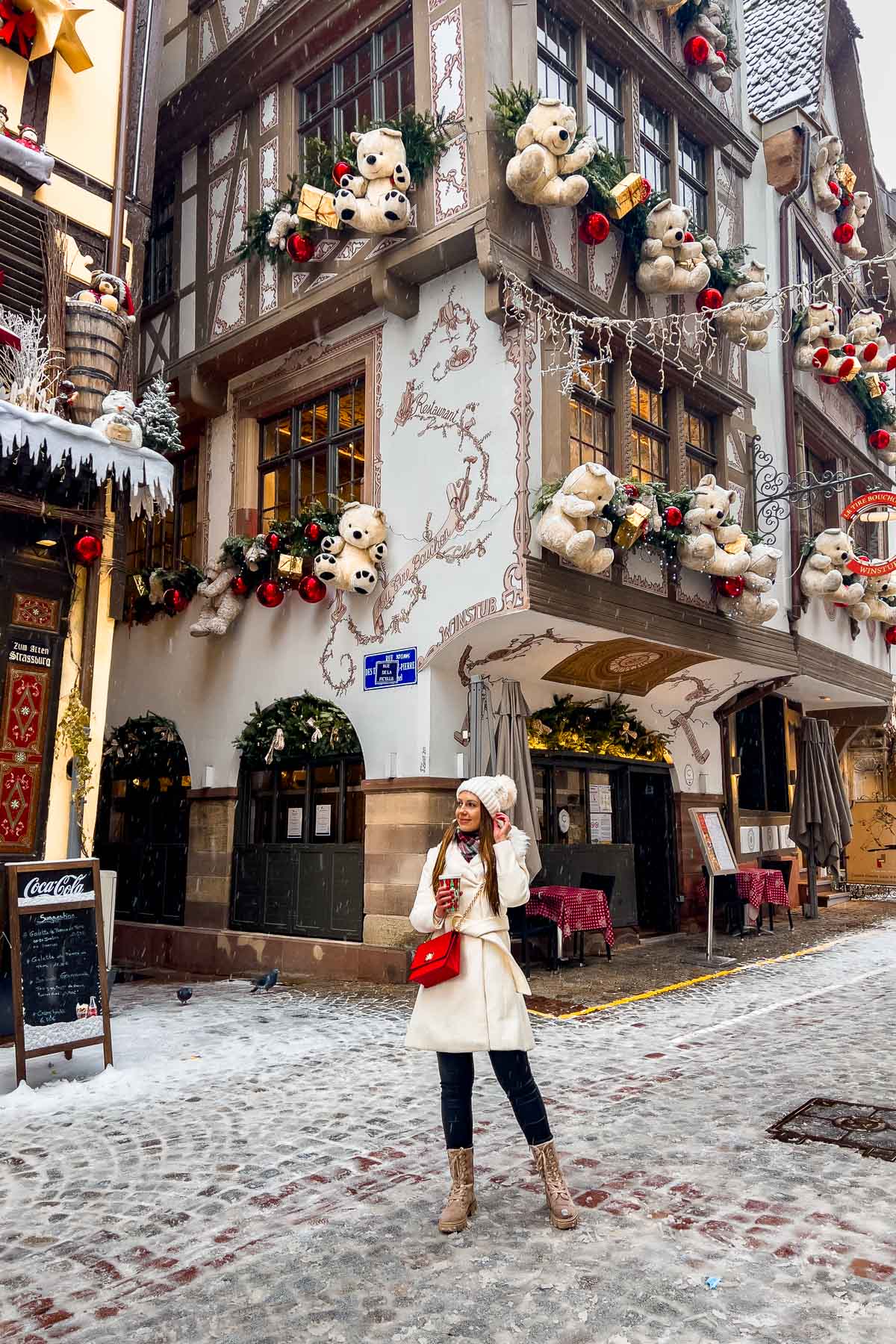 Walk through Barrage Vauban
Another gem that Strasbourg holds is the Barrage Vauban – a 17th-century bridge that also served as a defensive work. Climb to the terrace for an amazing view over the Petite France and the numerous canals.
It's a spot of historical interest combined with stunning vistas, making it an ideal place to walk off some of those delicious market treats while immersing yourself in Strasbourg's rich history.
Tips for Spending Christmas in Strasbourg
Dress warmly: Strasbourg experiences cold weather in December, with the possibility of snow or rain. Be sure to pack accordingly! Waterproof and comfortable shoes are also recommended for exploring the city and Christmas markets.
Plan ahead: December is a busy time in Strasbourg, so book your accommodations and transportation well in advance to secure the best deals and availability. Given its popularity as a holiday destination, prepare for steep prices!
Check the schedule: Look up the opening hours for the Christmas markets and other seasonal events on the Strasbourg tourism website to make the most of your visit. If you want to experience as many Strasbourg Christmas markets as possible, there are a few different guided tour options available, including this one!
Purchase a Strasbourg Pass: This pass offers free or discounted entry to many attractions, museums, and tours, helping you save money during your stay.
Use public transportation: When you're not exploring on foot, Strasbourg's extensive tram and bus network is efficient and affordable. Consider purchasing a 24-hour or 48-hour transit pass to take the stress out of buying and validating tickets.
Try local cuisine: Christmas in Strasbourg is a great opportunity to sample traditional Alsatian dishes and enjoy a convivial evening at a local winstub. Or, consider taking a guided food tour!
Visit nearby attractions: If you have extra time, venture beyond Strasbourg to explore the picturesque villages along the Alsace Wine Route or the historic Château du Haut-Kœnigsbourg.
Stay alert: Although Strasbourg is generally safe, it's always wise to exercise caution with your belongings and be aware of your surroundings, especially in crowded areas like the Strasbourg Christmas markets. Always keep your wits about you!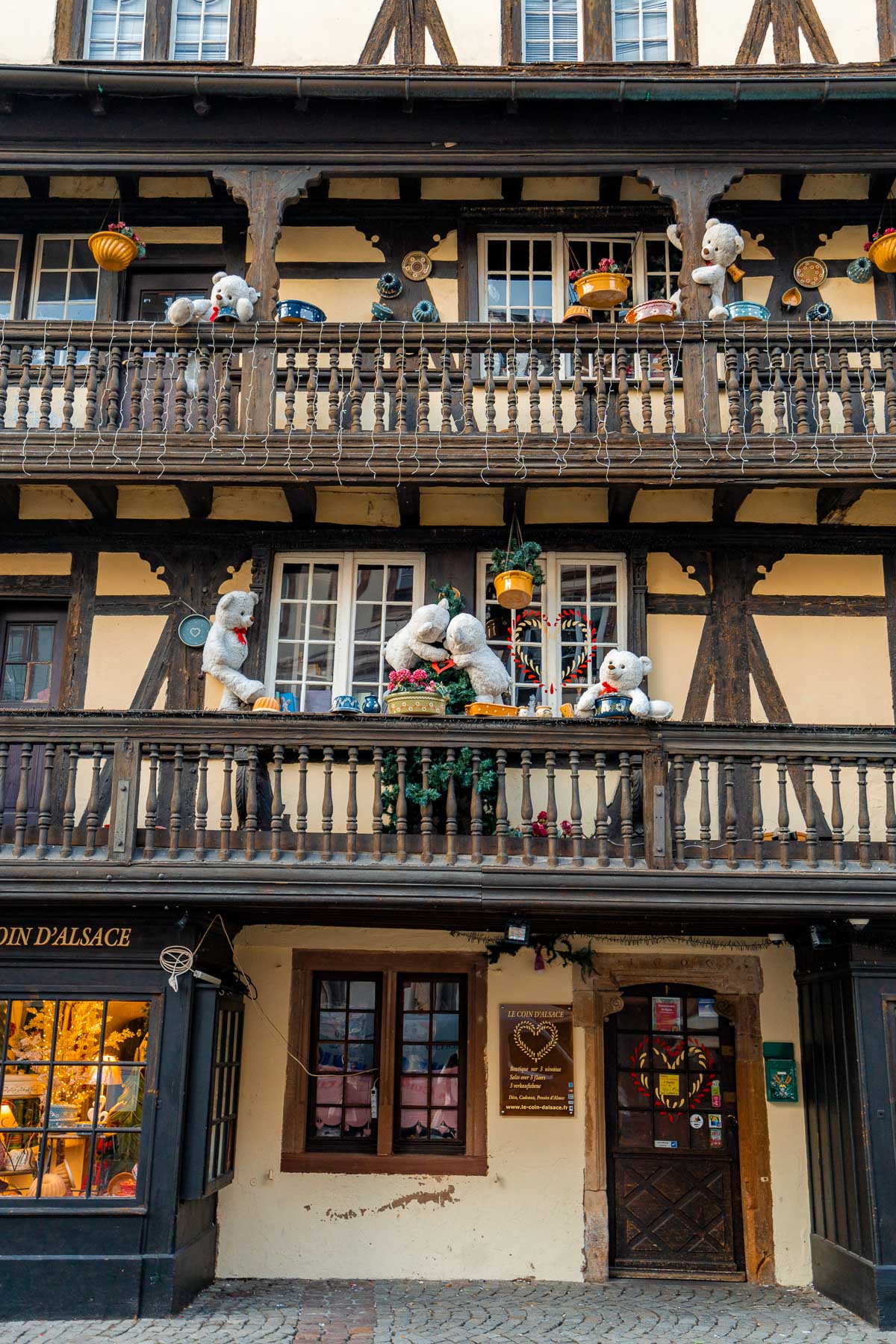 Other Christmas Markets near Strasbourg
Colmar
The Christmas markets in Colmar are among the best-known in the Alsace Region. This picturesque town, nestled close to the German border, boasts charming half-timbered houses and beautiful canals.
During the festive season, Colmar boasts six different Christmas markets, each with its unique charm. Each market can be explored comfortably on foot, so pack some comfortable walking shoes before heading out on your Colmar adventure!
Trains leave for Colmar from Strasbourg very frequently throughout the day, and the train ride is only 30 minutes long.
Ribeauville
While Colmar is an undeniable delight, there are several other charming Alsace villages nearby worth exploring during the Christmas season. Ribeauvillé, for example, offers a unique experience with its magical Klausenmärik, which combines ancient traditions and a festive atmosphere to transport you back to the Middle Ages.
Riquewihr
Next up is Riquewihr, a picturesque village famous for its incredible half-timbered houses and cobblestone streets. Every year, it hosts an enchanting Christmas market centered around the theme of Saint Nicolas. Here, you can also learn about the influence of Protestantism in the region's history.
Kayersberg
Kaysersberg is another village you shouldn't miss. Its Christmas market features local crafts, gourmet food, and delightful Alsatian specialties. While exploring the market, don't forget to sample some Spaetzle – hearty German-style pasta that will warm you up during the chilly winter evenings.
Eguisheim
Eguisheim is another small town with a big Christmas spirit, known for its vibrant markets filled with regional products, warm beverages, and festive decorations. Take the time to meander through the town's narrow streets and marvel at the stunning architecture that makes Eguisheim an unforgettable Christmas destination.
Strasbourg Christmas Markets FAQ
Is Strasbourg Christmas Market worth it?
Absolutely! Visiting the Christmas Markets in Strasbourg is an experience you don't want to miss. With its magical festive atmosphere, beautiful decorations, and delicious traditional food, it's a unique opportunity to dive into the Christmas spirit and make precious memories.
Is the Strasbourg Christmas Market happening this year?
Yes, the Strasbourg Christmas Market is happening this year. The official dates have yet to be released, however, based on the previous years, it will be held from the end of November to Christmas.
When do the Strasbourg Christmas Markets start and end?
The Strasbourg Christmas Markets typically start in late November and run until just after Christmas, around 26 December. However, the dates can vary slightly each year, so it's best to check the official website for the exact dates.
What are the opening hours of the Christmas markets in Strasbourg?
The markets usually open at around 11 am and close at 8 pm. These hours can vary depending on the day of the week and the specific market, so again, it's recommended to check the official website for exact times.
Do you need tickets for the Strasbourg Christmas Market?
No, you don't need tickets to enter the Strasbourg Christmas Market. The market is an open-air event, freely accessible to visitors. You'll only need to pay for the food, drink, and products you wish to buy, as well as any extra activities like ice skating.
Which days are the Christmas markets in Strasbourg open?
Strasbourg Christmas Market is open daily during its operating period, typically from 11 am to 8 pm. Keep in mind, though, that the market will close earlier on 24 December.
Are the Strasbourg Christmas Markets family-friendly?
Absolutely, the markets are a great place for families. There are often activities for children, like carousels and craft workshops. However, keep in mind that the markets can get quite crowded, especially during weekends.
What should I wear to the Strasbourg Christmas Markets?
As the markets are outdoors and it can get quite cold in Strasbourg in December, it's recommended to dress warmly. Layers are your best friends! Comfortable shoes are also a must, as you'll likely be on your feet for several hours. And don't forget about scarves, hats, and gloves.
Which Christmas market is better, Strasbourg or Colmar?
Well, it's a tough question. As Colmar is smaller, it has a more intimate feel, while Strasbourg's markets have a bit more variety. However, both markets will be very crowded during the Christmas season so ultimately, it depends on your personal preferences. As the two markets are really close, I would recommend visiting both and deciding for yourself!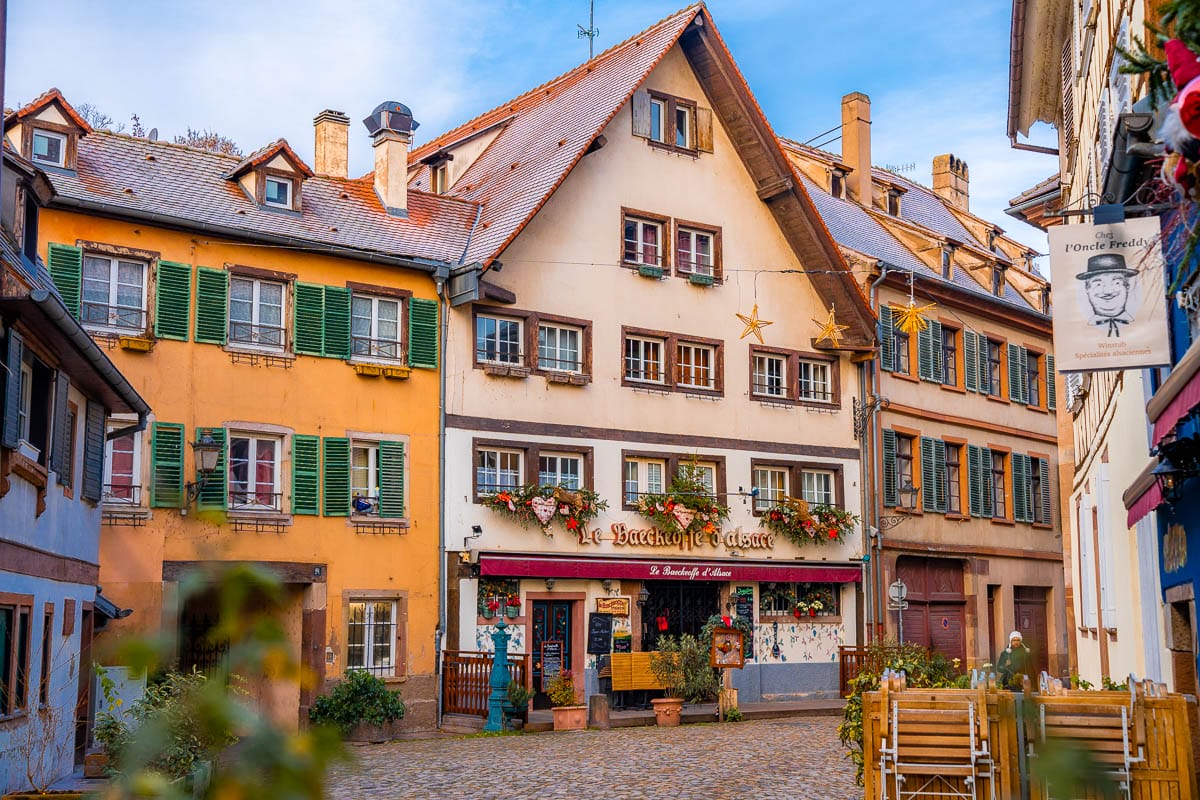 ---
Related Posts
Want to read more about France?
---
What Camera Gear Do We Use?
If you want to read more about what is in our camera bag, check out my detailed post about our travel photography gear!
---
Pin It for Later!