Nice is one of the most popular cities on the French Riviera, for a good reason! It has everything you could possibly need for a laid-back vacation: a charming city center with cute little streets to get lost in, amazing food, great views, and beautiful beaches to relax at.
If you're looking for the best cities to visit in France, you definitely need to put Nice on your list!
Although there are many things to do in Nice, the good news is that you can visit most of the places in a short time. Are you planning to spend only one day in Nice? Don't worry, if you follow this Nice itinerary you will be able to see the best of the city in only 24 hours!
*Disclosure: This post contains a few affiliate links, which means I may receive a small commission, at no cost to you, if you make a purchase through my link.*
No time to read now? Pin it for later!
Useful Info for Spending One Day in Nice
How much time do you need to spend in Nice
While Nice is a pretty big city (it's the 5th biggest one in France), you can easily visit the highlights in just one day. In this 1 day in Nice itinerary, I will show you how!
However, if you have more time and you love spending time on the beach, doing shopping and enjoying the nightlife, you can easily spend 2-3 days in Nice as well without getting bored.
If you're planning to visit more places as part of a French Riviera road trip and you don't want to stay only one night at each location, Nice can be a really good base for discovering the area.
You can find some of the most amazing cities and cutest small towns in France within a short drive from Nice like Menton, Monaco, Cannes, or Marseille. If you need some more ideas, here's an amazing list of the best day trips from Nice!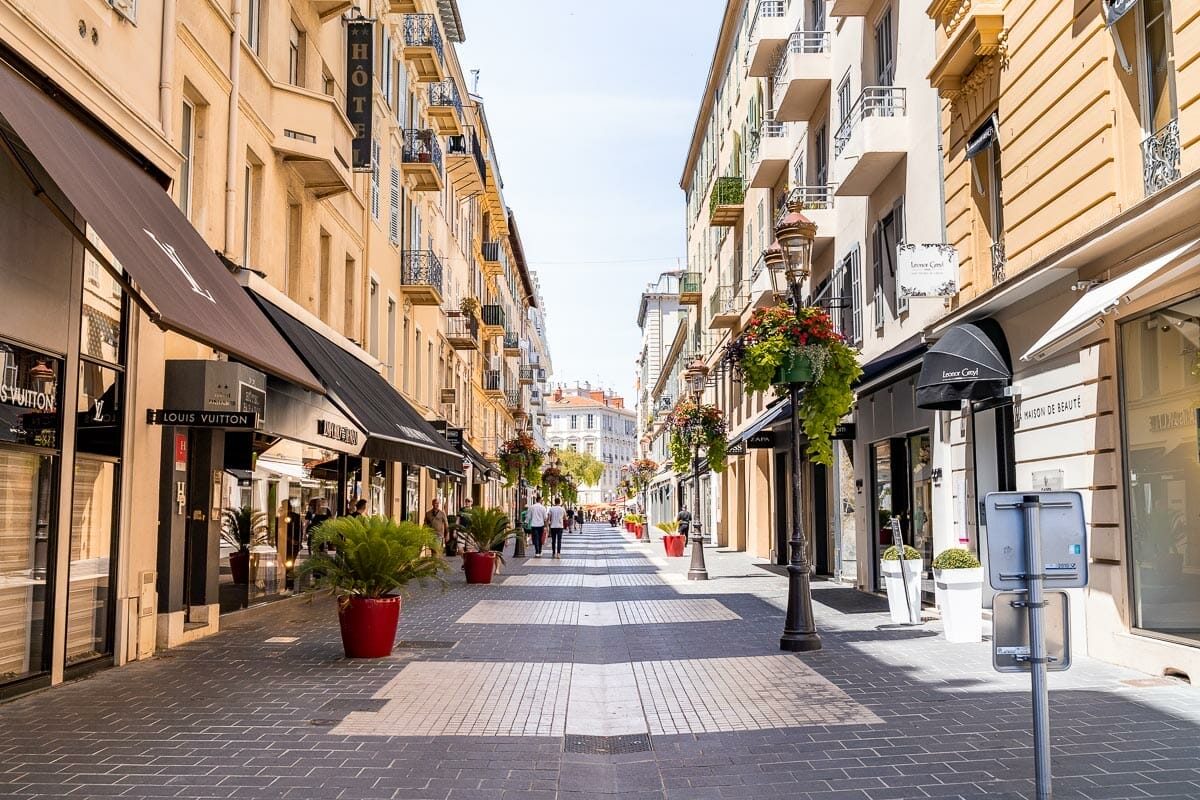 Best time to visit Nice
Located in the French Riviera, Nice enjoys a mild Mediterranean climate all year round which makes it a perfect destination at each season.
The city has over 300 sunny days a year and winters on the Cote d'Azur are usually sunny and crisp, with little to no crowds. In case you are looking for some warm winter destinations in Europe, you can't go wrong with Nice!
The shoulder season (from mid-April to mid-May and September-October) is definitely the best time to visit Nice when you can already enjoy the warm temperature without the crowds. If you're looking to save some money on your trip, shoulder season is a good choice for you as well, since the price of the hotels is usually lower.
If you're a beach type of person and you can bear the crowds, summer can also be a good choice for you. The sea is the warmest in August when the sea temperature is around 24°C (75°F), so it's the perfect time for swimming or relaxing at the beach.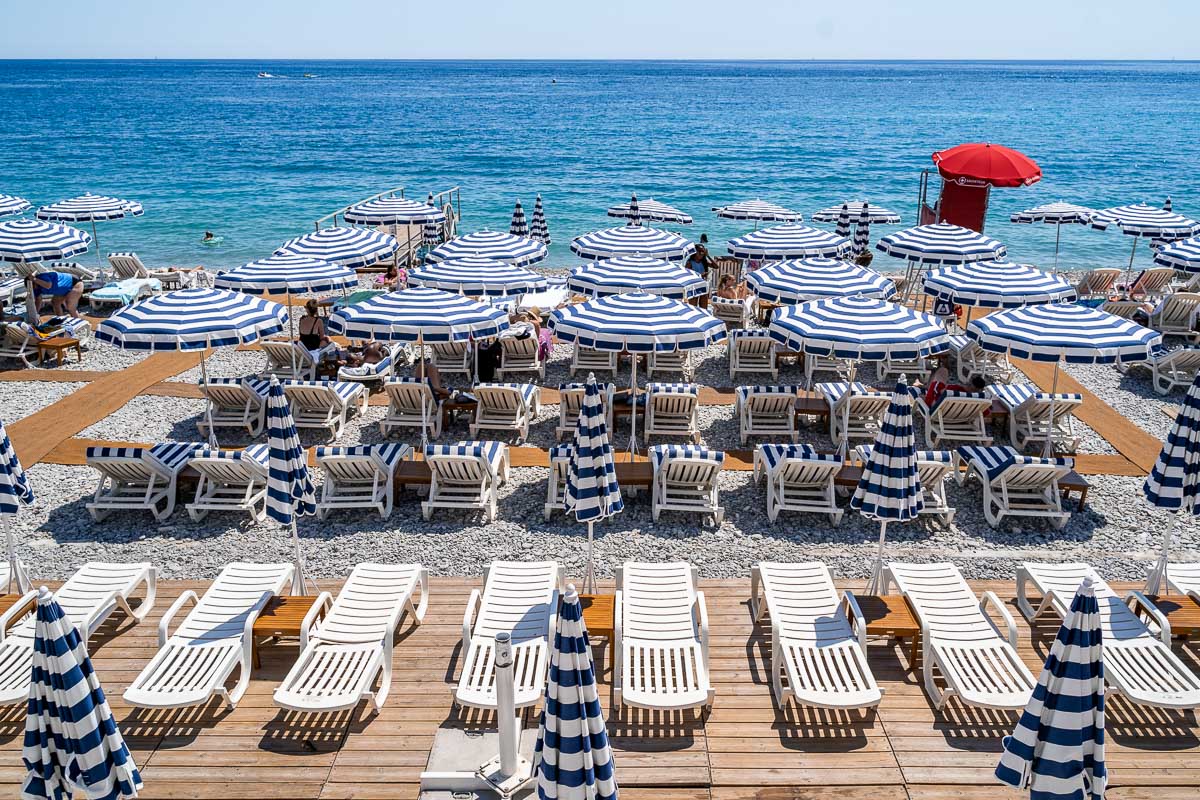 How to get around Nice
The highlights of the city are pretty close to each other so you can easily complete your one day in Nice itinerary on foot.
If you want to save some time or you don't feel like walking, you can use one of the tram or bus lines in the city as well. The main attractions are well connected by public transportation, a one-way ticket costs €1.50 and you can buy your ticket from the ticket booth in the bus/tram stops.
Ride-hailing services like Uber and taxis are also available everywhere in the city. Uber is generally cheaper, so it's more popular among tourists. Even if you arrive with your own car, I recommend leaving it in a secure parking lot while exploring Nice. The traffic is quite heavy during the day and it's almost impossible to find any parking spots.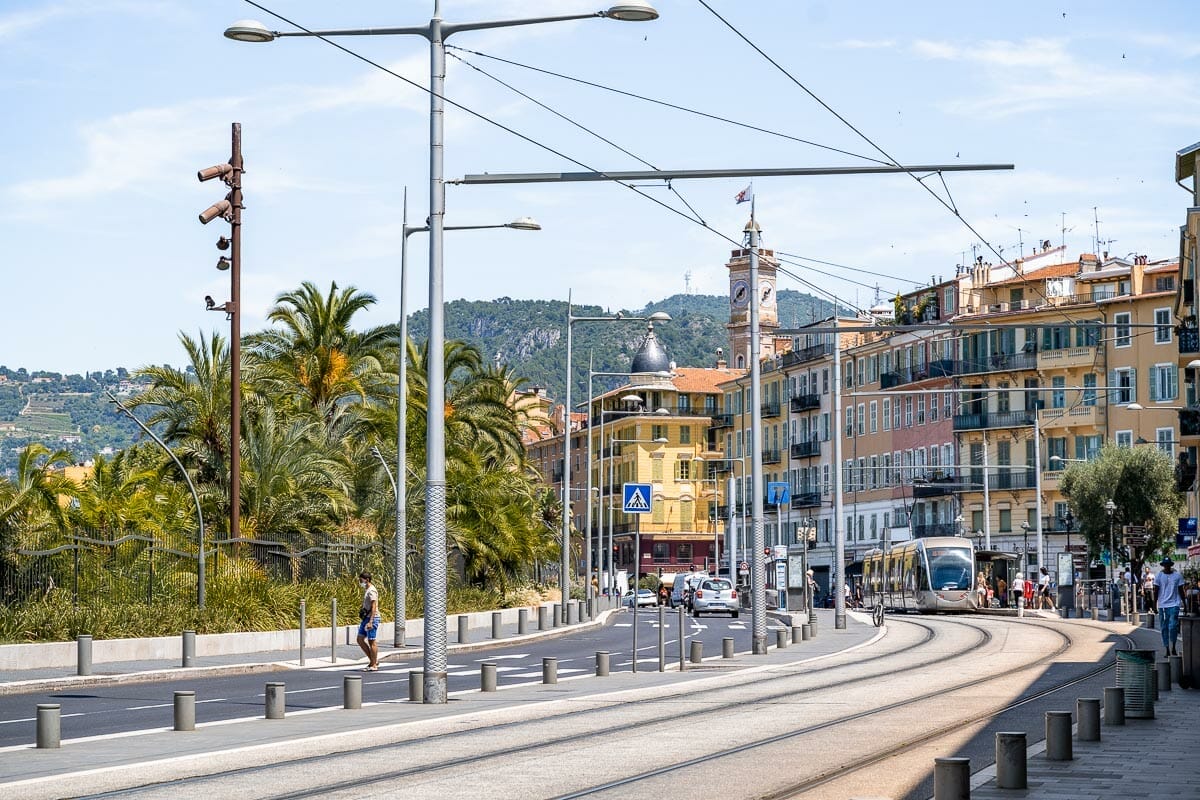 Where to stay in Nice
You can find every type of accommodation in Nice, starting from budget hostels, apartments, mid-range hotels to luxury stays. Since you're gonna be staying in the heart of the French Riviera, be prepared for inflated hotel prices, especially in the summer.
Since you're gonna be spending only one day in Nice, I recommend staying close to the city center to save some time on commuting. You can check all the available hotels in Nice here, or if you're not in the mood for searching on your own, check out my recommendations below!
Do you prefer staying in Airbnbs rather than hotels on your travels? Then you need to check out my article about the best Airbnbs in Nice!
LUXURY – Hotel Le Negresco
The famous Hotel Negresco, dating from the beginning of the 20th century, overlooks the beach and the Promenade des Anglais in Nice. From Louis XIII style to modern art, 5 centuries of history are exhibited throughout the hotel. Free Wifi access is provided and there is an on-site fitness center.
MID-RANGE – NH Nice
Featuring a seasonal rooftop swimming pool, sauna, and terrace, NH Nice is a hotel located a 10-minute walk from Nice's Old Town and the Port. It offers free WiFi and is next to Nice Acropolis. Rooms at NH Nice are contemporary in style and offer a flat-screen TV and a mini-bar.
BUDGET – easyHotel Nice Palais des Congrès – Old Town
EasyHotel Nice Palais des Congrès – Old Town is a budget hotel located beside the Acropolis Palais des Congrès. Featuring parquet flooring, the air-conditioned rooms all have free WiFi, an LCD TV, and a desk. The private bathrooms include free toiletries.
Overview of Your One Day in Nice Itinerary
I put together a custom map for your one day in Nice, containing all the best spots you need to visit in the city. You can easily open it up on your phone by clicking on the bracket in the upper right corner so you can always have it with you. Read along to know more about these places below!
How to Spend One Day in Nice
1. Climb up to Castle Hill
Start your one day in Nice by soaking up the views from Castle Hill! Castle Hill – otherwise known as Colline de Chateau – is a 92 meters high hill overlooking the bay of Nice. Don't be fooled by the name, there is no castle on the hill in reality, but in exchange, you will find the best viewpoint in Nice on top of the hill.
If you're coming in your own car (which I generally wouldn't recommend in Nice) you can go up to the hill by car and park on the top, so you only need to climb a few steps. Otherwise, you climb up on the staircase starting from Promenade des Anglais or use the lift which is located by the foot of the staircase.
On the top, you can find an artificial waterfall, the ruins of a cathedral, and several viewpoints. The best one is located above the waterfall, from where you can get an amazing panoramic view over the Old Town and the coastline.
Although you can visit Castle Hill basically any time of the day, I recommend going there first thing in the morning to avoid the crowds and the scorching heat. If you're planning to take the stairs, it's even more important to go early!
2. Get lost in the Old Town
After you had enough of the views (impossible, I know!), climb down from the hill and continue your sightseeing in the Old Town of Nice. It's pretty close to Castle Hill so you can easily walk there.
The first thing you will encounter on your way to the Old Town from Castle Hill is the Cours Saleya Market. This is the most famous street market in Nice and it's open every day from 9 am to 1 pm, except Mondays. If you haven't had breakfast yet, it's a great place to grab some local specialties!
After you visited the market, the best thing you can do is get lost in the narrow, cobblestone streets. The Old Town of Nice totally feels like a maze and you will come across many colorful houses, cute little shops, talented local artists, and amazing cafes and restaurants on your way.
3. Visit Place Garibaldi
Place Garibaldi (Garibaldi Square) is one of the most beautiful squares in Nice. It's located at the northern end of the Old Town, it takes around 10 minutes to reach it from the Cours Saleya Market on foot.
The facade of the yellow buildings surrounding the square is absolutely beautiful and you can also find a fountain with a monument of Giuseppe Garibaldi in the middle of the square. There are many restaurants and cafes to choose from, one of the most famous restaurants in the square is Cafe de Turin.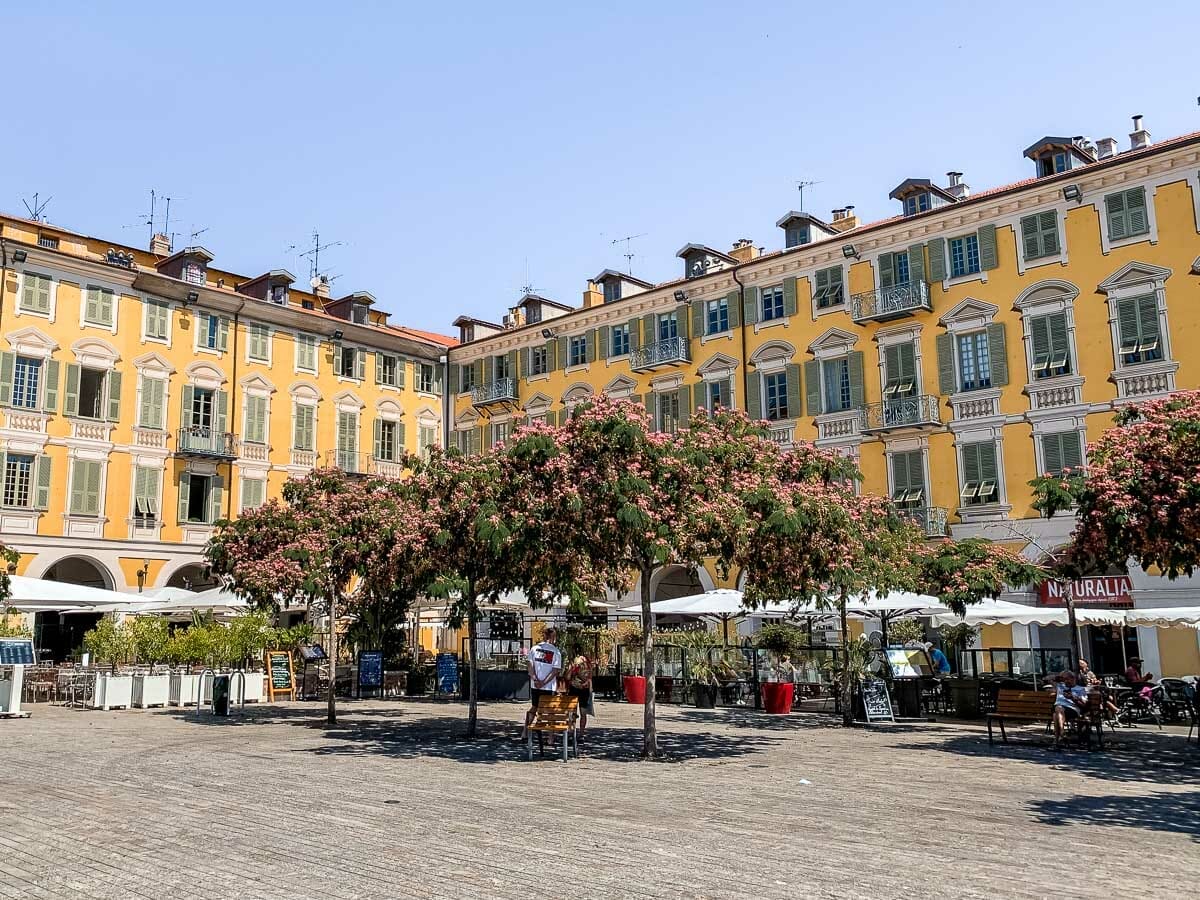 4. Admire the architecture at Place Massena
The next square on your one day in Nice itinerary is Place Massena. From Place Garibaldi, it takes around 12 minutes to reach the square on foot but if you feel tired, you can also take the L1 tram line.
Place Massena is the largest and most iconic square in Nice. The beautiful, Pompeian red-colored buildings with their elegant arches will surely take your breath away, not to mention the black and white tiles on the ground!
It's a perfect place for some people watching, shopping, or grabbing a bite at one of the cafes and restaurants nestled under the archways.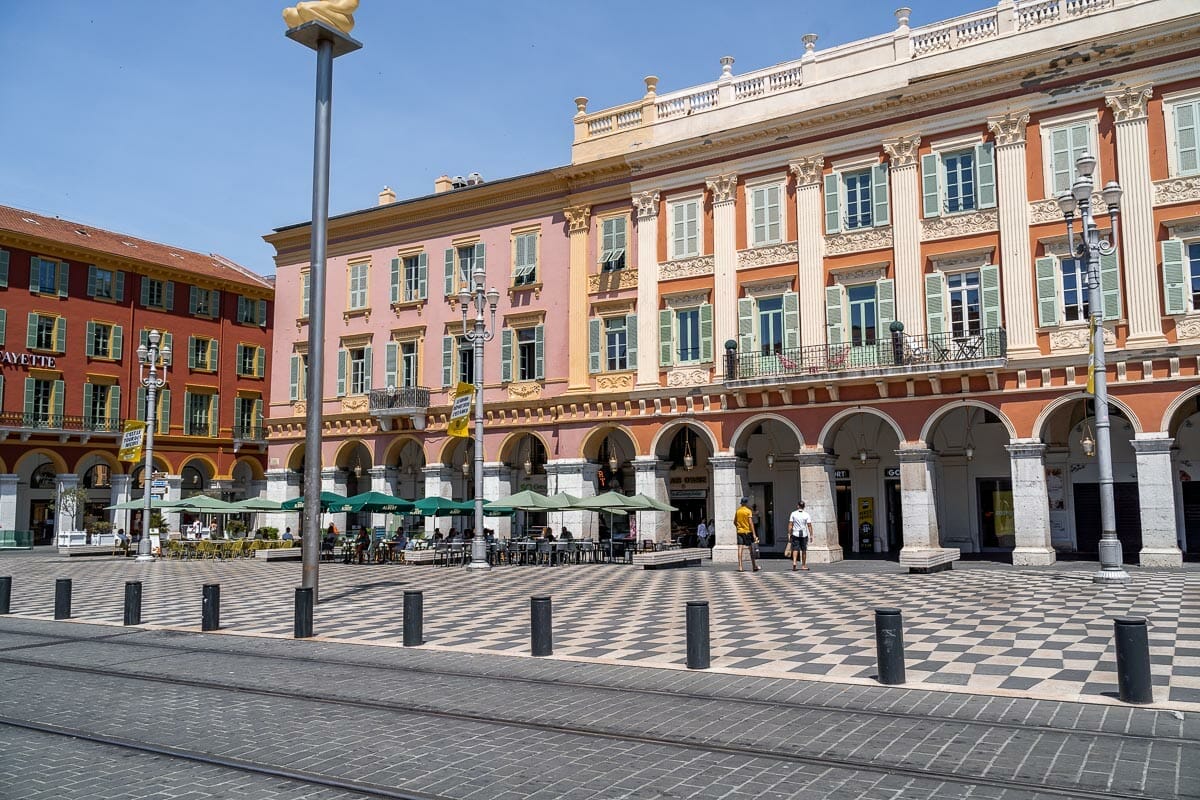 5. See the iconic white-blue striped parasols at Ruhl Plage
If you've already seen some photo inspiration for Nice, I'm sure you've seen the iconic blue and white striped parasols on the beach. If you want to experience them in person, head over to Ruhl Plage!
Beaches are one of the many perks of Nice and you will find plenty of private and public beaches along the shore. While public beaches are free to access, you will have to pay for a sun lounger at the private beaches to be able to enjoy their facilities.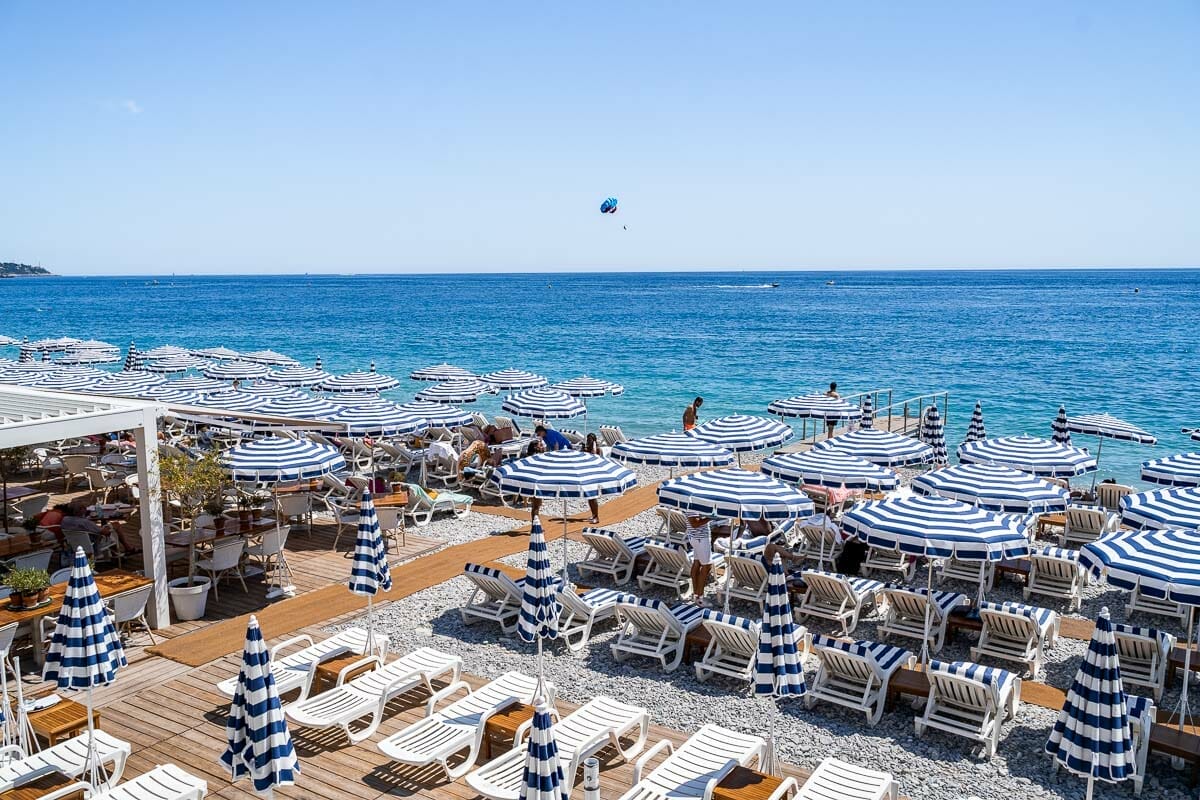 If you have only one day in Nice, it wouldn't make too much sense to pay a full day price for a sun lounger since you will not be able to enjoy it all day long (if you want to visit the other places on this Nice itinerary).
For instance, at Ruhl Plage, you need to pay €30 for a sun lounger with an umbrella which is ok if you're spending all day there, but it's definitely a no-go just for a few hours.
Based on this I would say that if you want to take a quick dip in the sea, go for one of the public beaches.
However, if you want to experience this amazing place and maybe took some photos for Instagram, there's a solution for that too! Since you can find a restaurant at Ruhl Plage as well, you can just simply pop in for an afternoon coffee, a cocktail, or a light lunch.
As you can expect almost anywhere on the French Riviera, foods and drinks are quite pricy at Ruhl Plage as well. But on the bright side, they are absolutely delicious! During my time in Nice, I've been there twice, once for breakfast and once for lunch and I enjoyed it a lot both times.
6. Walk along the Promenade des Anglais
The Promenade des Anglais is one of the most iconic places in Nice, therefore, you simply can't miss it! It's a 7 km long promenade stretching all the way from the airport to Castle Hill.
It's really popular among locals and tourists alike, so you will find many people on the promenade every day, especially on the weekends.
Promenade des Anglais provides a magnificent view of the azure blue sea and strolling along the huge palm trees is definitely one of the best things to do in Nice. You will find many luxurious hotels, fancy restaurants, and cafes along the promenade as well.
If you want to follow this one day in Nice itinerary, I recommend starting from Ruhl Plage and walking along the promenade until you reach Boulevard Gambetta on your right, then continue on that road to reach the next attraction on this itinerary, the St. Nicholas Cathedral.
7. Visit the beautiful St. Nicholas Russian Orthodox Cathedral
The St. Nicolas Cathedral is often referred to as one of the most important orthodox buildings outside of the Russian Federation. Arriving to the church immediately makes you wonder whether you are still in Nice or you just stepped into Moscow or St. Petersburg!
It's located in the suburbs of Nice, therefore, it's quite a long walk to get there – it takes around 25-30 minutes to reach it from Ruhl Plage on foot. But believe me, it's so worth it! Alternatively, you can take a taxi or an Uber to save some time.
The church is open from 10 am to 6 pm every day and you can even go inside to look around. Since it's a religious site, you need to cover both your knees and shoulders to be able to enter.
Sadly you are not allowed to take pictures inside but make sure to snap some amazing photos from the outside!
8. Head back to Old Town for dinner and nightlife
To end your one day in Nice, I recommend heading back to the Old Town to grab some dinner and enjoy the famous nightlife. The vibe of the city is completely different at night and even if you're not a party person, it's worth taking a stroll in the cute little streets again.
Wayne's Bar is one of the most famous places in the Old Town where you can find live music almost every night, but you can also opt for a fun bar crawl as well. Whatever you choose, just make sure to sit back and relax a bit, you totally deserve it after the busy day you just had!
Final Thoughts
Nice is one of the best places to visit on the French Riviera and even if you have only one day in Nice, it's still possible to see the best of the city. I hope you liked this Nice itinerary and it will help you enjoy the city to the fullest, even if you only have a short time for it.
If you have any questions feel free to leave a comment below or send me an email, I always love helping you out! Have you ever been to Nice or is it still on your bucket list? Let me know in the comments!
xoxo, Kriszti
---
Related Posts
Want to read more about France?
---
What Camera Gear Do We Use?
If you want to read more about what is in our camera bag, check out my detailed post about our travel photography gear!
---
Pin It for Later!