Colmar, located in France's Alsace region, is a charming city known for its traditional Christmas markets. From November through to the beginning of January, the cobbled streets of Colmar are transformed into a magical winter wonderland, with festive decorations and the smell of delicious spiced treats wafting through the air.
If you're looking to add a little bit of Christmas cheer to your travels this year, then you can't miss a visit to the Colmar Christmas markets. From exploring local craft stalls and sampling festive culinary treats to enjoying the holiday atmosphere and taking in the breathtaking sights of the old town, there's something for everyone during a festive visit to Colmar.
In this guide, you'll find everything you need to know about the best Christmas markets in Colmar, including details about the markets, what to see, what to eat and drink, and where to find the most festive things. So let's get ready to spend a magical Christmas in Colmar!
*Disclosure: This post contains a few affiliate links, which means I may receive a small commission, at no cost to you, if you make a purchase through my link.*
No time to read now? Pin it for later!
Useful Info for Spending Christmas in Colmar
Before diving into all the best Colmar Christmas markets, there are a few important things to know about spending Christmas in Colmar. Here's some useful information to help you plan your festive visit!
Why visit Colmar at Christmas?
Colmar is one of the most popular destinations in France for Christmas travel. With its traditional architecture and medieval streets, it's a magical place to explore during the festive season.
Colmar also offers an abundance of things to do during the Christmas season. There are six different Christmas markets in Colmar to explore, each with its own set of attractions and specialties.
The Old Town is lined with shops selling handicrafts and antiques, wine bars, and gourmet restaurants. Despite its small size, Colmar has several Michelin-starred restaurants! If you love wine, Colmar is also a great place to taste the world-famous wines of Alsace.
Despite its popularity, Colmar still has an authentic charm, and it's the perfect place to experience a unique Christmas in France. Once you step into the old town, you'll feel as if you were walking through a real-life Disney movie!
When do the Christmas markets in Colmar open and close?
The Christmas markets in Colmar are usually open from late November to early January, though the exact dates vary each year. In 2022, the markets opened on 24th November and ran until 29th December.
The markets are open from 11 am to 7 pm from Monday to Thursday, and from 10 am to 8 pm on Fridays, Saturdays, and Sundays. On Christmas Eve, they typically run until 5 pm.
How much time should you spend in Colmar in December?
If you want to briefly experience the Christmas markets in Colmar and soak in the historical atmosphere for a few hours, one day is enough time to spend in the town. Its close proximity to Strasbourg, Germany, and Switzerland, makes it an ideal day trip from any of these cities.
However, if you want to explore each of the half-dozen Christmas markets in depth, then two to three days is recommended. You'll be able to browse the festive markets, take your time tasting all the culinary treats, and explore all the attractions in the Old Town.
Colmar is also a great place to base yourself if you're looking to visit multiple Christmas markets in the Alsace region and explore other nearby destinations. So if you have a bit more time, you can make a real festive holiday out of it!
What's the weather like in Colmar in winter?
Colmar during the winter is quite cold, so make sure to plan accordingly! Temperatures in late November and December typically range from 0°C (32°F) to 7°C (45°F), and it's not uncommon for them to drop below freezing.
It might not sound that cold on paper but believe me, it is! Even with multiple layers on, it was a struggle to spend more than a few hours in a row outside.
Since the sun sets around 4:30 pm, daylight hours are also quite short during this time of the year. Make sure to bundle up if you plan on staying out until late!
There are an average of five snowy days in December, so it is possible that you will see some Christmas-like snowfall during your stay. Rain showers can also occur, though it's more likely to snow. In any case, do bring an umbrella to be prepared for all weather conditions!
How to get to Colmar
Colmar sits on the border of France, Germany, and Switzerland, so you have plenty of options when it comes to transportation.
If you plan to arrive by plane, you can either fly into Basel-Mulhouse-Freiburg EuroAirport or Strasbourg Airport. Both airports are roughly 70 km (45 miles) away from Colmar, and you can easily take a train or bus to get there.
The railway in Western Europe is fast and reliable, so I would recommend catching a train to Colmar regardless of which airport you're arriving at. From the EuroAirport, you have to take a shuttle bus to Basel SBB train station first, while Strasbourg Aiport is connected to Strasbourg train station via a shuttle train.
Trains to Colmar run frequently from both train stations, there is typically a train departing at every 30 minutes. Fares usually start from €15, and it takes 30 minutes to reach Colmar from Basel, and 45 minutes from Strasbourg.
If you're planning to spend a couple of days in Paris during Christmas as well, consider taking the high-speed TGV train from Paris Gare De Lyon station to Colmar. It takes roughly 2.5 hours, and fares start from €49.
Where to stay in Colmar
As I mentioned before, Colmar is a really popular holiday destination so if you want to stay in Colmar at Christmas, make sure to book your hotel well in advance! Although Colmar has plenty of hotels, they can sell out quickly during the festive period.
As a rule of thumb, the closer you stay to the Old Town, the better. There is a wide range of hotel options, including budget inns, boutique hotels, and luxury properties, so there is something for everyone.
Here are my favorite picks when it comes to staying in Colmar for different budgets.
LUXURY – Relais & Châteaux La Maison Des Têtes
This 17th-century property boasts designer furniture, a celebrated in-house restaurant, and a prime location in the heart of Colmar. Each room comes with a private bathroom and air-conditioning.
MID-RANGE – Le Colombier
Located in the picturesque Little Venice neighborhood, Hotel Le Colombier is the perfect mid-range choice. Guests can enjoy air-conditioned rooms at the property, as well as a 24-hour reception and a daily buffet breakfast.
BUDGET – Ibis Styles Colmar Centre
The Ibis Styles Colmar Centre hotel is set in an 18th-century brewery in the historic center, just a few steps from the Gothic St Martin's Church. Each guestroom comes with a private bathroom, and breakfast is prepared every morning.
Best Christmas Markets in Colmar
The Christmas markets in Colmar are some of the most beautiful Christmas markets in Europe, so it is definitely worth spending time at each market. There are actually six different markets, each with a different theme and unique features.
The markets also coincide with a city-wide event known as the Magic of Christmas in Colmar, which includes light displays in each of the six markets.
Because the center of town is only accessible to pedestrians, it is easy to move from market to market and square to square, enjoying the lights and different festivities in each place. The lights typically turn on during the week of November and continue through Christmas week.
Let's take a look at the best Christmas markets in Colmar in more detail!
Place des Dominicains
The Christmas Market at Place des Dominicains is an expansive market with more than 60 vendors. It is located in a square fronted by a historic church with stunning stained-glass windows.
This market features holiday decorations, Christmas trees, and other festival handicrafts. Some vendors serve food and drinks, as well.
Place de la Cathédrale
Located right next to St Martin's Church, the Christmas market at Place de la Cathédrale is known as the Gourmet Market. If you're a foodie, this is the market for you!
The market features an array of delicious chef-created specialties unique to the Alsace region, such as foie gras, flammekueche, and spaetzle. Enjoy some mulled wine while you walk around and sample the tasty treats!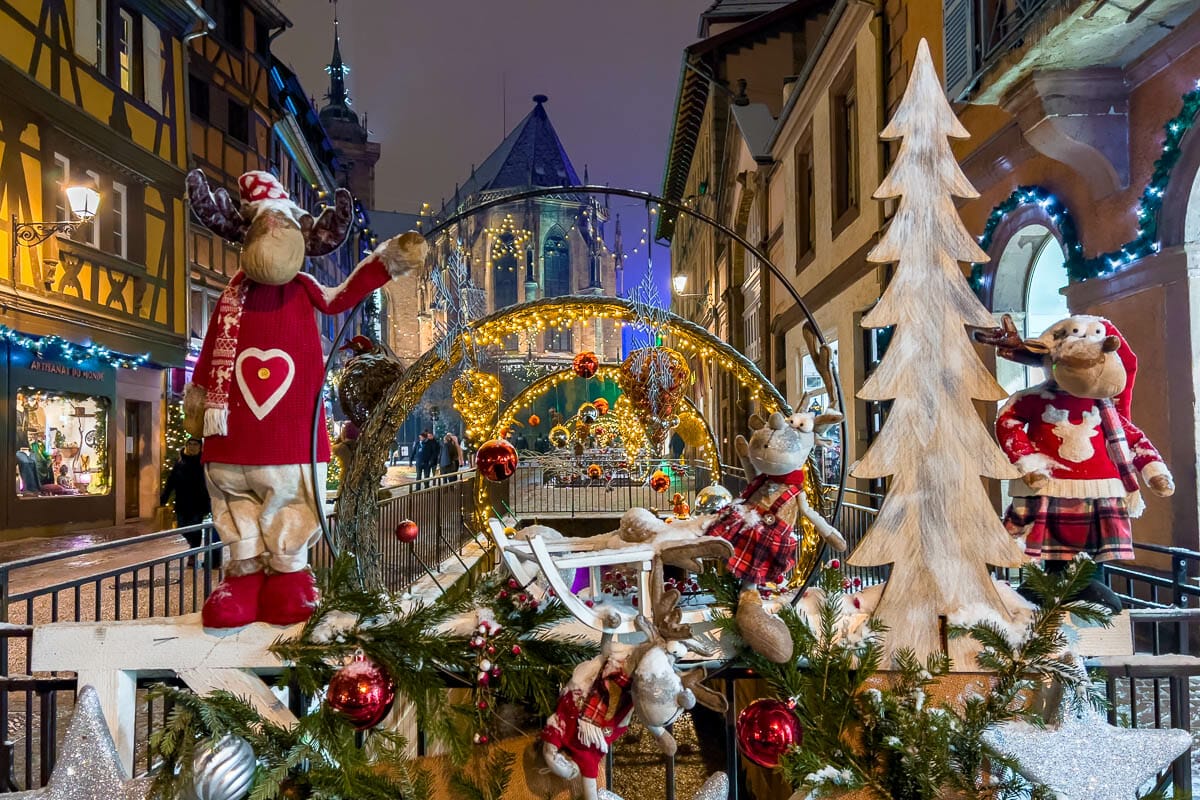 Place Jeanne D'Arc
The Christmas Market in Place Jeanne D'Arc is located in a square in the middle of the historic timbered houses that define Colmar. This market mainly features products from local artisans.
You can also find plenty to eat and drink, including Christmas pastries, Alsatian wines, cheeses, and sausages.
Koïfhus
The Koïfhus is a historic medieval building that once served as a theater. During the holiday season, it houses a Christmas market featuring handmade goods by ceramic artists, glassmakers, wood carvers, jewelers, and tailors.
The building also has a unique toy museum that will appeal to families. As this is an indoor market, it is a great place to escape the cold or rainy weather.
Place de l'Ancienne Douane
The Christmas Market at Place de l'Ancienne Douane features 50 market stalls arranged around an atmospheric square in one of the oldest parts of town.
You can find a wide range of foods and crafts here. This market is near Koïfhus, so you can combine a stop here with a trip to the handicraft market.
Petite Venise
If you're looking for the most picturesque part of Colmar, it's definitely Petite Venise. This row of colorful houses on the banks of the river is an unmissable destination in Colmar, and it is even more stunning at Christmas!
In case you're traveling with your family, you'll be happy to know that, during the festive period, Petite Venise offers a wonderful Children's Market. Here, young ones can find unique toys and gifts, as well as festive activities.
There are more than 40 vendors selling toys and other products or serving kid-friendly treats like hot apple cider. This market is also well-known for its ornate nativity scene.
Other Festive Things to Do in Colmar in Winter
Despite its holiday fame, Colmar is actually a year-round destination which means there are plenty of other things to do in winter.
One popular activity is ice skating on Place Rapp. Every year a colorful ice rink is set up in the middle of this beautiful square, and visitors can rent skates for just a few euros.
You can also wander along the canals of the Petite Venise neighborhood, where the reflections of the colorful buildings in the water make for a stunning wintertime sight.
If you are traveling with children (or if you want to relive your childhood), you can visit the toy museum in the Koïfhus, which is a converted theater.
In addition to a range of dolls, board games, and other classic toys, the museum hosts different traveling and temporary exhibits featuring playthings from around the world.
In addition to the historic architecture of Old Town, you can tour the 13th-century Gothic St. Martin's Church, the turreted renaissance-era Maison Pfister, or the stained glass windows in the cathedral at Place des Dominicains.
There are several interesting museums that are worth stepping away from the Christmas markets for. These include the Unterlinden Museum, which features a wide-ranging collection of historical and modern art, and the Bartholdi Museum, which celebrates the works of Frederic Bartholdi, who was best known for creating the Statue of Liberty. A replica of the famed touch-carrying statue is located a short distance outside of Colmar.
Finally, the eateries, wine bars, and other venues mark the holidays with special dishes. Despite its small size, Colmar has several Michelin-starred restaurants, such as JY'S, L'Atelier du Peintre, and Girardin – Gastronomique.
You also can't miss dining at one of the wistubs, which are traditional Alsatian restaurants. Here, you can sample a range of local wines and dishes, including foie gras, charcuterie, cheeses, sausages, and baked goods.
Tips for Spending Christmas in Colmar
Here are some other useful tips to help you create the ideal itinerary to visit Colmar at Christmas.
Except for the Children's Christmas Market, which runs for four days after Christmas, the markets start during the last week of November and run through December until several days after Christmas. After this time, the festivities switch to focusing on celebrating the New Year. There are fireworks and events to ring in the next year for those who want to stay in town after Christmas.
The six markets are very close together, so you can walk between them and visit more than one per day. The markets are smaller than others in larger towns and cities in Europe, so you will have enough time to browse all the stalls in multiple squares.
Colmar is a popular destination for both international visitors and tourists from France, Germany, and Switzerland. Hotels can be booked well in advance, so it is best to start planning several months before the holidays and reserve your stay early.
The markets are busiest on the weekends. If you would like to avoid crowds, it is better to visit during the weekdays. However, if you prefer a bustling atmosphere, Friday and Saturday are the best times to visit.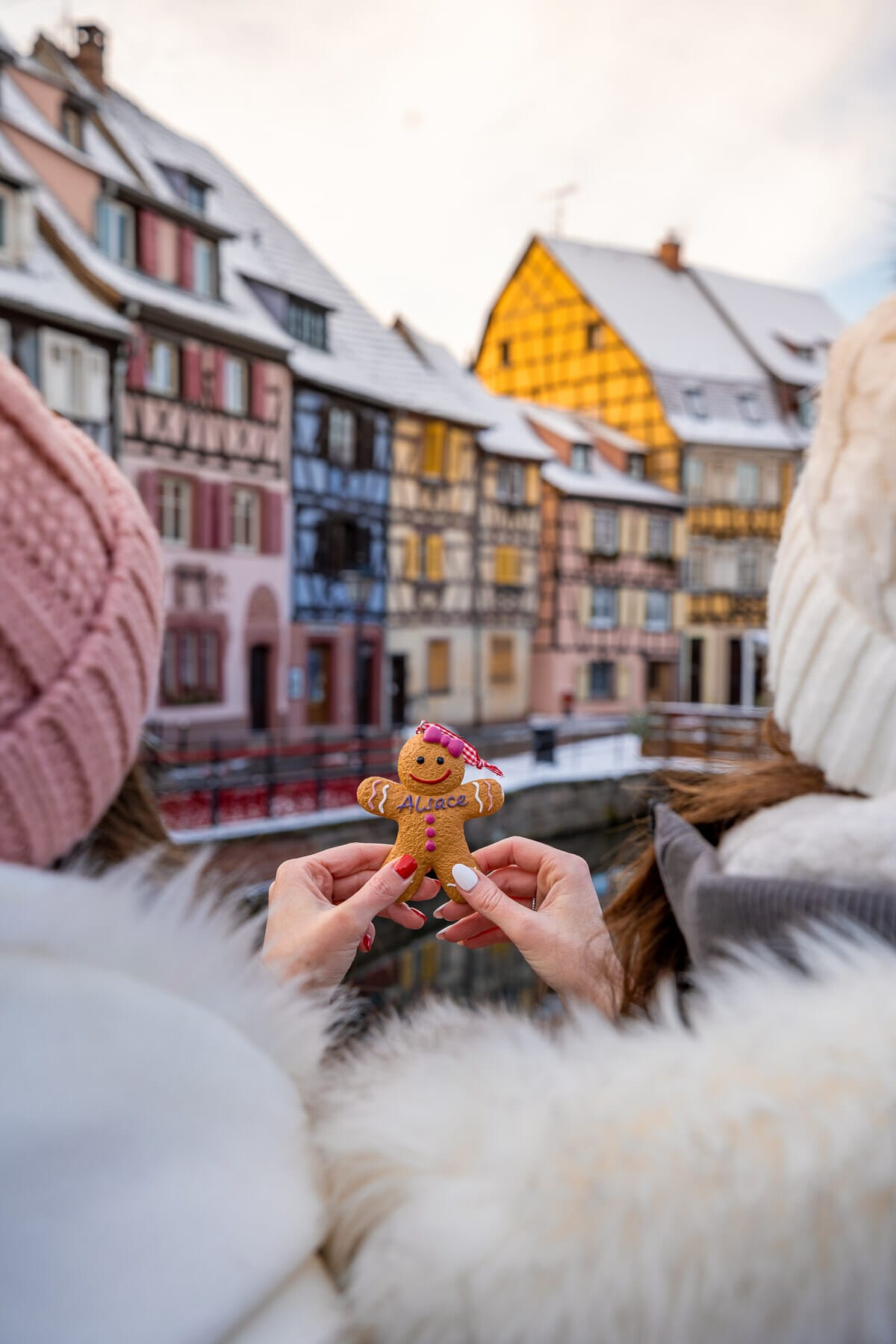 You should dress warmly since temperatures will hover around the freezing mark (0 degrees C or 32 degrees F) in the evening. It does occasionally rain in December in Colmar, so you should be prepared for wet weather with an umbrella.
Colmar is pedestrian-friendly. If you stay near the center of town, you will be able to walk to most of the attractions, markets, and activities.
Markets open in the late morning, typically around 10 or 11 am. They remain open throughout the day. Despite the light displays and evening festivities, everything typically shuts down by 8 or 9 pm. You should make sure to confirm the hours before heading out to visit markets in the evening.
Eguisheim is a small village adjacent to Colmar. It has its own Christmas market open in the few days after Christmas. Another neighboring village, Turckheim, has a similar post-Christmas event. If you want to visit these other markets, you need to stay in Colmar for a few days after Christmas.
Finally, many low-cost European airlines fly to EuroAirport Basel, which is about one hour from Colmar via shuttle and train. If you are looking for budget transportation, it is good to check fares from this airport.
---
Related Posts
Want to read more about France?
---
What Camera Gear Do We Use?
If you want to read more about what is in our camera bag, check out my detailed post about our travel photography gear!
---
Pin It for Later!