Christmas in Europe is a truly magical time. What makes it even more special? Christmas markets!
Strolling around the cute little wooden chalets with a hot mulled wine or a fruit punch in hand, watching the sparkling Christmas lights as the dark falls, trying some traditional local foods and sweets while catching up with friends and loved ones. Is there anything better to do in the holiday season?
Luckily for us, Europe is full of amazing Christmas markets. No matter if you travel to Germany, Hungary, Austria, France, Poland, or even Estonia, you will find plenty of markets to choose from.
In this post, you can read about the 25 best Christmas markets in Europe that will definitely get you into the holiday spirit in no time!
*Disclosure: This post contains a few affiliate links, which means I may receive a small commission, at no cost to you, if you make a purchase through my link.*
No time to read now? Pin it for later!
Best Christmas Markets in Europe
1. Vienna, Austria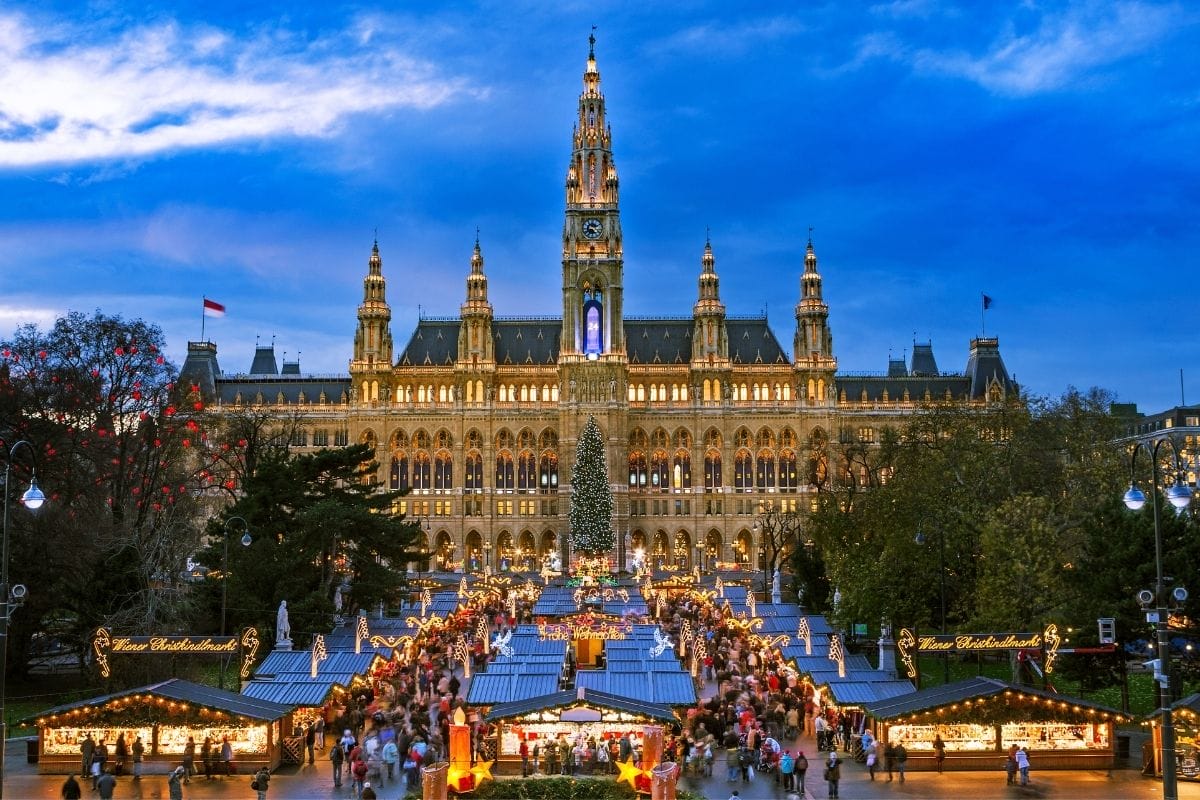 Recommended by Nadine from Le Long Weekend
Steeped in history and with a reputation of being among the best in Europe, Vienna's Christmas markets are an event not to be missed! No matter where you are in the city at Christmas time, you're bound to bump into one or two on your travels.
There are over 20 markets, and many of them are peppered throughout the central city. Head to the grand spectacle that is the market at Maria-Theresien-Platz, or pop into the iconic Viennese Christmas Dream event at Rathausplatz where you'll find an ice skating rink, children's workshops, and a heart tree in addition to the market stalls. No wonder it's one of the most Instagrammable places in Vienna!
The Karlsplatz Advent Market takes on another vibe with its more rustic and homely feel, and the Altes Akh is a family favorite. If you're in Vienna with your partner, why not head to Belvedere Palace for its distinctively romantic feel, or to the legendary market at Schönbrunn Palace.
Meanwhile, the low-key events at Spittelberg and Altwiener Ostermarkt attract the locals for an after-work drink, and the Am Hof event is a crowd favorite not least for its fairytale surroundings.
Be sure to feast on typical Austrian treats such as potato spirals, soup in bread, or Krapfen, and warm your insides with a hearty punch. For those looking to shop, the authentic Viennese snow globes, glass baubles, and handcrafted candles make the perfect souvenirs.
You can also book a Christmas market walking tour with a local guide with whom you can visit 4 Christmas markets in Vienna. Hot punch and cookies are included!
2. Budapest, Hungary
Recommended by Kriszti from She Wanders Abroad
If you're looking for the best Christmas markets in Europe, you definitely have to put Budapest on your bucket list! The festive season is really amazing in the Hungarian capital as the city is fully decorated with Christmas lights and you can find many cute little chalets across the city center, selling delicious food, mulled wine, and unique handicrafts.
Even if you have only a weekend in Budapest during the holidays, it will surely get you into the holiday spirit! If the main reason for your visit is to explore the Christmas markets, try to stay somewhere in the city center where most Christmas markets are located. District V, VI, and VII and definitely some of the best places to stay in Budapest!
The Christmas market in front of St. Stephen's Basilica is known as one of the best Christmas markets in Budapest. Apart from the usual chalets and decorations, you can also find a small ice-skating rink around the huge Christmas tree in the middle of the square.
And if it wouldn't be enough, you can watch a custom light show projected on the Basilica in the evenings! The light show is different every year so it's worth coming back for it, even if you've already visited Budapest before. Watching the light show is definitely one of the best things to do in Budapest in December!
Another popular Christmas market is the one that takes place at Vörösmarty Square. If you're looking for the best food, this is your place! You will find loads of wooden stalls around the square with a wide selection of traditional Hungarian foods and drinks.
Lángos is one of the most popular foods in the Christmas markets, it's a deep-fried dough usually served with sour cream, garlic butter, and shredded cheese. Another typical dish is stuffed cabbage, a traditional Christmas meal in Hungary, made of cooked cabbage leaves wrapped around ground beef and rice.
If you're craving something sweet, try a chimney cake (sweet dough rolled in granulated sugar, roasted over charcoal), a flódni (Hungarian-Jewish cake with five layers of dough and four layers of fillings), or some roasted chestnuts.
Oh, and don't forget to try the traditional Hungarian alcoholic drink, pálinka – but take it easy, because it's quite strong! The alcoholic content is between 38-86% so it will definitely warm you up on the cold winter nights.
3. Tallinn, Estonia
Recommended by Nicole from Bucket List Lists
One of the very best Christmas markets in Europe is in Tallinn, Estonia. Consistently voted one of the best and a top winter bucket list pick, you have to see it to believe it!
While it is not as massive in size as many of the other Christmas markets throughout Europe, it is just big enough to enjoy its charm. You'll find classic mini pancakes with a variety of toppings, sausages, and kraut, lots of sugary sweets, and of course, Glogi, AKA mulled wine.
As for the shopping, you can expect to find traditional Nordic treasures, winter wears, ornaments, ceramics, amber, and so much more.
Located in the Old Town and next to the Tallinn Town Hall, the Christmas market fills up the entire square. Surrounded by medieval architecture and pastel splashed buildings, it is a dream to visit.
The best reason to visit the Tallinn Christmas market is that it is not crowded like the bigger Christmas markets in Europe. Tallinn sees most of its visitors during the nicer weather months, and thus prices dip dramatically during the winter.
You will find luxury accommodations for much less as well during this time of year and the city is much more affordable.
One big tip to note, most of the area is cobblestone and it snows and turns to ice. You should wear proper shoes such that you do not take a fall.
4. Strasbourg, France
Recommended by Brianna from Curious Travel Bug
Strasbourg is located in the eastern part of France, on the border with Germany. Being located on the border, Strasbourg has a great Christmas market that is a mix of French and German cultures.
In the old town, there are beautiful half-timbered buildings set around a canal that are lit up by Christmas lights for the holidays. There are also multiple Christmas trees to be found and the gorgeous Strasbourg Cathedral that has displays of the Nativity Scene inside.
A unique thing about the Strasbourg Christmas market is that it is more than just one market. Christmas markets take over the entire Petite France historic district.
Each of the town squares there will host a market with a different theme. There is everything from a traditional Christmas market to a market focused on sustainable products and upcycling used items.
Every year a different country is invited to Strasbourg to have one of the markets focused on the Christmas traditions and foods from that country. Past featured countries have included Lebanon and Iceland.
While exploring the market, there are some traditional foods from the Alsace region that you should try. Of course, there is plenty of Alsatian Vin Chaud (hot wine), but the cider is also delicious.
Bretzels, kougelhopf cake, and flammekeuche are some of the specialty foods that are not to be missed. You can buy these from the markets or from the bakeries and restaurants set around the area that are convenient to pop into.
The historic city of Strasbourg is the perfect place to visit on a winter trip to France if you are looking to see one of Europe's best Christmas markets and really get that magical Christmas experience. It's worth spending a few days in Strasbourg but it can be easily visited as a day trip from Paris as well.
5. Prague, Czech Republic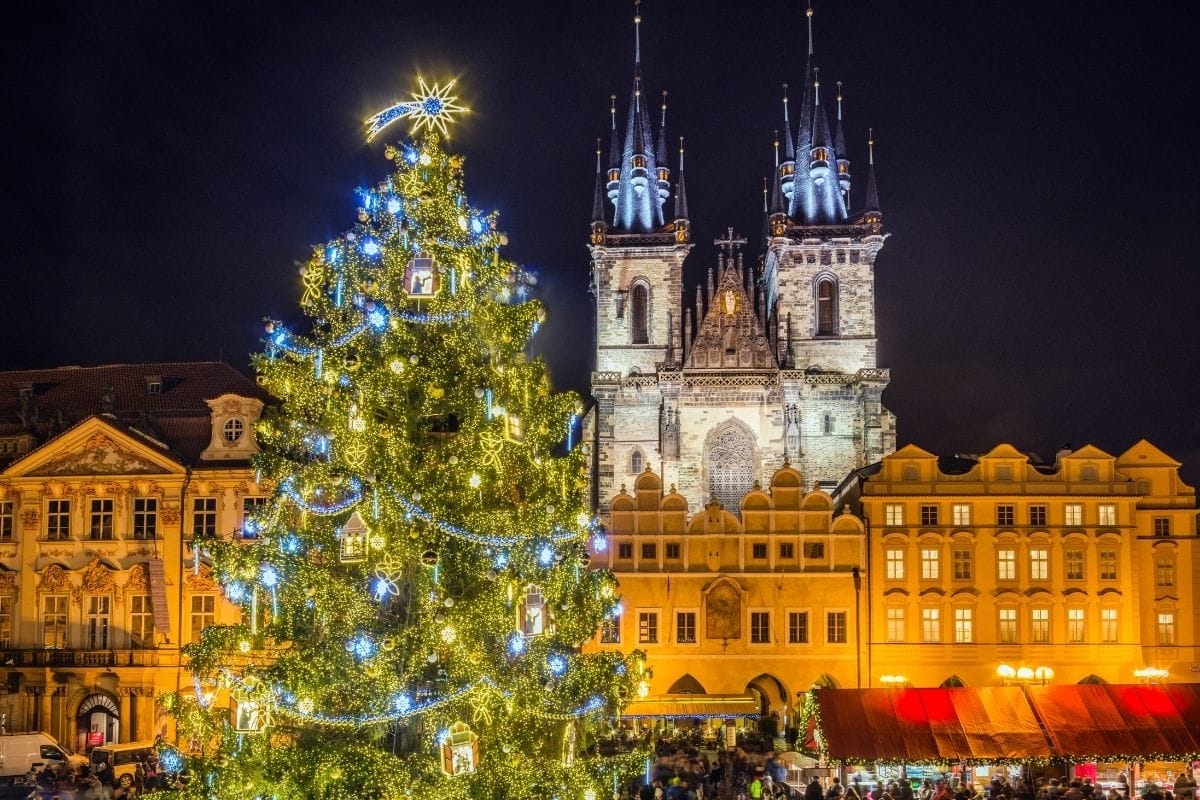 Recommended by Hannah & Adam from GettingStamped
If you haven't experienced the Christmas markets in Prague, then you're missing out. Prague offers some of the best Christmas markets in Europe, full of craft booths, food stalls selling traditional Czech foods and baked pastries, and great live entertainment. It can feel like a real-life fairytale!
Prague is a small, walkable city, so you'll be able to visit a variety of Christmas markets when you're in town. Make sure to check out the busiest and most famous Prague Christmas market – Old Town Square Christmas Market – that's located right in the middle of the historic city center.
This festive, vibrant market has tons of craft and food stalls to choose from. If you're at the market for sundown, you can see the square transform during the daily tree lighting ceremony.
Other nearby markets include the Wenceslas Square Christmas Market and the Republic Square Christmas Market. There's also a market at Prague Castle if that's on your sightseeing list.
Climb to the top of the castle for a great market and even better views of the city of Prague. Since it's one of the most beautiful castles in Europe, it's absolutely worth visiting!
The holidays are truly special in Prague. With so many Christmas markets to choose from, you'll be sure to find one that gets you in the spirit!
6. Zakopane, Poland
Recommended by Nisha & Vasu from Lemonicks
In almost the whole of Europe, Christmas is a fervor to celebrate. There are many things to do in Zakopane but celebrating a white Christmas in Zakopane is the most memorable thing to do and you will also find one of the best Christmas markets in Europe there.
On the way to Gubalowka hills, you cross a market that comes to life during the Christmas season. Gubalowka market is the main Christmas market of Zakopane and has everything that you look for.
The market along the street buzzes with activity and has all kinds of traditional and varieties of Christmas gifts such as crib figurines, beeswax candles, handmade toys, woolens, intricate lacework, jackets, leather garments, beautiful wooden artifacts, and much more.
The aromas of chestnuts, hot mulled wine, homemade cheese enhance the ambiance of Christmas Market. The best thing to relish your taste buds in Zakopane is homemade smoked cheese called Oscypek served with cranberry preserve. A good option for vegetarians as well, though sometimes it is cooked with bacon.
The market also has huge barrels of hot mulled wine to give you company. Not to mention the traditional music, singing, and dancing.
You can also visit the wooden church Koscieliska which is one of the oldest churches and this chapel's all interiors and sculptures such as Black Madonna and Christ are made of wood. You can also enjoy skiing since Zakopane is an excellent place for skiing.
7. Salzburg, Austria
Recommended by Paula from Paula Pins The Planet
Visiting Salzburg during wintertime means the opportunity to visit Mozart's birthplace during the crisp chilly time. But even better, it is time to enjoy the magical Christmas markets.
Salzburg offers amazing places to visit such as medieval castles, museums, cathedrals, and a fortress, but it is during the winter when the city holds the magical Christkindlmarket (Christmas markets), one of the oldest Advent markets in the world.
Even if you only spend one day in Salzburg during the holiday season, you have to visit at least one of these markets!
The most popular Christmas market in Salzburg has been held at the Cathedral Square since 1974. Every year the market is officially opened with befitting pomp and circumstance on Thursday preceding the first Sunday in Advent on November 19th and closes its shutters for the final time on December 26th.
This famous Christmas market draws countless visitors from all over the world every Christmas season and is also very popular with the locals. The traditional huts and unique atmosphere, along with specially designed lighting that stretches above the market like romantic stars across the night sky.
The organizers have also ensured that visitors are treated to a colorful daily events program that includes readings of Christmas stories for children, Krampus parades, guided Christmas tours, choral concerts, visits by the "Christ Child", festive melodies performed from the surrounding towers, and so much more.
Another great experience while visiting Salzburg during Christmas time is to try the traditional Lebkuchen, the amazing Austrian Christmas cookies, and pastries. There are competitions for the best ones in the city. Stalls in the Christmas markets and bakeries around town offer a large variety of Lebkuchen to choose from.
In the chilly weather, nothing beats warming up with Gluhwein, also known as hot, spiced wine sold in the markets and throughout the city in the winter. Lebkuchen and Gluhwein will have you singing Christmas carols in your head as you absorb the magical atmosphere.
The most renowned Salzburg Christmas Market extends from the foot of Hohensalzburg fortress to the Cathedral of Salzburg. It is an amazing opportunity to experience the incredible Austrian tradition that offers many exhibitors selling Christmas decorations, natural products, crafts, toys, and amazing food and drinks.
8. Copenhagen, Denmark
Recommended by Derek & Mike from Everything Copenhagen
Christmas in Europe is one of the best times to visit and one of the most perfect destinations is Copenhagen, Denmark. You're immediately in a joyous mood when you walk around the city which is lit up and decorated all over. In addition to the festive decorations, there are Christmas markets in all the main squares of the city.
Copenhagen Christmas markets are also the best in Scandinavia. Within the city, one of the best Christmas markets is at the famous Tivoli Gardens.
Not only are the rides operating all through the season, but the gardens and pathways are lined with vendors selling Christmas gifts, ornaments, crafts, and traditional Danish items. You should also try a cup of warm glog, mulled wine, and some æbleskiver, a traditional Christmas pastry.
Another must-visit market is at Kongens Nytorv. The square is one of the most visited and gorgeous plazas throughout the year because it's home to great buildings like the Old Royal Opera House, the French Embassy, and Hotel D'Angleterre.
The holiday decorations at the luxurious Hotel D'Angleterre are truly stunning. For the month of December, the hotel attaches LCD screens to its facade to transform the building into an advent calendar. It's the perfect backdrop for any Christmas market and a must-see Christmas stop within the city of Copenhagen.
9. Berlin, Germany
Recommended by Sydney from A World in Reach
Berlin isn't typically one of Germany's top cities to visit around Christmas time compared to other cities like Munich or Dresden; however, Berlin hosts several wonderful Christmas markets that can help you get in the holiday spirit.
One of the best Christmas markets to check out while visiting Berlin is the market at Gendarmenmarkt, one of the prettiest squares in the city.
Much like traditional Christmas markets found elsewhere in Germany and the rest of Europe, the market at Gendarmenmarkt features stalls selling arts and crafts, delicious treats, and glühwein.
You can find a couple of different varieties of glühwein at this market, from traditional spiced wine to delicious blueberry glühwein – and make sure to spend the extra couple of Euros to keep the souvenir mug!
Not a fan of glühwein? No worries – you can also find other holiday drinks like hot chocolate or eggnog. Grab a pretzel, bratwurst, roasted nuts, or one of the other yummy snacks to enjoy as you walk around the market, shopping around for souvenirs for yourself or Christmas gifts for others.
Gendarmenmarkt is located within walking distance of many of Berlin's famous attractions, making it an easy stop to fit in when spending a few days in Berlin around the holidays.
10. Colmar, France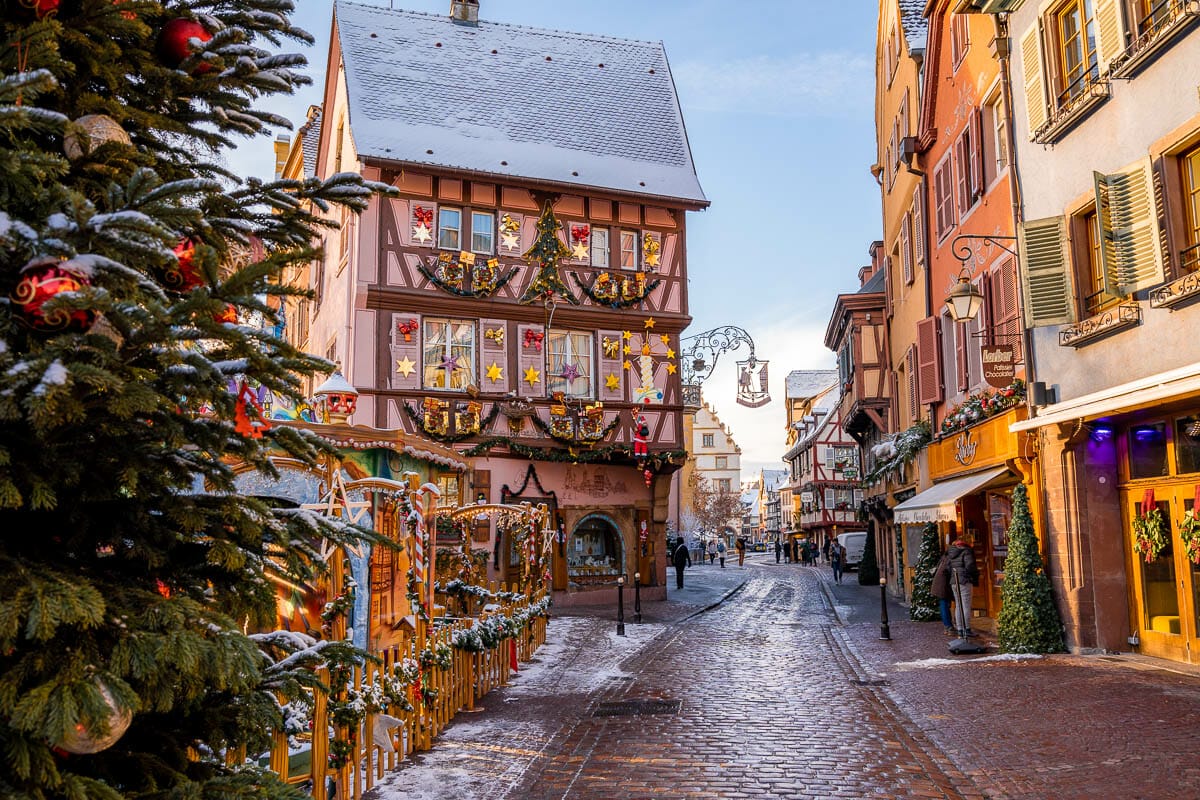 Recommended by Mark from Wyld Family Travel
Colmar is one of the most popular destinations in the Alsace North East France. Home to fairytale house stalks nesting on buildings and its little Venice area, you can easily spend a few days wandering around but it's also possible to visit it as a day trip from Paris or book a guided Christmas market tour from Strasbourg.
Starting in late November, the annual Christmas markets in Colmar overtake the whole town and transform Colmar into a true winter wonderland. Colmar embraces the Christmas market spirit better than most towns across Europe, no wonder it's listed as one of the best Christmas markets in Europe.
Visiting the Christmas markets is definitely one of the best things to do in Colmar in winter, and it's not just in one place but it's dotted all over the old town area. You will find stalls selling local crafts, foods, and drinks located in every small square, side street, and around cathedrals in Colmar.
The whole town gets into the spirit with all the buildings and shops decorated in the Christmas spirit. For kids, there are amusement rides like a Ferris wheel and carousel. Visitors to the Colmar Christmas market should try the Glühwein, which is a hot cup of wine with spices that will warm you up as you wander the amazing streets of Colmar.
11. Krakow, Poland
Recommended by Bec from Poland Travel Expert
Poland is not a destination many people think of as a vacation place but Krakow is a brilliant place to start your Poland adventures. The beautiful city has so much to see and do that it will draw you back time and again.
Christmas in Krakow is a beautiful time. Many people both tourists and locals flock to the Old Town area to celebrate at the Christmas market. The town square is dotted with all types of stalls that sell traditional Polish Christmas decorations, souvenirs, and all sorts of food.
From traditional sausage to pierogi you can't ignore the amazing smells as you wander through the little timber stalls. If you see something you like you can buy a small plate (usually sold by weight) and find a table to sit or stand at. Everyone is in such a good mood you will always find someone to chat to.
While you are there you can also try the Polish version of hot mulled wine and if you dare a try of Grzane Piwo, hot spiced beer!
In the square, you will find so many Christmas lights and there may even be a band singing local music or Christmas Carols. While you may not know the Polish words but if you know the tune sing along in whatever language you know!
12. London, United Kingdom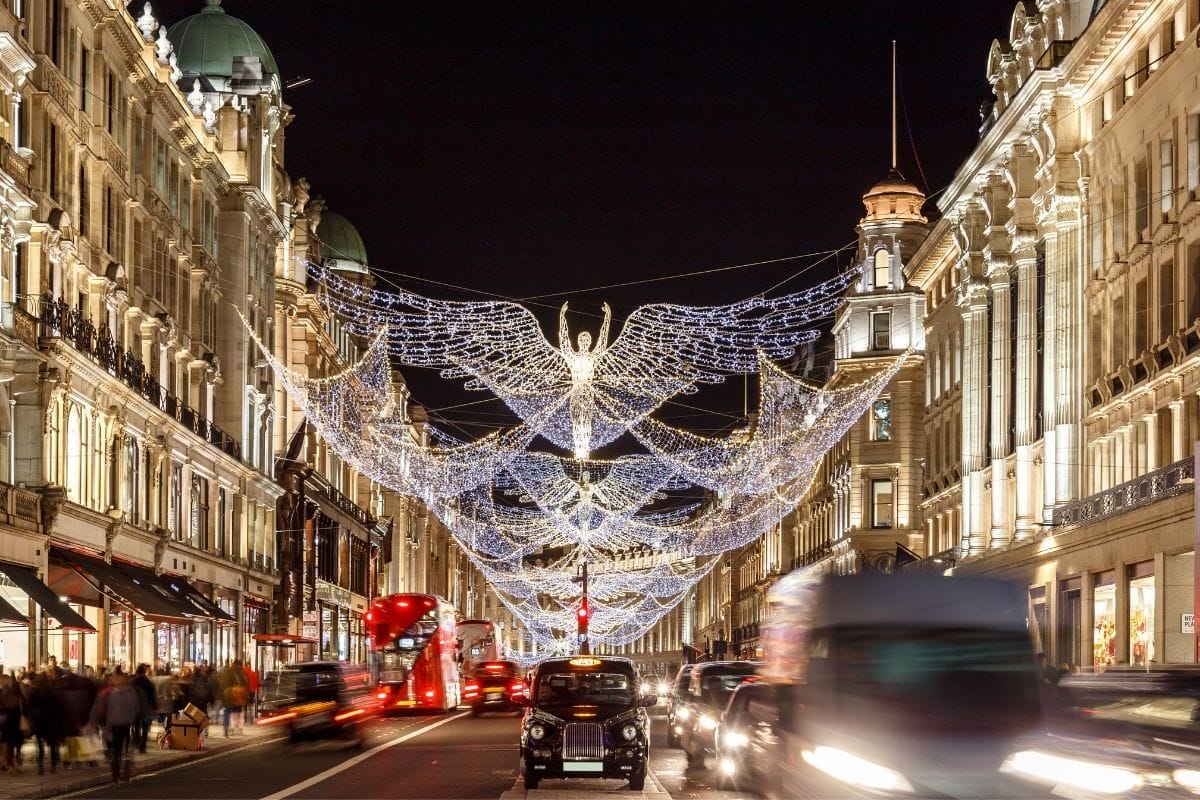 Recommended by Greta from London Dreaming
If you're looking for the best Christmas markets in Europe, you have to add Winter Wonderland to your bucket list.
At Christmas, you will find street markets and decorations all over London, but Winter Wonderland is special. Winter Wonderland is possibly the most festive activity you can do if you're visiting London at Christmas.
Winter Wonderland is a huge Christmas-themed funfair located in Hyde Park. It starts around mid-November and ends at the start of January every year.
Here you will find all sorts of food and drink stalls, Christmas-themed rides, funfair games where you can win prizes, and of course, a huge ice skating rink. Everything is decorated with countless Christmas trees, fairy lights, and decorations.
Like London, the food stalls are very international, selling food from a huge variety of cuisines. You will find stalls selling poffertjes (small Dutch pancakes), giant German pretzels, the occasional Indian street food stall, and even mac&cheese stalls.
A must-try drink is the mulled wine, nothing says British Christmas more than hot and cinnamon-spiced wine!
However, since it's such a popular activity, it can get incredibly busy. The best time to visit is during the week and earlier in the day. Get in early before the crowds, and then stick around until it gets dark and they turn on all the lights. This is when you can really feel the festive feeling spread!
13. Cologne, Germany
Recommended by Angela from Where Angie Wanders
Cologne is certainly a wonderful place to visit one of Europe's best Christmas markets. As one of Germany's most-loved cities, it offers the visitor lots to see and do, none more as special as Cologne Cathedral that remained undamaged during WW2.
But aside from the cathedral and the host of other unmissable Cologne tourist attractions, it is the Christmas markets that will draw you to this city.
Not just one or two but seven Christmas Markets offer you a chance to immerse yourself in a world of hot red wine (glühwein), apple strudel, marzipan fruits, and traditional German crafts that will grace any household. Wooden nutcracker soldiers and Bavarian glassware are popular traditional Christmas gifts to buy.
The Alter Markt, Neumarkt, and Rudolfplatz are three of the most popular Christmas markets located around the central area of Cologne Cathedral.
Another smaller market, Stadtgarten, is located within the oldest park in Cologne and is a meeting place for locals to eat and drink together in the yuletide season. At night head to the buzz of the Christmas market by the harbor which attracts a younger crowd.
After enjoying the delights of the Christmas markets don't miss the Lindt chocolate museum that sits on the water's edge. For chocolate lovers, it can't be missed as this is a chance to visit the tasting room and then finish off in the cafeteria with one of their mouthwatering Christmas concoctions.
Finally, take refuge in one of the many restaurants and bars in the city decorated in true festive Bavarian style. After trying the local Kolsch beer and devouring a traditional schnitzel you will definitely feel in a Christmassy spirit.
Without a doubt, this is a fabulous city to experience an authentic European Christmas Market.
14. Moscow, Russia
Recommended by Lindsay from Have Clothes, Will Travel
Moscow's most famous Christmas market is located in the heart of the city right in Red Square. This magical market is set against the magnificent onion domes of St. Basil's Cathedral as well as The Kremlin and the beautiful GUM Mall, which is covered in strings of twinkling lights. Many of the best things to do in Moscow are located right by this market!
The market itself hosts a large ice skating rink, festive carnival rides, and dozens of vendor stalls selling all kinds of traditional Russian gifts and treats. You can indulge in many kinds of grilled meats, blini (Russian pancakes), cookies, and more. Be sure to also grab a glass of mulled wine to keep you warm!
The variety of gifts and souvenirs available at this Christmas Market won't disappoint! You can find everything from Matryoshka dolls (Nesting dolls) to Ushankas (Russian fur hats) to Podstakanniks (Russian Tea Glass Holders) and more.
It is worth noting, though, that while the market in Red Square is fun to visit and very festive, if you are looking to buy many souvenirs and gifts, you will find better prices at the Izmailovsky Market in Moscow.
You'll also have plenty of time to plan your visit to the Moscow Christmas Market on Red Square, as it is open from November 30 to February 28.
15. Paris, France
Recommended by Elisa from World in Paris
If you are visiting Paris at Christmas time you cannot miss The Tuileries Garden Christmas market. The Tuileries Garden Christmas market is one of the biggest Christmas markets in Paris.
This Christmas market is located in the famous Tuileries Garden, next to the Louvre Museum in the first district of Paris, and it replaces the Christmas market located in Champs Elysées.
Unlike most of the Christmas markets in Paris, this one is located in a fenced, car-free space. Because it is inside the Tuileries Garden, people can have a stroll along the garden when they need a break from the Christmas crowds.
The Tuileries Garden Christmas market consists of 100 wooden chalets proposing Christmas sweets and delicacies and other products mostly made in France perfect for your last Christmas gifts.
The market also has chalets selling food, mostly quick eats like a bratwurst or a crêpe, but also other foods to eat on-site in dedicated spaces like tartiflette or onion soup. For drink, you can find soft drinks, beers, and more festive beverages like champagne or mulled wine.
Apart from the chalets, there is a small funfair for kids and adults, with a Ferris wheel and an ice-skating rink so it is perfect for an afternoon of fun with all the family. The Tuileries Garden Christmas Market usually opens around mid-November and it runs until the first week of January.
16. Stuttgart, Germany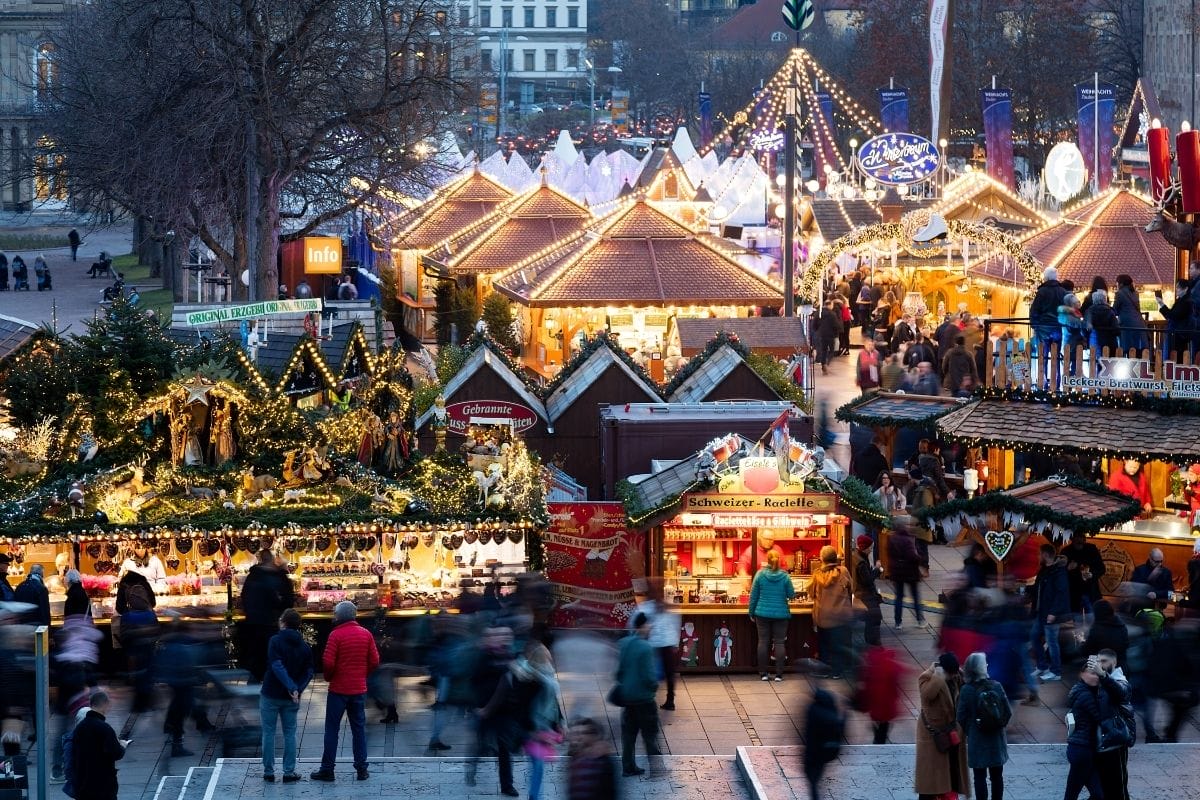 Recommended by Cate from My Germany Vacation
If you want to visit one of the best Christmas markets in Europe, head to Stuttgart, Germany! One of the oldest markets in Europe, the Stuttgart Christmas market has been around since the 17th century.
It's also one of the largest markets in Germany with over 300 food, drink, and craft stalls, daily music performances by 60 local choir and music groups, rides and special exhibits for kids, live animals, a huge decorated Christmas tree, and even an ice-skating rink.
What makes this market special? Not only does the Rathaus (town hall) turn into a giant Advent calendar, each stall's roof is decorated in a unique (and often elaborate) way!
Located in downtown Stuttgart (you can walk from the main train station, take the U-Bahn to Schlossplatz, or park in paid lots downtown), this Christmas market will keep you in the holiday spirit all day and into the evening.
Go hungry because there's so much delicious food to try, such as grilled Bratwurst, fried potatoes, fresh smoked salmon, mushrooms in garlic sauce, Käsespätzle (cheese-covered Spätzle noodles), sweet and savory crepes, and much more.
And of course, there are many different kinds of holiday sweets to sample, like Gebrannte Mandeln (cinnamon roasted almonds), Lebkuchen (gingerbread), freshly made doughnuts, Christmas cookies, chocolate-covered fruit, and more. Be sure to indulge in a Christmas market favorite: a mug of steaming hot Glühwein (hot mulled wine)!
17. Gothenburg, Sweden
Recommended by Hannah from That Adventurer Blog
Christmas in Gothenburg, Sweden, is something special. Every year, the city transforms its theme park into the most incredible Christmas market in Europe.
The Liseberg Christmas Market, Gothenburg features outdoor Christmas lights, Santa's grotto, arcades, and stalls selling Christmas foods and gifts. Unlike many Christmas markets, the gifts here are more classy and classic; perhaps something you'd expect from a Christmas market in Sweden!
There are three sections to the Liseberg Christmas market; Rabbit Land, Lapland, and a Medieval Village, and each area has its own decoration style. There are carol singers in the Medieval Village, Santa in Lapland, and giant bunnies walking around Rabbit Land amongst the colorful lights.
Make sure to ride the giant wheel to get a bird's eye view of all the Christmas lights, or grab some ice skates and ride around the open-air ice rink! Are you a beginner at ice skating? Here are the top tips for ice skating for the first time!
To keep you warm, there are open fire pits around the market which you'll definitely be thankful for on a cold night. Another top tip for staying warm is to drink some glogg: the Swedish version of mulled wine. For dinner, there are plenty of restaurants around the park where you can get Swedish meatballs.
Tickets usually cost around 110 SEK (€10). An extended ticket which includes access to all the park's rides costs 300 SEK (€27).
18. Dortmund, Germany
Recommended by Arabela from The Spicy Travel Girl
The city of Dortmund in western Germany may not be on every Europe traveler's bucket list. After all, the city had a mostly industrial past, was heavily destroyed in World War 2, and overall doesn't have too many pretty things to offer.
But there's one time of the year when the city gets crowded with visitors from all over Europe and beyond and that time is Christmas.
Known as the Dortmunder Weihnachtsstadt in Germany, Dortmund's Christmas market is one of the biggest and most beautiful ones in Germany.
With a large variety of traditional handicrafts, foods, and local and international specialty products, it's easy to spend entire days just wandering through the brightly lit streets and talking to the friendly vendors, most of whom are the owners of century-old family businesses.
The Dortmund Christmas market is the perfect place to try some traditional Westphalian specialties like smoked ham, sausages, and bread. It's also an excellent spot to shop for cute handcrafted gifts, from lamps and Christmas decorations to high-quality stuffed animals and children's toys.
And if you happen to get a bit too cold, I strongly recommend swapping the classic Glühwein with delicious hot honey milk to warm yourself up.
However, what the Dortmund Christmas Market is most famous for out of all things is its giant Christmas tree. Consisting of over 1,700 pine trees, the giant Christmas tree in the large market square is officially the biggest Christmas tree in the world!
To admire the tree in its full beauty, check out the glass bridge that connects the Karstadt department store building with the Karstadt Sports building.
Another major attraction that Dortmund's Christmas market has to offer is the fairytale village next to the Reinoldi Church. The adorable constellation represents scenes from the most famous German fairytales and recounts the stories for children in order to stay in touch with one of Germany's most valuable cultural heritages.
19. Montreux, Switzerland
Recommended by Sharon from Baby Journey
The Montreux Christmas Market is one of the best Christmas markets in the world, in part because it isn't just a Christmas market.
Taking place annually on the shores of Lake Geneva in the lovely Swiss town of Montreux, this market seems to stretch on forever. There are many gift stalls as well as food and drink options with 172 chalet-style stalls in total.
Carols play through speakers to add to the ambiance. Make sure to grab a mug of vin chaud (mulled wine) to keep warm while wandering around and leave some time to stop for some fondue.
Next to the market is the Elves' Square with activities, workshops, and entertainment for families with candle making, chocolate workshops, and more.
It's easy to reach this Christmas market thanks to being located in central Montreux near the train station. Just in case this isn't Christmassy enough, several times a night, look up as Santa flies over Lake Geneva on his sleigh! It can sound tacky, but it's well done.
This is all part of Montreux Noel, Montreux's Christmas festival. There are many Christmas-themed attractions to entertain when not at the market so ensure there is time to do some of these as well.
This includes visiting Santa's house at the top of Rochers-de-Naye mountain via cogwheel railway and experiencing a medieval Christmas at UNESCO listed Chillon Castle, which is one of the best medieval castles in Europe.
For anyone looking for some Christmas spirit and a real Christmas experience along with their market, Montreux can't be beaten. If you happen to go on a Switzerland road trip around the holidays, definitely plan to stop by here!
20. Haarlem, Netherlands
Recommended by Hannah from SolarPoweredBlonde
Haarlem in the Netherlands is the perfect Christmas market location. Away from the hustle and bustle of Amsterdam, this quaint town is a great location for a Christmas market.
Haarlem is less than a 20-minute drive away from Amsterdam and easy to get to by train. It is also a great alternative town to stay in during your Netherlands trip! Bring layers and some warm shoes and get ready for some Christmas spirit!
The Netherlands is a great choice in general for Christmas markets because of all the delicious food and mulled wine! You have to try small Dutch pancakes called 'poffertjes', apple desserts (like an apple turnover) called 'apple beignets', and deep-fried dough balls covered in icing sugar 'oliebollen'.
You will be covered in icing sugar trying to eat them but it will be well worth it! They sell them all over the place so you can't miss them. Just as you come out of Haarlem station there is always a stand right away so make sure you stop for a sweet snack.
Haarlem also has unique Dutch architecture but without the mass tourists of Amsterdam. Tall buildings and beautiful canals will get you with your camera at the ready. These are just stunning especially in winter, and if it snows!
Haarlem also has a huge windmill, which after visiting the Christmas market you can head into to keep warm and for a guided tour.
The streets will be taken over with incredible stalls with gifts, food, don't forget to buy some Dutch cheese to take home! The Dutch love their food, live music, and the atmosphere is just great!
21. Lubeck, Germany
Recommended by Mal from Raw Mal Roams
If you're looking for a unique Christmas market away from the hectic crowds of a big city, then head to Lubeck. Lubeck is situated in northern Germany, an hour's drive from Hamburg.
Explore its historic old town with exquisite gothic architecture and grand churches built in medieval times and proclaimed a UNESCO World Heritage Site. Make sure you go through Lubeck's red-brick city gate – called Holstentor that is the city's most prominent landmark.
And there is no better time to visit Lubeck than around the end of November and December when the entire city turns into a winter wonderland with multiple traditional Christmas markets scattered around the city.
The main Christmas Market is located in front of St Mary's Church. Sample some German festive delicacies including German sausage, different types of doughnuts, and fried potato cakes.
If you're a fan of mulled wine, you won't be disappointed here! You can taste some of the best ones in Lubeck served in a cute cup that can be purchased as a souvenir. Last but most definitely not least, buy some Lubeck's marzipan, which is the city's most proud produce and it's so delicious!
Other Christmas markets include a family market on the shore of the river and a crafts market by St. Peter's Church.
22. Manchester, United Kingdom
Recommended by Jenni from Cruise Mummy
The largest Christmas market in the UK can be found in the northern city of Manchester. More than just a Christmas market, Manchester's 300+ Christmas stalls are spread over ten locations across the city.
It's a good idea to get hold of a map on your phone before you arrive so that you can easily find your way between the markets, which are all within easy walking distance of each other.
The biggest collection of Christmas market stalls in Manchester is located in Albert Square. Some of them even have upstairs sections so that you can look over all the twinking stalls whilst enjoying a cup of mulled wine or hot chocolate. There's also a giant illuminated Santa.
Whilst the markets are open all day, they look especially pretty after dark. Just be sure to wrap up warm!
To reduce waste, each of the bars at the markets uses the same reusable mugs. You'll pay a 3 GPB (€3.4) deposit with your first drink, which you'll receive back when you hand back your mug into any bar at the end of your visit. Or, you could choose to keep it as a souvenir.
As well as finding plenty of unique and interesting handmade gifts, many people visit Manchester Christmas markets just to enjoy the food. You'll find food from across Europe here, including Spanish paella, German bratwurst, and French crepes.
Vegans, vegetarians, and those with gluten-free diets will find lots of options too – there really is something for everyone to enjoy.
23. Belfast, Northern Ireland
Recommended by Allan from It's Sometimes Sunny in Bangore
Belfast Christmas Market when setting side-by-side with the famed continental markets of Europe, does not really compare when it comes to size or even authenticity.
But Northern Ireland's most famous festive destination definitely holds its own with its rather fantastic setting between the monuments and prestige of Belfast's most central location at Belfast City Hall.
A compact and almost perfect location with all the festive stalls and chalets on show. It is also easy to find by just a short 5-minute walk from the 2 main central train stations.
Some of the more famous foods include the meats of the world stall selling unlikely burgers including boar, ostrich, and kangaroo meat, the jolly hog roast, and marshmallow. The central beer tents serve out steins of Christmas Beers, then there are the spiced wine stalls and everything you can expect from a traditional continental market.
Santa's always in his grotto as well for the kids and there are traditional rides and stalls for them on the east side. An insider tip would definitely be a tour of the central Belfast City Hall buildings, often overlooked, but it is also no doubt a draw in itself with its extravagant foyer and museums inside.
24. Nuremberg, Germany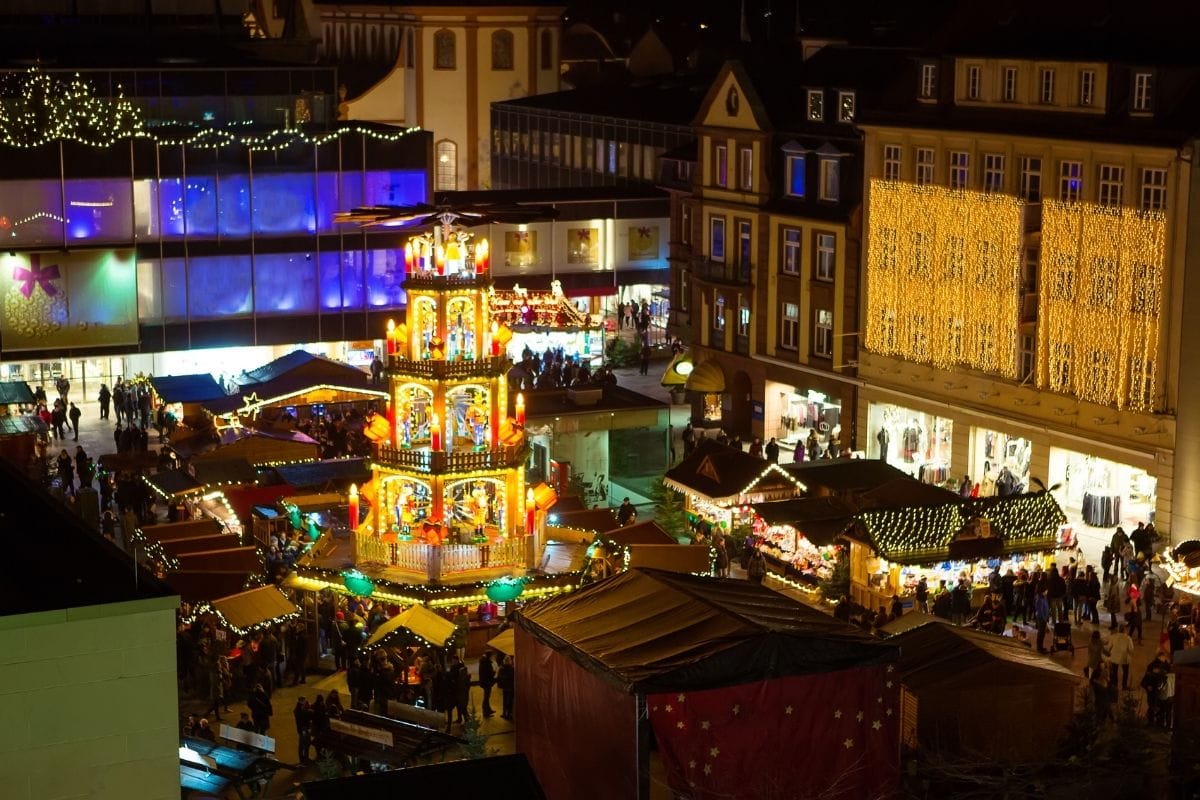 Recommended by Christina from Travel2Next
Nuremberg's Christkindlesmarkt is a historic market in Germany and one of the oldest Christmas markets in the country. It has been operating since 1628 and the set up in the main market square.
From late November, the pre-Christmas market fills Nuremberg's main market square with stalls and sells a variety of Christmassy things such as traditional, handmade Christmas decorations, gingerbread, and Spekulatius (almond) cookies.
The atmosphere in the main square is vibrant and full of good cheer. Wandering around from stall to stall sipping mulled wine and nibbling on gingerbread is an experience to put on your European Christmas bucket list.
Listen to the carolers singing in front of the Gothic Frauenkirche church, which is a famous German landmark in the square.
One of the reasons to visit the Nuremberg Market is there are lots to see. Connected to the central market, spread across several locations, are other themed markets.
There's a Children's Christmas Market on Hans-Sachs-Platz, where the kids can participate in fun activities like baking cookies, glass painting, and writing a Christmas wish list, go on carousel rides or watch a show at the Sternenhaus children's theatre.
North of Nuremberg's main square on Rathausplatz is the Sister Cities' Market, which is centered around the city's connection with 13 other cities. This brings an international flavor to the Nuremberg Christkindlesmarkt for a good cause too as the proceeds of the Christmas decorations sold are donated to charitable organizations in those sister cities.
Nuremberg Christkindlesmarkt opens each year on the Friday before the first Advent.
25. Barcelona, Spain
Recommended by Vicki from Vickiviaja
Even though it might not be typical to visit Barcelona in winter, the Catalan capital is absolutely worth a visit during Christmas time. In addition to the city's classic sights which definitely make Barcelona one of the most beautiful cities in Europe, the Christmas markets are a wonderful place to visit during the Christmas season.
On top of that, Barcelona has very mild weather during wintertime so if you're looking for the best winter sun holiday destinations in Europe, you need to put Barcelona on your winter travel bucket list!
The largest Christmas market in Barcelona is the Fira de Santa Lucía. Located right in the city center in Cathedral Square, it is hardly surprising that this is the most popular Christmas market. There are plenty of typical Catalan Christmas decorations and handicrafts to see here.
When visiting this market, make sure to try some traditional Spanish Christmas candies. You also have the option to purchase some souvenirs for your loved ones back home.
One of the famous delicacies that can be bought here during the Christmas season is Turrón, a kind of candy bar in various varieties and flavors. Hot chestnuts, which have a long tradition in Spain during the cold season, are also a great snack.
Another scenic Christmas market in town, the Fira de Nadal Christmas Market, is located in the park next to the Sagrada Família. This Christmas market is particularly popular with locals because you can buy Christmas trees in various sizes there.
There are also handicrafts and delicious snacks offered and in addition to that, you have a great view of the Sagrada Família. Especially at night, when both, the Christmas market and the Sagrada Família are illuminated, there is a festive backdrop.
Final Thoughts
Christmas markets are definitely one of the most beloved traditions when it comes to spending Christmas in Europe.
Even if you don't like traveling in winter (trust me, I hear you!), it's still worth planning a trip to Europe during the holidays to be able to experience these magical Christmas markets in person. They will definitely get you into the holiday spirit in no time!
If you have any questions feel free to leave a comment below or send me an email, I always love helping you out! Do you know some other great locations that should be on the list of the best Christmas markets in Europe? Let me know in the comments!
xoxo, Kriszti
---
Related Posts
---
Pin It for Later!