With its iconic mountains, alpine lakes, fairytale castles, and some of the most delectable chocolate on the planet, Switzerland is one of the best places in Europe to take a road trip. This spectacle of nature, history, and food are best experienced as part of a Switzerland road trip.
As there are so many regions and towns to explore in this small country, knowing where to start planning your route might feel overwhelming. Believe me, I know how you feel! I knew almost nothing about the country before we visited and it took me days (if not weeks) to put together the perfect Switzerland road trip itinerary.
We followed this same itinerary and it was absolutely perfect! This guide contains all you need to know to plan an epic 2 week Switzerland road trip and my itinerary also covers when to visit and all the most beautiful and fascinating places of interest in the country. Let's get into it!
*Disclosure: This post contains a few affiliate links, which means I may receive a small commission, at no cost to you, if you make a purchase through my link.*
No time to read now? Pin it for later!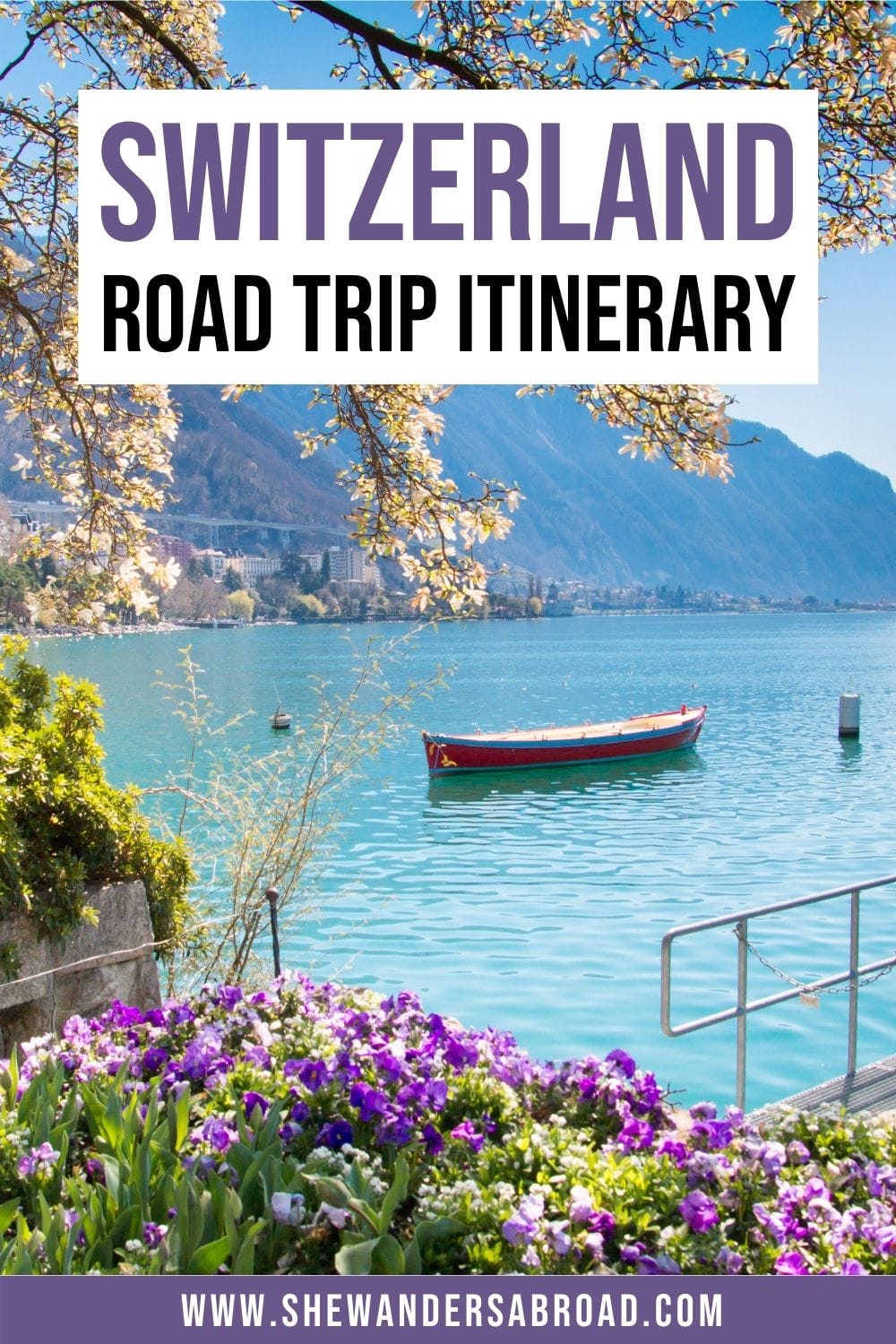 Useful Info for Your Switzerland Road Trip
How to get to Zurich
This road trip starts and concludes in Zurich. The international airport, Flughafen Zürich (ZRH), is located 10 km (6.2 miles) north of the city center. You can fly direct to Zurich Airport from the vast majority of European and North American destinations.
Once at the airport, you can head into the city center by public transport as you will not need to collect your rental until the second day of your Switzerland road trip. Either hop on the S-Bahn train or take the tram (line 10) into the city.
Expect to pay 6.80 CHF (€7) or travel for free if you pick up a Zürich Card. This costs 27 CHF (€28) for a 24-hour pass which is sufficient for your one full day in Zurich.
This card covers your public transport via tram, bus, train, boat, and cableway in central Zurich and the surrounding area. It also grants free or reduced admission to a number of museums so if you're planning to visit many museums, it's handy to have!
If you are connecting to Zurich by train, then Zurich Main Station is located right in the heart of District 1 near the Old Town.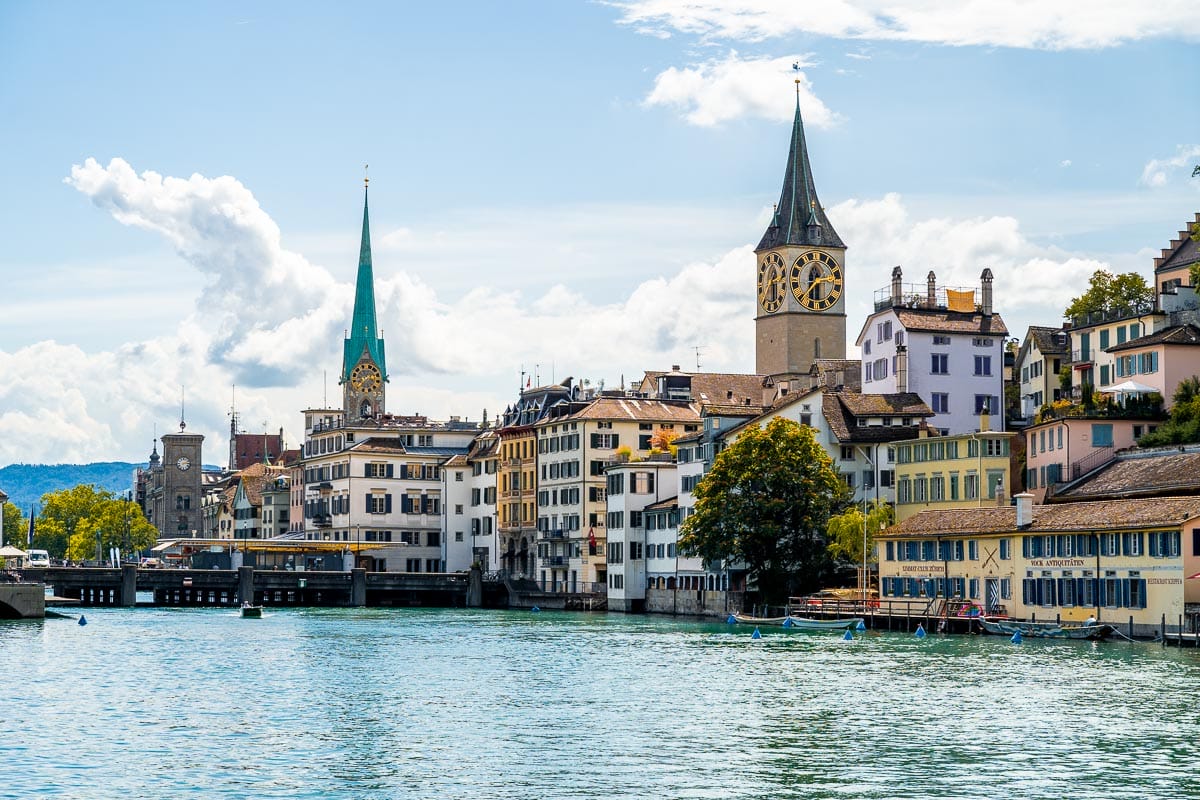 Best time to visit Switzerland
Switzerland is one of those places that you can visit at any time of year. However, for the purpose of this 2 week Switzerland road trip itinerary I recommend that you avoid the middle of winter and the peak of summer.
These are the busiest times as you will compete with summer tourists and the ski season, which means higher costs for accommodation and more crowds. It also means more challenging driving conditions and some road closures due to snowfall.
Spring, early summer, and autumn are the best time to arrange your road trip to Switzerland. During these seasons, the elevated mountain roads are open and the hikes that I've included in my itinerary are all readily accessible. The weather conditions are also comfortable with warm days and cooler evenings.
Tips for driving in Switzerland
Swiss roads are well maintained and are a joy to drive but you will need to be a confident driver to handle the narrow, twisty mountain roads.
As with all European countries, you must drive on the right and follow the general road rules and regulations. Wearing a seatbelt at all times is a given and you must never drink before getting behind the wheel.
Let me share some specific driving tips for your road trip to Switzerland:
Before you drive or rent a car in Switzerland, you must possess a full driving license from your home country and an International Driver's Permit (IDP). If your driving license was issued by one of the member states of the European Economic Area, you will not need the IDP as your license is valid in Switzerland.
In general, the speed limits in Switzerland are 120 km/h (75 mph) on motorways, 100 km/h (62 mph) on highways, 80 km/h (50 mph) on other roads outside built-up areas, and 50 km/h (30 mph) in towns. Cars with a trailer may not exceed 100 km/h (62 mph) on any road. Traffic fines are really heavy in Switzerland and roads are policed so keep an eye on your speed at all times!
You must display a motorway vignette on your vehicle. Discuss whether your car rental agency provides this automatically but if you have to buy it yourself, it will cost you 40 CHF (€42.30). The vignette will be valid for one whole calendar year – unfortunately you don't have the option to buy a vignette for a shorter amount of time.
Some of the Swiss mountain passes are subject to closure during winter due to snowfall, I have indicated these in the itinerary. If you do plan this road trip during winter you will need to travel with winter tires and snow chains.
Driving with your headlights on is mandatory during daylight hours as well as when driving at night in Switzerland.
Always stop for pedestrians at zebra crossings. Even if they are only approaching, it is etiquette in Switzerland to stop and let them pass.
In case you lose phone reception, you can download offline maps on Google Maps or use the app Maps.me to ensure you don't get lost.
This 2 week Switzerland road trip itinerary features a lot of hiking and you will be driving at high altitudes in mountain passes. It's really important to bring layers, waterproofs, hiking boots, and sufficient water and snacks. You'll want a great playlist too!
Overview of Your Switzerland Road Trip Itinerary
This road trip to Switzerland starts and ends in Zurich and includes a couple of days in neighboring Liechtenstein. The itinerary is split between visiting the most interesting Swiss cities and towns and some of the most impressive scenery in the country.
Below is a breakdown of where you will spend your days and nights.
Breakdown of your 2 weeks in Switzerland
Day 1: Full day in Zurich (overnight in Zurich)
Day 2: Lucerne, Lake Brienz, arriving in Interlaken (overnight in Interlaken)
Day 3: Lauterbrunnen, Trümmelbachfälle, Harder Kulm (overnight in Interlaken)
Day 4: Grindelwald, Blausee, Spiez Castle (overnight in Interlaken)
Day 5: Giant Swing in Adelboden-Tschentenalp, Engstligen Falls, Thun Castle, arriving in Bern (overnight in Bern)
Day 6: Full day in Bern (overnight in Bern)
Day 7: Full day in Geneva (overnight in Geneva)
Day 8: Lausanne, Chillon Castle, arriving in Zermatt (overnight in Zermatt)
Day 9: Zermatt Five Lakes Hike, afternoon in Zermatt (overnight in Zermatt)
Day 10: Grimselpass, Furkapass & Hotel Belvedere, Swing the World Nara, arriving in Lugano (overnight in Lugano)
Day 11: Valle Verzasca, Foroglio (Waterfall, Swing the World), afternoon in Lugano (overnight in Lugano)
Day 12: Liechtenstein (overnight in Liechtenstein or Appenzell District, Switzerland)
Day 13: Ebenalp (overnight in Liechtenstein or Appenzell District, Switzerland)
Day 14: Saxer Lücke hike, Stadtbibliothek St. Gallen, arriving in Zurich (overnight in Zurich)
Map for your Switzerland road trip
Below you can find a customized map that includes all the locations you're going to visit on this Switzerland road trip itinerary. I marked the different parts of the road trip with different colors so you can easily see which places you're going to visit each day.
If you open up this post on your phone and you click on the bracket in the upper right corner of the map, it will automatically save this map to your Google Maps app so you can always have it with you. Super convenient, right?
The Ultimate Switzerland Road Trip Itinerary for 2 Weeks
Day 1: Zurich
You will start your road trip in Switzerland in the largest city, Zurich. You will not need a car today so you can make arrangements to collect it on the second day of your vacation.
Cradled by the Swiss Alps and resting on the shores of Lake Zurich, the city is made all the more scenic by the River Limmat which flows right through the Aldstadt (Old Town). The Aldstadt is brimming with museums and historic buildings while the city also boasts a number of scenic vantage points and gorgeous gardens.
One day is the perfect amount of time to explore Zurich however you could always extend your 2 weeks in Switzerland with a few extra nights tapped onto the start or end of the road trip.
Where to stay in Zurich
As you are only spending 24 hours in Zurich, I recommend that you stay centrally in District 1. However, if you are traveling on a budget, then Districts 4 and 8 are within easy access of the center and have some more affordable options. The great news is that you will not need to worry about parking!
Below you can find my picks for where to stay in Zurich for one night.
Best things to do in Zurich
Zurich Aldstadt
Zurich's Old Town straddles both sides of the River Limmat and it's a joy to roam these historic streets. Take a few hours to stroll along Limmatquai, admire the numerous churches, and dip into an institution such as the Swiss National Museum.
My one day in Zurich itinerary will help you navigate the best things to do in Zurich Altstadt.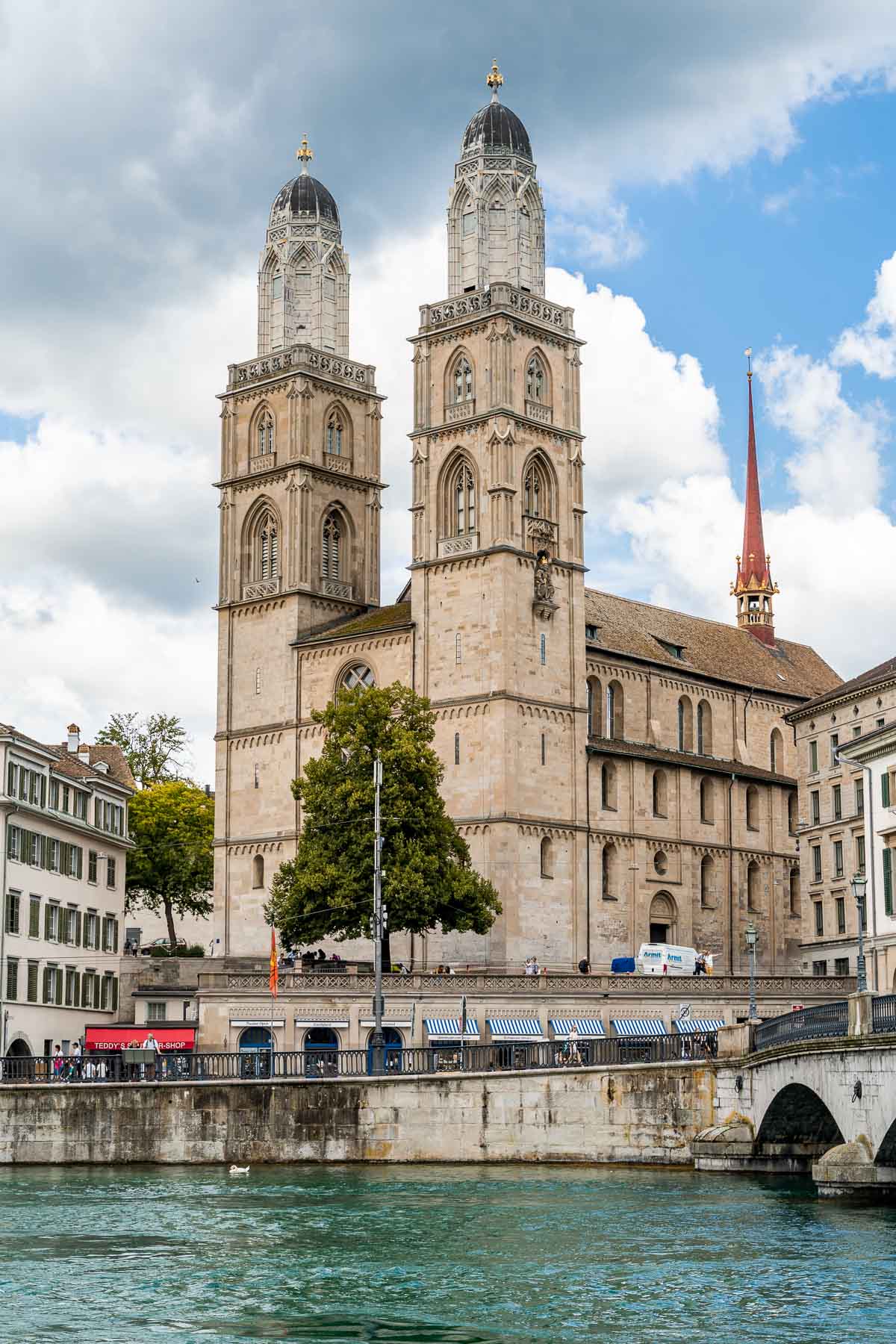 Polyterrasse
Swipe your Zürich Card and board the Polybahn, a little red funicular railway that ascends to a fabulous viewpoint at the Polyterrasse. Situated on a level with the ETH Zürich University, this is a laid-back spot to soak up city views with a great atmosphere.
Lake Zurich or River Limmat Cruise
Hop aboard a boat at Zürich Bürkliplatz and enjoy a 1.5-2 hour scenic cruise across Lake Zurich. Alternatively, you can choose a tour of the River Limmat which starts from Zürich Landesmuseum.
Note that these activities are only available during the summer season, from April until late October.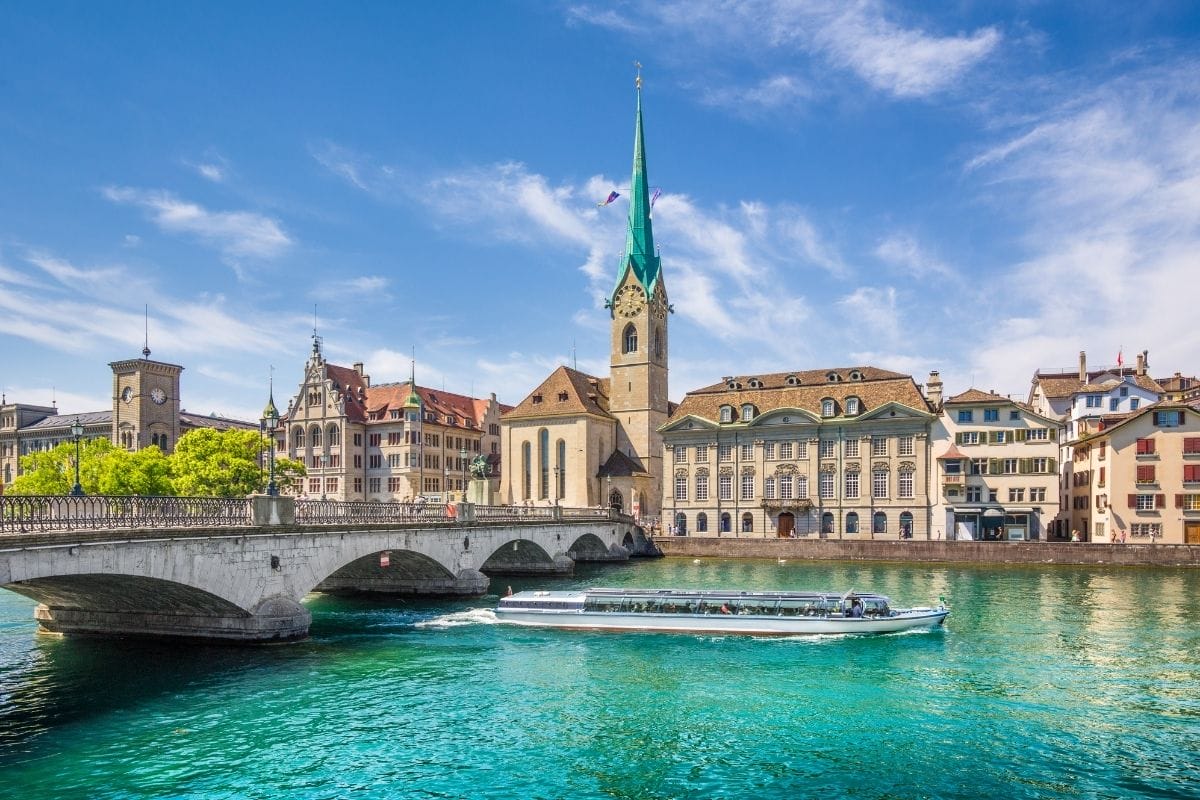 Uetliberg
Get a taste of what's to come later in your 2 week Switzerland road trip at this mountainous viewpoint high above Zurich. The S 10 train connects Zurich Main Station and Uetliberg in 25 minutes and this is the perfect spot for early morning or sunset.
If you are spending longer in Zurich then you might want to check out the hiking trails up here.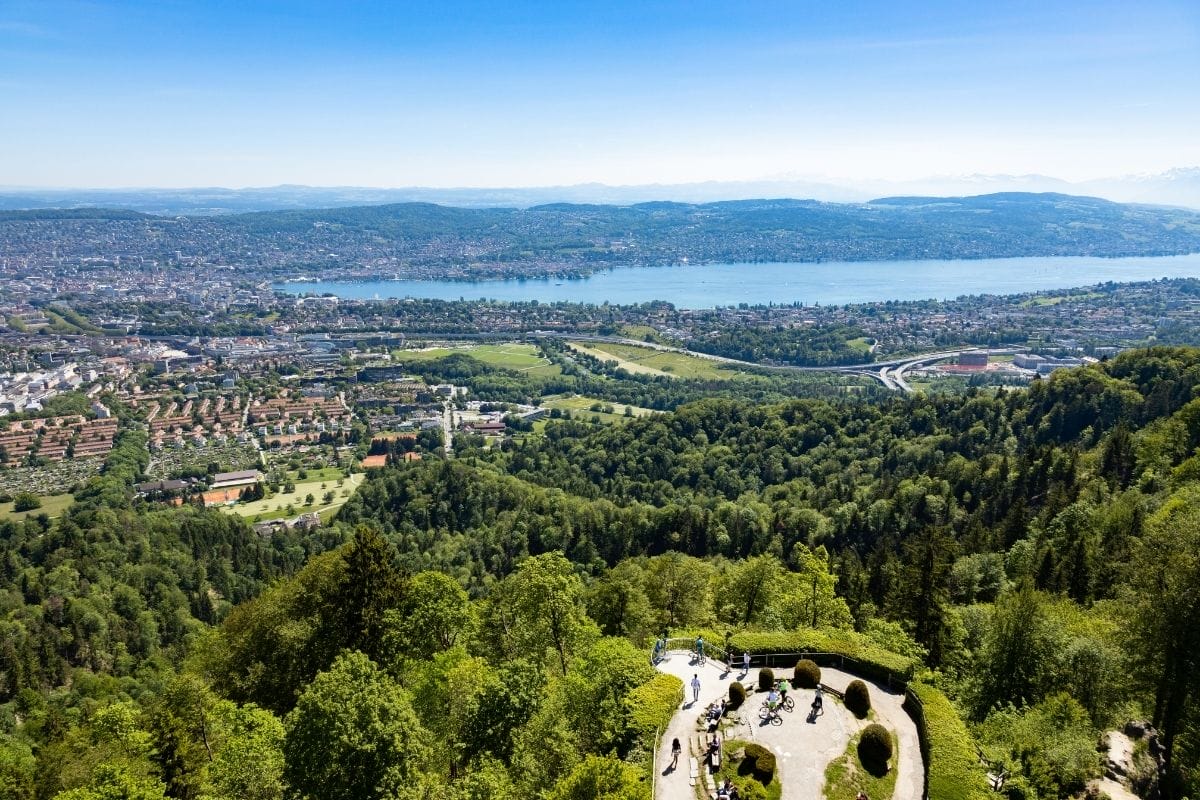 Museum Rietberg
This museum houses traditional and contemporary pieces of art and archaeological finds from Asia, Africa, Oceania, and the Americas. There are a number of galleries in Zurich but this one is particularly unusual and is located in a fantastic setting.
Visit a park
Zurich is abundant in parks and green open spaces. Take a wander around Rieterpark, which is the setting for Museum Rietberg, or explore the neighboring Belvoir Park for lake views. Other options include the lakeside Arboretum Zurich and the Old Botanic Garden in Aldstadt.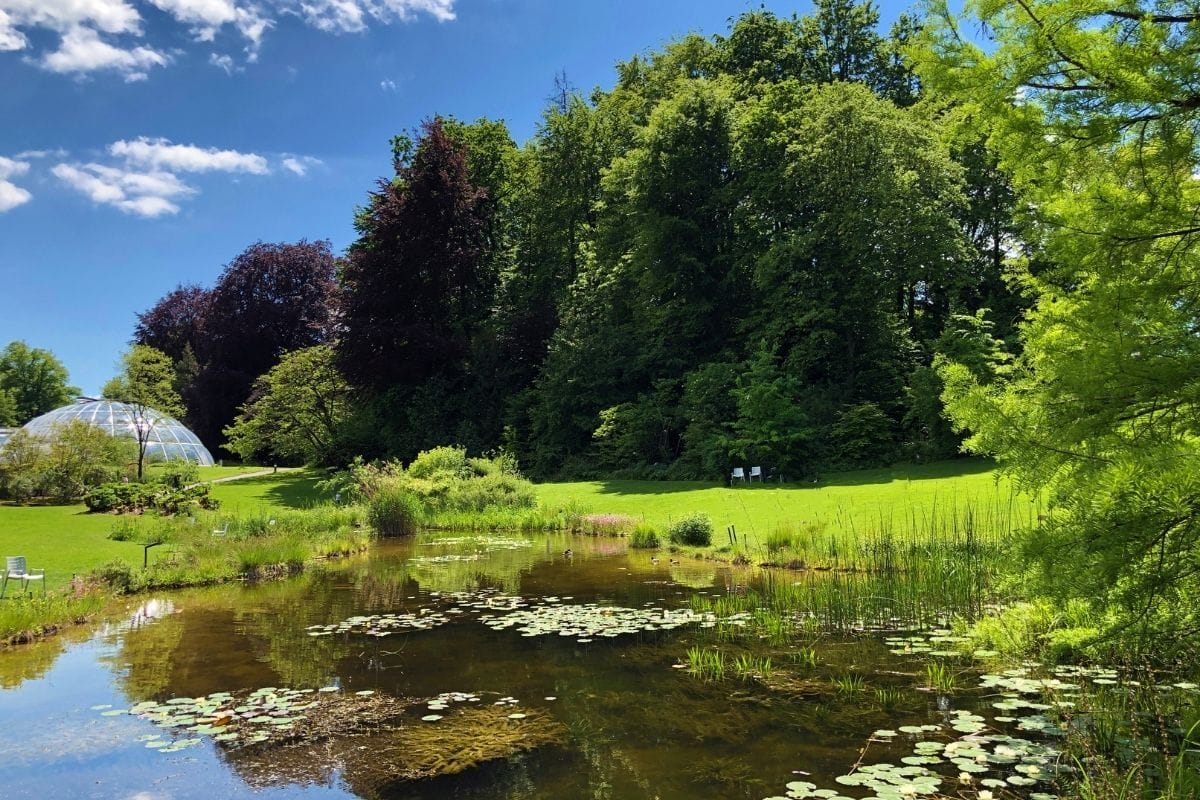 Thermalbad & Spa Zürich
Dive into these sulphuric waters at this thermal spa located in a former brewery. The view from the rooftop pool is spectacular and you can also splash out on a massage if you wish. As this Switzerland road trip concludes in Zurich, you could save this activity for the end of your adventure as well.
Where to eat in Zürich
Day 2: Zurich to Interlaken via Lake Brienz
Today you will pick up your rental and officially press go on your 2 week Switzerland road trip itinerary. As you drive from Zurich to Interlaken, you will cover a distance of 123 km (76.5 miles).
This accounts for around 2 hours of driving time, factoring in the following scenic stops but excluding time spent viewing the attractions.
Lucerne
Driving time: 40 minutes (53 km/33 miles) from Zurich to Lucerne
Around one hour south of Zurich, Lucerne is a small city that sits on the shore of Lake Lucerne. Noted for its medieval architecture, it's worth parking up in town and exploring the Aldstadt on foot.
Walking across the Chapel Bridge (Kapellbrücke) is undoubtedly one of the best things to do in Lucerne. Built in the 14th century, the bridge offers scenic views over the River Reuss and Lake Lucerne, and you can also admire the interior artwork on the roof.
The Sammlung Rosengart contains a selection of artworks by Picasso while the Zytturm is an antique clocktower set among the old city wall where you can stretch your legs.
If you're feeling hungry, you could grab a bite to eat at the plant-based cafe PURA or savor the views from the waterfront Café Bar Volière.
Lake Brienz
Driving time: 1 hour (60 km/38 miles) from Lucerne to Iseltwald
After taking in the views in Lucerne, get back in your car for another hour of driving down to the surrounds of Lake Brienz. Find a parking spot in the village of Iseltwald where you can get an eyeful of turquoise water.
Follow the path along the water's edge and you will reach the dreamy Schloss Seeburg, a fairytale castle that gazes out across the lake. It is no longer possible to enter the castle but you can still take photos from outside.
My tip for lunch today is the Hotel Chalet du Lac. This chalet-style property affords a magical view across the lake towards the town, castle, and surrounding mountains. The menu is rich with fish dishes, Swiss fare, and European plates.
Arriving in Interlaken
Driving time: 10 minutes (10 km/6 miles) from Iseltwald to Interlaken
Interlaken, the final destination of day two of your Switzerland road trip, is located a 10-minute drive from Iseltwald so you can head there whenever you like and check into your hotel. This lakeside resort town sits astride the River Aare in between Lake Brienz and Lake Thun.
Where to stay in Interlaken (3 nights)
Once in Interlaken, you will need to book accommodation in the town for three nights as this will be your base for the next couple of days. These are my recommendations for where to stay in Interlaken.
Day 3: Scenic Drive around Interlaken
Today you will visit some nearby towns and attractions before heading back to Interlaken for the night. You will drive a total of 30 km (18.5 miles), equal to around 40-45 minutes.
Lauterbrunnen
Driving time: 18 minutes (13 km/8 miles) from Interlaken to Lauterbrunnen
Lauterbrunnen is a village set among the eponymous municipality. It's mostly known for its scenic views and fairytale setting and let me tell you something in advance: no pictures do justice to how beautiful this place is in real life!
Most people just take a quick walk around the town but if you have more time, there is no shortage of things to do in the area. There is a huge parking lot (Parkhaus Lauterbrunnen) right next to the train station where you can leave your car while you explore the town.
To find the most famous viewpoint, head over to Chalet Pironnet where you'll be greeted with a breathtaking panoramic view of the town.
If you want to spend longer in the area, you can take advantage of the local cable cars and soar high into the Bernese Alps to savor the views from the peaks. Lauterbrunnen to Grütschalp is the most convenient as it's located right in the town.
Alternatively, you can drive the 50 minutes to Wengen which connects to Mannlichen by gondola. A number of short hikes start from Mannlichen, including the Panoramaweg walk to Kleine Scheidegg which is an easy 4.5 km (2.8 miles) hike each way.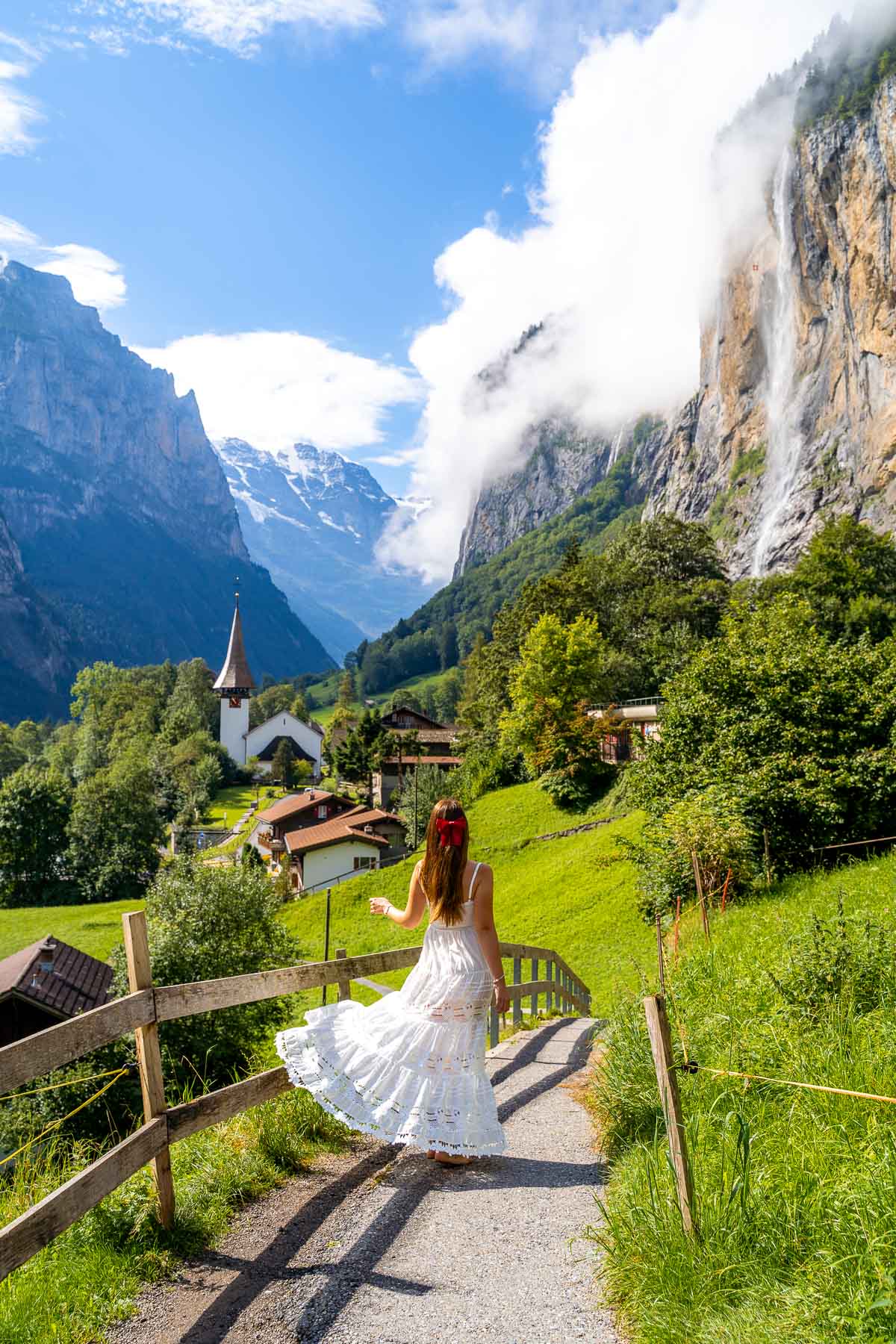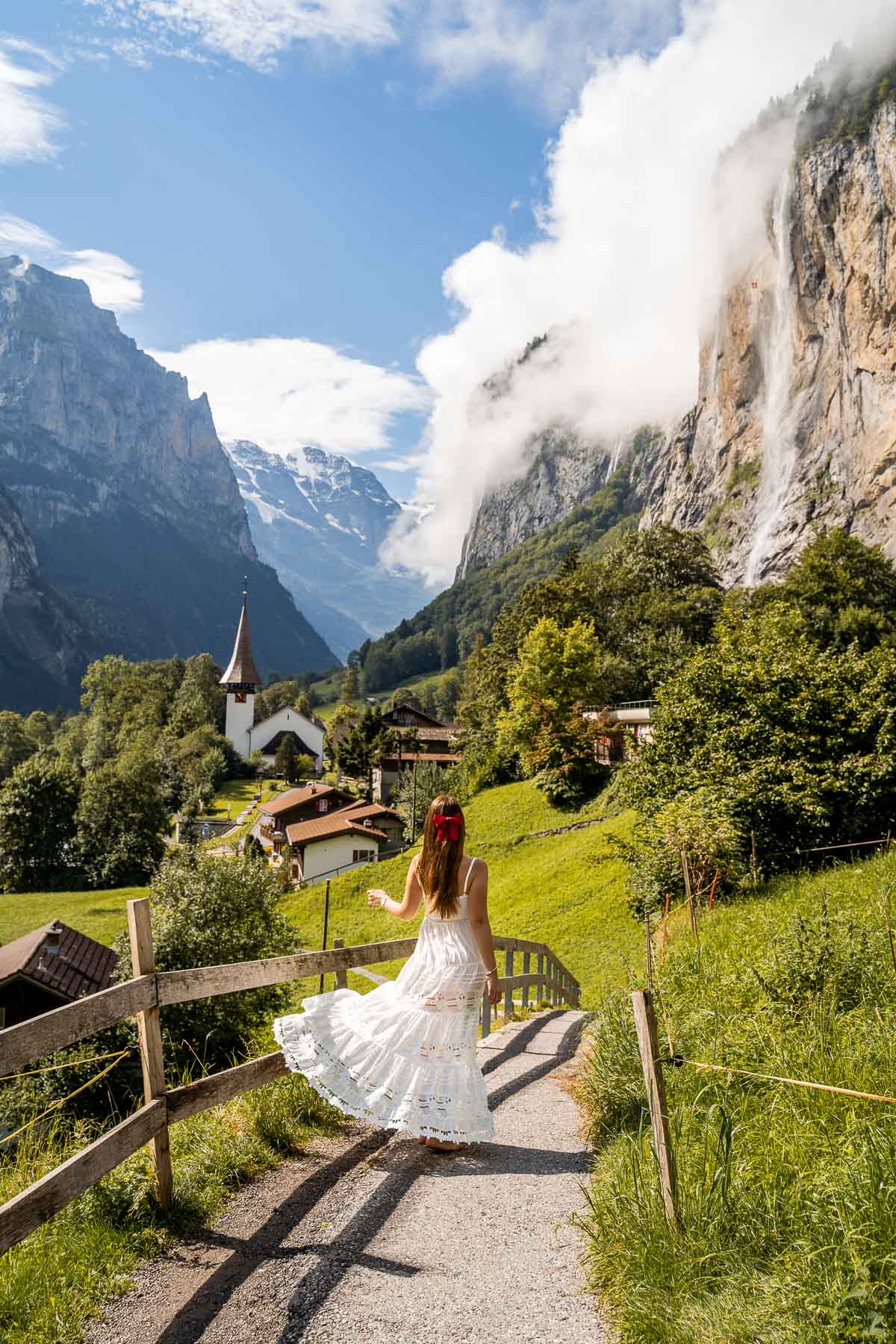 Trümmelbachfälle
Driving time: 6 minutes (4 km/2.5 miles) from Lauterbrunnen to Trümmelbachfälle
A short drive from Lauterbrunnen, Trümmelbachfälle (Trümmelbach Falls) is a stream of ten glacial waterfalls that gush down the ravine from the Eiger, Mönch, and Jungfrau peaks.
There is a parking lot right at the entrance where you can leave your car but if you're up for a walk, you can also walk to Trümmelbachfälle from Lauterbrunnen since the route is only 4 km (2.5 miles) in one way.
Entrance to Trümmelbachfälle costs 14 CHF (€14.40) per person. Right after the entrance, you can take a tunnel lift to the top of the waterfalls where you can access a series of walkways and tunnels that connect the falls. Basically, you can walk from the top to the bottom and explore the scenery during your descent.
The weather is quite cold inside the tunnels and the walkways get slippery due to the powerful waterfalls so make sure to wear proper shoes and have a warm jacket with you.
Access is possible from early April until November each year but it's best to check the Trümmelbachfälle website beforehand to ensure that they are open.
Harder Kulm
Driving time: 20 minutes (15 km/9 miles) from Trümmelbachfälle back to Interlaken
Once back in Interlaken, you can drop your car back at your hotel and ride the Harderbahn funicular up to the Harder Kulm viewpoint for staggering views across the surroundings.
The journey takes around 10 minutes and it costs 20 CHF (€20.60) in one way. It's important to note that the funicular only operates between April and November and it can be closed due to bad weather.
From the top, there are a number of short hiking trails that range from 20 minutes to 1.5 hours so you might want to squeeze one into the end of the second day of your Switzerland road trip.
Day 4: Grindelwald and Blausee
The fourth day of your Switzerland road trip will also be a day trip from Interlaken so there's no need to check out of your hotel yet. Driving time today will be a total of 120 km (75 miles), equal to around 2 hours behind the wheel depending on traffic.
Grindelwald
Driving time: 25 minutes (20 km/12.5 miles) from Interlaken to Grindelwald
First Cliff Walk by Tissot
The first stop of the day is the village of Grindelwald, the gateway for the Jungfrau Region. Once there, you can park in town and then ride the gondola up to Grindelwald-First.
A return ticket costs 68 CHF per person (€70) from Grindelwald but if you don't want to drive today, you can also take a cable car directly from Interlaken (it costs around 90 CHF/€92.70).
The gondola takes 25 minutes to reach your destination, First station, calling at Bort and Schreckfeld along the way. Right after you depart, you'll find yourself at the start of the First Cliff Walk by Tissot.
It's an elevated walkway that winds its way around the cliff and juts out 2,168 meters (7,112 feet) above the landscape to afford a heart-stopping view across the mountains and forestry. The path reaches out 45 meters (148 feet) into the void so you will need a head for heights!
The terrace itself isn't that large so you need only plan to spend 20-30 minutes exploring and taking photos. Although you'll need to pay for the gondola, the walkway itself is free to visit.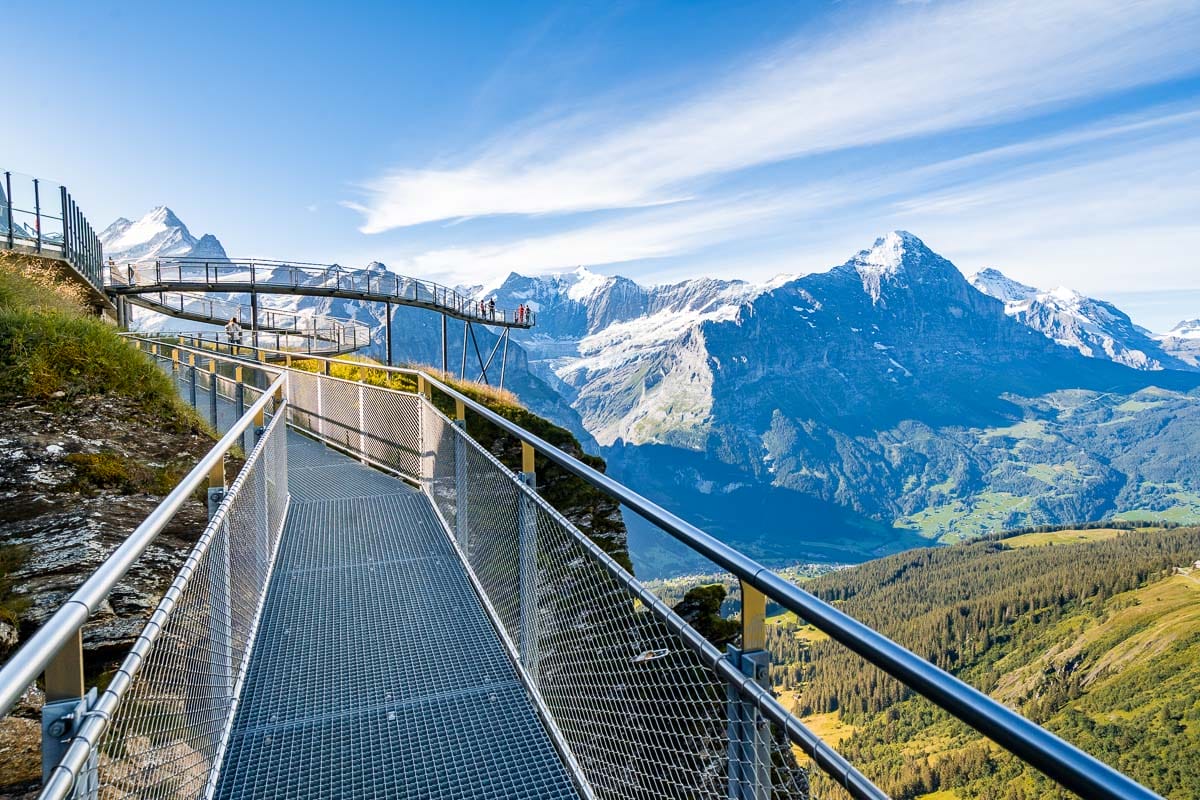 Hike to Bachalpsee
The next on the agenda for today is the hike to Lake Bachalpsee which conveniently starts at First. This alpine lake is nestled among the mountains at 2,265 meters (7,431 feet) above sea level.
Surrounded by snow-capped mountains, swathes of greenery, and blooming wildflowers during summer, it's a sight that will linger with you for days.
The hike is 3 km (1.9 miles) each way and a round trip there and back to First will take around two hours. The track is clearly marked and in excellent condition, so you will need decent footwear and layers but nothing too intense. Although on a slight incline, the hike isn't challenging at all.
If you want to continue walking, you can hike from Lake Bachalpsee up to Faulhorn, which stands at 2,681 meters (8,796 feet) above sea level. This takes about 1.5 hours each way and is far steeper so I recommend this to intrepid hikers.
Alternatively, you can head straight back to First and either catch the gondola back down to Grindelwald or follow the trail back down to town on foot.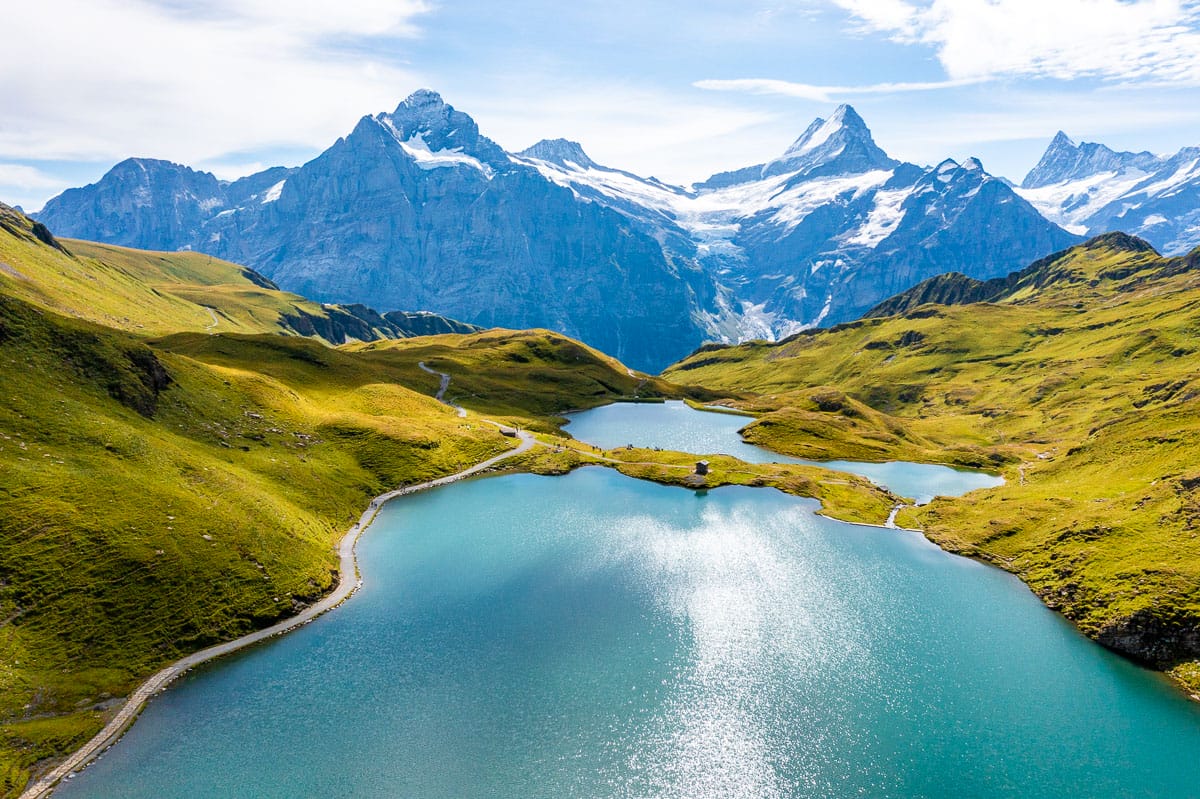 Blausee
Driving time: 1 hour (56 km/35 miles) from Grindelwald to Blausee or 35 minutes (38 km/24 miles) from Interlaken to Blausee
If you start your Grindelwald adventure early enough (the first cable car starts at 8.30 am) and you don't want to hike up to Faulhorn, you'll still be able to visit Blausee on the afternoon of Day 4. Since you'll have to drive back to Interlaken from Grindelwald first and then to Blausee, you can also move this stop to the morning of your next day if you're feeling tired.
Blausee is the tiniest lake you will see during your Switzerland road trip but it's absolutely worth the stop! It's roughly a 35-minute drive from Interlaken and the entrance costs 11 CHF (€11.30) per person.
Fringed by woodland, you can walk around the lake in less than 15 minutes. Look out for the submerged statue on your wander!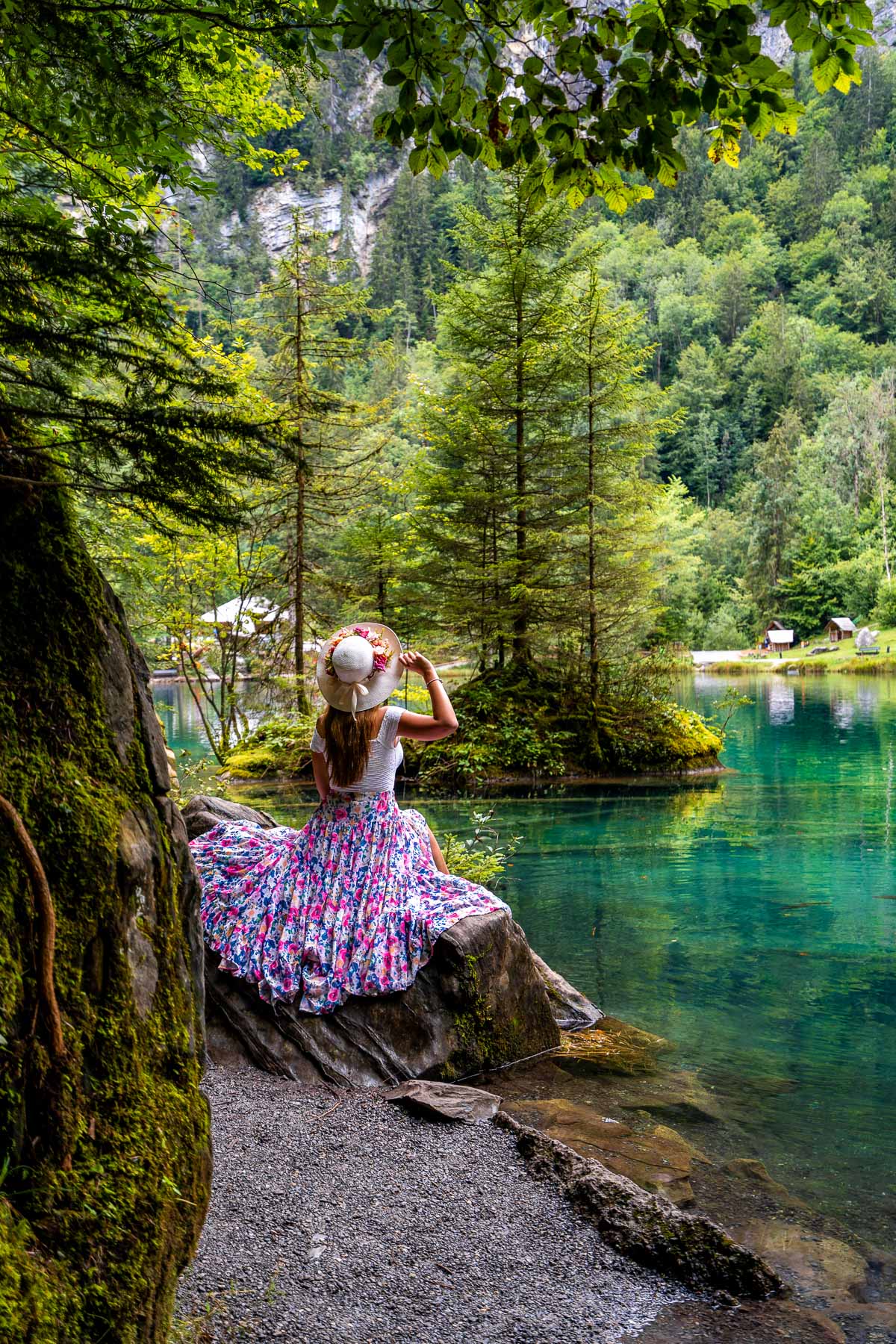 Spiez Castle
Driving time: 25 minutes (20 km/12.5 miles) from Blausee to Spiez Castle or 20 minutes (20 km/12.5 miles) from Interlaken to Spiez Castle
If you decide to visit Blausee after Grindelwald, you can make a quick stop at Spiez Castle on the way back to Interlaken. Of course, if you want to spend longer in Grindelwald, you can move Spiez Castle to the next day as well, such as you can do it with Blausee. Whatever feels best for you!
Surrounded by beautiful vineyards, Spiez Castle is definitely one of the most beautiful castles in Switzerland as it grants a breathtaking view over Lake Thun and the peaks of the Bernese Oberland.
If you love history, you'll also appreciate the museum inside the castle that tells you more about the history of the castle and its previous owners. The castle is typically open from May to mid-October, a ticket costs 10 CHF (€10.30) per person.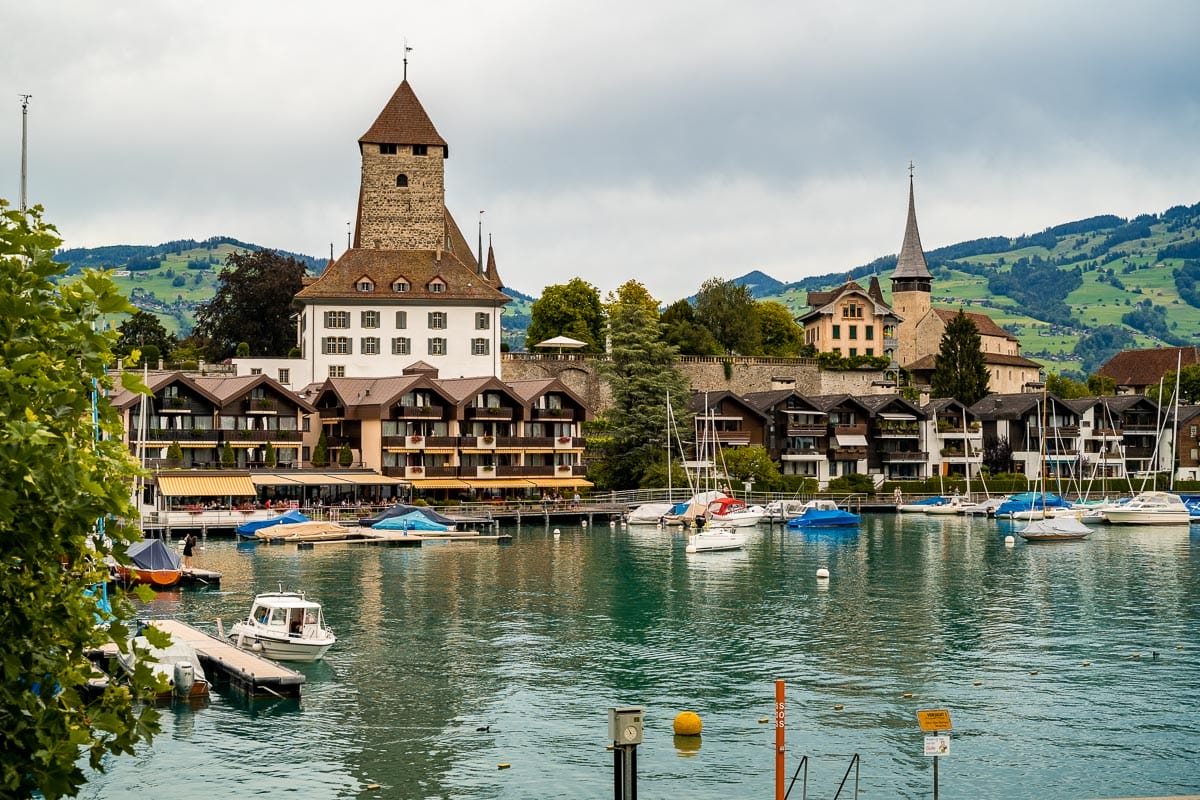 Day 5: Interlaken to Bern
The fifth day of your Switzerland road trip covers 130 km (80 miles) worth of lush Swiss scenery as you drive to Bern and equates to around 2.5-3 hours of driving time.
Giant Swing in Adelboden-Tschentenalp
Driving time: 50 minutes (48 km/30 miles) from Interlaken to Adelboden
For the start of the fifth day of your Switzerland itinerary, head up high to the Tschentenalp mountains where you can find a super cool swing not far from the cable car station.
To access the swing, you will need to park in Adelboden and then ride the gondola from Tschentenbahn Station (Dorf) up to Tschentenalp, north of the town. An adult ticket costs 32 CHF (€33.20) for a return trip while a one-way ticket costs 22 CHF (€22.80).
It's free to ride the swing which gives you the chance to fly high above the alpine pastures and take in an exciting view of the scenery from the air, which is incredible whatever season your trip falls in.
However, if your road trip to Switzerland falls during the peak summer season then brace yourself for a line to ride the swing.
Unfortunately, we were not able to visit this cool swing during our Switzerland road trip but if you have the chance, don't miss it! Check out their website to see some pictures of the swing and the surrounding area.
Engstligen Falls
Driving time: 9 minutes (5 km/3.1 miles) from Adelboden to Unter dem Birg
After enjoying the giant swing, your next stop is visiting the two waterfalls south of Adelboden that form Engstligen Falls.
Simply known as Engstligen 1 and Engstligen 2, this twin falls tumble from a height of 97 meters (318 feet) and 165 meters (541 feet) respectively. You can get up really close and feel the spray from these powerful falls.
To access the waterfalls viewing area you can ride the gondola up to the Engstlingen cable car station from Bergbahnen (Unter dem Birg) and then walk 20 minutes to view the landmark.
A return ticket for the cable car costs 35 CHF (€36.30) per person while the one-way option costs 25 CHF (€25.90). Alternatively, you can hike up from Adelboden, which takes around 90 minutes up and 1 hour back down.
Thun Castle
Driving time: 55 minutes (45 km/28 miles) from Unter dem Birg to Thun Castle
Your last sight of the day before you reach Bern is this 12th-century castle which sits on a hill overlooking the town of Thun. With its turrets, medieval interiors, and 360° views of the surrounding alps, this castle is a mesmerizing place to wrap up your day.
You can purchase a ticket that permits entry to the Castle Museum or one that includes access to any special exhibitions taking place as well. It's open daily throughout the year with the exception of November to January when it only opens on Sundays.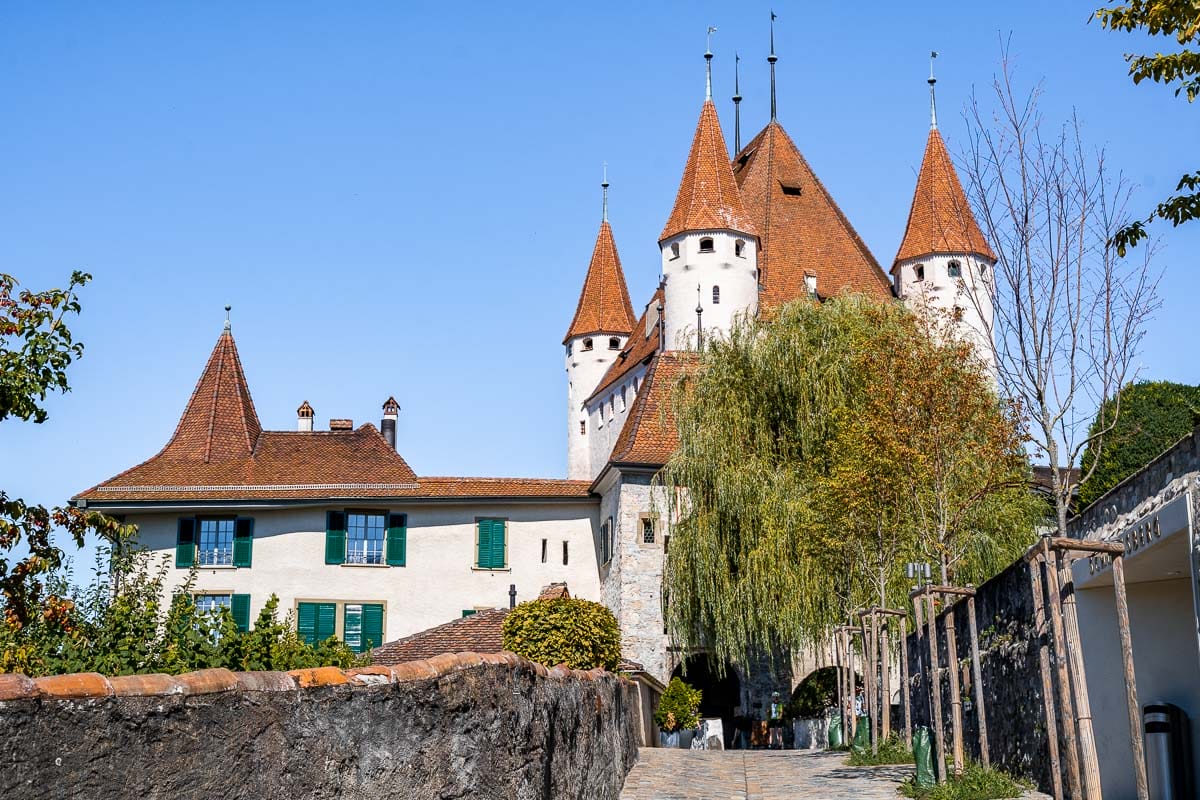 Arriving to Bern
Driving time: 30 minutes (30 km/19 miles) from Thun Castle to Bern
The only thing left to do for this day is to get back to your car and drive yourself to the Swiss capital, Bern. This will take you roughly half an hour and depending on how early or late you finish your day.
If you have some additional time, you can start exploring right away but don't worry, you'll have the full day tomorrow for sightseeing.
You'll need to book 2 nights of accommodation in Bern, refer to the next day to find out my personal recommendations for the best places to stay in Bern.
Day 6: Bern
Despite being the capital city of Switzerland, Bern is actually pretty small. Therefore, spending one day in Bern is the perfect amount of time to explore the main sights and get a sense of the city.
Located within the canton of Bern, the city dates back to the 12th century and its Altstadt features a presentation of medieval architecture and literally hundreds of fountains. In fact, Bern is often nicknamed the City of Fountains!
The Altstadt sits in a crook on the River Aare, one of the longest rivers in the country. This tranquil city is not at all what you expect from a capital city and it's a great place to grab some rest and relaxation as part of your 2 weeks in Switzerland.
Where to stay in Bern
Bern is so small and walkable that it doesn't really matter where you choose to stay. If you stay further out then you can connect to downtown Bern via bus or tram and then explore on foot.
It's rare to find free parking offered at central hotels so you will need to factor in this cost on top of your accommodation. These are my suggestions of where to stay in Bern.
Best things to do in Bern
Bern Aldstadt
Take a wander around this UNESCO World Heritage Site and ogle medieval architecture, elegant fountains, the tallest cathedral in Switzerland, and the impressive clock tower, Zytglogge. If you want to understand the history of the city then you can book a Bern city tour with a Lokafyer (local guide).
Rosengarten
Leafy Bern is abundant in green spaces but Rosengarten might be the prettiest. Located on the right bank of the River Aare, the elevated garden provides a view of the Altstadt and is brimming with roses, irises, rhododendrons, lilies, and cherry trees. Spring and summer is the best time to catch the flowers in bloom.
Bundeshaus
The Parliament Building, or Federal Palace, houses the Swiss Federal Assembly and the Federal Council. It features a classic Neo-Renaissance facade and if you elect to take a tour then you can also explore the interiors. The 26 jets of water in front of the palace represent each of Switzerland's cantons.
Marzili
If your 2 weeks in Switzerland coincide with the warmer seasons then you can hop into the River Aare for a swim. Head to the swimming area south of Aldstadt and you will find sunbathing areas and bathing pools.
Gurten Funicular
Ride the Gurten Funicular (Gurtenbahn) to access the summit of this imposing mountain that looms to the south of the city. The peak is highly developed with places to eat and tons of viewpoints including the observation tower which grants a fantastic view over the city and surrounding valley.
Where to eat in Bern
Restaurant Cafe Postgasse: A small and ambient restaurant that specializes in mussels, located right in the heart of Altstadt.
Kornhauskeller Restaurant: Sited within a vaulted cellar, this opulent restaurant serves a mix of Bernese, Swiss, and Mediterranean plates.
Swing Kitchen: This sustainably conscious vegan restaurant excels in plant-based burgers served with their signature sweet potato fries.
Day 7: Geneva
Driving time: 2 hours (170 km/106 miles) from Bern to Geneva
French-speaking Geneva is the second largest city in Switzerland after Zurich. Famous for its financial industry, the city is also the European seat of the United Nations and the headquarters of the Red Cross.
Geneva is located on the southern tip of Lac Léman, or Lake Geneva, and is surrounded by the Alps and Jura mountains. You can get tremendous views of Mont Blanc from the city.
Much of the lifestyle in Geneva revolves around the waterfront and the Vieille Ville (Old Town) which makes it easy to see the best of the city during one day in Geneva.
Where to stay in Geneva
As Geneva is a popular city for conventions, there are lots of no-frills hotels dotted around the airport and conference center area which have good deals. Public transport is efficient so as with Bern, you can leave your car at your hotel for the day and explore on foot.
The central city is full of chains and boutiques, these are my picks for where to stay in Geneva. You'll have to book one night in this beautiful city because tomorrow you'll leave for Zermatt!
Best things to do in Geneva
Lac Léman (Lake Geneva)

Hop aboard a cruise vessel from the Genève Mont-Blanc ferry terminal then sit back and enjoy a ride across the sensational lake. A boat tour on Lake Geneva gets you up close to Jet d'Eau, the 140 meters (459 feet) tall water fountain that is the very emblem of Geneva. During the summer season, you can opt to go stand up paddleboarding instead.
Vieille Ville (Old Town)
Geneva's Old Town is a warren of historical buildings, churches, public squares, museums, boutiques, and restaurants. Vieille Ville winds its way up a fairly daunting hill but that means you get stunning lake views, especially once you make it to the longest benches in the world, the Banc de la Treille on the Treille Promenade.
International Red Cross and Red Crescent Museum
Located a short walk from the Palais des Nations, this museum gleans insight into the humanitarian efforts of the Red Cross. It's a moving and emotional experience but such a great opportunity to connect with the work that the committee undertakes.
Palais des Nations
Squeeze a tour of the United Nations office complex into your Switzerland road trip. This includes a visit to the Assembly Hall and Council Chamber and teaches you so much about the intricacies of the intergovernmental organization. Outside you can catch the Alley of Flags fluttering the breeze and explore the grounds.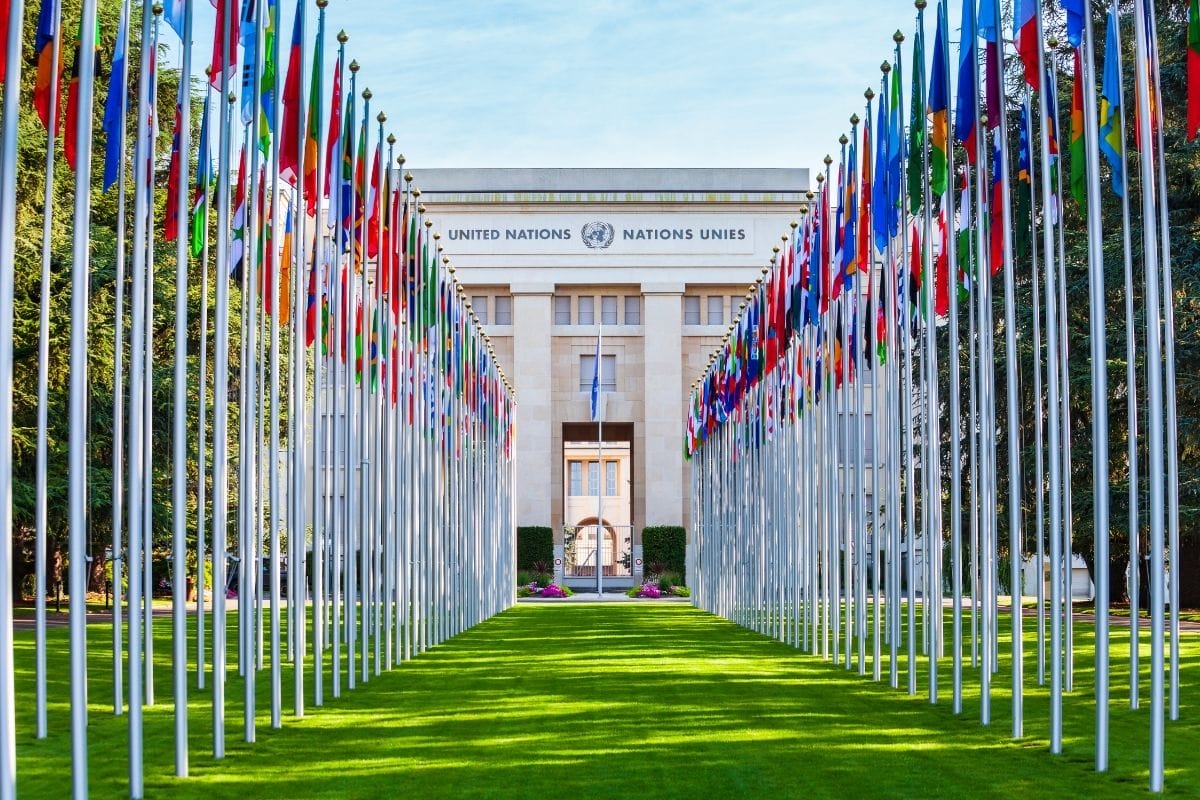 Bains des Pâquis
These public baths are located on a pier that stretches out over Lac Léman and are the perfect place to wrap up your day in Geneva with a dip. During winter you might prefer to head straight to the sauna or hammam. Massage treatments are also available.
Reformation Wall
Geneva was the ground of the Protestant Reformation and there are plenty of museums and historic sites in the city where you can learn about what happened. Located just on the outskirts of Aldstadt, the Reformation Wall is a great place to start your journey into Geneva's past!
Buy Chocolate
Geneva is the birthplace of some of the best chocolate on the planet so take some time to peruse a couple of chocolatiers. You can pick up souvenirs and replenish your snacks for the rest of your 2 week Switzerland road trip itinerary.
Where to eat in Geneva
Cafe du Soleil: Sample the best fondue in Geneva alongside other Swiss delicacies at this casual cafe which isn't too far from the Pâquis-Nations.
Corde Coffee: This colorful cafe is one of the best stops for a flavorsome brew and a delicious slice of freshly baked cake.
Street Gourmet (temporarily closed) : Perfect for a healthy lunch, this restaurant rustles up salads, sandwiches, and soups to suit all palates.
Living Room Bar & Kitchen: Swiss with a touch of Nordic, this is the restaurant of the Ritz-Carlton Hotel and it's one of the best options for a gourmet treat while in Geneva.
Day 8: Geneva to Zermatt
The total distance from Geneva to Zermatt via the attractions listed below is 240 km (149.1 miles) and the drive time is around 3 hours 15 minutes.
Lausanne
Driving time: 50 minutes (64 km/40 miles) from Geneva to Lausanne
Situated on the north shore of Lac Léman, Lausanne is an attractive lakeside city known for its medieval architecture and its connections to the Olympics. It's the setting of the International Olympic Committee headquarters, the Olympic Museum, and the Olympic Park.
If you're a fan of the games then you can take a journey through Olympic heritage at the museum which contains kits, torches, medals, and other memorabilia from the past tournaments.
The Olympic Park is studded with sculptures honoring the athletes and games and there's a 100-meter track if you want to find out if you're a contender for the next Olympics!
Besides the Olympics attractions, art fans may also want to visit Platform 10 where you can survey over 10,000 works of art from 19th and 20th century Swiss artists.
You can get a wonderful view of the city and lake from the Jardin Botanique de Lausanne and the Lausanne Cathedral is well worth a visit.
The walk along the Ouchy promenade is the perfect place to stretch your legs and soak up panoramas of Lac Léman from this perspective.
Chillon Castle
Driving time: 40 minutes (40 km/25 miles) from Lausanne to Chillon Castle
One of the most beautiful castles in Europe, this dreamy Swiss castle sits in a fairytale position on the eastern curve of Lac Léman. In the local ancient language, Chillon meant 'rocky platform' and this is an accurate depiction of the archaeological site.
With the site dating back to the Bronze Age, the history of the castle is divided into three eras: the Savoy Period (12-16th centuries), the Bernese Period (16-18th centuries), and the Vaudois Period (18th century until present day).
Chillon Castle is open daily, 10 am – 6 pm (last entry 5 pm). The opening time may be different depending on the month, therefore make sure you check their website before your visit for up-to-date information.
The tickets cost 13.50 CHF (€15). You can book a ticket online in advance or buy one at the castle itself. If you don't want to go inside the castle it's still worth stopping by to admire the views.
One of the best viewpoints of the castle is at Snack Café and another one is from the other side, around the Château de Chillon ferry port.
Arriving to Zermatt
Driving time: 1 hour and 45 minutes (135 km/84 miles) from Chillon Castle to Täsch
Being an entirely car free town, unfortunately it's not possible to travel all the way to Zermatt with your car. But worry not, there is a solution! You can leave your car at a nearby town called Täsch from where you can take a train to Zermatt.
The train ride takes only 12 minutes and trains run in every 20 minutes from early morning till late night. A one-way ticket costs around 8 CHF (€8.20) and if you want to avoid paying a fortune for taxis, this is the only way to get to Zermatt.
Where to stay in Zermatt (2 nights)
Once in Zermatt, you can get around on foot and via the cable cars that service the town. Since it's a small town, you can basically stay anywhere and you'll still be in walking distance from all the main highlights of the town.
For Zermatt, you'll need to book 2 nights of accommodation, below you can find my top picks for every budget.
Day 9: Zermatt
As I mentioned before, Zermatt is a car free town so good news is that you don't need to use your car for today! You can just comfortably get around on foot and you can also take advantage of the cable cars to access the higher viewpoints/hikes.
Zermatt Five Lakes Hike
Rise early to tackle the majestic Five Lakes Hike (5-Seenweg). This is an easy walk that gives you the chance to ogle a series of beautiful alpine lakes and take in vistas of Matterhorn's jagged peak rising in the distance of the Valais Alps.
The five lakes that you will visit are Stellisee, Grindjisee, Grünsee, Moosjisee, and Leisee.
This hike is 9.8 km (6.1 miles) and takes approximately 3.5 hours to complete, but you might want to factor in additional time for walking around the lakes and taking photos. It's not too strenuous with lots of flat and downhill sections, with the occasional short but steep chunk.
The starting point is the Blauherd cable car station which is accessible via the funicular from Zermatt town and then the cable car from Sunnegga. A return ticket typically costs between 53-58.5 CHF (€55-60.70) depending on the season you visit.
The trail concludes at Sunnegga station and is clearly marked for the duration of the hike, you just need to follow the signs marked 5-Seenweg.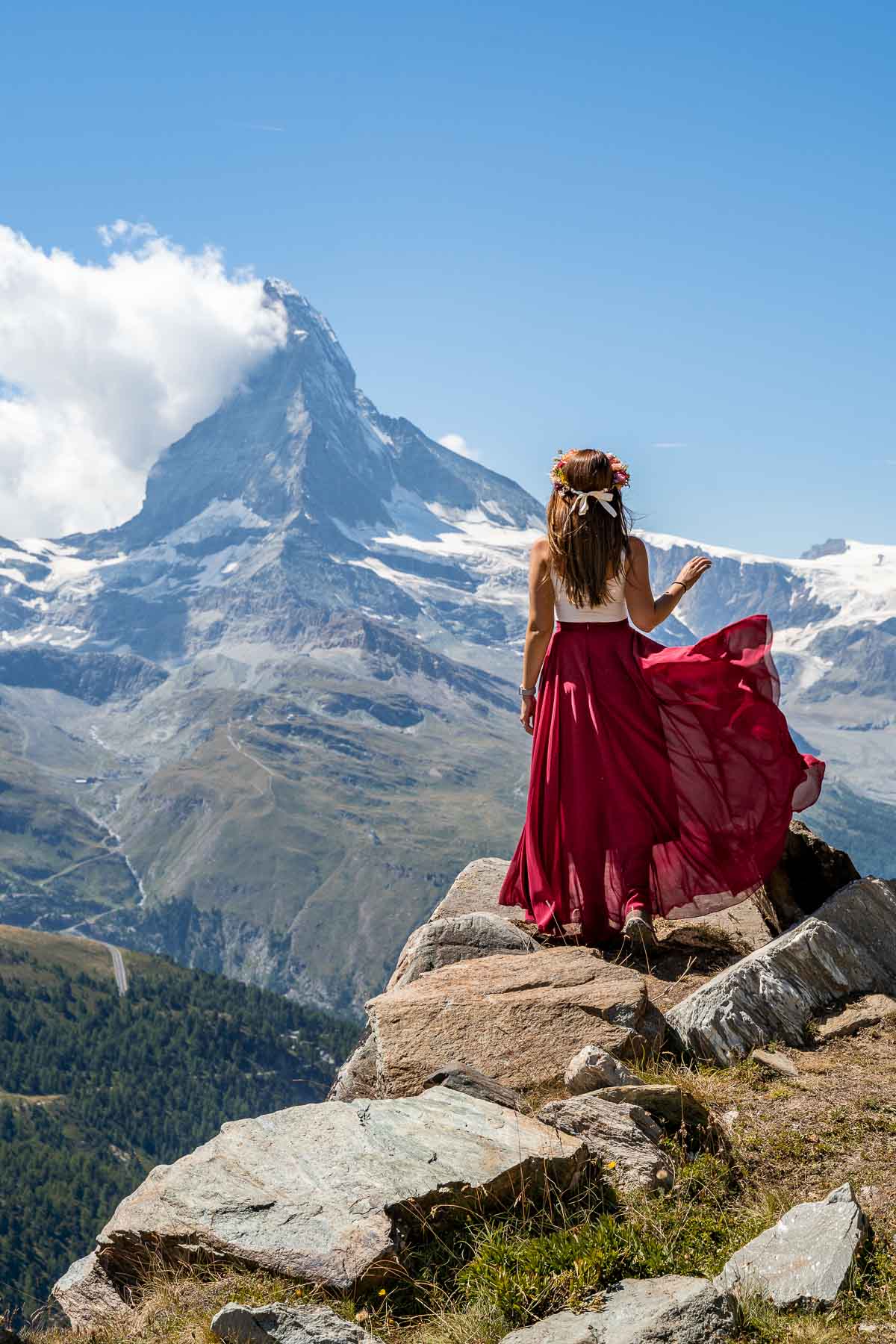 Afternoon in Zermatt
After the hike, you can ride the cable car back down to Zermatt and spend the afternoon exploring the town.
If you want to soak up more mountain views then you can ride the Gornergrat Bahn funicular up to the Gornergrat viewpoint. This is the highest open-air cog railway in Europe and its route includes a vertical climb of 1,469 meters (4,820 feet) as the train jostles through alpine ravines and larch forest.
The ride takes 30 minutes each way and it's located at the main Zermatt train station. Although the view is indeed beautiful, brace yourself for the steep price: a return ticket costs 134.50 CHF (€139.60) per person.
Besides the funicular, you can enjoy a wander through the streets of Zermatt to see the traditional Walser houses. Stroll down Hinterdorfstrasse past the archaic wooden chalets.
If you want to learn more about the regional history and tales of the mountaineers who have mastered the ascent up the Matterhorn, you can visit the Matterhorn Museum, Zermatlantis.
The main lure of Zermatt is that the town offers wonderful views of the iconic pyramid-shaped peak. After the hike you might feel satiated with what you've seen, but, if not, you can walk up to the official viewpoint from the town.
Day 10: Zermatt to Lugano via Grimselpass & Furkapass
This morning you will need to reunite yourself with your car and drive the 300 km (186 miles) to Lugano via the attractions below.
The total driving time today is around 5.5 hours, excluding time spent at the attractions, so you will need to depart from Zermatt and Täsch as early as possible.
Grimselpass
Driving time: 1 hour and 40 minutes (90 km/56 miles) from Täsch to Grimselpass
You will follow the Grimselpass, one of the most scenic roads that you'll encounter during this 2 week Switzerland road trip itinerary. The elevated route sits at 2,164 meters (7,100 feet) above sea level and is one of the highest altitude paved roads in Europe.
Connecting the cantons of Bern and Valais, it is a showcase of wilderness that includes granite rocks, lakes, and power plants.
The full pass is 38 km (24 miles) and it is usually only accessible during late spring until October. You can park up by Totensee to break up the journey and appreciate the scenery before turning around and heading back towards Furkapass.
Drive through the whole Grimselpass means you'll need to take a bit of a detour so feel free to pass on it if you'd rather save some time.
Furkapass & Hotel Belvedere
Driving time: 17 minutes (14 km/9 miles) from Grimselpass to Hotel Belvedere
Furkapass is another high-altitude mountain pass, this one registering at an elevation of 2,429 meters (7,969 feet). It connects the Valais hamlet of Gletsch with Realp, in the canton of Uri. As you drive along the road you might find the scenery familiar. That's because it was used as a filming location in the James Bond movie, Goldfinger.
Park your car at Hotel Belvédère which sits on the western end of the pass and you can walk up to the Rhone glacier.
Swing the World Nara
Driving time: 2 hours (106 km/66 miles) from Hotel Belvedere to Swing the World Nara
If you loved the Giant Swing in Tschentenalp then you'll be pleased to know that you can visit two more amazing swings today!
These pair of swings that have been positioned in the Nara ski region are part of a project from Swing the World who installed swings in 11 different locations through the Ticino area. (Hint: You'll be able to visit another location the next day!)
It was a bit of a struggle to find these swings first because I couldn't find any proper information about them online but don't worry, now you have me! First of all, you need to drive up to Cancori on a very narrow mountain road.
The road is so narrow that it can barely fit one car and it's a two-way road! So I would only recommend driving up if you're an experienced driver and you don't have a fear of heights.
Once you made it to Cancori, find the small church (Kleine Kapelle) where you can park your car. From here, you only need to walk 5 minutes to the first swing and 10 minutes to the second swing. You just have to look out for signs that says "Altalena" and you'll definitely find them.
This is your moment to seize the day and get that perfect shot for Instagram so have your camera ready! A portrait of you soaring above the Swiss Alps is the perfect souvenir from your 2 weeks in Switzerland.
Arriving to Lugano
Driving time: 1 hour and 20 minutes (78 km/48 miles) from Swing the World Nara to Lugano
Once you had your moment on the swings, it's time to head back to your car and drive to Lugano where you'll be spending the next two nights.
It takes roughly around 1.5 hours to reach Lugano from Cancori and unfortunately you'll have to take the same mountain road you drove up on. Try to leave the swings before it gets dark as it's really challenging to drive down during the night!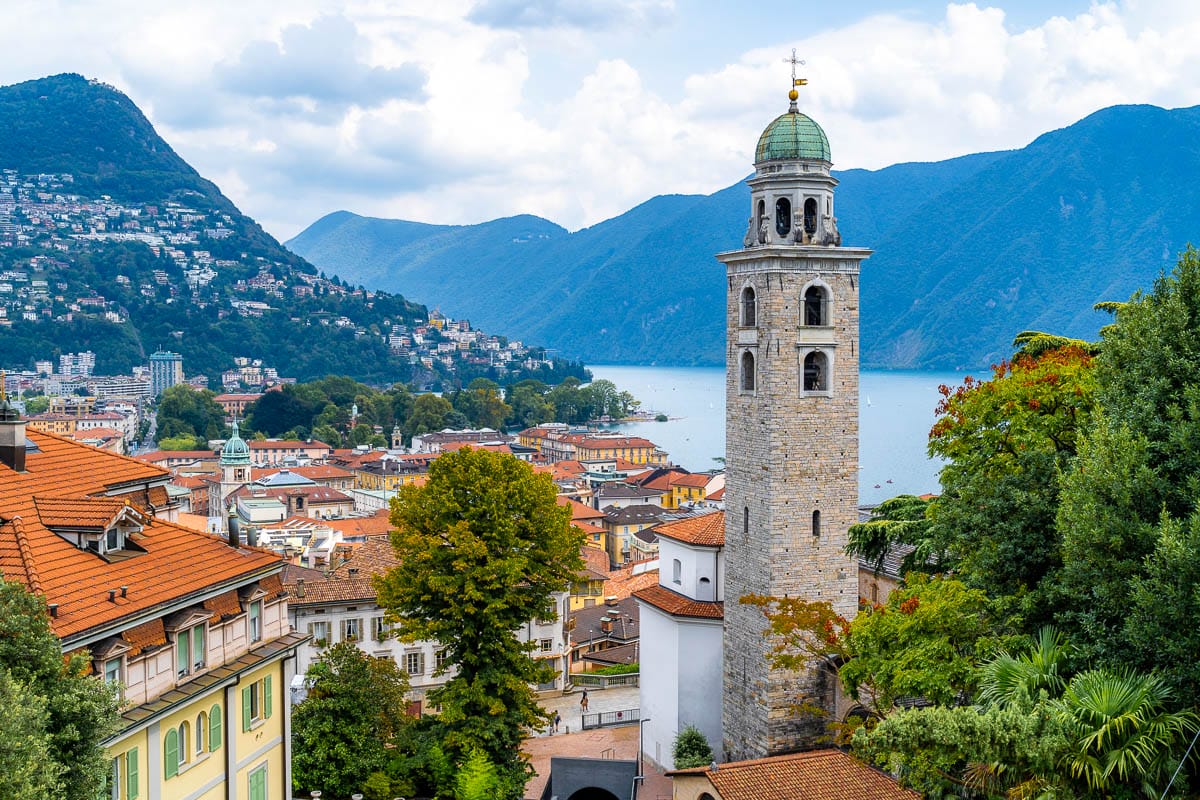 Where to stay in Lugano (2 nights)
Lugano is an interesting mix of Swiss and Mediterranean influences so if you want to explore the culture and food then you might prefer to stay in the town center. Alternatively, there are lots of appealing hotels dotted along the lakeside further out of town.
Below you can find my recommendations for the best places to stay in Lugano.
Day 11: Scenic drive in and around Lugano
Today you will explore the region to the northwest of Lugano and drive for a total of around 180 km (111.8 miles). The total drive time will be around 3.5-4 hours, subject to how deep into the Valle Verzasca you venture.
Valle Verzasca
Driving time: 1 hour (52 km/32 miles) from Lugano to Ponte dei Salti (Valle Verzasca)
Valle Verzasca is a picturesque valley located in Lavertezzo, within the canton of Ticino in Italian-speaking Switzerland. There are loads of activities to choose from here so it's up to you to decide how you want to absorb the surroundings.
You can hike, mountain bike, swim, or discover the culture of the rural hamlets and villages. One spot not to miss is the Ponte dei Salti, which means 'jump bridge.' This double-arched bridge crosses the emerald-colored Verzasca River from Lavertezzo village.
It is also possible to do a bungee jump from the Verzasca Dam if you can summon the courage! If you want to hike the Lavertezzo and the Revöira ethnographic path, then you will need to allow 3 hours to complete the 8.7 km (5.4 miles).
Foroglio
Driving time: 1 hour and 10 minutes (52 km/32 miles) from Ponte dei Salti (Valle Verzasca) to Foroglio
Driving further north into the Ticino canton, you will reach the fairytale Maggia Valley where the star attraction is the picturesque hamlet of Foroglio. The stone buildings are right out of a children's picture book and are set against the thundering Cascata di Foroglio which crashes down from the cliffs behind the village.
These waterfalls are accessible via a 2 km (1.2 miles) hike from the village which is clearly signposted. Alternatively, you can take the 8 km (5 miles) route which takes you up into the valley at the top of the falls.
There is another Swing the World located in Foroglio, positioned in the woodland with a full frontal view of the waterfalls. Swing out over the river if you dare!
Afternoon in Lugano
Driving time: 1 hour and 25 minutes (78 km/48 miles) from Foroglio back to Lugano
Depending on how long you want to spend in Valle Verzasca and Foroglio, you can head back to Lugano whenever you are ready and spend the rest of the day roaming the city.
Architecture aficionados will love checking out the blend of Renaissance, Baroque, and Neoclassical buildings in the town, particularly the churches, cathedrals, and monasteries.
You could visit an art gallery such as the Museo d'arte della Svizzera Italiana. Whatever you do, don't forget to take a scenic stroll along the shore of the Lago di Lugano or through the Parco Ciani. Or of course, you can hop on a boat cruise to see the city from an entirely different perspective.
Other things to do in Lugano include riding the funicular up to Monte San Salvatore from Paradiso where you will be rewarded with gorgeous views from the 900 meters (2,952 feet) summit. If you have the energy, you can walk down the mountain in 1-1.5 hours.
Afterwards, you could head to Swissminiatur for a more gentle activity. This open-air museum opened in 1959 and features Swiss landmarks in, you guessed it, miniature!
My other tip for this area is to head north along the lake to the quarter of Gandria. This suburb is a time capsule for previous eras, with immaculately preserved buildings that date back to the 16th and 17th centuries.
It's also the final Swiss village before you meet the Italian border. You can either drive here from Lugano or take a boat cruise to experience it from the water.
Day 12: Lugano to Liechtenstein
Liechtenstein
Driving time: 2.5 hours (185 km/115 miles) from Lugano to Vaduz, Liechtenstein (via Liechtenstein)
Today you will actually cross the Swiss border into neighboring Liechtenstein. The distance from Lugano to the capital city, Vaduz, is 185 km (115 miles) and the journey will take you around 2.5 hours.
I recommend crossing the border at Balzers so you can drive through the whole country. It will give you a nice first impression even if you don't have time to stop and explore every town.
Once you are in Liechtenstein, I suggest that you concentrate your sightseeing on the area surrounding Vaduz. You can drive up to Schloss Vaduz for panoramic views across the city. Sadly the castle is closed to visitors because it's the actual residence of the Prince of Liechtenstein, moreover it is currently being renovated.
Further sights in Vaduz include riding the Citytrain which is a fun way to see and learn about the city and visiting museums such as the Liechtenstein National Museum or Postmuseum. Whatever you do, remember to get your passport stamped at the Tourist Office. It's a great memento from your 2 weeks in Switzerland!
Further afield, you can visit the little alpine towns of Planken and Triesenberg which are only a short drive from Vaduz. For something more adventurous, you can drive up to Malbun which features the only ski resort in the country. During the summer months, the region is transformed into a playground for hiking and mountain biking.
For more help structuring your activities, you can refer to my guide on how to spend one day in Liechtenstein.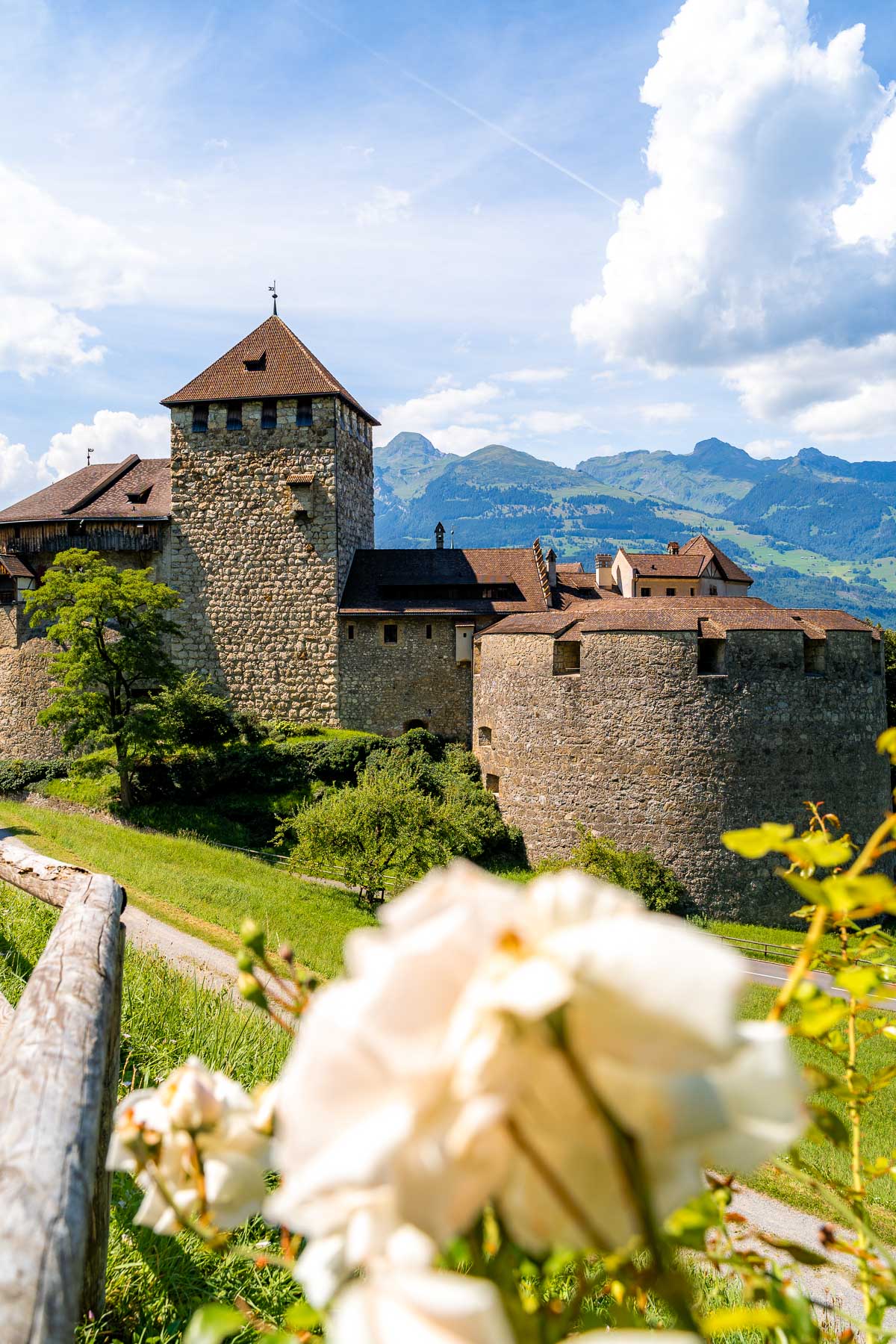 Where to stay in Liechtenstein or the Appenzell District (2 nights)
This 25 km (15.5 miles) long principality sandwiched between Switzerland, Austria, and Germany is small enough that you can really stay anywhere you like.
However, for the purpose of this road trip in Switzerland, my recommendation is that you choose accommodation in the northern part of the country. For example, in or around the village of Bendern as this will tie in best with your activities over the following days.
Alternatively, you can choose accommodation in the Appenzell district of Switzerland which will fit in well with the next leg of this Switzerland road trip but be prepared that it will be a tad bit more expensive.
If you're looking to save some money during your 2 weeks in Switzerland, staying in Liechtenstein is a great alternative! You'll need to book 2 nights in this tiny country, below you can see my recommendations.
Day 13: Hiking at Ebenalp
Driving time: 35 minutes (35 km/22 miles) from Bendern, Liechtenstein to Wasserrauen
Today you will explore the mountain of Ebenalp, the northernmost summit of the Appenzell Alps and an absolute haven for outdoor enthusiasts. Your total distance covered and driving time will depend on where you book your accommodation for these two days.
From the Bendern area to Ebenalp, you will need to drive for 35 minutes (35 km/22 miles). If you stay in the Appenzell district then your drive time will be significantly shorter.
You'll find tons of different hiking trails in Ebenalp so be prepared for a full day of hiking! You can even opt to hike all the way up instead of using the cable car if you want to save money but I would still recommend to choose the cable car to save time.
The route we did in Ebenalp was the following: first we took the cable car up to Ebenalp, we hiked a little bit down to visit Aescher-Windkirchli, then we hiked all the way up to Schäfler Ridge. On the way back we hiked down to Seealpsee then concluded our hike back at Wasserrauen.
It was a pretty demanding hike and it took us the whole day but I can totally recommend doing the same! If you're not big on hiking, you can skip Schäfler Ridge and only visit the rest of the places.
Aescher-Wildkirchli
Once you're in Ebenalp, you can park your car in Wasserrauen and locate the cable car which will whisk you away into the mountains for your first sight. A return ticket costs 34 CHF (€35) per person but if you want to follow the same route we did, it's enough to buy a one-way ticket for 22 CHF (€22.70).
If you would rather, then you can actually hike up to Äscher-Wildkirchli by following the track up through the woodlands from Wasserauen. The total length from here to the ridge is around 7.5 km (4.7 miles) and there is a fair amount of elevation (around 1,200 meters / 3,936 feet) so you should plan around 3-4 hours to complete the route if you skip the cable car.
Aescher-Wildkirchli is a complex of caves cut into the cliffs that feature a chapel and a museum of excavated finds for you to explore.
There's also one of the most scenic restaurants in the world waiting for you up here! It takes around 20 minutes to reach the restaurant from the Ebenalp cable car station and since the road mostly goes down, it's a very easy hike.
Schäffler Ridge Hike
From Aescher-Wildkirchli you can start your hiking section of the day and head up the mountains to the Schäffler Ridge, a remarkable natural phenomenon that grants you a view across Austria and Germany on a clear day.
It takes around 1.5 hours to reach the mountain hut on the top and since you have to tackle 450 meters of elevation gain I'd say it's a moderate difficulty hike.
There is a cute little guesthouse on top where you can relax a little bit or have something to eat/drink. It's also possible to stay at the hut for the night but you have to book it in advance. If you want to find the best viewpoint on the top, just continue for a few minutes up behind the mountain hut!
Seealpsee
Continue your adventure by hiking down to the gorgeous lake, Seealpsee, from the Schaeffler Ridge.
The descent is pretty steep and if you're wary of heights this track might not be for you. There is however a rope rail for added security as you make your way down and the scenery ahead is out of this world.
That being said, this hike is still pretty challenging so it's not really for beginners! I'm not an experienced hiker and I was still able to complete it but oh boy, it was hard! This section took us more than 2.5 hours.
Once you reach the lake you can walk around the whole perimeter in around 30 minutes. This is a popular swimming lake, especially in summer.
However, before you take the plunge, you should expect the water to be freezing year-round! From here you can walk back down to Wasserauen which takes around 45-60 minutes.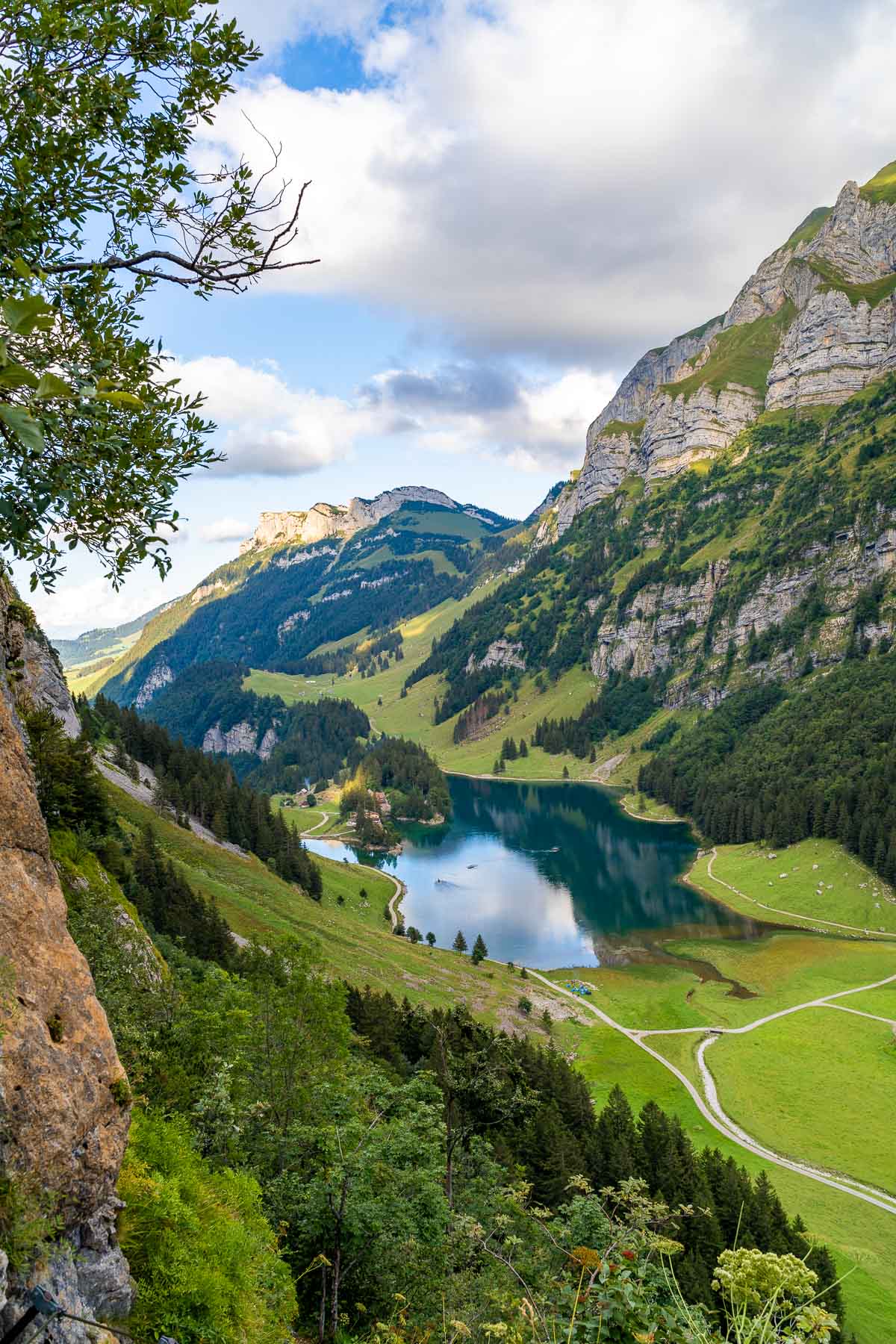 Day 14: Liechtenstein to Zurich
Today you will drive to your starting point and final destination on this road trip in Switzerland, Zurich. The total drive time today will again depend on where your accommodation is.
From Bendern to Zürich via the locations listed below, you are looking at 155 km (96.3 miles) and a drive time of around 3 hours.
Saxer Lücke Viewpoint Hike
Driving time: 10 minutes (7.5 km/4.5 miles) from Bendern, Liechtenstein to Frümsen Cable Car Station
The final hike on your list is a nice and easy one but it gives you an unparalleled view of the Appenzell district and neighboring Liechtenstein as you traverse this ridgeline at an elevation of 1800 meters (5,905 feet).
The hike to the viewpoint is a 6 km (3.7 miles) round trip over a rocky path which is of easy to moderate difficulty. At some points, the track is quite loose with steep drop-offs so you'll need sturdy footwear. For the most challenging parts of the track, you will find ropeways to hold onto.
The trailhead is accessible from the top of the Frümsen-Staubern cable car (a return ticket costs 36 CHF/€37) and it takes around 2.5 hours to complete the entire loop.
If you want to extend the hike then you can also walk down to Falensee once you reach the Saxer Lücke viewpoint which adds a further 2 km (1.2 miles) to your hike.
Stadtbibliothek St. Gallen
Driving time: 40 minutes (58 km/36 miles) from Frümsen Cable Car Station to St. Gallen
The last attraction to check out before you reach Zurich is the beautiful library located in the Abbey of Saint Gall in the city of St. Gallen. This baroque abbey was originally founded in the 8th century and the library is one of the oldest from the medieval era.
You'll see ancient books, as well as historic artifacts and relics from the monastery complex and the painted ceilings, are an attraction in themselves.
A ticket costs 18 CHF (€18.50) which includes a visit to the Abbey Library, the Vaulted Cellar, and the Exhibition Space. Unfortunately, you can't take any pictures inside the library and it's rather small so it only takes around 15-20 minutes to visit it.
That being said, it's really unique so it's absolutely worth stopping by! If you have a little bit more time, it's also worth strolling around the town itself, the streets are incredibly picturesque.
Ps: Don't worry, I didn't break any rules and I didn't take any pictures in the library. I bought a postcard at the shop and simply took a photo of that so I can show you how the library looks like!
Arriving to Zurich
Driving time: 1 hour (85 km/53 miles) from St. Gallen to Zurich
Your Switzerland road trip is slowly coming to an end so it's time to head back to Zurich, where you started. It takes around 1 hour to reach Zurich from St. Gallen so if you started early enough, you can still factor in some extra sightseeing time in Zurich.
This is a great opportunity if there are some more places left on your list that you didn't have time to visit on the first day of your Switzerland itinerary. But if you'd rather just sit back and relax, no one would blame you – you just had an adventurous 2 weeks in Switzerland after all!
Final Thoughts
After 14 jam-packed days of mountains, lakes, castles, and romantic towns and villages, that concludes your 2 week Switzerland road trip itinerary. I hope that you've found my guide useful and that it will help you plan the most unforgettable adventure around this pristine country.
Have you already taken an epic Switzerland road trip? I would love to know where you visited and what you enjoyed the most, so drop a comment below!
If you have any more questions about driving in Switzerland or the places I've written about, please do not feel shy about getting in touch. I always love helping you out!
xoxo, Kriszti
---
Related Posts
Want to read more about Switzerland?
---
Pin It for Later!