One of the most appealing aspects of traveling in Europe is how many magical castles you will encounter. Across the entire continent, you will find countries steeped in history and rich in architectural legacy. In Switzerland alone, there are hundreds of fairytale castles that are nestled among snow-capped mountains, sparkling glacial lakes, and historic towns.
If you're fanatical about fortresses and intrigued by what's behind these mysterious keeps, then let my guide to the most beautiful castles in Switzerland inspire your next trip. My roundup contains all that you need to know about the best castles in Switzerland and how to plan your visit. Let's get into it!
*Disclosure: This post contains a few affiliate links, which means I may receive a small commission, at no cost to you, if you make a purchase through my link.*
No time to read now? Pin it for later!
Most Beautiful Castles in Switzerland You Can't Miss
1. Thun Castle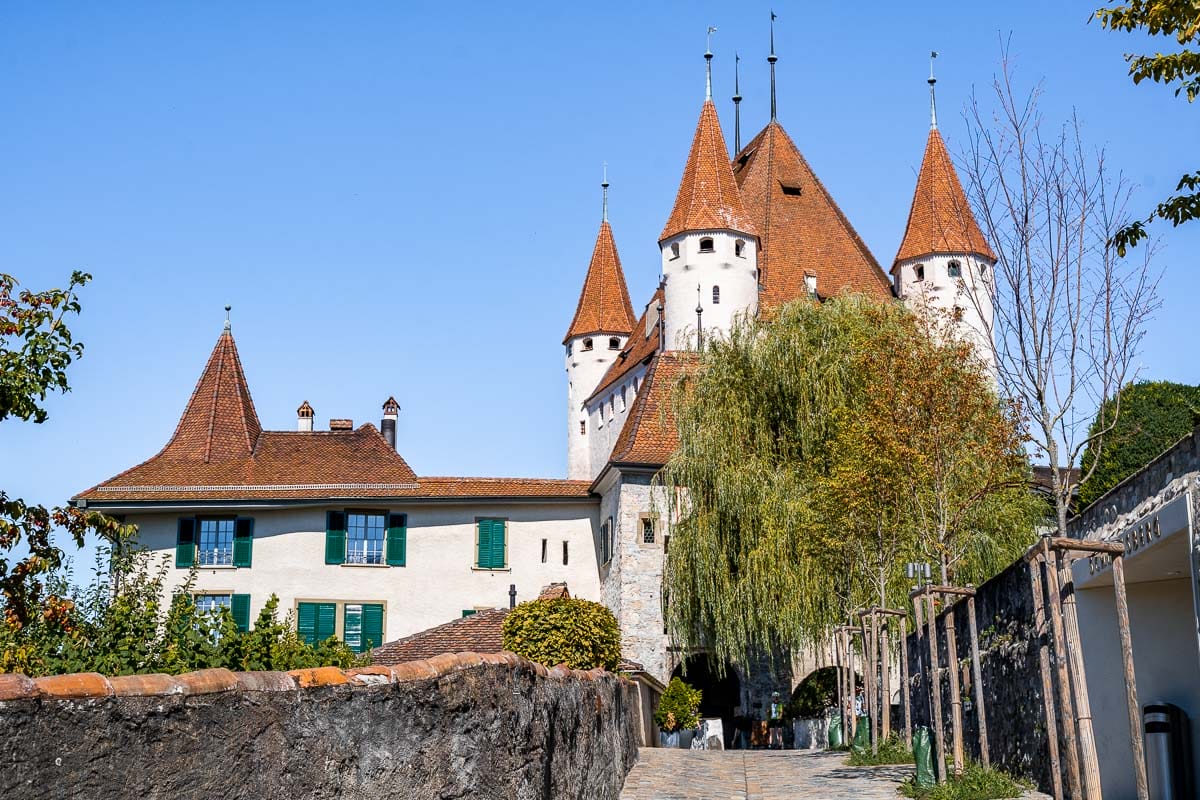 Location: Thun (Bern Canton)
Open to the public: Yes
Entrance fee: 10 CHF (€10.30)
Constructed in the 12th century by Duke Berthold V of Zähringen, this distinctive medieval castle is known for its four turrets. The castle was the seat of the local court and two prisons have occupied the site in the past.
The Castle Museum opened in 1888 and for a brief period, the jailer himself was responsible for selling admission tickets!
The hilltop castle is accessible via a 15-minute walk from Thun that will reward you with 360° views of the Bernese Alps. Touring the restored interiors gives you the golden opportunity to get a sense of life during the Middle Ages.
You can purchase a ticket that permits entry to the Castle Museum or one that includes access to any special exhibitions taking place as well. Thun Castle is open daily from April to October between 10 am – 5 pm, and in February and March between 1 pm – 4 pm. From November to January it only opens on Sundays 1 pm – 4 pm.
Thun Castle is accessible by train from Bern (25 minutes) and Interlaken (30 minutes). Driving from either city takes around 30 minutes.
You can coincide with visiting one of the most beautiful castles in Switzerland by exploring Thun Old Town which is home to a variety of museums. Other options of things to do nearby include taking a scenic cruise on either Thunersee or Brienzersee and visiting the nearby Oberhoften and Spiez castles.
2. Chillon Castle
Location: Veytaux near Montreux (Vaud Canton)
Open to the public: Yes
Entrance fee: 13.50 CHF (€13.90)
Chillon Castle is perched on the shore of Lac Léman (Lake Geneva) which forms a complete moat around the castle. This adds to the beauty of the ancient fortress which has occupied this spot for over 1,000 years.
As a dual-purpose castle, the northern section constitutes defensive structures and the southern side hosts the residential quarters. The castle exhibits a wide selection of excavated items while touring the vaults beneath the building is a firm highlight that sets this keep apart.
Chillon Castle is open to the public 10 am – 5 pm between November and March. In April, May, September and October it is open daily, 9 am – 6 pm and from June until August 9 am – 7 pm. In addition to being one of the most famous castles in Switzerland, Chillon Castle is officially the most visited heritage attraction in the country!
You can take the train to Veytaux-Chillon. If you travel from one of the larger Swiss cities you will need to change at Lausanne from where the journey time is 30 minutes. You can drive to Chillon Castle from both Bern and Geneva in a little over 1 hour.
After touring the castle you could visit the town of Lausanne. Home to the International Olympic Committee headquarters, Lausanne features the Olympic Museum and its own Olympic Park.
Alternatively, you can head to the Regional Park Gruyère Pays-d'Enhaut for scenic hikes and mesmerizing landscapes. If you've worked up an appetite for more castles, head to the nearby town of Gruyères which is the setting for Gruyères Castle and excellent cheese.
3. Vufflens Castle
Location: Vufflens (Vaud Canton)
Open to the public: No
Although it's not possible to tour Vufflens Castle, it's still worth paying a visit to view the exterior of one of the most beautiful castles in Switzerland. A combination of square and round turrets and a mighty 60 meter (197 feet) high donjon rise from the surrounding vineyards to strike a unique silhouette.
The castle is located a 20 minute drive from Lausanne (25 minutes via train) or a 40 minute drive from Geneva (50 minutes via train). You can visit as a detour on the way to Chillon Castle or as an extension to a visit to Lausanne.
4. Tarasp Castle
Location: Tarasp (Graubünden Canton)
Open to the public: Yes
Entrance fee: 15 CHF (€15.40)
This 11th century castle is situated in eastern Switzerland close to the Italian and Austrian borders. In fact, the castle originally belonged to Austria and was only granted to Switzerland in the early 19th century.
Rising on a hilltop in the Upper Engadine Alps, the castle rests at an impressive 499 meters (1,637 feet) above sea level. It's one of the most famous castles in Switzerland due to its remote setting and depending on the season you visit, it may be enveloped in autumn foliage or wearing a blanket of snow.
Tarasp Castle is only accessible via a guided tour which it is advisable to book online in advance. Tours typically run Tuesday until Sunday, and the schedule changes monthly so it's best to consult the website once you have your travel dates confirmed.
You can take the train to Scuol-Tarasp which usually involves a connection at Landquart. From Landquart, the journey time is 1 hour 30 minutes. Local buses also connect to Tarasp (Fontana) from nearby towns. Zurich is the closest major city but it's still a 3 hour drive away.
You can combine your visit to the castle with a stroll around the small yet charming Taraspsee from where you can take some landscape shots of the fort.
Switzerland's one and only national park is located just south of the castle. There are 21 hiking trails situated within the Swiss National Park that take you through the habitats of red deer, brown bears, lynx, golden eagles, and beyond.
5. Gruyères Castle
Location: Gruyères (Fribourg Canton)
Open to the public: Yes
Entrance fee: 12 CHF (€12.30)
One of the best castles to visit in Switzerland for cheese lovers, Gruyères Castle was erected in the late 13th century in the medieval town known for its production of creamy, nutty cheese. The French style château lolls on a hill overlooking Fribourg's dreamy alpine foothills.
The castle belonged to the Counts of Gruyères until the mid-16th century. Its interiors showcase intricate stained glass windows, paintings by Jean-Baptise Camille Corot, and ornate antique furnishing. Step outside to meander your way through a beautifully landscaped garden from which you can inhale views of the encircling countryside.
Gruyères Castle is open daily between early April and late October, 9 am – 6 pm. The complex then closes for a couple of weeks before operating under winter hours (10 am – 5 pm) from late November until 31 March.
You can drive to Gruyères Castle from Bern in around 1 hour either as a day trip or as part of a wider Switzerland road trip itinerary. Trains from Swiss cities connect to Gruyères via Bulle from where direct trains take 7 minutes.
Besides touring one of the best castles in Switzerland you can also swing by the town of Gruyères to sample the legendary cheese. A short drive north brings you to Maison Cailler where you can enjoy dessert in the form of a tour and tasting of this majestic chocolate factory.
You may also want to visit Lac de la Gruyère, an artificial lake that is known for its 44 kilometers (27.3 miles) hike around the water's edge.
6. Aarburg Castle
Location: Aarburg (Aargau Canton)
Open to the public: Yes
Entrance fee: 10 CHF (€10.30)
Aarburg Castle was built during the 12th century and stands proudly above the town of the same name on a steep, craggy hill. It was besieged by the Bernese in 1415 and was subject to a major extension during the 16th and 17th centuries which also saw stronger fortifications put in place.
Nowadays, the castle serves as both a tourist attraction and a juvenile rehabilitation center, which is a fairly unusual dual purpose among Switzerland castles.
You can take a guided tour of Aarburg Castle on Saturdays at 2 pm. If your visit doesn't coincide with a weekend then it is still worth visiting the town to see this huge fortress for yourself.
Drive time to Aarburg Castle from either Bern or Zurich is around 1 hour. Trains from either city require one change at the neighboring city of Olten from where the connection time is 3 minutes.
Aarburg Castle is an ideal day trip from Zurich or a convenient stop off when connecting from the city to Bern or Basel.
7. Oberhofen Castle
Location: Oberhofen (Bern Canton)
Open to the public: Yes
Entrance fee: 12 CHF (€12.30)
Oberhofen Castle is another one of the best castles in Switzerland with a fairytale lakeside setting. Constructed in 1200, the castle was purchased by the aristocratic Pourtalès family in 1844. Hailing from Neuchatel and Prussia, the new inhabitants transformed the keep into a summer residence.
One of the most intriguing features is the Oriental smoking room which is positioned at the top of the castle and provides an unbeatable view over the lake and surrounding mountains. You can also visit the 15th century chapel which hosts a striking display of wall murals and tour the exotic gardens and parterres.
The castle is open to visitors from early May until late October, Tuesday to Sunday, 11 am – 5 pm.
Drive time to Oberhofen Castle from Interlaken is 30 minutes and from Bern it is 40 minutes. The closest train station is in Thun, from where you can transfer via boat to Oberhofen.
Oberhofen Castle is conveniently located for visiting other Switzerland castles in the region including Thun and Spiez castles.
8. Castles of Bellinzona
Location: Bellinzona (Ticino Canton)
Open to the public: Yes
Entrance fee: 28 CHF (€30.90)
Three for the price of one, one of the most beautiful castles in Switzerland actually comprises three individual fortifications! The Castles of Bellinzona are individually known as Castelgrande, Montebello, and Sasso Corbaro.
The trio is a recognized UNESCO World Heritage Site. As Bellinzona is located at a crossroads, the castles were erected to first prevent the Swiss confederation from expanding south and then to stop the Venetians from extending to the north.
You can start your exploration at Castelgrande, the largest of the three. Constructed during the 13th century, archaeological excavations suggest that an earlier site stood here from the 4th century. Montebello is situated on the opposite hill and contains an archaeological museum.
It is believed that the castle was assembled during the 14th century by the Rusconi family of Como. Your castle adventure will conclude at Sasso Corbaro, the youngest and highest altitude castle which was built during the 15th century and towers 235 meters (770 feet) above Bellinzona.
Note that the admission fee covers entry to all three castles. If you do not want to tour the interiors, towers, and museums then you can simply walk along the castle walls for free.
Bellinzona is located in south central Switzerland, close to the Italian border. The closest large city is Lugano, located a 1 hour drive or 30 minute train ride away. It's the perfect stop off on route to Lugano or Valle Verzasca.
9. Spiez Castle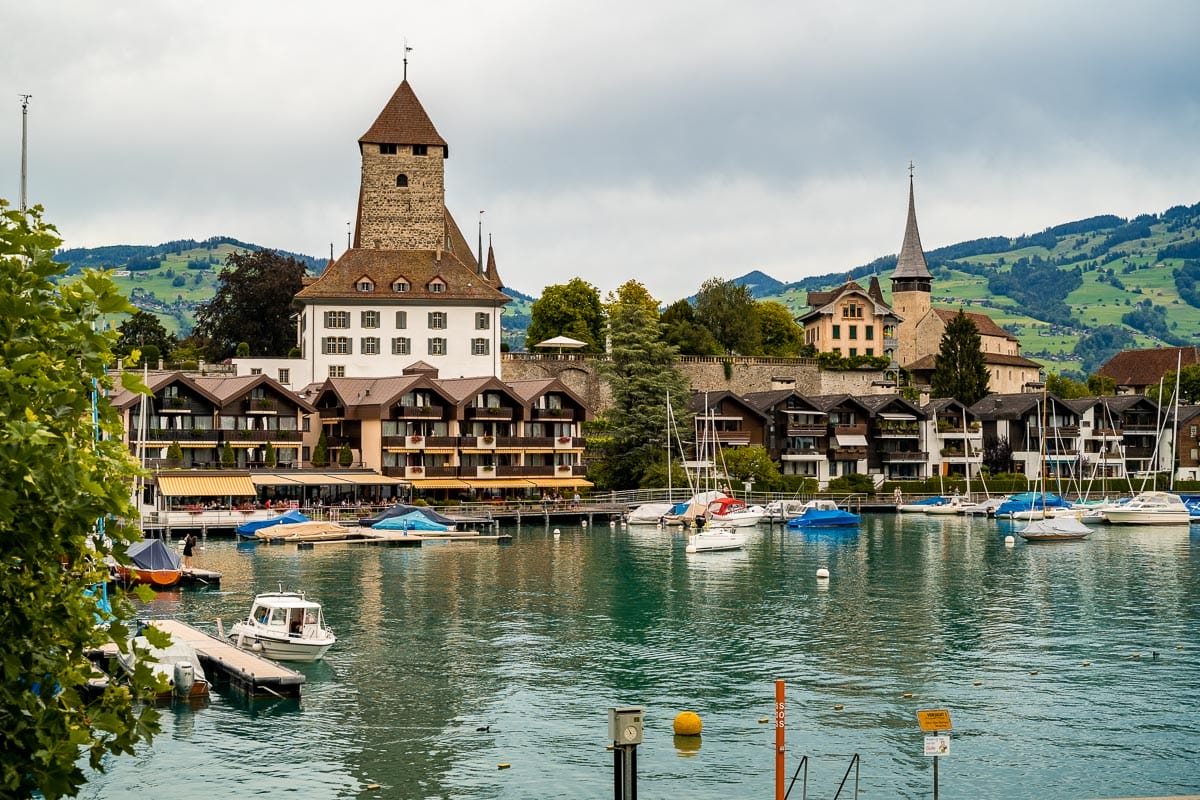 Location: Spiez (Bern Canton)
Open to the public: Yes
Entrance fee: 10 CHF (€10.30)
This splendid keep is one of the oldest Switzerland castles, dating back to 933 AD. Over the following centuries, the castle encountered a number of renovations and extensions which means that the stronghold showcases a number of different architectural styles.
Surrounded by vineyards and with a backdrop of the turquoise Thunersee and the surrounding Alps, it's one of the most picturesque sights in the country.
Spiez Castle is open from early May until late October. During these months, the grounds and museum are open on Mondays, 2 pm – 5 pm, and Tuesday to Sunday, 10 am – 5 pm. During July and August, the castle remains open until 6 pm.
It takes a 40 minutes to drive to Spiez Castle from Bern while direct trains take 30 minutes.
Spiez is perfectly located for exploring the other castles dotted around Thunersee, including Thun and Oberhoften castles. You can also explore the town of Interlaken and visit the breathtaking village of Lauterbrunnen and the nearby Trümmelbach Falls.
10. Tourbillon Castle
Location: Sion (Valais Canton)
Open to the public: Yes
Entrance fee: Free
The ruined Tourbillon Castle is perched atop a rocky outcrop overlooking the town of Sion. It was constructed during the 13th century as a residence for the Bishop of Sion. Sadly, much of the keep was destroyed during serious attacks and then a fire in 1788.
Regardless of that, it remains one of the famous castles in Switzerland due to its dramatic location. Miraculously, the 15th century chapel adorned with stunning frescoes survived and is a highlight of your visit.
There is a path in place that will take you to the castle however you should bear in mind that it is pretty steep and challenging, so allow plenty of time. The castle is open to visitors from April until early November.
Drive time to Tourbillon Castle is 2 hours from Bern and Interlaken or 1 hour 30 minutes from Zermatt (Täsch). Direct trains from Lausanne take 1 hour to reach Sion.
Sion comprises a healthy selection of art galleries and museums where you can learn about the heritage and culture of the Valais Canton. The Valère Basilica is a fantastic extension to Tourbillon Castle.
If you are road tripping in Switzerland then you can enjoy a scenic drive to Zermatt (Täsch) and savor views of the Matterhorn and tackle the Zermatt Five Lakes hike.
11. Kyburg Castle
Location: Kyburg (Zurich Canton)
Open to the public: Yes
Entrance fee: 12 CHF (€12.30)
Kyburg Castle looms 150 meters (490 feet) out of the greenery on a hill overlooking the River Töss close to the German border. Previously used as the seat of the Counts of Kyburg and then a Habsburg property, it is now recognized as the oldest castle museum in Switzerland.
The gardens of the baroque castle are strewn with vegetable plots, medicinal herbs, and flowers while a circular path around the castle walls provides remarkable panoramic views.
Kyburg Castle is open to visitors from early April until late October, Tuesday to Sunday, 10 am – 5.30 pm.
This is one of the best castles to visit in Switzerland if you are using Zurich as a base as it's only a 25 minute drive from the city. You can also take a train to Illnau and then hop on bus number 655, which will take around 40-50 minutes.
You can coincide your day trip to Kyburg Castle with a visit to the nearby town of Winterthur which is home to a number of museums and art galleries.
---
Planning a trip to Switzerland?
Then you might want to take a look at all our other travel guides about Switzerland. I promise, they are just as awesome as this article was!
---
Pin It for Later!