Geneva, the second-largest city in Switzerland, is dripping with wealth and luxury yet equally blessed with intoxicating nature and fascinating history. The city is located at the southern end of Lake Geneva (Lac Léman) and is enclosed by the dramatic Swiss Alps and Jura mountain ranges.
Geneva is the headquarters of the European United Nations and the headquarters of the Red Cross and was the setting of the 16th century Protestant Reformation.
As you can imagine, there is no shortage of things to do in this chic Swiss city. However, thanks to its relatively small center and its efficient public transport system, one day in Geneva grants you plenty of time to check out the main sights and tourist attractions. All you need to do is figure out a practical itinerary for seeing it all!
Save yourself from hours of research by referring to my Geneva travel itinerary. The following guide is going to help you determine exactly what to do in Geneva in one day and how to plan your visit.
*Disclosure: This post contains a few affiliate links, which means I may receive a small commission, at no cost to you, if you make a purchase through my link.*
No time to read now? Pin it for later!
Useful Info for Visiting Geneva
How to get to Geneva
Geneva Airport (GVA) is located 4 km (2.5 miles) from the city center. Direct flights connect to cities across continental Europe and the Middle East. Upon arrival, you can hop on the train which only takes 7 minutes to reach downtown Geneva.
At the airport, you can pick up a complimentary UNIRESO ticket which permits 80 minutes of free travel in the city. Alternatively, you can hop in one of the taxis outside the terminal or hail an Uber from your smartphone.
If you would rather travel to Geneva by train then the main station, Gare de Genève, is conveniently situated in the central district of Cornavin. You can check journey times and book train tickets from other Swiss or European cities online at Omio.
If you are visiting Geneva as part of a Switzerland road trip, then you can look forward to a scenic drive from neighboring cities such as Bern, Zermatt, or Zurich.
Best time to visit Geneva
Geneva is a charming city to visit whatever time of year you visit. However, for the purpose of this one day Geneva itinerary I would encourage planning your trip in mid-spring to late summer or autumn.
These are when the city benefits from the most agreeable weather conditions, sitting around 21–24°C (70–73.4°F) in June and September, and there are fewer tourists than at peak season.
During the winter months, the temperatures drop to -1°C (30°F) so you may want to spend more time indoors, checking out museums and cafes. While it doesn't snow in the city itself, the surrounding Alps will receive a dusting of snow that enhances the beauty of the scenery.
If you do choose to visit during the peak summer months of July and August, temperatures will reach 26°C (78.8°F) and the lake will be optimal for swimming. But you will need to plan ahead to ensure you have accommodation in place.
How to get around Geneva
A walkable center and superb public transport system make seeing Geneva in a day perfectly attainable. Much of the attractions specified on this Geneva itinerary are within walking distance. When you need to cover further distances, you can get around using the Geneva Public Transport, UNIRESO.
If you didn't pick up a UNIRESO card at the airport you can do so once in the city. This system encompasses trams, buses (TPG), mouettes (yellow shuttle boats), and commuter trains. Taxis are widely available but using Uber will save some valuable spending money.
If you're planning to use public transport quite often during your one day in Geneva, it's worth taking a look at the 24 Hour Geneva City Pass. This pass includes free public transport, as well as free entry to a bunch of museums and other attractions, and grants you discounts on various activities.
Of course, whether the pass is worth purchasing or not, highly depends on what you want to do on your one day Geneva itinerary. But it's certainly worth considering it!
Where to stay in Geneva
If you are spending 24 hours in Geneva then I recommend staying as centrally as your budget allows as it will maximize your time exploring. The Cornavin neighborhood features a high number of hotels that are affordable and very handy for public transport.
If you do want to stay further out of town then the super public transport system makes getting downtown a doddle. These are my top picks for where to stay in Geneva for different budgets.
LUXURY – N'vY Manotel
Wonderfully positioned in the bohemian neighborhood of Paquis, this hotel is within walking distance of all the attractions on this one day in Geneva itinerary and equally convenient for transit. Suites feature lakeview terraces and there is an excellent spread of restaurants and bars on-site to browse.
MID-RANGE – Hotel Bernina Geneva
Located opposite Geneva's main railway station, this hotel is perfectly positioned for accessing the city via public transit and is within walking distance to all the major sights on this itinerary. Contemporary rooms are artistically styled and many feature lake views.
BUDGET – Hotel des Tourelles
Situated in the central St Gervais Quarter, this historic hotel is equipped with modern guest rooms furnished with free WiFi, en-suite bathrooms, and huge windows that flood the space with natural light. The best rooms offer lake views and come with balconies.
Overview of Your One Day in Geneva Itinerary
Breakdown of your one day in Geneva
Morning: Pâquis-Nations/Palais des Nations, International Museum of the Red Cross and Red Crescent, Fondue at Cafe du Soleil
Afternoon: Boat cruise on Lac Léman OR swimming at Bains des Pâquis, Floral Clock/Jardin Anglais, Vieille Ville
Evening: Jet d'Eau, Place du Molard, Dinner
Map for your one day Geneva itinerary
Below you can find a customized map that includes all the locations you're going to visit on this Geneva itinerary. I marked each time of the day with different colors – I used blue for the morning, red for the afternoon, and green for the evening so you can easily see which places you're going to visit during your one day in Geneva.
If you open up this post on your phone and you click on the bracket in the upper right corner of the map, it will open up in your Google Maps app so you can always have it with you. Super convenient, right?
Morning of Your One Day in Geneva
Pâquis-Nations/Palais des Nations
Geneva is the home of the European United Nations and the office complex and the surrounding Pâquis-Nations are open to the general public.
Taking a tour of the Palais des Nations includes a visit to such notable rooms as the Assembly Hall, Council Chamber, Library, and Human Rights and Alliance of Civilizations Room. You will also have the opportunity to witness the Alley of Flags and the Broken Chair sculpture which represents peace.
Guided tours for groups and individuals are available in English and French. Several tours run throughout the day, with the first one scheduled at 10.30 am (or closer to noon on Mondays). The cost of an individual tour is 15 CHF (€16.45). The complex is open Monday to Friday, 8.30 am – 5 pm.
The closest train station is Sécheron and the nearest station for buses and trams is Nations.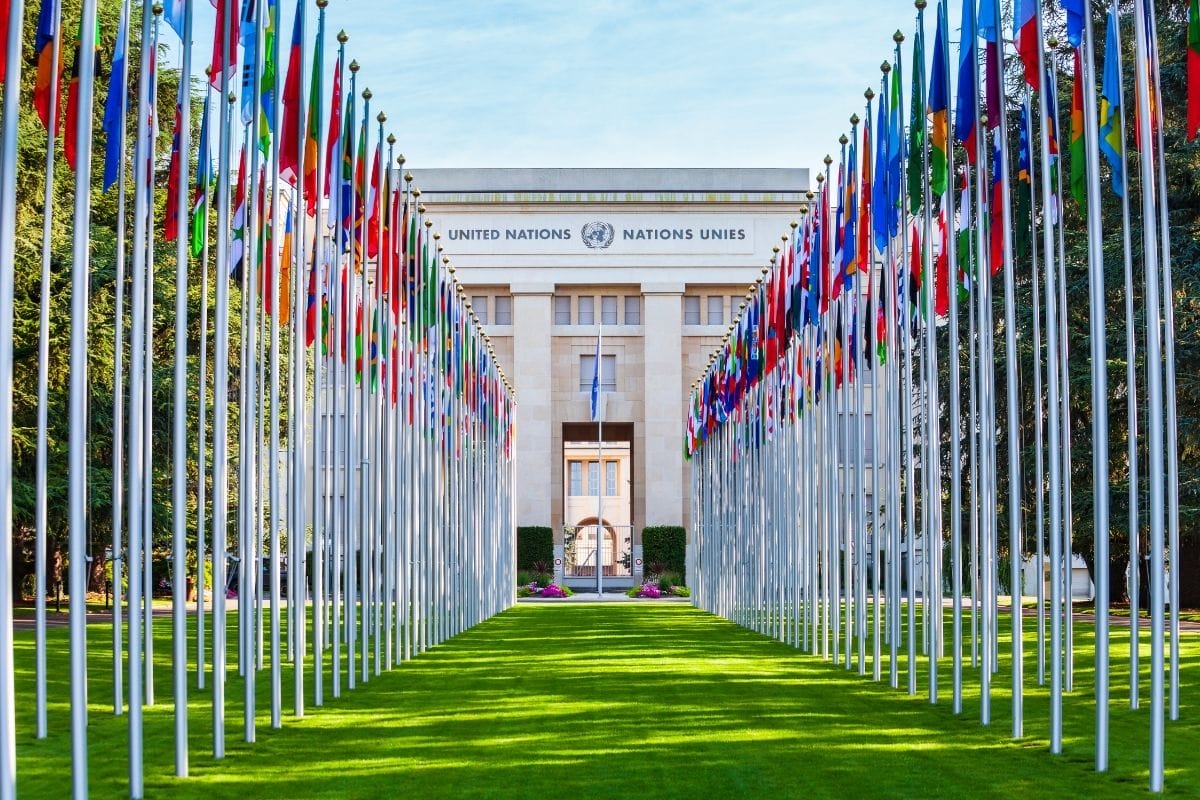 International Museum of the Red Cross and Red Crescent
In addition to the European United Nations, Geneva is also the headquarters for the Red Cross. There's no better place to discover the full weight of the work of the humanitarian movement than the International Museum of the Red Cross.
Touring the exhibitions is a sobering and emotional experience but is a valuable opportunity and one of the most interesting things to do in Geneva in a day.
Between 1 April and 31 October, the museum is open Tuesday to Sunday, 10 am – 6 pm (closed on Mondays). From 1 November until 31 March, it is open between 10 am – 5 pm.
A ticket to both the permanent and temporary exhibitions costs 15 CHF (€15.40) and includes an audio guide. If you only want to view the temporary exhibition then the cost is 9 CHF (€9.25). If you've purchased a Geneva City Pass, you can go inside for free!
The museum is less than a five minutes' walk from the Palais des Nations.
Fondue at Cafe du Soleil
After an insightful start to your 24 hours in Geneva, make a stop for delicious Swiss fondue at this top-rated restaurant. Fondue is the chef's specialty but the menu also includes other national staples.
Cafe du Soleil is located a 15–minute walk from the International Museum of the Red Cross.
Afternoon of Your One Day in Geneva
Lac Léman Cruise
Option A is to board a cruise boat and take a scenic tour across the pristine water of Lac Léman. These trips give you a chance to ogle the spectacular scenery (including a clear view of Mont Blanc) and take you up close to Jet d'Eau, the 140 meters (459 feet) tall water fountain.
Since you're only spending one day in Geneva, the best option is to opt for an hour long loop cruise. This 1-Hour Lake Geneva Cruise is a perfect choice! A ticket costs 18 CHF (€18.50) which is quite the steal compared to the crazy expensive prices in Switzerland.
The tour departs from Genève Mont-Blanc and you can choose from several different starting times (I would recommend the options around 1 and 2 pm). To get to the meeting point, you can take bus number 3 from outside Cafe du Soleil, Petit Saconnex, and depart at Coutance.
Bains des Pâquis
Option B is to swim in the lake at the public baths complex, Bains des Pâquis. These baths are situated on Jetee des Pâquis and offer safe swimming conditions in the lake. On-site you will also find a series of hammams, saunas, and Turkish baths, as well as massage treatments.
During the summer months, the water temperature surpasses 20°C (68°F) so if you're looking for what to do in Geneva in one day during the peak months, this is your answer.
Admission to the baths is 2 CHF (€2). If you want to use the hammam then the cost is 10 CHF (€10.30) or 20 CHF (€20.60) to use the hammam, sauna, and Turkish bath.
As if you were heading to the ferry terminal, you can take bus number 3 from outside Cafe du Soleil, depart at Coutance, and walk from there.
Floral Clock/Jardin Anglais
As you make your way towards Geneva's Vieille Ville, you can make a quick stop to view the Floral Clock (L'horloge fleurie). It was conceived in 1955 to represent the masterful watchmakers of Geneva and show respect to nature.
The flowers change throughout the seasons so regardless of what time of year you visit, this is a lovely addition to your one day Geneva itinerary.
Depending on how you are doing for time (ironically!), you can also take a stroll around the Jardin Anglais which is dotted with landscaped gardens, fountains, and monuments and offers wonderful lake views.
You can walk from Genève Pâquis to the Floral Clock via Pont du Mont-Blanc in 15 minutes. Alternatively you can hop aboard a mouette from Genève Pâquis and alight at Genève or Genève Molard.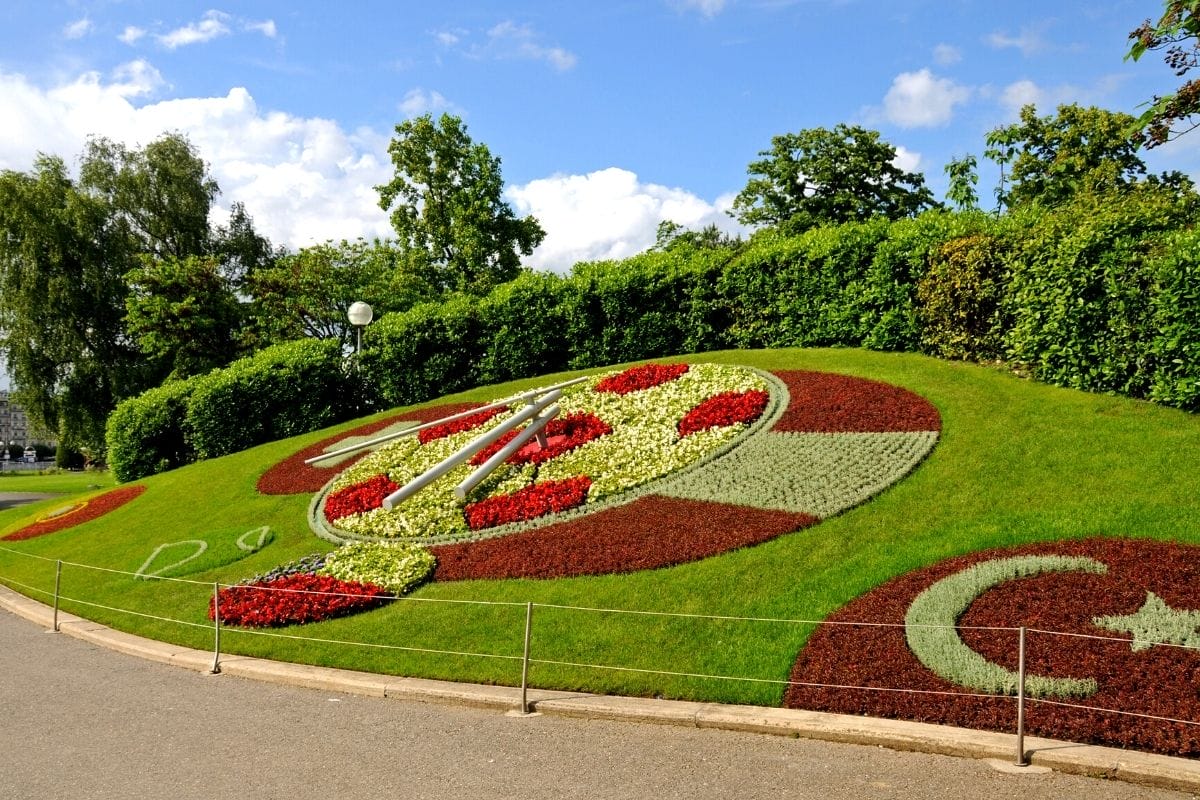 Vieille Ville
For the final part of your one day in Geneva, you can explore the hilly streets of Vieille Ville. The neighborhood is full of churches, public squares, and heritage buildings, and I'll share some of the highlights with you.
Practically in the very heart of Vielle Ville, you will find Place du Bourg-de-Four. As the oldest public square in Geneva, this area is a haven for al fresco cafes, beautiful fountains, monuments, and elegant architecture.
The lovely Confiserie Arn comprises a cafe and a chocolate shop where you can pick up some gourmet souvenirs.
A short walk from the Place du Bourg-de-Four, you will reach ​​Cathédrale Saint-Pierre Genève. This was originally built in the 12th century as a Roman Catholic cathedral, however, it was converted to a Protestant church of worship when John Calvin took up residence in the city during the Protestant Reformation – which Calvin in fact initiated. This took place in Geneva during the 16th century.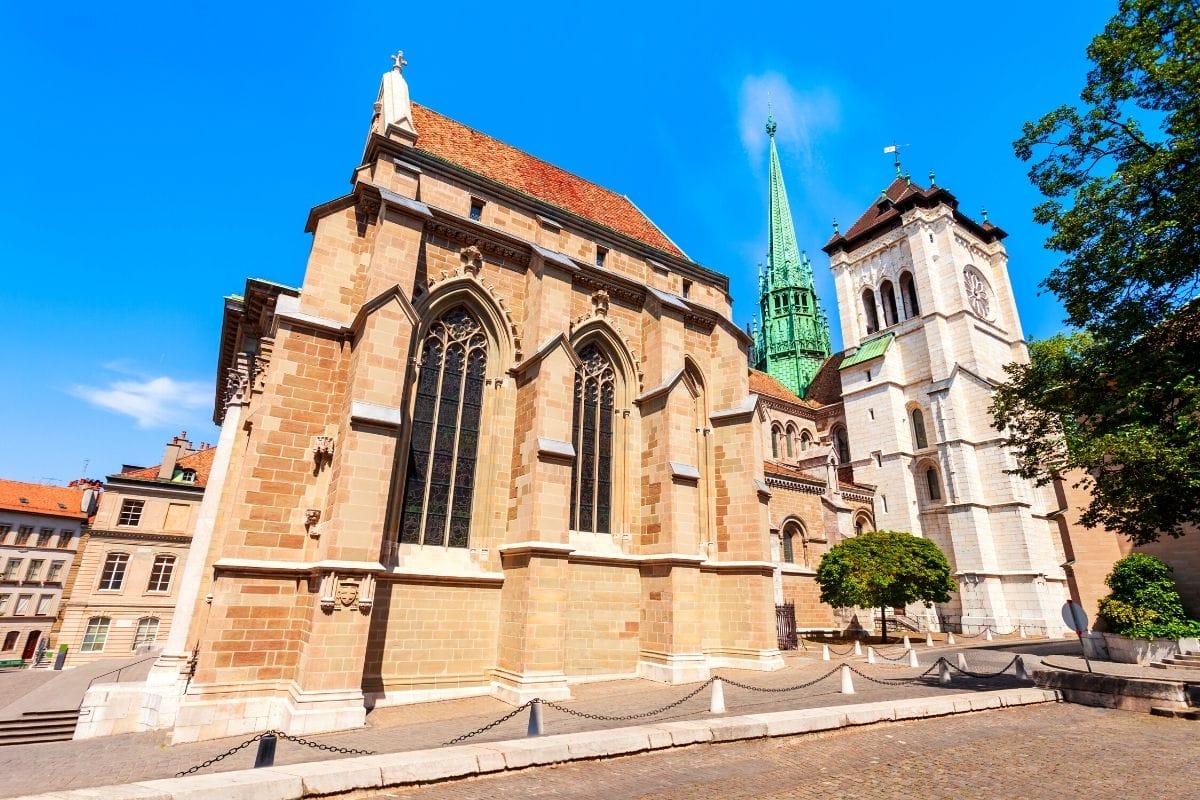 If you are interested in learning more about this period of history while touring Geneva in a day, you may want to visit the International Museum of the Reformation. Through objects, books, manuscripts, paintings, and engravings, the collections trace the full story of the movement.
The museum is located behind the cathedral and is open Tuesday to Sunday, 10 am – 5 pm (closed on Mondays). Admission is 13 CHF (€13.40) and includes an audio guide (free with the Geneva City Pass).
Regardless of whether you visit the museum, you can always visit the Reformation Wall. This is a monument that honors the Protestant Reformation and is located a five-minute walk from the museum.
Five minutes around the corner from the Wall, you will find the Promenade de la Treille. This elevated walkway provides excellent views of the lake and the city and features one of the longest benches in the world, the Banc de la Treille.
It's the perfect place to catch your breath and welcome the sunset on your one day in Geneva itinerary.
Evening of Your One Day in Geneva
Jet d'Eau
One of the things to do in Geneva in a day is to admire Jet d'Eau (you know, the huge fountain on the lake) and you will have plenty of opportunities to do so. However, it's worth popping back to observe its transformation under the night sky.
Literally meaning 'water jet', this is one of the tallest fountains in the world and pumps an impressive 500 liters of water per second into the air. It looks wonderful in daylight conditions but by night the plume is lit up with colorful lights.
Place du Molard
This public square is located in between Vielle Ville and the lakeside and comprises a cluster of cafes, restaurants, and shops. Once the sun sets in Geneva, the cobblestones that pave the floor are illuminated to resemble the night sky.
Each stone features a word inscribed on it, in a variety of languages from all around the world. It's really worth taking a meander through the area to check them out and you might want to grab dinner or a glass of wine in one of the surrounding restaurants.
Dinner
Wrap up your 24 hours in Geneva with a scrumptious dinner. Chez ma Cousine in Vieille Ville is quaint and affordable while the chalet style Auberge de Savièse and Restaurant Les Armures each offer a more upscale dining experience.
---
Planning a trip to Switzerland?
Then you might want to take a look at all our other travel guides about Switzerland. I promise, they are just as awesome as this article was!
---
Pin It for Later!