Despite being the capital city of Switzerland, Bern is actually pretty small. Therefore, spending one day in Bern is the perfect amount of time to explore the main sights and get a sense of the city.
Bern is a tranquil, riverside city with a historic Old Town and an array of cultural attractions. Although sometimes overlooked in favor of Zurich and Geneva, the Swiss capital has more than enough to see and do to quench your wanderlust and it deserves a spot on any Switzerland itinerary.
Designed with first-time visitors in mind, this Bern travel guide will help you figure out what to do in Bern in one day based on the types of activities you enjoy the most when traveling.
*Disclosure: This post contains a few affiliate links, which means I may receive a small commission, at no cost to you, if you make a purchase through my link.*
No time to read now? Pin it for later!
Useful Info for Visiting Bern
How to get to Bern
Bern is tiny but it is still a capital city and therefore it does have its own international airport, situated 12 km (7.5 miles) southeast of central Bern. However, flights to Bern Airport (BRN) from other European destinations are very limited so you might find it easier to fly to a larger Swiss city and connect via rail or road.
Bern Train Station is situated centrally, just west of Bern Altstadt. This connects to other Swiss and European cities and you can check schedules, journey time, and reserve train tickets online at Omio.
Its central location and the fact that you can explore the best of Bern in a day means that this city is an excellent stop as part of a Switzerland road trip. It takes around 2 hours to drive there from either Geneva or Zurich but you can always extend the journey and discover some of the pristine Swiss countryside along the way.
Best time to visit Bern
Similar to Geneva and Zurich, you can absolutely visit Bern at any time during the year. It really depends on the type of experience you are seeking from visiting Bern in a day.
Winter temperatures do drop as low as -3°C (27°F) while the hottest summer months of July and August will see them soar to 25°C (77°F). The shoulder seasons of mid-spring, early summer, and autumn are the most pleasant overall with temperatures pushing 20°C (68°F).
Winter brings festive cheer in the form of Christmas markets and, if you're lucky, a light coat of snow on the city streets. Meanwhile, summer sees an influx in visitor numbers so you'll have to contend with more crowds, however, it's a really nice time for swimming in the river.
How to get around Bern
You can get around this compact city on foot for the most part. If your accommodation is further out of the historic heart then you can hop on board a bus or tram to connect to the city and then start your exploration.
This one day Bern itinerary mainly relies on walking to get around but it does include a couple of bus rides. If you book at least one night of accommodation in town, your hotel will give you a Bern Ticket that permits free travel during your visit, across buses, trams, and the Gurten funicular.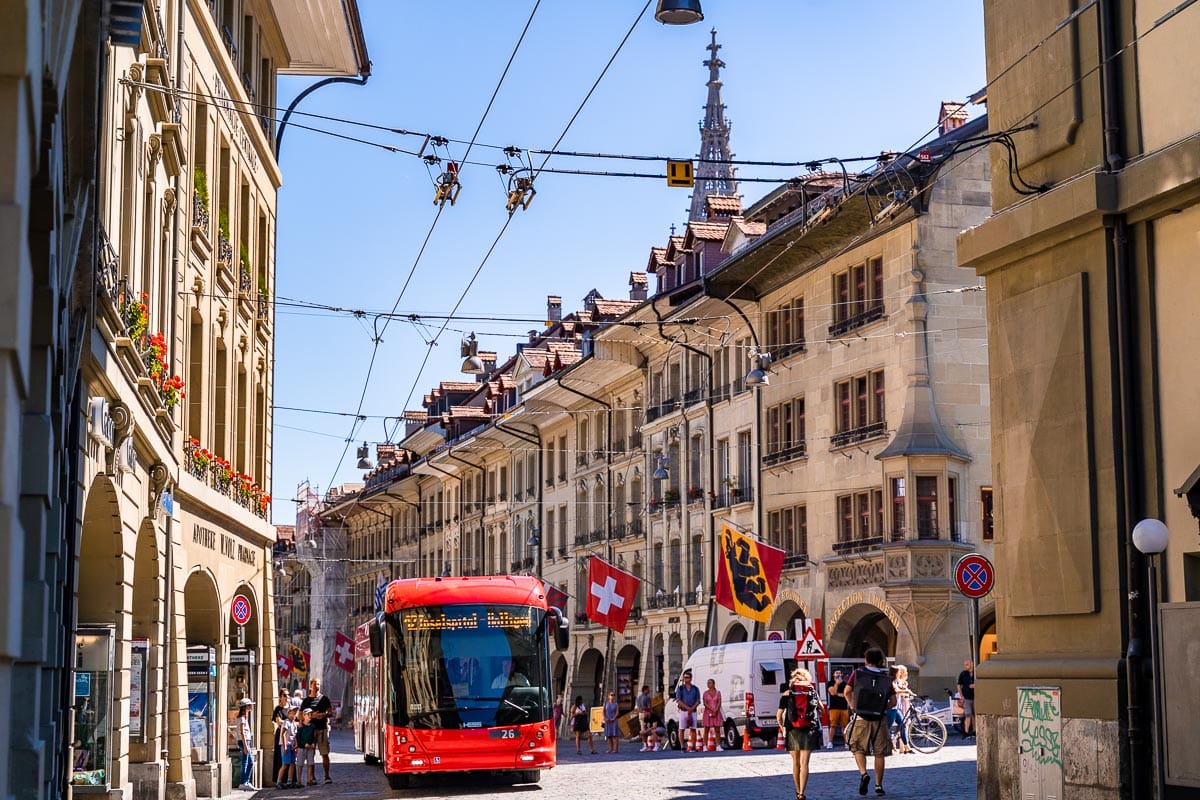 Where to stay in Bern
To save you some time, below you can find my personal recommendations for where to stay in Bern for one day.
LUXURY – Hotel Bellevue Palace Bern
This opulent 5-star hotel occupies an elegant Art Nouveau building that overlooks the Bernese Alps and lively river area. Besides the lavish rooms and suites, the property contains two bars, two restaurants, a sauna, and a gym. As with the other hotels listed, parking is available with a surcharge.
MID-RANGE – Boutique Hotel Belle Epoque
This elegant hotel is situated in the heart of Old Town and opens onto a pretty boulevard terrace where you can enjoy a meal or drink. Chic rooms and suites come with the option for a shower or bathtub and tasteful decor. Nearby parking is available for an additional fee.
BUDGET – Hotel Marthahaus
This budget-friendly hotel is centrally located down a residential street. You can save money by reserving a room that has a shared bathroom and look forward to a complimentary breakfast. Parking is available at an additional cost.
Overview of Your One Day in Bern Itinerary
Breakdown of your one day in Bern
Morning: Bern Altstadt, Bear Park, Rosengarten
Afternoon: Option A: visit an art gallery or museum, Option B: swim in the River Aare
Evening: Gurten, Dinner
Map of the best places to visit in Bern in a day
Below you can find a customized map that includes all the locations you're going to visit on this Bern itinerary. I marked the different times of the day with different colors – I used blue for the morning, red for the afternoon, and green for the evening, so you can easily see which places you're going to visit during your one day in Bern.
If you open up this post on your phone and you click on the bracket in the upper right corner of the map, it will automatically save this map to your Google Maps app so you can always have it with you. Super convenient, right?
Morning of Your One Day in Bern
Bern Altstadt
Bern Altstadt, the Old Town, is a UNESCO World Heritage Site. This gives you a hint that it's going to be historic, ornate, and beautiful so make sure you have your camera at the ready!
In terms of what to do in Bern in one day, you could easily spend it roaming this neighborhood and ticking off as many of the 100 plus fountains that dot the city. Follow my tips below to maximize your time.
Bundeshaus
You can start your self-guided walk around Altstadt at Bundesplatz, a historic plaza that provides the setting for Bundeshaus, also known as the Parliament Building and Federal Palace. Constructed between 1894 and 1902, the building was inaugurated by the United Federal Assembly 1st April 1902.
In front of the palace, you will see a fountain of 26 jets. Each one represents one of Switzerland's Cantons. The building itself is steeped in symbolism that represents Swiss history, culture, and values which is best digested on a guided tour.
These tours are free of charge, last one hour, and must be booked online at least three days prior. Tours take place from Tuesday until Saturday with English language tours scheduled for Saturdays. During the summer months, additional English language tours are available.
Zytglogge
Moving on from Bundeshaus, you can walk five minutes to the next attraction, Zytglogge. This medieval clock tower was constructed in 1405 and has served as a watchtower and prison in the past. Nowadays, it marks the core of Altstadt and it's a marvel to see the astronomical clock face close up. Schedule your 24 hours in Bern so that you arrive at the hour if you want to watch the show.
Einsteinhaus
Walk two minutes down Kramgasse from the Zytglogge and you will reach Eistenhaus, a residence where Albert Einstein lived in the early 1900s. The museum is open for visitors between 1 February and 20 December. Hours are Monday to Sunday, 10 am – 5 pm. The admission fee is 5 CHF (€5.10).
Churches
Altstadt is the setting for a scattering of churches, which represent different branches of Christianity.
Visit the 15th-century Cathedral of Bern where you can tackle the spiral staircase to reach the summit of the Gothic building and take in birds-eye views of the city. The church hall and steeple are open daily, 10 am – 5 pm.
The main church is free to visit but if you want to climb up the tower then there is a fee of 5 CHF (€5.10).
You may also want to stop at Nydeggkirche, a Protestant church situated next to Nydeggbrücke. It features a beautiful blue spire and attractive bronze carvings. Make this your last stop in Altstadt then you can cross over Nydeggbrücke and walk to the Rosengarten.
Bear Park
While wandering around Bern in one day, you might have noticed lots of bear symbols all across the city. This is not a coincidence, as the bear is not only the symbol of the city of Bern but the whole canton as well.
After knowing all this, it won't come as a surprise that Bern has its own Bear Park as well! Situated along the banks of the River Aare, the bears have a huge, 6000-square-meter park where they can roam free. You can also find a small bear pit near the park where you can observe the bears from a closer perspective.
Rosengarten
For the remainder of your morning, you can stretch your legs and capture wonderful views of Bern Altstadt from this elevated rose garden. This is a lovely place to take a breather during your one day in Bern and you could always bring a picnic up here to enjoy for lunch.
Rosengarten is a 10-minute walk from Nydeggbrücke and it is free to enter.
Afternoon of Your One Day in Bern
There are so many types of things to do in Bern in a day so for the afternoon, you can decide between a couple of options based on your personal preferences or what the weather is doing.
Option A: Visit an art gallery or museum
Option A is to visit one of Bern's many museums or galleries. Here are four suggestions for your one day in Bern! The first museum is located a bit out of the city but the rest are all located in Bern's Museum District, Kirchenfeld.
To access any of these museums in Kirchenfeld, you can board bus numbers 10 or 12, alight at Zytglogge, and then cross over Kirchenfeldbrücke on foot.
Zentrum Paul Klee
First of all, Zentrum Paul Klee showcases the avant-garde pieces produced by the Swiss-born German artist, Paul Klee. The work on display includes Klee's childhood sketches and journeys through his entire artistic career.
Even the exterior of the gallery is impressive in itself. Zentrum Paul Klee is open Tuesday to Sunday, 10 am – 5 pm (closed on Mondays) and admission is 20 CHF (€20.50).
Zentrum Paul Klee is situated a 20-minute walk from Rosengarten or you can save a bit of time by hopping on bus number 40 from outside the park.
Alpine Museum of Switzerland
The Alpine Museum of Switzerland is all about mountains and it's perfect for aspiring (or accomplished) mountaineers or anyone with a love of nature. The exhibitions cover Swiss ranges as well as international peaks and dive into alpine culture and traditions.
The museum is open Tuesday to Sunday, 10 am – 5 pm. Admission is 18 CHF (€18.40) if you want to see all the exhibits.
Museum of Communication
Situated within a former post office, Museum Für Kommunikation (Museum of Communication) is an interesting journey through the postal service, telecommunications, and contemporary media. You can even have a go at learning Morse code while you're here!
The museum is open Tuesday to Sunday, 10 am – 5 pm, and the entrance fee is 15 CHF (€15.35).
Bernisches Historisches Museum
Bernisches Historisches Museum is dedicated to Swiss history and hosts artifacts that date back as far as the Stone Age. Temporary exhibitions showcase topics ranging from royalty and court art to political movements. Within the same complex, you can also visit the Einstein Museum.
The museum is open Tuesday to Sunday, 10 am – 5 pm. Admission to the permanent exhibitions is 16 CHF (€16.40) and 18 CHF (€18.45) for the Einstein Museum.
Option B: River Aare swimming
If the weather is hot and you fancy cooling off then you can go for a session of wild swimming in the River Aare. This is one of the best things to do in Bern in a day during summer.
The section of the river just south of Dalmazibrücke is the most suitable place to do this. At Freibad Marzili you can nab a spot on the grassy lawn and hop in the river for a swim. Please note that swimming in the river itself is only possible for strong, experienced swimmers. Make sure you get a sense of the current before entering the Aare as some days it is stronger than others!
If you are more comfortable then there are also some swimming pools at Freibad Marzili where you can take a dip safely. The pools are open daily in summer during sunlight hours. During the winter months, they are open daily, 8.30 am – 6 pm.
There is no admission charge to swim in either the river or the pools at Freibad Marzili. From Rosengarten, you can ride bus numbers 10 and 12 and alight at Bundesplatz.
If you don't fancy a museum or a river swim, then you can extend the evening activity of your one day in Bern itinerary and spend longer at Gurten.
Evening of Your One Day in Bern
Gurten
Gurten is a mountain situated in the south of Bern and it is accessible from the city via the Gurten Funicular (Warbern Gurtenbahn). The view from the summit at 858 meters (2,815 feet) looks out over the Bernese Oberland region, the city, and the winding River Aare.
There are a variety of hiking trails that typically take 1–2 hours to complete and there is also a toboggan run. During the warmer months, you might stumble upon a festival while winter sees the peak transform into a mini ski resort.
From either Freibad Marzili or Kirchenfeld you can ride bus number 28 (board at Monbijoubrücke) to Bern Weissenbühl Bahnhof and then ride the commuter train to Wabern bei Bern where the funicular station is located. Your ride is free with your Bern Ticket!
Dinner
Toast the end of your one day in Bern with a tasty meal at one of the best restaurants in town. Zimmermania is a highly instagrammable place to go for authentic French dishes.
Final Thoughts
Now you know exactly what to do in Bern in one day! All that's left to do now is book your trip and enjoy your vacation. I hope that my one day in Bern itinerary has managed to show you how diverse this tiny capital city is and will be of help when it comes to planning your trip.
If you have any questions about Bern then feel free to get in touch via email or social media. Already traveled to the Swiss capital? Drop a comment below and tell me what you loved the most!
xoxo, Kriszti
---
Related Posts
Want to read more about Switzerland?
---
Pin It for Later!