Although Zurich is truly one of the most beautiful cities in Switzerland, due to its size, spending one day in Zurich is the perfect amount of time to experience the major attractions of the city.
Resting in the shadow of the Swiss Alps, Zurich is a treasure trove of historic landmarks, museums, galleries, and restaurants. Given its setting on the shores of the glistening Lake Zurich with the River Limmat flowing through the Old Town, Zurich is a really picturesque destination.
It offers plenty of appeal for urbanites yet the surrounding nature makes Zurich feel all the more spectacular for those who like their cities in a more rural environment.
This one day in Zurich itinerary picks out the most interesting things to see and do and provides a few different options to ensure that whatever the weather is doing, you have a few options to select from. Continue reading to find out how to prepare for your trip and what to do in Zurich for one day.
*Disclosure: This post contains a few affiliate links, which means I may receive a small commission, at no cost to you, if you make a purchase through my link.*
No time to read now? Pin it for later!
Useful Info for Visiting Zurich
How to get to Zurich
Zurich Airport, or Flughafen Zurich (ZRH), serves international and domestic flights with direct connections to most major European cities and North American destinations which makes Zurich a fantastic starting point for a Switzerland road trip.
The airport is situated 10 km (6.2 miles) north of the city. You can hop on the S-Bahn train or take the tram (line 10) into the city.
Either way, the journey costs 6.80 CHF (€7) but it's entirely free with the Zurich Card. If you want to purchase a Zurich Card, it costs 27 CHF (€28) for a 24-hour pass or 53 CHF (€55) for a 72-hour pass, if you are spending longer than one day in Zurich.
The card covers your travel via tram, bus, train, boat, and cableway in the city and surrounding area and grants free or reduced admission to a number of museums. It does not, however, cover the scenic boat cruises mentioned later in this Zurich itinerary.
You can purchase a Zurich Card online, via the Zurich City Guide app. Alternatively, you can buy one in person at the airport or at a ticket machine at a train station in town.
You can also travel to Zurich by train from elsewhere in Switzerland. Zurich Main Station is located super centrally in District 1. As a guideline, the journey from Geneva takes around 2 hours 45 minutes to traverse the 273 km (170 miles).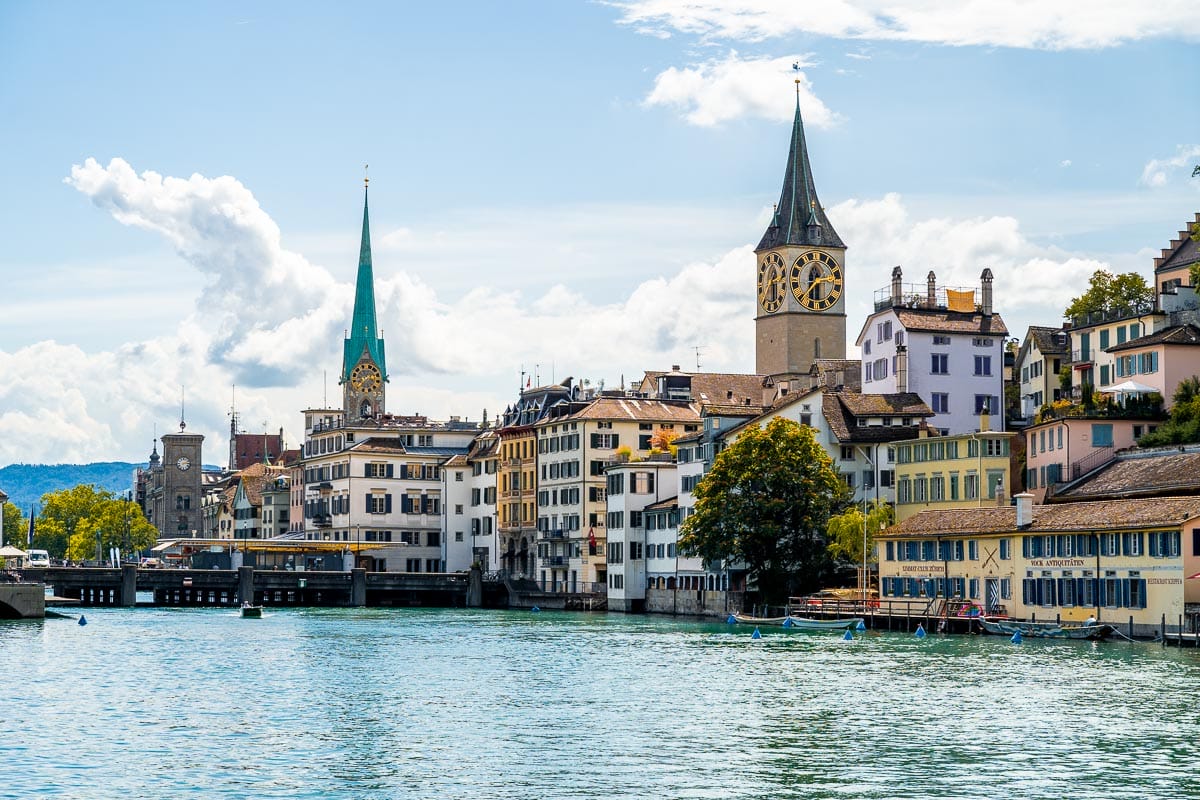 Best time to visit Zurich
There isn't a bad time to visit Zurich as the city has year-round appeal and it never gets unbearably hot or cold. It really depends on what you want to do while in the city and whether you prefer to spend more time indoors or outside.
This one day Zurich itinerary is designed for any season but note that some attractions, such as boat cruises, do not operate during the winter.
The only months that I would recommend avoiding are July and August as this is when the city is the most crowded and when trying to see Zurich in a day, you'll risk losing valuable time standing in lines. But, on the other hand, these are the best months for taking a dip in the lake!
Zurich is a joy to explore during the spring, early summer, and autumn months. The temperatures hover between 15-20°C (59-68°F) during these shoulder months and it's pleasant for walking around. You'll need some layers for the cooler evenings though.
Winter in Zurich is lovely because the city glows with Christmas markets and yuletide activities. This typically arrives towards the end of November and stays until the New Year celebrations when fireworks erupt over the lake. It rarely snows in Zurich, even during winter, but temperatures can drop to 0°C (32°F). Rain is possible at any time of year so you'll want to bring something waterproof.
How to get around Zurich
As with most European cities, Zurich benefits from a fantastic public transport system. Actually, it's slated to be one of the best in the world!
You can use the U-Bahn (metro), S-Bahn, buses, and trams to get around Zurich. For something more alternative, you can ride the Polybahn, a little red funicular railway, which connects the Old Town to the viewing platform at the Polyterrasse.
Zurich is also served by boats and ferries that navigate the Limmat and Zurichsee (Lake Zurich). So if you are wondering what to do in Zurich for one day, you can literally spend it riding all these fun transit systems around if you want to!
Where to stay in Zurich
As you are only spending 24 hours in Zurich, it makes sense to book accommodation as centrally as possible to save some time. I've rounded up three of the best places to stay in Zurich to suit all budgets.
If you do want to stay further afield, the perk is the wonderful public transport system I already told you about.
LUXURY – Storchen Zürich
This beautiful hotel is located right in the heart of Zurich and has its own boat pier directly at the Limmat River. Rooms come with classic furnishing with warm colors and modern facilities and each room offers a picturesque view of the Old Town. The hotel also has a beautiful outdoor terrace which is perfect for summertime trips.
MID-RANGE – Hotel City Zürich Design & Lifestyle
Situated by the famous Bahnhofstrasse, this modern hotel is artistically presented with comfortable and spacious rooms. All rooms have a private bathroom and most include bathtubs with overhead showers.
BUDGET – Hotel Marta
This no-frills hotel is clean, functional, and fabulously located in the northern point of the Niederdorf quarter of Old Town. Breakfast is included in the rate and the staff goes out of their way to take care of their guests.
Overview of Your One Day Zurich Itinerary
At a glance, this is how you will spend your 24 hours in Zurich. It's a fairly full agenda but some of the attractions are optional or either/or so feel free to customize this itinerary as you like!
Morning: Museum Rietburg/Rieterpark, Zurich Lake Cruise OR River Limmat Cruise
Afternoon: Zurich Altstadt (highlights include trying raclette for lunch and visiting Limmatquai, Rathaus, Grossmünster, St Peter's Church, Predigerkirche, Fraumünster, the Old Botanical Garden, and the Swiss National Museum)
Evening: Uetliberg Viewpoint OR Thermalbad & Spa Zürich OR Urania Sternwarte
Morning of Your One Day in Zurich
Museum Rietberg/Rieterpark
Located in the southwest of the city, Museum Rietberg is a collection of artworks and archaeological items from Asia, Africa, Oceania, and the Americas. The archive contains a mix of traditional and contemporary objects and is such an unexpected museum to find in the heart of Zurich.
Housed within a 19th-century mansion, the museum is set within the landscaped Rieterpark. If you are looking for more outdoorsy things to do in Zurich for a day then you can cross the road to visit the neighboring Belvoirpark and work your way over to the waterfront.
Museum Rietberg is open Tuesday to Sunday, 10 am – 5 pm, and until 8 pm on Wednesday evenings. Admission to the permanent collection is 14 CHF (€14.50) and if you want to also visit the temporary exhibitions, the ticket costs 18 CHF (€18.60).
Access to both Rieterpark and Belvoirpark is free and they are open 24/7.
Zurich Lake/River Limmat Cruise
If you want to get out on the water, then you have a couple of options for touring either the River Limmat or Lake Zurich.
The Lake Zurich Navigation Company schedules daily round trip cruises during the summer season, from early April until late October. If you are spending one day in Zurich, then the short tours that sail down to Thalwil and Erlenbach before returning to the city are the best option.
From Rieterpark, you can walk to Zurich Bürkliplatz in 15 minutes and board a boat there. The cruise takes around 1.5 hours and costs 4.40 CHF (€4.55). You can head straight to the ferry terminal but you might want to check the schedule online once you have your dates. They typically depart every half an hour.
Alternatively, you can take a scenic cruise along the River Limmat as part of your exploration of Zurich Altstadt. A round trip from Zurich Landesmuseum to the Zurichhorn in District 8 takes around 1 hour and costs 4.40 CHF (€4.55). Again, you can check the schedule online to help plan your time.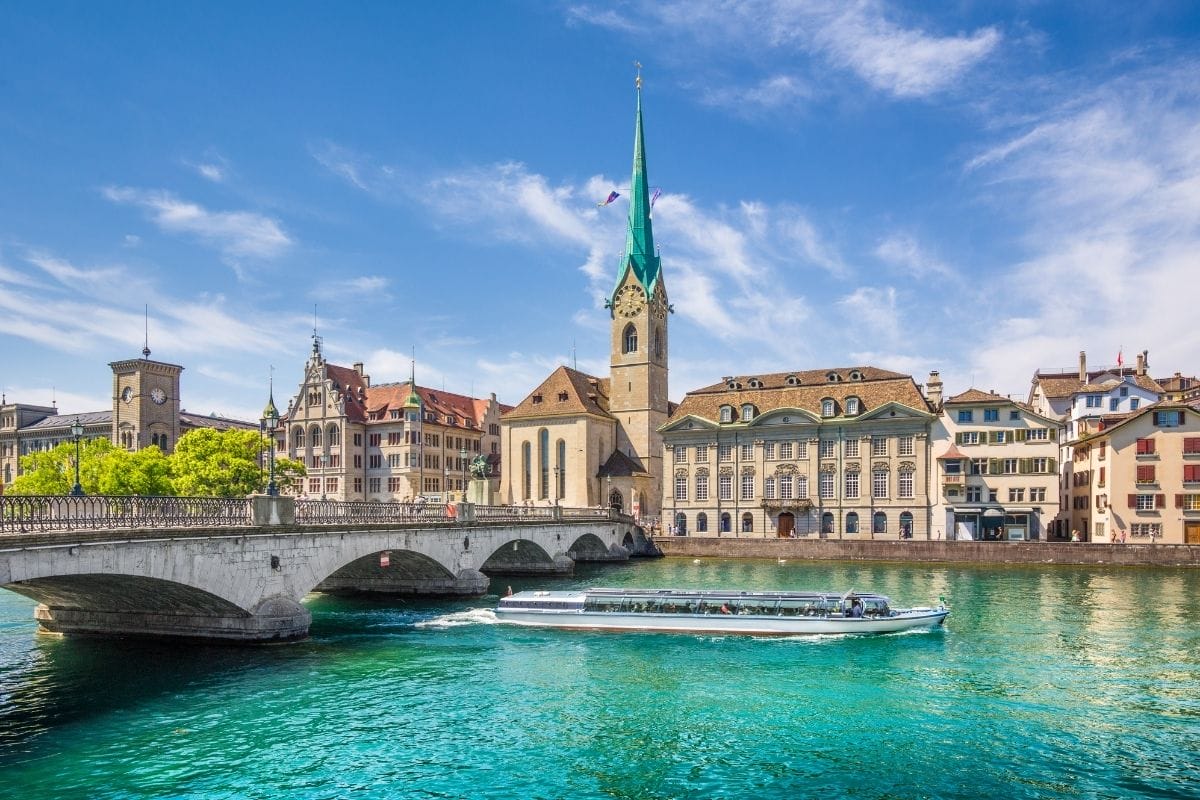 Afternoon of Your One Day in Zurich Itinerary
The Old Town, Zurich Altstadt, is situated within District 1 and straddles both banks of the River Limmat. The area is defined by its enchanting heritage architecture and friendly ambiance and it's lovely to dedicate a few hours to wander around it all. As there is so much to see, my one day Zurich itinerary pulls out some of the highlights.
Feast on Raclette
Raclette is one of the national dishes of Switzerland and if you love cheese, then sampling the delicacy for yourself is one of the best things to do in Zurich for a day. You'll find a number of restaurants in Altstadt which serve it so you can always follow your nose and see what you find.
But if you would rather save time looking, you can head directly to Raclette Factory for the most classic quality and dining experience. The restaurant is located on the right bank of the River Limmat and has a menu that offers the finest local cheese and a selection of potato options.
Notable Churches
There are so many beautiful churches in Zurich Altstadt so if you enjoy visiting these landmarks, you'll have a field day!
On the left bank, Fraumünster Church features an iconic teal spire, its majestic organ, and its elegant stained glass windows by the renowned artist Marc Chagall. There is an entrance fee of 5 CHF (€5.20) to enter the church but the rest of the churches on this list are free to enter.
Less than 5 minutes away, St Peter's Church brings together Romanesque and Gothic architecture and its signature is the colossal clock ticking down your 24 hours in Zurich!
Across on the right bank, pretty much directly opposite Fraumünster, you will find the twin-towered Grossmünster. Constructed in the 12th century, this church was the backdrop for the preachings of religious reformer Huldrych Zwingli in the 1500s.
One final church that you can linger on is the Predigerkirche, which means Preacher's Church. First erected in 1231 in the Romanesque style, the church has been through a couple of renovations and at the time the bell tower was added, it was remarked on for being unusually tall.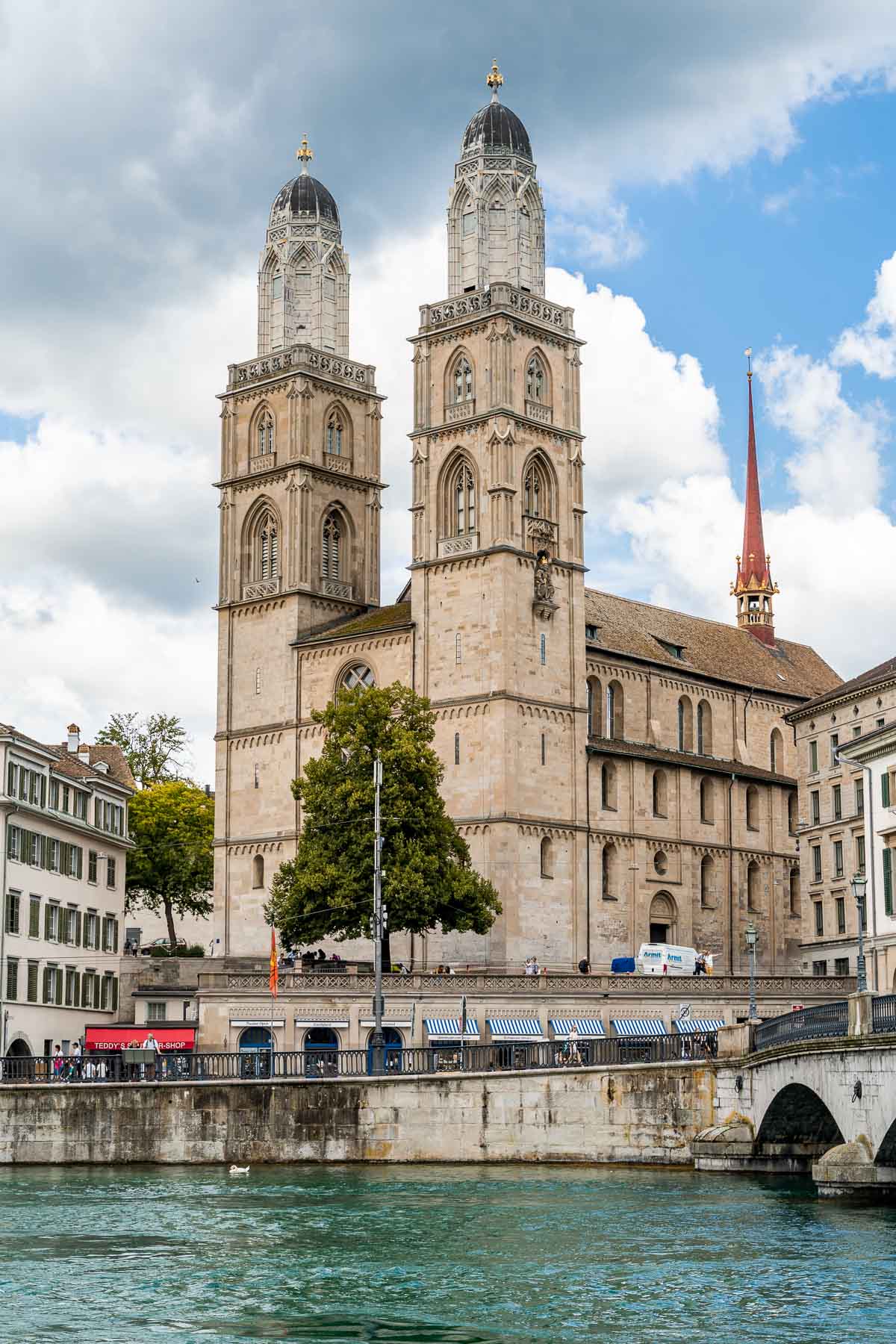 Limmatquai
This charming street lines the right bank of the river and is worth taking a stroll along to appreciate views across the water and shoot some postcard-worthy photos as a memento from your one day in Zurich.
One notable sight that you will not miss is the Zurich Rathaus or Town Hall. With a direct view over the river, the Rathaus has occupied this spot since the late 17th century when the building was constructed to replace an earlier town hall from the 13th century.
The Rathaus is the seat of both the local council and the cantonal council.
Old Botanical Garden
These 19th-century botanical gardens are located in the western point of Zurich Altstadt on the left bank. The park features flowers, bamboos, and edible herbs, vegetables, and fruits and it's a tranquil spot to recoup your energy while exploring the best of Zurich in a day.
The gardens are open Monday to Friday, between 7 am – 7 pm, and on weekends, between 8 am – 6 pm. The entrance is free.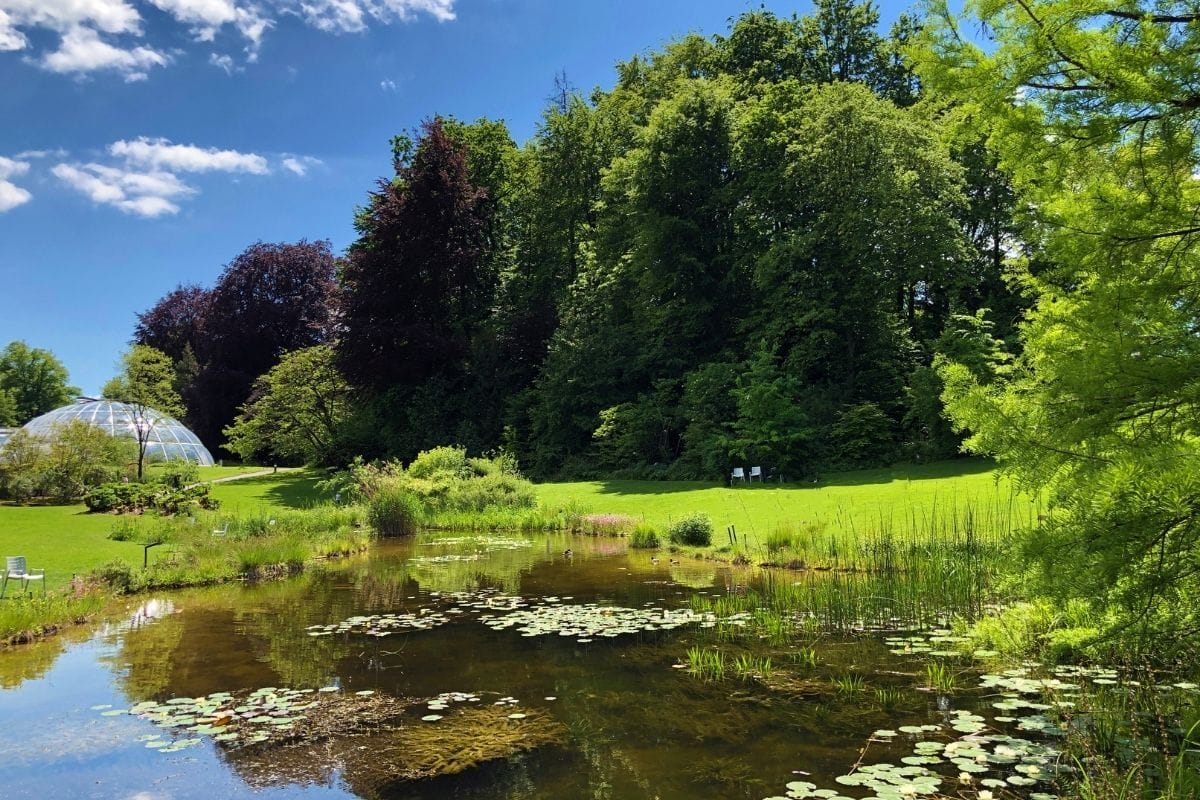 Swiss National Museum
Located in the northernmost tip of the Aldstadt at the confluence of the Limmat and Sihl rivers, the Swiss National Museum will tell you everything you could want to know about Switzerland's heritage and culture. They also curate fantastic special exhibitions about interesting topics.
The museum is a huge complex with loads of detail and you can easily spend 2-3 hours devouring the artifacts. For that reason, I recommend this as an option for history buffs or for those seeking things to do in Zurich for a day during winter or inclement weather.
The museum is open Tuesday to Sunday, 10 am – 5 pm, and until 7 pm on Thursday evenings. Admission is 10 CHF (€10.30).
Evening of Your One Day in Zurich
For your one evening in Zurich, I have selected a couple of options for you to choose from based on what you would prefer to do. If you are spending longer than one day in Zurich, you might want to tackle all three activities!
Uetliberg Viewpoint
For one of the best views across the city, lake, and surrounding Alps, you can visit the lookout at Uetliberg, a mountain that overlooks Zurich. Trains (route S 10) connect Zurich Main Station and Uetliberg in 25 minutes, then it's a short walk to the summit.
Whatever time of year you visit, the scenery is epic. For the purpose of this one day in Zurich itinerary, I suggest going up to catch the sunset although you could always flip it over and visit early in the morning.
Trains typically start around 6.30 am and run until around 11 pm but you can check the specific train schedule online.
If you are spending longer than one day in Zurich then there are loads of hiking trails waiting for you up here.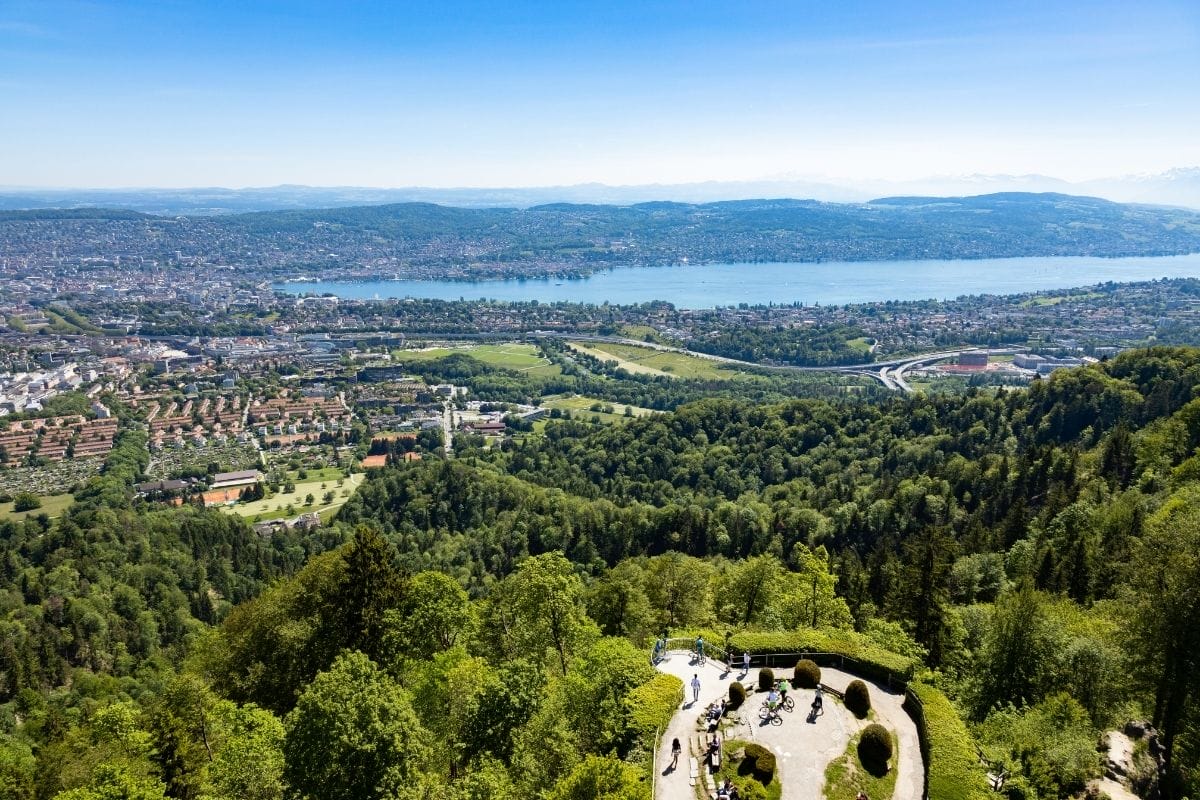 Thermalbad & Spa Zürich
If you aren't fussed to visit the viewpoint (or went first thing instead) then you might be tempted to indulge in a thermal mineral bath to soothe your aching feet.
Located in the former Hürlimann brewery, the spa has taken inspiration from the casks to create an aquatic wonderland in deep wooden barrels. There are a number of pools to discover and the highlight is the rooftop pool that provides a view across the rooftops of Zurich. While you're at the spa you can also opt to get a massage treatment if you wish.
Thermalbad & Spa Zurich is located in Enge. The thermal baths are open from Monday to Friday between 8 am – 10 pm and during the weekend between 9 am and 10 pm. It is not possible to book in advance and you might have to wait if the spa is busy. It is, however, recommended to book massages and treatments ahead. Day admission to the thermal baths is 35 CHF (€36.20).
Urania Sternwarte
One final option for things to do in Zurich for a day at night is to enjoy a spot of stargazing. This 50 meters (164 feet) high observatory in Altstadt hosts public astronomy tours on Thursday, Friday, and Saturday evenings at 8 pm during winter and 9 pm during summer.
The fee is 20 CHF (€20.65), but you get a 5 CHF (€5.20) discount if you have the Zurich card.
Final Thoughts
That concludes my Zurich travel guide! Now you know exactly what to do in Zurich for one day and can plan your own trip to Switzerland's largest city.
I hope that this one day in Zurich itinerary has demonstrated how you can squeeze all the best sights and attractions into your trip. If you have any questions about Zurich or traveling in Switzerland, please feel free to send me an email or drop a comment below. I'd love to hear from you!
xoxo, Kriszti
---
Related Posts
Want to read more about Switzerland?
---
Pin It for Later!