As if there aren't enough beautiful lakes and dreamy mountain views to fill your time in Switzerland you can even spend a day exploring its offbeat little neighbor, Liechtenstein. A Zurich to Liechtenstein day trip is the ultimate extension to your Switzerland itinerary!
As one of the smallest countries in Europe, this tiny nation is often overlooked by travelers to the continent. But despite its size, Liechtenstein manages to pack in fairytale castles, unforgettable alpine vistas, and picturesque mountain villages.
Let me give you all the lowdown on how to spend one day in Liechtenstein, how to plan your trip, and how to literally get another stamp in your passport.
*Disclosure: This post contains a few affiliate links, which means I may receive a small commission, at no cost to you, if you make a purchase through my link.*
No time to read now? Pin it for later!
Useful Info for Your Liechtenstein Day Trip
How to get from Zurich to Liechtenstein
The easiest way to get from Zurich to Liechtenstein is by driving. If you have your own car or rental vehicle, you can drive yourself to Liechtenstein within 1.5-2 hours, depending on the traffic.
Although you will come across many amazing viewpoints on the road, I actually suggest resisting the urge to stop – having one day in Liechtenstein is not a lot, so it's better to use your time wisely!
You can also take public transport from Zurich to Liechtenstein. As there is no train service in Liechtenstein, first you need to hop on a train from Zurich HB to Sargans (1-hour duration), where you need to catch a bus to get to Liechtenstein.
You can board either bus nr. 11 (destination: Feldkirch) or 12E (destination: Vaduz) – it will take around 25 minutes to reach Vaduz with both.
If you opt for public transport, you should expect the full journey to take a little over 1.5 hours, plus your transit to Zurich HB from your hotel. Pricewise it will cost between 30-50 CHF (€30-52) subject to the exact train you take and how far in advance you buy your tickets.
In terms of visa regulations, although Liechtenstein is not an EU member, it is part of the Schengen zone. That means that if you're an American citizen, you don't need to have a visa for short stays up to 90 days.
Best time to visit Liechtenstein
Liechtenstein experiences a similar continental climate as the rest of Western Europe. The best time to visit will depend on what you hope you get from your Liechtenstein day trip. For ease of accessibility, you might want to visit during the peak season months (April to late October) when the weather is warmer and all of the attractions are open.
Officially, the best time to visit Liechtenstein is spring through summer when the weather is at its most pleasant. July and August are the hottest months with average daytime temperatures of 18-20°C (65-68°F).
Autumn (September to November) brings cooler weather that gradually drops from 10°C (59°F) to 2°C (41°F). Winter (December to February) is cloudy and wet with snowfall in the mountains and sometimes in the lowlands. Temperatures linger around 1-3°C (33-37°F) but cold snaps and night temperatures may plunge to -3°C (26°F).
How to get around Liechtenstein
Of course, the easiest option for getting around Liechtenstein is having your own car, so you can drive everywhere without having to rely on public transport. If you have your own car, then you can easily hit all the stops outlined on this Zurich to Liechtenstein day trip itinerary.
Unfortunately, if you're planning to visit Liechtenstein with the help of public transport, it's highly unlikely that you will manage to see all the places listed below if you have only one day in Liechtenstein.
Don't worry, you will still be able to see a lot as public buses can take you practically anywhere, but because of the timetables, you will not be able to visit everything. So you'll need to decide which of the towns you most want to visit, then pick one or two to explore, and spend longer exploring Vaduz.
Overview of Your Zurich to Liechtenstein Day Trip
Breakdown of your Liechtenstein day trip
MORNING: Travel to Vaduz, Vaduz, Planken
AFTERNOON: Triesenberg, Stausee Steg, Malbun
EVENING: Balzers, Travel to Zurich
Map for your one day in Liechtenstein
Below you can find a customized map that includes all the locations you're going to visit on your Zurich to Liechtenstein day trip. I marked each time of the day with different colors – I used blue for the morning, green for the afternoon, and orange for the evening so you can easily see which places you're going to visit during your one day in Liechtenstein.
If you open up this post on your phone and you click on the bracket in the upper right corner of the map, it will automatically save this map to your Google Maps app so you can always have it with you. Super convenient, right?
Morning of Your Liechtenstein Day Trip
Plan to leave Zurich as early as possible to maximize your time in Liechtenstein. As you're going to have only one day in Liechtenstein, it's best to wake up early to be able to see as many places as you can! And once you make it to Vaduz, you can start your day of sightseeing.
Vaduz
As the capital of Liechtenstein, Vaduz is packed with numerous things to see and do. If you didn't have breakfast at your hotel or you're feeling hungry after the travel, I recommend stopping at either Balu Bäckerei Konditorei or Café Bar Vanini for a light breakfast or to pick up some coffee and pastries to go.
One of the first things you will see is Vaduz Castle (Schloss Vaduz), the pride and joy of the city. As this is the current residence of the Prince of Liechtenstein, the property is closed to the public. Moreover it is currently being renovated.
However, you are welcome to hike up to the castle for a closer look and to admire a scenic view. The walk takes 20 minutes and the earlier in the day you do this the quieter it will be. Otherwise, if you have your own car and want to skip the walk, you can drive up to the castle as well.
A fun activity to fit into your one day in Liechtenstein is a whirl on the Vaduz Citytrain. The tours take place from mid-April to late September and there are usually two slots per day. Check the online schedule before you plan your trip so you don't miss out. The cost is 11 CHF (€11.40) for the 35-minute tour.
You can brush up on your trivia about this tiny country at the Liechtenstein National Museum. The museum is open Tuesday to Sunday, 10 am – 5 pm (8 pm on Wednesdays), and closed on Mondays. The admission fee is 10 CHF (€10.40) and includes an audio guide.
Another interesting museum is the Postmuseum which contains a collection of postage stamps, letters, and other paraphernalia from all around the world. It's open daily, 10 am – 5 pm, but closes between 12 pm – 1 pm for lunch. Admission is free.
Continue down the road and you'll find St Florin Cathedral, a Gothic 19th-century church that peeks out from the greenery and is a great photo stop.
One of the quirkiest things to do in Vaduz is to swing by the Tourist Office and get your passport stamped. This costs 3 CHF (€3.10) and is a cool souvenir from your Liechtenstein day trip.
Planken
Planken is a quintessential alpine village nestled among the peaks that connect Liechtenstein with Austria. This is a popular destination for summer hikers and cyclists, however, for the purpose of your Zurich to Liechtenstein day trip I suggest coming here to bask in the tranquility of the village and ogle the majesty of the peaks.
Planken is a 15-minute drive northwards of Vaduz. Alternatively, you can take the 11, 12, or 13 bus to Bahnhof and then transfer to the number 26 bus. If you time the connections well this will take approximately 30 minutes each way.
Triesenberg
Triesenberg is a municipality that tumbles down the mountains above Vaduz. The main town provides incredible views of the Rhine Valley and features charming alpine residences with photogenic balconies.
As with Planken, it is the gateway for some terrific hikes in Liechtenstein. Unfortunately, you won't have time to hike when touring Liechtenstein in a day but you can still appreciate the landscape over a coffee at Bäckerei Guflina.
While in Triesenberg you can also dip into the Walser Museum to learn about the culture and heritage of the traditional Walser community. The space is designed to resemble what a typical Walser home would have looked like.
The museum is open Monday to Friday, 8 am – 6 pm (closed 12 am – 1.30 pm) and Saturday, 8 am – 12 pm. It's closed on Sundays. Admission is 16 CHF (€16.50).
Triesenberg is less than a 10-minute drive from Vaduz or a 20-minute drive if you are coming from Planken (you need to drive through Vaduz to reach Triesenberg). It's a 15-minute journey on bus number 21 from Vaduz.
Afternoon of Your Liechtenstein Day Trip
Stausee Steg
Situated in the charismatic village of Steg, Stausee Steg is a gorgeous alpine lake in a vibrant turquoise hue. You can walk around the lake in 20-30 minutes and if it's warm enough (and you brought your swimming gear on your Zurich to Liechtenstein day trip) you can take a dip.
While exploring Stausee Steg you can enjoy a lakeside lunch at Restaurant Seeblick which serves typical Liechtensteiner cuisine. You should also take a walk across to see the quaint Steg Chapel (Kapelle Steg) in the village, a short walk from the main bus stop.
Steg is a 15-minute drive from Vaduz and less than 10 minutes from Triesenberg. If you're getting around Liechtenstein via public transport and decide to visit Triesenberg, then you can tap on a trip to Stausee Steg. You need to hop back on the number 21 bus which takes just over 30 minutes from Triesenberg.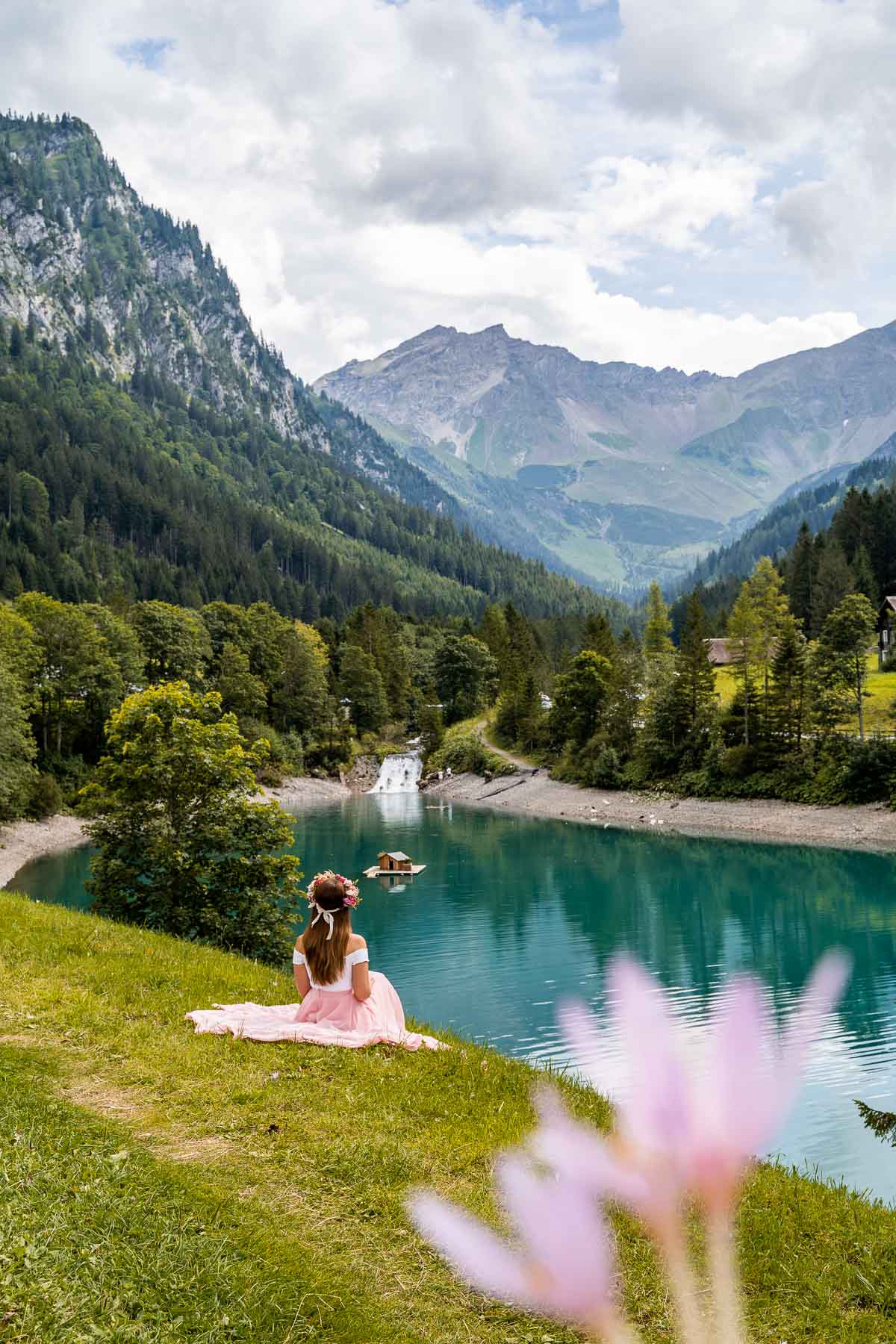 Malbun
With an altitude of 1,600 meters (5,249 feet), Malbun is the one and only ski resort in Liechtenstein. If you visit during winter the entire landscape will be cloaked in fresh powder. Come summertime, the valleys are a verdant shade of green and alive with walkers exploring the local hiking trails.
Whatever time of year your Zurich to Liechtenstein day trip happens to fall, you will be rewarded with a splendid view of some of the country's tallest peaks. You can ride the gondola from the town center up to Sareis to get the best possible views of the region. There is an après bar and restaurant at the summit too.
It takes 20 minutes to drive to Malbun from Vaduz or 6 minutes if you're coming from Stausee Steg. Alternatively, bus number 21 takes around 50 minutes from Vaduz or 20 minutes from Stausee Steg.
Evening of Your Liechtenstein Day Trip
Balzers
Balzers is the final town I recommend you make room for in your Zurich to Liechtenstein day trip. This beautiful town is located at the southernmost point of Liechtenstein and sits right on the Rhine River, across from Switzerland.
Built at the turn of the 13th century, Gutenberg Castle (Burg Gutenburg) is the start of the town. This fabulously preserved landmark presides over the village from its lofty hilltop setting and is open to tourists to visit. You can hike up to the grounds via a short but steep walk, passing a vineyard along the way that's draped across the hill.
Even if you don't want to go inside the castle premises, you can visit the grounds to get a beautiful view of southern Liechtenstein. Just behind the castle, there is a panoramic lookout marked by a modern monument which provides a nice frame for your photos. Depending on your timeframe and the time you visit, you can coincide your visit to the castle with sunset.
You can check the opening hours on the website of the castle. Between November and April it only opens on request for group visits. The entrance fee to the castle is 5 CHF (€5.20).
Back down in the town, you can also pay a visit to the Church of St Nicholas (Katholische Pfarrkirche St. Nikolaus). This Roman Catholic church was erected in 1909 to replace the previous parish which was destroyed during a fire.
After admiring the church, castle, and surroundings, there are a couple of restaurants in Balzers if you want to eat before returning to Zurich. Head to Riet if you've worked up an appetite.
Balzers is located a 15-minute drive from Vaduz or a 25-minute drive from Malbun. There is no direct bus from Malbun to Balzers but you can take the 11, 13, or 12E from Vaduz town.
Incidentally, the number 11 bus links Balzers with Sargans where you will need to catch your train back to Zurich. The journey from Balzers to Sargans takes 15 minutes.
So depending on which of the towns you decide to visit during your Zurich to Liechtenstein day trip you might want to consider this. For those relying on public transport, you might even want to head to Balzers first then spend the afternoon exploring Vaduz.
Final Thoughts
And that's exactly how to see the best of Liechtenstein in a day. It might sound like a lot to see in one day but as you can see, this is a perfectly feasible day trip providing that you do some planning in advance and hit the road bright and early.
If you are planning on traveling from Zurich to Liechtenstein via public transport you will need to decide which of the towns besides Vaduz most appeal to you and align your schedule appropriately.
If you have any more questions about your Zurich to Liechtenstein day trip please don't hesitate to email me or leave a comment below and I'll do my best to help you out. If you do take this suggested day trip, I'd love to hear what you thought. Let me know in the comments how it goes!
xoxo, Kriszti
---
Related Posts
Want to read more about Switzerland?
---
What Camera Gear Do We Use?
If you want to read more about what is in our camera bag, check out my detailed post about our travel photography gear!
---
Pin It for Later!