Are you planning to visit the Hungarian capital during the holiday season and stroll the best Christmas markets? Well, you're definitely in for a treat!
Christmas markets in Budapest are truly amazing and visiting them is undoubtedly one of the best things to do in Budapest in December. And I'm not saying this just because I'm a local! In fact, the Advent Feast at the Basilica is often voted as one of the best Christmas markets in Europe.
I love strolling around the cute wooden chalets with a mulled wine in my hand, watching the sparkling Christmas lights, and admiring the festive decoration. Are you ready to explore the best Christmas markets in Budapest with me? Read along to find the best locations in the city together with recommendations about what to eat and drink!
Depending on how much time you're planning to spend in the city, you might be interested in reading my 2 day Budapest itinerary or my 4 day Budapest itinerary as well! Are you looking for the most instagrammable places in Budapest? Check out my guide about the best Budapest Instagram spots!
Disclosure: *This post contains a few affiliate links, which means I may receive a small commission, at no cost to you, if you make a purchase through my link.*
No time to read now? Pin it for later!
Best Christmas Markets in Budapest
If you are visiting Budapest during November and December then checking out the Christmas markets is a must-do on your itinerary! Budapest is one of the best Christmas destinations and you can find many Christmas markets across the city.
The most famous ones are located in the city center and they are actually really close to each other so you can easily walk from one spot to another.
1. Vörösmarty Square
Location: 1051 Budapest, Vörösmarty tér
Opening dates: 18 November 2022 – 31 December 2022
The biggest Christmas market in Budapest always takes place in Vörösmarty square. During this period the square turns into a festive marketplace where you can buy some unique gifts for your loved ones and try the best of Hungarian cuisine.
In addition to the cute wooden stalls, you will also find a huge Christmas tree and two outdoor stages in the square where you can enjoy several different performances during your visit.
Vörösmarty square is located in the heart of the city so it's very easy to get there. You'll find the Christmas market at the end of the popular tourist attraction, Váci street, so you can easily get there on foot. Alternatively, metro line 1 also stops here.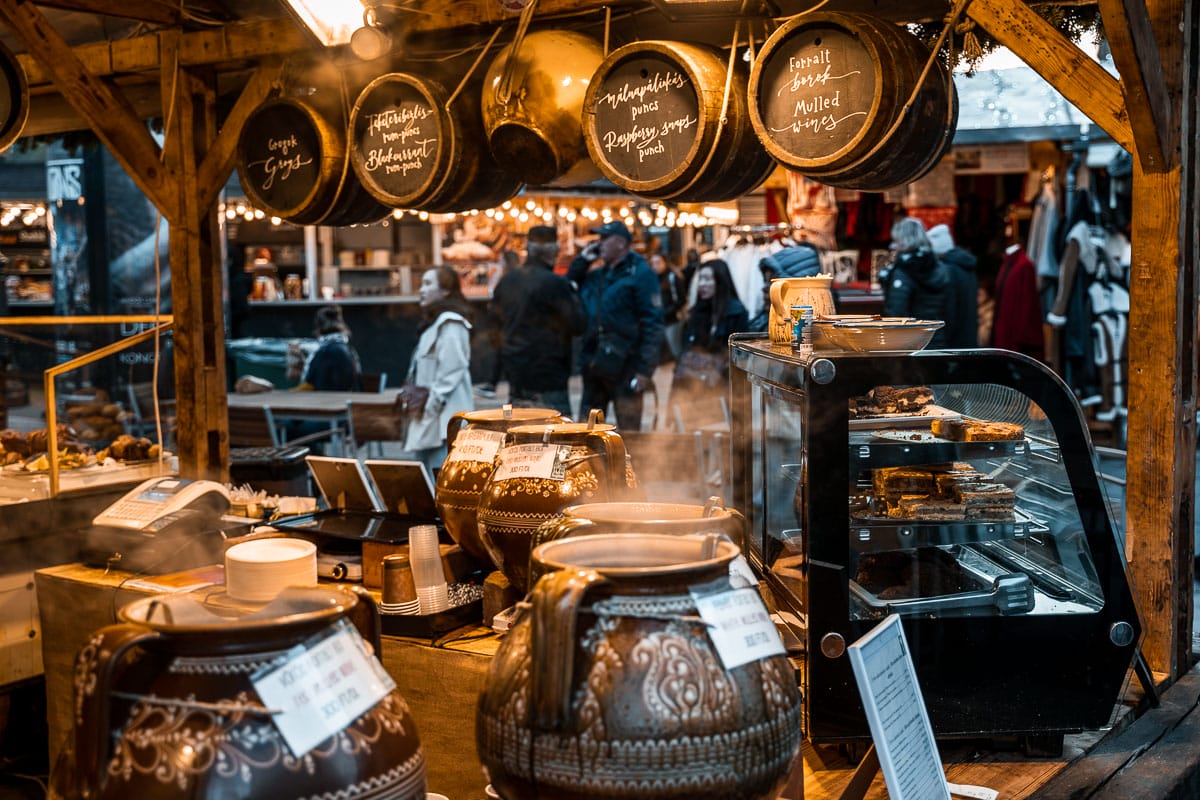 2. St. Stephen's Basilica
Location: 1051 Budapest, Szent István tér
Opening dates: 18 November 2022 – 1 January 2023
Although the Christmas market in front of St. Stephen's Basilica is a lot smaller than the one on Vörösmarty Square, it is still the most popular Christmas market in Budapest.
You will also find small wooden stalls there selling a selection of craftworks and typical Hungarian food. But what makes this Christmas market really unique is the ice skating ring in the middle with a 12 meter high Christmas tree right in front of the Basilica!
And if it weren't enough, there is a custom-designed light show projected on the Basilica every half hour between 4.30 pm – 10 pm. Currently, this is the largest 3D Christmas Projection in Europe so it's time to put it on your bucket list if you haven't already!
You can also go up to the panorama viewpoint in the Basilica from where you will get a unique view over the Christmas market and the whole city. The ticket costs 3,200 HUF (around $9 US) and it is open between 10 am and 4.30 pm during the winter months. It's best to go 30-60 minutes before sunset time because this way you can see the view in daylight, at sunset and in the night too.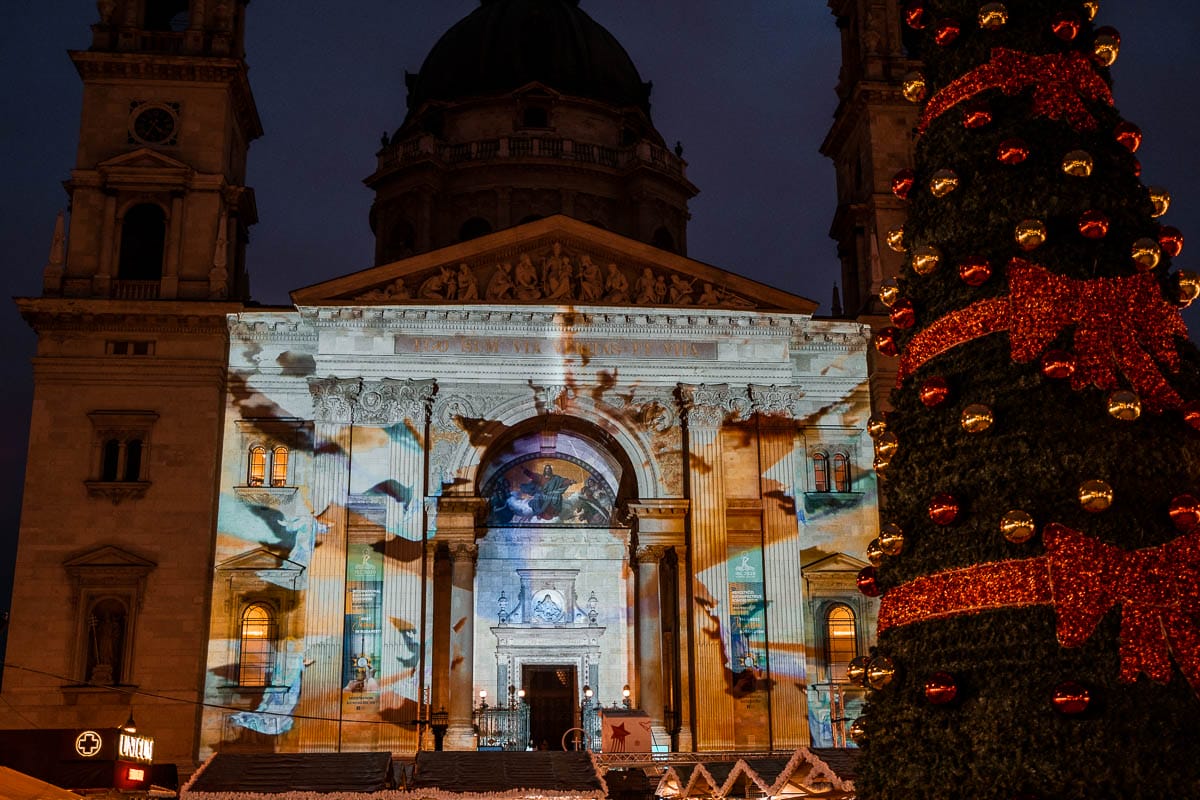 3. Deák Ferenc Street – Fashion Street
Location: 1052 Budapest, Deák Ferenc street
Operating dates: 13 November 2022 – 1 January 2023
If you are looking for the best Christmas lights in Budapest, you have to visit Deák Ferenc street, otherwise known as Fashion street!
The street is packed with famous designer shops and it's beautifully decorated during the festive season. You can also find a few stalls here but it's more about the Christmas lights than the food or craftworks.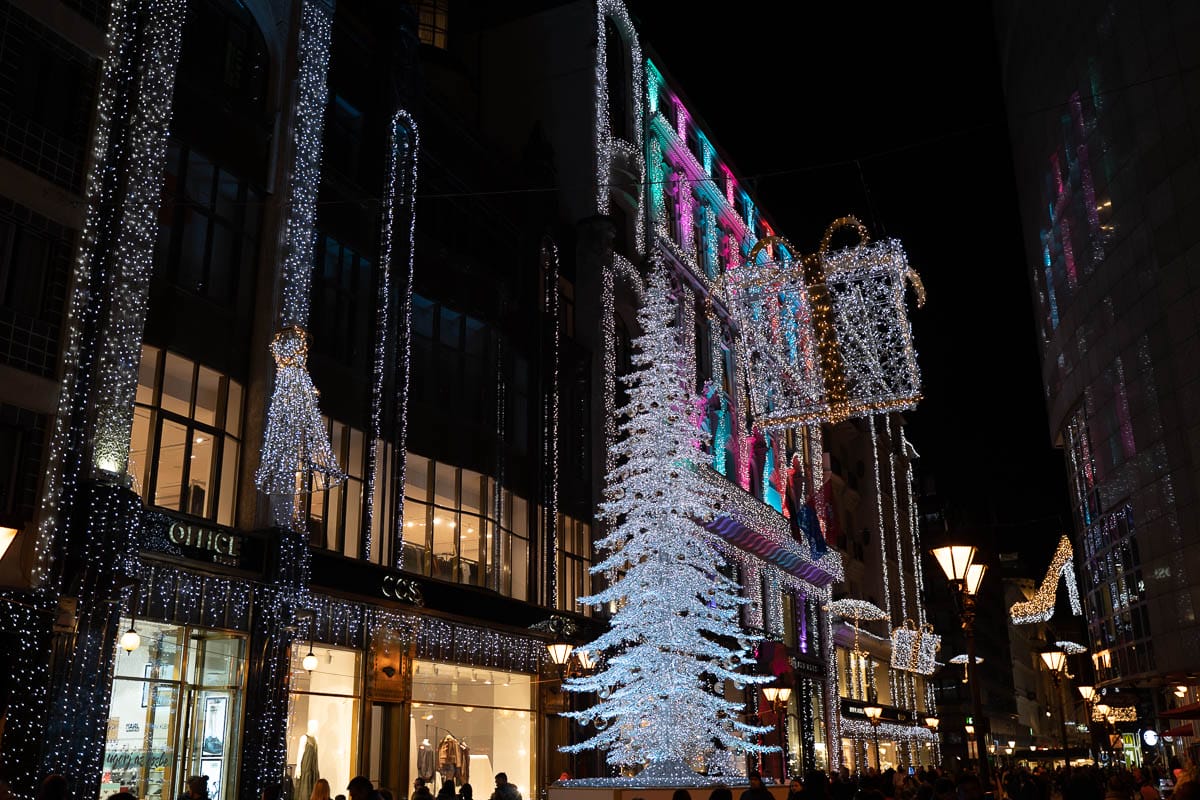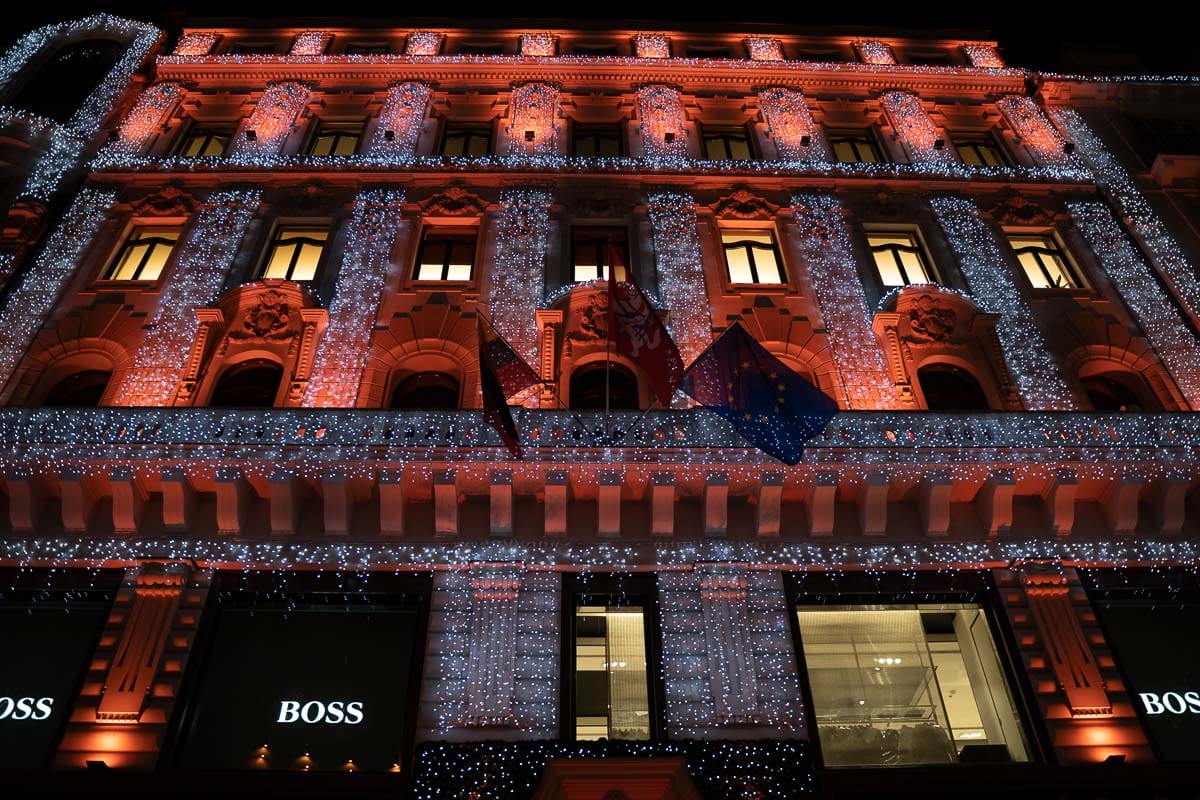 What to Eat & Drink in the Christmas Markets in Budapest
The typical Hungarian cuisine is very heavy in general and the Christmas meals are no different. They are really delicious though so try to taste as many as you can! It's better to go to the Christmas markets with an empty stomach so you can try various meals.
Lángos
Lángos is a typical Hungarian street food. It's really popular in the Christmas markets but it can be found around the city any time of the year. A classic lángos is served with sour cream, garlic butter, and shredded cheese but there are several other toppings that you can try like onions, sausages, or bacon.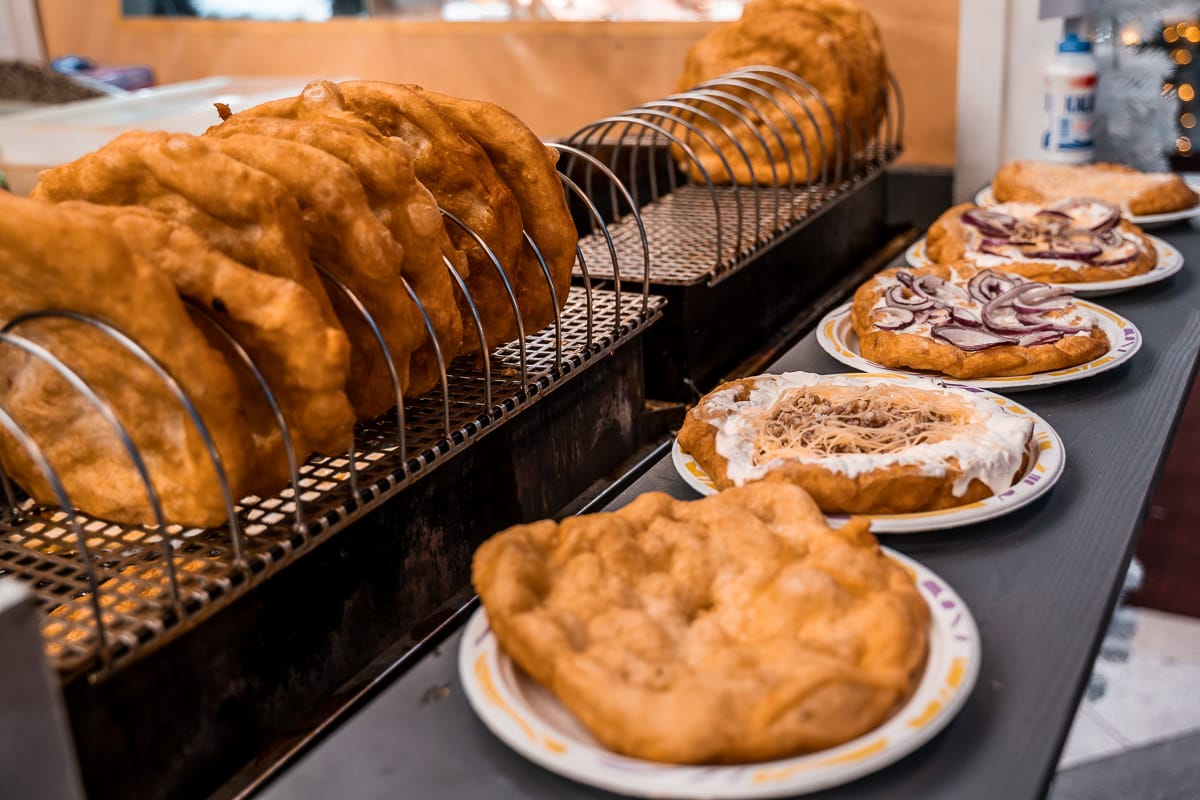 Mulled wine (Forralt bor)
Have you ever been to a Christmas market without trying the mulled wine? Hungary is really famous for its wines so drinking a cup of mulled wine is a must on the Christmas markets! If you don't drink alcohol you can try the hot spicy apple juice or the hot chocolate instead.
Goulash (Gulyás)
The goulash soup is probably one of the most well-known Hungarian meals. This traditional soup is made of tender beef, onions, potatoes, carrots, and lots of paprika. It is a very hearty meal, usually served with white bread.
Stuffed cabbage (Töltött káposzta)
Stuffed cabbage is a traditional Christmas meal in Hungary. The stuffed cabbage is made of cooked cabbage leaves wrapped around ground beef and rice and layered in a baking dish on top of homemade tomato sauce. It's typically served with sour cream and white bread.
Pálinka
Pálinka is a traditional Hungarian alcoholic drink. From 2002 you can only call a drink pálinka if it's made of fruit spirits and it was distilled, matured, and bottled in Hungary.
The minimum alcohol content is 37.5% but it can go up to 86%. It's a really strong drink and it will definitely burn your throat so take it easy! The most popular flavors are apricot, pear, and plum.
Roasted chestnuts (Sült gesztenye)
You will find many stalls selling roasted chestnuts in the Budapest Christmas markets. It's a very popular autumn and winter street food not only in Budapest but across East Asia, Europe, and the US as well.
Grilled sausages (Grill kolbász és hurka)
There are basically three types of sausages in Hungary: the 'kolbász' is seasoned with paprika, the 'májas hurka' is made from pork liver, and the 'véres hurka' made from pork blood. They are usually served with mustard or horseradish and white bread.
Strudel (Rétes)
Strudel is a layered pastry housing a super sweet filling like curd, sour cherry, apple, or poppy seed. It is a typical dessert on the Christmas table in Hungary, my grandmother always makes it for Christmas in a chocolate and walnut flavor. They are my favorites! I recommend tasting as many flavors as you can because they are all delicious!
Chimney cake (Kürtőskalács)
Many people associate chimney cakes with Prague however it originates from Hungary. Chimney cakes are made from a sweet dough that is rolled in granulated sugar, wrapped around a cone, and roasted over charcoal. During the baking process, the sugar caramelizes and becomes a crispy crust.
The surface of the chimney cakes can be topped with several ingredients such as walnuts, coconuts, cinnamon, or chocolate. Nowadays the ice cream filled chimney cakes are becoming more and more popular so you can also find them in the Christmas markets.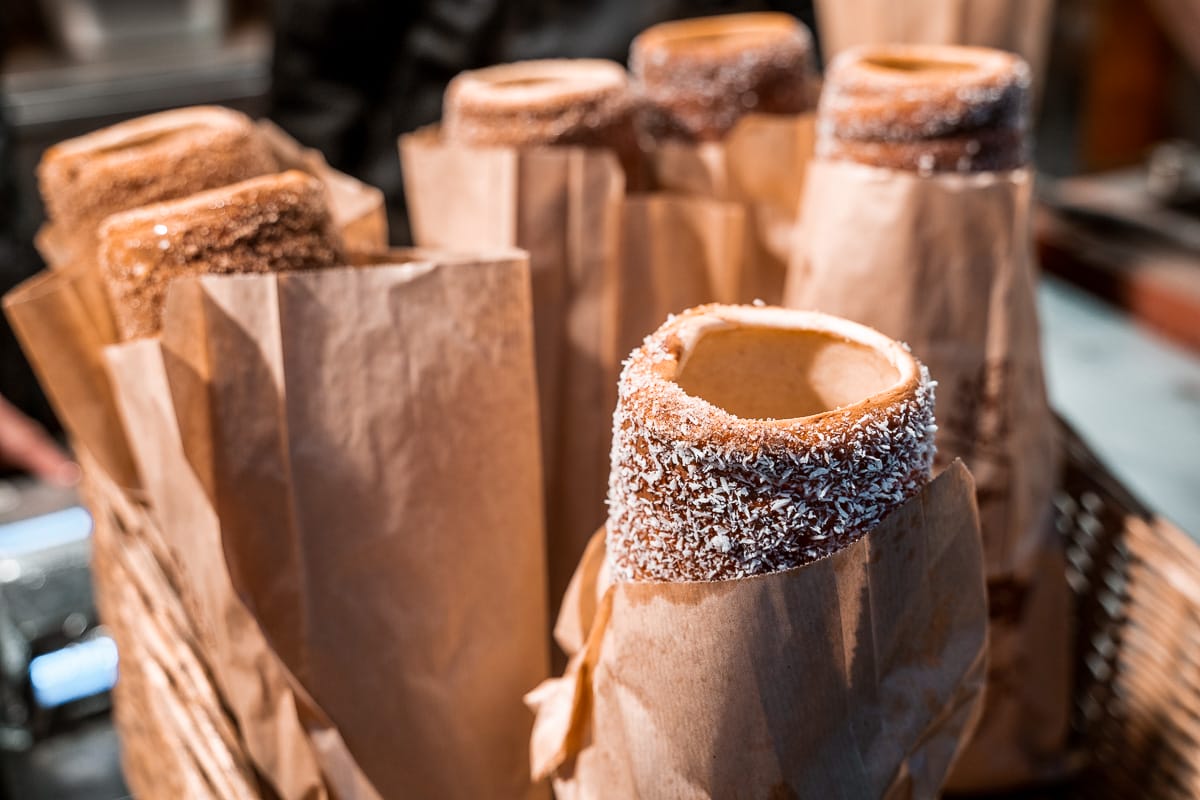 Flódni
Flódni is a traditional Hungarian Jewish cake with five layers of dough and four different fillings: plum jam, walnut, apple, and poppy seed. It's like all the different flavors of strudel combined. Super delicious!
Where to Stay in Budapest
At first, Budapest can seem like a big and overwhelming city but in reality, it's far from it. Sure, it occupies an area of 525 km² (200 square miles) but most of the tourist attractions are located relatively close to each other, which makes Budapest a compact and easily walkable city.
On top of that, the public transportation with 4 different metro lines and countless tram and bus lines is really helpful when getting around in Budapest. But if you choose the location of your accommodation wisely, you might not even have to use public transportation at all!
Budapest has 23 administrative districts and the Danube river divides the city into two different parts: Buda and Pest. The classic city center is located on the Pest side, comprising districts 5, 6, and 7. This is one of the best areas to stay in Budapest for sightseeing!
Below you can find some of the best hotels to stay in the city center of Budapest, depending on your budget.
LUXURY – Anantara New York Palace Budapest
Anantara New York Palace Budapest occupies an elegant 19th-century building in the heart of Budapest, close to the Opera and Andrássy Boulevard. The spacious, air-conditioned rooms feature luxurious Italian furniture and fabrics like silk wallpaper and Murano chandeliers.
MID-RANGE – Hotel Moments Budapest
Located on the iconic Andrássy Avenue of Budapest, Hotel Moments Budapest offers stylish rooms, wellness facilities, and an on-site restaurant. Every room is equipped with a flat-screen TV. Some rooms have a seating area to relax in after a busy day. Each room comes with a private bathroom and exclusive bathroom amenities.
BUDGET – T62 Hotel
Attractively set in Budapest, T62 Hotel features air-conditioned rooms, a bar, free WiFi, and a shared lounge. This 3-star hotel offers a 24-hour front desk and a concierge service. At the hotel, rooms are fitted with a desk, a flat-screen TV, and a private bathroom. T62 Hotel also offers a continental or buffet breakfast.
---
Planning a trip to Budapest?
Then you might want to take a look at all our other travel guides about Budapest. I promise, they are just as awesome as this article was!
---
Related Posts
Want to read more about Hungary?
---
More Budapest Resources
Want to learn even more about Budapest? Check out these awesome books and travel guides for more inspiration!
---
What Camera Gear Do We Use?
If you want to read more about what is in our camera bag, check out my detailed post about our travel photography gear!
---
Pin It for Later!