If you're looking for an exquisite hotel with luxurious accommodations in the heart of Budapest, then Matild Palace, a Luxury Collection Hotel is the perfect place for you.
With its timeless elegance and impeccable service, this hotel will truly make you feel like royalty. From the moment you arrive, you'll be treated to world-class service that will make your stay unforgettable.
During our last trip to Budapest, we had the chance to spend 3 nights at Matild Palace and we were absolutely blown away by the level of luxury and comfort this hotel offers.
Keep reading to learn all about Matild Palace and why it should be your number one choice when planning a trip to Budapest.
*Disclosure: This post contains a few affiliate links, which means I may receive a small commission, at no cost to you, if you make a purchase through my link. Please note that we were invited to stay at Matild Palace, a Luxury Collection Hotel, however, all thoughts and opinions are my own, as always.*
No time to read now? Pin it for later!
Basic Information
Matild Palace, a Luxury Collection Hotel, Budapest
Address: Budapest, Váci u 36, 1056 Hungary
Phone: +36 1-5505000
Website: matildpalace.com
Instagram: @matildpalace
Arriving at Matild Palace
History
The history of Matild Palace goes back to the late 19th century. The construction of the palace has started in 1899 based on the idea of Princess Clotilde of Saxe-Coburg and Gotha, the wife of Archduke Joseph Karl of Austria, who had envisioned two twin palaces standing side by side by the feet of the newly built Elisabeth Bridge.
The palaces were designed by Hungarian architects Kálmán Giergl and Flóris Korb in the Neo-Baroque style. The construction was finished in 3 years and it was one of the first buildings in Budapest having been built on iron structures. Moreover, this building was the first in the city to have an elevator!
In 1902 the twin palaces, nicknamed Matild and Clotilde, were finally opened to the public. They quickly became one of the icons of Budapest and the buildings served as rental apartments and business offices until 1944.
During World War II, the palaces were heavily damaged and even though the building was reconstructed to a certain level, it never regained its former glory.
The building that now houses Matild Palace has gone under a major renovation in the 2010s and after 5 years of work, the hotel finally reopened its doors in the summer of 2021. Its twin, Clothilde, is still under renovation but is expected to open its doors soon as well.
Location
Matild Palace, a Luxury Collection Hotel is located centrally in Budapest's city center, a neighborhood filled with historical buildings and an upscale atmosphere. There's a mixture of boutiques, elegant cafes, and luxury hotels in this area.
The closest airport to the property is Budapest Ferenc Liszt International Airport which is 23 km (14.3 miles) away, though there is an airport shuttle available for guests to use.
Although the hotel doesn't have its own designated parking lot, there is a nearby parking garage that can be used in case you're traveling to Budapest by car. The price of parking is €4 per hour or €35 per day. Alternatively, you can park on the nearby streets as well and pay the parking fees accordingly.
In terms of public transport, the hotel is just a few steps away from the Ferenciek Tere metro station, making it very easy to get around the city.
Thanks to its prime, central location on the Pest side, there are many top attractions to visit nearby. In fact, Elisabeth Bridge, Gellert Thermal Baths, Dohány Street Synagogue, and the Hungarian National Museum are all within walking distance of the hotel.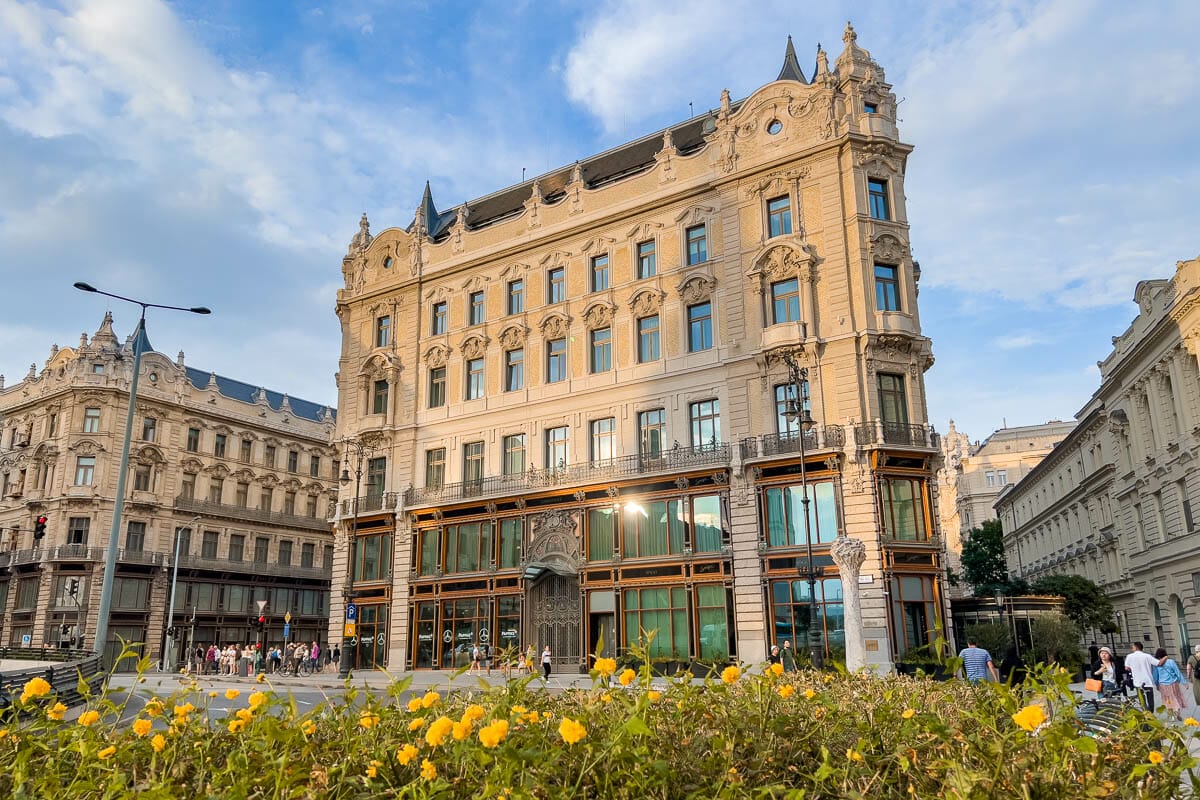 Lobby & Check-in Process
The lobby at Matild Palace, a Luxury Collection Hotel is lavishly decorated, with a grand chandelier, high ceilings, and black and gold accents throughout that are truly glamorous.
Once you get to the lobby, the check-in process is smooth and quick. We were lucky enough to even receive a tour of the property upon check-in, which was really amazing and acquainted us with all the luxury facilities that the accommodation has to offer.
Rooms & Suites
Matild Palace features 130 guest rooms split between 111 regular rooms and 19 suites.
Rooms at this accommodation also offer impeccable views including ones that overlook the city or even the Danube River. They boast great amenities like a coffee machine, mini bar, air conditioning, and more.
When creating the hotel, many pieces of art from local Hungarian artists were chosen to adorn the rooms, which helps to bring together a feeling of old and new.
We were lucky enough to spend time split between a variety of the different rooms that this hotel offers, which you can learn more about below!
Danube River View Room
First is the elegant Danube River View Room, which is lavishly styled with classic furniture with velvet upholstery. The beautifully-styled bathroom features marble sinks and blue mosaic tile, which were inspired by Gellert Thermal Baths.
By combining traditional art nouveau styles with contemporary, the Danube River View Room feels comfortable yet upscale at the same time. The gold and teal color palette helps to create a complementary feel that's perfectly balanced.
This is the room we generally stayed in during our time at Matild Palace. Our room was located on the mezzanine floor and featured floor-to-ceiling windows that overlooked the Danube River and Elisabeth Bridge, which was a beautiful view to wake up to in the mornings!
Elisabeth Bridge Suite
If you are looking to splurge, the Elisabeth Bride Suite will be a perfect choice for you. The room can host three guests and what's special about this suite is that it has two balconies overlooking the Danube River!
Similar to the Danube River View Room, the Elisabeth Bridge Suite features complimentary teal and yellow tones mixed with gold that helps the room feel balanced. Large windows surround the bed which allows for lots of natural lighting.
One of the most striking features of this lavish room type is the bathroom, which is made of all marble. Seriously, marble is on the walls, the sinks, and even the floors, and gold and light green accents are found throughout.
Loft Room
The Loft room is one of the most unique rooms that can be found at Matild Palace, a Luxury Collection Hotel. If you prefer more of a cozy, apartment-style experience with unparalleled city views, this top-floor room is for you.
The plush king bed is situated underneath a unique skylight-type window with slats that looks out to the city or the river, depending on which unit you choose. In the evenings, this room has to have some of the most breathtaking colors from the sunset!
The bathroom is just as beautiful, with the same marble, gold, and blue tones that can be found in the Danube River View Room. Up to three guests can stay in this room type at a time, which also features a lively sitting area.
Service & Facilities
Swan Spa
One of the best facilities at Matild Collection, a Luxury Collection Hotel is the on-site Swan Spa.
Styled with the same cool white marble and gold accents, this place is incredibly luxurious and is the perfect place to refresh and relax after time spent exploring the attractions of Budapest.
What makes this spa so incredible is that it features a Turkish Hammam experience along with other traditional saunas, massages, facials, and more. There are even couples massages available if you happen to be visiting with your special someone.
Appointments aren't required to enjoy the Swan Spa, and they are open daily between 7 am and 10 pm.
Fitness Center
If you want to stay fit even during your vacation, you can take advantage of the sleek fitness center with cool grey and black tones. Large mirrors line the walls, so you can make sure your form is correct during your workout.
The fitness center is open 24 hours a day 7 days a week and has up-to-date fitness equipment that's top-notch, including bikes, hand weights, and more. To access it, you'll just need your hotel key card.
Dining
Beyond its on-site facilities like the Swan Spa and the fitness center, Matild Palace, a Luxury Collection Hotel features a variety of different dining types that guests can enjoy during their stay.
The dining units are open to non-guests as well so even if you decide to stay elsewhere, you can still enjoy a nice afternoon/evening in one of the facilities.
Matild Cafe and Cabaret
With jewel-toned green and red colors throughout, Matild Cafe and Cabaret truly takes you back in time with nostalgia.
The cafe was first opened in 1901 and it quickly became the center of the social life of the Belle Epoque era. It was popular among public figures, journalists, and writers who often held meetings in the cafe.
One of its most famous guests was Gyula Krúdy, a Hungarian writer and journalist who wrote the majority of his book, The Adventures of Sindbad, in the coffeehouse. His statue can be found at the entrance of the coffeehouse and passers-by can even sit next to him.
Matild Cafe was also the first place that has been reopened after World War II so it played a significant role in restoring social life.
Together with the rest of Matild Palace, Matild Cafe was also restored to its former glory and the two-story coffeehouse is now among the favorites of both locals and tourists alike.
You can stop by for a meal or an afternoon coffee with cakes at any time or if you're a guest of the hotel, you can enjoy the complimentary continental breakfast served on the first floor of the cafe. Starting from October 2022, the cafe is also hosting cabaret shows in the evenings!
The dress code at this cafe is smart casual, and it's open Monday and Tuesday from 9 am to 6 am and Wednesday through Sunday from 9 am to 9 pm.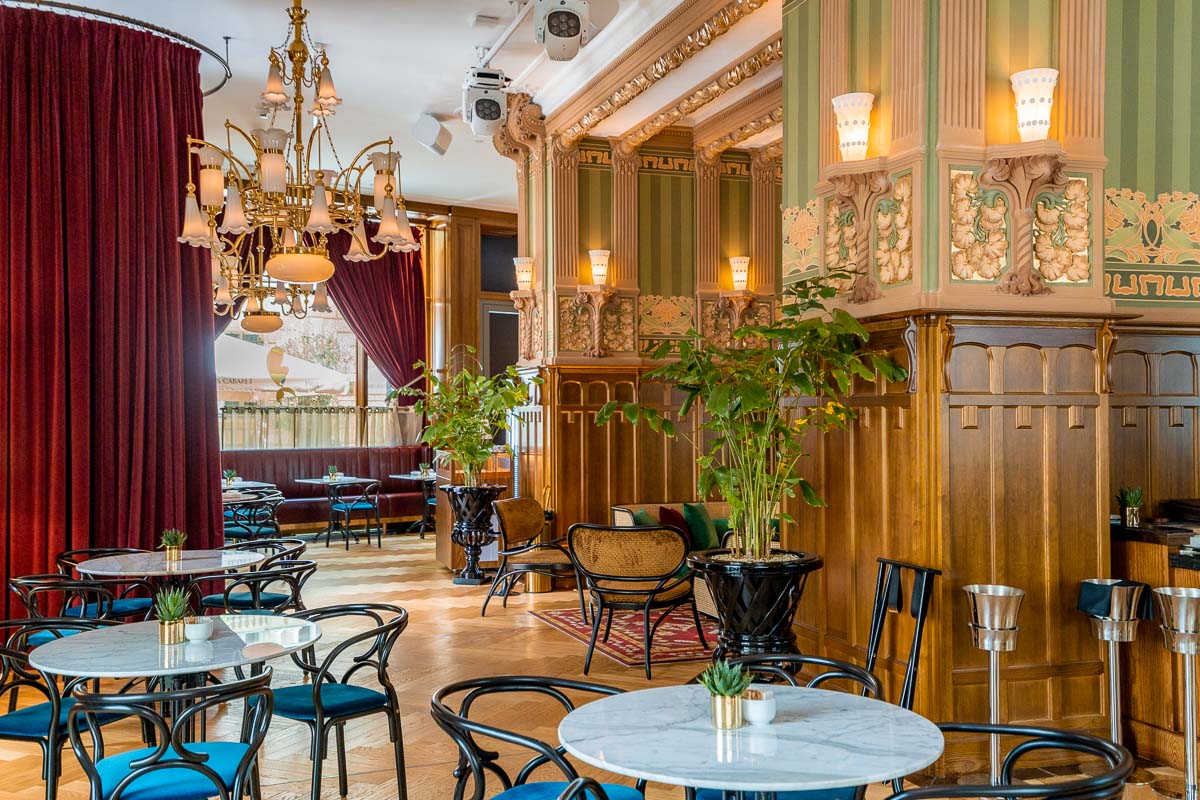 Spago by Wolfgang Puck
Created by the famous master chef Wolfgang Puck, Spago by Wolfgang Puck Budapest is the European debut of his iconic Beverly Hills restaurant. The star chef was born in Austria so this restaurant has a special meaning as it marks his return to Central Europe.
Apart from the tastefully decorated indoor space, the restaurant also features a beautiful outdoor area with lots of plants and warm orange chairs to keep guests comfortable.
Spago Budapest is already mentioned in the Michelin Guide for Hungary and I wouldn't be surprised if it gets a star in the near future!
Featuring a refined yet relaxed atmosphere, the restaurant serves Wolfgang Puck's modern Californian cuisine with Hungarian and global influences. The menu is ever-changing and seasonal, using only the freshest and highest quality ingredients.
One of my favorite dishes from our meal was the Braised Beef Cheek in Vadas Style and we also tried the classic Wiener Schnitzel which did not disappoint either!
For dessert, we ordered the Chocolate Souffle and the Somloi Sponge Cake in Nutshells which was the absolute star of our evening. The presentation was some of the best we've ever seen and it turned out that the same dessert was served at the Oscars because the menu was also created by Wolfgang Puck!
The service at Spago Budapest was impeccable, the staff was very professional yet friendly and welcoming.
The restaurant has an extensive wine list with both Hungarian and international wines and the sommelier deserves a special mention as he was very knowledgeable and helped us choose the perfect wine for our meal.
Overall, our dining experience at Spago by Wolfgang Puck was truly memorable and I can't wait to come back and try more of their amazing dishes!
The Duchess
One of the newest additions to Budapest's rooftop bar scene is The Duchess, located on the top of Matild Palace. Guarded by giant gold giraffe statues, this glamorous and elevated lounge is decorated with tropical motives and is outfitted with gold and green accents.
This adults-only lounge is dubbed a "liquor library" that features an outside terrace. The bar provides an excellent selection of top-quality liquors, creative cocktails, and fine wines while guests can also sample delicious bites and bar food.
What's even more special about The Duchess is that it offers an unobstructed 360-degree view of Budapest, making it the perfect spot to watch the sunset or enjoy a drink under the stars.
It's closed on Sundays but is open from 5 pm to 1 am all other days and has a smart casual dress code. For a tasty drink before bed, this is the place to go!
Final Thoughts
Overall, we had an amazing experience at Matild Palace and would highly recommend it to anyone looking for a luxury hotel in Budapest. The property is absolutely beautiful, the room was very spacious and comfortable with the best views over the Danube River, and the service was outstanding.
The hotel's location is also great, within walking distance of many of the city's main attractions. If you're looking for a truly special and memorable experience, Matild Palace is definitely the place for you!
---
Planning a trip to Budapest?
Then you might want to take a look at all our other travel guides about Budapest. I promise, they are just as awesome as this article was!
Hotel Guides:
Travel Guides:
---
Related Posts
Want to read more about Hungary?
---
More Budapest Resources
Want to learn even more about Budapest? Check out these awesome books and travel guides for more inspiration!
---
What Camera Gear Do We Use?
If you want to read more about what is in our camera bag, check out my detailed post about our travel photography gear!
---
Pin It for Later!