Are you looking to experience the best of Budapest in one day? You're in the right place!
Having only one day in Budapest is far from ideal, but don't worry, you can still maximize your time here and make the most of it. As a local, I'm here to help you plan your perfect one day Budapest itinerary. Trust me, even just a day in this city will leave you with amazing memories, and you will be planning your return visit in no time.
Ready to explore what Hungary's capital has in store for you? Let's get into it!
*Disclosure: This post contains a few affiliate links, which means I may receive a small commission, at no cost to you, if you make a purchase through my link.*
No time to read now? Pin it for later!
Useful Info for Spending a Day in Budapest
How to get to Budapest
Most people arrive in Budapest by plane, but if you are coming from within Europe there are also excellent train and bus connections from nearby countries.
Budapest Airport is located 16 km (10 miles) southeast of the city center and international flights arrive from all over Europe. From the airport, the easiest way is to hop in a taxi but you can also opt to use public transportation.
The airport shuttle bus (100 E) connects the airport to the city center, making three different stops en route. The journey to Deák Ferenc tér takes about 40 minutes and a ticket costs 1,500 Ft ($4 US) per person.
It's important to note that normal bus tickets and passes are not valid on this route. You must purchase a special ticket at BKK ticket offices or ticket vending machines. Once you get on the bus, you have to validate your ticket right after boarding.
Best time to visit Budapest
Budapest can be visited year-round, but your experience might differ depending on the season. If you want to take advantage of fewer crowds and pleasant weather, plan to spend a day in Budapest in spring or early fall.
The best time of year to visit is from April to May, and again in September-October. Summer can be very hot (especially in July and August), which makes walking around the city quite uncomfortable at times.
If you want to enjoy the Christmas markets in Budapest, the best time to visit is in late November and December. However, it can be very cold during this period, especially at night, so make sure to pack accordingly.
How to get around Budapest
Getting around Budapest is easy and fast. The city transportation system consists of four metro lines and it is also served by countless trams, buses, and trolleys.
Most of the attractions on this one day Budapest itinerary are close to each other, so you should be able to walk from one place to another.
If that's not an option, then the public transportation network is a great alternative. A single ticket costs 350 Ft ($1 US) which is valid for one single ride without transfers. You can also buy a 24-hour Budapest travelcard for 2,500 Ft ($6.5 US), which is valid on all forms of public transportation for 24 hours.
For more information about the different kinds of tickets and passes, visit the official BKK website.
Where to stay in Budapest
If you have just one day in Budapest, my recommendation is to stay near the city center. All of the major attractions are within walking distance from each other and this will save you time on transportation.
The classic city center is comprised of the 5th, 6th and 7th districts (all of them are located on the Pest side) and there are plenty of great hotels to choose from. If you want to read more about what each district has to offer, check out my full guide on where to stay in Budapest.
If you're in a hurry, here are my top recommendations for spending a night in Budapest.
LUXURY – Anantara New York Palace Budapest
Anantara New York Palace Budapest occupies an elegant 19th-century building in the heart of Budapest, close to the Opera and Andrássy Boulevard. The spacious, air-conditioned rooms feature luxurious Italian furniture and fabrics like silk wallpaper and Murano chandeliers.
MID-RANGE – Hotel Moments Budapest
Located on the iconic Andrássy Avenue of Budapest, Hotel Moments Budapest offers stylish rooms, wellness facilities, and an on-site restaurant. Every room is equipped with a flat-screen TV. Some rooms have a seating area to relax in after a busy day. Each room comes with a private bathroom and exclusive bathroom amenities.
BUDGET – T62 Hotel
Attractively set in Budapest, T62 Hotel features air-conditioned rooms, a bar, free WiFi, and a shared lounge. This 3-star hotel offers a 24-hour front desk and a concierge service. At the hotel, rooms are fitted with a desk, a flat-screen TV, and a private bathroom. T62 Hotel also offers a continental or buffet breakfast.
Morning of Your One Day in Budapest
Sunrise at Fisherman's Bastion
Even if you have only one day in Budapest, you can't miss a chance to witness one of the most amazing and romantic sunrises in Europe. And there is no better place to do that than the Fisherman's Bastion!
This 19th-century fortress is an iconic symbol of Budapest, and its beautiful towers and turrets are the perfect place to watch the sun come up over the Danube river. Plus, if you come early enough, there is no entrance fee to access the upper towers!
Even if you're visiting in the summer when the sunrises are crazy early, the views from Fisherman's Bastion are worth the early wake-up call. After all, you only have one day in Budapest – make it count!
If you're not an early riser, I would still recommend heading to the Fisherman's Bastion as early as you can. As one of the most popular tourist attractions, it gets super busy during the day, so it's best to visit in the morning to avoid crowds.
Marvel at Matthias Church
Next up on your Budapest one-day itinerary has to be the impressive Matthias Church! It's just a 1-minute walk from Fisherman's Bastion as it's literally next door, so it makes sense to visit these two sites at the same time.
Matthias Church is one of the most beautiful churches in Hungary, and it's full of incredible architectural details. Dating back all the way to the 1000s, the church has seen many transformations over the centuries, and its current Neo-Gothic style blends both classic and modern elements.
Although the exterior of the church is spectacular, the interior is just as breathtaking. However, it only opens at 9 am from Monday to Saturday and at 1 pm on Sundays, so going inside might not be an option if you visit too early. Nevertheless, you can still admire the outside of the church and get plenty of amazing photos.
Grab breakfast
After exploring two of the city's most popular attractions, it's time to make a quick stop for breakfast – the most important meal of the day. If you only have one day in Budapest, then you'll want to fuel up for a full day of exploring!
You'll find plenty of amazing breakfast spots in Budapest, but my two recommendations are Home of Franziska on the Buda side or Mokka Cukka on the Pest side.
Home of Franziska is a chic cafe that's well known for its breakfast options. Whether you're after an omelet, waffles, or a smoothie bowl, this place has endless choices.
Your other option is Mokka Cukka which also has delicious breakfast options. With a wide selection of both sweet and savory options, you'll be spoilt for choice here. However, some of the most popular options include eggs benedict, french toast, and American pancakes.
While Home of Franziska is really close to Fisherman's Bastion on the Buda side, Mokka Cukka is actually almost right next door to the Hungarian Parliament, the next attraction on your one day Budapest itinerary. So no matter which one you choose, you'll be close by either way.
Tour the Hungarian Parliament
Once you're done filling up on breakfast, it's time to head over to one of Budapest's most iconic attractions – the Hungarian Parliament. This impressive building is the third largest parliament in the world, and its Neo-Gothic style design is absolutely stunning.
To get there from the Fisherman's Bastion, you have to walk down to Batthány tér where you can hop on the M2 metro line. Once you get off at Kossuth Lajos tér metro station (which is only one stop on the line), you'll be right in front of the Parliament.
Now, since you're only visiting Budapest for a day, squeezing in a tour of the Hungarian Parliament building can be a bit tricky. Visiting the inside of the building is only possible on a guided tour, and you have to buy a ticket in advance for a specific time slot.
Therefore, if you want to explore the Hungarian Parliament on your one-day trip to Budapest, then make sure to book a tour in advance. Tickets do sell out usually, but if you still have a few weeks left until your Budapest trip, you should be able to find a spot.
However, if you don't end up being able to get tickets for the Hungarian Parliament, then don't worry! You can still take in the stunning view of the building from the outside – it's just as impressive and definitely still worth a visit.
Walk along the Danube River
After exploring the Hungarian Parliament, it's time to take a break and enjoy a relaxing stroll along the Danube River. It only takes around 15 minutes to reach Szechenyi Chain Bridge from the Parliament building, so you can easily make the journey on foot.
On the way, you'll be able to take in some gorgeous views of the river and the Buda side. You can admire some of the city's most iconic sights, like Buda Castle and Fisherman's Bastion from a different perspective.
There are also a few great spots along the river where you can stop for a quick break. One of the most important stops you can't miss is the Shoes on the Danube Bank memorial, which is dedicated to those who were killed during World War II.
Once you reach Szechenyi Chain Bridge, you can stop and admire Budapest's first permanent bridge built across the river. It was designed by English engineer William Tierney Clark and it's an iconic sight of Budapest.
Unfortunately, the bridge is currently closed for renovations until the end of 2023 so it's not possible to walk across it. However, you can still admire the beautiful architecture of the bridge (at least the parts that are not under construction).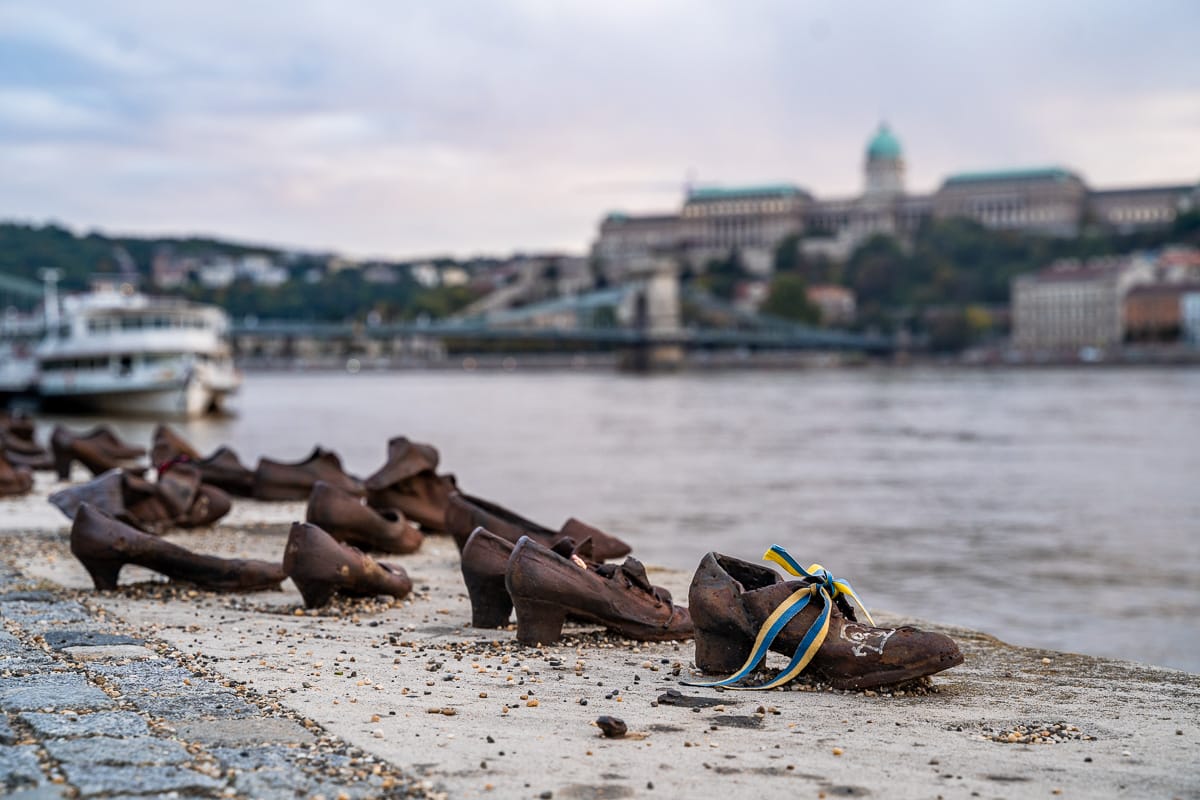 Visit St. Stephen's Basilica
After getting some fresh air along the Danube River, it's time to head back towards the city center. There you will find St. Stephen's Basilica, one of the most important churches in Budapest.
The basilica was built in honor of Hungary's first king, Saint Stephen and it's been a part of the city's skyline since 1905. In fact, its 96 meters (314 feet) height makes it the largest church in all of Hungary and also the tallest building in Budapest, together with the Hungarian Parliament.
The exterior of the basilica is quite impressive, but the inside of the building is even more so. The entrance used to be free, but starting in 2023, you will have to pay 2,000 Ft ($5.5 US) to enter. However, it's completely worth it as the interior of the basilica is simply breathtaking!
There are also regular organ concerts held in St. Stephen's Basilica, so if you're lucky enough to be there on the day of one, then make sure not to miss it. It's truly a magical experience!
Another attraction you can't miss on your one day in Budapest is the panoramic terrace of the basilica, which offers magnificent views of the city. It's a great way to take in Budapest's skyline and get some awesome photos of the city.
The terrace is open from 9 am to 7 pm, and the ticket costs 3,200 Ft ($8.5 US). The ticket also includes access to the Treasury, where you can see some fascinating religious artifacts and relics.
Afternoon of Your One Day in Budapest
Grab lunch at Street Food Karavan
After a full morning of exploring the capital, it's time to relax and grab some food. There are lots of great restaurants in Budapest but one of the most unique and interesting places is Street Food Karavan.
Street Food Karavan is an awesome food court that's home to a wide variety of food trucks, all serving different types of cuisine. Whether you fancy American food, Mexican, or you're looking to try some local Hungarian dishes, you're not going to run out of options here!
Some of the stand-out choices include Zing Burger, MexKitchen, Goulash Station, and Las Vegan's.
The prices are really reasonable, so it's perfect for budget travelers who want to try some traditional Hungarian food. Plus, the atmosphere here is really relaxed and laid-back and it's a great place to get to know some of the locals.
One thing to note is that Street Food Karavan is completely outdoors, so make sure to check the weather forecast before you go!
Stroll around the Jewish Quarter
By visiting Street Food Karavan, you will be already in the heart of the Jewish Quarter so after lunch, I recommend dedicating some time to exploring the area.
This part of Budapest has a long history and is known for its culture, charm, and fantastic atmosphere. It's also the most densely populated area of the capital.
The Jewish Quarter is home to some of the most important monuments in Budapest, including the iconic Dohány Street Synagogue. Built in 1859, this synagogue is currently the largest synagogue in Europe and it's definitely worth a visit.
Once you're there, you can also visit the Jewish Museum, which is actually in the same building as the synagogue. The museum showcases the history of Hungarian Jews and it's another great way to learn more about the city's past.
The streets of the Jewish Quarter are also great for wandering around and admiring the unique architecture. Be sure to keep your eyes open for some of the beautiful street art!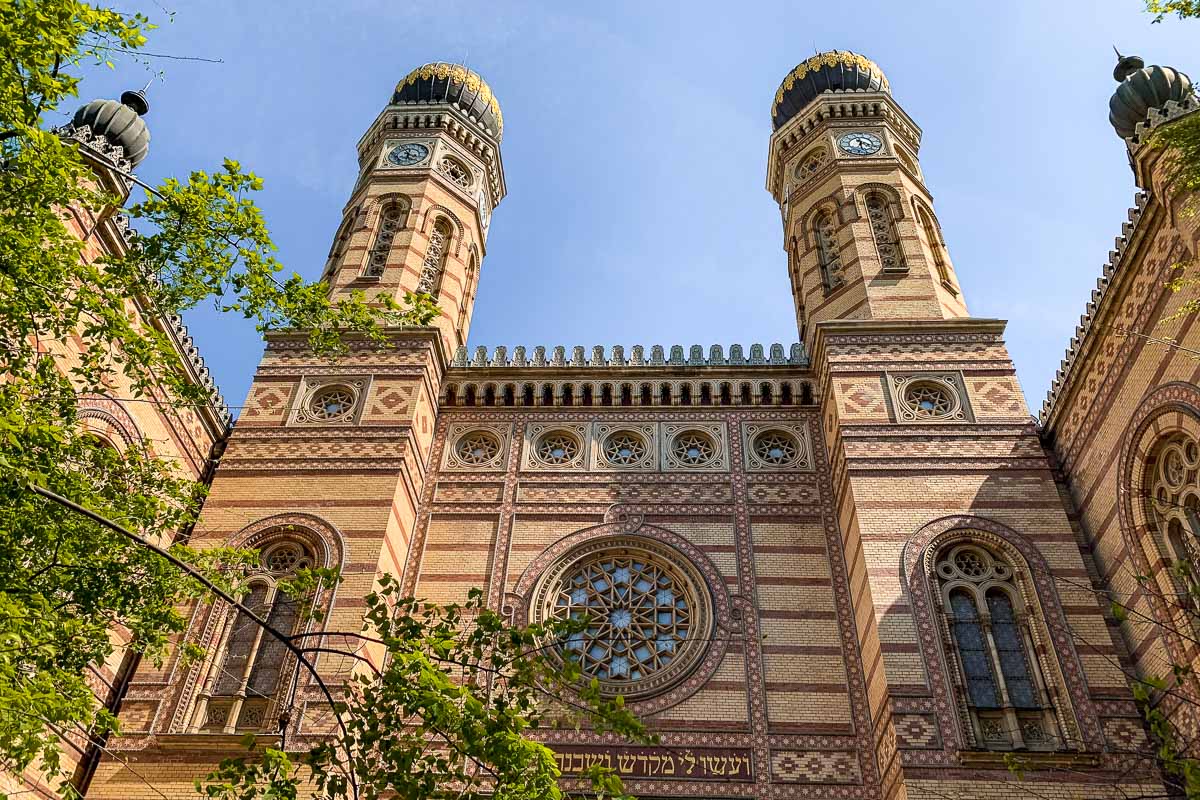 Have an afternoon cafe at New York Cafe
Budapest is renowned for its coffee culture and one of the best places to experience it is at New York Cafe. Opened in 1894, this cafe is considered to be one of the most beautiful cafes in the world and once you step inside, you'll see why.
The atmosphere inside New York Cafe is simply stunning. With its ornate decorations, grand chandeliers, and breathtaking paintings, it's no wonder it is such a popular spot among locals and tourists alike. It's the perfect place to take a break and enjoy some delicious coffee and cake.
If you're feeling really fancy, then you can also order afternoon tea which includes sandwiches, pastries, and scones. Another popular item on the menu is the 24-carat gold New York cappuccino.
New York Cafe is open from 8 am to midnight every day, so it's a great place for an after-dinner drink as well. Unfortunately, they only take reservations for dinner, so if you want to visit the cafe during the day, factor in some extra time for queuing.
Evening of Your One Day in Budapest
Enjoy a romantic evening cruise on the Danube
There is no better way to end your one day in Budapest than going on a cruise on the Danube river. There are lots of different cruises to choose from and they all offer a great way to see the city's stunning skyline.
One of the best options for a romantic evening is the dinner and sightseeing cruise. This Candlelit Dinner River Cruise starts at 7 pm and combines a delicious 4-course dinner with some of the best views of Budapest.
The cruise takes you past some of the city's most iconic attractions, such as Margaret Island, the Hungarian Parliament, and the Danube Promenade. It's a great way to end your one day Budapest itinerary and the perfect way to say goodbye to the city.
If you would rather have dinner elsewhere, take a look at this One-Hour Sightseeing Cruise instead. It has three different departure times (6 pm, 7.20 pm, and 8.40 pm) so it's easy to find one that suits your schedule. It's also way more affordable than a dinner cruise so it's a great way to explore the city's sights without breaking the bank.
No matter which cruise you choose, the views from the river are sure to take your breath away. I would recommend choosing a cruise around sunset time so you can see the city illuminated in all its glory.
Have a delicious dinner at a local restaurant
If you opted for a cruise without dinner, I would recommend having dinner at a local restaurant. Budapest is known for its delicious food and there are lots of great places to choose from.
Here are some of my favorite restaurants, all of which are located inside the city center:
No matter which restaurant you choose, I'm sure you'll have an amazing dinner and a wonderful evening in Budapest!
End the night at Szimpla Kert
If you still have some energy left after your busy day in Budapest, head over to Szimpla Kert. This iconic ruin pub is one of the most popular spots in the city and it's a great way to end your night.
Szimpla Kert is located in an old factory building and it has become famous for its unique decor made up of random furniture and interesting knick-knacks. It's like stepping into a surreal alternate reality!
The bar has lots of different areas to explore and each one is more interesting than the last. You can enjoy some craft beers, dance in the garden area or even attend a movie night – there's something for everyone.
Szimpla Kert is open until 4 am every day so it's a great spot for late-night drinks or a post-dinner dance. With its vibrant atmosphere and eclectic decor, Szimpla Kert is definitely one of the highlights of any trip to Budapest.
---
Planning a trip to Budapest?
Then you might want to take a look at all our other travel guides about Budapest. I promise, they are just as awesome as this article was!
Hotel Guides:
Travel Guides:
---
Related Posts
Want to read more about Hungary?
---
More Budapest Resources
Want to learn even more about Budapest? Check out these awesome books and travel guides for more inspiration!
---
What Camera Gear Do We Use?
If you want to read more about what is in our camera bag, check out my detailed post about our travel photography gear!
---
Pin It for Later!