Budapest is one of the most beautiful cities in Europe, and it's especially stunning in springtime! Spring sees the arrival of warmer temperatures, longer hours of sunlight, and seasonal blooms. This is perfect for urban walks, strolls through the city parks, and outdoor dining.
In this post, I'll outline everything you need to know about visiting Budapest in spring. From where to stay and what to see, to when's the best time to go and what weather to expect, I've got you covered.
So read on for all the information you need for a perfect trip to Budapest and my special tips from a local perspective!
*Disclosure: This post contains a few affiliate links, which means I may receive a small commission, at no cost to you, if you make a purchase through my link.*
No time to read now? Pin it for later!
Reasons to Visit Budapest in Spring
In case you're still weighing up your options, here are 3 reasons why you should spend at least one spring in Budapest.
Gorgeous weather: The spring months see Budapest shrug off the thaw of winter and welcome warmer temperatures with sunnier skies. This means you can explore the city's prominent sights on foot and travel with a lighter checked bag.
Blooms and Flowers: Spring sees the arrival of cherry blossom trees and seasonal blooms. One of the ultimate things to do in Budapest in spring is to take walks through the city parks and green spaces. Scroll down for more details about visiting Budapest to catch the seasonal flora.
Fewer tourists: Summer is the peak season for tourism in Budapest. July and August see the city overrun with domestic and international visitors and it may feel overwhelming. Choosing to visit Budapest in spring means you get to bypass the increased crowds and elevated accommodation prices.
What's the Weather Like in Spring in Budapest
Spring in Budapest starts mid/late March and runs until the end of June. While the first signs of spring appear in March the weather remains chilly and unpredictable until around mid-April.
By mid/late April, you can anticipate pleasant daytime temperatures in the region of 17-19 °C (63-66 °F) and a balmy 20-25 °C (68-77 °F) during May and June. Beyond spring, July and August see average highs of 28 °C (82.4 °F).
Bear in mind that Budapest is prone to rainfall and storms during the spring season. This is usually fleeting and while it doesn't get too cold you will appreciate an umbrella or poncho.
The majority of things to do in Budapest in spring are outdoors so you will need to factor the likelihood of rain into your plans.
Best Time to Visit Budapest for Blooms and Flowers
Experiencing the spring flora is one of the leading reasons to visit Budapest. Spring in Budapest sees the city erupt into a fragrant ocean of cherry blossoms, snowdrops, tulips, pansies, daffodils, and much more.
If you want to see the iconic snowdrops (hóvirág) then March/early April is the best time to plan your visit to Budapest.
Meanwhile, April is the best season to see the pastel-pink cherry blossoms that bloom in Budapest in spring. Some of the best places to see them include the Tóth Árpád promenade near Buda Castle, Gellért Hill (Gellért-hegy), Margaret Island (Margit-sziget), and the Füvészkert Botanical Gardens.
If you're looking to catch specific flowers or blooms, here is a rough schedule of when is the best time to see them:
Snowdrops: mid-to-late March
Almond blossoms: end of March
Plum blossoms: beginning of April
Cherry blossoms: mid-April
Daffodils: mid-April
Rapeseed: end of April/beginning of May
Lilacs: beginning of May
Poppies: mid-May
What to Pack for Visiting Budapest in Spring
These are the essential packing requirements for visiting Budapest in spring.
A lightweight jacket (or similar): Mornings and evenings are chillier during the spring months. Pack something light that you can carry in your bag and throw on when required.
Umbrella: As mentioned, Budapest's spring weather is fickle and rain is common. Carry an umbrella to protect yourself from spring showers.
Comfortable footwear: Walking is the backbone of the best things to do in Budapest in spring. Avoid sore feet and blisters by packing comfortable footwear such as sneakers or walking sandals.
Bathing suit: As you'll soon see, Budapest is full of thermal baths where you can take a dip in healing natural springs. Pack a bathing suit so that you can experience one (or two) for yourself.
Camera gear: Budapest is photogenic at any time of year but even more so during spring. Pack your camera and lenses, and consider a tripod. Alternatively, ensure you have a portable power adaptor to keep your phone charged while on the move as well as sufficient storage space.
SPF: Avoid getting a sunburned nose or shoulders by carrying your usual sunscreen.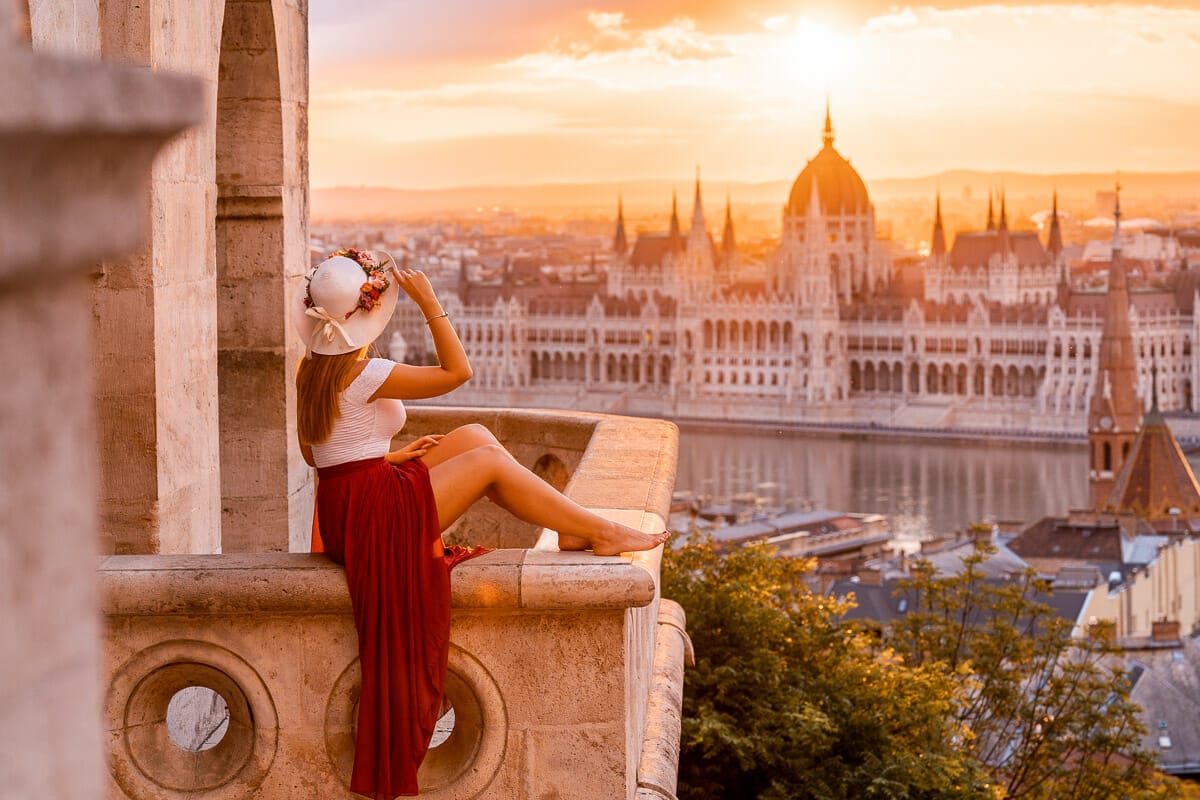 Where to Stay in Budapest in Spring
Although Budapest can seem like a big city when looking at the map, in reality, it's quite compact and walkable. Most tourist attractions and the best things to do in Budapest in spring are located in the city center so I would recommend looking in this direction.
The classic city center is located on the Pest side, comprising districts 5, 6, and 7. Alternatively, districts 8, 9, and 13 can be a great choice as well, although you will have to calculate with a bit of a commute time in this case.
If you want to learn more about the different districts in Budapest, make sure to check out my in-depth guide about where to stay in Budapest!
If you're looking for a quick solution, below you can find some of the best hotels to stay in the city center of Budapest, depending on your budget.
LUXURY – Anantara New York Palace Budapest
Anantara New York Palace Budapest occupies an elegant 19th-century building in the heart of Budapest, close to the Opera and Andrássy Boulevard. The spacious, air-conditioned rooms feature luxurious Italian furniture and fabrics like silk wallpaper and Murano chandeliers.
MID-RANGE – Hotel Moments Budapest
Located on the iconic Andrássy Avenue of Budapest, Hotel Moments Budapest offers stylish rooms, wellness facilities, and an on-site restaurant. Every room is equipped with a flat-screen TV. Some rooms have a seating area to relax in after a busy day. Each room comes with a private bathroom and exclusive bathroom amenities.
BUDGET – T62 Hotel
Attractively set in Budapest, T62 Hotel features air-conditioned rooms, a bar, free WiFi, and a shared lounge. This 3-star hotel offers a 24-hour front desk and a concierge service. At the hotel, rooms are fitted with a desk, a flat-screen TV, and a private bathroom. T62 Hotel also offers a continental or buffet breakfast.
Best Things to Do in Budapest in Spring
Promenade along Tóth Árpád
Tóth Árpád Promenade (Tóth Árpád sétány) is an elevated walkway in the Budapest Castle District. It provides a wonderful view over the city towards the Buda side and is a dreamy spot for photographers. But it's also one of the best places to see the resident cherry blossoms when they bloom in April!
Tóth Árpád sétány is really close to Fisherman's Bastion, Matthias Church, and Buda Castle so remember to squeeze it in if you visit the city during cherry blossom season. If you want to catch the cherry blossoms in their full glory, try to schedule your visit for the second half of April.
Visit a botanical garden
If seeing the flowers ranks top of your list of things to do in Budapest in spring then you can opt to visit a botanical garden. There are two options in the city subject to how you are planning your itinerary for Budapest.
ELTE Füvészkert
Dating back to the 18th century, this is the oldest botanical garden in Budapest.
Located in District VIII, the complex comprises landscaped gardens and flower beds as well as greenhouses where you can see seasonal displays as well as cacti, orchids, water lilies, and more.
In total, there are around 8,000 plant species in the 8.7 acres (3.5 hectares) plot! Admission is 1,400 HUF ($3.80 US).
Budapest Zoo & Botanical Garden (Fővárosi Állat- és Növénykert)
The alternative option is located in City Park (Városliget). The park is one of Budapest's unmissable sights and contains a thermal bath which we'll come to later.
The zoo is set among a series of botanical exhibits including a Japanese Garden. Admission to the zoo and gardens together is 4,500 HUF ($12.30 US). It isn't possible to visit the gardens separately as the exhibitions are merged.
Wander through the Buda Arboretum
The Buda Arboretum is one of several budget-friendly alternatives if you want to see the seasonal displays of plants and flowers up close for free.
This park is located on the Buda side near the castle and comes to life from March onwards. This peaceful oasis is one of the best places to appreciate spring in Budapest. Originally used as a vineyard, the arboretum is now a sanctuary for plants and is great for spotting seasonal snowdrops.
Hop aboard a Danube River Cruise
Make the most of the longer days and snap up tickets to a cruise along the Danube River.
This major waterway is the second-longest river in Europe. It dissects the city of Budapest with the city being divided into the Buda and Pest sides.
The Budapest segment of the river passes by the city's principal landmarks that flank the Buda and Pest sides of the city. Taking a cruise is one of the most fun things to do in Budapest in spring and packs in a lot of sights!
The vast majority of river cruises operate seasonally from March until late September with options running in daylight hours and at night. There are various choices available to suit your travel style, budget, and availability.
Here are my top picks:
1-Hour Sightseeing Cruise with Welcome Drink: this is the perfect all-rounder that works even if you're only spending one day in Budapest and want to do something special at night. This evening cruise is economically priced and includes one alcoholic beverage.
Budapest Daytime Sightseeing Cruise: If you would rather take a boat tour during the day then this is a great option. Cruises depart between 11 am – 5 pm and the price includes an audio guide.
Candlelit Dinner River Cruise with Live Music: This cruise is ideal for a special occasion with friends or a romantic date night. The package includes a 4-course meal, one welcome drink, and a backdrop of live music.
Stroll along the Danube River
As well as taking in the scenery of the city from a boat you should factor in a springtime stroll along the banks. Or, if you're traveling on a budget, a walk is the perfect alternative to taking a boat trip.
Both the Buda and Pest side of the city feature lovely walking paths along the waterside.
The Pest side affords views of Buda Castle (Budavári Palota), Fisherman's Bastion (Halászbástya), and Matthias Church (Mátyás Templom) among their hilly setting. You can check out one of the city's most beautiful and significant structures, the Hungarian Parliament Building (Országház) before heading south.
Stop to pay your respects at the Shoes on the Danube Bank (Cipők a Duna-parton) memorial during your walk. This representation of 60 pairs of cast iron shoes was placed in tribute to the 20,000 Jews who were slain during World War II after first being ordered to remove their shoes. It's heartbreaking but important.
Meanwhile, a walk across the Buda side provides the opposite experience and gives an incredible perspective of the colossal Hungarian Parliament Building.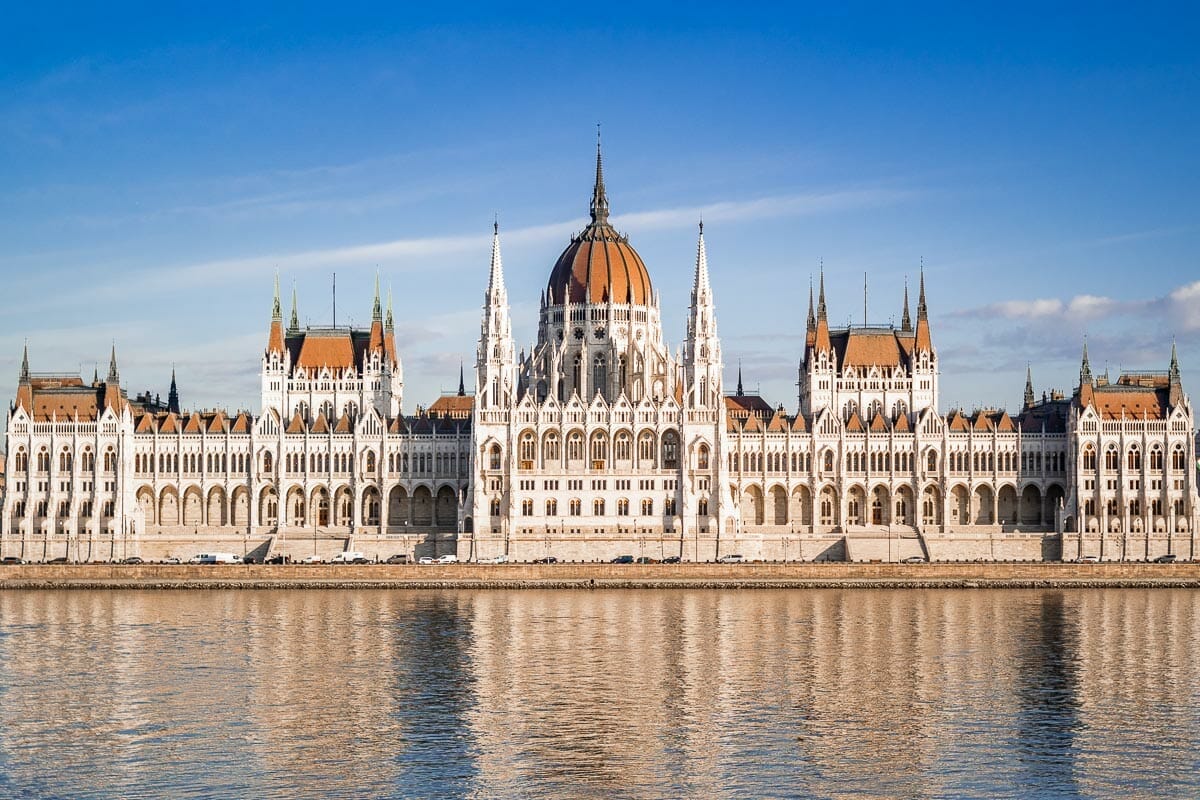 Visit Fisherman's Bastion at sunrise
Fisherman's Bastion (Halászbástya) is an icon of the Hungarian capital and should always feature on any Budapest itinerary.
Built during the 19th-century, the fortress features turrets, towers, and walkways that provide panoramic views over to the Pest side of the city. The beautiful building looks like a fairytale setting and is one of the best Budapest Instagram spots.
The best time to visit Fisherman's Bastion is sunrise. However, during spring, that is usually between 5 am – 6 am. If that's too early for you, try to get there as soon you can to experience the soft morning light.
The great thing about Budapest in spring is that the landmark is less crowded anyway. Even if you can't make it there first thing you will still have a wonderful time.
From mid-March onwards, you will need to pay an entrance fee of 1,200 HUF ($3.30 US) if you arrive after 9 am.
While exploring Fisherman's Bastion you can also pay a visit to one of the city's most impressive churches – ​​Matthias Church (Mátyás Templom). It has a long history as a coronation church and features roof tiles that have a diamond pattern.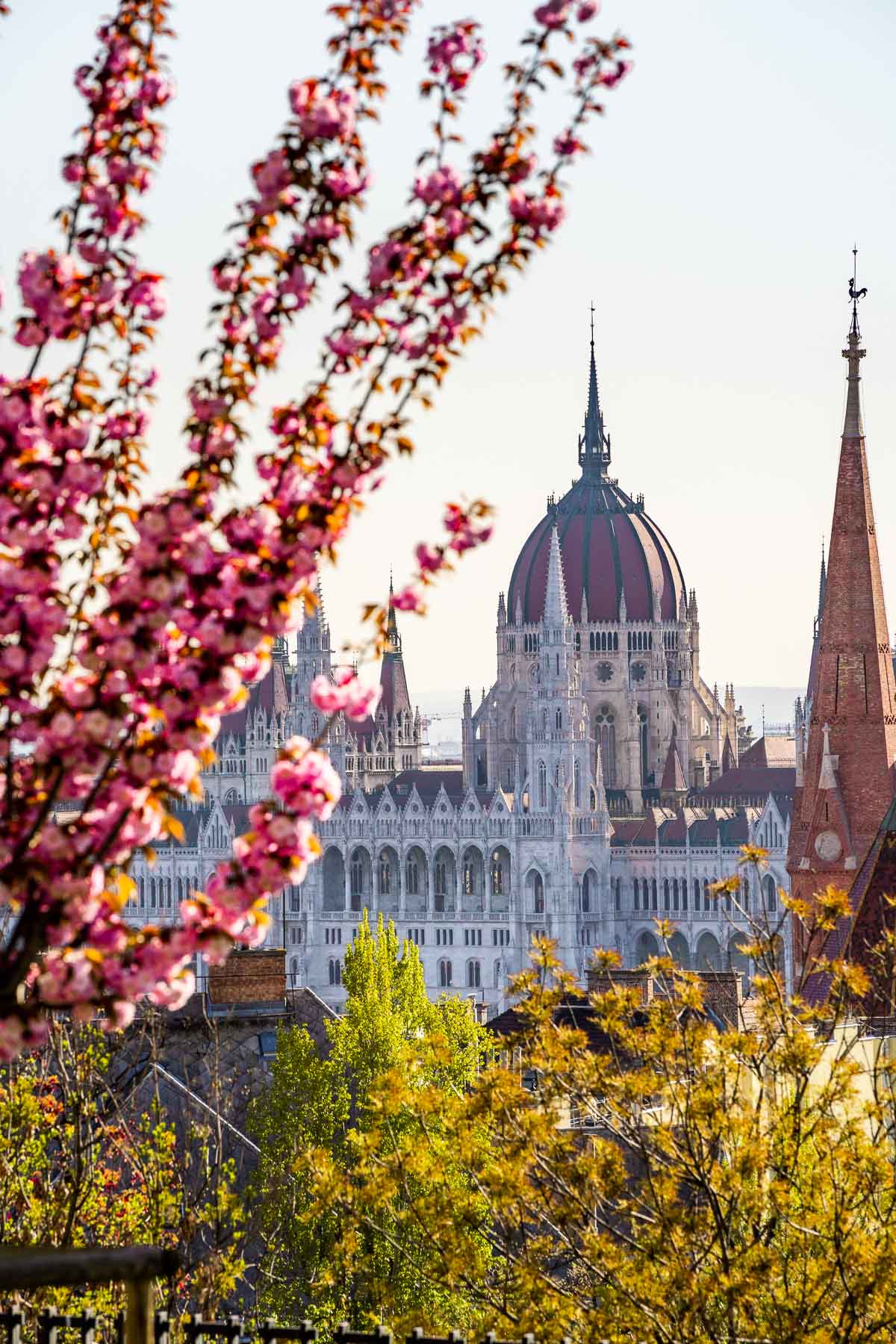 Roam the grounds of Buda Castle
Buda Castle (Budavári Palota) is another of the city's great emblems that you should always include in a Budapest itinerary. The palatial complex was originally used as a royal residence, although nowadays it's the setting of the Hungarian National Gallery and the Budapest History Museum (Castle Museum).
Taking a turn around the grounds of Buda Castle is one of the essential things to do in Budapest in spring. No admission charge applies if you want to simply wander through the terraces, gardens, and city views.
You can take a leisurely stroll up to the top of the hill on a brisk spring morning or hop on the funicular if you'd prefer to conserve your energy.
Pause for a moment in the Castle Garden Bazaar
The Castle Garden Bazaar (Várkert Bazár) is a Neo-Renaissance complex of gardens, fountains, and architectural gems located at the base of the Buda Castle hill. It's a beautiful spot year-round but if you visit during the spring months you'll catch it at its greenest as it welcomes the season's flowers.
If you visit Buda Castle on foot then the bazaar is a must in order to catch your breath!
Banish the winter blues in a Thermal Bath
Spring is the perfect time to seize the opportunity to wash off those winter blues in a steaming thermal bath!
Due to the city's location on a fault line, Budapest is brimming with thermal baths that are naturally fed by 120 hot springs. The venues come in a variety of differing styles. There are some lavish options alongside budget-friendly alternatives.
When visiting Budapest in spring, the Széchenyi Thermal Bath (Széchenyi Gyógyfürdő és Uszoda) is the number one choice. This majestic yellow complex was constructed in 1913 in the heart of City Park (Városliget). It consists of inside and outside bathing pools that provide a luxurious and Instagrammable experience.
The baths are open daily, 7 am – 8 pm, and you can choose to reserve your tickets in advance online or line up. In springtime, the baths are less crowded however it's still risky so it's beneficial to book online before you turn up.
Prices start at 9,400-10,900 HUF ($25-30 US) for general admission.
Hike up Gellért Hill
Gellért Hill (Gellért-hegy) is situated south of Buda Castle and overlooks the Danube River. It provides sensational views of the city landmarks such as the Hungarian Parliament Building and the Széchenyi Chain Bridge (Széchenyi Lánchíd).
Atop the hill, you will find gardens, memorials, a Habsburg citadel, and the Gellért Hill Cave (Sziklatemplom). This is a chapel complex carved into the hills and an exceptionally amazing place to visit in spring, specifically at the end of March, when the huge almond tree in front of the chapel is blooming.
During this time, locals and tourists alike flock to this place to photograph the tree so you can expect a big crowd, even if you visit during sunrise.
It takes around 20 minutes to walk up to the top of Gellért Hill and it is best enjoyed at sunrise or sunset. As you know, sunrise is very early during spring in Budapest but it's worth an early alarm clock! If you visit during cherry blossom season then Gellért Hill is one of the best places to see the trees.
Gellért Hill is the setting for another of Budapest's most beautiful thermal baths – some say this one is more impressive visually than Széchenyi Thermal Bath. However, the Gellért Baths are fully-enclosed and you may prefer to visit this bathhouse when you visit Budapest during winter.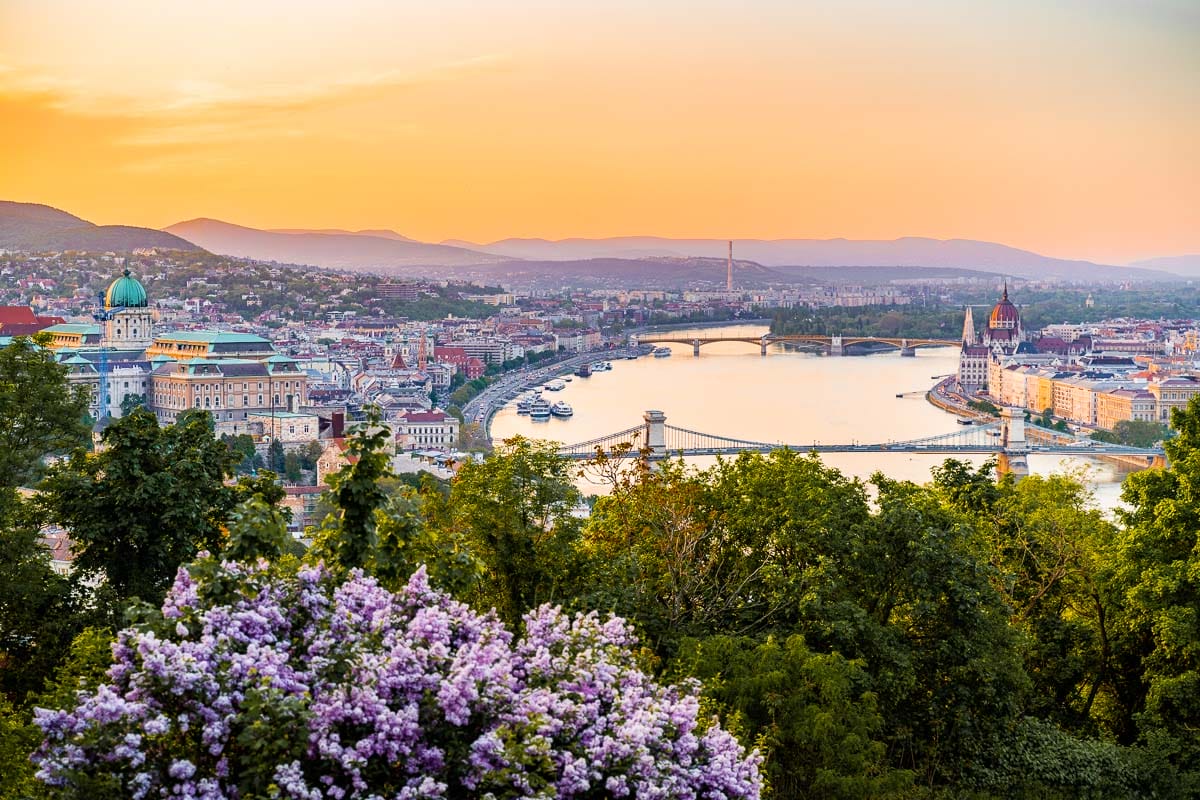 Visit a Rooftop Bar at sunset
Visiting a rooftop bar is a year-round activity in Budapest as the different bars reflect the current season with their decor and menu. But springtime sees a return to not having to worry about donning thermals and woolly hats ahead of your visit!
Make the most of the long evenings and agreeable temperatures afforded by Budapest in spring by heading to one of the city's best bars.
360 Bar on Andrássy Avenue (Andrássy út) is the highest altitude drinking destination in town and offers one of the best views from its terrace. It overlooks the rooftops of District V with views of St. Stephen's Basilica (Szent István Bazilika), the Budapest Eye, and the surrounding ranges.
Liz and Chain is an alternative option. Located on the banks of the Danube River on the Pest side it looks out over the water towards Buda Castle. Cocktail and food menus change frequently to reflect the season and current holidays.
One of my favorite rooftop bars is the High Note Rooftop Bar, located on top of the Aria Hotel. This bar is really special as it is situated right next to the St. Stephen's Basilica which means you can get up close to this gorgeous landmark.
Spend an afternoon on Margaret Island
Margaret Island (Margit-sziget) is a Danube River isle located just north of the city's District V. Spending a day exploring the island is one of the best outdoor things to do in Budapest in spring – not least because it's one of the best places to witness cherry blossoms!
Attractions include the ruined 13th-century Franciscan monastery and covenant, a rose garden, a Japanese Garden, and the historic Margaret Island Water Tower which provides panoramic views. Family attractions include a water park and a couple of children's playgrounds.
For wellness seekers, Margaret Island also features a health resort – the Ensana Thermal Margitsziget Health Spa – which is served by the thermal waters already mentioned. This is an option if you're looking for where to stay in Budapest and fancy a detox before summer rolls in.
If you're looking for the most beautiful cherry blossoms in Budapest in spring, don't miss the huge cherry tree in front of the hotel!
Alternatively, you could visit the Palatinus Strand Baths (Palatinus Gyógy-, Strand- és Hullámfürdő) for a few hours. These public thermal baths aren't as impressive as the Széchenyi Thermal Baths but the atmosphere is unparalleled and they feature slides and wave pools.
In fact, the Palatinus Baths are the oldest of their kind in the city! Admission starts at 3,200 HUF ($8.70 US) which makes them a more affordable option.
You can explore Margaret Island on foot or by rental bicycle. Either take a picnic with you or plan to make a stop for lunch at one of the restaurants on the island.
Hike in the Buda Hills
The arrival of spring in Budapest means that hiking is back on the table. There's already plenty of walking featured in this guide with the likes of Gellért Hill and Margaret Island. However, if you want to get higher and more remote then you can plan a day trip to the Buda Hills (Budai-hegység).
These hilly ranges are located west of the Buda side of the city and are easily accessible via train or the Zugliget Chairlift (Zugligeti Libegő). Once in the hills, you can explore the scenery on foot following one of the hiking trails or via a rental bicycle.
Hiking trails range from short, easy hikes to longer routes. Elizabeth Tower (Erzsébet-kilátó) on János Hill (János-hegy) marks the highest point within the Buda Hills. It is accessible via chairlift or by taking a more strenuous trail uphill if you have more time.
Indulge in an al fresco brunch
One of the greatest things about spring in Budapest is being about to eat outside again. As there is so much to see in the city, I wholeheartedly recommend starting at least one of your sightseeing days with a gourmet breakfast or brunch.
Stika Gastropub in the Jewish Quarter has an impressive menu for such a tiny place. Options vary from extensive egg dishes to pancakes, breakfast burgers, and the classic Hungarian breakfast.
There are tables outside for al fresco dining but inside is so green courtesy of the many plants that you practically feel like you're sitting outdoors.
If you venture out early to see Fisherman's Bastion and the Buda Castle then you'll want somewhere close by to fuel up. Törökméz is located close to Margaret Bridge and specializes in everything!
The menu is inspired by breakfast culture around the world and is health-conscious and vegan-friendly. As with Stika, Törökméz has both an external terrace and a plant-ridden interior.
Vintage Garden is another local favorite decorated with a different theme each season. You might have already guessed but if you happen to visit in spring, you can admire all the beautiful floral designs in the cafe!
In case you need some more local tips for breakfast in Budapest, be sure to check out my in-depth guide about the best breakfast places in Budapest that features more than 15 different cafes and brunch spots!
Experience culture at Budapest Spring Festival
Besides seeing flora and landmarks, Budapest hosts several events during the spring months.
The inaugural Budapest Spring Festival (Budapesti Tavaszi Fesztivál) took place in 1981 and has been held every April since then.
The two-week-long program consists of over 100 music events, theatrical and dance performances, film screenings of Hungarian cinema, and other cultural activities. Generally, the events are linked by a common theme that changes every year.
Most of the events take place in and around Vörösmarty Square (Vörösmarty tér) on the Pest side. This same spot is the location for one of the best Christmas markets in Budapest as well as the next suggestion of cultural things to do in Budapest in spring.
Gorge on local food at the Budapest Easter Fair
The Easter Fair is another seasonal event that takes place during spring in Budapest. Subject to the dates of the holiday, this will occur in either March or April in Vörösmarty Square.
Activities at the fair range from Easter Egg Hunts, arts and crafts workshops, dances and concerts, and shopping at the pop-up stalls. It's perfect if you're traveling with kids however the fair has something to offer travelers of all ages.
Most importantly, this annual fair is your golden opportunity to sample typical Hungarian cuisine and street eats! In case you missed the Christmas markets, you can try such foods as goulash, palinka, langos, paprikash stew, stuffed cabbage, grilled sausages, and chimney cake.
Explore the Jewish Quarter & Ruin Bars
The Jewish Quarter is one of the liveliest neighborhoods in Budapest. The streets around the three major synagogues in the area are decorated with street art and leafy urban parks. The food scene is phenomenal with a blend of kosher, Hungarian, and international restaurants and bistros.
It's worth visiting the Jewish Quarter twice: once to fully appreciate the architecture and synagogues and a second time to experience the nightlife.
The Jewish Quarter is the setting for the famous "ruin bars" of Budapest such as Szimpla Kert, Gozsdu Court, and Karavan. Ruin bars are located in the courtyards of abandoned buildings and offer a unique experience at whatever time of year you visit. As they are open-air, you'll have a more enjoyable experience in the mid to late spring season when evenings are warmer.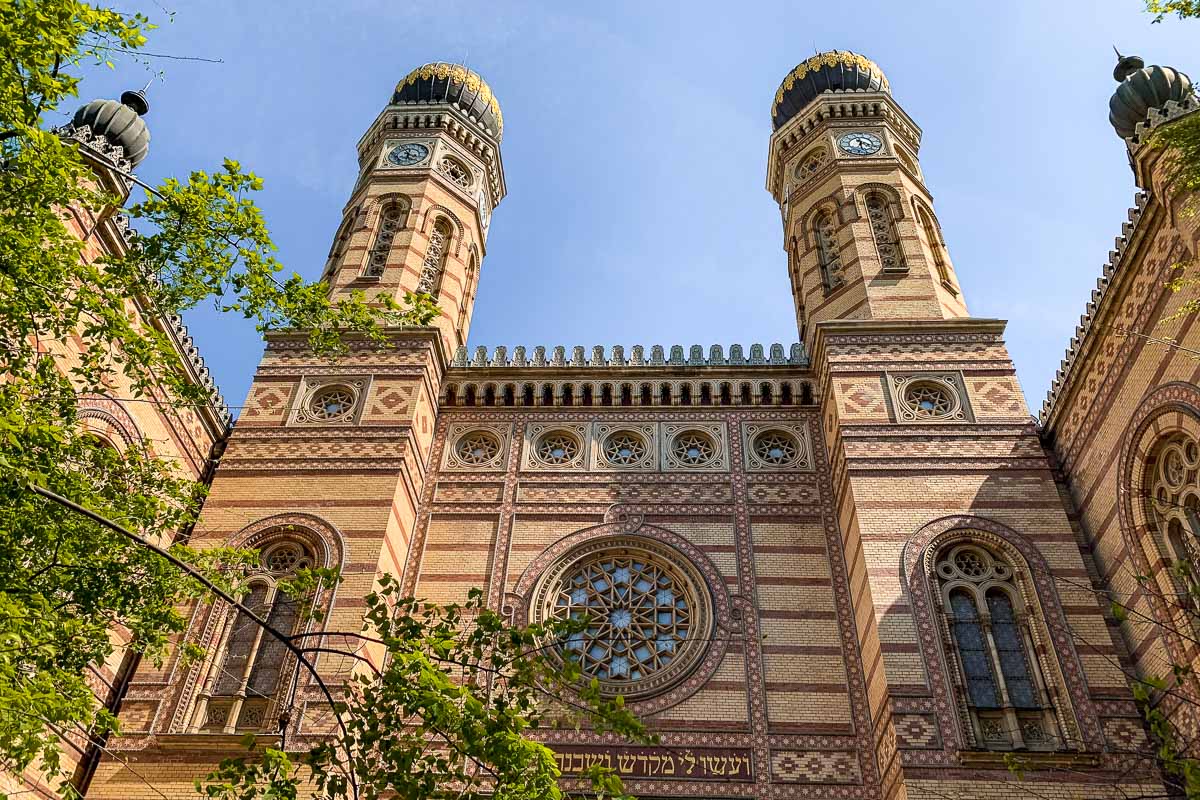 Shop till you drop
Shopping probably doesn't rank at the top of your list of things to do in Budapest in spring. However, if you are in the market for some new clothes for summer or want to take back some souvenirs for your loved ones then Budapest more than delivers.
Andrassy Avenue (Andrássy út) connects Heroes' Square (Hősök tere) with the central neighborhoods of Pest and is lined with high-end boutiques.
Alternatively, the first floor of the Central Market Hall (Nagy Vásárcsarnok) is a myriad of souvenir stalls. While you're there, you can tuck into seasonal produce at the ground floor food market.
---
Planning a trip to Budapest?
Then you might want to take a look at all our other travel guides about Budapest. I promise, they are just as awesome as this article was!
Hotel Guides:
Travel Guides:
---
Related Posts
Want to read more about Hungary?
---
More Budapest Resources
Want to learn even more about Budapest? Check out these awesome books and travel guides for more inspiration!
---
What Camera Gear Do We Use?
If you want to read more about what is in our camera bag, check out my detailed post about our travel photography gear!
---
Pin It for Later!