Budapest is a beautiful city that benefits from all four distinct seasons and truly shines during the holiday period when the festivities arrive. Budapest in December is all about twinkling Christmas lights, soaking in the thermal baths, and eating endless food while experiencing the incredible atmosphere in town.
There are so many festive things to do in Budapest in December that you can easily fill all your days with holiday-themed fun while also checking out the must-see sights in the city.
Written from my perspective as a local, this blog is here to tell you exactly what to do in Budapest at Christmas. If you want to create a complete itinerary to make the most of your stay, then remember to also check out my posts on how to spend 2 days in Budapest or 4 days in Budapest.
Let's get started with 17 fun, festive, and foodie activities to keep you warm in the winter months!
*Disclosure: This post contains a few affiliate links, which means I may receive a small commission, at no cost to you, if you make a purchase through my link.*
No time to read now? Pin it for later!
Best Things to Do in Budapest in December
1. Surf a Christmas Market
In keeping with the European tradition, the heart of Budapest transforms into a yuletide wonderland of open-air markets during December. Visiting each of the Christmas markets in Budapest is one of my personal favorite things to do in Budapest at Christmas!
Vörösmarty Square (Vörösmarty tér) Market is the largest Christmas fair to grace the city. A huge Christmas tree takes center stage with hundreds of chalets dotted around the base where you can purchase amazing food, mulled wine, Hungarian spirits, and artisanal gifts to take back home.
The square in front of St. Stephen's Basilica is another popular destination for locals and tourists in Budapest in December as it's right in the shadow of the church. It's definitely one of the best Christmas markets in Europe – furthermore, it's often voted as the most beautiful one!
This is a smaller market overall but it more than makes up for it in ambiance and charm. Plus, it comes with the added benefit of a light show that is projected against the basilica and skating rink which is ideal for children in particular.
You can use the time to complete your Christmas shopping or just treat yourself to scrumptious drinks and local festive food. Both of these markets typically open up for business in mid to late November and run up until New Year's Eve or early January.
2. See the sunset from the top of St. Stephen's Basilica
I'm sure that you've heard a lot already about St. Stephen's Basilica but did you know that there is a panoramic lookout tower at the top of the Basilica? Most tourists have never heard of it and actually, many of the locals don't know about it either!
The lookout tower is open all year round but with different opening times: it opens at 10 am in every season and closes at 4.30 pm from November to March, at 5.30 pm in April, May, and October, and at 6.30 pm from June to September.
Winter is a very special time as this is the only season when you can see the sunset from the top of the Basilica! And what makes it one of the best things to do in Budapest in December is that during the holiday season, you can even see the Christmas market in front of the Basilica from a birds-eye view which makes it even more magical.
Tickets cost 1,500 HUF (4.5 USD) per person and you can buy them at the entrance of the Basilica.
3. Admire Christmas lights and decorations
Of course, some of the most impressive things to see in Budapest in December are the wonderful Christmas lights and decorations that adorn the main streets and the retail hubs.
Christmas lights appear in the city at the end of November and gradually transform the city into a winter dreamland in the run-up to Christmas Day. You'll see these as you sightsee during the day but they are best experienced at night when they are fully illuminated.
Take a wander along Deák Ferenc Street and Andrássy Avenue, where the streetlamps and boutiques are decked out in glittering fairy lights and installations.
4. Warm up in a Thermal Bath
One of the most popular attractions in Budapest for locals and tourists alike is the public bathhouses with their sizzling medicinal waters.
There are enough thermal baths in Budapest to rival those of Istanbul and they are perfect during the colder months. Actually, this is a far better time to visit them as you get the benefit of warming up when the outside temperature is much colder.
The Széchenyi Baths (Széchenyi Gyógyfürdő és Uszoda) are the most recognizable, with their complex of elegant yellow buildings and open-air pools. These baths are open daily even on Christmas Day and New Year's Eve and they host regular parties and special events.
Tickets to Széchenyi Baths start from 5,900 HUF (18 USD) and it includes locker usage. If you're looking for something a bit more special, you can book a skip-the-line ticket with an optional pálinka tour. You don't know what pálinka is? Just keep reading and check out #13 on this list of the best things to do in Budapest in December!
Another option to consider is the Gellért Thermal Baths (Gellért Gyógyfürdő és Uszoda) which is situated next to Gellért Hill. This bathhouse features both an indoor and an outdoor pool.
As with the Széchenyi Baths, the bathhouse remains open over the holidays. However, the opening hours are subject to change so you will need to check the latest hours directly with the website.
If you want to partake in one of the most popular things to do in Budapest at Christmas, you will definitely need to book tickets in advance! Similar to Széchenyi Baths, tickets to Gellért Baths start from 5,900 HUF (18 USD) and it includes locker usage.
There are dozens of other bathhouses that are less grand but lower in price that do an excellent job.
5. Sample traditional Hungarian food
While visiting Budapest, you can get to grips with Hungarian food. As the typical savory dishes are fairly heavy, they are perfect for the colder months as they will help you feel warm.
You can mix and match the experience by visiting some of the best restaurants in the city and picking up street food from the Christmas markets.
Goulash (Gulyás) – a meat and potato soup flavored with paprika – is one of the most classic dishes that you'll find on the menu at the vast majority of Hungarian restaurants.
While at the markets, keep your eyes peeled for lángos, which is a flatbread that is topped with a variety of ingredients ranging from cheese, sour cream, sausages, or bacon.
And if you've got a sweet tooth? If you've already visited Prague then you'll have most likely sampled a chimney cake or two. But did you know that kürtőskalács actually originated in Hungary?
These doughy, nutty, and super sugary cakes are roasted over charcoal for a unique finish. Nibbling on one at a Christmas market is one of the best things to do in Budapest in December. If you fell in love with them, you can also attend a chimney cake workshop where you can learn how to make them at home!
If you want to brush up on your trivia about the flavors of Budapest then I recommend booking a Hungarian cuisine tasting program or a wine, cheese, and charcuterie tasting.
6. Ice skate in City Park
Ice skating is the quintessential urban activity during the festive months and Budapest does not let you down! Every November, a huge ice rink is erected on top of the boating lake in City Park (Városligeti Műjégpálya) that provides a backdrop of the Vajdahunyad Castle.
This rink has been a signature of Christmas in Budapest for over 150 years now and skating on one of the largest ice rinks in Europe has to be one of the most magical things to do in Budapest in winter.
Skating tickets cost 1,500 HUF (4.5 USD) at off-peak times or 2,000 HUF (6 USD) at peak times with skate rental costing an additional 2,500 HUF (7.5 USD). You can reserve your space online in advance.
7. Visit Budapest's star attractions
One of the best things to do in Budapest in December is to grab your camera and head out of your hotel bright and early to capture some photos of the majestic city that is rich with historic buildings, grand squares, and gardens.
If this is your first time visiting the city then you will want to pay a visit to some of the icons, in particular, Buda Castle, Fisherman's Bastion, and the Hungarian Parliament Building.
Fisherman's Bastion (Halászbástya) is a 19th-century fortress on the hilly Buda side of the city, with turrets that you can't fail to miss while in the city. It's one of the most popular Instagram spots in Budapest and also one of the best viewpoints. You can visit it for free and enjoy panoramic views across the city.
Right next door, the Matthias Church (Mátyás Templom) features a unique patterned roof with diamond and geometric shapes.
Buda Castle (Budavári Palota) is another emblem of the city which you can choose to explore from the outside or visit the internal museums. This will really depend on the length of your trip to the city; if you are only spending a weekend in Budapest then I'd recommend that you just visit the exterior.
During the holiday season, there are usually decorations and special events taking place, making Buda Castle one of the most mesmerizing things to see in Budapest in December.
On the Pest side of the river, be sure to check out the Hungarian Parliament Building (Országház) and Heroes Square (Hősök Tere). The city is photogenic at all times of the year and on a clear December day under the winter sun, you can take some of the best photos. Although snowfall is never guaranteed, you might get lucky and see the city with a coating of snow which only adds to the magic of the experience.
8. Ride Tram No. 2
One of the best ways to get around Budapest – when you're not on foot in this walkable city – is via the tram and few lines compare to the scenery you'll encounter on route no. 2.
The track runs alongside the Danube River along the Pest side of the city and offers panoramic views across the water to Buda Castle, Fisherman's Bastion, and the Széchenyi Chain Bridge.
During the winter months, certain trams that serve the city network are decorated with thousands of Christmas lights that add to the overall experience. As tram no. 2 is one of those, it's all the more reasons to grab a seat onboard.
Admission to the tram is valid via either a travel pass or a regular single ticket which only costs 350 HUF (less than 1 USD) making this one of the top things to do in Budapest in December if you are on a budget.
9. Bar hop in the Jewish Quarter
Budapest is one of the nightlife capitals of Europe thanks to its intriguing "ruin" bars. These are drinking joints that started to open up in the courtyards of abandoned pre-war buildings in the Jewish Quarter. The popularity soon caught on and before long, numerous bars arrived on the scene.
Nowadays, the Jewish Quarter is swimming with bars where you can rub shoulders with local residents over a drink. Food in the neighborhood spans international and kosher delicacies.
Start your night at either Szimpla Kert or Gozsdu Court and see where you end up. Visiting the ruin bars is one of the best nightlife things to do in Budapest in December or in fact any time of year.
Furthermore, if your dates coincide with Hanukkah then you can experience the Festival of Lights in the Jewish Quarter. Ritual lights will appear in the neighborhood as well as other prominent squares in the city and you will be able to purchase Hanukkah foodstuffs.
10. Take a Danube River Cruise
Flowing through Central and Southeastern Europe, the Danube River is the second-longest waterway on the continent. As it passes through the city, taking a cruise is always going to be a highlight of a visit to the Hungarian capital.
There are various options available to suit everyone's budget and timeframe, ranging from 1-hour tours that often include a drink to dinnertime cruises where you can sit down to a three-course meal.
Special cruises operate during December with festive themed menus, vessels that are kitted out with cheerful Christmas decorations, and live music performances. If you are intending on spending New Year's Eve in Budapest then there are tonnes of boat parties to choose from.
This Christmas and New Year Special Danube River Cruise gives you the option of booking a sightseeing tour with drinks or a full meal. If it's not available for some reason, this top-rated Dinner Cruise with Live Music is also an amazing choice!
Taking a Danube River Cruise is one of the most special things to do in Budapest at Christmas.
11. Start your day with brunch in Budapest
Cafe culture has flourished in the Hungarian capital and there are hundreds of lovely breakfast and brunch spots in Budapest where you'll find Hungarian and wider European-inspired dishes. Cafes fully embrace the festive time of year so you can expect to find venues dressed to the nines with Christmas decor.
Vintage Garden is one of the best places for breakfast in Budapest in December because they make a huge effort to reflect the changing seasons. The decor changes throughout the year and they always put all the stops out during the holidays. The cafe is situated in the Jewish Quarter and is ideal if you're planning on exploring this neighborhood and visiting the synagogues.
Treating yourself to a leisurely brunch during the early morning of sightseeing is one of the best things to do in Budapest in winter as it fills you up for the rest of the day.
12. Eat at Central Market
Besides the Christmas markets, you can also check out the permanent markets in Budapest. Central Market Hall (Nagy Vásárcsarnok) was built in 1897 and comprises two floors devoted to stalls.
You'll find fresh produce on the ground floor and general gifts on the first level. The market is huge and during December you can expect to find seasonal decorations and handmade gifts.
13. Meet Santa
Something that will delight any children visiting Budapest! The sixth day of December is a special day in Hungary, known as Santa Claus Day.
According to legend, Santa visits the city with his two helpers: an angel and horned creature referred to as Krampusz. In anticipation, children will leave their freshly shined shoes on their window ledges. Santa will leave sweet treats and toys for the "good" children or a cluster of twigs for those who have been naughty.
You'll find lots of family events taking place on 6th December, with opportunities to meet Santa. There are often people dressed up like Santa out and about raising money for charities too. Joining in with the Santa Claus Day events is one of the best family-friendly things to do in Budapest in December.
14. Taste Pálinka
Pálinka is a traditional Hungarian spirit that resembles a fruit brandy and is produced using fermented fruits such as pears, plums, apricots, and cherries.
It's pretty potent with an ABV of 40-70% which makes it a great winter warmer to take the edge off the weather! You'll find it available at the Budapest Christmas markets as well as in certain restaurants and it's a key player at the New Year's Eve celebrations.
You can pick up a bottle to take back home from the shops or a Christmas market: the perfect memento from your visit to Budapest in December. If you make any friends in the city, you might have the opportunity to sample homebrew!
15. Hop aboard the Budapest Eye
Situated in Erzsébet Square, just off Deák Ferenc Street, the Budapest Eye (Budapest Óriáskereke) is one of the tallest Ferris wheels in Europe and provides a riveting panorama over the city.
It's one of the best things to do in Budapest at Christmas as this part of the city is always buzzing with couples, families, and groups of friends. It's also one of the best places for seeing the city's yuletide decorations.
The Ferris wheel operates every day of the year, including Christmas Day, New Year's Eve, and New Year's Day. You can buy a ticket online in advance which is then valid for an entire month. If you want to visit the attraction over the holiday season then be prepared that you might have to wait longer than at other times of the year.
Tickets start at 3,000 HUF (10 USD) for a rotation on the Budapest Eye. If you are looking to upgrade your experience then you can add priority boarding and a glass of champagne to your booking.
16. Sip seasonal cocktails at a rooftop bar
If it's your first time visiting Budapest then you'll soon discover that the city is brimming with grand historic architecture and handsome monuments. But you'll definitely want to seize the opportunity to view the urban streets from above while savoring a festive-themed cocktail or a mulled wine.
Visiting a rooftop bar is one of the most special things to do in Budapest in December at night as this way you can see how the city is illuminated by lights.
Overlooking St. Stephen's Basilica, the High Note SkyBar is a firm favorite among locals for a special occasion. In the winter months, they give their menu a revamp with warm cocktails and hot toddies available beside the signature beverages. The space is prettily adorned with fairy lights as well, to add to the enchantment!
An alternative but equally wonderful option is the 360 Bar Budapest. During December you will be greeted by a forest of trees and warming igloos from where you can appreciate the soaring view while staying toasty warm with your mulled wine.
The presentation of their seasonal cocktails is a wonder to see, with snowmen-themed drinks and lots of delicious hot chocolate if you'd prefer. They're very Instagrammable!
If you do want to visit a roof terrace bar while visiting Budapest in December then it's really imperative that you reserve a table in advance as they do get busy, especially in the lead-up to New Year.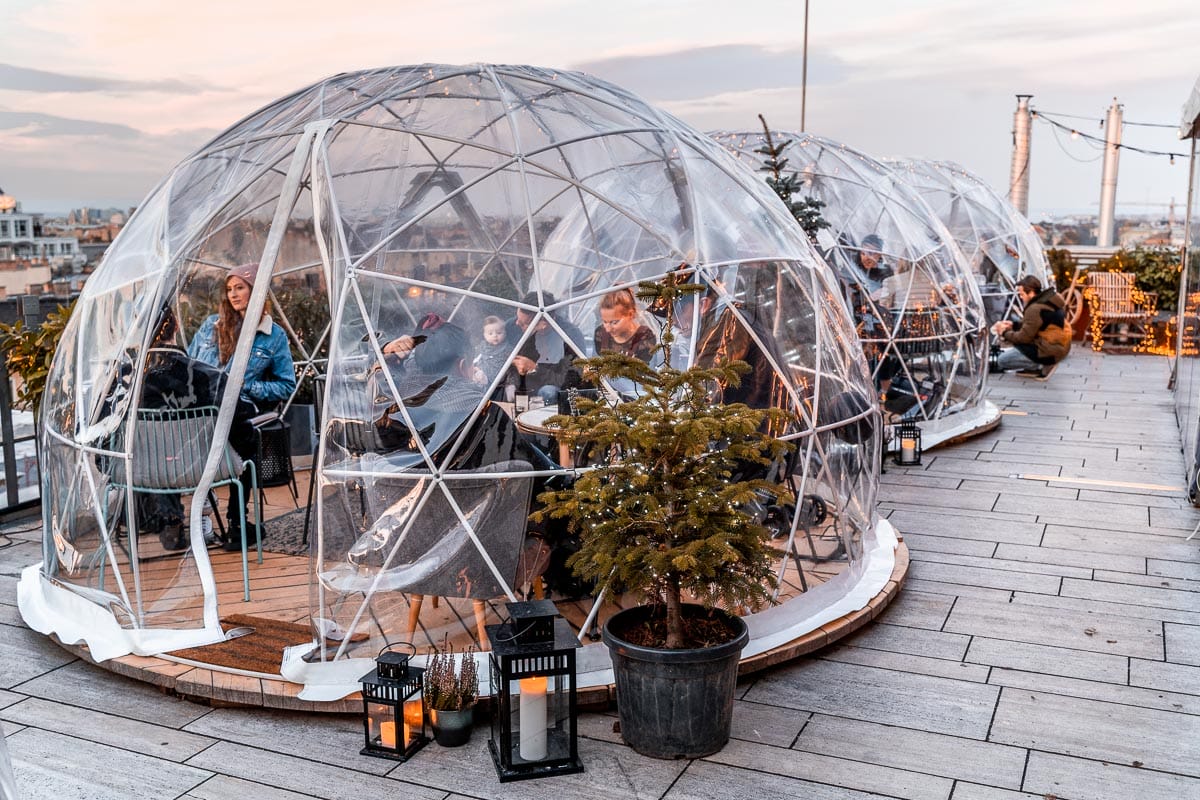 17. Ring in New Year's Eve
If your trip coincides with New Year's Eve then you are in for an extra special treat. The city takes this evening very seriously and there are always tonnes of activities taking place and wonderful energy in the air.
New Year's Eve is celebrated with enthusiasm in Budapest, with boat parties, extravagant dinners, late-night events in the clubs, and a firework display over the Danube River.
It's customary for Hungarians to make a lot of noise over New Year's Eve as it wards away bad luck. So if you do venture out, be prepared for a large racket and lots of street parties!
In keeping with the foodie activities in this guide to things to do in Budapest in winter, you'll not be surprised to hear that food plays an important role in our New Year celebrations.
It is typical to eat lentils on the last night of the year as it bodes well for finances in the future. These are often prepared with roasted pork, as pigs are symbolic of good luck. Another popular dish is rétes, stuffed cabbage and korhely soup, consisting of thickly cut cabbage and sausage broth.
Where to Stay in Budapest in December
Although Budapest can seem like a big city when looking at the map, in reality, it's quite compact and walkable. Most tourist attractions and the best things to do in Budapest in December are located in the city center so I would recommend looking in this direction.
The classic city center is located on the Pest side, comprising districts 5, 6, and 7. Alternatively, districts 8, 9, and 13 can be a great choice as well, although you will have to calculate with a bit of a commute time in this case.
If you want to learn more about the different districts in Budapest, make sure to check out my in-depth guide about where to stay in Budapest!
If you're looking for a quick solution, below you can find some of the best hotels to stay in the city center of Budapest, depending on your budget.
LUXURY – Anantara New York Palace Budapest
Anantara New York Palace Budapest occupies an elegant 19th-century building in the heart of Budapest, close to the Opera and Andrássy Boulevard. The spacious, air-conditioned rooms feature luxurious Italian furniture and fabrics like silk wallpaper and Murano chandeliers.
MID-RANGE – Hotel Moments Budapest
Located on the iconic Andrássy Avenue of Budapest, Hotel Moments Budapest offers stylish rooms, wellness facilities, and an on-site restaurant. Every room is equipped with a flat-screen TV. Some rooms have a seating area to relax in after a busy day. Each room comes with a private bathroom and exclusive bathroom amenities.
BUDGET – T62 Hotel
Attractively set in Budapest, T62 Hotel features air-conditioned rooms, a bar, free WiFi, and a shared lounge. This 3-star hotel offers a 24-hour front desk and a concierge service. At the hotel, rooms are fitted with a desk, a flat-screen TV, and a private bathroom. T62 Hotel also offers a continental or buffet breakfast.
---
Planning a trip to Budapest?
Then you might want to take a look at all our other travel guides about Budapest. I promise, they are just as awesome as this article was!
---
Related Posts
Want to read more about Hungary?
---
More Budapest Resources
Want to learn even more about Budapest? Check out these awesome books and travel guides for more inspiration!
---
What Camera Gear Do We Use?
If you want to read more about what is in our camera bag, check out my detailed post about our travel photography gear!
---
Pin It for Later!