Are you planning to spend Christmas in the United States but you're not sure where to go? Don't worry, I got you covered! In this post, you will find the absolute best winter getaways and Christmas vacations in the USA that you will never forget!
Whether you're looking for a festive getaway or a chance to escape the cold weather, you are in the right place. From New York to California, here are 16 of the best Christmas getaways in the USA!
*Disclosure: This post contains a few affiliate links, which means I may receive a small commission, at no cost to you, if you make a purchase through my link.*
No time to read now? Pin it for later!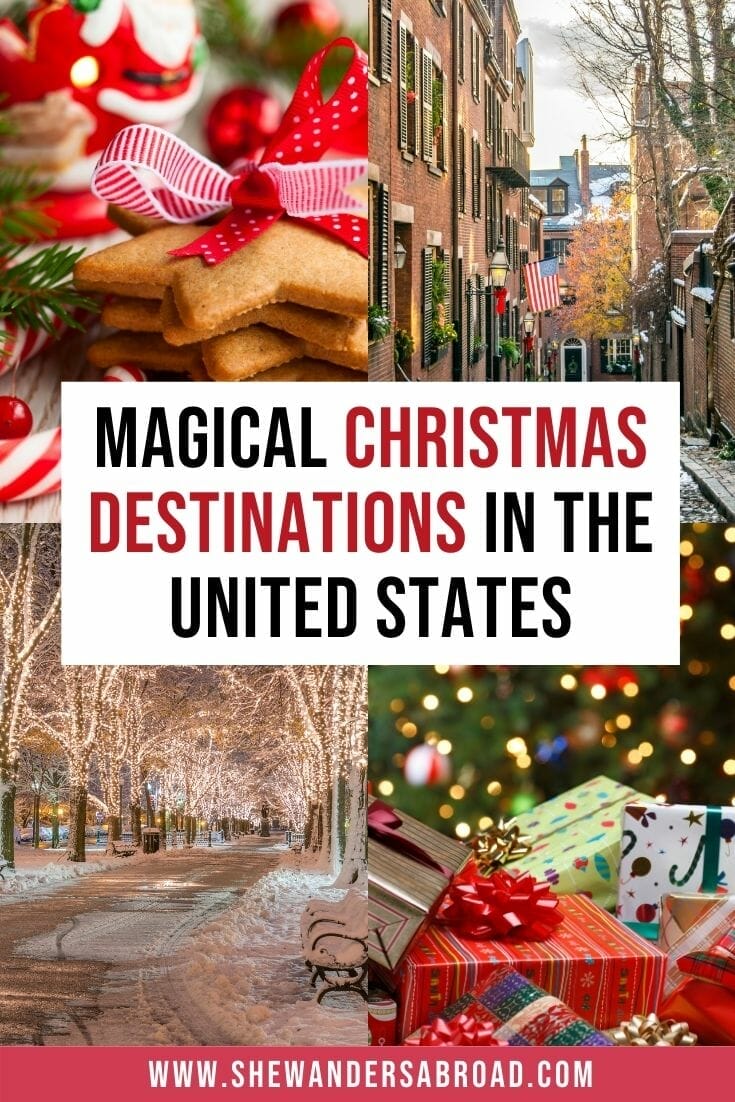 Best Christmas Vacations in the USA
1. New York City, New York
Recommended by Kriszti from She Wanders Abroad
New York City is usually on the top of everyone's USA bucket list but if you want to make your trip even more memorable, you have to visit the Big Apple during the holidays. If you're planning to do so, make sure to check my Christmas in New York itinerary for 4 days!
The Christmas tree in front of Rockefeller Center is one of the most important parts of the festive decorations in New York City and also one of the best NYC Christmas photo spots. No pictures do justice to how majestic it looks in real life!
If it weren't enough, you can find a huge ice-skating rink right in front of the Christmas tree. It's undoubtedly one of the best things to do in New York in December!
If you love Christmas decorations, walking along Fifth Avenue will be one of your favorite activities in the city where you can see some really impressive holiday window displays.
Another unforgettable holiday activity is to attend the famous Radio City Christmas Spectacular show, which is hosted by the Rockettes at Radio City Music Hall. Since this show is quite popular, try to book your tickets as advance as possible!
Spending Christmas in New York City wouldn't be complete without taking a stroll in Central Park. And if you're already there, why not take a horse carriage ride through the park or skate on the famous Wollman Rink with spectacular views over the New York City skyline?
Although technically you can visit the main highlights in just one day in New York City, if you're visiting NYC for the first time, make sure to spend at least 4 days in New York to be able to explore the different parts of the city. And if you're spending longer in NYC and want to have your own Christmas tree, check out these amazing Christmas tree farms in New York!
To sum it up, if you're looking for the best Christmas vacations in the USA where you can see incredible festive decorations, huge ice-skating rinks, and amazing holiday markets, you have to visit New York City around the holidays!
2. Boston, Massachusetts
Recommended by Sally from Our3kidsvtheworld
Unlike the more famous and definitely more crowded southern neighbor New York, Boston is a fantastic destination if you're looking for the best Christmas vacations in the USA.
You're not guaranteed to get snow on Christmas Day but it certainly did in 2017 and even if it's not snowing it will be cold enough to partake in the Christmas tradition of eggnog and apple cider by a warm fireplace.
Faneuil Hall Marketplace in the heart of Boston is usually home to an enormous Christmas tree – in 2017 the tree was 65 feet tall, it was imported from Norway and it was completely decorated in multi-colored Christmas lights. Each hour on the hour Christmas carols are played with people gathering around the tree for the spectacular 'Blink' Christmas light and sound show.
Lining the outside of Faneuil Hall is the replica Cheers Bar made famous by the Cheers sitcom from the 1980s.
Boston Common in the center of Boston is where you'll find Frog Pond iced over creating an outdoor ice skating rink. You can hire your skates on-site or bring your own – whichever you choose, it's definitely one of the best things to do in Boston with kids.
Perfectly placed in Boston Common, built in 1634, it's the city's biggest and most popular central public park. During the festive season, Boston Common is covered in Christmas lights all through the trees creating a beautiful area for everyone to enjoy.
Rug up and explore the Freedom Trail covering 2.5 miles and 16 nationally historic significant sites through downtown Boston. Take a tour or explore independently – a lesson is provided at each site about the history of the United States. It's a must-visit, even if you have only one day in Boston!
Take a guided tour of the famous Fenway Park, if you're lucky enough it will have a light dusting of snow covering the field. Walking through the Harvard College grounds is another highlight of a visit to Boston.
3. Washington, D.C.
Recommended by Kirsten from Kirsten Wendlandt
If you're looking for a city in the United States that's absolutely magical at Christmas time, look no further than Washington D.C.
A stroll around downtown Washington D.C. in December will make you feel like you stepped right into a Hallmark Christmas movie, with every corner being more festive than the next.
There's something about a city with such beautiful and historic architecture covered in holiday magic that brings it to life. With Christmas trees, holiday lights, giant nutcrackers, bells, and snowflakes lining the streets, it's impossible to not feel the holiday cheer creep up on you.
There are so many holiday events, pop-ups, shows, and activities to partake in when visiting Washington D.C. at Christmas time. Spend your weekend perusing the Christmas markets, going for a skate along the waterfront, or marveling at the incredible beauty of the national Christmas tree.
You can even visit a Christmas holiday pop-up bar to enjoy the most festive of holiday cocktails before taking a walk to admire the Christmas lights.
A short drive outside of the downtown core will take you to the most magical Christmas lights displays you've ever seen. Every year the National Zoo runs ZooLights, which lights up the zoo with over 500,000 environmentally friendly lights and animated light installations. Or you can visit Enchant Christmas which is the biggest light maze in the entire world.
If you're looking to find a little Christmas magic in the United States this holiday season, then Washington D.C. is a must-visit. There's no denying the nation's capital knows how to do it right when it comes to all things Christmas.
In case you need some more inspiration for visiting the US capital, make sure to check out my post about the best Washington DC captions for Instagram!
4. Chicago, Illinois
Recommended by Tatiana from Family Road Trip Guru
If you're looking for the best Christmas vacations in the USA, you have to put Chicago on your list as the city does Christmas celebrations better than any other travel destination.
For starters, Christmas events start in the Windy City earlier than in any other city. Roughly in the middle of November Chicago hosts its Magnificent Mile Lights Festival when Christmas lights get turned on the Michigan Avenue and Santa arrives in town at the end of an elaborate parade.
Since that moment and all the way till Christmas (and in many cases even a couple of days past New Years' Day), many of Chicago's major attractions host special Christmas events: from phenomenal lights displays in the zoos (yes, Chicago has 2 zoos) and botanical gardens to special exhibits in museums and everything in between.
For outdoor enthusiasts there are 2 ice rinks right downtown, one is a traditional oval at Millennium Park and the other one is a huge state-of-the-art skating ribbon in Maggie Daley Park. Both of these are considered as some of the best photography spots in Chicago!
One of the best places to visit during Christmas in Chicago is the German Christmas market – Christkindlemarket, which opens on Friday after Thanksgiving. It is a big market with many vendors, delicious food, hot mulled wine, and festive music.
Finally, if you are a fan of white Christmas, Chicago will not disappoint. Your only problem will most likely be not having enough time to check out all these great things to do in Chicago at Christmas. Make sure to spend at least 3 days in Chicago but even if you stay for a week, you won't get bored.
5. Milwaukee, Wisconsin
Recommended by Hannah & Adam from GettingStamped
A highly underrated city to visit during all seasons is Milwaukee, Wisconsin – especially during the winter. Located in the southeast region of the state right off of Lake Michigan, Milwaukee has plenty of winter activities to keep you busy, from outdoor adventures to breweries.
Milwaukee and its surrounding areas have access to tons of winter sports, like cross-country skiing, snowshoeing, ice skating, and winter hiking.
If you don't mind traveling a little way out of the city for the day, you can also find nearby ski hills for skiing, snowboarding, tubing, or visiting the ice castle in Lake Geneva.
When it's time to relax, check out any of Milwaukee's popular breweries. Lakefront Brewery and Milwaukee Brewing are great spots to check out and warm up with a drink.
Also, depending on when you visit, the Historic Third Ward area of Milwaukee sets up "Ice Bars" every season. The Wicked Hop and Cafe Benelux are two restaurants that build their own every year.
A few other local favorites include the beautiful Milwaukee Art Museum, overlooking Lake Michigan. Also, if you're in the mood for some holiday shopping, the Historic Third Ward area is full of cute shops and boutiques. Whatever winter fun you choose, you'll be sure to have a unique and fun experience in Milwaukee!
6. Whitefish, Montana
Recommended by Gina from Travel Montana Now
Looking for a winter wonderland with a touch of western history and atmosphere for your Christmas vacation in the USA? Then look no further than Whitefish, Montana.
Located in Glacier Country less than 30 miles from Glacier National Park, Whitefish is one of the best places to head for Christmas in Montana thanks to its mountain peaks, alpine lake, quaint downtown area, and world-class ski resort.
During the holidays, that aforementioned downtown area turns into a winter wonderland with twinkling lights and Christmas decorations hung on the historic buildings, over the street, and looped around lamp posts.
Don't miss the Christmas Stroll at the beginning of December in downtown Whitefish that helps usher in the holiday season and has music, festive food and activities, and holiday-themed drinks.
Closer to the actual day of Christmas, you can attend the Torchlight Parade on Christmas Eve at Whitefish Mountain Resort, where you'll watch people glide down the mountainside holding festive torchlights.
During the daylight hours, you can hit the slopes at Whitefish Mountain Resort, or strap on some snowshoes or hop atop a snowmobile and head to nearby trails for snow-filled sights. Whitefish has excellent powder and gorgeous views that will make for a truly memorable Christmas holiday.
7. Boulder, Colorado
Recommended by Sara from Mindful Travel by Sara
There are so many things to do in Boulder Colorado in winter and during Christmas time. The snow covers the mountains leaving beautiful snowy landscapes.
During the month of December, Boulder is transformed and filled with lights and a Christmas atmosphere. Every day at 4 pm more than 200,000 colorful LED lights illuminate Boulder's Central Park. It's so beautiful!
Every Saturday leading up to Christmas, children can visit Santa and take the Snowflake Express train around downtown Boulder.
You'll love the Lights of December Parade where you can have a delicious hot chocolate and watch floats adorned with lights and marching bands pass. Don't miss the Firefly Handmade Market, Boulder's artisan craft fair.
One of the popular traditions on Christmas Day is starting the morning with a refreshing winter hike. Other festive activities include going up to the snowy mountains and enjoying a day of skiing.
Then you can go shopping at Pearl Street Mall or relax at the historic Hotel Boulderado that offers Holiday Teas in its lobby (don't forget to take a photo with its famous Christmas Tree!).
8. Orlando, Florida
Recommended by Lauren from Wayscaped
Despite what they sing on the radio, not everyone is dreaming of a white Christmas! Escape the snow and freezing temperatures and head south to sunny Orlando, Florida this winter.
Winter is the best season in Florida: the average temperature high is in the 70s and there aren't any of the torrential downpours common in the summer.
All of the theme parks in Orlando have special holiday events, making Orlando one of the best Christmas vacations in the USA.
Walt Disney World hosts "Mickey's Very Merry Christmas Party" on select evenings after the regular park hours. Besides access to the rides, this event includes a parade, a fireworks display, dancing with the characters, and a Christmas-themed show.
At Universal Studios, the Wizarding World of Harry Potter is decked out in decorations and the Frog Choir regularly performs Christmas songs. Universal Studios also has its own holiday character parade that runs once a day during normal park hours.
Besides the theme parks, there are a number of activities in the area surrounding Orlando that are great all year long. About an hour's drive east is Kennedy Space Center and several beautiful beaches. The beaches on the Atlantic coast are great for surfing and bioluminescence kayaking tours.
9. Las Vegas, Nevada
Recommended by Harshi & Aman from Trot.World
Sin City aka Las Vegas, is more than just an adults playground. It is a city that's also perfect for the holiday season, to spend time with family and stay in the jolly Christmas spirit.
The celebrations in the city are in full swing all year round, so it's obvious that they raise the bar all the more during the holiday season.
From gazing up to the 65-feet high Christmas tree at The Venetian Las Vegas to going hotel hopping to enjoy grandeur Christmas-themed decorations, you will find plenty of unique things to do in Las Vegas during Christmas time.
Start your day brunching at lavish buffets serving Christmas-themed dishes and desserts and end your night with the famous Bellagio fountain show with the water swaying to the tune of Christmas carols.
What's Christmas without some ice-skating and snow, right? Head to the Cosmopolitan that converts its swimming pool into an ice-rink with real ice during the holiday season with snow showers and s'mores by the fire to get you into the Christmas spirit.
All of these are just some of the countless fun things to do in Las Vegas besides gambling. So, head to this entertaining desert city for a grand Christmas getaway, filled with activities to spend some quality time with your loved ones during the most wonderful time of the year.
10. Lake Tahoe, California
Recommended by Meg from Fox in the Forest
Nestled on the border of California and Nevada, the gem-colored waters of Lake Tahoe beckon. With stunning vistas of the Sierra Nevada Mountains, beautiful sunsets, and charming mountain towns, Lake Tahoe is one of the best Christmas vacation destinations in the USA.
There is a wide array of things to do in Lake Tahoe for winter including winter hiking, world-class skiing, snowmobiling, and more. After you've opened presents, head to the Mt Rose sledding area for some family fun.
Snuggle close as you watch the sunset over the lake from Cave Rock, a famous (and easy) Lake Tahoe Hike. The next day, hit the slopes at one of the 15 ski resorts.
Skiers and riders will enjoy the incredible variety of terrain in the Tahoe Basin, including Squaw Valley, Northstar Mountain, and Heavenly. Winter hikers can experience the magic of the Sierras along with one of Tahoe's many hiking trails.
If shopping and cruising mountain towns are your things, then check out Incline Village, Tahoe City, and South Lake Tahoe.
Christmas is a magical time at Lake Tahoe, simply for the amazing winter scenery. You'll have your own slice of mountain charm at one of the many places to stay in Lake Tahoe. And if you're lucky, you may even wake up to a white Christmas.
In terms of where to stay, the south side of the lake is more developed, with high-rise casinos and plenty of entertainment, while the north side of the lake is home to a more quaint mountain feel. What better way to celebrate the season than with a getaway to Lake Tahoe.
11. San Francisco, California
Recommended by Kristel & Gabriel from Chef Travel Guide
With plenty of holiday festivities to choose from, it's easy to get into the Christmas spirit when visiting this iconic city. Imagine a million twinkle lights illuminating the buildings, massive Christmas trees, two-story gingerbread houses, and a lighted boat parade to name a few.
Known for its majestic Golden Gate Bridge, stunning waterfront, diverse cultures, and trendsetting cuisine, San Francisco is truly a magical place for your Christmas vacation in the USA.
Get into the holiday spirit by stopping by Union Square to see the impressive Christmas tree that stands nearly seven stories tall and is covered with over 30,000 twinkling lights. It's definitely one of the best photo spots in San Francisco for holiday-themed photos!
The entire area shines brightly as surrounding shops decorate their facades with lights and fill their display windows with unique holiday trinkets. If you're a bit more athletically inclined, make sure to glide your way through the outdoor skating rink for a fun winter activity.
A Christmas visit to the city isn't complete without seeing A Christmas Carol at the American Conservatory Theater which is the perfect holiday treat for the whole family.
For a one of a kind holiday experience in San Francisco, check out the Illuminate SF Festival of Light where over 35 dramatic light art installations fill the neighborhoods and brighten the city.
If you're looking for something fun and out of the box, why not join thousands of people dressed in Santa costumes in a holiday-themed pub crawl called SantaCon.
No matter which holiday-themed activity you decide to do on your visit, spending Christmas in San Francisco is guaranteed to be a memorable one.
12. Colorado Springs, Colorado
Recommended by Oksana & Max from Drink Tea & Travel
Colorado Springs, Colorado is a wonderful destination for your Christmas vacation in the USA.
With its plethora of outdoor activities and holiday spirit, you really can't go wrong by spending Christmas here. It provides visitors with a quintessential holiday experience.
The Festival of Lights is a family-friendly festival that takes place each December. It culminates in the Festival of Light Parade in December and all proceeds go to a local Colorado Springs NGO.
The light displays in Colorado are also impressive. The annual Colorado Springs Christmas Lights Drive is a 2.5-hour route that takes participants by some of the most impressive light displays in the city.
The Broadmoor Hotel has a dazzling light display that even lights up Seven Falls. They also hold an annual Christmas show which includes singing, dancing, and dinner.
Just outside the city is Pikes Peak. It is one of the tallest mountains in the area and a great place to explore year-round.
However, Pikes Peak's Cog Train takes on another dimension during the holiday season especially if you choose to take Santa's Train, where you'll find Mr. and Mrs. Claus and their elves along for the ride. It's a great activity for families with smaller children.
13. Palm Springs, California
Recommended by Monica from This Rare Earth
One of the best Christmas getaways found in California is in the desert area of Palm Springs.
It takes roughly two and a half hours to reach in from the busy Los Angeles and in case you're planning to drive, you can also include some amazing stops on the Los Angeles to Palm Springs drive like the Richard Nixon Library & Museum or the Oak Glen Preserve.
The celebrities of Hollywood began visiting Palm Springs in the 1920s and 1930s, making it popular for those living in Southern California and beyond.
Since then, this town has remained a hot spot for long weekend gatherings and family holidays. Palm Springs still features retro homes and hotels inside of quaint neighborhoods that are a far cry from L.A. traffic and crowds.
Though you won't get the picturesque white Christmas of the east coast, December is the perfect month to visit Palm Springs for several reasons.
The triple-digit temperatures of the Mojave Desert finally subside in December and sunny days become cooler and bearable. Outdoor activities like hiking and running become much more enjoyable. But Palm Springs is a hidden gem for Christmas, in particular.
The Palm Springs Festival of Lights Parade is hosted in early December every year, and the parade attracts thousands of annual attendees. Marching bands come in from all across California to march and play, following giant holiday floats through the streets.
Vintage cars roll along covered in sparkling Christmas lights and holiday wrappings. And of course, Santa Claus himself attends, pulled on a giant sleigh of reindeer. Palm Springs is truly an unforgettable place to spend Christmas in the USA!
14. Savannah, Georgia
Recommended by Erin from Savannah First-Timer's Guide
It's possible to spot Christmas lights and greenery as early as mid-November in Savannah, but don't expect any tacky "American-style" yard displays with giant cartoon character balloons and gaudy synchronized lighting displays.
Instead, the decorating style is traditional and very Dickensesque. Carolers commonly stroll through the Landmark Historic District in the weeks leading up to Christmas to share cheerful holiday melodies.
One of Savannah's most popular seasonal events is the Holiday Tour of Homes, where visitors are able to experience true Southern hospitality by exploring the interiors of some of the city's most beautiful homes and B&Bs.
Savannah's primary shopping street, Broughton Street, is one of the most festive areas during the holiday season. You'll find string lights draped from one side of the street to the other and will see fanciful window displays at 24e Design Co. and The Paris Market.
Make sure to visit the Cathedral of St. John the Baptist! It's located adjacent to Lafayette Square, and the holiday decor is truly breathtaking. The sanctuary is filled with Christmas trees constructed entirely of poinsettias, every pew is lined with greenery, and there's an intricate nativity scene that guests are allowed to stroll through to view up-close.
Winter temperatures in Savannah are generally mild and average between 50-70 degrees. Pack sweaters, gloves, and a hat, but leave the heavy winter coat at home. You'll find yourself removing layers during the day while exploring the Historic District and then will likely add them again in the evening as temperatures drop.
Don't expect a white Christmas; snow is such a rare event in Savannah that the entire city shuts down! You'll find locals out building snowmen and taking advantage of the rare photo ops. The only snowfall of note in the past 20 years was 1.2 inches in January 2018.
15. Miami, Florida
Recommended by Amy from The Florida Travel Girl
For those wanting a tropical holiday celebration, Miami is an awesome place to visit. Every year the Magic City gets completely decked out with lights and decorations making it feel so festive. From Wynwood to South Beach to Brickell, there are so many ways to feel the Christmas spirit in Miami.
No matter which part of Miami one visits, Christmas Tree Lightings are a must-see. Bayfront Park is the most popular with its huge 50-foot tree and Holiday village to explore, but they also do them in Coral Gables and Little Haiti.
For more dazzling light exhibits, Santa's Enchanted Forest is the world's largest holiday theme park complete with three million lights, holiday displays, rides, and shows. The Luminosa Festival is also an exciting spot at Jungle Island with all sorts of colorful lanterns and celebratory experiences.
For a waterfront activity, locals love participating in the holiday boat parade. This is where boats are decorated with lights and more before sailing down Biscayne Bay. It's so much fun to watch everything lit up at night.
One can expect decorations to be up through New Year's Eve, which of course is another holiday this city goes wild for. For vacations ranging from Thanksgiving to January 1st, Miami is guaranteed to be an excellent place for a Christmas vacation in the USA.
If you need some more inspiration for visiting Miami, make sure to check out these amazing Miami quotes & Miami captions for Instagram!
16. Key West, Florida
Recommended by Lori from Travlinmad
There are many places in the USA for a warm and tropical Christmas getaway, and the one that should be at the top of everyone's list is Key West, Florida.
The laid-back vibe of the Conch Republic makes it a perfect change-of-pace destination with plenty of Christmas spirit.
There might be a stereotypical evergreen Christmas tree here and there, but beautifully decorated palm trees and colorfully lit historic homes are the norms. Everywhere there is Christmas spirit – in the cafes and bars, restaurants, and along every street.
Don't be surprised if Mr. and Mrs. Claus make an appearance, and a rum tasting at the Key West Distillery is a great way to get into the Key West holiday spirit!
Getting to Key West is easy as many air carriers now service the Key West Airport. From Miami or Fort Lauderdale and it's just a 40-minute hop to the island. If time isn't a problem, rent a car and head down Highway 1 through the Florida Keys.
Take a champagne sunset cruise and enjoy the sunset at Mallory Square, then catch the Old Town Trolley Tour or the Conch Train to view the twinkling lights in Old Town. Onboard, cookies and cider are served as the guided tour makes its way past imaginative Christmas displays and holiday revelers.
Nearly all of the hotels and Airbnbs will be brightly decorated, but be sure to book accommodations well in advance as Key West is very popular for celebrating Christmas and New Year.
---
Pin It for Later!