New York City, famously known as the city that never sleeps, is one of the best destinations to visit in the United States. It's filled with great history, fantastic food, and a breathtaking skyline view unlike any other in the world.
Planning a trip to NYC can be quite overwhelming, especially if you've never visited before. It can be hard trying to decide what's worth seeing and what's not!
That's why I've put together this 4 days in New York City itinerary to help you out. Feel free to move different parts of the itinerary around to cover all of the places that you most want to visit!
If you're planning to visit New York City for the first time, make sure to check out my NYC travel guide which was specifically written for first-timers, and my best travel tips for NYC!
*Disclosure: This post contains a few affiliate links, which means I may receive a small commission, at no cost to you, if you make a purchase through my link.*
No time to read now? Pin it for later!
Useful Info for Visiting New York City
How to get to New York City
Since New York City is one of the biggest hubs in the entire world, you have tons of options to choose from when it comes to how to get to New York City. You can arrive by plane, train, bus, or even in your own car if you're coming from one of the nearby cities.
The easiest way to get to New York City is to take a plane. You can find 3 major airports nearby: the John F. Kennedy International Airport (JFK) and the La Guardia Airport (LGA) in Queens, and the Newark Liberty International Airport (EWR) in New Jersey.
Each airport is very well connected to Manhattan by subways, trains, and buses and you can also take a taxi as well.
If you're planning to arrive from another US city or Canada, you can take a train as well. NYC has two main rail stations in Midtown Manhattan: the Grand Central Terminal and Penn Station. Another option is to arrive by bus.
There are many great affordable bus lines that offer routes to NYC, such as Megabus, Greyhound, or FlixBus.
Best time to visit New York City
If you're looking for the absolute best time to visit New York City, try to aim for the shoulder seasons, spring and fall. You can see the city buzzing with excitement for the warmer months as all of the flowers start to bloom in the spring.
Meanwhile, if you visit in the fall, you can witness some of the most beautiful and unforgettable fall foliage in the world.
Winter is definitely one of the most magical seasons in NYC. Since New York is one of the best Christmas destinations in the USA, visiting the Big Apple during the holidays is a great idea. If you're planning to do this, make sure to check out my Christmas in New York itinerary and the best NYC Christmas photo spots!
However, you need to keep in mind that it's also the most expensive time to visit and usually the city gets very crowded, not to mention the freezing cold. But if you plan your trip in advance, I'm sure you will enjoy it to the fullest!
Although summer in New York City sounds tempting, it's actually not the best time to visit the city. It can get scorching in NYC in the summer and sometimes even heatwaves can occur with temperatures around 95-100°F (35-38°C).
It's also important to know that New Yorkers love air-conditioning and the difference in temperatures between indoors and outdoors is shocking, especially if you are a foreigner and you're not used to it.
How to get around in New York City
Although New York City is massive, it's very easy to get around thanks to the tons of different bus and subway lines. The New York subway is actually the largest subway system in the world, with over 470 stations.
The most convenient and affordable option is to use public transportation. You can buy a SingleRide ticket for $3 US at a vending machine. Though, if you'll be using the subway often, which you most likely will, it's better to buy a MetroCard for $1 US and refill it as needed.
The most popular option is the $34 US unlimited weekly subway pass. The MetroCard can also be used with trams and buses.
If you can, avoid taking taxis at all costs. Most taxis charge you by the distance driven in addition to the amount of time that you're in the vehicle, and with NYC traffic, that can seriously add up.
The average pricing model is $2.50 US as an initial fee, plus 50 cents per 1/5 mile traveled. There's also a 50 cents fee for each minute that you're stuck in traffic.
Where to stay in New York City
NYC consists of 5 different boroughs (Manhattan, Brooklyn, Queens, Bronx, and Staten Island) and hundreds of different neighborhoods. Generally speaking, Manhattan is one of the best boroughs to stay in NYC, especially if you're a first-timer.
If you're interested in knowing more about the neighborhoods in NYC, be sure to check out my guide about the best areas to stay in New York City which includes 10 amazing neighborhoods with lots of useful tips and information about each area.
If you want to take your vacation to the next level, check out these incredible NYC hotels with the best views!
Below you can find a few of the best hotels to stay for your 4 days in New York City, depending on your budget.
LUXURY – 1 Hotel Central Park
Offering a restaurant and a fitness center, 1 Hotel Central Park is located right next to Central Park. Each room will provide you with air conditioning, a seating area, and a private bathroom. The on-site restaurant, Jams, features an open kitchen and it is open for breakfast, lunch, and dinner.
MID-RANGE – Hyatt Place New York/ Midtown-South
Just a 5-minute walk from the Empire State Building, this Manhattan hotel offers free Wi-Fi and modern rooms equipped with a flat-screen TV. A corner sofa and a refrigerator are included in each room at Hyatt Place New York. A work desk along with coffee-making facilities is also included.
BUDGET – MOXY NYC Times Square
MOXY NYC Times Square offers pet-friendly accommodations and features free WiFi and a fitness center. All rooms are equipped with a flat-screen TV and air purification systems and each room has a private bathroom. Guests can enjoy the on-site restaurant and a rooftop bar.
Overview of Your 4 Days in New York City Itinerary
The section below includes an overview of your New York City in 4 days itinerary with all the best highlights that I recommend visiting during each day of your trip.
While I've included some of the more touristy attractions that you have to see at least once in New York City, I've also included a few of the more off-the-beaten-track locations as well.
While there's a lot to do on this New York in 4 days itinerary, it's just the right amount of sightseeing. On the first day, you'll take the time to get acquainted with the city, while on the second day, you'll take a long-awaited trip to see the Statue of Liberty.
The third day consists of branching out and visiting Brooklyn and some outdoor attractions. Then, you'll wrap up your NYC trip by visiting some of the top sights in the city that your trip wouldn't be complete without!
Breakdown of your 4 days in New York City
Day 1 – Free NYC walking tour, Metropolitan Museum of Art (or another museum of your choice), picnic in Central Park, and Times Square
Day 2 – Local NYC breakfast (bagels), Statue of Liberty, Ellis Island, Broadway play
Day 3 – Brooklyn Bridge, DUMBO, visiting a market, 9/11 Memorial, High Line, One World Observatory, The Strand Bookstore, Washington Square Park
Day 4 – St. Patrick's Cathedral, Rockefeller Center, Top of the Rock or Empire State Building, Fifth Avenue, Grand Central Terminal, New York Public Library
Map for your New York City itinerary
Below you can find a customized map that includes all the locations you're going to visit on your NYC itinerary.
I marked your 4 days in New York with different colors – I used blue for the first, yellow for the second, green for the third, and red for the fourth day, so you can easily see which places you're going to visit each day.
If you open up this post on your phone and you click on the bracket in the upper right corner of the map, it will open up in your Google Maps app so you can always have it with you. Super convenient, right?
Day 1 of Your New York City Itinerary
The first day of your 4 days in New York City itinerary will be spent acquainting yourself to the city itself. Take the time to learn more about New York City's history today, and ask any questions you have while you're at museums or on tour.
Enjoying a destination is even more memorable when you know more about the place that you're visiting, so really soak it all in.
Day one also doesn't include a whole lot of things to do in case you're exhausted from your travels if you got to the city in the morning.
It's a bit more relaxing than the other days on this itinerary. If you have more time and arrive the night before, you can of course try to pack in a few more sights during your first day!
Free NYC Walking Tour
Start your NYC experience off strong by going on a walking tour. Oh, and did I mention there are free tours of the city run by locals who volunteer? Seriously, there is no better way to get acquainted with the city!
Plus, you'll be taking the tour with other tourists, so you may even make some travel friends with who you could meet up later on during this NYC itinerary.
The two most prominent tour companies that give free tours in New York City are Big Apple Greeters and Free Tours By Foot. In particular, the latter offers a wide variety of daily scheduled tours, so no matter the day you arrive, you can go on one of their free tours.
Some of the tour options for Free Tours By Foot include Chelsea and the High Line, Harlem, Brooklyn Bridge/Brooklyn Heights/DUMBO, and SoHo/Little Italy/Chinatown.
If you want to get right to the heart of the city, be sure to hop on their 3 Hour Downtown Manhattan tour, which covers SoHo, Little Italy, the Financial District, and Chinatown. This tour, in particular, is a 3-hour tour offered in both the morning and the afternoon.
Keep in mind that it does use the metro, which you will have to pay for. You also have to make a reservation for the tour, and it fills up quickly! The tours are only offered in English and Spanish.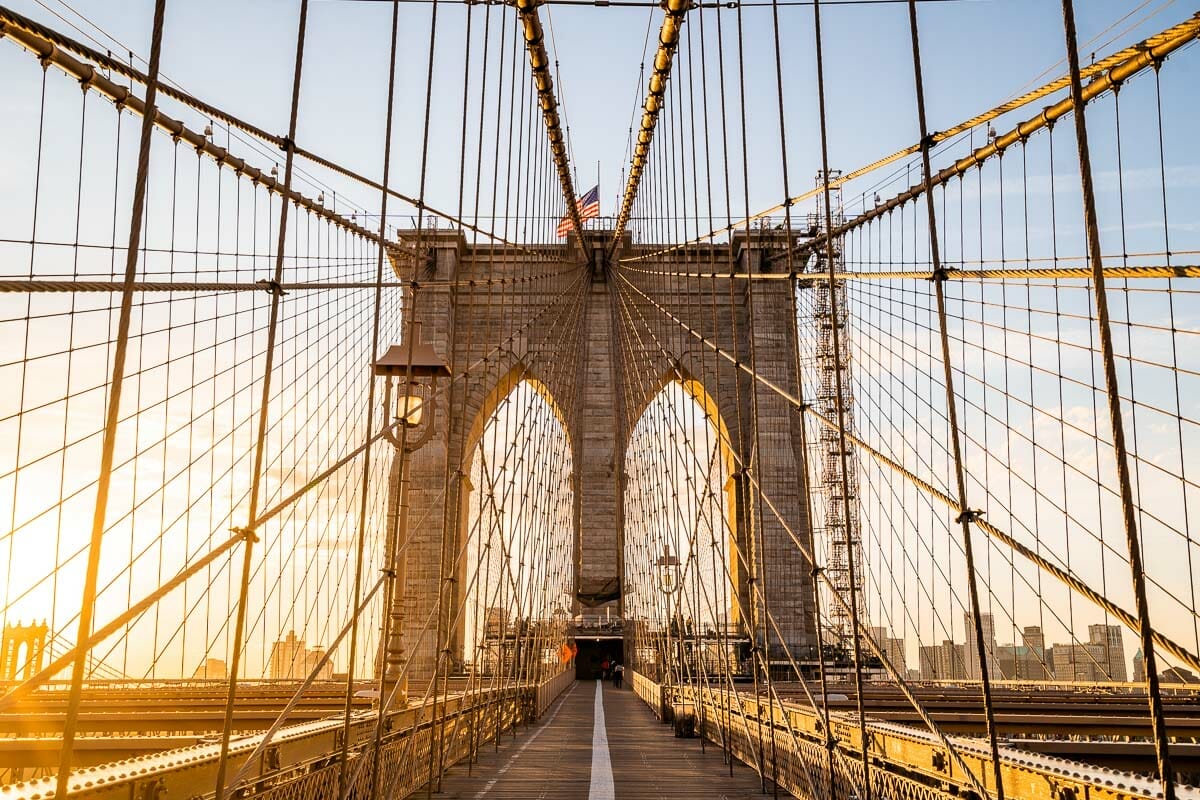 Metropolitan Museum of Art
This NYC in 4 days itinerary wouldn't be complete if it didn't mention at least one museum. The Metropolitan Museum of Art, also known worldwide as the MET, is one of the most famous museums in the city.
It's also one of the most prominent fine art museums in the entire world. Because of its size, you most likely won't be able to see every inch of what's inside, but going inside is an unforgettable experience.
If you aren't interested in visiting the MET and would instead visit a different museum, there are tons to choose from. Some other famous museums in the city include the Museum of Modern Art (MOMA), the American Museum of Natural History, the New Museum, the Museum of the City of New York, and the Guggenheim.
For some of these museums, you can purchase tickets online for a discounted rate versus purchasing in person at the booth.
Many museums in the city also offer "free hours" at least one day of the week, meaning that visitors can go inside for free during the set hours. Do your research before visiting to save money!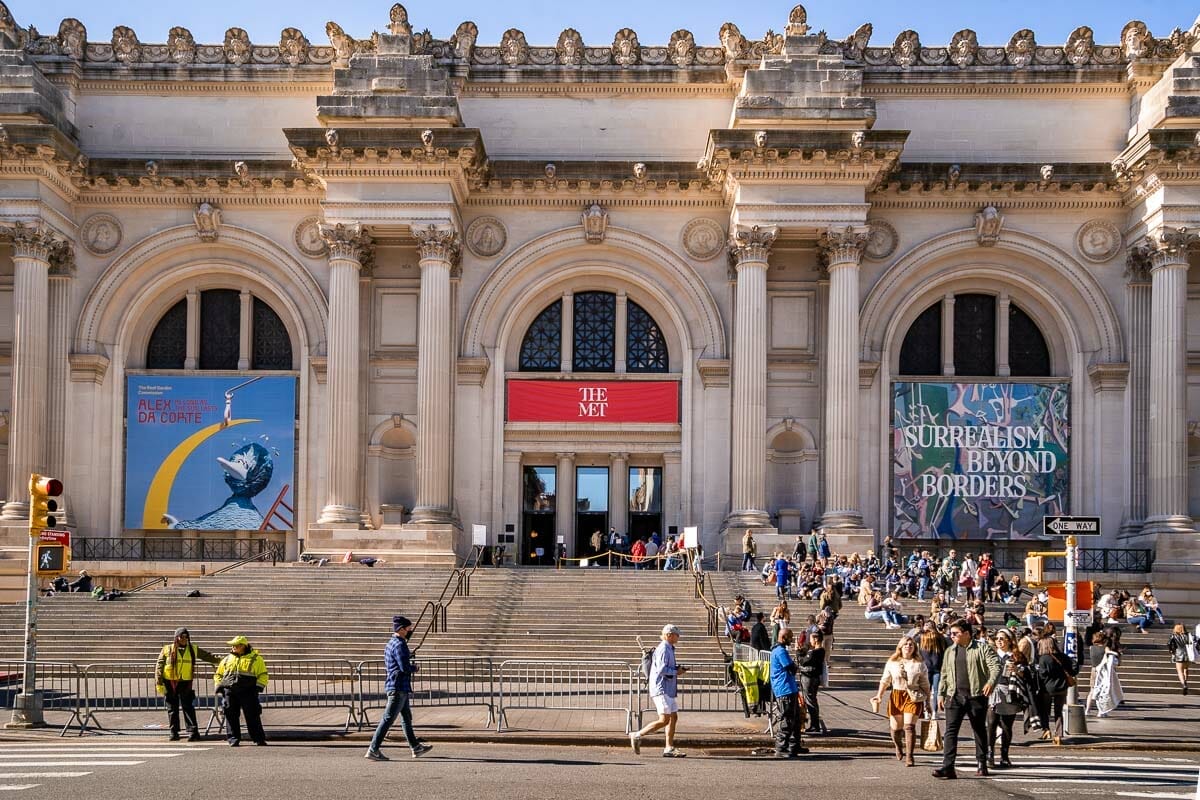 Picnic in Central Park
Central Park is the park in New York City. This vast urban park is located right in the middle of Manhattan's Upper West and Upper East sides. It's so large that it covers 843 acres, dating back to the mid 19th century.
Central Park was the first public park in the United States, making it important to the country's outdoor landscape history.
Before visiting the park, stop by a local sandwich shop or a grocery store and pick up some food to have a little picnic. Bring a blanket if you have one, or just sit out on the grass if you're visiting during a warmer season.
Take the time to walk around the park before or after your meal, because it is beautiful. There are walking paths throughout, which make it easy to explore.
While it can be quite busy at times, there are usually at least a few spots where you can catch a moment of solitude. Plus, the skyline view from the park is magnificent as well!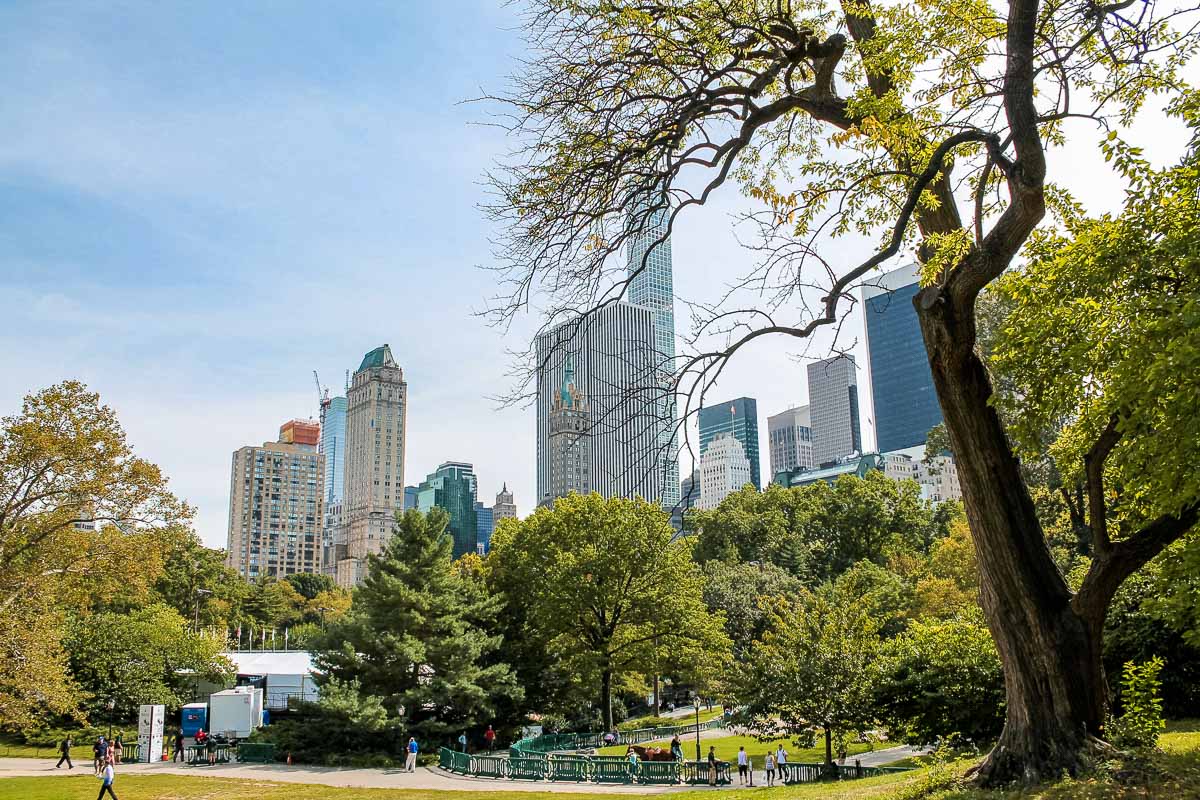 Times Square
While Times Square may be known as a tourist trap by locals, it's worth visiting at least once during your 4 days in New York City. Visit at night when it starts to get dark to see it lit up in all of its glory!
This huge plaza is covered in billboards and moving pictures almost everywhere you look. Plus, there are tons of places to go shopping in this area too, so if you have to pick up any last-minute essentials for the rest of your trip, now's the time.
While at Times Square, be sure to be well aware of your surroundings. It's not that it's an unsafe place, but since it's known for being host to many tourists, some scams often happen in this area.
You'll want to be on the lookout for people dressed up in character costumes who will charge you upwards of $20 US for a single picture and also people selling you blank CDs without you knowing.
There are some other tourist scams here, but these are the two most popular. Be aware of your surroundings and watch your belongings closely!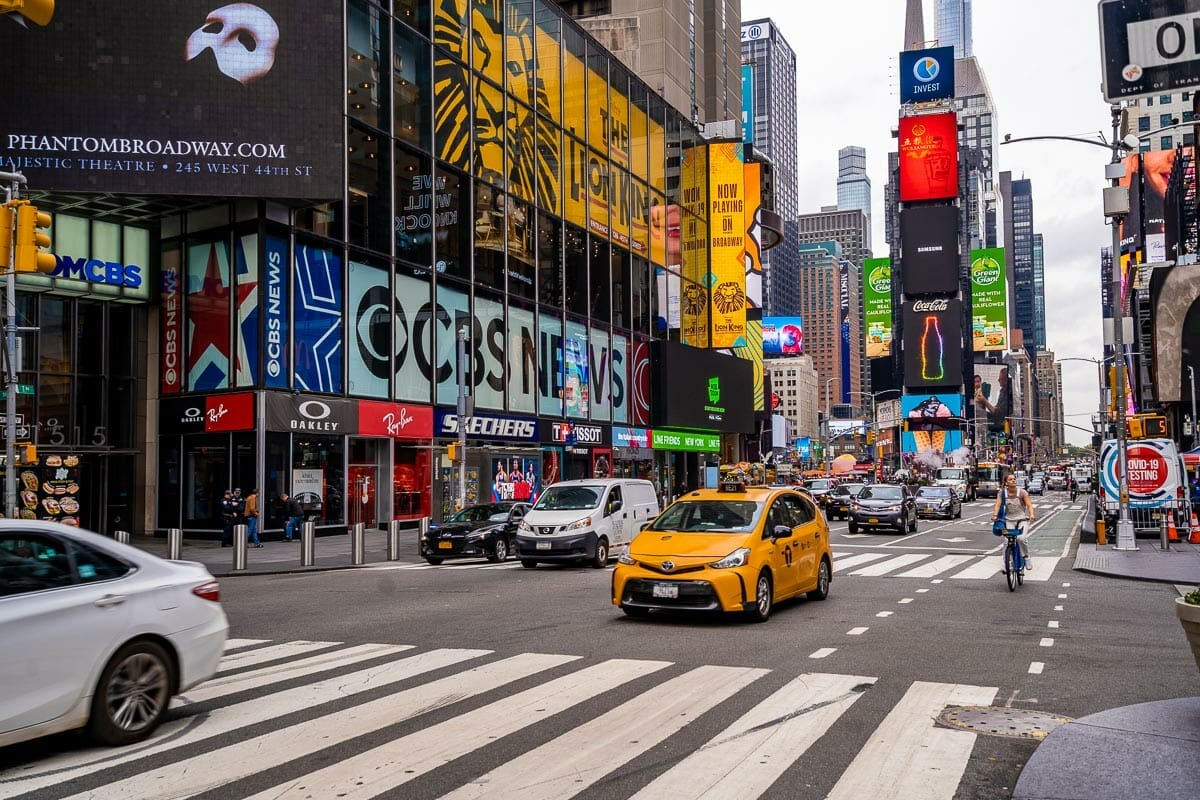 Day 2 of Your New York City Itinerary
Bagel Breakfast
New York City is well-known for its bagels, so today, you're going to start the day with a unique and delicious bagel breakfast. You can find a bagel shop claiming to be the "best" on almost every street corner, so be careful!
Some of the top-rated bagel places include Absolute Bagels, Tal Bagels, Bo's Bagels, Bagelworks, and Tompkins Square Bagels. Tompkins, in particular, is known for its crazy flavors, like rainbow-colored bagels! If you want an Instagram-worthy breakfast, stop by Tompkins.
Now that you've got your bagel in hand, it's time for the next stop on this NYC itinerary!
Liberty Island
Today is finally the day that you get to visit the famous Statue of Liberty! Many people think that visiting the Statue of Liberty can be a really short trip, but in reality, I suggest putting aside almost a full day to be able to fully experience it.
How to get to Liberty Island?
Liberty Island is only accessible by ferry, this means that you either need to book your own tickets or you can join a guided tour. Ferries depart from either Battery Park in Manhattan or Liberty State Park in New Jersey.
It's important to note that Statue Cruises is the only vendor that is authorized to provide ferry tickets. Try to stay away from vendors selling tickets around Battery Park as those will not provide access to Liberty Island or Ellis Island!
As the Statue of Liberty is one of the top tourist attractions in the world, you need to book your tickets well in advance. When booking your tickets, you'll need to select a specific starting time.
It's important to note that this is not the departure time for the ferry, this is the time when you can enter the Security Facility, where you have to go through an airport-style security screening.
Only after completing the security screening can you go out to the docks and board the next ferry. Ferries typically run every 20-30 minutes but as the day goes on, sometimes the ferries start to run behind.
That's why it's important to visit early in the morning – and it's also helpful for avoiding the massive crowds!
At the moment, you can choose from three different ticket types: general admission, pedestal reserve or crown reserve.
A general admission ticket will provide you free access to the grounds of Liberty Island, the Liberty Museum, the grounds of Ellis Island, and the Ellis Island National Museum of Immigration, while with the pedestal reserve, you can also access the pedestal of the statue. The crown reserve includes access to the Crown and Pedestal of the statue.
What can you do on Liberty Island?
Liberty Island is home to the Statue of Liberty, a beautiful park, and an innovative museum, so basically these are the three things you can visit on the island.
As Liberty Island is pretty small, it won't take you long to tour the grounds – you can walk around the whole island in like 10-15 minutes. It's a pretty scenic walk though as you will get an incredible view of not only the statue but the whole New York and New Jersey skyline as well!
If you want to visit the pedestal, you need to purchase a specific ticket with pedestal reserve, general admission will not cover this part of the statue.
Last but not least, you can visit the Statue of Liberty Museum for free where you can learn more about the history of the Statue of Liberty. The museum also features many interesting displays and unique artifacts, including the original torch of the statue!
Ellis Island
Many people don't realize that their ferry ticket also includes access to Ellis Island. So, after spending some time on Liberty Island, take the time to visit this island as well! It's filled with just as much history as Liberty Island, if not more.
In the early 19th century, Ellis Island was the busiest immigrant inspection station in the United States, approximately 12 million immigrants were processed here between 1892 and 1924.
You can even check the name of the immigrants on the Wall of Honor, located just outside the Great Hall at the Ellis Island National Museum of Immigration.
It's worth spending a couple of hours at the museum as well, which documents the history of American immigration through photographs, heirlooms, and historic records.
Don't forget to take a stroll in the park outside after visiting the museum, as it offers some of the best views over the NYC skyline.
Broadway
New York City in 4 days is not complete without at least seeing one Broadway play. Finish your day off strong by seeing one!
If you plan on seeing a top-rated show like Hamilton, you'll want to book your tickets well before your trip even begins. However, for some of the less popular shows, you can usually purchase tickets the day of.
Prices for shows can also vary greatly. You can usually see Some Like It Hot for around $50 US, while Hamilton and Wicked can be closer to $150 US or higher. So, choose your Broadway show wisely!
There are tons of other great plays to choose from as well, so it's worth taking some time to scroll through the different plays and ticket options.
Day 3 of Your New York City Itinerary
Brooklyn Bridge & DUMBO
Today's finally the day to explore more than just Manhattan! Your first stop will be Brooklyn, which is an absolute must if you're spending 4 days in NYC.
The Brooklyn Bridge is one of the most Instagrammable spots in all of NYC. It was constructed back in 1883 and crosses the East River. While on the bridge, you can look one way and get a great view of NYC and then look the other way to get a fantastic Brooklyn view.
The most popular photo spot is from Washington Street, so start the day by heading straight there and avoiding the crowds that will come later in the day. The view from here is truly impeccable, so make sure you bring your camera.
After that, make sure you take the time to explore the rest of the DUMBO neighborhood. I know what you must be thinking – DUMBO? It's an acronym for "Down Under the Manhattan Bridge Overpass."
There's tons of great sightseeing to do in this area. Go without a set plan and see what you stumble across!
Visit a Market
Brooklyn is an area well-known for its markets, so take the time to visit one if there's one open during your trip.
Visiting Brooklyn Flea is one of the most popular things to do in Brooklyn. It's the largest flea market of its kind and is open on Saturday and Sunday. Take the time to walk around, meet locals, and maybe even purchase a souvenir or two!
Another fun market held in Brooklyn is called Smorgasburg. This is a food market, so make sure you're hungry! It's open on Saturdays and is the biggest food market that's open-air in the United States.
While many vendors might take cards, make sure you have cash on you just in case. It's always best to use cash anyway for street markets just to be safe!
9/11 Memorial & Museum
9/11 Memorial
Next, head to one of the most important places in NYC: the 9/11 Memorial & Museum.
The Memorial is a tribute to the almost 3,000 people who were killed during the terror attacks of September 11, 2001, and also during the bombing of the World Trade Center in 1993. It was built in 2011, 10 years after the tragedy occurred, and occupies nearly half of the former World Trade Center complex.
It's entirely free to visit making it one of the best free things to do in NYC. The memorial is currently open from 8 am to 8 pm every day. You can tour the grounds and pay your respects at the twin waterfall pools that sit in the footprints of the former North and South Towers.
9/11 Museum
While the memorial is free to visit, the museum requires an entrance ticket that you can either buy on-site or book in advance. If you're visiting New York during the peak tourist periods, the latter is strongly recommended!
The museum provides information about the history of the 9/11 attacks and the bombings of 1993 and it's honestly one of the best museums I've ever visited. While the subject is quite heavy and heartbreaking, the whole museum is simply fascinating and very complex.
You can not only learn about the tragic events that took place on 9/11 but you can also get familiar with the prior events that lead to this tragedy, as well as the aftermath of the attacks. The museum displays tons of artifacts, pictures, videos, and personal stories – it's a lot to take in, that's for sure.
While I'm not really a museum type of girl, we easily spent around 4 hours inside the museum. Besides the core exhibitions, there are special exhibitions as well, such as the documentary of the hunt for Bin Laden or the K-9 Courage that honors the dogs that participated in the response to the attacks.
One World Observatory
One World Observatory is one of the most incredible viewpoints in NYC and it's definitely a sight you can't miss on your 4 days in New York City itinerary. Located on the top of the tallest building in the Western Hemisphere, One World Observatory offers 3 different levels filled with innovation and inspiration, and of course, 360-degree views.
It's important to book your tickets in advance and since it grants you admission for a specific time, make sure to arrive 5-10 minutes before your time slot. After your arrival, take a high-speed Sky Pod Elevator ride that will take you up to the 102nd floor within 60 seconds. Allow yourself at least 1-2 hours in the One World Observatory to be able to soak in the beautiful views!
The High Line
The High Line is a super unique park worth visiting in NYC. The park is shaped like one long walkway and is filled with tons of brightly colored plant life. It goes on for around 1.5 miles (2.5 km), so you could spend approximately 30 to 45 minutes walking the whole High Line. This 4 days in New York City itinerary wouldn't be complete without mentioning this sight!
What makes The High Line so unique is not only its elevated viewpoints but also because it's a repurposed train track that was rallied for by the local community. It was set to be demolished, but in the early 2000s, a competition was held by the Friends of the High Line to see how the area could best be repurposed for the public.
The views from The High Line are spectacular but note that it does close at 10 pm. Make sure you give yourself enough time to enjoy it fully!
The Strand Bookstore
The Strand Bookstore is one of NYC's most underrated landmarks. It was founded in the early 20th century and is known for housing 18 miles (29 km) of books! The store itself is enormous, and you could easily get lost between the bookshelves.
If you don't plan on purchasing a book, this is still a unique highlight to visit and explore. You may even find a fun souvenir or two to commemorate your trip to the city that never sleeps. It's located right in East Village, so you could also explore more of the area right after!
Washington Square Park
Finish the day off by heading to Washington Square Park, named after none other than George Washington. This park covers just shy of 10 acres (4 hectares) and is located in Greenwich Village. It was opened in 1871 and is most well-known for being a popular spot among students who attend NYU.
This park is always bustling, but it's fun to people watch and get some fresh air. Many gatherings and city events have been held in this park since the 19th century, so there may even be something going on during your visit! Be sure to check out the statue of George Washington.
Day 4 of Your New York City Itinerary
St. Patrick's Cathedral
For your last day in New York City, it's time to check out a few of the other must-visit spots before you head home. First on the list is St. Patrick's Cathedral, which opens right at 7 am. This is one of the most iconic landmarks in NYC and is a Gothic cathedral with an elaborate interior.
This 19th-century cathedral has beautiful mosaic windows, so be on the lookout for them. It's also only a short walk away from your next stop on the 4 days in New York City itinerary, Rockefeller Center!
Rockefeller Center
After embracing the beauty of St. Patrick's Cathedral, it's time to take a short 3-minute walk over to Rockefeller Center. It's located in Rockefeller Plaza and is named after John D. Rockefeller, and covers 22 acres (9 hectares).
This area is filled with tons of must-visit places, including The Rink, the Top of the Rock (next on this list!), and many shops and restaurants. Take the time to look around a bit and explore. It's your last day in New York City, after all!
Top of the Rock or Empire State Building
It's finally time to get one of New York City's best views from the Top of the Rock. The Empire State Building is a good alternative for a great view, but many people argue that the Top of the Rock offers even better views because you can see the Empire State Building from here!
The building itself has 70 floors and three different observation decks. It opened back in the 1930s but wasn't known as the Top of the Rock until 2005. From the top, you can see out to Central Park. Remember to download the Top of the Rock app during your visit here, which gives you an in-depth look into your surroundings.
You'll want around 45 minutes to embrace this landmark and soak in the views thoroughly. Also remember to purchase tickets well in advance, because this is a famous landmark in the city. Trust me, your 4 days in New York itinerary wouldn't be complete without a great view.
If you only have time for one viewpoint on this day, I would recommend choosing the Top of the Rock. Of course, if you have more time and you want to tick off another one of the best observatories in New York, you can still visit the Empire State Building as well! Whichever you choose, you won't leave disappointed, that's for sure.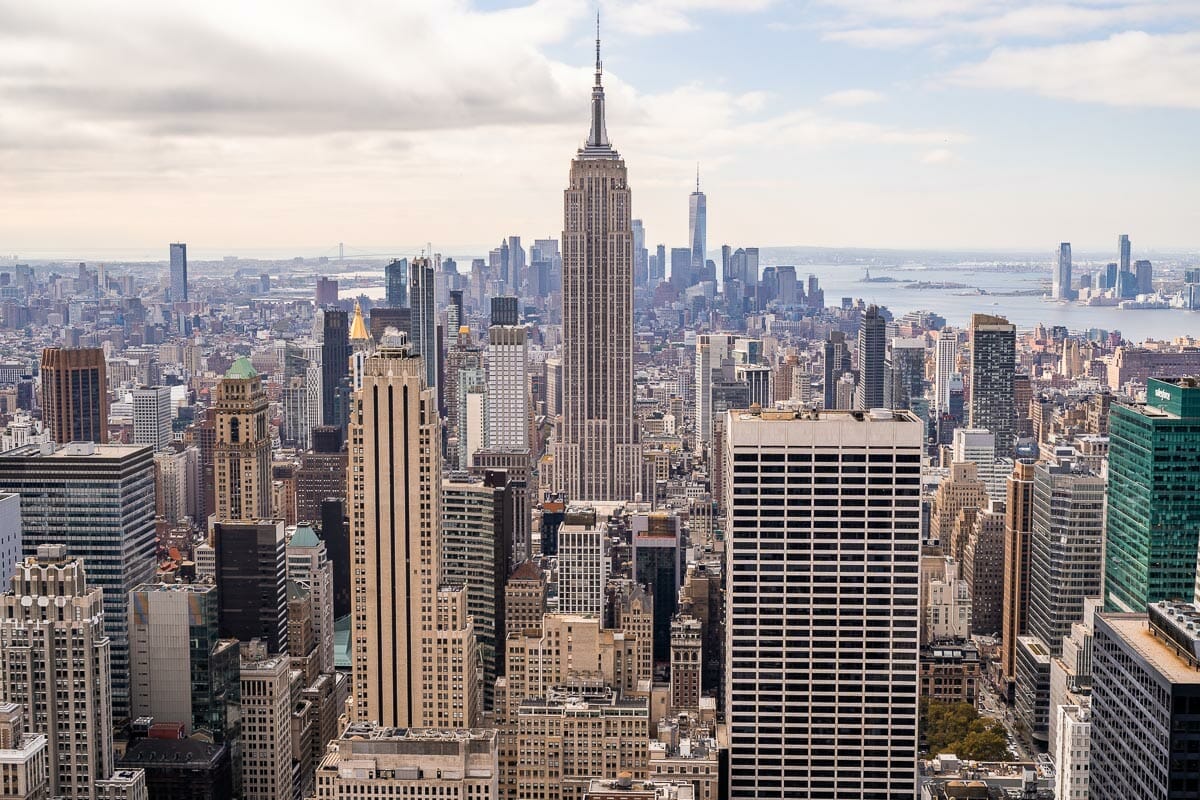 Fifth Avenue
Even if you don't plan on buying anything on Fifth Avenue, it's worth visiting just to walk around and window shop. It's famously known for being one of the world's most expensive streets. It's also located quite centrally in Manhattan, near Washington Square Park and Greenwich Village.
While the street is known for being expensive, there are also some more affordable shops here, including Gap, Abercrombie & Fitch, and Best Buy.
Grand Central Terminal
To end your NYC in 4 days trip, you absolutely must stop by Grand Central Terminal. Made famous to today's generation by shows like Gossip Girl, Grand Central Terminal is genuinely a grandiose and elegant landmark. It's located in Midtown Manhattan and is beautiful inside.
While it can be quite busy here, no matter what time you visit, be sure to take a photo. This place is incredibly Instagrammable! There are also many different restaurants and shops inside, so this is a great place to grab a bite to eat before your very last landmark.
New York Public Library
Last but not least is the New York Public Library! It's completely free to visit, and it's really fun to go through and just explore all the different areas of its interior. The library opened back in the 19th century and is home to more than 50 million books, so it's very elaborate.
The building itself is significantly historical, and there are tons of fun little rooms to explore and search around. Take the time to soak up this last landmark in NYC. It's known as being one of the most beautiful libraries in the entire world!
Keep your eye out for the Book Train, a fun addition that helps move books from one destination to the other.
---
Planning a trip to New York City?
Then you might want to take a look at all our other travel guides about NYC. I promise, they are just as awesome as this article was!
Accommodation guides:
Travel guides:
Christmas guides:
Travel quotes:
---
Pin It for Later!