New York is one of the most exciting, and fast-paced cities on the planet and it definitely needs to be on the top of your USA bucket list. Whether you're visiting for business or pleasure, the Big Apple can have everything you ever dreamt of and more.
Your first time in this grand destination can be both exhilarating and bewildering, from the mix of different international cultures to the sheer size of the city. Where do you eat and where to stay? How do you get around? What are the best things to do in the city?
In this NYC travel guide, I compiled all the most important information that you need to know about New York City to make sure you get the best of your first visit. Let's dive right in!
*Disclosure: This post contains a few affiliate links, which means I may receive a small commission, at no cost to you, if you make a purchase through my link.*
No time to read now? Pin it for later!
NYC Travel Guide: Useful Information to Visiting New York for the First Time
Location
New York City is situated on the northeastern coast of the USA, in the southeastern tip of New York State. The city is located halfway between Boston and Washington D.C. and it covers an area of more than 450,000 square miles (roughly 1,200,000 km2).
NYC consists of five different boroughs (Manhattan, Brooklyn, Queens, Bronx, and Staten Island) and there are hundreds of distinct neighborhoods throughout the boroughs. Although Manhattan is the smallest of the five boroughs, it's undoubtedly the most popular one among tourists.
Population
New York City is home to more than 8.3 million people which makes it the most populous city in the USA. Just for comparison, more than twice as many people live in NYC as in Los Angeles, which is the second most populous city in the States.
Tourism
Although the USA has many amazing travel destinations, NYC is by far the most visited place in the States. According to OSC, New York City received more than 66.6 million visitors in 2019 which was an all-time high. It may come as a surprise, but most of these visitors were domestic visitors as international visitors only comprised 13.5 million of the total.
Times Square is not only the most visited tourist attraction in New York City but in the whole world with roughly 50 million annual visitors. Other popular sites include Central Park, Grand Central Terminal, the Theatre District, and Rockefeller Center.
Language
English is the official language of the United States so naturally, this is the most common language in New York City, followed by Spanish, Chinese and Russian.
Currency & ATMs
The official currency of the United States of America is the US dollar or otherwise referred to as the American dollar ($, USD, US$). You can easily find ATMs everywhere in the city and most hotels, restaurants, and shops accept credit cards.
Visa
If you're not a U.S. citizen, you will need to obtain some form of visa to be able to enter the United States. The easiest and quickest way is to apply for an ESTA (Electronic System for Travel Authorisation) that allows you to stay in the USA for up to 90 days.
In order to apply for an ESTA, you need to be a citizen of one of the 40 countries eligible for the Visa Waiver Program (VWP). Applying for an ESTA is pretty easy and straightforward, you can do the whole process online within a few minutes and you usually get feedback within the next few hours (however, sometimes it can take a few days).
Although there are a few companies who are willing to fill out the application for you, there is absolutely no need to pay an extra fee, you can easily do it yourself. The ESTA costs $21 US per person and you can apply for it here.
Unfortunately in this NYC travel guide, I'm not able to share in-depth information about the ESTA and another type of visas so for more information please visit the official website of the Department of Homeland Security.
Best Time to Visit New York City
New York City is a true year-round destination: no matter when you visit, you will definitely have an amazing time. However, there are pros and cons to each season so it's best to know in advance what to expect.
The best time to visit New York City highly depends on your personal interests, so in this NYC travel guide I will share a short summary about each season and hopefully, it will help you choose the perfect time to visit the Big Apple.
Spring
Spring, especially late spring, is one of the best times to visit New York City. The days are finally getting longer which means more time for sightseeing! From early April the cherry trees start to bloom in the parks which makes NYC even more magical than it already is.
Weather-wise spring is still a bit unstable. You can come across clear, sunny days with temperatures in the high 70s (around 25°C) but you can still encounter some cool, or even some cold and rainy days. Therefore it's important to always have layers with you and pack some warmer sweaters as well!
Popular events in spring:
St. Patrick's Day: 17 March
Macy's Flower Show: late March/early April
Mets and Yankees Season Openers: late March/early April
Easter Parade and Easter Bonnet Festival: late March/late April
Cherry Blossom Festival: late April
TD Five Borough Bike Tour: early May
Summer
Summer days are usually hot in NYC, especially in July and August. Sometimes even heatwaves can occur with temperatures around 95-100°F (35-38°C)! Of course, you can still experience cooler days and on sunny days, thunderstorms can occur in the afternoon.
It's also important to know that New Yorkers love air-conditioning and the difference in temperatures between indoors and outdoors is shocking, especially if you are a foreigner and you're not used to it. Make sure you always have a light jacket or a cotton scarf with you that you can use on subways and in stores.
Popular events in summer:
Tribeca Film Festival: usually hold in June
Pride Week: last Sunday in June
Macy's 4th of July Fireworks
NYC Restaurant Week: July (and January)
US Open Tennis: from late August to early September
Fall
September is one of the best months to visit New York City if you still want to enjoy the pleasant temperatures without the crazy tourist crowds. The temperatures range between 60-77°F (16-25°C) so the weather is perfect for sightseeing and strolling around the parks.
If you want to enjoy the beautiful fall foliage in NYC or even go on some amazing day trips from New York City, late October is the perfect time for that. October is one of the least rainy months of the year with temperatures between 50-68°F (10-20°C). In November, temperatures drop drastically and sometimes even below 40°F (5°C) at the night.
Popular events in fall:
New York Fashion Week (Spring/Summer): September
9/11 Memorial Events
NYC Broadway Week: September (and January)
New York Film Festival: from September to October
New York Comic Con: early October
Knicks and Nets Openers: October
Village Halloween Parade: 31st October
Macy's Thanksgiving Day Parade: last Thursday in November
Winter
Winter is definitely one of the most magical seasons in NYC! Since New York is one of the best Christmas destinations in the USA, visiting the Big Apple during the holidays is a great idea (if you can bear the cold and the crowds).
If you're planning to visit New York in December, make sure to check out my article about the best things to do in New York in December, the best NYC Christmas photo spots and the best Christmas in New York itinerary for 4 days!
The weather in winter is usually very cold, the average temperature is mostly below freezing (32°F/0°C). Sometimes days can be even colder, the temperature can easily drop to 5-15°F (-15°C to -10°C) and the wind chill can make the air feel colder than it actually is.
Snowfalls are also frequent so if you're looking for a winter wonderland for your holiday, NYC can be a great choice. However, snowstorms can also occur but on the other hand, you can also experience clear and sunny days during winter.
Popular events in winter:
Radio City Christmas Spectacular: from end of November to early January
Holiday Train Show: from end of November to January
Rockefeller Center Tree Lighting: first Wednesday after Thanksgiving
Time Square New Year's Eve: 31st December
NYC Must-See Week: January
NYC Broadway Week: January (and September)
NYC Restaurant Week: January (and July)
Lunar New Year Parade and Festival: February
New York Fashion Week (Fall/Winter): February
How Much Time You Need to Spend in NYC
NYC has so many amazing things to offer that even a lifetime wouldn't be enough to see everything in the city. That said, if you can only spend one day in New York City, you should still go for it! If you're not afraid of a jam-packed itinerary, you can still see some of the best places in Manhattan in just 24 hours.
If you're visiting for the first time, spending 4 days in New York City is the perfect amount of time and it will give you the chance to see the best of the city. Most tourist attractions are located in Manhattan so if you have a limited time (3-5 days), you will spend most (if not all) of your time here.
Having more than one week in NYC is a must if you want to see the best places outside of Manhattan as well. If you have more time, you can visit some amazing places in Brooklyn and Queens as well and you can also take some great day trips from New York City.
What to Pack for Your First NYC Trip
Whether you're going to New York by air, rail, or sea, you will need to carry some personal stuff. It's rare to get your packing right on the first trip, or even the second or third. The seasons' weather and temperatures vary widely and so do clothing needs.
One of the most important travel tips for NYC is that you need to dress appropriately for northeast weather. NYC has lots of crazy weather and it experiences all four seasons, so make sure you always have the right type of clothes with you!
Shoes and Clothing
New Yorkers walk a lot, and most likely you will too. For this reason, carry light and comfortable shoes. Avoid stilettos and heavy boots. Find something like boat shoes that match most semi-official and casual outfits while also being comfortable enough for sightseeing walks.
For your daypack, use a weather-resistant and padded backpack with extra pockets for your electronic devices. For all types of weather and for all genders, a top suggestion would be to pack a few t-shirts, a light jacket, and a few pairs of jeans. We'd also recommend carrying some light swimwear since many hotels have heated swimming pools.
Also, only pack a heavy coat during the winter months. Trains and buses have controlled temperatures so you'll only need a heavy jacket when you're in the streets. Carry a sweater and scarf rather than a heavy jacket.
Personal Effects
Carry an easy-access wallet or purse. Because New Yorkers spend lots of time in queues, they can get impatient waiting for you to search for your ID, credit card, metro pass, or cash. Unlike in movie portrayals, pickpockets aren't as common as you might think. However, take necessary precautions without seeming too apprehensive or paranoid.
Make sure to always carry a kindle or iPad with durable headphones and chargers. There's nothing more frustrating than realizing you forgot your earphones and chargers on a long flight to a new city.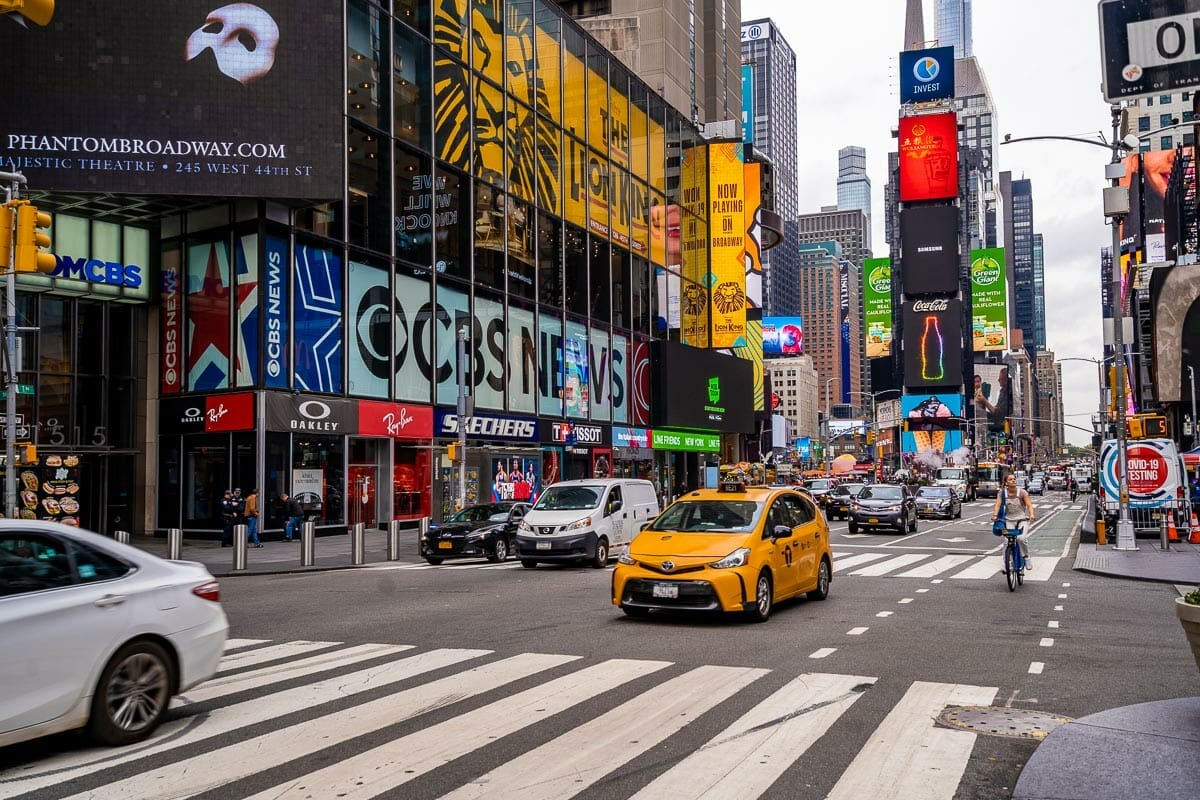 Where to Stay in New York City
There's no shortage of accommodation options for NYC tourists. If you're in the city for business, you may want to stay close to the offices you may be visiting to avoid long commutes. But if you'll have a more relaxed schedule, then you might want to stay in the outer boroughs which are cheaper and sometimes quieter.
As I mentioned before, NYC consist of 5 different boroughs and hundreds of different neighborhoods. Generally speaking, Manhattan is one of the best boroughs to stay in NYC, especially if you're a first-timer.
If you're interested in knowing more about neighborhoods in NYC, be sure to check out my guide about the best areas to stay in New York City that includes 10 amazing neighborhoods with lots of useful tips and information about each area.
If you want to take your vacation to the next level, check out these incredible NYC hotels with the best views!
Hotels
If you're wondering where to begin looking for hotel accommodation in New York, have no fear. TripAdvisor is a great place to start. Eurocheapo will also give you great suggestions as it has a New York office and they send editors to inspect rooms and make independent reviews.
Online reviews and price comparisons allow you to make informed decisions for your hotel bookings. Discount websites such as Living Social can inform travelers of trip packages and hotel discounts and TimeOut is an online service that guides visitors on the latest trendy hotels and hip hostels.
My favorite platform for booking hotels during my travels is Booking.com. You can search for any specific areas of NYC on their website and you can easily compare hotels by their price and review scores.
RECOMMENDED HOTELS TO STAY IN NYC
LUXURY – 1 Hotel Central Park
Offering a restaurant and a fitness center, 1 Hotel Central Park is located right next to Central Park. Each room will provide you with air conditioning, a seating area, and a private bathroom. The on-site restaurant, Jams, features an open kitchen and it is open for breakfast, lunch, and dinner.
MID-RANGE – Hyatt Place New York/ Midtown-South
Just a 5-minute walk from the Empire State Building, this Manhattan hotel offers free Wi-Fi and modern rooms equipped with a flat-screen TV. A corner sofa and a refrigerator are included in each room at Hyatt Place New York. A work desk along with coffee-making facilities is also included.
BUDGET – MOXY NYC Times Square
MOXY NYC Times Square offers pet-friendly accommodations and features free WiFi and a fitness center. All rooms are equipped with a flat-screen TV and air purification systems and each room has a private bathroom. Guests can enjoy the on-site restaurant and a rooftop bar.
Hostels
Staying at a hostel is cheaper than a hotel. Hostel guests spend an average of $32 US while hotel guests spend an average of $290 US per night in New York. So if you're on a tight budget and you don't mind sharing a dorm-style room, then I would recommend going to a hostel.
RECOMMENDED HOSTELS TO STAY IN NYC
The Hostelling International New York offers dormitory-style rooms with shared bathrooms. Linens, towels, and a housekeeping service are included. Some rooms include breakfast. This uptown New York hostel is 1 block from Broadway Street and a 10-minute walk from Central Park.
Located 50 m away from Central Park, this hostel is located on Manhattan's Upper West Side, just 5 minutes walk from Columbus Circle. A desk, a TV, and air conditioning are provided in each room at West Side YMCA. Linens and towels are included as well. All rooms have access to a shared bathroom down the hall.
Alternative Options
Although you can still find a few apartment rentals in NYC, it's important to know that since the end of 2019, it's illegal to rent apartments for fewer than 30 days in most buildings (check the full article here).
This means that if you're planning to spend longer in New York City, Airbnb or Vacation Rental By Owner (VRBO) can be still a good option. However, if you're visiting only for a short time, it's better to stick to trusted hotel booking sites, such as the ones I mentioned above.
If you're visiting NYC on a budget and you're looking to spend as little as possible on accommodation, Couch Surfing can also be a good solution for you.
You may also book a bed and breakfast or motel close to where you will be visiting. B&B's offer some great flexibility so you can book different ones depending on your daily itinerary, especially if you will be sightseeing a lot.
How to Get Around in New York City
As you prepare your New York itinerary, it's important to plan how you will get around the city. If you're coming in by plane, one of your first pressing challenges would be how to get from the airport to your hotel. The same goes for arriving by train, bus, or ship.
You can buy metro cards or use the Capital District Transportation Authority (CTDA) bus passes. If you prefer taxis, then you're likely to hail the infamous yellow cabs found all over NYC. While you may also use apps to hail rideshare cabs like Uber and Lyft, they are not as common in NYC as in other American cities. New York laws are a bit stringent about rideshare companies and limit the number of Uber and Lyft drivers.
Taxi
If you need a taxi at the airport, you can't just lift up your hand from a sidewalk. You have to queue at a cab station and wait for your turn. When stopping a cab in the streets, check the top lights to see whether the cab is available.
The Taxi and Limousine Commission sets standard metered fares for taxis in New York. There's a $3 US initial charge plus $0.70 US per one-fifth of a mile and a few surcharges depending on circumstances. Taxis in New York accept credit card payments. Always ensure you've taken your receipt after paying your fare.
Though the number of rideshare cabs is limited in NYC, Uber and Lyft are more available to people with disabilities.
Bus
Buses are more economical than taxis in New York. From the JFK airport, you can take the NYC Express Bus to Grand Central or Times Square. The NYC Express Bus is also available at La Giardia and Newark Airports. You can buy your tickets online in advance.
Metro
The New York subway is the largest subway system in the world, with over 470 stations. The subway is also the fastest way to get around the different boroughs in NYC.
You can buy a SingleRide ticket for $3 US at a vending machine. Though, if you'll be using the subway often, which you most likely will, it's better to buy a MetroCard for $1 US and refill it as needed. The most popular option is the $33 US unlimited weekly subway pass. The MetroCard can also be used with trams and buses.
Once you've bought your metro card, swipe it at the turnstiles to enter the station and only walk through when the screen says "Go". At the station platforms, you will find signs showing routes. When planning your New York visit itinerary, use the Metropolitan Transport Authority (MTA) online trip planner to plan your commutes.
Best Things to Do in New York City
There's so much to do in the Big Apple. This city has fun and exciting sights and attractions that are famous among most travelers. But also, you can dig in for hidden gems if you like exploring the less-trodden paths and you can also find many free things to do in NYC if you're traveling on a budget.
From sporting events and theatre to parades and festivals, there's so much to enjoy on your first visit to NYC. I'm barely going to scratch the surface with the next few options of what to see and do in this beast of a city. Here you go!
Sightseeing
Sightseeing in New York is always a delight. Go to a rooftop on one of the best observatories in New York like Top of the Rock, Empire State Building, or One World Observatory.
Have fun with friends at a rooftop bar or restaurant like Dear Irving on Hudson. For awesome city views, ride the Roosevelt Island tram, or climb up the Statue of Liberty.
Try to include a walk through the Brooklyn Bridge before your visit ends. Also include a visit to Times Square, especially at night. For a relaxing change of pace away from the bustle of the city, explore Central Park or walk through the Greenwich and West villages.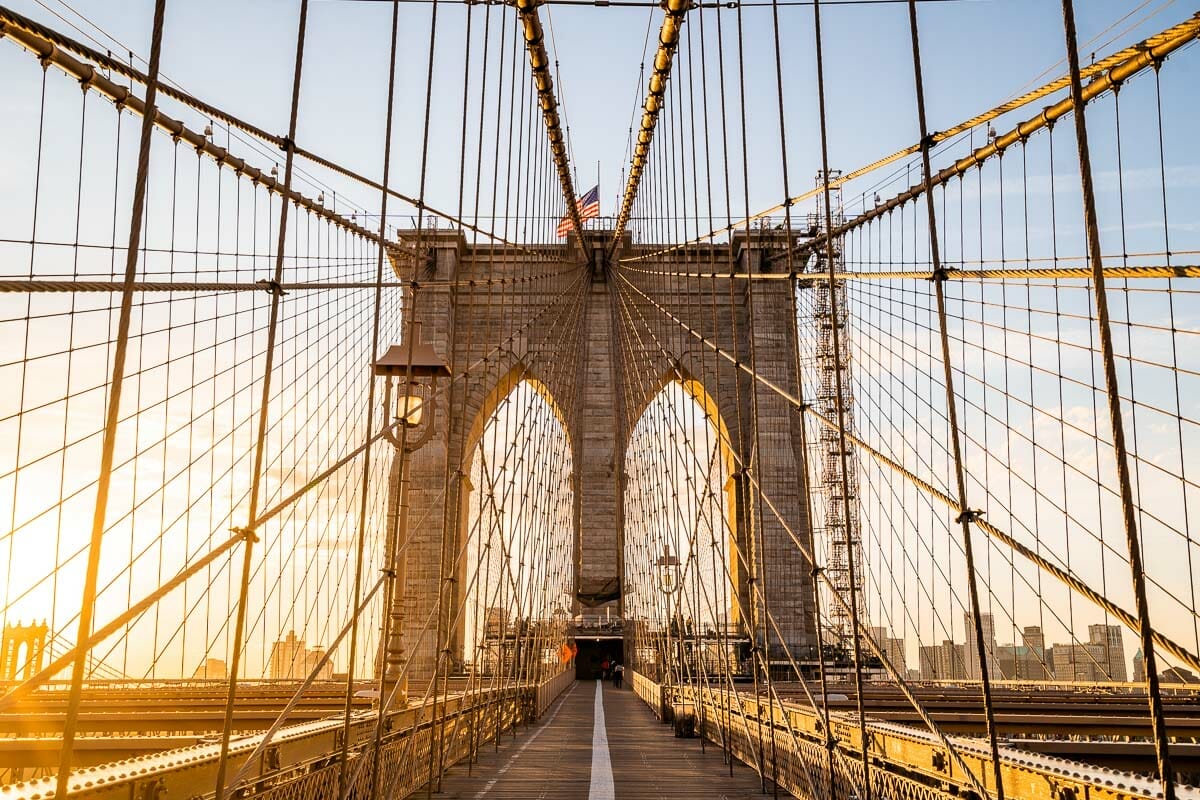 Museums
NYC is home to many world-class museums and amazing art galleries. Even if you're not a museum person, it's worth adding a few interesting museums to your New York itinerary!
One of the must-see museums is the Metropolitan Museum of Art (Met), where you can see more than 2 million artworks covering 5,000 years of world history.
The American Museum of Natural History is one of the world's greatest natural history museums. The museum is dedicated to exploring human cultures, the natural world, and the known universe and it's a really fascinating visit, especially if you're traveling with kids.
Other great museums to visit in NYC are the Museum of Modern Art (MoMA), the Intrepid Sea, Air & Space Museum, and the 9/11 Memorial and Museum.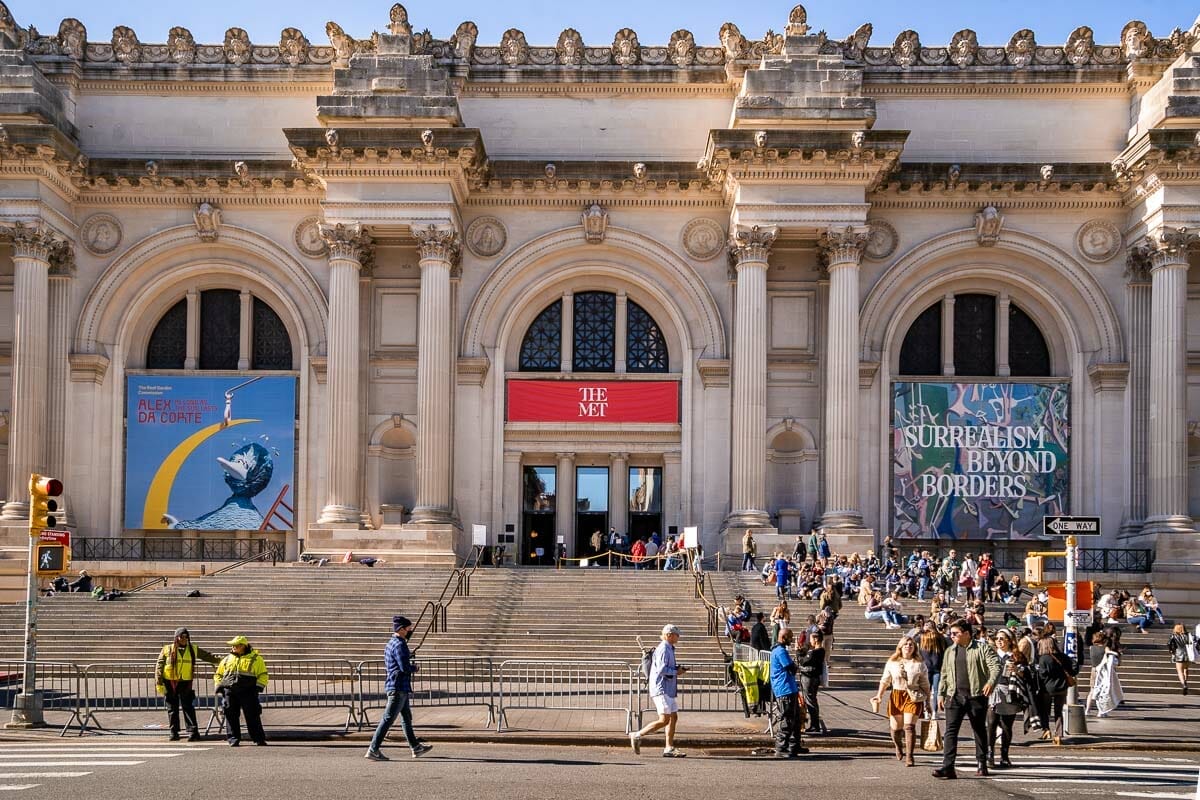 Broadway
No visit to New York is complete without enjoying the pulsating performing arts in Manhattan's Theatre District. Broadway is home to over 40 professional theatres and the street is famous for its world-class theatrical performances. Some of the things you can enjoy on Broadway include plays, music concerts, and performances or standup comedies.
Sports
The Madison Square Garden is home to the New York Knicks (NBA) and the New York Rangers (NHL). The gardens also host many sporting events such as boxing, cycling, wrestling, baseball, and ice shows.
You can also enjoy football and NFL league games at the MetLife Stadium, home of the New York Giants and the New York Jets. Baseball fans can catch a game at Yankee Stadium while soccer lovers may watch a game at the Red Bull Arena, MetLife Stadium, and the Yankee Stadium.
Where to Eat in New York City
New York is a real foodie's heaven. The cultural diversity in New York is a greater mix than almost anywhere else in the world. The best way to enjoy this cultural mix is by sampling New York's restaurants, eateries, and street food.
This NYC travel guide isn't big enough to do justice to the extensive food choices in New York, but here are three broad categories to get you started.
Restaurant Dining
One of the best food experiences that just screams 'This is New York' is dining at Katz's Delicatessen. This place has been serving New Yorkers since 1888 and remains one of the most popular food joints in the world.
If you visit Katz's, pick a number at the door and wait your turn. Make sure by the time you're at the counter you've already made your food choice. If you're unsure because it's your first time, quickly ask for the pastrami. It probably will be the best pastrami you will ever have in your life.
A few other popular NYC restaurants include:
Spicy Village in Chinatown, Manhattan
Lombardi's Pizzeria
Keens Steakhouse: Top quality USDA prime beef and lamb chops paired with single malts located in the Garment District.
Tavern on the Green: Award-winning restaurant in the Upper West Side at Central Park.
The Russian Tea Room: Russo-Continental cuisine located right next to Carnegie Hall.
The Standard Grill: Trendy street-side bistro and traditional steak house in the meatpacking district.
Cervo's: Seafood and oyster bar inspired by Spain and Portugal cuisines.
Ops: Pizzeria and wine bar popular for its wood-fired pies in Bushwick, Brooklyn.
Fast Food
One thing to know before going to New York is that it's a very fast-paced city. When it comes to food, New Yorkers often rely on fast service and easy convenience. That's why there are fast-food joints and food trucks in almost every block in town competing for clients.
When you're looking for affordable meals and quick service, you'll be spoilt for choice. Check this short list of some of the most popular fast food joints and food trucks in NYC.
Shake Shack: Burgers and shakes at over 14 locations across New York.
Sweetgreen: Healthy salads and organic meals made with fresh produce.
John's Fried Chicken: Dominican fried chicken in Harlem.
Dos Toros: Cal-Mex cuisine at its finest located in East Village.
7-Eleven: Convenience store restaurants with over 140 locations in NY.
Dunkin' Donuts: Coffee and donuts at over 600 stores in NYC.
Five Guys: Large portions made-to-order burgers and fries with over a dozen locations in NYC.
Cinnamon Snail: Food truck serving delicious vegan meals including pastries and burgers.
El Olomega: Food truck for pupusas – tortillas stuffed with pork, beans, and cheese.
Fine Dining
New York is an international business melting pot and a major diplomatic center. This means the opportunities for fine dining are almost endless with cuisines from all over the world. For your special occasions and high-level meetings, some fine dining restaurant tips for tourists in NYC include:
ABC Kitchen: run by the celebrity chef Jean-Georges Vongerichten in downtown Manhattan.
Sushi Moz: Sushi meals with takeout options.
Ilili: Middle Eastern restaurant run by Chef Philippe Massoud in Flatiron.
Eleven Madison Park: The Art Deco ambiance and refined menus run by Swiss chef Daniel Humm.
Le Bernardin: French seafood brought to you by siblings Gilbert and Maguy Le Coze.
Atera: 2-star Michelin restaurant run by El Bulli and Mugaritz–trained executive Chef Ronny Emborg in Tribeca.
---
Planning a trip to New York City?
Then you might want to take a look at all our other travel guides about NYC. I promise, they are just as awesome as this article was!
Accommodation guides:
Travel guides:
Christmas guides:
Travel quotes:
---
Pin It for Later!