Immortalized in classic movies, hit TV shows, and dozens of novels, New York is one of those places we all dream about visiting at least once. The city is packed with stunning art deco buildings, massive malls, and an endless sprawl of museums, galleries, and theaters.
I've already published a complete guide on how to see NYC in 4 days. However, if you're heading to the city during the holiday season then you're going to want to refer to this alternative Christmas in New York itinerary instead.
The following guide takes into account the best places to see Christmas decorations in New York, where to get the best city views in winter, and the lowdown on activities that are only possible to experience in New York during Christmas. Let's get started!
*Disclosure: This post contains a few affiliate links, which means I may receive a small commission, at no cost to you, if you make a purchase through my link.*
No time to read now? Pin it for later!
Overview of Your New York Christmas Itinerary
Breakdown of your 4 days in New York in December
Day 1: Rockefeller Center Christmas Tree, Window shopping on 5th Avenue, Top of the Rock, Times Square, Christmas decorations around Radio City, Radio City Christmas Spectacular, Revisit Rockefeller Center and the Christmas decorations
Day 2: Holiday displays at Macy's on 34th St, Empire State Building, Winter Village at Bryant Park, New York Public Library, Dyker Heights Christmas Lights
Day 3: Central Park, Chelsea Market, High Line, Vessel, The Edge, Hudson Yards
Day 4: Financial District, One World Trade Center at 9/11 Memorial, Oculus, Brooklyn Bridge, Time Out Market, Pebble Beach
Map for your Christmas in New York itinerary
Below you can find a customized map that includes all the locations you're going to visit during this Christmas in New York itinerary.
I marked your 4 days in New York with different colors – I used blue for the first, yellow for the second, green for the third, and red for the fourth day, so you can easily see which places you're going to visit each day.
If you open up this post on your phone and you click on the bracket in the upper right corner of the map, it will open up in your Google Maps app so you can always have it with you. Super convenient, right?
Day 1 of Your Christmas in New York Itinerary
Rockefeller Center Christmas Tree
Kick off your Christmas in New York itinerary bright and early at the most quintessentially festive part of the city, the Rockefeller Center Christmas Tree.
The Rockefeller Center is a complex of towering Art Deco buildings known for its incredible observation deck, the Top of the Rock, which we will come to shortly. But before ticking that off your list I recommend that you visit the Christmas tree before the crowds gather.
It's really important to come early if you want to visit this iconic place in peace because later on, it gets insanely crowded.
By waking up early, you admire and get some photos of the massive Norway spruce that comes in at a whopping 79 feet (24 meters) height with a width of 46 feet (14 meters) and is adorned with colorful bulbs.
If you feel like it then you can also have a go at ice skating on the pop-up rink that sits at the base of the tree. Tickets for The Rink start at $20 US per person and it is advisable to book them online in advance. The Rink is open daily, from 9 am – 12 am.
Window shopping on 5th Avenue
Take a wander along the elegant 5th Avenue so that you can admire and snap some photos of the epic Christmas decorations that light up all the storefronts at this time of year.
The shops located on 5th Avenue are extremely expensive so for the purpose of this NYC Christmas itinerary I'm listing this step as window shopping but if you're looking to treat yourself (or loved ones back home!) you will need to factor in additional time to browse indoors.
The Rockefeller Center backs onto 5th Avenue so my recommendation is that you make your way across the street to Saks Fifth Avenue and head towards Central Park.
This route takes you past the magnificent St.Patrick's Cathedral as well as the likes of Cartier, Harry Winston, Prada, and Louis Vuitton which are each kitted out with stylish holiday decorations.
Conclude your walk at the Pulitzer Fountain which is currently transformed into an arctic wonderland complete with icebergs, skateboarding penguins, and ice skating polar bears.
The walk takes around 10-15 minutes in one way but factor in time to window shop and capture any photos you want before the street gets busy.
Walk the same way back to the Rockefeller Center to continue this Christmas in New York itinerary.
Top of the Rock
An essential on any New York itinerary, the Top of the Rock offers one of the best aerial views of the city skyline as you can see everything from the Empire State Building to the vast Central Park from its three observation platforms. Two of the trio are entirely outdoors which makes for amazing photos.
I've visited all 5 observatories in New York (some of them multiple times) and I must say, even though Top of the Rock is one of the oldest ones, it's still my favorite one!
I think this one has the best location among all the observatories and although the Empire State Building is more famous, you can see the Empire State Building from here which is a nice bonus. If you're looking for the best Instagram spots in New York, definitely don't miss it!
Although you can purchase "unscheduled" tickets it is much safer to secure an exact time slot in advance because New York in December is heaving with other tourists. You can buy tickets for the Top of the Rock online.
General admission is $40 US but you can upgrade your ticket if you'd like. The attraction is open daily, 9 am – 12 am.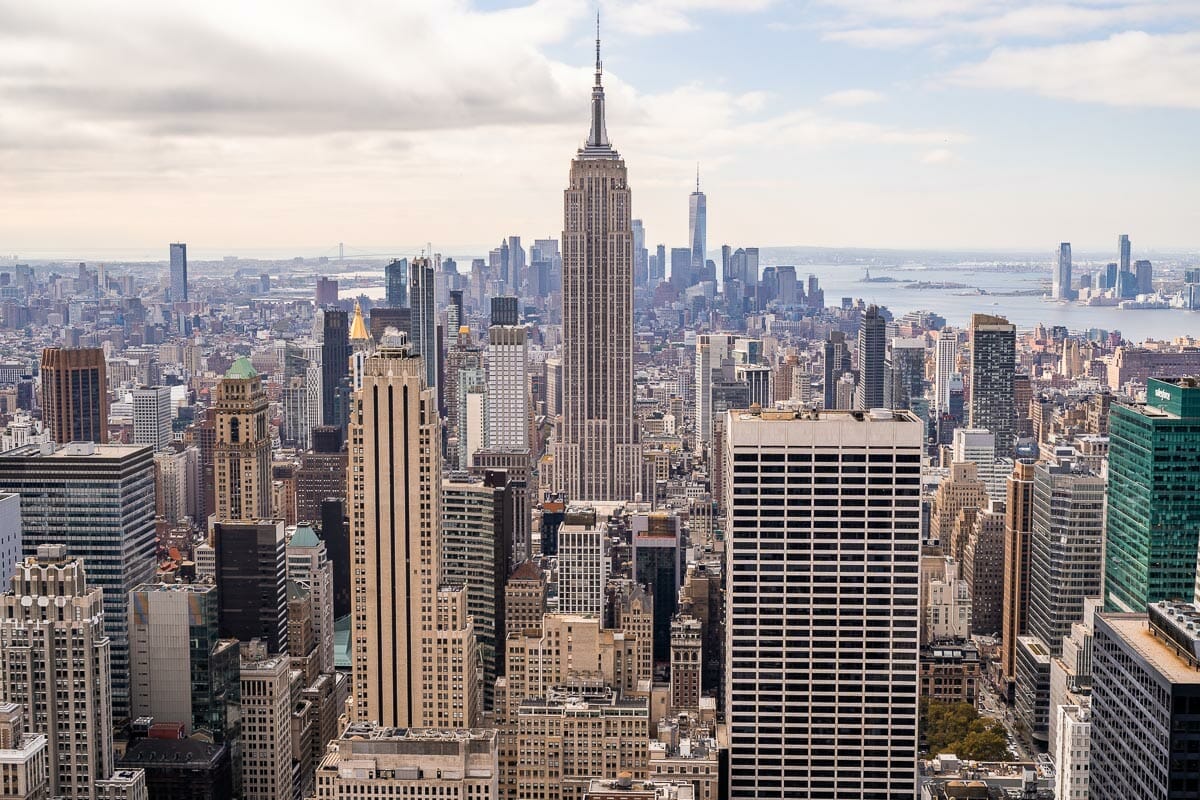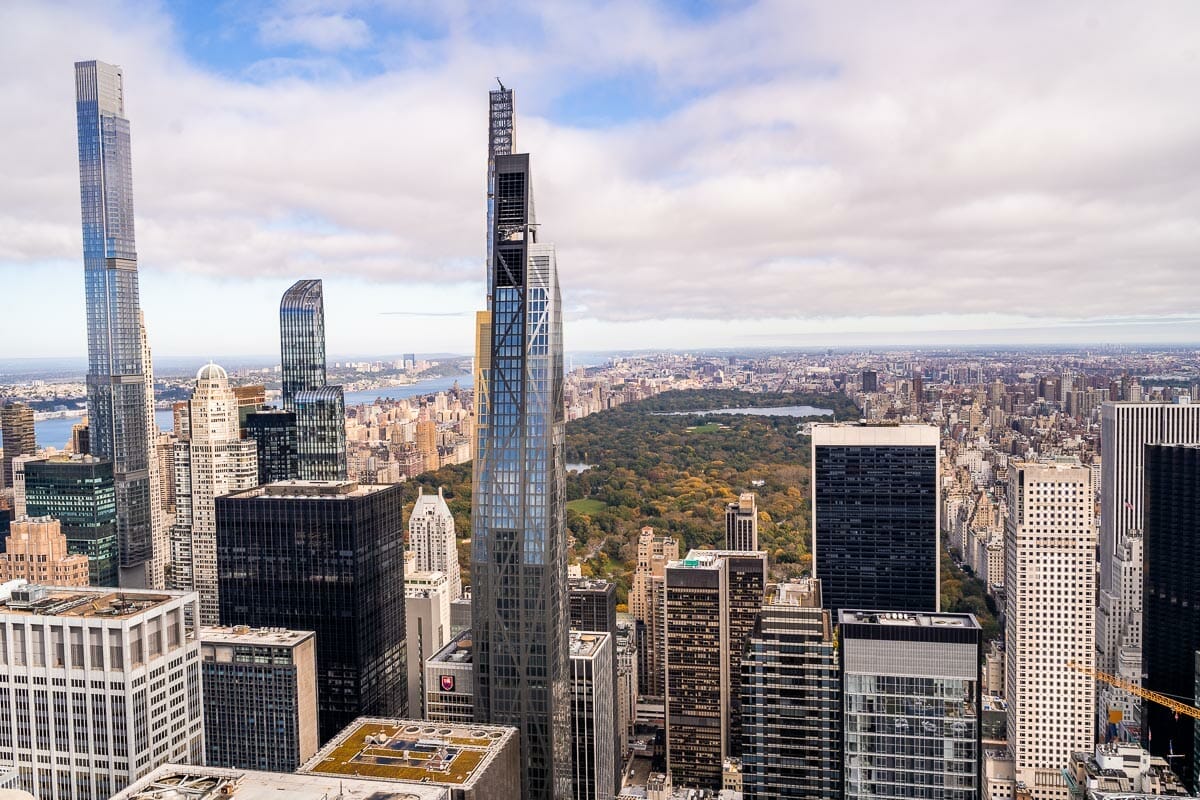 Times Square
Marking the heart of the theater district, Times Square is plastered with huge billboards, advertisements, yellow cabs, and New Yorkers going about their daily business.
Although Times Square doesn't actually change much during the holiday months – besides festive ads – it's still worth swinging by while you're in the area.
Times Square is a 10-minute walk from the Rockefeller Center.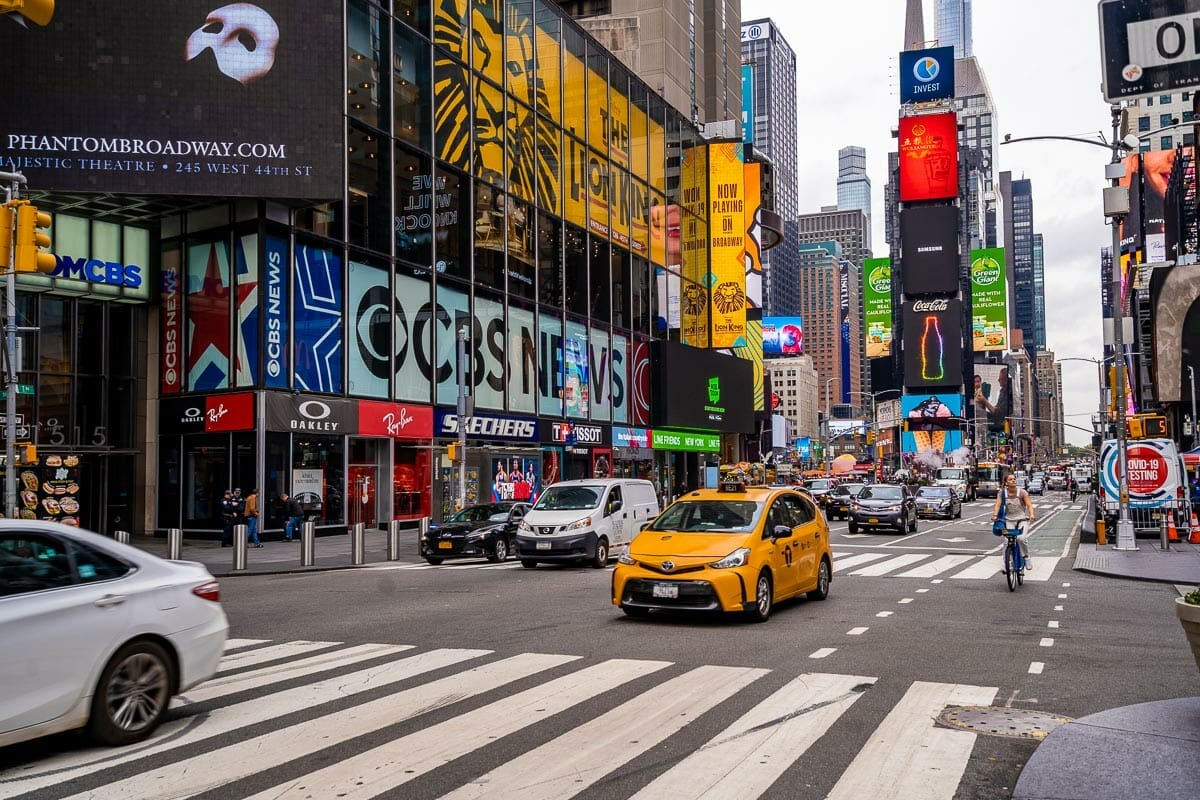 Christmas decorations around Radio City
Radio City is one of the most iconic music venues in the city and is touted as the Showplace of the Nation. Every year the music hall hosts the Christmas Spectacular, a flashy dance show performed to a festive backdrop.
Radio City Music Hall is currently decorated with its own tree and there are a bunch of other installations dotted around the venue capturing the essence of New York during Christmas.
While you're here you can pop across the road to see the sculpture of six giant candy canes as well as the Christmas Balls Fountain outside Chase Bank.
A short walk down 6th Avenue will take you to the Fox News building where you can visit the All-American-themed Christmas tree. You might want to visit these before dark to get some photos and then return after the show tonight when they're all lit up.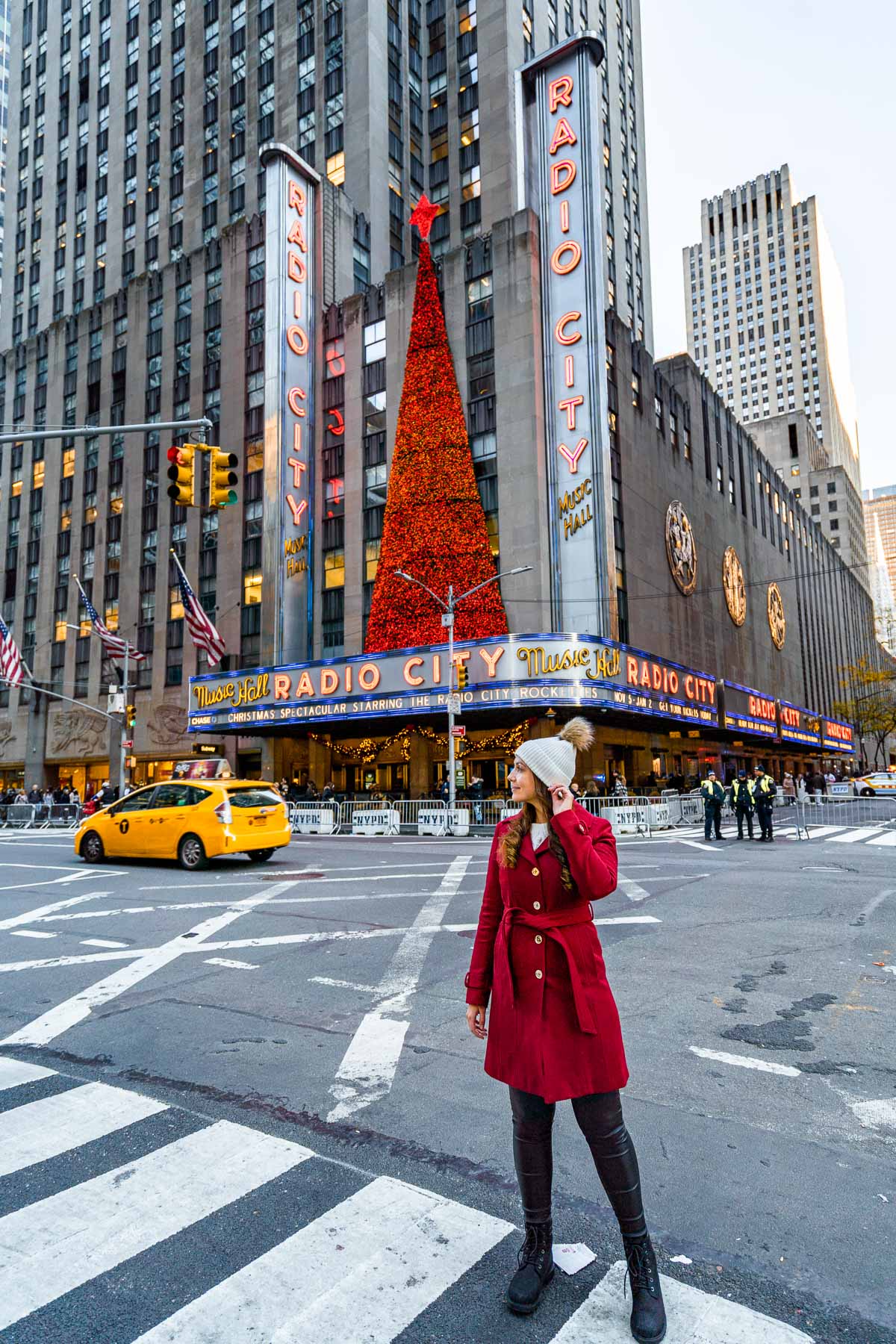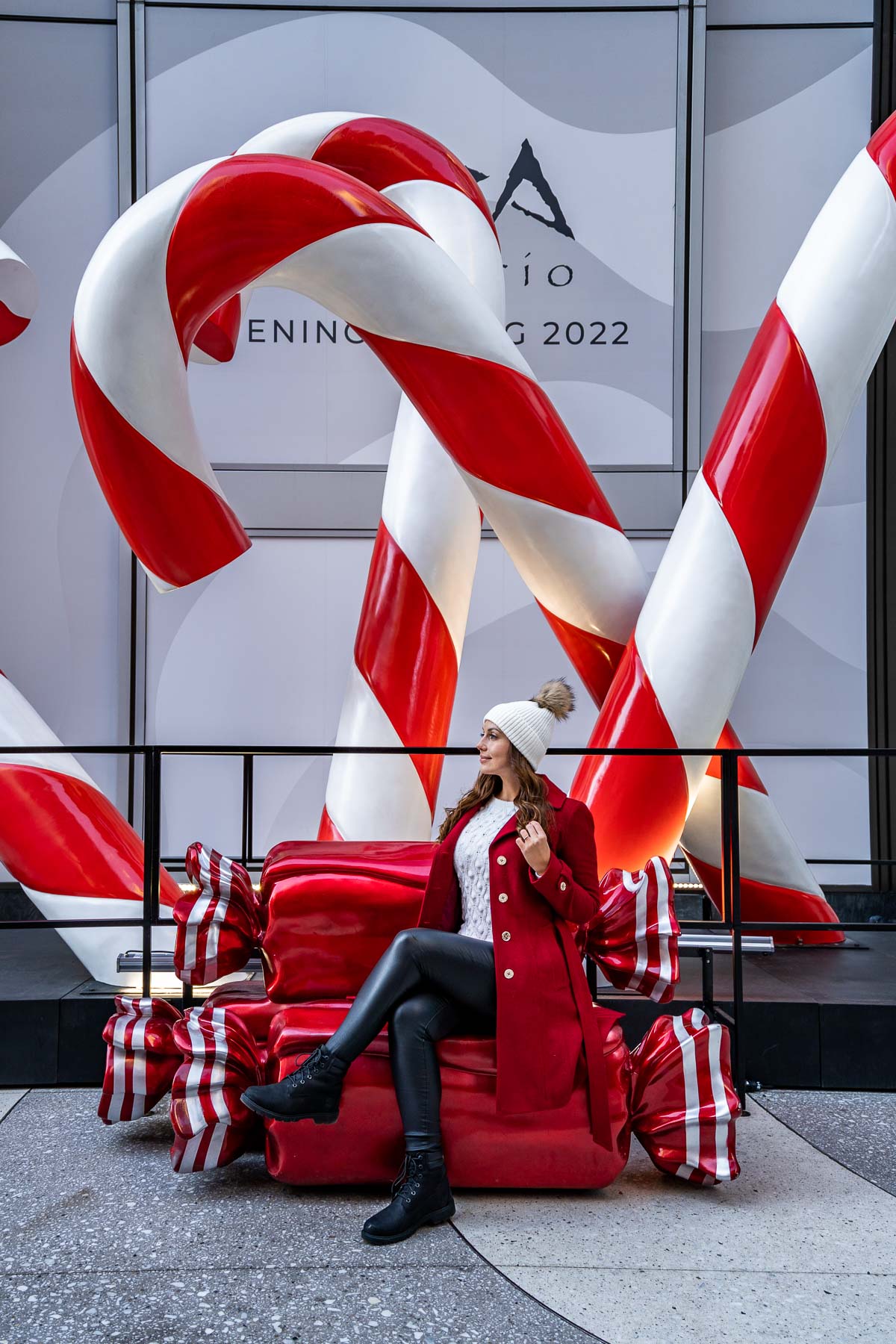 Radio City Christmas Spectacular
If you want to see the Radio City Christmas Spectacular for yourself, now's the chance! If you're not familiar with it, it's a very famous annual music holiday stage show featuring the Radio City Rockettes.
Catching the show is undoubtedly one of the most festive things to do in New York in December! The show lasts for 90 minutes with no intermission and it features around 140 performers and a bunch of different acts.
There are 2-4 time slots during the day subject to when you are organizing your Christmas in New York itinerary but it's more exciting to catch an evening show.
I recommend either booking for the 5 pm show and having dinner afterward or catching the 8 pm show after you've eaten.
It's important to book your tickets at least a few weeks, but rather months in advance as the show is really popular and they often sell out. Prices vary depending on the date, time slot, and seats you choose.
According to the recommendations, you need to arrive at Radio City around an hour before the show begins and they state that if you don't arrive at least 30 minutes prior to showtime, you won't see the first few acts.
We arrived an hour earlier and the crowd was already huge outside. We had to wait around 10-15 minutes outside and then they let everyone in at the same time so it was super crowded. Based on this, I wouldn't recommend arriving an hour earlier, rather 20-30 minutes earlier, so you can avoid the huge crowd.
It's also important to know that photography during the show is not permitted so it's best to leave your camera at your hotel. Oversized bags are also prohibited and there are no lockers, so it's best to pack as light as possible and not to bring any backpacks.
After seeing the show, you can return to the Rockefeller Center and the Christmas decorations on the 5th and 6th avenues to see what they look like in the dark. It will be harder to take photos at night but it's worth popping back to see them twinkling under the night sky.
Dinner
Whether you see the early or late show, it makes sense to have dinner in this area to avoid having to rush around. If you want to splash out, then reserve a table at the Capital Grille, which specializes in steak and seafood in an upscale environment.
Another option is the Haven Rooftop, which offers some of the best views in this part of town. Carmine's Italian Restaurant and Dos Caminos are more affordable alternatives with excellent quality and generous portions.
Whichever option you choose, be sure to make reservations in advance! These restaurants are popular all year round but since this is one of the most touristic areas in New York, around the holidays it gets even more crowded so it's practically impossible to get a table without a huge waiting list.
Day 2 of Your Christmas in New York Itinerary
Holiday displays at Macy's
Macy's on 34th Street is the flagship of the department store chain and claims to be the largest store of its kind in the world. If you're headed to NYC on a shopping trip then this will be on your list already but it's also one of the most impressive tributes to Christmas in New York.
The theme of the 2021 display is a little blue reindeer called Tiptoe who learns to fly. Interestingly, the installation does not feature any merchandise. Visit first thing so that you can check out the story of Tiptoe before the street gets busy.
Empire State Building
As the world's most famous skyscraper and New York's ultimate icon, the Empire State Building is another one of the best observatories in NYC and an essential sight for your travel itinerary regardless of the time of year you visit.
During this time of year, the observation deck is bedecked with trees and decorations making this a magical addition to a Christmas in New York itinerary.
The Empire State Building does not actually open until 9 am but it's worth getting there a bit earlier to have a mooch around.
Tickets to the landmark depend on which observation decks you want to visit but admission to the 86th floor starts at $44 US. You can reserve your tickets online.
The Empire State Building is a 5-minute walk from Macy's.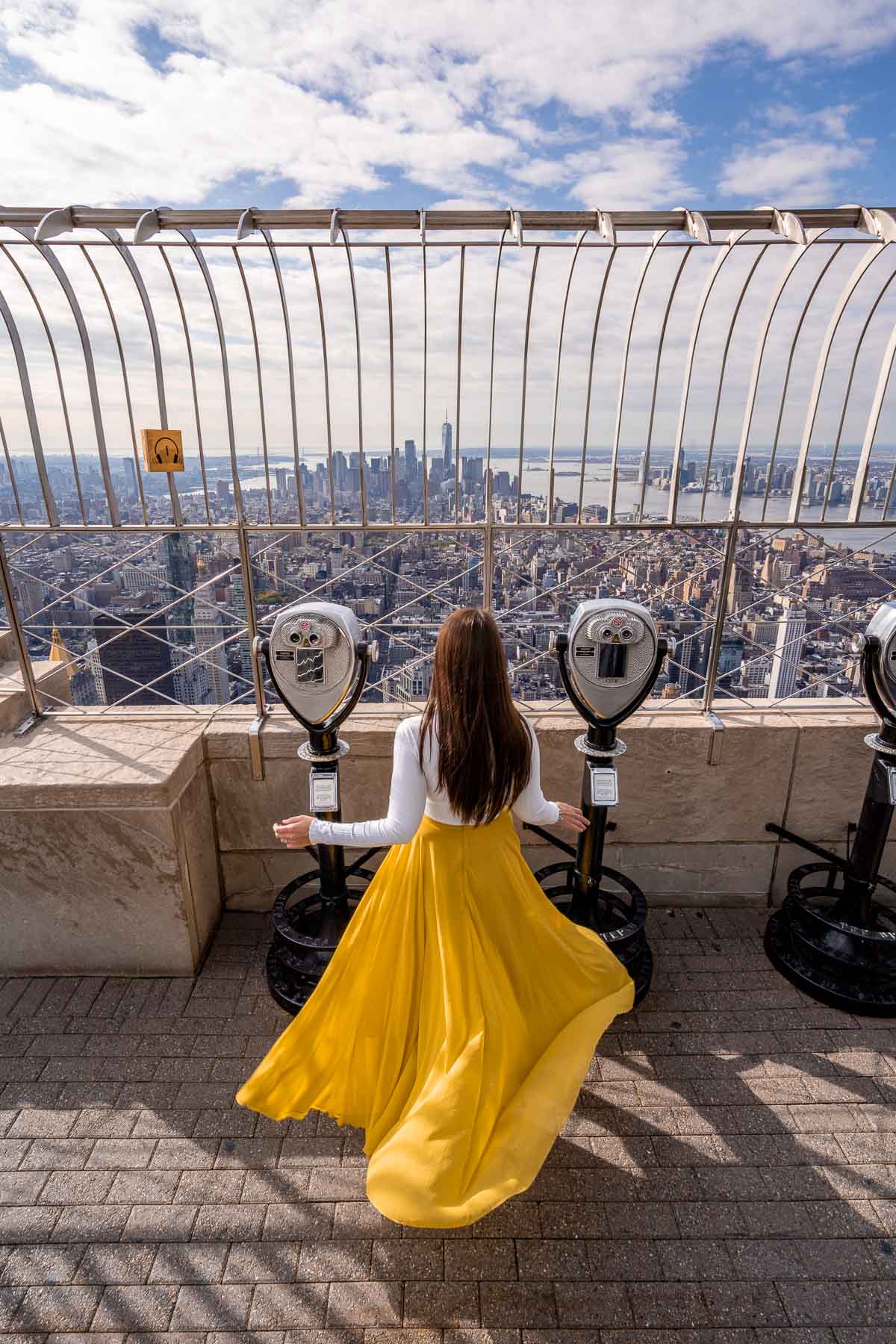 Winter Village at Bryant Park
The Winter Village is a seasonal pop-up that occupies the urban park right off 6th Avenue. As this is essentially a hub of food stalls and places to buy gifts and souvenirs, you can make this your lunch stop for the day.
There is also an ice rink in case you fancy a second round of skating in New York during Christmas. If you're traveling on a budget then this is the only free ice skating rink in the city, making it one of the best free things to do in New York in December.
You'll need to pay for skate rentals if you don't have your own and it's helpful to reserve your slot in advance due to the popularity of the venue.
The Winter Village is a 10-minute walk from the Empire State Building.
New York Public Library
The stunning beaux-arts building that houses the New York Public Library backs onto Bryant Park so you can make this the next stop on your Christmas in New York itinerary. If you think the exterior is beautiful just wait until you see what's inside!
Easily one of the most captivating libraries in the world, the New York Public Library (also known officially as the Stephen A. Schwarzman Building) is decorated with frescoes, vaulted ceilings, and colonnades.
During the holiday season, you get to see the lobby Christmas tree. Remember to check out the much-loved lion statues that guard the entrance as well.
The New York Public Library is open to all and is free to visit. The opening hours may vary, you can check their website for current opening hours.
Dyker Heights Christmas Lights
For the final stop of the day, you'll need to venture out of Manhattan to Brooklyn where you'll find the Dyker Heights neighborhood.
Dyker Heights takes the holidays to a whole new level and it's one of the most impressive spots of this New York Christmas itinerary. Pretty much every house is draped with fairy lights, bows, and wreaths while trees, angels, nutcrackers, and other figurines grace the front yards and lawns.
The entire district is aglow with decorations but the impressive parts this year were on 83rd and 84th Street between 10th Avenue and 13th Avenue.
Sunset is usually around 4.30 pm in New York in December so I recommend hopping on the subway by 3 pm at the latest. You can access the D line at 42 St-Bryant Park subway station and alight at 71 St then walk the rest of the way.
The journey takes one hour so this gives you enough time to catch the last half an hour of light.
As the district is so popular with New Yorkers and yuletide tourists, there are even tour buses that you can join which will ferry you around the neighborhood and make sure that you see all the most impressive streets.
If you would rather join a guided tour, check out this Dyker Heights Christmas Lights Bus Tour!
Spend as long as you want here roaming the neighborhood and taking photos to your heart's content. Once you get hungry, the wider Brooklyn area is teeming with international restaurants or you can head back directly to Manhattan to have dinner.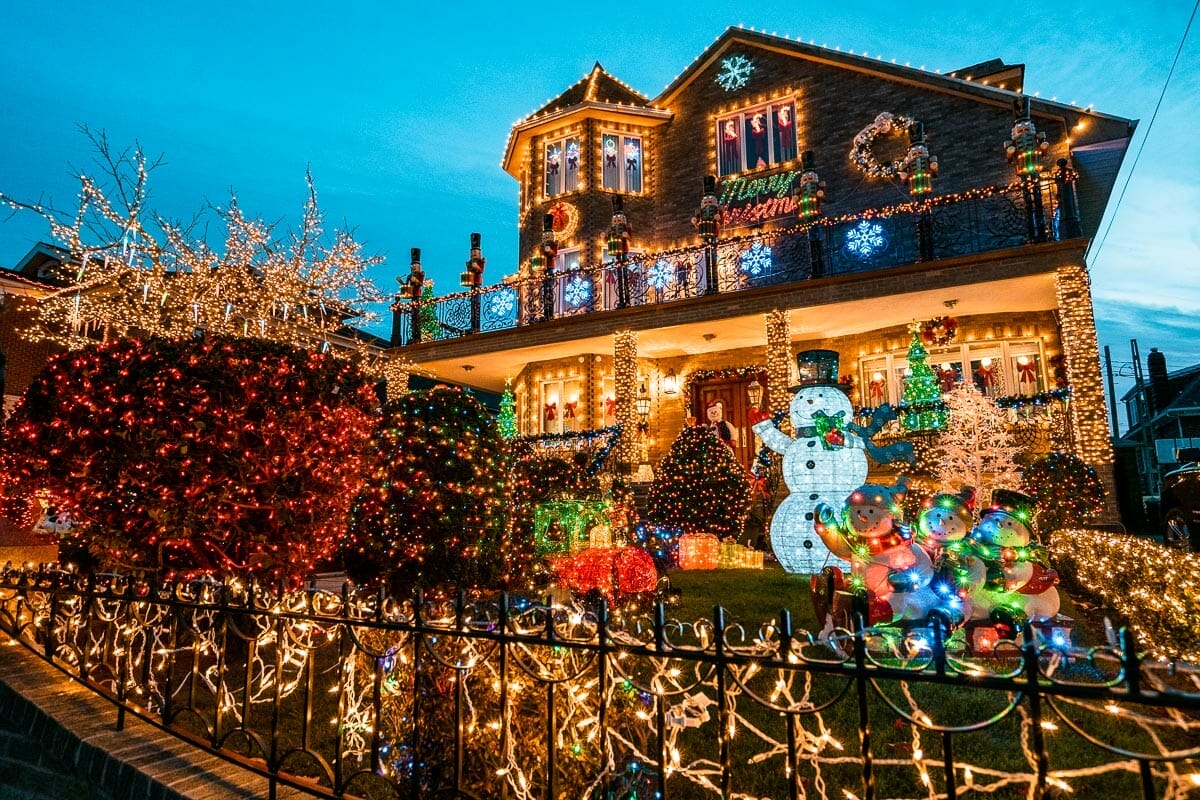 Day 3 of Your Christmas in New York Itinerary
Central Park
Connecting the Upper West with the Upper East sides of Manhattan, it's hard to miss Central Park while celebrating Christmas in New York.
This massive park encompasses 843 acres of land and is just as popular with residents as it is with visitors so it's a great spot for some people watching.
As it's too cold to linger at this time of year, you'll want to wrap up warm and take a brisk walk to the park's most picturesque winter spots.
My tip is to alight at 81 Street – Museum of Natural History subway station and then start your exploration at Belvedere Castle, located in the central-northern part of the park.
This historic fort dates back to 1869 and could be a contender for the most beautiful castles in Europe. It's set on Vista Rock and overlooks the Turtle Pond, offering the best vantage point in the park.
Straddling Central Park Lake, Bow Bridge is considered one of the most romantic places in New York. It provides a unique perspective of the city and is a great spot for photographers and couples to get some shots.
Continuing south you'll reach the gorgeous tiles and fountains of Bethesda Terrace, often frequented by musicians and street performers.
Yet another option for ice skating addicts who want to tick another venue off your list, the Wollman Rink is situated in the southeastern corner and presents an amazing view of Midtown Manhattan while you glide over the ice.
Off-peak tickets start at $15 US ($25 US during peak hours) and skate hire is $10 US. You can purchase them in advance online.
The last festive spot that I need to mention is the Columbus Circle Holiday Market, a pop-up located in the southwestern corner of the park.
Vendors flog all types of gifts ranging from lanterns and candles, Christmas decorations and holiday treats to goodies for your pets! If you need to tackle your holiday shopping then this is a great shout to score some special gifts.
Chelsea Market
You might find something to eat at the Columbus Circle Holiday Market but if nothing takes your fancy then you can make a pitstop at Chelsea Market for lunch. It's convenient for the next calling point on this Christmas in New York itinerary and offers an astonishing array of food options.
Located in the Chelsea neighborhood, the enclosed market is packed with stalls where you can purchase fresh produce, artisanal goods, and meals made to order.
Chelsea Market is open daily, 7 am – 10 pm, for breakfast, lunch, and dinner, so if you don't eat there today you can always return at a later time.
It takes an hour to walk to Chelsea Market from the holiday market so you can save time by taking the subway from 59 St-Columbus Circle and alighting at 14 St / 8 Av.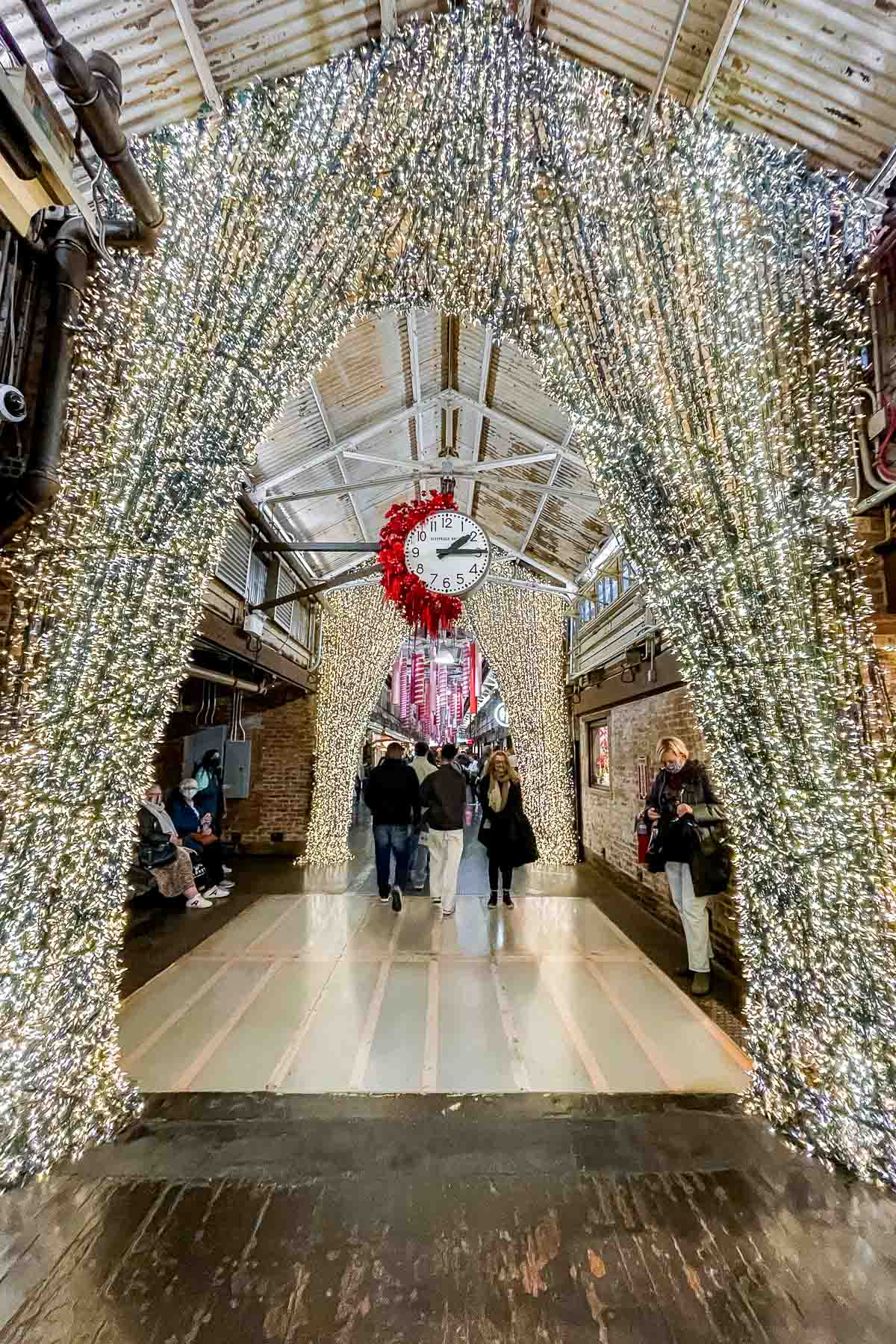 High Line
The High Line, an elevated walkway, is one of the coolest things to do in New York whatever season you visit.
It was fashioned from a former railroad that was slated for demolition until the local community intervened in 2003 with a genius idea to transform it into the city's quirkiest public garden that also bridges Chelsea with the Hudson Yards development.
The walkway spans around 1.5 miles (2.5 km) in length and it takes 30-45 minutes to walk the full route which ends at Hudson Yards, the next stop on your Christmas in New York itinerary. It's free to access the High Line although you can make a donation online if you feel generous.
The High Line is a 5-minute walk from Chelsea Market and will take you directly to the next attraction on this NYC Christmas itinerary.
The Vessel
Your next couple of sights to explore are located in the shopping mall, Hudson Yards, which is beautiful at this time of year thanks to its plentiful holiday decor.
Make a beeline for the Vessel, a remarkable honeycomb-shaped structure that measures 150 feet (46 meters) and comprises 16 floors of connected staircases.
Usually, you can visit all 80 landings and experiment with vantage points, although at the time of writing only the base level is open. However, it's still worth paying a visit to see it and admire all the beautiful Christmas trees that cover the area around it.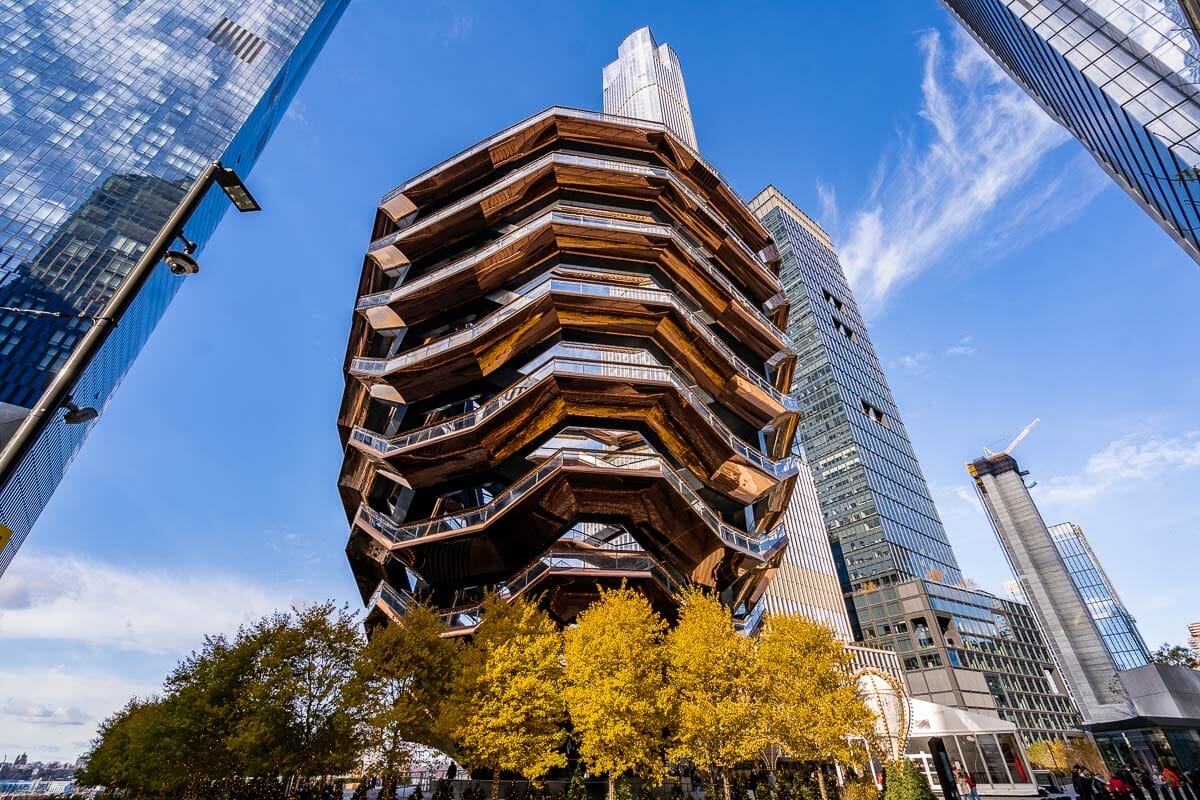 The Edge
Now it's time to score the perfect yuletide sunset on your New York City Christmas itinerary.
Suspended 100 floors above Hudson Yards, the Edge is the highest outdoor sky deck in the Western Hemisphere and offers incredible 360-degree views over NYC that rival those you get from the Top of the Rock and the Empire State Building.
The platform sticks out from Hudson Yards and features a glass floor and angled walls that create the feeling that you are floating in the sky. During the holiday season, the observation deck is furnished with Christmas trees and decor that enhances the experience.
General admission to the Edge starts at $36 US however you can upgrade your ticket. Definitely snap up your tickets in advance especially if you want to coincide your visit with the sunset.
An alternative option for the daredevils out there is to challenge yourself to the City Climb which gives you the opportunity to scale the outer edge of the tower.
Secure in your harness, you can then lean out to over the streets below, from 1,200 feet (365 meters) in the air. Tickets for the City Climb start at $185 US and again, advance booking is mandatory.
Hudson Yards
After checking out the Vessel and the Edge, you can spend the rest of your evening strolling around Hudson Yards and tracking down all the holiday lights.
Beyond the shops (convenient if you want to do any more shopping during your Christmas in New York itinerary) and parks within the complex, the wider neighborhood is interesting to see and you can walk across to the riverside if you want to get photos of the Hudson River.
If you want to have dinner in the shopping mall then there are tonnes of places to eat, ranging from American grills to international restaurants and beloved chains.
You'll probably find an option that does walk-ins but if you want to eat at one of the most prestigious outlets, such as Wild Ink or Estiatorio Milos, definitely reserve a table in advance and specify if you want a table with a view.
Day 4 of Your Christmas in New York Itinerary
Financial District
New York's Financial District occupies the southernmost tip of Manhattan Island, in Lower Manhattan. Just take the subway to Wall Street and from there you can roam the streets at leisure, seeing the likes of the New York Stock Exchange and Federal Hall.
Be sure to head to 11 Wall Street where you can take in the giant Christmas tree which is placed here every year. If you happen to stay in accommodation nearby, you can visit Zuccotti Park at nighttime to see the pretty fairy lights that adorn the trees.
Otherwise, it's still a pleasant place to pass by or have a quiet moment on the way to the next destination on your New York City Christmas itinerary.
One World Trade Center and 9/11 Memorial
Standing in tribute to the near 3,000 people who lost their lives as a result of the terror attacks, the 9/11 Memorial is a somber but important place to visit during your trip to NYC. This heartbreaking place is always busy with locals and tourists paying their respects.
Built in 2011 on the site of the former World Trade Center complex, the memorial comprises pools, monuments, and the National September 11 Memorial Museum.
The memorial grounds are open daily, 8 am – 8 pm, and are free to visit, whereas the museum is open Wednesday to Monday, 9 am – 7 pm, and charges apply. General admission costs $33 US or $53 US with a guided 60-minute tour.
It does take at least 3 hours to get around the full exhibition in the museum and although it was one of the best museums I've ever visited, I would still recommend saving it for your next New York visit.
You simply don't have enough daylights in New York in December so if you want to visit this museum, you will have to cross something else from this itinerary.
Oculus
The Oculus is an airy and modern shopping center that sits adjacent to the 9/11 Memorial and is illuminated with Christmas cheer and spirit during the winter months.
You can take a wander around to do a spot of window shopping, grab a coffee or bite to eat, and admire the grandiose Christmas decor. It's a beautiful example of modern architecture to investigate even if you're not looking to buy anything.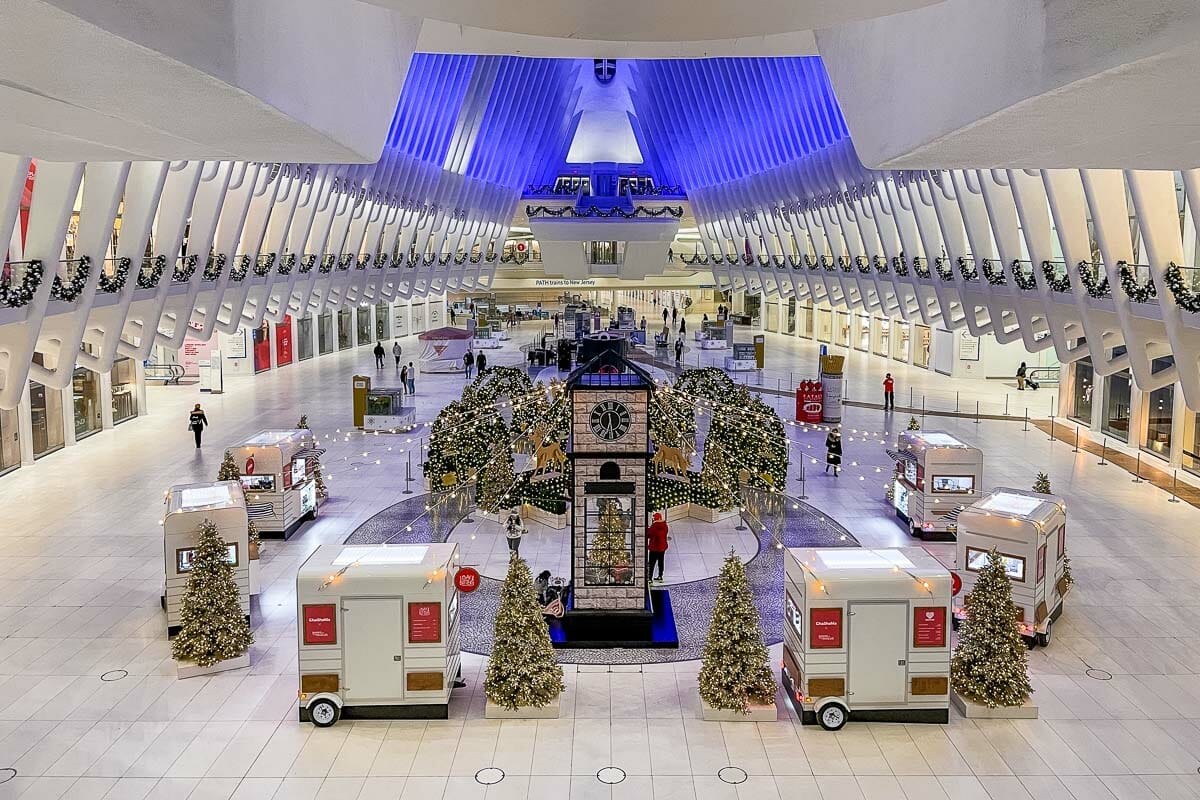 Brooklyn Bridge
On a par with the Golden Gate Bridge and London's Tower Bridge, Brooklyn Bridge ranks highly as one of the world's most photogenic bridges.
It's only a short walk from the shopping center so you can navigate your way across the Financial District and take a stroll across the East River.
If you visit New York during Christmas, you might catch some snowfall over the bridge!
Construction on Brooklyn Bridge started in 1869 and was headed up by the chief designer, John A. Roebling, later assisted by his son. The hybrid cable-stayed/suspension bridge registers 1,595 feet (486 meters) and is accessible to pedestrians as well as vehicles.
Brooklyn Bridge is a 10-minute walk from Oculus and it will take around 30-45 minutes to cross it, subject to how many stops you take to survey the view and take pictures.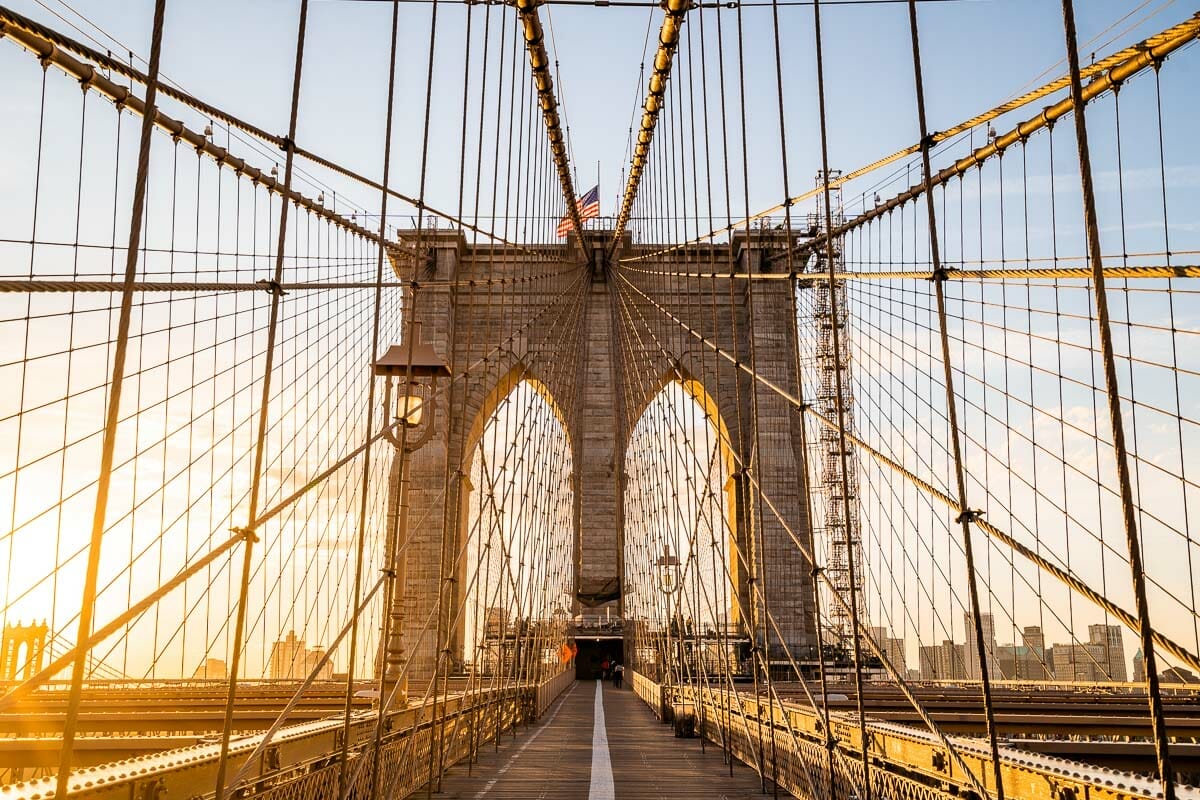 Time Out Market
Welcoming you to the Brooklyn district, the Time Out Market sits on the banks of the East River within the Empire Fulton Ferry Park.
It's worth checking the place out for yourself and perhaps having a drink here although, to be frank, I wouldn't recommend eating at the market. The food available is pretty expensive and not the best quality; you'll find better options in the Oculus or in the Brooklyn area.
However, the atmosphere is fun, the views are great, and you can have a look at the restored carousel that dates back to 1922. Pop up to the rooftop terrace which is free to visit and you'll get unparalleled views of the bridge and Manhattan.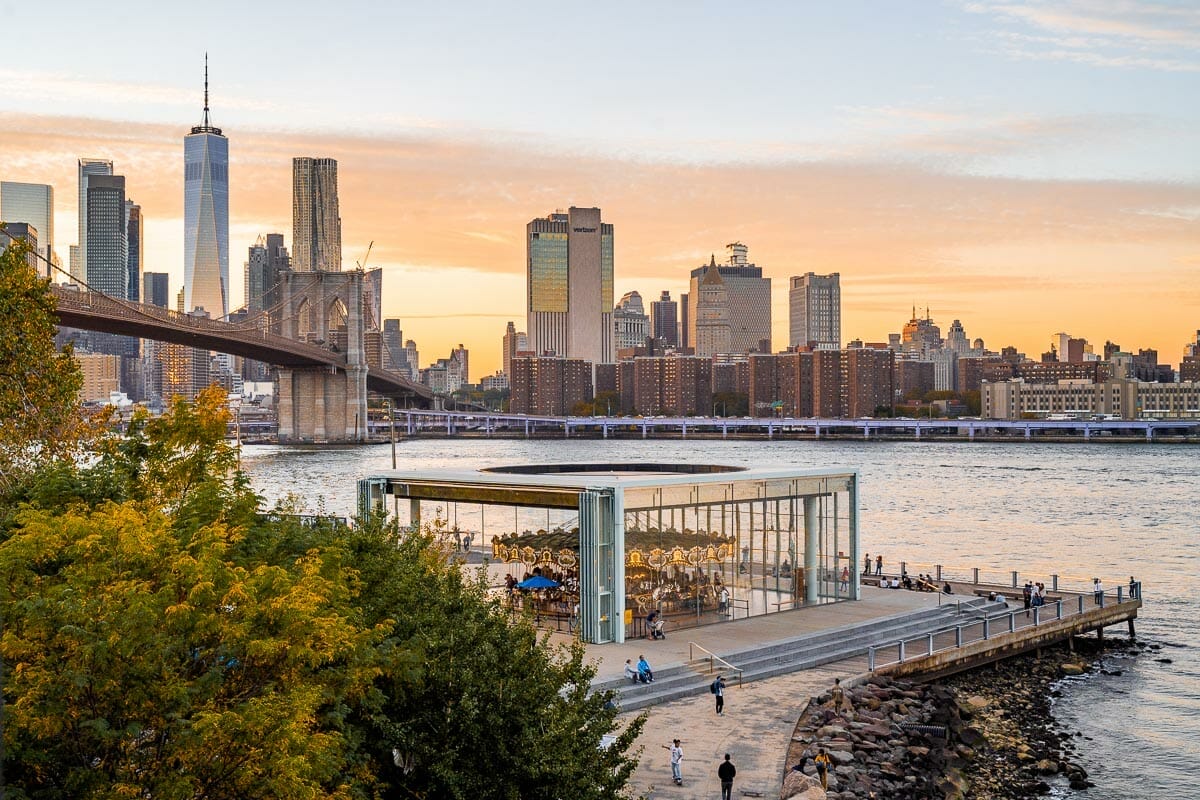 Pebble Beach
Conclude your New York Christmas itinerary with a dreamy sunset from Pebble Beach, a rocky bay at the base of the Manhattan Bridge. This spot provides outstanding views of Brooklyn Bridge and Manhattan, especially during the night, and is a fantastic place for taking photos of the skyline.
It's just a few minutes walk from the Time Out Market.
Dinner
Assuming you took my advice and skipped the food at the market, you can tuck into a scrumptious final dinner in New York on the Brooklyn side. Nearby, I can vouch for either Westville Dumbo or Juliana's.
Westville Dumbo is a laid-back joint offering health-conscious meals with a menu that caters to meat-eaters and vegetarians alike. Options range from organic trout to turkey burgers and nutritious salads. They have excellent cocktails too and the best drink during the winter months: mulled wine!
Meanwhile, Juliana's is hotly contested to be the best pizza place in NYC. Pizzas are prepared in the coal ovens and the menu covers all your favorites and options to customize with extra toppings.
Useful Info for Visiting New York in December
Prepping for your NYC Christmas itinerary requires some additional prep so below I'm sharing all the practical info you need to know if you're planning to visit New York in December.
If this is your first trip to New York then you'll also want to refer to my ultimate NYC travel guide as well as my handy travel tips for NYC.
What is the weather like in New York in December?
Located on the northeast coast of the US, it has to be said that New York winters can be bracingly cold and that the city is prone to strong winds.
The average daytime temperature in New York in December is around 43ºF (6ºC) while evenings may drop below 32ºF (0ºC). On a warmer day, you might surpass 50ºF (10ºC) but that's still going to feel chilly.
Snow is most likely to fall in the city during December – on average it snows 1-3 days this month – so if you're lucky you might get to see some during your stay.
What to pack for Christmas in New York?
As I mentioned in the previous section, it does get really cold in New York in December, so it's important to stash your bag with warm items that you can layer up. I will share all my outfit details below under my photos but generally, these are the items you can't miss.
Winter coat: Having a thick winter jacket is a must if you want to spend Christmas in New York! I love my wool-blend red coat (here is a similar one) and it's perfect for warmer days or fancier events. For chillier days or long night outs, I would recommend having a thicker puffer coat.
Sweaters: Needless to stay, the key for staying warm in New York in December is layering! Make sure to pack sweaters that you can wear with both skirts and pants so you can save some space in your suitcase.
Scarves: Scarves not only keep you warm but they can make your whole outfit! I love this red plaid scarf because it's super soft and looks really festive at the same time.
Gloves: It's important to protect your hands outside, especially if you're planning to use your camera or phone a lot. These fleece lined gloves look really cute and as a bonus, they have touch screen parts! If you prefer a more elegant item, check out these super soft leather gloves (with full-hand touchscreen!).
Boots: You can expect to see either some rain or snow during Christmas in New York so it's important to have waterproof boots. For prettier outfits, I recommend packing a pair of black over the knee boots.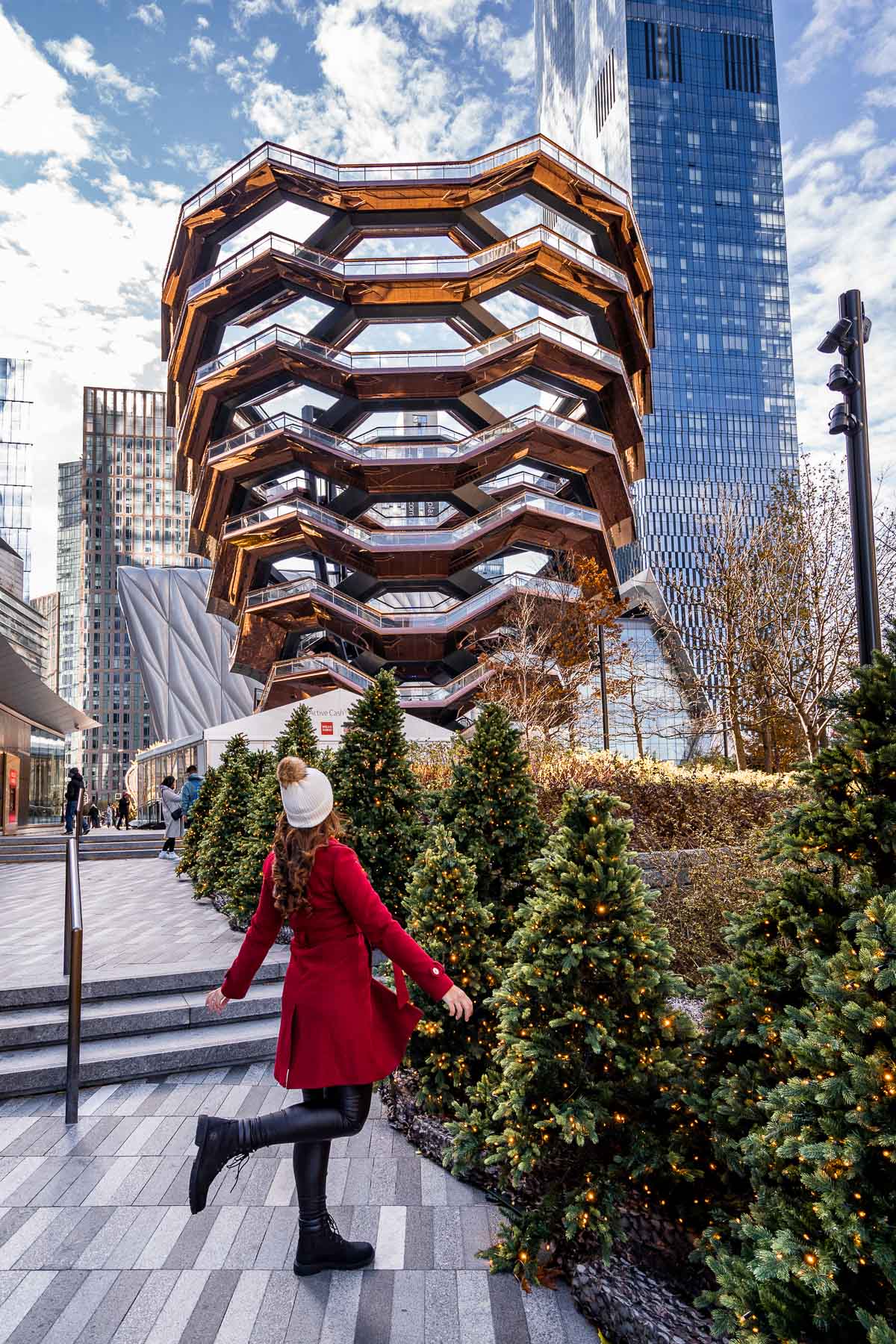 When will Christmas decorations be up in New York?
The famous NYC Christmas decorations usually pop up as early as the start of November but it's not until around Thanksgiving that the city really comes to life with its festive installations.
For example, the legendary Rockefeller Christmas Tree is lit in a large-scale public ceremony on the Wednesday evening that immediately follows Thanksgiving.
Around this time and the end of November, more trees and decorations appear. By early December, all the major department stores and malls are fully decked with their decorations.
If you want to make sure you find all the best Christmas decorations in New York, check out my in-depth guide about the best NYC Christmas photo spots!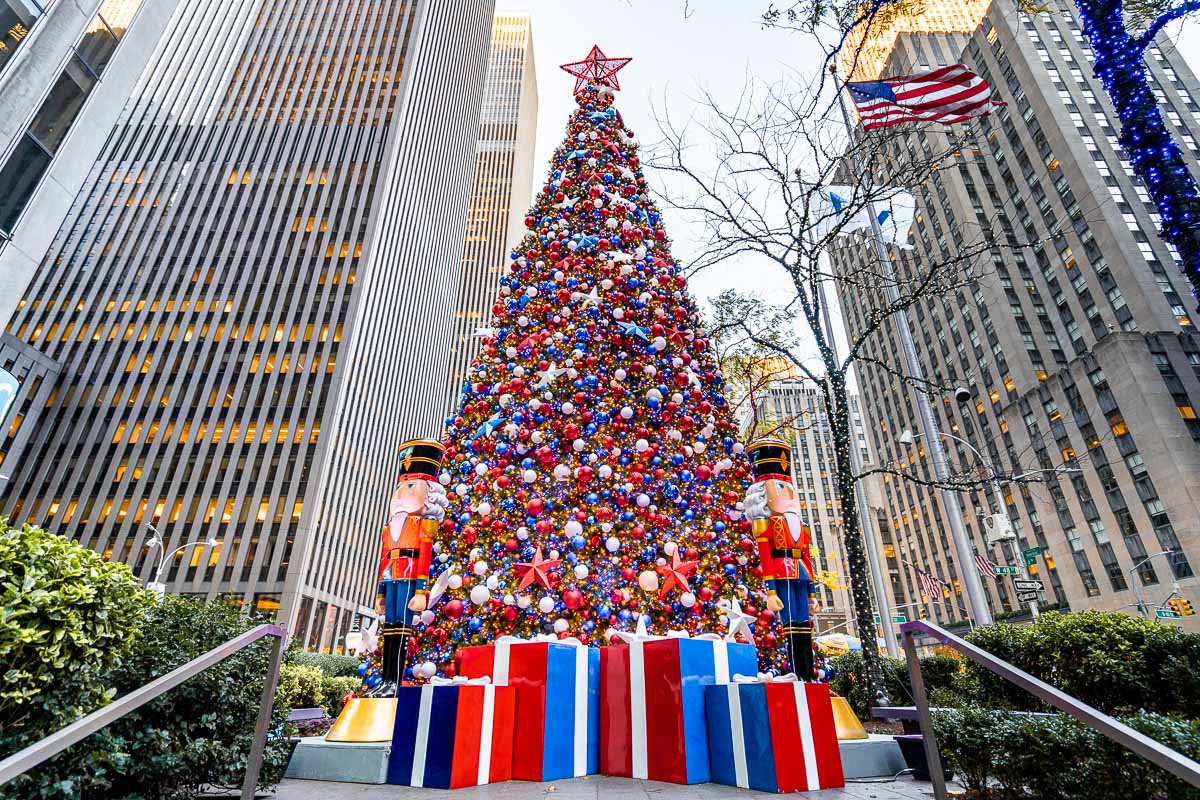 Where to stay for Christmas in New York?
If you are planning your NYC Christmas itinerary based around visiting all the best New York holiday photo spots then you'll want to stay in or as close to Midtown Manhattan as your budget permits.
Midtown Manhattan is where accommodation is most expensive however it will save you having to commute and contend with busy subway lines and buses.
If you're traveling on a tighter budget then you can look further out: Lower Manhattan, the Upper East Side, and Upper West Side all offer somewhat more affordable hotel stays.
Make sure you book your accommodation as early as possible to secure a place at a decent rate. Alternatively, you can try to nab a last-minute deal but this is a little risky.
For more comprehensive information on where to stay in New York, remember that you can consult my detailed NYC neighborhood guide. If you want to take your vacation to the next level, check out these incredible NYC hotels with the best views!
If you're in a hurry, here are my top three hotels.
LUXURY – 1 Hotel Central Park
Offering a restaurant and a fitness center, 1 Hotel Central Park is located right next to Central Park. Each room will provide you with air conditioning, a seating area, and a private bathroom. The on-site restaurant, Jams, features an open kitchen and it is open for breakfast, lunch, and dinner.
MID-RANGE – Hyatt Place New York/ Midtown-South
Just a 5-minute walk from the Empire State Building, this Manhattan hotel offers free Wi-Fi and modern rooms equipped with a flat-screen TV. A corner sofa and a refrigerator are included in each room at Hyatt Place New York. A work desk along with coffee-making facilities is also included.
BUDGET – MOXY NYC Times Square
MOXY NYC Times Square offers pet-friendly accommodations and features free WiFi and a fitness center. All rooms are equipped with a flat-screen TV and air purification systems and each room has a private bathroom. Guests can enjoy the on-site restaurant and a rooftop bar.
Is Christmas in New York worth it?
Did the sound of those temperatures send a shiver up your spine? Crowds and cold weather aside, New York during Christmas is such a magical experience that it's completely worth it.
Trust me, it's one of the best Christmas destinations in the USA (if not in the whole world) for a reason!
An influx of cheerful lights, cute decorations, steaming eggnog coffees, and epic city views under the winter sunshine will inspire you to shrug off the cold and ensure that you have an unforgettable time.
I honestly had huge expectations before visiting New York in December and I must say, it exceeded all my expectations in real life!
To make the most of your stay, just make sure that you pack carefully and prepare your route around the city as concisely as possible. Another great tip is to wake up early to visit the most popular sights to avoid the huge crowd.
---
Planning a trip to New York City?
Then you might want to take a look at all our other travel guides about NYC. I promise, they are just as awesome as this article was!
Accommodation guides:
Travel guides:
Christmas guides:
Travel quotes:
---
Pin It for Later!