Looking for free things to do in NYC? Then you've come to the right place!
New York City has a reputation for being one of the more expensive destinations in the United States. However, the city is crammed with cultural institutions, monuments, vast green spaces, and photo spots that you can enjoy without spending a penny.
If you're traveling to the Big Apple on a budget or simply prefer to stretch your money as far as possible, these free NYC activities have got you covered. The city is super walkable so follow my advice, don your comfiest sneakers and get out there to see as much as possible.
Read on now to find out what to do in New York City for free or remember to bookmark this blog for later.
*Disclosure: This post contains a few affiliate links, which means I may receive a small commission, at no cost to you, if you make a purchase through my link.*
No time to read now? Pin it for later!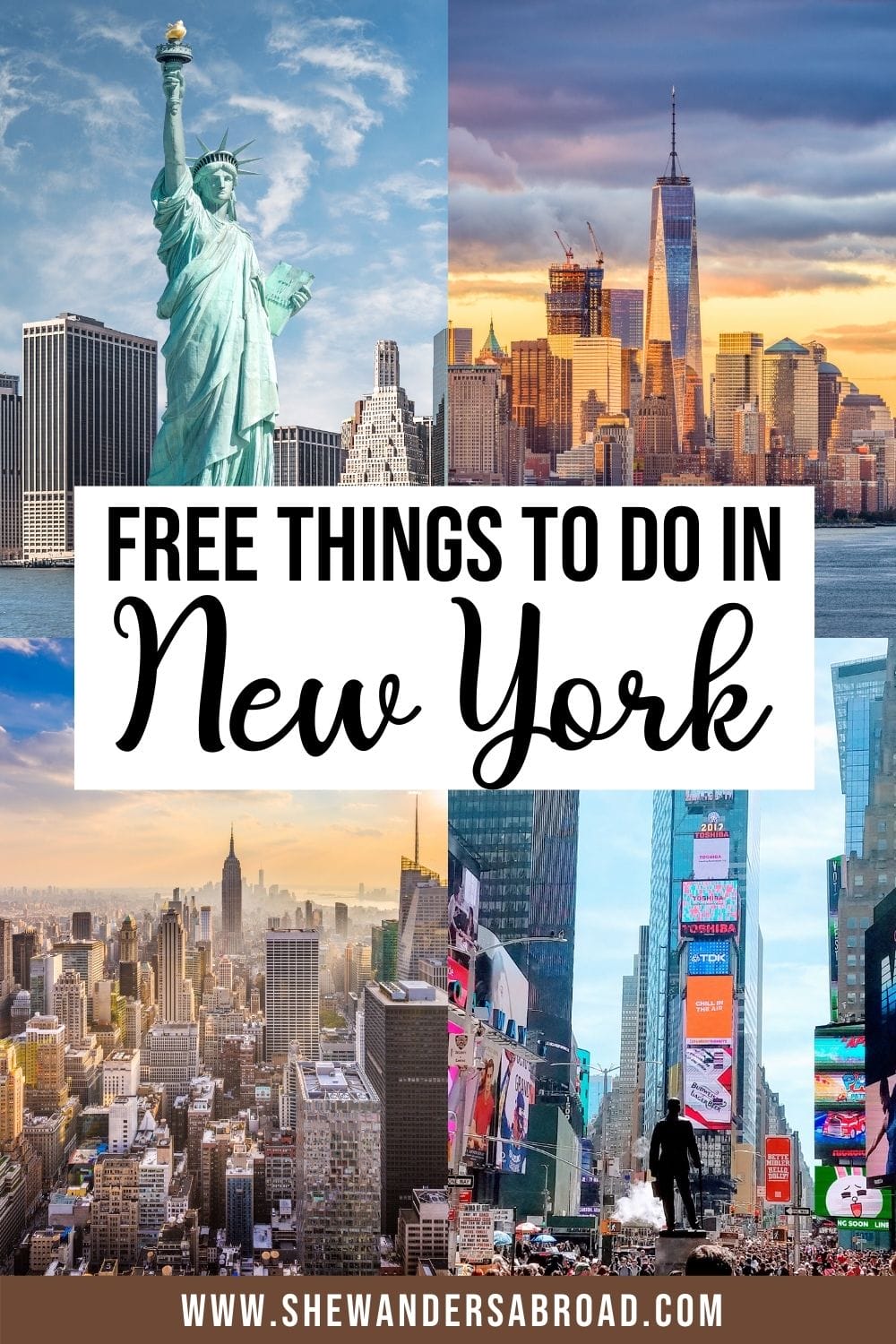 32 Best Free Things to Do in NYC
1. Spend a day in Central Park
Spanning a whopping 834 acres (338 hectares) of land, Central Park occupies a large chunk of Manhattan. Within the parkland, you have dozens of sights to visit for free.
Landmarks include lakes, ornate bridges, sculptures, gardens, terraces, and architectural attractions. There are also sports grounds, children's playgrounds, and paid attractions such as museums and a zoo.
Central Park is one of the best free things to do in New York City and you could easily devote an entire day (at least!) to exploring every inch of the space. The park is a joy to explore on foot courtesy of the walking paths that crisscross through the grounds and connect all the major points of interest.
Highlights to check out include Central Park Lake, the Ramble, Belvedere Castle, Bethesda Terrace, Bow Bridge, and the statues of Alice in Wonderland and Balto the dog.
Depending on the season you visit, you might want to pack a picnic and grab a shaded spot for some rest and relaxation.
2. Strut across the Brooklyn Bridge
Brooklyn Bridge is one of the city's ultimate icons and it's a must to see it from as many angles and perspectives as possible. That includes getting up close and walking across it for yourself!
The 19th-century suspension bridge crosses over the East River and connects the major boroughs of Manhattan and Brooklyn. It is equipped with lanes designated just for pedestrians so you can walk across it safely and take pictures along the way.
Crossing over the bridge will take around 30 minutes and, depending on where you're staying in the city or your wider travel plans, you can start from either Manhattan or Brooklyn.
Walking across the structure is one of the coolest free NYC activities at any time of year. If possible, try and get there around sunrise before the bridge becomes crowded with other walkers and road traffic.
3. Walk the High Line
Hotly on the heels of Central Park, the High Line in Chelsea is another of the best outdoor free things to do in NYC.
The High Line is located atop a disused railroad which after falling into abandonment was transformed into an elevated park. It was conceived as a community project, rather than demolishing the original foundations of the railway line.
The walkway park covers 1.5 miles (2.5 km) in length and connects the Meatpacking District with Hudson Yards. Along the way, you will pass through lush patches of garden and flower beds while taking in epic urban views.
There is no charge to access the High Line. It takes around 45 minutes to walk the entire length but you can spend longer there if you wish.
4. Window shop on Fifth Avenue
Fifth Avenue is one of the most prestigious shopping spots in NYC. Home to luxury stores such as Cartier and Longchamp, it is also the location of the deluxe department store, Saks.
Although you would need a lot of cash to fund a shopping trip on Fifth Avenue, indulging in a spot of window shopping here is one of the coolest free things to do in New York. Make sure you venture inside of Saks as well, to get a sense of how the Manhattanites spend their hard-earned dollars!
The street is 6.2 miles (10 km) in length so you'll probably only want to visit a section, such as the bit that runs from the Trump Tower to the Rockefeller Center. This is where you will see the major stores as well as Saks which dominates an entire block.
5. Snap photos at Brooklyn Bridge Park
Another fabulous and free green space for your time in NYC!
Brooklyn Bridge Park is a riverside oasis that overlooks Brooklyn Bridge and the Manhattan side. It features a series of piers that are used for recreational activities such as sports, picnicking, and viewpoints. Pier 4 features a small beach which is excellent for photos and Pier 6 is fitted with a ferry terminal.
One of the highlights of the park is Old Pier 1 – a disused segment of dockland where decaying pier supports are still located in the wharf. This provides a unique photography spot and contrasts Brooklyn's heritage with the glossy Manhattan skyscrapers.
Spending an hour or two exploring Brooklyn Bridge Park is one of the quirkiest free NYC activities on the Brooklyn side.
6. Peek at Manhattan Bridge from Dumbo
Dumbo (Down Under The Manhattan Bridge Overpass) is a neighborhood on the Brooklyn side that comprises industrial-era buildings now converted into apartments, coffee shops, and boutiques.
You can enjoy an early morning ramble around one of the trendiest neighborhoods in New York City with the option to grab a bagel and fresh coffee while you're at it.
Head to the junction of Washington Street with Water Street and you will be able to peek at Manhattan Bridge from the roads. This is one of the most Instagrammable places in New York and providing you visit early, you can capture some special photos without spending a cent.
7. Walk across the Manhattan Bridge
Walking across the Brooklyn Bridge is one of the most popular free things to do in New York City but did you know you can walk across the Manhattan Bridge as well?
The bridge was completed in 1909 and it's mostly known for its ornate portal. Not to mention the gorgeous views it provides all over Lower Manhattan and Brooklyn!
Since the bridge is not that popular, chances are you won't come across to many other tourists on the bridge which is a nice bonus. York St is the closest station on the Brooklyn side and Grand St on the Manhattan side.
8. Ride the Staten Island Ferry
The Staten Island Ferry shuttles residents and tourists from Staten Island to Manhattan. Despite being a method of transport for commuters, the service remains complimentary courtesy of the City of New York.
Riding the ferry means that you get a close-up look at the Statue of Liberty which stands on Liberty Island. As visiting Liberty Island requires a paid-for ferry, taking the ferry is one of the best free things to do in New York if you want to see the statue up close without splashing out on the tour package.
Ferries depart from The Battery in Lower Manhattan's Financial District. You can choose whether or not to alight and explore Staten Island or head straight back to Manhattan.
9. Visit the 9/11 Memorial Pools
It is impossible to visit New York and not feel the urge to pay your respects to those who lost their lives during the 1993 and 2001 attacks on the World Trade Center.
Designed by the architect Michael Arad, the 9/11 Memorial Pools mark the spot where the Twin Towers originally stood. Each pool is around an acre in size and features waterfalls surrounded by bronze parapets that list the names of the victims of the bombing.
Although a somber experience, taking the time to honor those lost is one of the significant and important free things to do in NYC.
You can visit the 9/11 Memorial Pools and the surrounding Ground Zero complex for free. Besides the pools, you may also wish to visit the National September 11 Memorial Museum. However, this does bear an admission fee.
10. Crane your neck at an observatory
New York's famous skyline can be enjoyed from various viewpoints dotted around the city for free. You can also choose to visit one of the 5 best observatories in NYC for an aerial view of the city.
Visiting the observatories themselves doesn't count as one of your free NYC activities, unfortunately, because they all carry an admission fee. But you might want to add one of them to your schedule anyway.
If not, you can still visit the structures from the ground and keep a lookout for the towers on your travels around the city.
Top of the Rock sits atop the Rockefeller Center while the Empire State Building is home to a newly opened observation deck on the 102nd floor. Both of these skyscrapers are legendary emblems of the city and it is worth getting a close look at the buildings themselves for which there is no fee.
SUMMIT One Vanderbilt, the Edge, and the One World Observatory are other options that you can keep your eyes peeled for during your New York itinerary.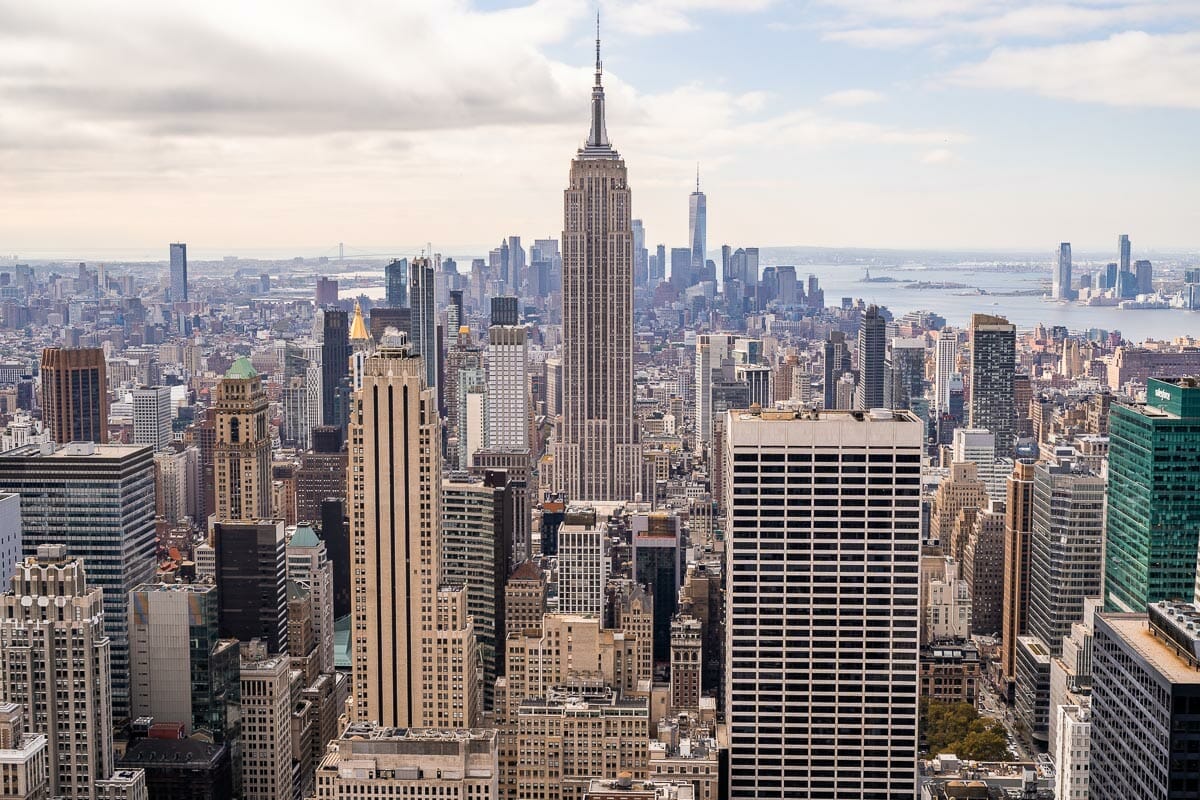 11. Browse a museum for free
NYC is a magnet for museumgoers, history buffs, and culture seekers. Most of the major players require an admission fee but there is a scattering of institutions that are free to everyone – such as the Bronx Museum and the Waterfront Museum.
Among the paid-for museums, there are set days each week where admittance is free within limited hours.
As an example, the National September 11 Memorial Museum offers free admission on Mondays between 3.30 pm-5 pm but you will need to reserve your ticket online. Tickets are available on the museum website every Monday beginning at 7 am and are first-come, first-served.
Other museums, such as the Staten Island Museum, operate a pay-as-you-wish donation scheme with suggested amounts being around $10. The International Center of Photography offers a suggested donation admittance on Thursdays from 6 pm-9 pm.
It's worth doing some personal research to check if the museums that appeal to you offer free days. This is one of the free NYC things to do that requires a little bit of advance planning.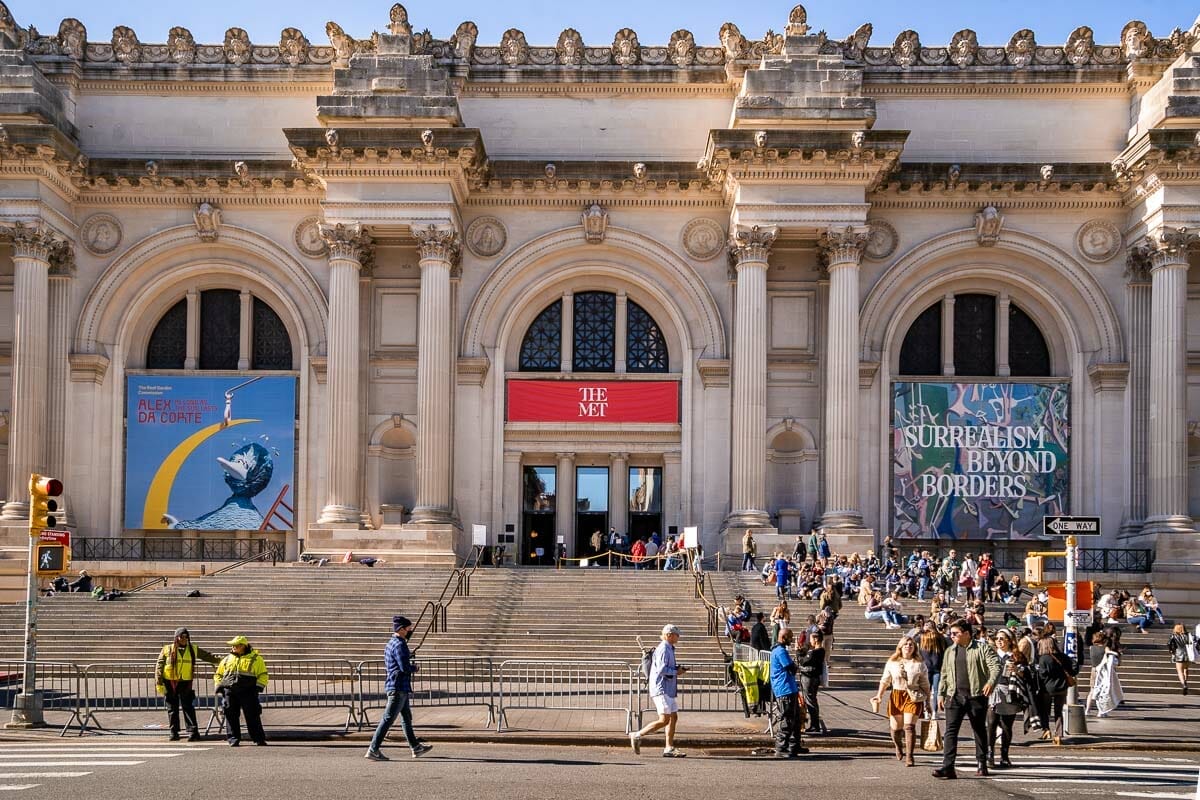 12. Catch the sunset at Pebble Beach
Pebble Beach is a tiny cove located near the base of Manhattan Beach on the Brooklyn side of the city. It's free to access the beach and you'll see that it's a popular photography spot with local residents as well as tourists.
You can visit Pebble Beach at any time of day although it is particularly spectacular at sunset, especially if you have a mind to get some photos.
13. Wander around Little Italy
The major boroughs of Manhattan and Brooklyn are further broken down into dozens of smaller neighborhoods.
Little Italy in Lower Manhattan was populated by the earliest Italian immigrants to relocate to the city and this small area retains its Italian heritage and charms.
It's a great place to take a wander while visiting the wider area as it reminds you of how different each of the city's neighborhoods is and how diverse the city truly is.
Stroll down Mulberry Street which is awash with traditional trattorias, bakeries, and gelato parlors. While grabbing an espresso and cannoli isn't strictly one of the free things to do in NYC, you do need to eat during your time in the city after all!
14. Admire Grand Central Terminal
As well as being one of the busiest transport hubs in the city, the Grand Central Terminal is one of New York's most impressive feats of architecture. Seeing it for yourself is one of the top free NYC things to do for architecture lovers.
Constructed between 1903-1913, the station was announced open in February 1913. It's massive with 44 platforms covering around 48 acres (19 hectares). Its Beaux-Arts facade incorporates countless pieces of art so visiting it can almost be compared to browsing the Museum of Modern Art!
You can take a wander around the Main Concourse and the Grand Central Market where you have the option to grab a bite to eat or a coffee. Meanwhile, the elegant Vanderbilt Hall is a designated event space for private functions.
15. Explore the Financial District
Lower Manhattan's Financial District buzzes with suited and booted Stock Market workers, towering skyscrapers, and heritage buildings.
You can explore the neighborhood on foot while checking out the likes of Wall Street, Federal Hall, the New York Stock Exchange, the Trump Building, and the Federal Reserve Bank of New York.
The area is broken up with pockets of greenery and little plazas such as Liberty Park and Zuccotti Park where local financial workers snatch coffee and lunch breaks. Bowling Green – in front of the Charging Bull statue – is one of the oldest parks of its kind in NYC.
16. Tour the Christmas decorations
One of the best free things to do in New York City in December is to tick off all the Christmas decorations that illuminate the city and bring festive cheer to the streets. Spending Christmas in New York truly feels like being in a Hallmark movie!
Fifth Avenue stores, major landmarks, and shopping malls install massive installations every year while public spaces and sidewalks are decked with Christmas trees and festive paraphernalia.
Ice rinks – including the celebrated Rockefeller Center rink – also flood the plazas and parks. The rink at Winter Village at Bryant Park is actually free to skate on but you would need to rent a pair of skates if you don't have your own.
On the Brooklyn side, you should take a wander around the Dyker Heights neighborhood. Residents decorate their homes with all manner of holiday decorations and they fully embrace tourists to wander around with cameras!
You can visit all of the NYC Christmas photo spots for free and take photos to your heart's content. They are generally in the same locations every year but the actual decorations vary with stores curating theirs to a set theme or with the intention of raising a message.
17. Roam the Rockefeller Center
Named after John D. Rockefeller, the Rockefeller Center at Rockefeller Plaza is one of the most well-known sights in NYC.
The commercial complex, cultural center, and National Historic Landmark covers 22 acres (9 hectares) and include shops, restaurants, bars, TV studios, and business offices.
There are paid tours and, of course, you can visit the Top of the Rock observatory if you're looking to spend some money. But otherwise, you can simply roam the plaza, interiors, and landscaped Channel Gardens at leisure and take photos.
Watching the Rockefeller Center Christmas Tree switch-on ceremony is one of the most festive free things to do in New York during winter. The giant tree is usually switched on right after Thanksgiving in mid-late November.
18. Catch a free comedy night
What to do in New York City for free at night? Unfortunately, there is no way around the fact that theatre and Broadway shows are expensive and seats aren't given away!
However, if you do want to check out the NYC nightlife on a budget you can score tickets to comedy clubs for free.
You will need to double-check the various comedy venues to correspond with your dates, but as a start – these are some of the free (or cheap) options currently available.
19. Work up an appetite at Chinatown
New York's Chinatown bridges the gap between SoHo and the Financial District and is a fantastic destination for a stroll or as a dining destination.
The neighborhood is alive with Chinese and Asian restaurants, bubble tea shops, markets, shops, museums, and parks. You can choose to visit purely for a wander around the streets to check out the atmosphere or make Chinatown a lunch or dinner spot during your time in NYC.
Head to Columbus Park – a popular spot for local residents to meet, chat, and play board games. Once here, you can visit Dr. Sun Yat-sen Plaza and the Columbus Park Pavilion.
20. Smell the flowers at Little Island
Little Island is the newest green space to pop up in New York and is one of the loveliest things to do in New York City for free outdoors.
The park is located west of Chelsea and Greenwich Village on a disused pier. It looks out over the Hudson River and features an observation deck with exceptional views.
The space is around 2.4 acres (1 hectare) and brimming with plants, trees, and flowers and the whole island actually resembles a patch of orchids from afar.
While you visit, you might want to listen to the complimentary 40-minute audio tour.
There is also an amphitheater that sometimes hosts free events including music concerts, dance performances, and poetry recitals. Little Island has its own Artist in Residence program that brings together local artists of all varieties and backgrounds, so it's a wonderful addition to the community.
Following in the footsteps of the High Line, Little Island is a testament to innovative ways to introduce green space into a large city and is a treat if you're seeking a peaceful spot for a couple of hours.
21. Visit filming locations
If you are a fan of a particular TV show or film then tracking down a couple of filming locations is one of the unique things to do in New York City for free.
This guide has already mentioned a couple of the iconic locations which appear in multiple films but you can also check out the offbeat spots which correspond to your favorite movies and shows.
If you need some inspiration, then here are a couple of suggestions that you can visit for free.
The storefront of Tiffany's and Co. on Fifth Avenue from Breakfast at Tiffany's where Holly Golightly ate her morning Danish and sipped her coffee.
Radio City Music Hall – the first attraction that lost Kevin visited with his polaroid camera in Home Alone 2.
The Metropolitan Museum of Modern Art ("The Met") is frequented by Blair, Serena, and Jenny in Gossip Girl.
The Daily News Building which served as the headquarters of the Daily Planet in Superman.
Fans of the classic sitcom, Friends, can swing by Monica's apartment in Greenwich Village. The brick building at 90 Bedford Street in Greenwich Village was used for the exterior shots of Monica and Rachel's apartment in the TV series.
Carrie Bradshaw's apartment from Sex and the City is situated right around the corner from Monica's apartment block on 66 Perry Street.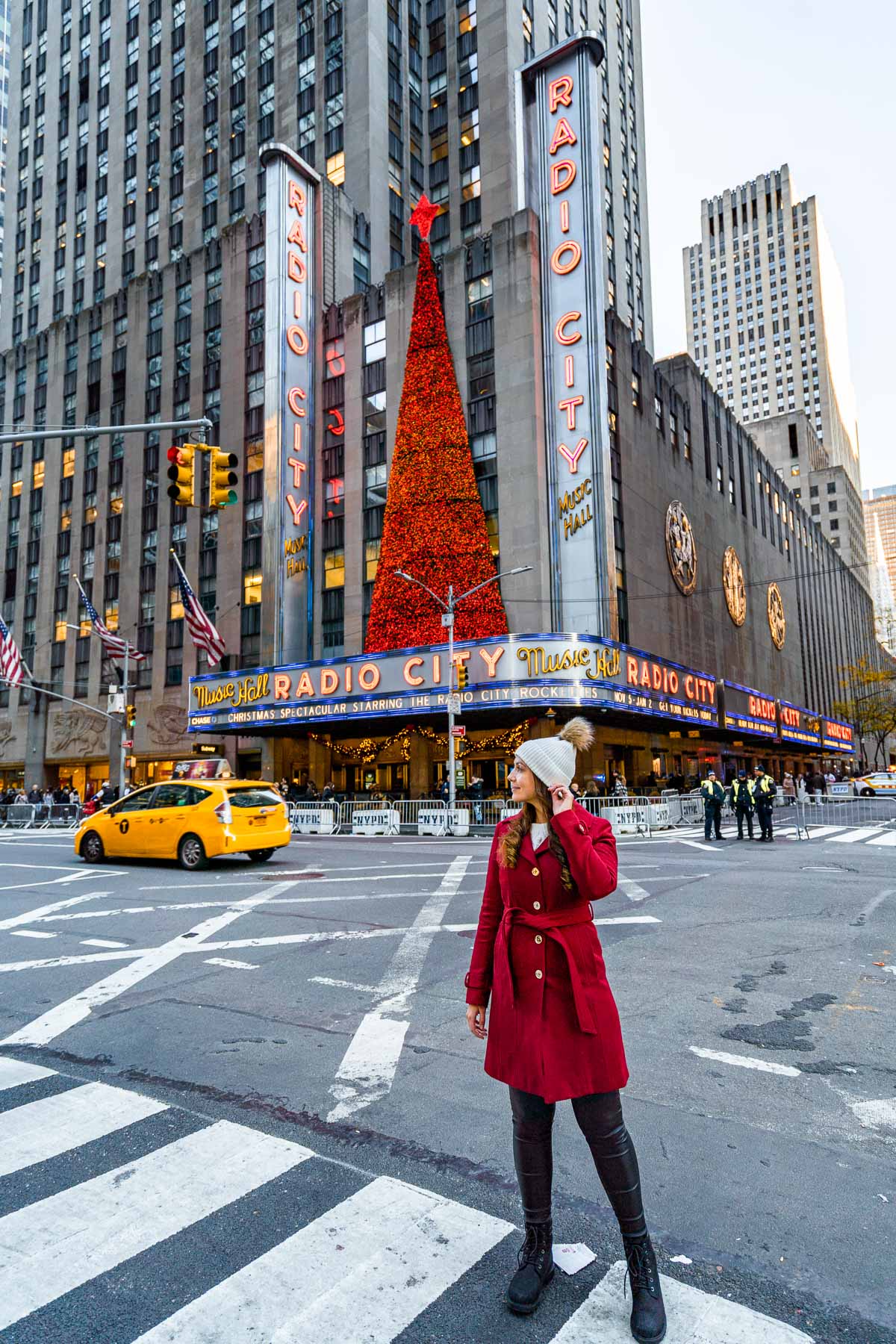 22. See the lights at Times Square
The energetic Times Square sites alongside the skyscrapers, museums, and Central Park as one of NYC's unmissable points of interest.
This chaotic intersection at W 45th Street and Seventh Avenue marks the epicenter of the New York theater district. It's illuminated with giant moving billboards and ads – much like London's Piccadilly Circus. Meanwhile, the entire area is packed with restaurants, bars, shops, and theaters.
You'll no doubt pass through Times Square at least once during your sightseeing of Manhattan. However, making a special trip after dark is one of the best free things to do in New York City at night.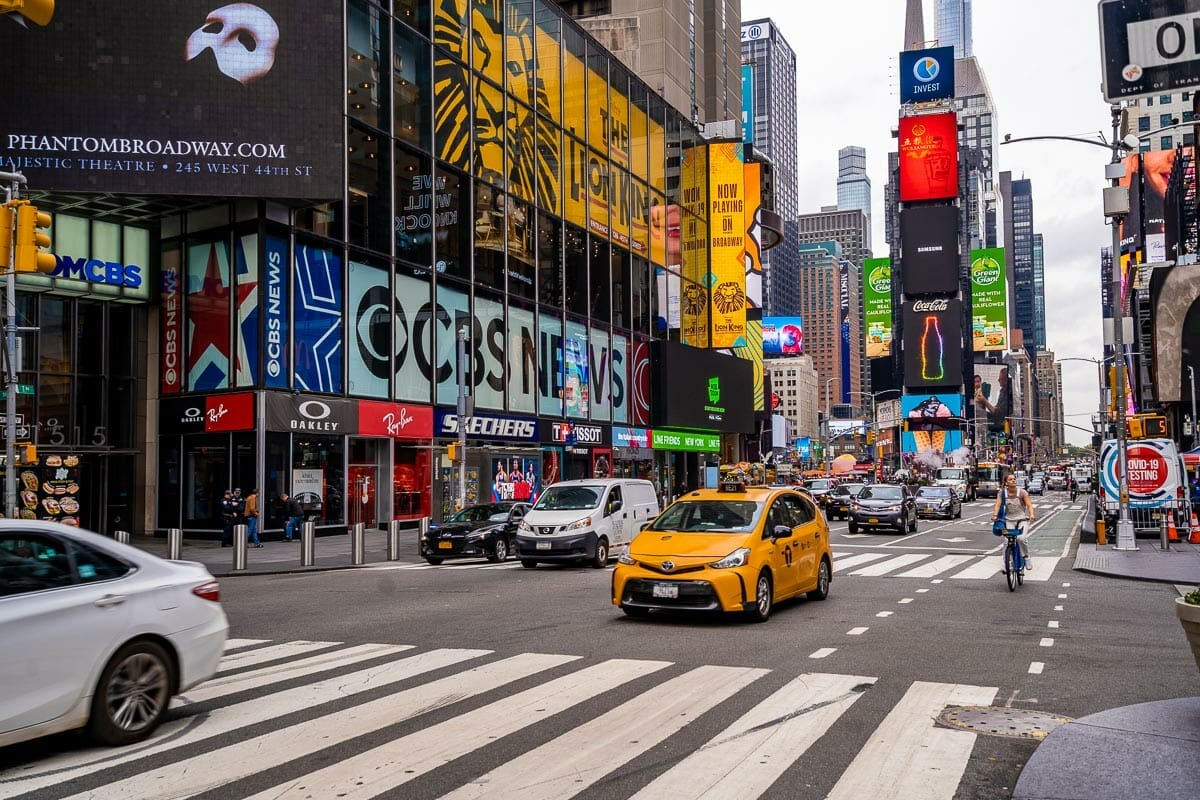 23. Join a tips-based walking tour
As with all major cities, NYC features its fair share of free – or tips-based – walking tours. These generally target all the major tourist and commercial areas, such as Lower Manhattan, SoHo, Chinatown, Little Italy, Harlem, Brooklyn Heights, and Dumbo.
Check out the official company, Free Tours By Foot, as a starting point. You can also ask the reception team at your hotel if they have any contact details for local tour guides who work on a pay-what-you-wish or tips-based basis. You can even take a free virtual "walking" tour as part of the planning process or from your hotel bed in New York!
Although walking tours constitute one of the top free activities in New York City, remember that you should tip your guide for their efforts. But these tours are far more economical for budget travelers.
24. Pop into the New York Public Library
The New York Public Library (also known as the Stephen A. Schwarzman Building) is one of the most beautiful buildings in NYC. Construction on the Beaux-Arts landmark started at the turn of the 20th century and was completed in 1911.
The majestic library features high ceilings embellished with frescoes, elaborate paneling, and reading rooms with timeless charm. It's free to enter and you are welcome to wander through the public spaces and take photos.
As the New York Public Library backs onto Bryant Park, you might want to combine these two free things to do in NYC.
25. Marvel at St. Patrick's Cathedral
One of Manhattan's more traditional buildings sits among the glitzy skyscrapers and luxury stores. St. Patrick's Cathedral is a Neo-Gothic-style Roman Catholic church that provides the seat of the Archbishop of NYC.
It features a mix of Gothic Revival and English Gothic architecture and was engineered by James Renwick Jr. Construction started in 1858 and was completed in 1879, the Civil War throwing a spanner in the works halfway through.
The church is garbed in white marble and decorated with colorful stained glass windows and a mosaic-clad altar.
St. Patrick's Cathedral is open to the public daily and is one of the essential things to do in New York City for free for anyone who loves checking out church architecture. Or who fancies a break from the Fifth Avenue crowds.
26. Kick back at an urban beach
You might not instantly consider NYC when thinking of a beach escape, but, actually – the city does feature some great beaches. The beaches are located in the boroughs besides Manhattan and require a stretch of travel.
On the southern tip of Brooklyn, you will find Coney Island Beach, Brighton Beach, and Manhattan Beach. The former is the most typical for first-time visitors in New York, with its golden sand, gentle waves, boardwalk, and fairground amusements.
Right across the bay from these three but within the Queens borough, you will find the People's Beach at Jacob Riis Park along with Fort Tilden Beach. These beaches culminate at Breezy Point Tip which is a reserve for birds and an incredible viewpoint across the Lower Bay.
Another option in Queens is the surfer-friendly Rockaway Beach. This is the only place that you can legally surf in NYC!
Visiting one of the beaches is one of the best free activities in New York City during summer when conditions are favorable for sunbathing and swimming. You can pack a picnic and make a full day of it or choose to swing by as part of a more active itinerary.
27. Stroll around Roosevelt Island
Roosevelt Island is a narrow island that floats in the middle of the East River between Manhattan and Queens.
In the past, the island has been used as a base for a prison, asylum, and a smallpox hospital. Nowadays it's one of the coolest recreation areas outside Central Park. As a bonus, it can be visited for free!
Also, getting there is a bit of an adventure itself. You can board the Roosevelt Island Aerial Tram that spans the East River and connects Manhattan with Roosevelt Island. The tramway doesn't require any special tickets, it can be used with a regular MTA Card. Alternatively, you can visit using the Roosevelt Island subway station.
The island is particularly beautiful if you visit during the spring months as you might catch the cherry blossoms but it's also glorious during autumn when you catch all the fall foliage. If you visit in the evening, you might catch a gorgeous sunset over the Manhattan skyline.
28. Check out the Flatiron Building
Originally named the Fuller Building, the Flatiron Building on Fifth Avenue was renamed due to its uncanny resemblance to the appliance.
Built by Daniel Burnham using a blend of Beaux-Arts, Renaissance, and Renaissance Revival architectural styles, the structure was completed in 1902. Standing at a height of 285 feet (86.9 meters), the Flatiron Building was briefly one of the tallest buildings in NYC.
It isn't possible to go inside the Flatiron Building as it's purely used for business purposes. However, seeing it from the ground is one of the best free NYC things to do for photographers and fans of unique buildings. You will capture the best views from Madison Square Gardens across the street.
29. Soak up views from The Battery
Curving around the southwest point, The Battery is Manhattan's most southerly park. The green space features several memorials, views of the Statue of Liberty, and a wide esplanade.
You may visit the grounds for free and soak up the incredible views and historical monuments. There is also the option to duck into one of the museums within the park, such as the Museum of Jewish Heritage and the Skyscraper Museum.
If you are planning on taking the Staten Island Ferry – another of the free things to do in NYC – then you will need to get down to The Battery first. So it makes sense to allow some additional time to wander through the park before or after your boat ride.
30. Cheer on the basketball players at The Cage
Besides the cultural attractions, New York City is a hub for North American sports. The Bronx-based Yankee Stadium is the home turf of the New York Yankees while the iconic Madison Square Garden hosts all manner of sports including basketball and ice hockey.
If you want to see either the New York Knicks or the New York Rangers in action, you will need to cough up the ticket price.
However, you can catch sports games for free in the various sports courts dotted around the city! This is one of the most unique things to do in New York City for free and gives you a sense of the city residents.
The Cage in Greenwich Village (officially the West Fourth Street Courts) has drawn passersby including local residents and tourists for years. This small basketball court is home to the West Fourth Street League, founded by the limousine driver Kenny Graham.
Notable NBA players played in The Cage before becoming star players and the court is said to attract scouts seeking fresh talent!
Beyond The Cage, you will note many other basketball courts around the city so keep your eyes peeled and take a spot at the courtside if you fancy cheering the players on.
31. Pose for pictures in the Seaport District
The historic Seaport District is located in Lower Manhattan. The streets comprise large wharfside warehouses and industrial-style buildings and it's now a bustling spot for dining and drinking.
The food quality is excellent and the atmosphere is laid-back and fun. If you're seeking somewhere to eat in Lower Manhattan, then this is the place.
There are various monuments dotted around the Seaport District. The South Street Seaport Museum is one of the best free things to do in New York City.
Free admission to the museum includes the chance to take a tour of some of the decommissioned ships floating outside in the docks. These include the 1908 lightship Ambrose, the 1932 tugboat W.O. Decker, and the 1885 schooner Pioneer.
Conclude your exploration of the Seaport District at Pier 17. This is a large-scale event and entertainment venue that hosts concerts and overlooks the East River.
It's worth visiting purely for the awesome views and to see the various pop-up installations that are usually dotted around the walkways. Often these have a seasonal theme or are influenced by any holidays.
32. Tour the Brooklyn Brewery
The final item on my guide to free things to do in NYC is for all the beer drinkers out there!
The Brooklyn Brewery crafts lagers, IPAs, ales, stouts, seasonal blends, and non-alcoholic beers. Free brewery tours are offered at the microbrewery every Sunday, hourly from 1 pm-6 pm. You can sample the beers for yourself and toast the end of a successful vacation in New York!
Where to Stay in New York City
If you're visiting New York on a budget, finding the best place to stay can be a tough nut to crack. Generally speaking, Midtown Manhattan is the best place if you want to stay close to the most famous NYC attractions. However, as you might have guessed, this is the most expensive area as well.
You are better off with Lower Manhattan and Brooklyn when it comes to affordable accommodation. If you're interested in reading more about the different neighborhoods in the city, make sure to check out my guide about the best areas to stay in New York City.
You can also check out these incredible apartment rentals and Airbnbs in New York and the most amazing NYC hotels with the best views (hint: there are a few budget options as well!).
In case you're running short on time and you don't want to spend hours with research, below you can find my top picks for where to stay in New York.
LUXURY – 1 Hotel Central Park
Offering a restaurant and a fitness center, 1 Hotel Central Park is located right next to Central Park. Each room will provide you with air conditioning, a seating area, and a private bathroom. The on-site restaurant, Jams, features an open kitchen and it is open for breakfast, lunch, and dinner.
MID-RANGE – Hyatt Place New York/ Midtown-South
Just a 5-minute walk from the Empire State Building, this Manhattan hotel offers free Wi-Fi and modern rooms equipped with a flat-screen TV. A corner sofa and a refrigerator are included in each room at Hyatt Place New York. A work desk along with coffee-making facilities is also included.
BUDGET – MOXY NYC Times Square
MOXY NYC Times Square offers pet-friendly accommodations and features free WiFi and a fitness center. All rooms are equipped with a flat-screen TV and air purification systems and each room has a private bathroom. Guests can enjoy the on-site restaurant and a rooftop bar.
---
Planning a trip to New York City?
Then you might want to take a look at all our other travel guides about NYC. I promise, they are just as awesome as this article was!
Accommodation guides:
Travel guides:
Christmas guides:
Travel quotes:
---
Pin It for Later!