Planning on spending the holidays or New Year's Eve in the Big Apple? Lucky for you, this is the most magical time of year to visit NYC! Christmas is taken very seriously which means there are endless things to do in New York City in December.
You can fill your trip with visiting the classic landmarks and museums but you'll definitely want to factor in time to window shop, visit the decorations, and throw yourself into the festive activities that you can only experience at this time of the year.
If you want to know exactly what to do in New York in December, read on for my list of suggestions.
This guide takes into account all different types of budgets and caters for all types of travelers – families, couples, and solo travelers – and I'm confident that you'll find inspiration to fill your days in the city.
*Disclosure: This post contains a few affiliate links, which means I may receive a small commission, at no cost to you, if you make a purchase through my link.*
No time to read now? Pin it for later!
15 Festive Things to Do in New York City in December
1. Ice skate at Rockefeller Center
The Rink at Rockefeller Center is a familiar sight to everyone who has ever watched a holiday movie filmed in NYC and is the quintessential icon of New York City in December.
The ice rink is located right at the base of the complex and the giant Rockefeller Center Christmas Tree so you have a beautiful backdrop as you skate.
The Rink is open daily, generally from 9 am – 12 am but on some days it opens at 7 am. It's even open on Christmas Day. Tickets start at $20 US per person and it is important to book them online in advance as the venue is very popular.
If you plan on spending Thanksgiving in NYC as well then you might manage to catch the official ceremony where the Rockefeller Center Christmas Tree is lit up!
2. Wander around the Christmas decorations
One of the best things to do in NYC in December is to simply take a wander around the streets and see all the incredible holiday decorations on offer.
Besides the iconic Christmas tree at the Rockefeller Center, shopping malls, all the window displays at the department stores, and designer boutiques, there are tonnes of pop-up installations.
Most of these are dotted around Midtown Manhattan but you might want to explore the Financial District, Brooklyn, Coney Island, and other neighborhoods too. It's free to visit them and take as many photos as you like!
I've rounded up all the most impressive NYC Christmas photo spots to help you find your way to the best ones.
3. See the Dyker Heights Christmas Lights
Dyker Heights is a residential neighborhood in the southwest of Brooklyn. During the holiday months, the whole area is illuminated with hundreds upon hundreds of Christmas decorations while lifesize festive figurines pour out over the yards.
It's like stepping into a movie set and it's definitely one of the best things to do in New York City this holiday season!
You can visit Dyker Heights independently via public transport or as part of a bus tour.
The subway connects Manhattan to Dyker Heights (86 St and 71 St are the closest stations) and then you can wander around the area at leisure taking photographs and admiring all the festivities.
There isn't any charge to do this and the residents are used to visitors coming down to explore.
My tip is to visit before the sun sets so that you can appreciate the decorations before all the lights get switched on. Although the whole area is really gorgeous, make sure to visit 83rd and 84th Street between 10th Avenue and 13th Avenue as this is usually the most beautiful part!
Alternatively, you can book a Dyker Heights Christmas Lights bus tour which includes your transportation to and from Manhattan.
4. Watch the Christmas Spectacular at Radio City
Every year, Radio City Music Hall hosts the Christmas Spectacular, an incredible precision dance show performed by The Rockettes upon a thoroughly festive stage. Each show comprises around 36 dancers that are legendary for their twirls and eye-high kicks!
You should definitely swing by the concert venue to check out the tree and decorations and if you want to catch a seasonal show while visiting New York in December then this is my number one suggestion.
Performances of the Christmas Spectacular are scheduled 2-4 times throughout the day with the evening shows at 5 pm and 8 pm being the most popular.
Ticket prices vary considerably based on the date and time you select or your preferred seats. Make sure to book your tickets well in advance as the show is really popular!
A quick note to say that you need to arrive at the venue around 30-60 minutes before the show begins in order to pass through security, so do factor that into your NYC Christmas itinerary.
5. Take in skyline views
Getting an eyeful of the skyline from above is one of the ultimate things to do in New York City regardless of when you visit but it's all the more magical during the winter months.
There are several observation decks where you can savor bird's eye views which means that every time you visit the city, you can tick a viewpoint off your list.
Currently, there are 5 observatories in New York you can choose from: the Empire State Building, the Top of the Rock, the One World Observatory, the Edge, and SUMMIT One Vanderbilt.
If you don't like the cold, you should prioritize either the One World Observatory or the SUMMIT as these are located indoors. But if you wear enough layers, the other three are manageable as well!
One World Observatory
The One World Observatory is located at the pinnacle of the One World Trade Center which is currently the tallest building in New York.
Access to the viewing decks on the 100, 101, and 102nd floors is via the sleek – and super speedy – Sky Pod.
General admission starts at $44 US and tickets are available for purchase online.
Empire State Building
Taking in the view from the 86th floor of the Empire State Building is a classic as the building itself is so symbolic of the city.
When visiting New York City in December you will find the observation deck transformed into a winter wonderland with stylish trees and decorations which makes it all the more perfect for festive photos.
Admission starts at $44 US you can buy your tickets here.
Top of the Rock
The bonus of visiting the Top of the Rock at the Rockefeller Center instead is that you can catch a view of the Empire State Building while you're up there.
As with the Empire State Building, you'll be greeted by yuletide embellishments. Regardless of what time of the year you visit, the Top of the Rock definitely belongs to the most Instagrammable places in NYC!
Tickets start at $40 US and the observation deck is open daily, 9 am – 11 pm. You can reserve your tickets online.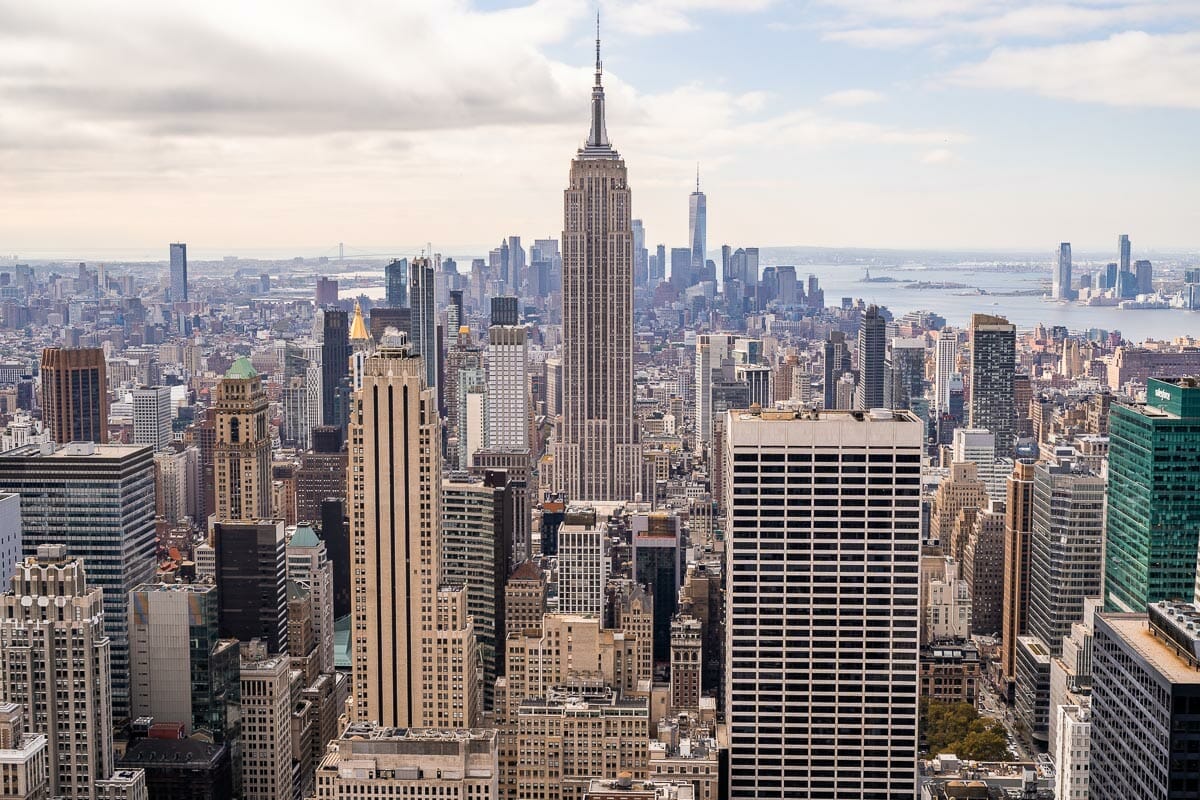 Edge
The Edge is relatively new to the scene and is perfect if this is not your first time visiting NYC and you want to get a bit more off the beaten track. That's not to say it isn't popular: you will definitely need to pre-book your tickets for the Edge.
In time for the holidays, the attraction is serving "Cocoa in the Clouds" and "Edge Nog" winter warmers alongside cozy cocktails such as Winter Negroni. Sipping something delicious with an epic view always ranks highly as one of the best things to do in NYC in December!
SUMMIT One Vanderbilt
SUMMIT One Vanderbilt is the newest addition to the observatories in NYC as it only opened up in October 2021.
It's definitely the most unique one as it features huge mirrored rooms, silver balls, and two transparent skyboxes. As with all new things in New York, the observatory receives a huge crowd so make sure to book your tickets in advance.
If you want to know more about each observatory, check out my in-depth guide about the best observation decks in New York City!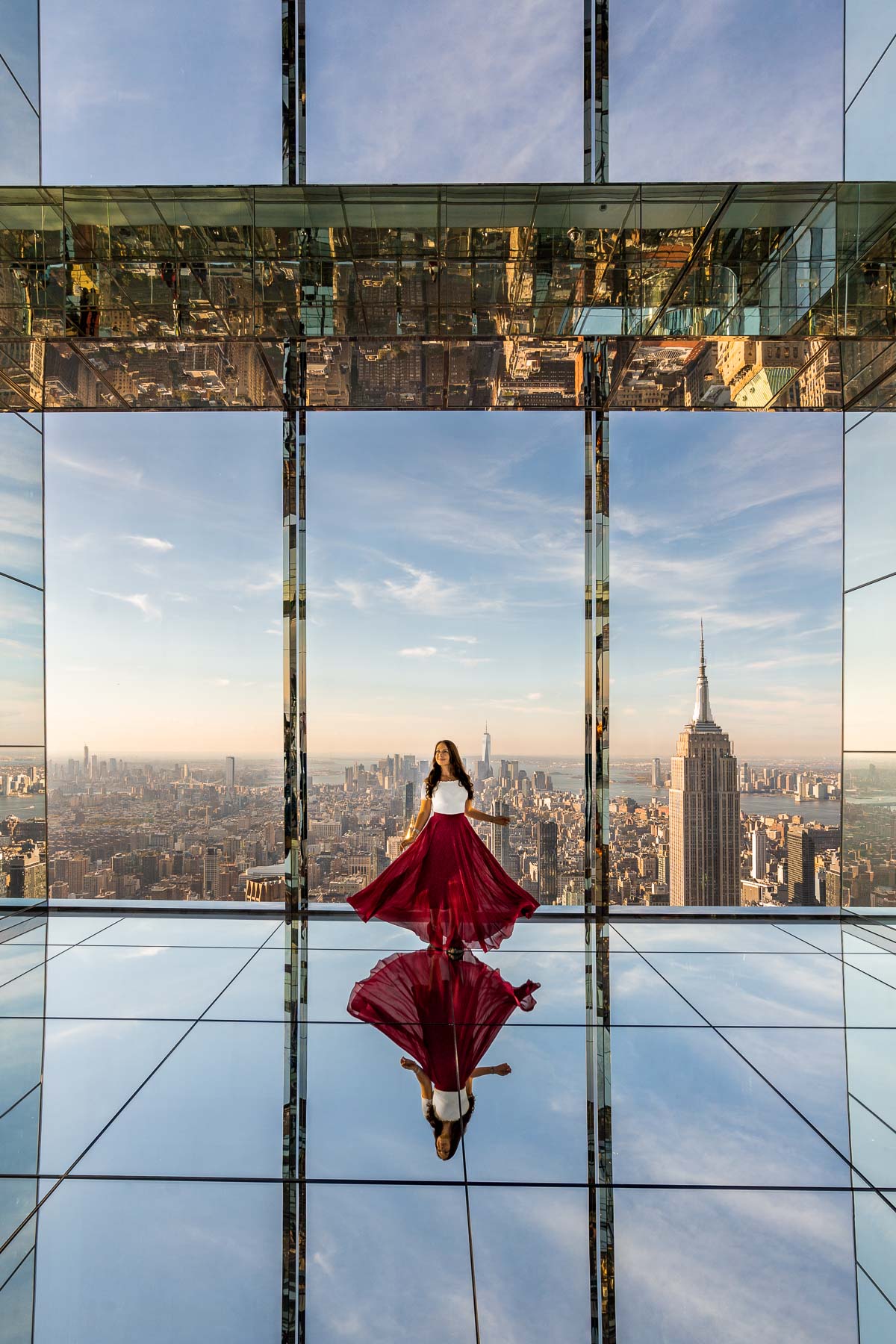 6. Window shop in Manhattan
New York is a dream for shopping addicts and is an exciting destination for tackling your Christmas shopping. However, if you're traveling to New York City in December on a budget or aren't looking to shop, you can always enjoy window shopping instead.
At this time of year, the window displays are like something out of a museum with every single store drumming up its own theme.
My guide to the most festive NYC Instagram spots mentions some of the most impressive displays like those you'll find at Saks, Macy's, and Cartier. But practically everywhere you look you'll spot designer brands and one-off boutiques bringing their own festive cheer to the streets.
7. Stroll through Central Park
Central Park is one of those places that you'll always want to make time for whether this is your first time visiting NYC or your fiftieth!
This ginormous park covers 843 acres of green space right in the middle of Manhattan and comprises lakes, sculptures, museums, and landmarks such as the Belvedere Castle and Bethesda Terrace.
While summer is the perfect time to picnic or sunbathe in the park, it's really charming to take a long walk through the grounds even during the colder months.
You can pay a visit to the most beautiful points of interest but also keep your eyes peeled for festive touches, such as the Pulitzer Fountain and the Wollman Rink.
Walking in Central Park is also one of the best free things to do in New York City in December as there is no admission charge and you'll get to see so many vantage points of the city.
And in case you need another excellent reason: with fewer tourists lingering in the park you'll have a better chance at taking photos without having to navigate around other people.
8. Watch the Ball Drop in Times Square
If this is applicable and you're wondering what to do in New York in December for New Year's Eve then you can do as the locals do and gather in Times Square to watch the ball drop.
This event has taken place in Times Square since 1907. Since the conception of this annual tradition, the ball has been fashioned out of everything from iron, wood, aluminum, and crystals.
The custom in fact stems from the Royal Observatory in Greenwich, London, where a red ball drops daily at 1 pm.
This fixture was devised to communicate the precise time of day to seafarers so that they could reset their timepieces and you'll find them all over the world. It was Adolph Ochs, owner of the New York Times who decided to repurpose the tradition for the citizens of NYC.
The ball is raised at 23.59 pm and the midnight drop celebrates the beginning of a new year of hope, challenge, and achieving dreams.
This annual event is open to all and is free of charge but you need to arrive early to secure yourself a spot in one of the "pens" where you can watch.
9. Shop and skate at the Winter Village at Bryant Park
Sponsored by the Bank of America, the Winter Village is a seasonal pop-up that takes place within Bryant Park on 6th Avenue.
Inspired by the open-air yuletide markets of Europe, this is a huge hub of holiday-themed food stalls, gift shops, dining igloos, and activities such as curling. In case you're looking for things to do in New York City this holiday season with kids, this is where little ones can meet Santa.
The other draw of the Winter Village is the ice rink which is free, courtesy of the bank. However, you'll need to hire some skates if you don't have your own pair and it's advisable to reserve your slot in advance as the rink gets super busy.
10. Be wowed at the New York Botanical Garden
The New York Botanical Garden is perfect for any plant lovers spending December in NYC! It's actually located in the Bronx and so it is often skipped by tourists visiting the city in a shorter time frame. However, it's great if you're a repeat visitor or planning a longer visit.
They always have something going on during the holiday and over the past few years, NYBG Glow has been a huge hit. This installation sees the landscapes and conservatories of the New York Botanical Garden transformed with colorful lights over a 1.5 miles (2.5 km) route.
There is also the option to ride the Holiday Train for an even more immersive experience and you'll find the Bronx Night Market Holiday Pop-Up waiting for you if you get peckish.
Admission to NYBG Glow is $35 US or $49 US if you book the combined ticket with the train. You can book your tickets in advance.
11. Catch a Broadway Show
If the Radio City Christmas Spectacular isn't your kind of thing, you can always snag tickets to a different Broadway show of your choice. This is on the bucket list for so many people and is a great idea as a Christmas gift experience while visiting New York in December.
Alongside the classic productions of The Lion King, Wicked, Chicago, and Hamilton, you'll usually find seasonal productions doing their rounds such as The Nutcracker, A Christmas Carol, and the recent sensation, Christmas Eve And Other Stories! By the Trans-Siberian Orchestra.
You can browse what's on and check ticket prices via the Broadway Box Office website. It pays to book way in advance if you've got your heart set on a particular show.
Alternatively, you can try and grab a last-minute deal if you are more flexible about what production you watch. Prices fluctuate drastically so be prepared to spend some time shopping around.
12. Indulge in High Tea
Although wandering around the city observing the Christmas decorations is all part of the charm, sometimes you'll just want to head indoors and cozy up.
One of the most luxurious indoor things to do in New York City in December is to splash out on an afternoon or high tea. Although technically it's a British tradition, it has become really popular in recent years in New York as well.
This is best enjoyed in one of the city's plush hotels. Check out the menus at The Palm Court at The Plaza, the Ty Bar at the Four Seasons Hotel, or the Pembroke Room at The Lowell Hotel if you're not limited by budget.
13. Sip cocktails with a view
Sampling the best cocktails in the Big Apple is another of the classic activities that get a whole new makeover when visiting New York City in December. As all the bars are dressed up in their holiday decor and drink menus come with a festive twist.
Magic Hour Rooftop Bar & Lounge at the Moxy Hotel Times Square is one of the most impressive. For the past few years, they have transformed the space into the "Pink Winter Lodge" – a rose-colored wonderland complete with pink trees and themed food and drinks.
Another option for your bar crawl, the PHD Terrace is situated on the roof of the Dream Hotel Midtown and shines during the winter months. This year's theme is "A Midwinter Night's Dream" and portrays a whimsical dreamland of foliage and fairy lights, including a flower tunnel.
Another place that I'd urge you to check out if you're planning on visiting Brooklyn is the rooftop terrace at the Time Out Market New York.
Although the market isn't great for food, you can grab a drink and check out the view from the terrace which gives a 360-degree perspective of Brooklyn Bridge and Manhattan. You don't even need to order anything as it's free to go up and take some photos.
If you want to visit a rooftop bar over the holiday season, make sure that you book your seats in advance.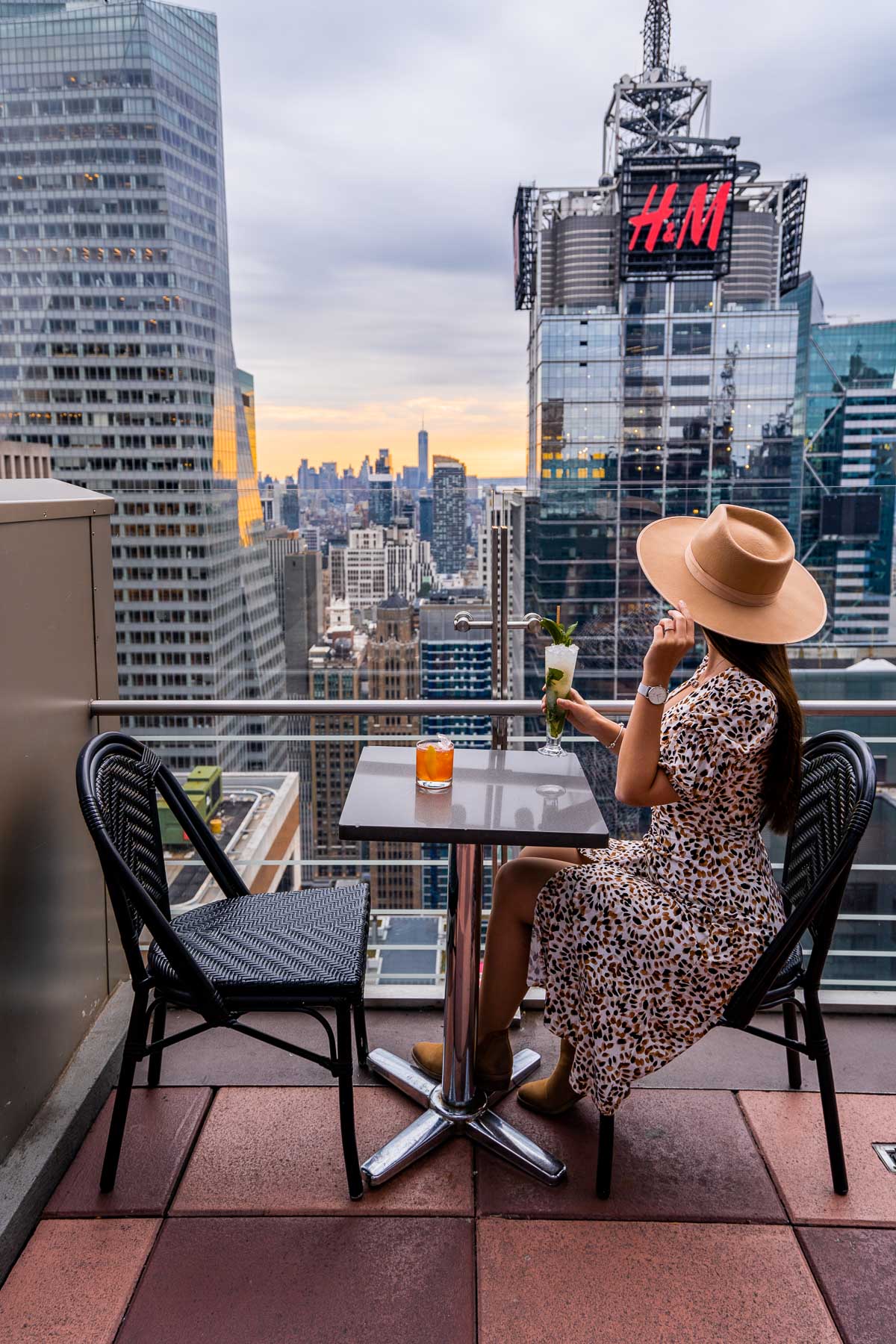 14. Browse the Union Square Holiday Market
The Union Square Holiday Market is an annual event on the New York festive scene! Much like the Winter Village at Bryant Park, this is a European-style market where you can browse all manner of artisanal and craft gift items.
The draw of the Union Square Holiday Market is that it takes place next to the Farmer's Market, a regular fixture that takes place in Union Square Park.
This occurs every Monday, Wednesday, Friday, and Saturday so if you are fortunate to be in town on one of these days you can visit both markets. The farmer's market is a hub of stalls where you can buy fresh vegetables, seasonal fruits, spices, breads, cheeses, pies, and flowers.
Visiting these two markets is one of the best things to do in NYC in December if you're staying in self-catered accommodation as you can pick up some fresh produce to cook with. There isn't an ice rink at the Union Square Holiday Market though.
15. Holiday cruise around Manhattan Island
Scenic cruises of the bay take place year-round, ferrying visitors and locals around Manhattan Island for picturesque views of the city. These tours are perfect for getting a panoramic perspective of New York City and are a dream for photographers, couples, and families alike.
During the holiday seasons, certain cruise operators take things to the next level with special festive cruises that are designed to make the experience all the more memorable and special.
Kitted out with holiday decor, vessels are toasty and warm, with champagne and cocoa flowing so that you can enjoy the views in style and comfort.
You can find special festive tours available throughout the month and there are also floating parties that take place on New Year's Eve.
If you're looking for one of the most unique things to do in New York City in December and are in a position to splurge, then check out this holiday yacht cruise with live jazz.
Where to stay in New York in December
If you are planning your NYC Christmas itinerary based around visiting all the best New York holiday photo spots then you'll want to stay in or as close to Midtown Manhattan as your budget permits.
Midtown Manhattan is where accommodation is most expensive however it will save you having to commute and contend with busy subway lines and buses.
If you're traveling on a tighter budget then you can look further out: Lower Manhattan, the Upper East Side, and Upper West Side all offer somewhat more affordable hotel stays.
Make sure you book your accommodation as early as possible to secure a place at a decent rate. Alternatively, you can try to nab a last-minute deal but this is a little risky.
For more comprehensive information on where to stay in New York, read my in-depth guide about the best areas to stay in New York City. If you want to take your vacation to the next level, check out these incredible NYC hotels with the best views!
If you're in a hurry, below you can find my top three hotel recommendations in Manhattan.
LUXURY – 1 Hotel Central Park
Offering a restaurant and a fitness center, 1 Hotel Central Park is located right next to Central Park. Each room will provide you with air conditioning, a seating area, and a private bathroom. The on-site restaurant, Jams, features an open kitchen and it is open for breakfast, lunch, and dinner.
MID-RANGE – Hyatt Place New York/ Midtown-South
Just a 5-minute walk from the Empire State Building, this Manhattan hotel offers free Wi-Fi and modern rooms equipped with a flat-screen TV. A corner sofa and a refrigerator are included in each room at Hyatt Place New York. A work desk along with coffee-making facilities is also included.
BUDGET – MOXY NYC Times Square
MOXY NYC Times Square offers pet-friendly accommodations and features free WiFi and a fitness center. All rooms are equipped with a flat-screen TV and air purification systems and each room has a private bathroom. Guests can enjoy the on-site restaurant and a rooftop bar.
---
Planning a trip to New York City?
Then you might want to take a look at all our other travel guides about NYC. I promise, they are just as awesome as this article was!
Accommodation guides:
Travel guides:
Christmas guides:
Travel quotes:
---
Pin It for Later!