From iconic big cities, world-class museums, and interesting historical sites to beautiful coastlines, breathtaking national parks, and natural wonders, the United States has so many diverse destinations that even a lifetime wouldn't be enough to explore all the beautiful places the country has to offer.
With the help of my fellow travel bloggers, we put together a list of the top 30 best places in the United States you simply can't miss. Whether you are a first time visitor or back for the must-sees, you will definitely find something new in this list to add to your USA bucket list!
*Disclosure: This post contains a few affiliate links, which means I may receive a small commission, at no cost to you, if you make a purchase through my link.*
No time to read now? Pin it for later!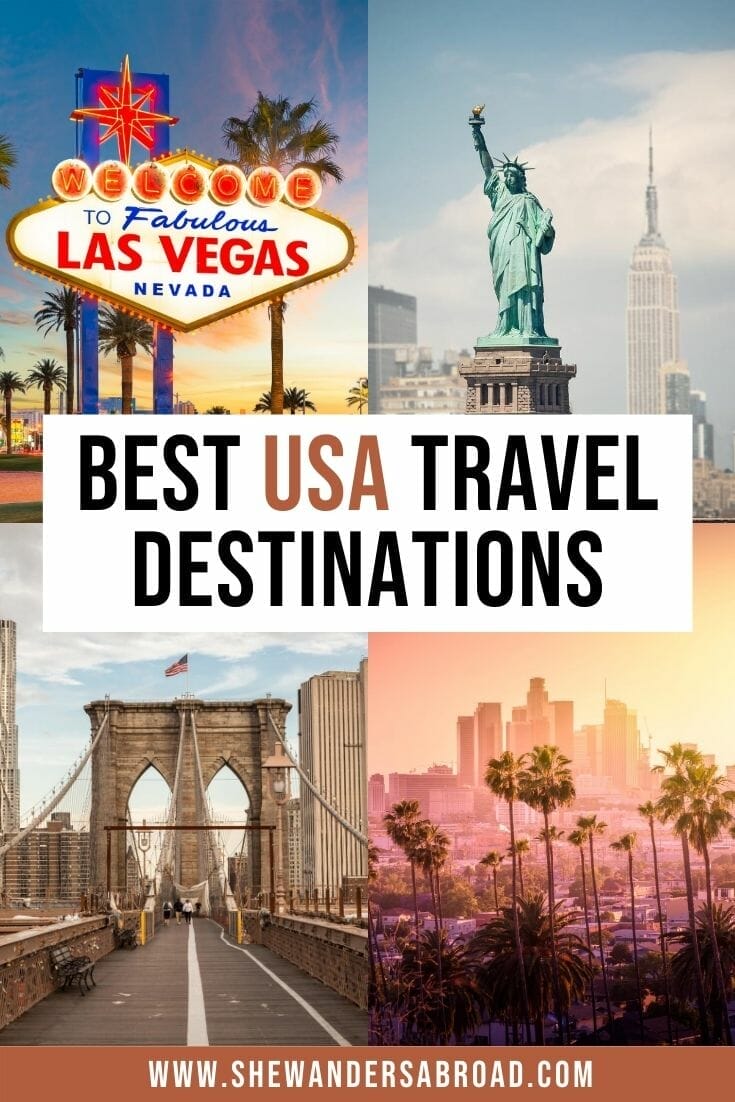 The Ultimate USA Bucket List
Choosing the absolute best places to visit in the United States was not an easy job as there are just so many beautiful places in the country! Whether you prefer mountains, beaches, hiking, city sightseeing, partying, or cruising, I'm sure you will find something new in this article to add to your USA bucket list!
1. New York City, New York
Recommended by Kriszti from She Wanders Abroad
New York City is one of the most famous places in the United States and it definitely needs to be on the top of your USA bucket list! The city receives around 65 million visitors per year so it's undoubtedly one of the most popular destinations among domestic and international tourists alike.
If you're looking for the best places to spend Christmas in the USA then New York City can be a perfect choice for that as well! In this case, you might want to check out my article about the best NYC Christmas photo spots and the best Christmas in New York itinerary.
The Big Apple boasts so many things that even a lifetime wouldn't be enough to discover everything. That being said, you can easily see the best sights in just one day in New York City!
If you're visiting NYC for the first time, spending 4 days in New York is the perfect amount to get a better feel of the city and visit more interesting places, even outside of Manhattan.
If you want to find the best views in the city, head over one of the three famous viewpoints: the One World Observatory, the Empire State Building, or the Top of the Rock. No matter which one you choose, the view will definitely leave you speechless!
Seeing the colorful neon lights in Times Square, taking a stroll in Central Park, and visiting the Statue of Liberty are a must when visiting New York.
If you love theatre, you definitely need to watch one of the Broadway Shows – it will be an unforgettable experience! For history and art lovers, there are tons of museums to choose from such as the American Museum of Natural History or the Metropolitan Museum of Art.
2. Yosemite National Park, California
Recommended by Jenny from Limitless Hiker
Yosemite National Park is one of the most iconic and most visited national parks on the West Coast. From the towering granite walls, the high mountains of the backcountry, to the stunning waterfalls, and so much more. There is something to do in Yosemite every season.
If you're looking for prime hiking and camping time, Yosemite is great in late spring and through summer. The waterfalls will be at their fullest, all of the hiking trails are open, the weather is warm, and perfect for taking a dip. In the fall, the leaves start to change colors to yellow and oranges. Finally, in the winter, Yosemite turns into a winter wonderland.
You can make your trip to Yosemite as short or as long as you'd like, a weekend or even one to two weeks. The longer you spend here, the more time you'll have to explore the different trails and areas of Yosemite.
In the summer, camping is one of the best ways to experience the park. Have dinner over a campfire, and at night, head to the Valley or Glacier Point to watch the Milky Way overhead. You can also stay in one of the few hotels inside the park.
You can spend your day rafting, hiking, backpacking, or just hanging out by a river or a lake. If you plan ahead, you can get a Half Dome permit and day hike or backpack this iconic trail. It's not an easy hike, so make sure to plan and train ahead.
When visiting Yosemite National Park, it's also important to follow Leave No Trace Principles. Follow the regulations on food storage in bear lockers or canisters, don't feed the wildlife, including the cute squirrels, stay on the trail and always camp on durable surfaces, not on vegetation, and always pack out all trash, including food scraps. This ensures these places stay as beautiful as they are today for generations to come.
3. Lake Tahoe, California
Recommended by Erin from Curiously Erin
If you're after an all-around location then you need to add Lake Tahoe to your USA bucket list. Lake Tahoe is a stunning forested region in eastern California about 3 hours inland from San Francisco or a short drive from Reno, NV. The area is known for its outdoor activities and year-round events.
Whether you visit during the winter months to ski at one of Lake Tahoe's famous ski resorts or during the summer months when hiking, water sports, mountain biking, and rock climbing are popular you're bound to have a great stay. Tahoe gets an average of 300 days of sunshine a year and summer temperatures are mild due to the higher elevations.
Ideally, a week would be the perfect amount of time to explore the area thoroughly. For those less outdoorsy there are great bars and restaurants around the lake and also at each resort.
There are also regular concerts, festivals, and outdoor movies. Take a drive around the lake stopping at Emerald Bay and the east shore beaches that you'll recognize from photos. Half of the lake is located in Nevada which makes it a great spot for nightlife and casinos.
Further north is the historic town of Truckee which is also worth a visit and floating down the Truckee River is a must.
4. San Francisco, California
Recommended by Kristel and Gabriel from Chef Travel Guide
Located on the west coast of the United States, this 7×7 mile-square city is easily one of the best places to visit in the country and no USA bucket list is complete without visiting it.
Visited by millions every year, this vibrant city is known for its majestic Golden Gate bridge, dynamic waterfront, diverse cultures, cable cars, and colorful Victorian houses.
You can also spend Christmas in San Francisco and enjoy its world-class cuisine ranging from food trucks to Michelin-starred restaurants, outstanding theaters and museums, and abundant parks and beaches.
It's apparent why it's arguably one of the greatest cities in the world and also one of the best Christmas destinations in the USA.
Even though the city is packed with a full range of activities, it is doable to see most major attractions in a day or two but the best way to experience it is to spend at least 4-5 days.
The iconic Golden Gate bridge is clearly at the top of the list where you can drive, bike, or walk across the 1.7-mile (2.7 km) span to marvel at the amazing views and take in its immense size.
Visit the Fisherman's Wharf to enjoy a clam chowder in a sourdough bread bowl, take a ferry ride to Alcatraz Island and see the barking sea lions at Pier 39.
Food lovers should stop by the Ferry building to find a variety of food stalls and enjoy their meals along a scenic waterfront. For a more local experience, visit the taquerias in the mission district and grab a burrito.
A trip to this city is incomplete without riding the infamous cable car as well as visiting Golden Gate Park. You should also visit Marshall's Beach for those iconic Golden Gate Bridge views – it's one of the best San Francisco Instagram spots for a reason!
The best months to visit San Francisco are May, September, and October. Make sure to bring layers as the weather can change abruptly as well as a good pair of walking shoes. The Union Square area is a good place to base yourself as it is centrally located and has access to public transit.
If you need some more inspiration for visiting San Francisco, make sure to check out my post about the best San Francisco captions for Instagram!
5. Napa Valley, California
Recommended by Anisa from Two Traveling Texans
Napa Valley is the best-known wine region in the USA and well worth a visit even if you aren't a wine drinker. It's one of the most beautiful places you will ever visit – the views will surely take your breath away.
There are over 500 wineries in Napa so you definitely need to add wine tasting in Napa to your USA bucket list! You could easily spend all your time wine tasting, some of the most popular options are Castello di Amorosa, Stag's Leap Wine Cellars, Burgess Cellars, and Domaine Carneros.
They also have some of the best restaurants in the country including the exclusive French Laundry.
To burn off all those calories, you could go for a bike ride or go hiking in Bothe-Napa State Park. Then, treat yourself by doing a hot air balloon ride or a relaxing mud bath in Calistoga. If you are interested in contemporary art, be sure to check out the di Rosa Museum too.
Since Napa is not too far from San Francisco, you could visit just for the day, but it's a destination that does deserve more time to explore. Then, you could also spend some time in Sonoma County too. As you can see, there are plenty of things to do in Napa besides wine tasting.
6. Yellowstone National Park, Wyoming
Recommended by Nathan from All About Glamping
Yellowstone National Park is one of the most popular parks in the entire world and there is a reason for it. Not only does the park offer amazing landscapes one would expect to find in a popular national park, but this park offers something even more unique.
Yellowstone gives a feeling of exploring another world, thus it needs to be on everyone's USA bucket list.
A large part of the park is situated on a giant volcanic hot spot. Steam, renowned geysers, and bubbling mud are common as are prismatic colors of hot lakes and ponds. It is something that has to be experienced in person to get the full effect of it.
Outside of the uniqueness Yellowstone provides visitors, it is also filled with an abundance of wildlife you would be hard-pressed to find anywhere else. Elk, bear, buffalo, and wolves are common occurrences on a drive through the park. It provides a truly remarkable experience and folks tend to make repeat visits.
There is so much to see in the park that it is recommended to give yourself at least 4-5 days minimum to explore it. If you do not have time to see everything, make sure you see the Grand Prismatic Spring, Upper Falls of the Yellowstone River, Mammoth Hot Springs, Norris Geyser Basin, Lamar Valley, and of course Old Faithful.
Although there are lodges, hotels, and RV parks to stay at near the entry points of Yellowstone, one of the best ways to experience the park and the raw nature it provides is by glamping (it's similar to camping but with luxury amenities). There are numerous glamping locations near the park entrances to choose from.
Near the gates to the park is where you will also find dozens of restaurants and bars to enjoy in the evening after spending the day in the park. A good restaurant/bar to start with is the Buffalo Bar in West Yellowstone, which offers delicious food and drinks with a unique atmosphere.
7. Las Vegas, Nevada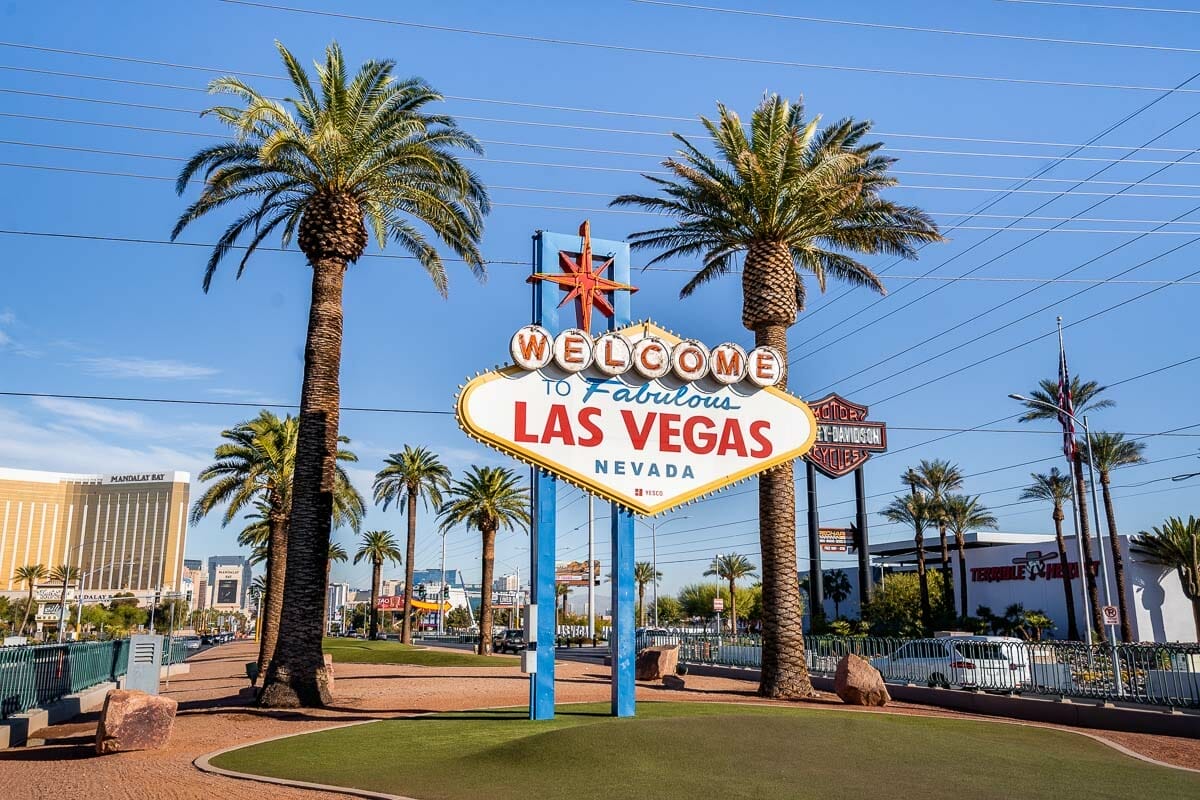 Recommended by Sally from Our3kidsvtheworld
Las Vegas is America's playground where flashing your cash and a little more is a national pass time. Most often referred to as Vegas or Sin City, Las Vegas is a city in the State of Nevada right in the middle of the Mojave Desert that definitely needs to be on your USA bucket list.
The Las Vegas Strip is surrounded by various luxury casinos and it is the best place to stay at. Vegas is one of only a handful of states where gambling is legal, along with almost anything else!
Vegas isn't all about casinos though, and there are countless fun things to do in Vegas besides gambling. It boasts fantastic shopping, expensive high-end restaurants, entertainment, and nightlife. Walking the Vegas Strip is entertaining enough at any time of day and you'll come across many of the best Instagram spots in Las Vegas any time of the day.
As one of the world's most visited cities, Las Vegas has to evolve with the times to keep the tourists returning. Many Americans visit Vegas for the weekend, whether it be a bucks night, hens night, or a romantic weekend resulting in a Vegas-style wedding in a chapel with Elvis as your celebrant.
Remember the saying: 'what happens in Vegas, stays in Vegas'. Although you can see a lot in just a weekend, it is recommended that you stay a bit longer.
Spending 5 days in Las Vegas allows enough time to really experience all Vegas has to offer and tackle some of the best day trips from Las Vegas such as the Valley of Fire State Park or Red Rock Canyon.
You'll find many luxury hotels lining the Vegas Strip and where to stay really only depends on your budget. You can't go past The Venetian Las Vegas for an Italian-inspired experience! If you're interested to know more about the hotel, read this in-depth review of The Venetian Las Vegas.
Bellagio is famous for its amazing water feature show, Caesars Palace is one of the most famous casinos in the world, and New York New York is replicating the famous city it's named after. Paris Las Vegas is another place you can't miss with the Eiffel Tower that can be seen from everywhere along the Strip.
8. Grand Canyon, Arizona
Recommended by Shandos from Travelnuity
The Grand Canyon is hands down one of the most spectacular natural wonders that you can visit in the United States. Despite how many photos that you've seen beforehand, actually seeing the canyon with your own eyes, awed by its immense vastness, is something that you have to experience at least once in your life.
The Grand Canyon is a fairly accessible place to visit. The more frequently visited South Rim is just a 90-minute drive from Flagstaff, Arizona. Alternatively, it's a 3.5-hour drive from Phoenix or a slightly longer 4.5-hour drive from Las Vegas.
Don't expect to just visit one lookout and tick off this natural wonder. While Mather Point just meters from the visitor center is one of the most popular lookouts, and shouldn't be missed, there are also countless other viewpoints, accessible by hiking, driving, or the park-run shuttle buses during peak season. Plan to spend at least a whole day there!
One of the most popular hiking trails is the South Rim Trail, starting a little east of the visitor center and continuing for 13-miles (21 km) to Hermit's Rest. It's an easy paved walk, that even pet dogs are allowed on.
More experienced hikers may want to consider hiking down below the rim but make sure you're prepared and avoid the hot conditions during the middle of the day in summer.
There are multiple accommodation options available at the South Rim, ranging from campgrounds to lodges, or else stay nearby in Flagstaff or Williams, about a 60-minute drive south. Food options are limited and expensive, so consider bringing your own supplies.
If you need some more inspiration for visiting the Grand Canyon, make sure to check out these amazing Grand Canyon captions for Instagram!
9. Death Valley National Park, California
Recommended by Katalin from Our Life, Our Travel
Death Valley National Park is one of the iconic places you must add to your USA bucket list. It holds several records: the highest recorded temperature in the United States with 134°F (56.7°C) was measured in Furnace Creek, and it is also the driest and deepest place in the continental part of the USA.
The national park was established in 1933, a short after the borax mining industry ceased its operation in the area. Although the excavation of the rare resource stopped, the previous decades left their mark on the landscape. Unique, colorful badlands surround countless other natural wonders.
Some of the must-see places are the Zabriskie Point with a panoramic view of the badlands, the salt flats, and the Eureka Sand Dunes. For those who want to see more, it is worth visiting the Ubehebe Crater, or the Devil's Golf field as well.
The park is on the border of California and Nevada, and can be reached in various ways: Las Vegas, San Francisco, or Los Angeles are just a few options where you can start your drive.
It is easy to spend a weekend in the Death Valley driving from one spectacular stop to another but you can visit the highlights with just one day in Death Valley National Park as well. You can stay at the hotels of the nearby settlements or in Furnace Creek.
The valley is hot and deserted, the best is to bring food and drinks with you as you don't have many options to eat out in the national park.
10. Page, Arizona
Recommended by Jessica from Unearth The Voyage
One of the best places to visit in the United States is Page, Arizona. The number one reason people go to Page is that it is the home of the famous Antelope Canyon.
Antelope Canyon is a slot canyon that you can hike through and see the gorgeous colors that this natural wonder creates. Many people like to go at specific times when the sun shines through the top of the canyon and creates gorgeous light beams inside the canyon.
Another amazing thing to see in Page, Arizona is the Horseshoe bend. Horseshoe Bend is a famous overlook of the Colorado River and is very popular to photograph at sunset. Make sure you get there early as it gets super crowded!
Another great thing to do in Page is to check out Lake Powell. You can rent boats or kayaks to check out the river and you can even go on kayak tours of the river.
It is recommended to spend at least 3 days visiting Page as there is so much to see and do here. If you enjoy camping, there is a great campground called Wahweap RV and Campground. If you aren't into camping, it's best to stay at the Hyatt Place for its gorgeous views out over Lake Powell.
11. Havasupai Falls, Arizona
Recommended by Jeanine from Le Wild Explorer
Havasupai is a beautiful Native American reservation located in Arizona, just west of the Grand Canyon. It's the perfect destination if you love waterfalls, enjoy hiking in the canyons, and swim in turquoise waters.
Getting there isn't easy and that's what makes it extra special. It requires a 10-mile (16 km) hike down the canyon and you'll have to obtain a Havasupai backpacking permit which is only available once a year in February. But once you have that you're set for an amazing adventure.
To make the hike there and back worth its while, it's recommended to stay at least three nights. There is plenty to do such as experiencing the famous Havasupai Falls and the other waterfalls: Mooney Falls, Navajo Falls, Fifty Foot Falls, Beaver Falls, and more.
You can hike down to the Colorado River confluence which leads you out of the reservation and into the Grand Canyon. It's the perfect spot to relax, go swimming, stargaze, and hike.
There is a cafe in town but you'll want to pack your own food. Camping-style meals like MREs are great for making your own dehydrated meals and heating up water with a small portable stove or JetBoil. There is a clean water source so you'll only need to bring water for your hike in and back out.
Camping spots are first-come, first-serve, so scout around for the perfect spot near a tree for shade or by the river for some scenery. It's a beautiful place to visit in late spring to early fall but it does get quite hot. Hiking in the early morning is recommended to beat the heat. Enjoy this lovely oasis!
12. Zion National Park, Utah
Recommended by Nicole from American SW Obsessed
Zion National Park is located in the southwestern corner of Utah and is about a four-hour drive from Las Vegas. It is the most popular of the Mighty 5 National Parks in Utah.
Zion is known for its beautiful scenery and there are some incredible hikes in Zion National Park. Hiking in Zion is the best way to see the national park so you definitely need to add it to your USA bucket list!
Canyon Overlook Trail is one of the best hikes in Zion with spectacular views. The trail starts with some steep elevation but once past the initial steps, this trail is relatively flat for the remainder of the hike. It is classified as a moderate hike but it is quite short as it's only a 1-mile (1.6 km) round trip.
If you want to hike to a waterfall, the Emerald Pools hike is for you. This hike is only a 2 mile (3.2 km) round trip but you are rewarded with many beautiful waterfalls. This is a must-do when at Zion and one of the most popular day hikes after hiking the Narrows.
It's best to stay in Springdale which is just outside the park and you will find plenty of dining options there as well.
13. Arches National Park, Utah
Recommended by James from Parks Collecting
Arches National Park in Utah is one of the best national parks to visit in the United States. It's recommended to spend at least three days there in order to see all that it has to offer and do all of the hikes.
The park, home to dozens of incredible natural arches and beautiful fins or ridges, is divided into several key areas to explore. Note that there is one road in and out of the park, so traffic can be congested, especially in summer, so get there early.
The Park Avenue section contains a lookout and a fairly easy hike through a canyon of cliffs. The Windows section has several major arches, including the beautiful Double Arch and the North and South Windows, that can be reached by short walks from the parking lot.
The Fiery Furnace section is a labyrinth of rock fins that can only be accessed on a ranger-led guided hike or with a special permit.
The most famous arch in the park (it adorns Utah's license plates) is Delicate Arch. Aim to get there for the sunset, when it glows golden in the last rays of the day.
The longest and arguably the most rewarding hike, however, is the Devil's Garden Trail, a challenging full-day hike. There are three sections, each one progressively more strenuous, passing eight arches, crossing the tops of narrow fins, and even wading through pools of water in season.
There is only one place to stay inside the park – Devil's Garden Campground. The campground is basic (there are toilet facilities, but no showers), but the location is second-to-none. You will be surrounded by fins and have a perfect view of the back of Skylight Arch.
Most people stay in nearby Moab, where there is a range of hotels, campgrounds, restaurants, and adventure sports tour operators.
14. Los Angeles, California
Recommended by Zack from Florida Man on the Run
Los Angeles is a city that is jam-packed with places to see. The second-largest city in the United States is full of museums, scenic views, and iconic locations.
Depending on the amount of time you have in the city, you'll have to pick and choose what to see. However, no matter how much time you have, the followings are the two must-see places even if you're spending only a weekend in Los Angeles.
For the best views of the city, you have to head up to Griffith Observatory. You can take tons of photos at one of the most Instagrammable places in LA, watch the sunset behind the LA skyline, then enjoy the stars from the roof of the Observatory.
If you're feeling frisky, the park around the Observatory is a great location for hiking within minutes of the city! No trip to Los Angeles is complete without a stop here and it's even one of the ten must-see places on the Pacific Coast.
If you're coming to Los Angeles for some of its fabled sunshine and weather, then your other must-visit destination is the Santa Monica Pier. Seen in countless shows, movies, and commercials, the Santa Monica Pier is peak Los Angeles.
Featuring a classic boardwalk theme park, the Pier stretched out over the blue waters of the Pacific. Enjoy the carnival rides and then hit the beach to soak up some sunshine.
Los Angeles is easily one of the best places to visit in the United States and it needs to be on everyone's USA bucket list. Not just as a destination in and of itself, but also as a great base to explore all of Southern California!
15. Joshua Tree National Park, California
Recommended by Allison from Eternal Arrival
If you're looking for a great place to visit in the United States with unique landscapes and flora and fauna you won't find anywhere else, you need to visit Joshua Tree National Park in Southern California.
This national park is in the middle of the desert and is home to the unique Joshua tree, a type of cactus-like tree that is only found in the Mojave Desert.
It's a great place to visit because there are incredible places to stay in Joshua Tree, from hipster Airbnbs to Airstream trailers and cute Joshua tree cabins, all great for a getaway from Los Angeles or other places in Southern California. You can also go on lots of unique hikes in Joshua Tree, visit places like the Cholla Cactus Garden, and explore the historic parts of Joshua Tree like Keys Ranch.
Although it's recommended to spend at least 2-3 days in the park, you can actually visit most of the highlights on just a Joshua tree day trip. It's best to get an early start and do a hike, relax in your chic accommodations in the desert heat, and then go back out for a sunset hike when the heat has broken a bit.
It's best to stay in a cabin or vacation rental near Joshua Tree whether it's by the park entrance or close to the cute town of Joshua Tree. You can also stay in nearby Twentynine Palms, Yucca Valley, or even Palm Springs. Don't forget to get a tasty vegetarian dinner one night at Natural Sisters Café in Joshua Tree!
16. Palm Springs, California
Recommended by Jordan from Inspired by Maps
Springing from the barren Sonoran Desert in southern California, the oasis city of Palm Springs definitely has to be on your USA bucket list.
The fabled hangout of the Rat Pack in the 50s and 60s, Palm Springs maybe have had a few slump years in between but over the past decade has found its stride again, harnessing its retro-chic vibes and can showing guests one hell of a good time.
It's not just the hip Instagram crowds and lovers of modernist architecture that flock here either. Palm Springs has cultivated an atmosphere of acceptance and is known to be open to everyone. In fact, it is often called one of the gayest places per capita in the world.
It is probably this sense of being at ease that makes Palm Springs unusually appealing for weary travelers looking to rest and unwind. However, having 300 days a year of sunshine definitely doesn't hurt.
There are so many things to do in Palm Springs whether you want to hike in the desert, hop from bar to bar, cherish the fabulous treasure trove of midcentury architecture or park yourself by the hotel pool.
Then there are world-class golf courses, the famous Living Desert Zoo, or Palm Springs Aerial Tramway, which takes you to the otherworldy pine forests in Mount San Jacinto State Park.
If you are planning the best time to visit, try the 11-day celebration of midcentury architecture that is Modernism Week, or if you are into music, then timing a trip around Coachella Festival is a must.
You are spoilt for choice for hotels but should first consider the colourful Saguaro Palm Springs or stylish ACE Hotel And Swim Club.
17. San Diego, California
Recommended by Maria from San Diego Explorer
San Diego is the perfect California beach city and a must on any USA bucket list. The climate in Southern California makes San Diego a great choice pretty much year round. Even in winter, you rarely need a jacket and in the summer, it does not get too hot (at least near the ocean).
Also known as America's Finest City, San Diego has so much to offer, whether you are in the mood for a beach getaway at one of the many beach rentals in San Diego, a fun time in the city, or a mix of both.
There is a lot of stuff to do in Downtown San Diego: from eating delicious food at one of the many great restaurants, strolling through the cute Little Italy district, visiting the Midway Museum, strolling through Seaport Village, or having a fun night out in the Gaslamp Quarter, San Diego has something for everyone.
If you love the outdoors and animals, visit Balboa Park and the world-famous San Diego Zoo is also located in Downtown.
San Diego has some of the best beaches in Southern California. Some of the most popular ones are Mission Beach, Coronado, and the beaches in La Jolla. You can relax on the sand, take surfing lessons, or ride your bike along the boardwalk for a fun day on the beach.
If you are into hiking, check out Torrey Pines State Park. You will find some stunning trails overlooking the Pacific, and if you are lucky, you might even spot some whales.
San Diego has so much to offer and is simply a fun city, no matter what you are in the mood for.
18. Miami, Florida
Recommended by Ashley from Jetset Jansen
Miami is typically associated with its all-night party scene, but it has so much more to offer than spring break debauchery. The magic city is full of art and culture.
There are art museums, installations around the city, and the famous Wynwood Walls – an area with art murals around every corner. Even the lifeguard stands on the beach are designed with Miami's art deco inspiration.
The beach itself goes up the coast and is wide enough for locals and vacationers. When you've soaked up enough sun, you can head to Lincoln Road, a popular walking street lined with cafes that make the perfect people-watching spot. South Pointe Park is a great place to walk by the water and watch the cruise ships sail by.
At night is of course when the city comes alive. Head to a major club like LIV or E11even for a sleepless night or any of the numerous bars in South Beach for tasty cocktails.
Beyond the art and club scenes and equally as impressive, is the food scene. Miami is a culinary dream capturing so many different types of cuisines from around the world. It's full of famous chefs, fusion menus, and delectable treats. You can eat till your heart's content but make sure your wallet is prepared!
Whether you stay for a week or a weekend, it's worth putting Miami on your USA bucket list as you'll have plenty of amazing things to see and do! If you need some more inspiration for visiting Miami, make sure to check out these amazing Miami quotes & Miami captions!
19. Key West, Florida
Recommended by Lori from Travlinmad
If you're looking for one of the most unique places to visit in the US, without question head to Key West, Florida. It's fun and so easy to get to.
Many air carriers provide service to the Key West Airport, or you can fly into one of the airports in southeast Florida and rent a car for the drive from Miami to the last stop on Highway A1A.
You won't need a car in Key West. Parking can be a hassle and you can comfortably walk or bike just about anywhere.
Unplugging and relaxing are at the top of the list of the best things to do in Key West. Old Town is a tropical paradise in the heart of the historic district surrounded by classic Key West conch houses and Victorian mansions, many of which are now Key West Airbnbs and luxury hotels.
Simonton Street has some of the best places to stay in Key West. From there, it's an easy walk to Duval Street where you can enjoy a self-guided pub crawl known as the Duval Crawl. Then head to Mallory Square for a fiery Key West sunset.
Plan a long weekend in Key West to enjoy great food, a bar scene like no other, visit historical sites or try one of just about every water sport imaginable. But it's also encouraged to just lounge in the sun with a tropical cocktail. After all, indulging yourself is why you come to Key West.
For a truly relaxing experience, take a sunset snorkeling cruise aboard a sailing catamaran. It's as relaxing as it gets in Key West, and listening to Bob Marley while watching a fiery sunset is icing on the cake.
20. Orlando, Florida
Recommended by Apryl from Southern Traveling Gal
Although visiting the theme parks is undoubtedly one of the best things to do in Orlando and it's often referred to as the "theme park capital of the world", it's also a city filled with cultural attractions, outdoor activities, eclectic neighborhoods, and more.
It's well worth the time to step away from the newest ride and discover what the Central Florida destination offers.
If time is a premium, such as a half-day or a day to explore, head downtown. Start with a visit to the Orange County History Museum that provides insight into the area's rich past.
Afterward, either head to Lake Eola and enjoy a stroll around the lake or a mini-workout on the swan paddle boats, or Thorton Park and grab a treat (or two) from Benjamin's French Bakery.
For those with two to four days to spare, spend one of those in Winter Park, and shop along the exclusive Park Avenue. For something a little different, go on a two-hour scenic boat tour through the lakes and canals.
Relax and enjoy the surroundings in Central Park. Don't miss the Morse Museum of American Art, home to the most comprehensive collection of works by Louis C. Tiffany.
Fill the remaining time with visits to Harry P. Leu Gardens with its nearly 50-acres of flora and fauna, and Loch Haven Park, where Orlando Museum of Art, Mennello Museum of American Art, and other venues are located.
Much like the city itself, Orlando provides a wide variety of accommodations. Options range from staying downtown at Grand Bohemian or a little way out at one of the Rosen hotels. Looking to splurge, consider JW Marriott Grande Lakes.
21. Kennedy Space Center, Florida
Recommended by Tatiana from Family Road Trip Guru
Kennedy Space Center in Cape Canaveral, Florida is a must-visit attraction in the United States. There are national parks, museums, and beaches all over the world but Kennedy Space Center is one of a kind.
On the one hand, it is an active NASA space center with rocket launching pads, on the other hand, it is an educational/entertainment park with phenomenal exhibits, tours, and experiences.
Here you can see Shuttle Atlantis, take a narrated bus ride to launch pads, participate in a virtual experience of launching a Saturn rocket at the mission control, train like an astronaut on astronaut training simulators, and much more.
Don't miss fascinating exhibits in the rocket garden and at the Journey to Mars exposition. You can also watch space movies at the state for the art IMAX theater. Another unique opportunity offered at the Kennedy Space Center is meet and greet sessions with actual astronauts.
There are so many things to explore and experience at the Kennedy Space Center that you can easily spend the whole day there and not see everything. You will be given a schedule of events at the entrance which will tell you everything that is happening at the park that day – enjoy your visit!
22. Oahu, Hawaii
Recommended by Holly from Globeblogging
Perhaps the most touristy of the Hawaiian islands, Oahu is a veritable treasure trove of things to see and do, and the warmer temperatures mean it's possible to enjoy the stunning beaches and ocean waters all year round.
Anything from a week to ten days is a great duration, and the first-time visitor will have no problem filling their Oahu itinerary and may still have to make difficult choices.
There is no doubt that Pearl Harbor is a must-see, and not just for the history or military buffs. It is a powerful memorial to a significant event in the history of the US and its part in the world, and it's a common misconception that all there is to see is the USS Arizona Memorial.
In fact, visitors can walk through a decommissioned submarine, explore the last US battleship and stroll through the Aviation Museum.
Hollywood's Hawaii set, Kualoa Ranch needs to be on the list of any movie buff, while a hike to the top of the Diamond Head crater offers spectacular panoramic views of the island and a slice of military history being a critical defense post for the island.
For something a little different, it is worth considering a Photo tour with Oahu Photography Tours. Led by a professional photographer who will give you tips on improving your photography no matter what equipment you are using, it's also a great way to see parts of the island that you might not have otherwise visited. The country sunset tour finishes watching the sun sinking over the ocean on the North Shore.
Hawaii is famous for its shopping, and bargain hunters should head to the outlets at Ala Moana. Bus services run regularly from Waikiki, undoubtedly the most tourist-laden region on the island.
For a quieter accommodation alternative that is still an easy walk from the Waikiki center, check out the Coconut Waikiki Hotel.
23. Chicago, Illinois
Recommended by Theresa from Your Chicago Guide
Chicago, with its vibrant urban culture and relaxed Midwestern hospitality, is a cosmopolitan city filled with charm. Ask a local and you'll quickly learn that you could spend a lifetime exploring its neighborhoods, museums, attractions, and other things to do.
The culinary scene is second-to-none in the Second City, with everything from groundbreaking, award-winning chefs to mom and pop storefronts that serve the best comfort food around.
Part of what makes Chicago great is that it rebuilt itself literally from the ground up after the Great Chicago Fire of 1871. It's the birthplace of the skyscraper, and its skyline showcases the creativity of world-renowned architects like Louis Sullivan, Mies van der Rohe, and Jeanne Gang.
Museums in the Windy City cover the breadth and depth of human and natural experience. The Museum of Science and Industry is in a building that dates to the Columbian Exposition of 1893.
Field Museum, Shedd Aquarium, and Adler Planetarium sit in the Museum Campus and offer education inside and the best views of the city outside.
Speaking of outside, the lakefront path provides access to miles of beaches along Lake Michigan. There are thousands of acres of parks across the city, including Lincoln Park and its free zoo; Grant Park, known as Chicago's front yard; and Millennium Park and its concerts and reflective Cloud Gate sculpture, which is one of the most Instagrammable places in Chicago.
The lakefront is a third-coast playground where you can perfect your golf swing, learn how to shoot a bow and arrow, spike a volleyball, go for a sail, or just soak in the sun.
In the winter, downtown Chicago has multiple ice-skating rinks and the underground Pedway provides sheltered access to shopping in the Loop.
History lovers can choose to stay at the Palmer House Hilton, a wedding present that's nearly 150 years old, or the Kimpton Gray, in a building designed by the inventor of the skyscraper. Radisson Blu offers modern accommodations in the stunning Aqua building and provides great views of the lake.
If you need more help with choosing where to stay in Chicago, check out this in-depth guide about the best areas to stay in Chicago!
There are many more things to do in Chicago which is why it's recommended to spend at least 3 days in Chicago. It is a truly magical place that needs to be on your USA bucket list and one you'll want to visit again and again and again.
24. Boston, Massachusetts
Recommended by Linn from Amused by Algarve
Boston is among the must-visit cities in the US. As one of the oldest cities in the country, there is so much history to dig into.
You should definitely spend a week there if you can, but even with one day in Boston you will get a good feel of it and you can surely come through a lot of the main attractions. If you have more time, you can also go on some awesome weekend trips from Boston!
With a 43-mile-long harbor walk, it is the only state capital in the United States with a coastline. Get on a whale watching tour if you're there between April and October.
Head to the Boston Common, the oldest public park in the country, established all the way back in 1634. Check out Boston Public Library if you're into astounding architecture. It has been ranked as the most beautiful library in the US, and not without a reason. For great views, you can climb the Skywalk Observatory at sunset.
To get the most out of your time in Boston, make sure you walk the 2.5 miles (4 km) long Freedom Trail which takes you past 16 of the most significant places in US history. You can walk the tour in 90 minutes or you can spend a whole day visiting each place along the trail.
If you need some more inspiration for visiting Boston, make sure to check out these amazing Boston captions for Instagram!
25. Acadia National Park, Maine
Recommended by Kriszti from She Wanders Abroad
Acadia National Park is one of the most popular East Coast national parks and for good reason. The park is home to some of the most stunning coastline in the USA and it's also one of the best places in the country for hiking.
It's best to visit the park between May and October when all the roads and hiking trails are open. The summer months are definitely the most popular time to visit the park and Acadia receives a bump in visitors around mid-October as well, during the peak fall foliage. If you're planning a New England fall road trip, definitely don't miss out on Acadia National Park!
The closest airports to Acadia are located in Portland, Maine and Boston, Massachusetts. Alternatively, if you're flying domestically, you can fly to Bar Harbor Airport as well. Actually, Bar Harbor is the best place to stay near the national park, unless you want to go camping.
If you have your own car, you can drive through Acadia National Park but if you don't have a vehicle (or you just simply don't want to drive), you can take advantage of the fare-free Island Explorer.
Acadia National Park Entrance Passes are valid for seven consecutive days and cost $35 US for private vehicles, $30 US for motorcycles, or $20 US per person in case you're visiting without a car. In case you have the America the Beautiful Pass, you can go inside for free!
Spending 2 days in Acadia National Park is the perfect amount of time to see the highlights, stretch your legs on the hiking trails, and get out on the water to look for wildlife. Don't miss driving through Jordan Loop Road, hiking the Ocean Path or the Beehive Trail, catching the sunrise on top of Mount Cadillac, or taking a boat tour in Bar Harbor.
26. Philadelphia, Pennsylvania
Recommended by Derek and Mike from Robe Trotting
One of the best American destinations for a city break is the east coast gem of Philadelphia. There are so many things to do in Philadelphia, and among them are historical attractions and world-class museums. On top of that, the city is a foodie paradise for local favorites and some of the nation's best fine dining.
In Philadelphia's Old City neighborhood you'll find Independence Hall, where the American Declaration of Independence and Constitution were signed. Free guided tours are offered throughout the day and the building sits on the most historic block in the most historic square mile of the entire country.
Within steps, you can visit the Liberty Bell, the Benjamin Franklin House, Betsy Ross House, the Presidential Mansion of George Washington, and many other well-preserved sites.
Another nearby attraction is the National Constitution Center, a government and civic museum. Across the city, you can also visit the famous Philadelphia Museum of Art.
Visitors of all ages love the Franklin Institute, a brilliant science museum, and planetarium. If you're looking for an offbeat museum, the Mutter Museum of Medical Oddities is a unique museum experience in Philly.
Of course, while you're in Philadelphia you want to try some of the local foods like soft pretzels, tomato pie, and a cheesesteak. All Philadelphians have a favorite cheesesteak place, and if you don't know where to go, ask someone for a recommendation. No matter what, avoid the two tourist trap cheesesteak stands – Pat's and Geno's.
For a high-end dinner check out the restaurants on the 13th Street Corridor of the Gayborhood. There you'll find El Vez and Sampan among a collection of fabulous restaurants.
27. Washington, D.C.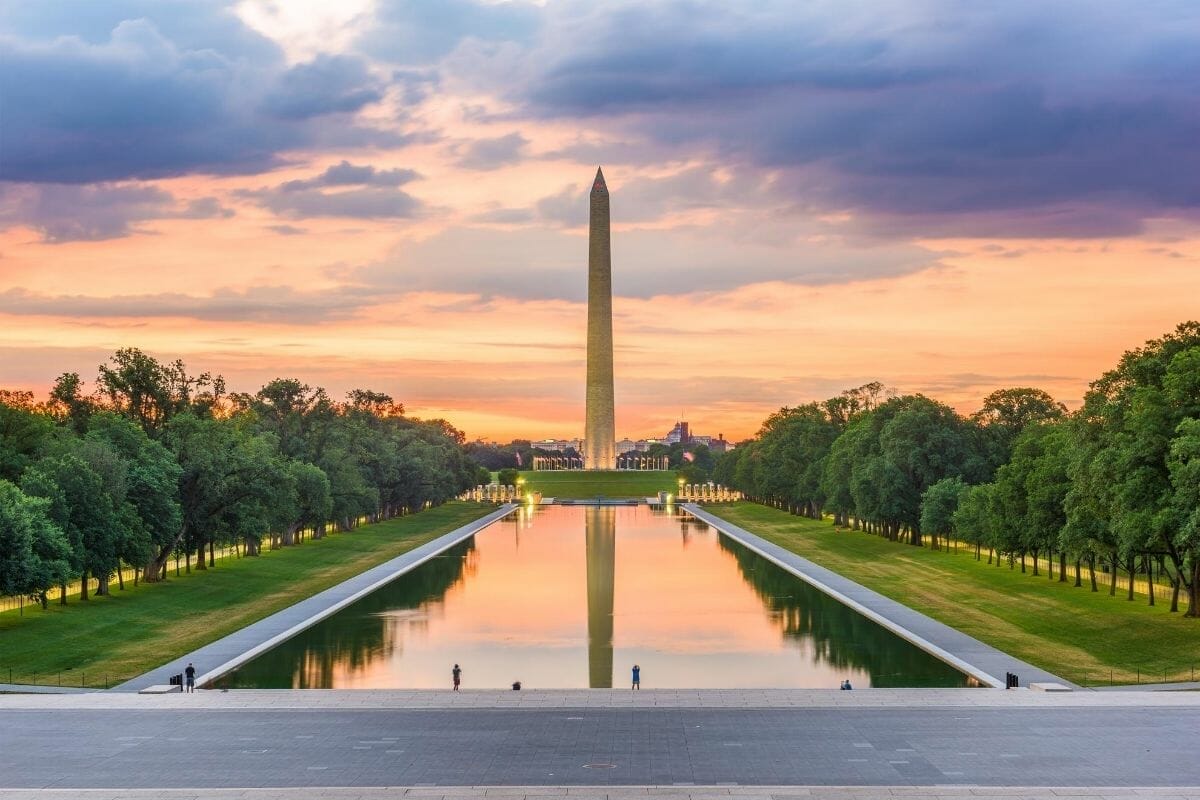 Recommended by Kenny from Knycx Journeying
Washington D.C., or simply known as D.C., is located on the Potomac River bordering Maryland and Virginia. It is one of the world's most important political capital, and it has also an impressive list of national monuments, landmarks, and museums.
For first-timers, it requires at least three days to cover all Washington D.C.'s must-sees; visitors can easily spend a week in the city had they decided to get acquainted with this beautiful city a little bit more thoroughly.
Most of the city's attractions are lined up along the famous National Mall. Sign up for a guided tour in the Capitol and the White House, pay respect at Washington Monument and Lincoln Memorial, join a delicious DC Food Tour or hop on a hop-on-hop-off bus that will travel to the Thomas Jefferson Memorial.
The Arlington National Cemetery and Pentagon on the other side of the River are also unmissable when visiting Washington DC.
Don't forget to explore the Smithsonian Institution museums. It is a group of museums and research centers administered by the Government of the USA. Collectively, there are twenty museums under the Institution and eleven of them are at the National Mall. They cover a wide range of topics and genres from art, history, to science and technology.
Some of the most popular attractions include the National Museum of American History, National Museum of Natural History, Smithsonian American Art Museum, Smithsonian Institution Building, National Zoological Park, and the National Air and Space Museum.
National Gallery of Arts and its Sculpture Garden is another art museum in the cluster. It houses both Western European fine arts and American art exhibits from the 18th century and beyond.
Once you have experienced what the city's landmarks have to offer, shop in a local boutique store or unwind in one of the cafés in Georgetown, as you will probably plan another visit soon before you leave.
If you need some more inspiration for visiting the US capital, make sure to check out my post about the best Washington DC captions for Instagram!
28. New Orleans, Louisiana
Recommended by Lindsey from Have Clothes, Will Travel
New Orleans is a city in the southeastern part of the US along the Mississippi River in the state of Louisiana. It's one of the most unique cities in the country, bubbling with excitement and history at every turn. 3 days in New Orleans is the perfect amount of time to see the highlights of this city.
One of the many reasons to visit New Orleans is because it has some of the most delicious food and drinks in the country. Be sure to try gumbo, a po'boy, and a beignet while you're there (just to name a few of the delectable dishes).
One of the best things to do in New Orleans is taking a food tour, so you can get a fantastic sampling of all the local cuisines and learn the difference between their Creole and Cajun cooking.
New Orleans is also the place where jazz was born. Here, you'll find many incredible live jazz shows at night.
It's also said to be the place where Voodoo was introduced in the United States. So, there are many haunted history and Voodoo tours to choose from! Many first-time visitors say this is the highlight of their experience in NOLA.
And if that isn't spooky enough for you, don't miss out on a cemetery tour while here! NOLA's tombs are above ground (due to the high water table), and are actually quite beautiful to see.
If you need some more inspiration for visiting New Orleans, make sure to check out my post about the best New Orleans captions for Instagram!
29. Great Smoky Mountains, Tennessee
Recommended by Cee from Itz a Family Thing
If you are looking for adventurous fun and nature all in the same, look no further than the Smoky Mountains National Park. It is one of the best places to add to your USA bucket list any time of year because there is so much to do.
You can start with day hikes to waterfalls throughout the park. If you are lucky, you may be able to catch a glimpse of wildlife such as bears, bobcats, or deer. Just remember to keep your distance, but enjoy the view.
If you plan on hiking a lot of the trails in the park, plan to spend at least four days here, although you could quickly fill up a week because there are so many trails to explore.
After leaving the park, you can head to the Island in Pigeon Forge. Be sure to stop at the Ole Smoky Moonshine for a whiskey sampler. If you are up for it after having some moonshine, take a ride on the wheel to catch amazing views of the mountains.
Also, if museums are your thing, the Alcatraz Museum is a cool stop.
Although this may seem like a "small town" there is a lot of traffic, be prepared to leave earlier if you have to be somewhere at a specific time. Wyndham at the Smoky Mountains is a great place to stay if you plan on cooking. If you plan on eating out, there are a lot of cabins to rent along the main road.
To get the most out of your time at the Smoky Mountains, be sure to explore Gatlinburg. The skylift gives you incredible 360 views of the mountains. Once you reach the top of the mountain, there is a small amusement park, or you can just take in the views. For the adventurous traveler, there is white water rafting in Gatlinburg.
If you have time, Knoxville is a fun destination that is only 30 to 40 minutes away. Knoxville is where you can get some of the best BBQ in the state, starting with Sweet P's BBQ.
30. Seattle, Washington
Recommended by Chrysoula from Travel Passionate
Seattle is a chic, cosmopolitan city that is ideal for culture lovers, foodies, art buffs, and even those who want to combine city exploration with outdoor adventures.
While it's best to visit this northern city during the summer months for longer, drier days, spring, autumn and winter can be interesting times to travel too. Seattle is known for being pretty rainy though, so you'll want to pack accordingly in order to really make the most of your trip.
First-time visitors will want to spend at least three days in Seattle to ensure there's plenty of time to see the highlights such as the Space Needle, Kerry Park Viewpoint, Pike Place Market (and the Original Starbucks), the Gum Wall, and the Seattle Waterfront.
The Space Needle is probably the most popular attraction in the city so you'll want to book in advance to avoid disappointment and try to aim for a clear day to get the best views.
If you want to take your vacation to the next level, you can book some stunning hotels in Seattle with a view – you can even wake up to the view of the Space Needle!
Additional time will then allow you to explore some more of the museums and parks as well as head out of the city to sites such as the Boeing Museum or the beautiful Mt. Rainer.
If you have time, taking a cruise in the harbor can be a lovely way to admire the city from a new perspective, learning about Seattle's history and landscape from the audioguide while you cruise along the Elliot Bay Waterfront.
If you've never visited Seattle before I'd recommend staying in the Downtown district so that you're close to all the main sights, but if you fancy somewhere a little different then Belltown and Capitol Hill are also great alternatives.
Final Thoughts
I hope you liked this post about the best places to visit in the United States and you found some new places to add to your USA bucket list! If you have any questions feel free to leave a comment below or send me an email, I always love helping you out!
Do you know some other great places that you would recommend visiting in the United States? Let me know in the comments!
xoxo, Kriszti
---
Related Posts
Want to read more about the USA?
---
Pin It for Later!