Looking for a 5 day Las Vegas itinerary that combines casinos with canyons and gambling with the great outdoors? You're in the right place!
Brash, boisterous, and blingy: Las Vegas is the capital of gambling, partying, and hedonism. But there is so much more than the city beyond its glossy exterior.
Its location in the Mojave Desert of Nevada means that there are national parks, state parks, and natural wonders right on your doorstep. Plus, you've got an endless stream of thrilling attractions all over the Strip that will offer something for everyone.
This article is going to tell you exactly how to see the best of Vegas in 5 days with an emphasis on adventurous, offbeat, and fun activities.
Read on for the perfect 5 day Las Vegas itinerary for adventure lovers and all the essential info that you need to plan an unforgettable trip.
*Disclosure: This post contains a few affiliate links, which means I may receive a small commission, at no cost to you, if you make a purchase through my link.*
No time to read now? Pin it for later!
Useful Info for Spending 5 Days in Las Vegas
How to get to Las Vegas
Las Vegas is served by the Harry Reid International Airport (LAS) – previously the McCarran International Airport. The airport is situated centrally in Paradise at the south end of the Strip.
You can connect to Las Vegas airport from the majority of cities in the United States. Direct flights are available from certain international destinations such as the United Kingdom, Germany, the Netherlands, Canada, and Mexico. Often it works out cheaper to transfer via an alternative United States airport.
A number of the hotels in the Strip and Downtown Las Vegas (DTLV) offer a shuttle service. If that is not the case, you can hail an Uber or Lyft from the airport to save money.
Alternatively, you can book a private arrival transfer or if you want to arrive in Vegas in style, you can even opt for a private luxury limousine service!
If your 5 days in Vegas itinerary is part of a wider road trip then you can drive to the city from Los Angeles or Phoenix in around 5 hours.
Best time to visit Las Vegas
Las Vegas is located in the middle of the Nevada desert which means the city benefits from a hot climate year-round with plenty of sunshine.
Officially, the best time to visit Las Vegas is between March and May and from September to November.
Bear in mind that spring break in the United States usually takes place in March/April, around Easter. If you'd prefer to avoid getting swept away in busy crowds and lots of partying, you'll want to avoid traveling to Vegas during those two weeks.
June, July, and August are the hottest months with temperatures hitting above 100°F (40°C). This might limit the comfort of experiencing Las Vegas in 5 days although on the plus side, resorts will be quieter and you will find deals on accommodation and tours.
How to get around Las Vegas
Las Vegas is a city that is designed for cars and has a limited public transport service in place. Parts of the city are walkable but the heat coupled with long distances means that you will not want to get around on foot for the most part.
The main bus service that you should acquaint yourself with during your 5 day Vegas trip is called the Deuce. This operates round the clock and shuttles up and down the entire length of the Strip.
Tickets cost $6 for a 2-hour pass, $8 for a 24-hour pass, or $20 for a 3-day pass. There are a lot of stops all along the Strip that drop you close to the major resorts and attractions. Check out the route map online.
Uber and Lyft operate in the city and it is worth downloading both apps. Drivers are only allowed to use the designated pick-up and drop-off areas in Vegas so make sure you check your closest option before hailing a ride.
If you have a rental then you might have to pay for parking at your hotel, it will depend on the resort you book so check the terms before you book.
Parking spots around the Strip are expensive and limited. Therefore, when getting around the Strip and DTLV, you will want to strike a balance between walking, driving, using the Deuce, and hailing rideshares.
Where to stay in Las Vegas
The best place to stay in Las Vegas is the Strip which runs from north to south Las Vegas. This is where all the attractions and amenities are located as well as the best hotels and resorts in Vegas.
If you are spending 5 days in Vegas on a budget then you can find cheaper accommodation in DTLV or beyond the Strip. However, you will need to factor in extra time for seeing the Strip.
MID-RANGE – Aria Resort & Casino
The Aria Resort & Casino occupies a central spot on the Strip. Beyond the beautifully appointed guest rooms, there are three outdoor pools and a spa if you need a touch of luxury.
BUDGET – SAHARA Las Vegas
Located close to the Arts District (also known as 18b), the SAHARA features funkily designed rooms full of color and geometric patterns. Even though it is a budget property, the hotel is equipped with a swimming pool and free parking.
Overview of Your Las Vegas 5 Day Itinerary
Breakdown of your 5 days in Vegas
Day 1: Arrive at your hotel & relax at the pool, The Venetian Las Vegas, Volcano show at The Mirage, Bellagio Fountain Show, Gambling or Night Clubbing (optional)
Day 2: Bellagio Conservatory & Botanical Gardens, Eiffel Tower, Trevi Fountain & The Forum Shops at Ceasar, The Flamingo Wildlife Habitat, The Linq Promenade
Day 3: Las Vegas Sign, Seven Magic Mountains, Luxor Hotel & Casino, Excalibur Hotel & Casino, Fun Dungeon (optional), New York New York, The Big Apple Coaster (optional), The Big Apple Arcade, Watch a show, Dinner
Day 4: Breakfast at Mrs Coco, Lake Mead, Hoover Dam, The Neon Museum, The Mob Museum, Fremont Street, Dinner (optional food tour)
Day 5: Day trip to Valley of Fire State Park, Dinner
Map for your 5 day Vegas itinerary
Below you can find a customized map that includes all the locations you're going to visit on this Las Vegas itinerary.
I marked your 5 days in Las Vegas with different colors so you can easily see which places you're going to visit each day.
If you open up this post on your phone and you click on the bracket in the upper right corner of the map, it will open up in your Google Maps app so you can always have it with you. Super convenient, right?
Day 1 of Your 5 Day Las Vegas Itinerary
Arrive at your hotel & relax at the pool
As the hotels in Las Vegas are spectacular, factor in some time to settle, soak up your surroundings and take a dip in the pool at your chosen resort.
It's going to be a busy couple of days so you'll benefit from starting your 5 day Vegas trip with some rest and relaxation! If your chosen hotel doesn't have a pool, feel free to spend more time at the next attractions on your Vegas itinerary.
The Venetian Las Vegas
The Venetian Las Vegas is a 5-star resort that recreates the grandeur of Italy in the middle of the Mojave Desert. If you're looking for an incredible luxury hotel in Vegas, The Venetian is a top contender. However, you can visit the complex as a tourist even if you stay elsewhere.
At the heart of the resort, you will find a replica of the Grand Canal, Rialto Bridge, St. Mark's Campanile, and the Doge's Palace. If you've toured all the Instagram spots in Venice then you'll be astonished at how closely the scenery resembles the city.
Besides wandering around the area, taking photos, and popping into the shops, it's worth hopping aboard one of the gondolas for a cruise along the water.
It costs $34 per person (Monday-Thursday) or $39 per person (Friday-Sunday) and there are internal and external routes. In case you're also planning to visit the Madame Tussauds Museum, it's worth checking this super saver combined ticket.
Dinner
Once you work up an appetite, you can dine at one of the many restaurants located within The Venetian.
The signature restaurant, BRERA osteria, excels with woodfire pizza, handcrafted pasta, and seafood dishes. It's the perfect place to indulge in the first dinner of your Las Vegas 5 day itinerary.
Alternatively, you can take your pick from American, Asian, Greek, French, and Latin restaurants.
Volcano show at The Mirage
Head across the road from The Venetian and you can watch the nightly show at The Volcano. This is a large water feature located in front of The Mirage which erupts every evening with lights, music, and fire.
Shows take place daily at hourly intervals between 7 pm-11 pm. It's free to watch, which makes it one of the best things to do in Vegas besides gambling.
Bellagio Fountain Show
Next on your list of free things to do in Vegas, head down to the road to catch your second show of the night. The Bellagio Fountain is a complex network of water features that fronts The Bellagio Hotel & Casino.
The choreographed show takes place Monday through Friday every 30 minutes from 3 pm-7 pm and every 15 minutes from 7 pm-12 am.
On weekends and public holidays, it takes place every 30 minutes from 12 pm-7 pm and every 15 minutes from 7 pm-12 am.
When seeing the best of Vegas in 5 days, you even have the option to watch the fountains more than once. Each show is unique so if you're passing by later in your trip, it's worth stopping by.
You can walk down the Strip to The Bellagio in 10-15 minutes. Hail a Uber or Lyft or hop on the Deuce if it's too hot.
Gambling or Night Clubbing
While in Vegas you might want to experience Sin City by night.
With few exceptions, all of the resorts are equipped with their own on-site casino as well as a nightclub or two.
The Strip and DTLV are flooded with beautiful cocktail bars if you are seeking something more laid-back during your 5 day trip to Las Vegas.
Specific casinos, such as The Venetian, provide complimentary or paid coaching which is recommended if you're apprehensive about gambling.
You can choose whether to play on the slot machines or join a table and play poker, blackjack, roulette, and so forth. Table minimums generally start at $10 on weekday evenings but will increase over weekends.
Night clubs in Vegas are a pricey affair with admission charges and inflated drink prices with gratuities expected on top, so make sure that you budget accordingly before heading out for the evening.
However, the atmosphere is phenomenal, and spending at least one night out in the town is a must for party lovers!
Omnia at Caesars Palace and Hakkasan at the MGM Grand are two of the largest scale clubs with world-class DJs and great party energy that lasts until the early hours.
Alternatively, you can go for cocktails in one of the swanky lounges that line the Strip, such as Skybar, ALIBI, or Vesper.
Day 2 of Your 5 Day Las Vegas Itinerary
Bellagio Conservatory & Botanical Gardens
If you wake up with a sore head after last night, the Bellagio Conservatory & Botanical Gardens is the perfect place to recover your senses!
This gorgeous indoor garden marks the entrance to the hotel and is brimming with all kinds of flowers, plants, trees, and shrubs. Further embellishments reflect the current season or any holidays – it's particularly special over Thanksgiving or Christmas.
You can visit the botanical gardens for free and take photos to your heart's content before the crowds arrive later in the morning.
Eiffel Tower
Located within the Paris Las Vegas hotel complex, the Eiffel Tower Las Vegas is a half-scale replica of the Parisian landmark that looms 46 stories above the Strip and the Bellagio Fountain.
You will find the best views of the Eiffel Tower from in front of the Arc de Triomphe (another of the city's European replicas!) or from behind the Bellagio Fountain.
Visiting the Eiffel Tower from the base is one of the best free things to do in Las Vegas in 5 days. But if you want to get an eyeful of the city from above, you can also choose to visit the Eiffel Tower Observation Deck.
The platform is open from Thursday to Monday, 3 pm-10 pm, and you can reserve tickets online. If you want to visit the deck then you might need to rejig this itinerary as it opens later in the day. There is also a restaurant up there which you might want to consider eating at.
Trevi Fountain & The Forum Shops at Ceasar
While you're perusing European-themed attractions, you can swing by the Trevi Fountain. It's a little smaller than the original fountain but the architectural design is almost a direct replica of the Rome landmark, making this one of the best Instagram spots in Las Vegas.
If you want to do some shopping while you're in the city then the Trevi Fountain is the gateway to one of the best malls in Las Vegas if you want to scoop designer labels.
The Forum Shops at Caesar is modeled on Ancient Rome with marble columns, water features, frescoes, and other palatial touches. There is also an excellent array of restaurants which is handy for grabbing today's lunch.
The Trevi Fountain is a 10-minute walk north up the Strip from the Eiffel Tower.
The Flamingo Wildlife Habitat
Take a change of scene at the Flamingo Wildlife Habitat at the Flamingo Hotel & Casino.
The habitat comprises four acres of land where Chilean Flamingos roam alongside Brown Pelicans and other exotic birds. Besides fragrant flowers and trees, the space is decorated with pools with koi fish – it's a great spot to revitalize and experience nature during your 5 days in Las Vegas.
It's free to visit the Flamingo Wildlife Habitat and the garden is located directly across the street from the Forum Shops at Caesar.
The Linq Promenade
The Flamingo Wildlife Habitat backs onto another of Sin City's best shopping districts. The Linq Promenade is a bustling hub of shops, places to eat, and entertainment options.
If you follow this 5 day Las Vegas itinerary then you can visit around dusk and witness it transform into the evening before grabbing dinner and drinks in the district.
Besides general sightseeing, photo opportunities, and shopping, the Linq Promenade is where you will find the High Roller and FLY LINQ Zipline.
The High Roller is a 550 feet (168 meters) tall Ferris wheel that takes around 30 minutes to complete a lap. Glass observation domes provide incredible views across the Strip, desert, and surrounding mountain ranges.
You can enjoy this experience at whatever time of day, just coincide it with your preference for daylight, sunset, or after dark when the city is fully illuminated.
Meanwhile, the FLY LINQ Zipline is a ride that travels at a maximum speed of 35 mph (56 kph) over the streets of Sin City. It's a great rush if you like theme park rides!
You can purchase tickets online in advance for the High Roller and FLY LINQ Zipline. The zipline drops you off right outside the High Roller so if you decide to do both you might want to schedule the Ferris wheel for after the zipline.
Day 3 of Your 5 Day Las Vegas Itinerary
Las Vegas Sign
Proudly welcoming visitors to Sin City since 1959, getting a close look at the "Welcome to Fabulous Las Vegas" sign is a must on every Las Vegas itinerary!
It's located at the southern end of the Strip and you might pass it as you drive into the city or leave the airport. If not, definitely factor in a visit.
I recommend that you visit as early as possible on the morning of your 5 days in Vegas itinerary as there is always a swarm of people waiting in line to get a photo with it.
Seven Magic Mountains
Once you've got your photo of the "Welcome to Fabulous Las Vegas" sign you can hit the road and continue south.
Seven Magic Mountains is an art installation positioned in the wild desert landscape around a 30-minute drive south of Las Vegas. It was designed by the Swiss artist Ugo Rondinone and features seven stacks of vibrantly painted rocks.
The Seven Magic Mountains are free to visit and you're best seeing them on a bright, clear day. As with the sign, the spot gets busy so plan to visit as early in the morning as you can bear.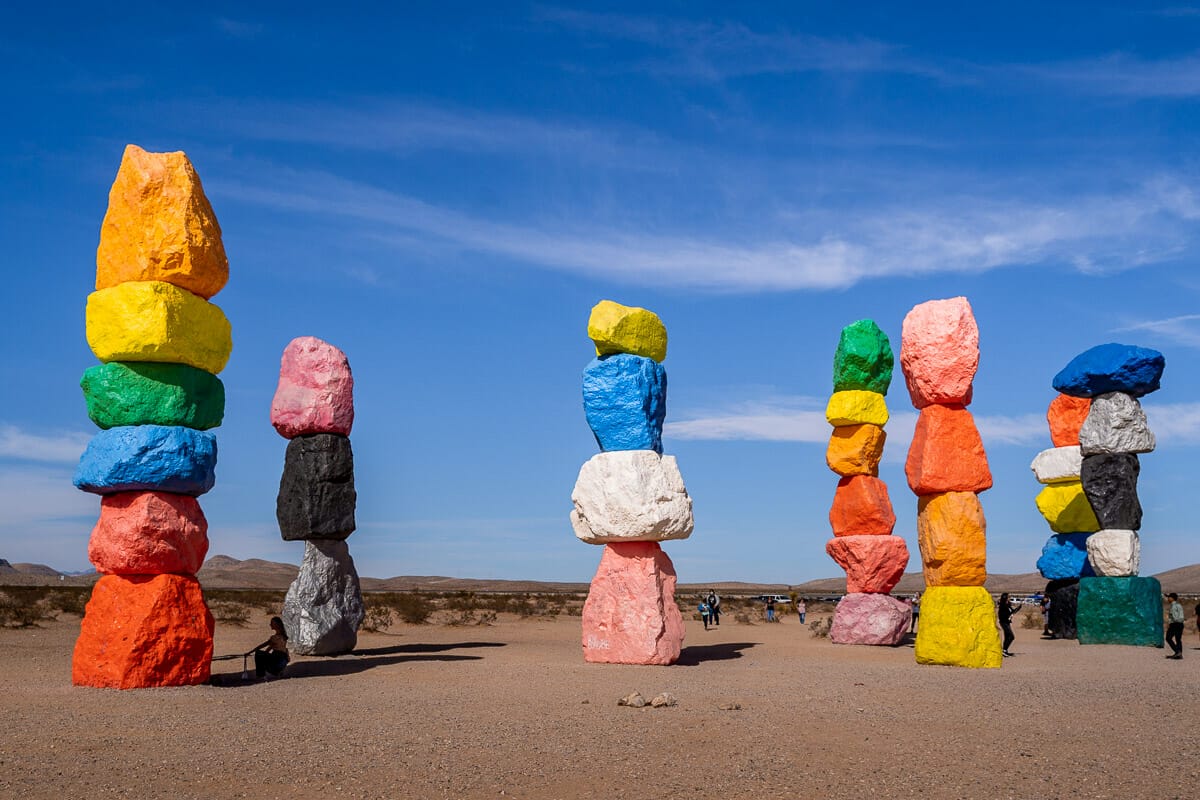 Luxor Hotel & Casino
The Luxor Hotel & Casino is one of the coolest themed resorts in Vegas that is worth visiting to see for yourself.
As you will gather, the theme of the architecture is Ancient Egypt with the pyramid-shaped complex being decorated with giant sphinxes and obelisks. As with the previous hotels on this Las Vegas 5 day itinerary, you can visit the resort for free and take photos.
Once you're finished, you have the option to visit one of the two following exhibitions that are located on the grounds of the Luxor Hotel & Casino.
Titanic The Art Exhibition is an immersive showcase of over 250 artifacts that were salvaged from the 1912 shipwreck. These items are presented in replicas of the ship's Grand Staircase and passenger cabins as well as a large fragment of the ocean liner's original hull.
Not for the faint-hearted, Bodies The Exhibition showcases 13 whole-body human specimens and around 260 organs that have been meticulously dissected. Conceived to provide an in-depth look into our anatomy, the exhibition is a celebration of the human body and is respectfully exhibited.
General admission to each of the exhibitions is priced from $32 per adult. If you want to see both exhibitions then you can save money with the combo ticket – available for $42. As the museums are located a short walk from each other, it makes sense to visit them in succession.
Excalibur Hotel & Casino
Continuing a theme on the third day of your 5 day trip to Las Vegas, the Excalibur Hotel & Casino is your next sight.
Modeled on a medieval castle, the white fortress is topped with blue, red, and golden turrets and surrounded by a moat. This is easily one of the kookiest photo opportunities in Vegas and is a delight for big kids and children alike!
You will score some of the best views as you cross the pedestrian bridge from the Luxor Hotel. Once on the grounds, spend a little time taking pictures and then choose if you want to visit the Fun Dungeon.
That's the arcade room at the hotel with all the classic video and target games where you can shoot, race, and play to your heart's content.
The Fun Dungeon is kid-friendly in case you're traveling as a family.
New York-New York
Leaping out of Europe, the New York-New York Hotel & Casino whisks you away to the Big Apple with replicas of the Statue of Liberty, the Brooklyn Bridge, the Empire State Building, and the Manhattan skyline. There are lots of places to eat and drink with a New York theme.
As the world's first roller coaster to feature a 180-degree "heartline" twist, the Big Apple Coaster of New York-New York is a thrilling addition to your 5 days in Vegas.
The ride is open Monday to Thursday, 1 pm-8 pm, and Friday to Sunday, 11 am-12 am. It costs $19 per person until 6 pm and $23 per person afterward. If you want to go again, re-rides only cost $10.
If you don't fancy the roller coaster, you can head to the Big Apple Arcade. This is similar to the Fun Dungeon and is family-friendly with an emphasis on arcade games rather than gambling. It opens daily, 1 pm–8 pm, so you will need to schedule your afternoon accordingly.
Watch a show
In addition to the nightclubs and casinos, Las Vegas is renowned for its spectacular shows, concerts, and large-scale events that take place every night. Catching a show of some kind is one of the highlights of this 5 day Las Vegas itinerary.
With performances ranging from live music to circus specials, magic shows, comedy clubs, and burlesque nights, there are a lot of choices and so it's over to you to do your research and choose the right thing for your party.
Once you have your travel dates set you can browse the Las Vegas event schedule and book a ticket to a show of your choice. Most of the larger resorts on the Strip are fitted with an event venue where the performances take place.
Shows usually start at 7 pm which means you might want to grab a light snack at New York-New York and then have a proper dinner afterward.
Dinner
After the show, you could choose to eat dinner at the resort where you watch the performance.
Bear in mind that the local restaurants might get busy as the guests leave the venue, so consider booking in advance if you've got your heart set on somewhere specific.
Day 4 of Your 5 Day Las Vegas Itinerary
Breakfast at Mrs Coco
You will go on a road trip out of the city today and the first stop for your agenda is a hearty breakfast!
Mrs Coco is located in the city of Henderson on the shores of the Las Vegas Wash, a 30-minute drive southeast out of Vegas. It only opened in 2020 and was inspired by the Instagram aesthetic, with just as many photo opportunities and props as there are items on the menu.
The whole place is embellished with flowers, trinkets, and chandeliers. The quality of the food and drink is outstanding and tastes just as good as it looks, in case you are worried!
As there is a lot to squeeze into the fourth day of your 5 days in Vegas, you would be wise to reserve your table. Mrs Coco opens daily at 9 am – book your place to coincide with the opening time. This way you'll get the best photo potential as well.
Lake Mead
Leaving Mrs Coco, you will continue eastwards towards Hoover Dam. Along the way, you can pull over to take in viewpoints of the beautiful Lake Mead, a massive reservoir that was formed as a result of the dam.
Follow Lakeshore Road and be ready to pull over at the various laybys and overlooks that dot the western banks of the lake.
The Sunset View Scenic Overlook is stunning and only requires a 0.5 mile (0.8 km) hike from the parking lot. Further south, Hatchery Saddle Point is another excellent stopping place before you reach Boulder Beach.
Boulder Beach has a campground, restroom facilities, and picnic areas. You can also take a dip in the bright blue lake if you feel like it!
Overall, it takes around 40 minutes to drive directly from Mrs Coco to Hoover Dam. But you will need to factor in the time for the additional stops to check out the views and take photos.
Hoover Dam
Visiting the mighty Hoover Dam means that in addition to seeing the best of Vegas in 5 days, you get a peek into the neighboring state of Arizona.
The giant dam was erected during the Great Depression in order to tame the Colorado River and provide a source of irrigation water. It was dedicated on 30 September 1935 by President Franklin D. Roosevelt.
Depending on your personal preferences, you can elect to view the Hoover Dam from outside (for free) or cough up the admission fee and visit the interior. The views from the Mike O'Callaghan–Pat Tillman Memorial Bridge are outstanding as they give you the perspective of the wider landscape.
If you are big on your history, the exhibition at the visitor's center is well worth seeing and I would also encourage you to take a guided tour. This was you'll truly understand the significance that the dam had on the local communities of the Southwest.
Self-guided tours of the interior cost $10 per person and include access to the Observation Deck.
Meanwhile, a guided tour costs $30 per person and grants admission to the historic tour tunnels as well as the original elevator that takes you to the top of the Hoover Dam. Tickets are available on-site only and are first-come, first-served.
Hoover Dam is open to the public daily, 5 am-9 pm while tours are in operation 9 am-5 pm.
The Neon Museum
After you've seen Lake Mead and Hoover Dam, you can drive back to Las Vegas.
There are several museums in Las Vegas but the Neon Museum is one of the ones that you shouldn't miss from your Las Vegas 5 day itinerary.
The museum is dedicated to the collection, preservation, studying of, and exhibition of iconic Las Vegas signs. There are no less than 250 restored vintage neon signs and Vegas ephemera that stand in testament to how Vegas has transformed over the years but never paused as the country's definitive party and entertainment destination.
You can purchase a general admission ticket and explore the collection as you like. Consider booking a guided tour if you want to learn more details about the history of Vegas. General admission is $20 per person and guided tours are $28 per person.
The Neon Museum is open daily, 2 pm-10 pm.
The Mob Museum
A second museum to add to your 5 day Vegas trip is the Mob Museum. This institute invites you to learn the truth behind the gangsters that have ties with Vegas, such as Al Capone, Lucky Luciano, John Gotti, J. Edgar Hoover, and Bugsy Siegel.
All exhibits at the museum are immersive with a mix of relics and digital experiences. You'll see the likes of the Wall of Infamy, the Nevada gas chamber chair, and the "Underground" – an immersive Prohibition exhibit space equipped with a working distillery and speakeasy.
There are real FBI surveillance tapes to listen to and you can even take part in a round of FBI weapons training and see the courtroom from the Kefauver Hearings.
The Mob Museum is popular so I advise booking an admission ticket in advance. It's open daily, 9 am-9 pm.
The museum is a 15-minute walk from the Neon Museum.
Fremont Street
Fremont Street is the second most famous street in Vegas after The Strip and is a must for your 5 day Las Vegas itinerary.
It comprises 4 blocks made up of casinos, shops, bars, restaurants, and entertainment venues. It's all open-air with tonnes of street performances and bright lights including a giant LED canopy.
It depends on you how you choose to spend your time. It's fun to take a wander around the area at dusk and the early evening to see the neighborhood light up for the night but you can stay here until late if you fancy hitting a couple of bars or casinos.
There is a variety of places to eat or you can book yourself a spot on the Downtown Vegas Sightseeing and Foodie Tour. Your knowledgeable local guide will guide you to a selection of the top eateries where you can sample the goods – and return later to your favorite if you're hungry for more.
Day 5 of Your 5 Day Las Vegas Itinerary
Day trip to the Valley of Fire State Park
For the final day of your 5 days in Las Vegas, escape the city with an adventurous day trip to the Valley of Fire State Park.
Located just under an hour's drive east of the city, the Valley of Fire State Park features Aztec sandstone, slot canyons, and rock formations of vibrant shades of red, orange, yellow, and pink.
Although there is a huge selection of day trips from Las Vegas, the Valley of Fire is the best all-rounder as it doesn't require too long a drive, the scenery is phenomenal, and the hikes are not challenging.
There are several photo spots and hiking trails in the Valley of Fire and you will need to plan your route out in advance to make the most of your day out.
Consult my guide to the best things to do in the Valley of Fire in one day which summarizes the highlights of the state park. My guide to the best Valley of Fire photo spots is essential reading for photographers, bloggers, and content creators.
If you decide to tackle any hikes then I also urge you to read my round-up of the best easy hikes in the Valley of Fire State Park. This guide is also packed with tips to help you prepare for your adventures.
The Valley of Fire State Park is best visited independently with your own vehicle. You will need to pay a fee of $10 per vehicle ($15 for non-Nevada vehicles) in order to access the park.
However, if you do not drive or have access to a private car, you can join a tour. This small-group Valley of Fire Tour includes all travel to and from Las Vegas, around the park, and your admission fee.
Dinner
Once you get back to Sin City, you can round off your 5 days in Las Vegas with a final dinner on or around the Strip. In case you need some inspiration, here are a couple of restaurants.
Bacchanal Buffet: If you're not sure what you feel like after your road trip, Bacchanal presents an assortment of around 500 food items ranging from seafood, meat, and vegetarian across a wide selection of countries.
Sugarcane Raw Bar Grill: Perfect if you want something lighter, the menu focuses on raw plates and tonnes of salad options. The craft cocktails wash it all down nicely!
Honey Salt: This beautiful restaurant is actually located west of the Strip but is great if you fancy a change of scene for your final night. The venue specializes in farm-to-table dining with locally sourced produce that is artistically presented. Honey Salt closes at 9 pm.
Final Thoughts
That brings my 5 day Las Vegas itinerary to a close. As you can see, there are so many wonderful and thrilling activities awaiting you besides gambling.
Now that you know exactly how to see the most adventurous aspects of Las Vegas in 5 days all you need to do is book your adventure!
Have you already visited Las Vegas? Let me know in the comments what you loved the most about the city!
xoxo, Kriszti
---
Related Posts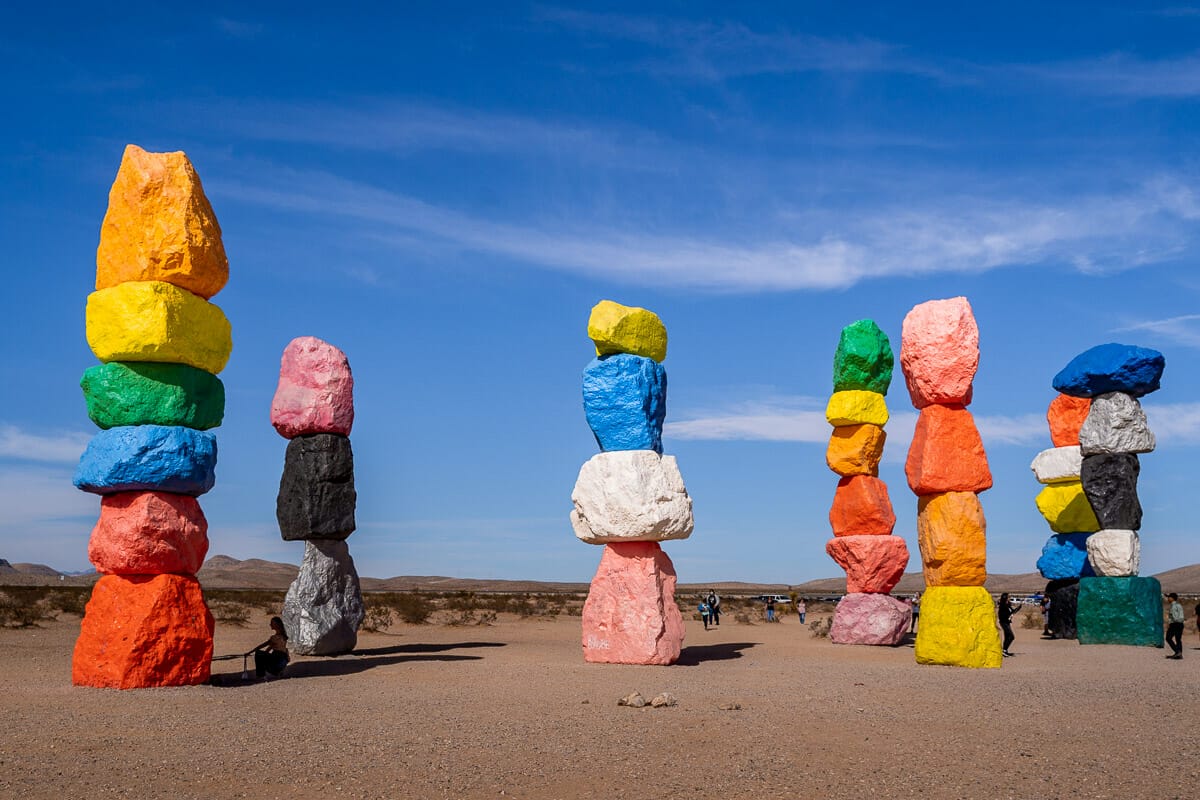 18 Best Day Trips from Las Vegas You Can't Miss
Want to read more about Nevada?
---
What Camera Gear Do We Use?
If you want to read more about what is in our camera bag, check out my detailed post about our travel photography gear!
---
Pin It for Later!