When you visit Las Vegas, one of the most exciting parts of the trip is choosing a fabulous hotel for your stay. During our recent road trip in the US, we spent three nights at The Venetian Las Vegas, one of the most iconic resorts in Sin City.
This is my complete review of The Venetian Las Vegas, the highlights of our stay, and what you can expect if you choose this hotel.
*Disclosure: This post contains a few affiliate links, which means I may receive a small commission, at no cost to you, if you make a purchase through my link. Please note that we were invited to stay at The Venetian Las Vegas, however, all thoughts and opinions are my own, as always.*
Basic Information
Arriving at The Venetian Las Vegas
Location
The Venetian Resort Las Vegas is located on the Strip, the famed 4 miles (6.4 km) long boulevard that traverses its way through the city and is occupied by all the major players in the city's hotel scene.
The hotel is located a mere 3 miles (4.8 km) from the McCarran International Airport. Although the hotel doesn't provide its own shuttle service, it is possible to arrange one via their recommended service providers.
Contact Bell Trans at least 24 hours prior to arrival or use the walk-up service at the airport. Alternatively, AWG Ambassador also offers a walk-up service. Both companies charge $15 US per person each way.
The other option is to hail an Uber or Lyft providing that you have already downloaded the apps on your phone.
If you have your own vehicle, then you can look forward to free parking at the hotel. A complimentary valet service is available or you can self-park.
Within a short walk or drive of the resort, you can find tonnes of restaurants, shops, entertainment facilities, and other amenities. But as you're about to find out, you can find everything you could possibly need during your stay right there on the hotel premises!
Lobby & Check-in Process
The Venetian Las Vegas comprises two towers: The Venetian and The Palazzo. Both are a part of the wider resort and casino and where you check-in will depend on which tower you are booked into. This is made very clear at the time of booking and you can compare room options.
The Venetian Front Desk is located in The Venetian main lobby while The Palazzo Front Desk is located in The Palazzo main lobby. You can refer to this handy map of the complex to navigate yourself around the premises.
The lobby of The Venetian is a marvel with its vaulted ceiling adorned with frescoes and supported by elegant marble columns. It feels almost like you've wandered into a museum or art gallery rather than a casino hotel in the heart of Nevada!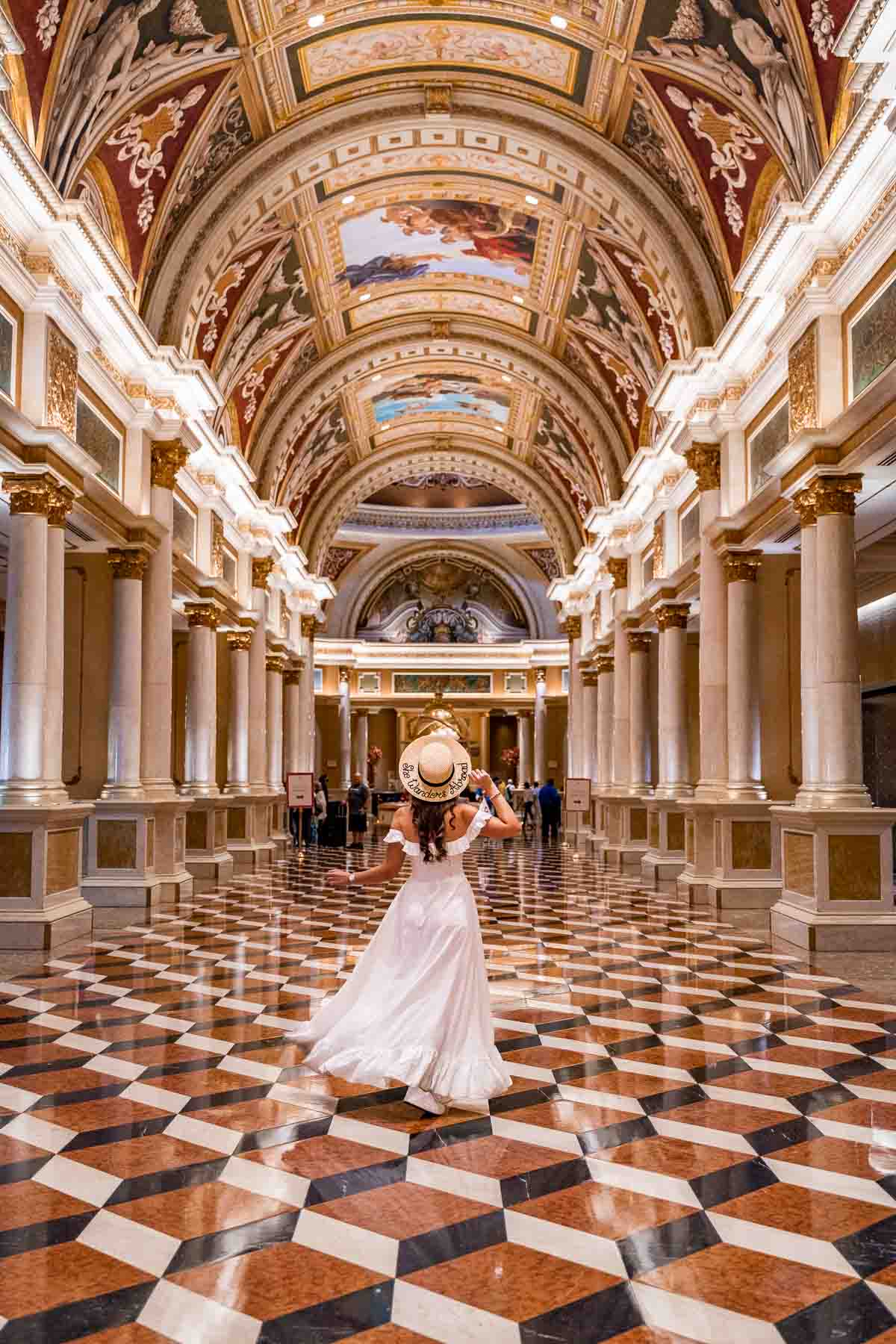 Room Types
The Venetian Las Vegas is colossal in size and boasts over 4,000 guest rooms which are all technically classified as suites.
We stayed in a Luxury King Suite in the Palazzo Tower, which at 67 square meters (720 square feet) is around double the size of your typical guest rooms elsewhere on the Strip. All the rooms at The Venetian are massive, it's one of their USPs.
A huge king-size bed occupied the center of the suite with a sunken sitting room to one side and an immaculate en suite bathroom to the other.
The room was decorated with off-white and neutral hues and beautiful artworks while coffee table books, plush cushions, and other cozy additions made us feel all the more at home.
The bathroom was fitted with a wonderful Roman bathtub plus a separate rainfall shower and a double washbasin. There was also a dry vanity which came in handy for getting ready to go out and about.
Overall, we couldn't find any fault with the room: it delivered on luxury, comfort, and practicality.
Service & Facilities
Pool & Gondola Rides
The Venetian Las Vegas offers expansive leisure facilities, starting with four huge pools that are spread out across two acres of space.
The sun deck is kitted out with more than enough day beds and lounges. For something more extravagant, the luxurious pool cabanas accommodate up to 12 guests and function more like miniature holiday villas.
Another activity to look forward to is the chance to take a gondola ride on the Grand Canal which is one of the most fun things to do in Vegas besides gambling.
You can choose between indoor and outdoor gondola rides – yes, I know it sounds crazy but the Venetian does have an indoor canal with gondolas!
Each location offers a unique experience so it only depends on which one you like more. One thing for sure: both of them offer amazing photo opportunities so it's definitely one of the best Instagram spots in Las Vegas!
Shopping
While typically you can only find one or two smaller stores in hotels, the Venetian offers an out-of-the-world shopping experience! The Grand Canal Shoppes is an attraction on its own with beautiful Italian-styled architecture, cute cobblestoned pathways, and painting ceilings that imitates fluffy clouds in a blue sky. Along the Grand Canal, you can find more than 160 stores that undoubtedly fulfill every shopping lovers' dream.
Spa & Fitness
The Venetian is the home of one of the best spas in Las Vegas, the Canyon Ranch Spa & Fitness. Treatments range from manicures, facials, and massages while the fitness deck is equipped with cardio equipment, personal trainers, exercise classes, and even a rock-climbing wall.
Casino & Nightlife
As with most of the luxury hotels on the Las Vegas Strip, The Venetian is set up with its own casino where you can try your hand at blackjack, poker, slots, and more. Table minimums start at $10 US on weekdays and $15 US over the weekends. Complimentary gaming lessons are available if you've never gambled before and want to ease yourself in.
Beyond the casino, The Venetian hosts regular concerts and musicals while world-class DJs frequent at the on-site nightclub, Tao. Remember that for certain restaurants and entertainment venues a smart-casual dress code is enforced so you will need to pack according to what you want to do during your stay.
Culinary Delights
One of the best things about staying in The Venetian Las Vegas was having a huge array of places to eat right there on the complex. With over 40 restaurants to choose from, we were completely spoiled for choice! Besides classic American fare, the portfolio of restaurants spans Asian, European, Latin, seafood, and vegan offerings where you can find breakfast, brunch, lunch, and dinner menus.
Meals are not included but the hotel does offer deals that include breakfast in the rate so it's best to enquire at the time of booking. You can also upgrade your stay if you want to receive breakfast delivered to your suite.
Spending three nights at The Venetian Las Vegas gave us a chance to try a couple of their signature restaurants. Below you can see the ones we tried during our stay.
BRERA osteria
This Italian-themed restaurant specializes in homemade pastas, wood oven-baked pizzas, and charcuterie as well as meat and seafood loyal to Italian recipes. It's located right in the heart of St. Mark's Square not too far from the gondola rides that operate on the Grand Canal.
We went there for lunch and started by sharing some meatballs as a starter. To be honest I didn't have any high expectations – I mean meatballs with tomato sauce just don't sound overly exciting to me – but holy moly, it was one of the best meals I've ever had! The tomato sauce was just out of this world and the whole dish was simply perfect.
After the delicious starter, I couldn't wait to try the mains, and let me tell you, they did not disappoint. I had the gnocchi with arugula pesto and burrata while my fiance had the tortellini with braised veal and mushrooms. Both were really good but the clear winner was the tortellini!
We were already pretty full but we decided to try the tiramisu and some cappuccino as well, which was the perfect ending to our lunch date.
Mercato Della Pescheria
Also situated in St. Mark's Square, right next to BRERA osteria, Mercato Della Pescheria evokes the flavors and atmosphere of an Italian coastal seafood market.
Although the menu focuses on fish dishes, there are options for non-fish eaters too. We went for dinner with one of our friends and while he had the salmon, we ordered pizzas. The pizzas were thin and crispy with delicious tomato sauce and toppings – just how a proper Italian pizza should be!
estiatorio Milos
Founded by the chef, Costas Spiliadis, estiatorio Milos is a highly celebrated seafood restaurant that serves authentic Greek dishes alongside the likes of ​​sashimi and Greek ceviche. estiatorio Milos also features a seafood marketplace where you can select your catch and then sip a cocktail or glass of wine while you wait.
When you dine at the restaurant, you can choose between two options: you can either order from the a la carte menu or you can go for their fixed lunch menu that consists of a starter, a main course, and a dessert. Even if you go for the fixed lunch menu you can still choose from 3-5 different meals for each course which is really amazing.
We went for the fixed lunch menu and started with a Greek Meze Plate (the tzatziki was simply amazing!), ordered the Faroe Islands Wild Salmon as a main, and ended the meal with some Greek Yogurt and Karydopita (traditional Greek walnut cake with ice cream). Everything was delicious!
Mott 32
On our last night, we decided to have dinner at Mott 32, a stylish Asian-fusion restaurant. Menus pull together the tastes of Hong Kong, Cantonese, Szechuan, and Beijing food culture with the apple-wood smoked Peking Duck being the star of the show.
Although the venue is fairly meat-focused, there is an impressive vegan menu that is constantly being revised and updated.
The whole restaurant has an amazing vibe and the interior design is just simply top-notch, featuring cool elements like a vintage roulette wheel and neon ducks. The attention to detail is remarkable and the service is honestly the best I've ever experienced.
The dinner menu is huge and features many different meals so it was not easy to choose – we simply wanted to taste everything!
In the end, we went for the Traditional Iberico Pork Shanghainese Soup Dumplings and the Assorted Wild Mushroom Spring Rolls as a starter. For the mains, we ordered the Stir Fried Australian M6 Wagyu Sirloin with Shitake Mushrooms and the Wok Fried Flat Rice Noodles with US Black Angus Beef.
Although the serving sizes were huge and we were already pretty full, we just couldn't leave without desserts! We chose the Fresh Mango, Coconut, Glutinous Rice Rolls, and the White Chocolate Panna Cotta – both were delicious but the panna cotta totally stole the show.
Final Thoughts
We thoroughly enjoyed our stay at The Venetian Resort Las Vegas. Our suite was exquisite with so much living space that it was easy to recharge and we were blown away by the quality of the dining and leisure facilities.
If you're looking for a luxurious stay in Las Vegas in one of the most iconic hotels, I can only recommend choosing The Venetian Las Vegas.
---
Planning a trip to Nevada?
Then you might want to take a look at all our other travel guides about Nevada. I promise, they are just as awesome as this article was!
Las Vegas:
Valley of Fire State Park:
Read about more US States: California | Illinois | Massachusetts | Maine | New Hampshire | New York | Vermont
---
Pin It for Later!