What is there to do in Las Vegas besides gambling? Let me tell you in advance: a lot!
Although the City of Sin is legendary for its casinos and party image, you might be pleased to hear that there are plenty of things to do in Vegas besides gambling to add to your Las Vegas itinerary.
The city of bright lights is awash with museums, adventurous activities, photo opportunities, and free things to do. If you tire of the neon, you can also plan one of the numerous day trips from Las Vegas.
Read on to find out exactly what to do in Vegas besides gamble at the casinos. This list comprises a selection of day trips, museums, adventurous, luxurious, romantic, and family-friendly things to do in Las Vegas besides casinos.
*Disclosure: This post contains a few affiliate links, which means I may receive a small commission, at no cost to you, if you make a purchase through my link.*
No time to read now? Pin it for later!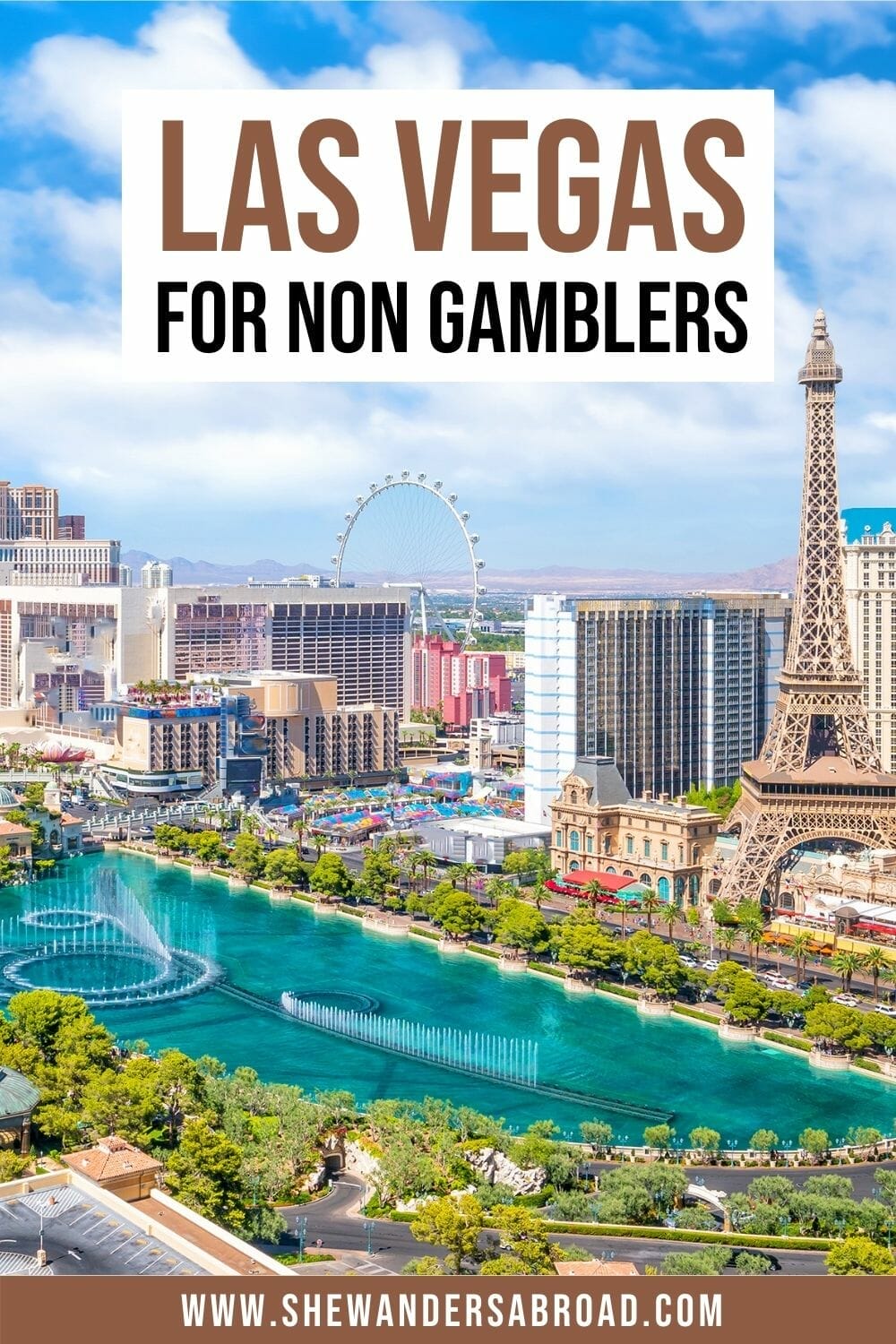 Fun Things to Do in Vegas Besides Gambling
1. Spend a day in the Valley of Fire State Park
Taking a day trip out of the city is one of the best non-gambling things to do in Vegas. The area surrounding Las Vegas is home to desert landscapes, canyons, and unique sights and few places can compare to the Valley of Fire State Park.
The park is teeming with fiery red "Aztec" sandstone crags that have developed over millennia due to natural erosion. There are a number of easy Valley of Fire hikes that are accessible to all levels of fitness and ability.
If you plan it well, you can tick off a couple of trails and see a large chunk of Valley of Fire State Park in one day. In case you're into photography, make sure to check out my in-depth guide to the best Valley of Fire photography spots!
Visiting the Valley of Fire requires a drive out of the city and you can easily fill an entire day but it is also possible to just spend a half-day there and combine this with other activities.
You can visit the Valley of Fire independently as a road trip. If you do not have your own vehicle then you can book a small-group Valley of Fire Tour which includes round-trip transportation from Las Vegas and park admission.
2. Catch a show
So what is there to do in Vegas besides gamble or partying at night? Catch one of the spectacular shows that take place every single evening!
The vast majority of the large-scale hotels have their own performance venues while other concert halls are dotted throughout The Strip and Downtown. Shows vary from live music acts, circus and magicians, to comedy and burlesque. Essentially, there is something for everyone.
Check out exactly what's on once you've confirmed your dates in Las Vegas and book a ticket to a show of your choice.
3. Cozy up on a Gondola Boat Ride
Coasting down the Grand Canal in your own gondola is one of the most romantic things to do in Vegas besides gambling!
It might sound a little cheesy but The Venetian Hotel has done a stellar job in recreating Italy's city of romance and it's a must for couples, families, and traveling friends. In case you're thinking about staying at the hotel, make sure to read my The Venetian Las Vegas hotel review!
Gondola rides operate frequently throughout the day, 365 days a year. It is advisable to book your slot in advance especially if you want to mark a special occasion or coincide this with sunrise.
If you are traveling with kids then you might want to book the Madame Tussauds with Gondola Boat Ride as it's a decent cost saver.
4. Have a jaw-some time at Shark Reef
Shark Reef Aquarium at Mandalay Bay provides a glimpse into the underwater world with 14 exhibits that range from a touch pool with sharks, rays, and horseshoe crabs to a gigantic shipwreck, and a sunken temple.
It feels strange to get this close to marine life this far from the ocean but that's Vegas!
The aquarium is also home to endangered green sea turtles, piranha, and Komodo dragons. Shark Reef is one of the best family-friendly things to do in Las Vegas other than gambling but it's also perfect for anyone with an interest in aquatic wildlife and conservation.
As the attraction is popular it is beneficial to snap up a ticket to the Shark Reef Aquarium Entry Ticket at Mandalay Bay in advance.
5. Snap a photo of the Seven Magic Mountains
Seven Magic Mountains is an art installation located 30 minutes south of Vegas, on the road to Los Angeles. It was designed by the Swiss artist Ugo Rondinone and features seven stacks of painted rocks.
It's free to visit the exhibition and take photos of the colorful boulders, making this one of the best things to do in Las Vegas for non gamblers who love art and photography.
If you do not have your own wheels then you can book a tour that combines the Seven Magic Mountains the nearby Red Rock Canyon or even the Las Vegas Sign.
6. Soar through the sky on the FLY LINQ Zipline
The Strip's only zipline experience, the FLY LINQ Zipline, is located at The Linq Promenade shopping mall and gives you the opportunity to zoom through the air 12 stories above the neon streets.
Maximum speeds reach 35 mph (56 kph) which makes this one of the top adrenaline-pumping things to do in Vegas besides gamble.
Avoid waiting in line by securing an Anytime Fast-Track Ticket: FLY LINQ Zipline. This ticket permits entrance to the attraction at any time of day or night.
7. Ride the High Roller
The High Roller is a 550 feet (168 meters) tall Ferris wheel that provides awesome views across the city from inside the glass observation domes.
The circuit takes around 30 minutes to complete and you can select from various upgrade options if you want to book a private pod or add drinks to your ride.
As the High Roller gets popular, it's wise to pre-book a skip-the-line ticket. Choose to visit on a clear day for impressive views out towards the Nevada desert. Or, schedule your ride for after dusk for one of the most thrilling things to do in Las Vegas without gambling at night.
Going on a ride is definitely one of the most exciting things to do if you're visiting Las Vegas with teens! As the High Roller is located at The LINQ shopping mall, you could coincide this activity with the FLY LINQ Zipline as well.
8. Tour the Neon Museum
The Neon Museum is one of several museums located in Downtown Vegas that are fun things to do in Las Vegas besides gambling for curious minds.
The museum is dedicated to the collection, preservation, studying of, and exhibition of iconic Las Vegas signs. It contains a sprawling archive of over 250 restored vintage neon signs and Vegas ephemera that are steeped in history.
You can purchase a general admission ticket and explore the collection at leisure or book a guided tour if you want to learn more about the history from a local expert.
9. Pose with the Vegas sign
Seeing the "Welcome to Fabulous Las Vegas" sign has been a must for all visitors to Sin City since 1959 and it's the ultimate selfie location!
You'll need to stand in line if you want a photo with the sign but while you're waiting, use the opportunity to check out the details (or wake up early enough to have the sign all to yourself!).
The circles symbolize silver dollars in honor of Nevada, the Silver State. Checking out the sign is one of the essential non gambling things to do in Vegas at night or during the day.
10. Roam the Flamingo Wildlife Habitat
Located within the grounds of the Flamingo Hotel & Casino, the Flamingo Wildlife Habitat is an idyllic escape from the bustle of The Strip.
These four acres of gardens are an oasis with water features, exotic birds, turtles, catfish, and koi fish. Besides the Chilean Flamingos, you will see Brown Pelicans.
With no cost to enter, the Flamingo Habitat is one of the best free things to do in Vegas for non gamblers who love nature and wildlife.
11. Scale the Eiffel Tower
One thing that Vegas does exceptionally well is to recreate landmarks from European cities. Located within the Paris Las Vegas complex, Sin City's Eiffel Tower is a half-scale replica of the original structure.
Towering 46 stories above the Las Vegas Strip, the Eiffel Tower Observation Deck offers some of the best views of the city.
Viewing the Eiffel Tower from the ground is one of the best free things to do in Las Vegas besides gamble. In that case, you will score the best angles of the tower from across the road, in front of the Arc de Triomphe, or from behind the Bellagio Fountain.
You can also elect to visit the Eiffel Tower observation platform for awesome views over The Strip.
12. Tour the Mob Museum
Another top museum in Las Vegas has to be the Mob Museum where you can uncover the scandalous stories of such infamous gangsters as Al Capone, Lucky Luciano, J. Edgar Hoover, and Bugsy Siegel.
The exhibits are immersive with a blend of physical artifacts and digital experiences including the St. Valentine's Day Massacre wall and the Nevada gas chamber chair.
There are real FBI surveillance tapes to listen to and you can even take part in a round of FBI weapons training. You will also learn how law enforcement gradually brought down Mob operations throughout the years.
The Mob Museum is one of the most fascinating things to do in Las Vegas besides gamble at the casinos.
13. Hit all the Instagram spots
Even if you don't want to stay at one of the big resorts or risk losing vacation money in the casinos, it's worth paying a visit to the Instagrammable resorts purely to get some photos and get a sense of Sin City.
As well as the resorts, the best Las Vegas Instagram spots include fountains, monuments, cafes, and state parks.
Spending a day shooting at these sites is one of the most creative things to do in Las Vegas for non gamblers, content creators, and bloggers.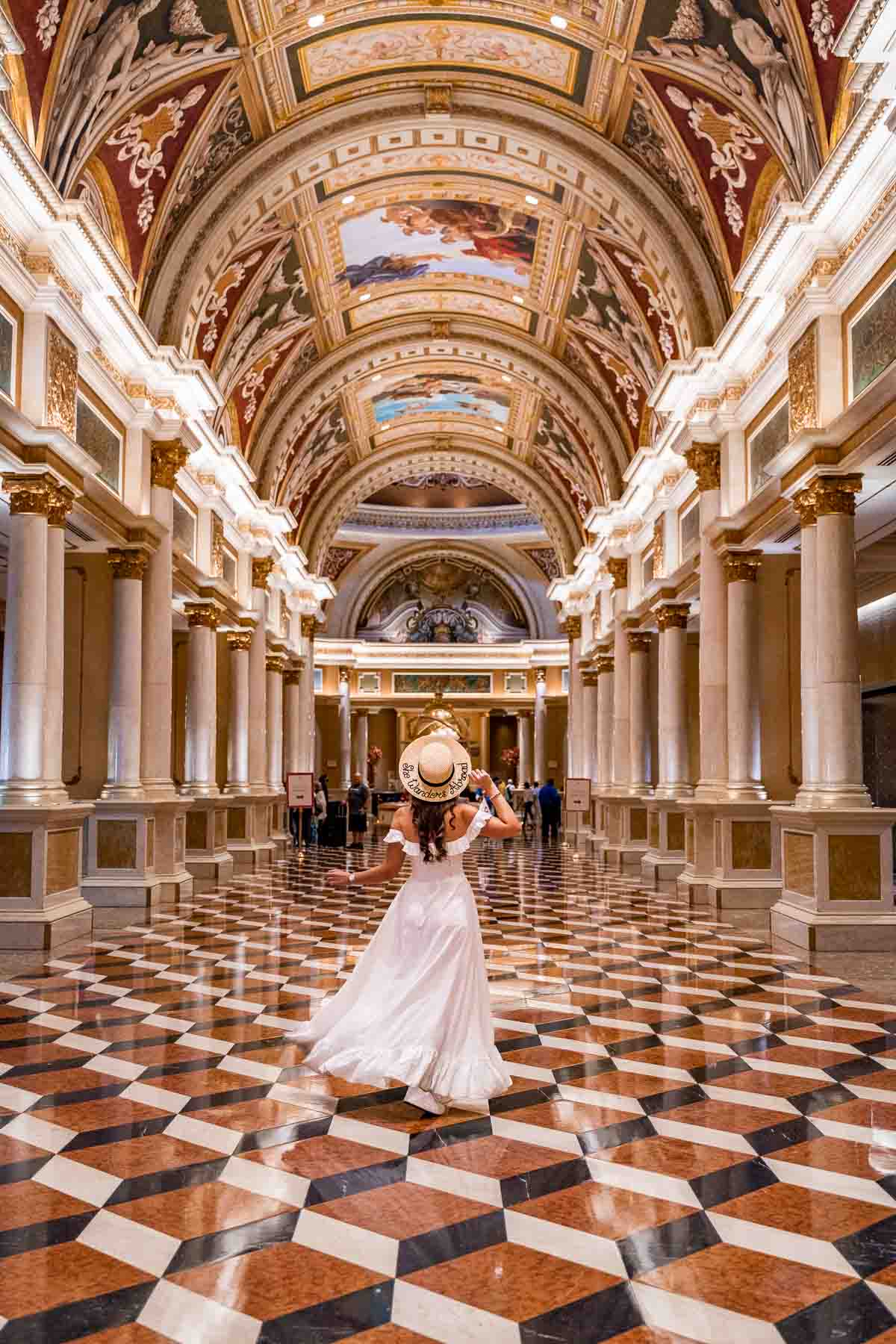 14. Go horseback riding in the outback
Saddle up and explore the Nevada landscape from the back of a horse for the ultimate Wild West experience.
There are loads of horseback riding tours available in the surrounding desert which invite you to soak up the scenery at a leisurely pace with different options to suit all riding levels.
While you're out there, you might be lucky enough to spot bighorn sheep, roadrunners, and jackrabbits scuttling through the brush.
This Morning Maverick Horseback Ride with Breakfast from Las Vegas involves a tour for all abilities led by professional wranglers as well as a cowboy-style breakfast of pancakes, eggs, bacon, and coffee.
15. Visit the Grand Canyon
The Grand Canyon is one of the more ambitious things to do in Vegas besides gambling as it requires a lengthy drive and a full day with an early start. So it's definitely best to tackle this one without a hangover!
There are four different sections that you can visit: the South Rim, Grand Canyon West, Grand Canyon East, and the North Rim.
The most accessible of these from Las Vegas is Grand Canyon West which features viewpoints, a restaurant, and adrenaline activities such as helicopter flights and zip wires over the canyon.
You can also elect to visit the Grand Canyon Skywalk at Eagle Walk which gives you the bucket list moment of walking on a glass walkway elevated 4,000 feet (1,219 meters) above the mile-deep (1.6 km) canyon floor.
Grand Canyon West is located a 2-hour drive from Vegas and is well-served by tours such as this Grand Canyon West Bus Tour with Hoover Dam Stop.
16. Kayak in Emerald Cave
Emerald Cave is a beautiful, grotto-style cave located on the Colorado River which is best experienced by kayak. The water is crystal-clear and this portion of the waterway is the habitat of wildlife and birds that your guide will be able to point out and teach you about.
Kayak tours typically cover 4-5 miles (6.5-8 km) of the Colorado River and there are opportunities for all levels of experience and ability. Certain tours of the Emerald Cave also include some light hiking to visit the historical River Gauger's Home.
This is one of the popular outdoor things to do in Las Vegas without gambling and there are a handful of Emerald Cave kayak tours to choose from.
17. Witness the Fountains of Bellagio
The Fountains of Bellagio is one of the most complex water features ever created and catching the daily show is a must while in Las Vegas.
The fountain occupies the space outside The Bellagio Hotel & Casino, right on The Strip and the choreographed show is magical.
The show takes place every 30 minutes, from 3 pm-7 pm Monday through Friday and every 15 minutes from 7 pm-12 am. On weekends and public holidays, the show is scheduled every 30 minutes from 12 pm-7 pm and every 15 minutes from 7 pm-12 am.
And the best thing – it's completely free to watch it as many times as you like.
18. Hike Frenchman Mountain
Tackling a local hiking trail is one of the things to do in Vegas besides casinos. Frenchman Mountain looms over the eastern side of the city and is accessible via a short drive and then a hike.
The 4.4-mile (7 km) trail starts on E Lake Mead Blvd and is clearly marked. It is steep and demanding so only attempt it outside of the hottest part of the day, with plenty of water.
But, it's free to hike up to the viewpoint where you will score an incredible 360-degree view of Vegas, the Rainbow Mountains, Red Rock Canyon, Mt. Charleston Wilderness, Lake Mead, and beyond.
19. Tuck into an Instagrammable brunch
If you fancy a change of pace from The Strip then take a drive out of Vegas and swing by Henderson where you will find one of the cutest cafes in the United States!
Mrs Coco was conceived as an Instagrammable cafe and the whole place is one big backdrop for a photoshoot. It's definitely a must on any girls trip to Vegas! Props are scattered throughout the interiors and garden and there are loads of floral embellishments to provide a pretty setting.
Besides the photogenic interiors and menu, the quality of the food and drink is exceptional and it tastes even better than it looks.
If you do want to eat at Mrs Coco, consider booking a table in advance as its popularity is swiftly on the increase as awareness grows.
20. Wander through the Arts District
The Vegas Arts District (also known as 18b), is a cultural hub that features art galleries, theaters in converted warehouses, jewelry and craft boutiques, and laid-back cocktail bars.
Navigate to the colorful Art Square to see incredible street murals. You can wander around 18b during the daytime to appreciate the street art and galleries. There are frequent street performances taking place throughout the day.
Catching a show or kicking back with a drink in the evening is a great contender for things to do in Las Vegas besides casinos at night.
21. Inhale the flowers at Bellagio Conservatory & Botanical Gardens
The Bellagio Conservatory & Botanical Gardens marks the entrance to one of the city's legendary resorts.
The atrium is packed with flowers, plants, trees, and themed decor that refreshes to reflect the current season or any holidays. Whatever time of year you add it to your Las Vegas itinerary, you can expect to be wowed!
You do not have to be a guest to experience the botanical gardens and it is free to visit and take photos. It's worth swinging by on the way to the Bellagio Gallery of Fine Art or to coincide with catching the fountain show.
22. Brush up on facts at the Natural History Museum
Just north of the Neon Museum and the Mob Museum, the Natural History Museum takes you on a journey through the natural world.
The exhibits cover dinosaurs, prehistoric mammals, marine life, and Ancient Egypt. There is also a 3,000-gallon tank that contains sharks, stingrays, and other creatures from the deep.
Paying a visit to the Natural History Museum is one of the best non gambling things to do in Vegas for all ages.
23. Explore Red Rock Canyon
Red Rock Canyon is a great alternative to the Valley of Fire or Grand Canyon if you're seeking outdoorsy things to do in Las Vegas besides gambling in a shorter time frame.
The national conservation area features rock formations in vivid shades that are linked together via a 13-mile (20 km) scenic drive. If time permits then you can spend a full day hopping in and out of your car and exploring the 30 or so hiking trails that take you deeper into the landscape.
Red Rock Canyon is an awesome destination if you want to cycle, rock climb, or go horseback riding. This 2-Hour Horseback Riding through Red Rock Canyon lets you experience the rugged landscape like a real cowboy. It's an option for everyone, even those that have never ridden before.
If you're a keen photographer or sunset-seeker then check out the Red Rock Canyon Sunset Tour. Golden Hour makes those red and oranges pop!
24. Mooch around Chinatown Vegas
Las Vegas Chinatown is easily overlooked due to the throng of The Strip but if you're seeking foodie things to do in Las Vegas other than gambling, this is a great spot.
The neighborhood is brimming with authentic Chinese, Japanese, Malaysian, Korean, Japanese, and Vietnamese eateries – and beyond.
Chinatown Plaza marks the heart of the neighborhood with its colorful, dragon-adorned, Tang Dynasty-inspired gate. Restaurants fan out from the plaza and cater to all tastes – you'll find smokey meats, Sichuan dishes, dim sum, seafood, and Mongolian hot spots.
25. Ogle the views at Hoover Dam
Hoover Dam was constructed between 1931 and 1936 to tame the Colorado River as well as to provide irrigation support and power major cities in the Southwest United States.
There are several viewpoints scattered around the dam – and from the Mike O'Callaghan–Pat Tillman Memorial Bridge – which provide incredible views of this mighty feat of engineering. There is also a visitor's center where you can fully understand the history and significance of the dam.
Hoover Dam is one of the things to do in Vegas for non gamblers that you can plan in tandem with another day trip on this list. With your own wheels, you could swing by the dam in conjunction with visiting Lake Mead, Eldorado Canyon, or Henderson.
In case you don't want to rent a car, you can book a guided Hoover Dam tour or make a pit stop at the dam as part of a Grand Canyon West Bus Tour from Las Vegas.
26. Ride through the sand dunes
With all that desert enveloping the city, it's little wonder that sand dune tours and off-road adventures are one of the most appealing things to do in Vegas besides gamble for thrill-seekers!
Be prepared to get more than a little dusty if you visit the desert on the back of an ATV.
There are several options available depending on which part of the desert you want to see and how daring you feel.
This Half-Day Mojave Desert ATV Tour from Las Vegas includes a 1.5-hour session of navigating the undeveloped Las Vegas Lake Mead Recreational Area.
Alternatively, the Hidden Valley ATV Half-Day Tour from Las Vegas allows for 2-2.5 hours of riding time through the Hidden Valley National Monument and McCullough Mountain Range. You will also have the chance to see the Seven Magic Mountains on the drive out of Vegas.
27. Swim in Lake Mead
As the temperatures in Vegas can be overwhelming, one of the best escapes from the city is the gorgeous Lake Mead recreation area.
Located an easy 30-minute drive from The Strip, you can turn Lake Mead into a full day out or make it a pitstop as part of a wider road trip to see the area around the city. It's a popular option to combine with the Hoover Dam.
This ethereal blue lake is one of the largest in the United States and it's perfectly safe to take a dip. There are 9 hiking trails that take you around the surrounding canyons but you can easily turn this into a full day of sunbathing and swimming if you fancy unwinding in beautiful nature.
28. Tie the knot
What is there to do in Vegas besides gambling if you're traveling with your other half? Well, you could always get married Vegas-style!
Chapels in Las Vegas are iconic of the city and it's perfectly possible to book a wedding on the spot if you fancy being spontaneous.
Alternatively, you can arrange your big day in advance with a Las Vegas Wedding at A Special Memory Wedding Chapel. This includes the cost of the wedding ceremony and a private limousine to and from your hotel, with the option to add on photo tours or to have "Elvis" escort you down the aisle.
For something more extravagant you can even arrange a Grand Canyon Helicopter Wedding which includes taking a spin over one of the world's greatest natural wonders.
Vegas is also an exciting place to reaffirm your vows with most chapels offering this service.
29. Experience the extremes of Death Valley
One of the driest and most sweltering places on Earth, the Death Valley National Park covers 3 million acres of designated wilderness and a myriad of flora and fauna. It's such a unique place – no wonder it's one of the most visited national parks on the West Coast!
Summer is a challenging time to visit but as the valley sits in a basin below sea level, the environment is prone to other extremes. If you visit during the winter months you might catch snowfall while springtime rains draw out the blooms.
As with the other day trips mentioned in this guide, you can choose to drive yourself or link up with a tour to take the heat off. In case you visit on your own, check out my in-depth guide about how to spend one day in Death Valley National Park!
This Full Day Death Valley Group Tour takes you to the most scenic spots including the Mesquite Flat Sand Dunes, Artist's Palette, and Badwater Basin.
30. Pore over prehistory at Sloan Petroglyph Site
Located a mere 25 minutes south of Vegas, Sloan Canyon is home to over 300 rock panels with prehistoric petroglyphs that you can see via a defined hiking trail.
The wider conservation area contains the North McCullough Wilderness, volcanic peaks, ancient past lava flows, and fragments of obsidian.
Sloan Canyon is strangely off the beaten track and doesn't attract as large a crowd as other nature destinations.
It's also free of charge to access the reserve and hike through the trails, making this one of the best things to do in Vegas besides gambling on a budget and with limited time.
31. Shed some dollars at Fremont Street
Second only to The Strip itself, Fremont Street is one of the iconic streets in Vegas. Known for its gambling and partying joints, the Fremont Street Experience is a hotspot for gamblers.
However, this open-air mall and entertainment venue is also a great destination for eating, shopping, taking photos, and marveling at the spirit of Vegas!
Taking a wander around the 4 blocks that form Fremont Street is one of the best things to do in Vegas besides casinos at night. You'll catch street performers, live music, light shows, and see the huge LED canopy that gives Times Square a run for its money.
Walking and food tours operate in this area too. This Small-Group Downtown and Fremont Street History Walking Tour is ideal if you want to hear the stories and scandals behind the neighborhood.
On the other hand, the Downtown Vegas Sightseeing and Foodie Tour comes with tastings at beloved local restaurants.
32. Trespass into Area 51
This classified United States Air Force (USAF) facility is one of the most offbeat things to do in Vegas besides gamble. As the exact spot is under wraps, you will need to book yourself onto an Area 51 day tour if you want to experience it.
As you travel along the Extraterrestrial Highway to the top-secret location and through the desolate and uninhabited desert outside the town of Rachel, your guide will fill you in on all the conspiracy theories and history connected to Area 51.
Once you get closer, you will start to see all the fun photo opportunities to serve as a souvenir from your day out – including alien artifacts, an eerie dry lake, and "photography is prohibited" signs.
33. Step into history at Eldorado Canyon
Eldorado Canyon comprises a series of abandoned mines, a ghost town, and scenic viewpoints of the Colorado River.
You'll be greeted with costumed locals who are on hand to take you on tours and provide the lowdown on the town's dark history. As it looks like the film set for a Western movie, there are dozens of photo opportunities.
Eldorado Canyon is one of the most fun things to do in Vegas besides gambling that offers something for families, couples, and group travelers.
You can either visit independently with your own vehicle or sign up for a Ghost Town Wild West Adventures Day Trip. This one includes round travel from Vegas as well as a tour guide and lunch.
If you want to get a dose of adrenaline at the same time, you might prefer to check out this 6-hour ATV Tour in Eldorado Canyon and Techatticup Gold Mine.
34. Take a road trip to the Spring Mountains
Located northwest of Las Vegas, the Spring Mountains offer an abundance of fresh air and natural vistas. The range is considered a "sky island" as it provides a habitat for over 25 endemic plant and animal species.
Mount Charleston, named for Charleston Peak – the highest point in Clark County – is the main gateway for accessing the scenery and hiking trails.
A devastatingly scenic drive stems from the town and weaves you through the Spring Mountains National Recreation Area. If you're up for the challenge then you can tackle the North Loop to Summit hiking trail.
The Spring Mountains are one of the best things to do in Vegas without gambling during winter as you might catch snow and it's usually possible to go sledding.
35. Stay at a non-gambling luxury hotel
Now that we've been through what to do in Las Vegas besides gamble at the casinos, I'll conclude this guide by suggesting a non-gambling hotel to use as your base.
Although the vast majority of the large-scale resorts and hotels in Vegas contain a casino, there are a couple of options that are gambling-free.
If you want a luxury stay, Four Seasons Las Vegas is conveniently located at the southern end of The Strip and benefits from being away from the hustle and bustle of the more crowded parts of the city.
The resort is serene and laid-back with 5-star rooms, service, amenities, and dining. Furthermore, external guests are not permitted to use the pool so you'll benefit from a peaceful poolside experience!
In case you're interested in staying at the hotel, you can read my Four Seasons Las Vegas hotel review first.
---
Planning a trip to Nevada?
Then you might want to take a look at all our other travel guides about Nevada. I promise, they are just as awesome as this article was!
Las Vegas:
Valley of Fire State Park:
Read about more US States: California | Illinois | Massachusetts | Maine | New Hampshire | New York | Vermont
---
Pin It for Later!